NRL 2022: South Sydney Rabbitohs win 32-30 over New Zealand Warriors | Match Report
It was a tale of two halves as the Warriors were humiliated early, before threatening a miraculous comeback and falling just short despite Souths' second half collapse.
The captaincy proved just the tonic for Rabbitohs talisman Cody Walker as he delivered a masterclass first-half display of Magic Round wizardry that proved the difference against a gallant Warriors.
Walker had three try assists inside 23 minutes to set up a thrilling 32-30 win, despite a remarkable Warriors second-half comeback ignited by superstar fullback Reece Walsh.
The Rabbitohs led 26-6 at the break on the back of a powerhouse display by prop Tevita Tatola but took their foot off the pedal and Walsh, the Warriors best player by a long way, was the catalyst for four tries in 15 minutes in a scintillating display that would have thrilled Maroons coach Billy Slater.
Stream every game of every round of the 2022 NRL Telstra Premiership Season Live & Ad-Break Free In Play on Kayo. New to Kayo? Try 14-Days Free Now >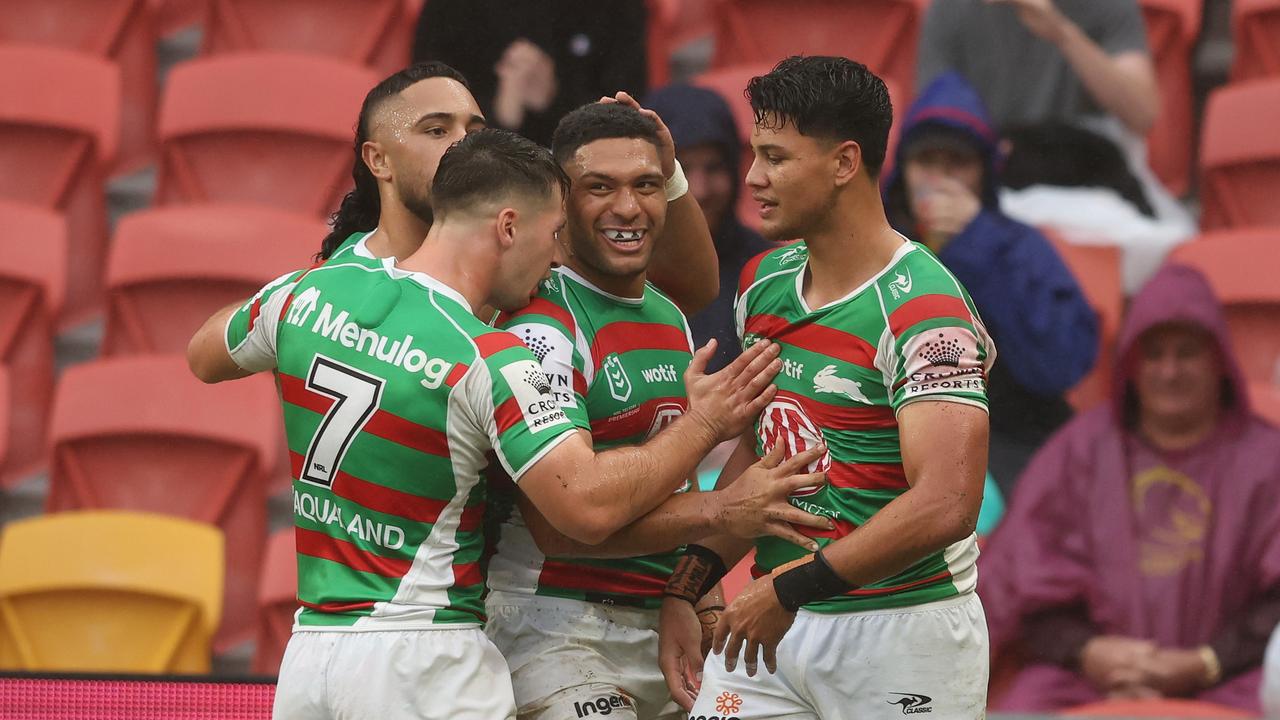 The Rabbitohs were near perfect in the first half, but almost surrendered a 20 point lead at halftime. Picture: Getty Images.
The Rabbitohs were almost perfect in the first half. Cranky Cody had been banished and instead the South Sydney playmaker was playing with a smile on his face again.
Pre-game Walker said he wanted to improve his discipline and involvement after a disappointing and angry display against Brisbane the previous week.
He walked the talk. Walker magic, courtesy of a perfectly timed pass on the end of a set play, sent Taane Milne over in the right corner.
Milne had a double inside 15 minutes as the Warriors edge defence crumbled. When Walker pulled the trigger down the left side to deliver for Alex Johnston the carnage continued.
A sour note for the Rabbitohs was when back-rower Jacob Host re-injured a shoulder in the second minute in a devastating blow for the 25-year-old.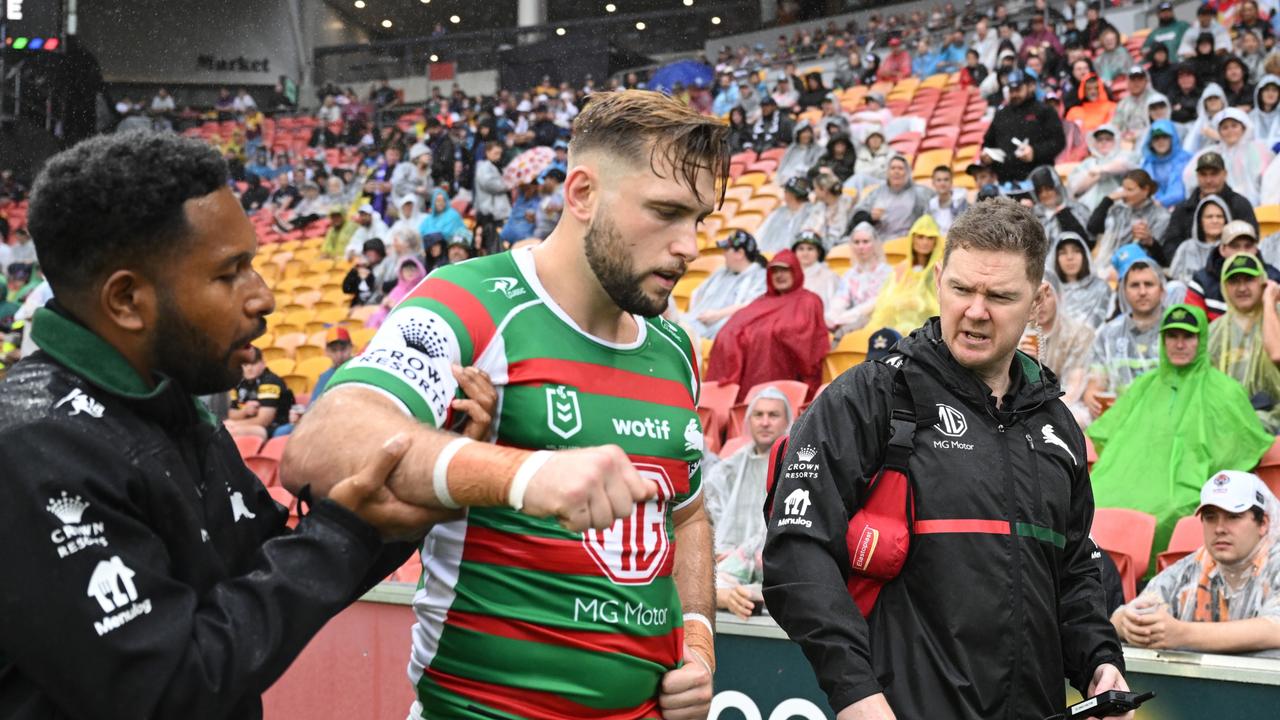 Jacob Host's season could be over after suffering a second serious shoulder injury. Picture: NRL Photos.
Rabbitohs coach Jason Demetriou said he had a conversation with the leadership group during the week as a whole and individually around coming together and enjoying what they do. It was just the tonic for Walker.
"I reminded myself of why I do what I do and that put a smile on my face straight away. I love this game and I love what it has brought me and my family," Walker said.
"I had a brief chat with JD at the start of the week about why we play footy and that put me in a good mindset. I scaled back my role, made sure my kick-chase was up and my effort areas were up and that got me in the game."
Demetriou said his nerves "got bad" with two minutes to go.
"I thought we had enough points in the bank to hang on, but I'm pretty happy the boys managed to hold them out and get the job done. We've been a bit busted the last few weeks and some flu running through the place so I knew fatigue was going to be an issue late."
CRACKING THE CODE
When Walker gets in the groove with his instinctive genius to the fore there is no better player to watch in the NRL. The most pleasing thing about his display against the Warriors was the composure and leadership he displayed. When the Warriors threatened late he came up with a big hit on Walsh that showed where his head was at. Throughout the game he was exhorting his players to lift when required. Adam Reynolds had lit up Suncorp Stadium the night before in a reminder of what the Rabbitohs have lost but Walker's response showed he still has the magic touch without his old mate by his side.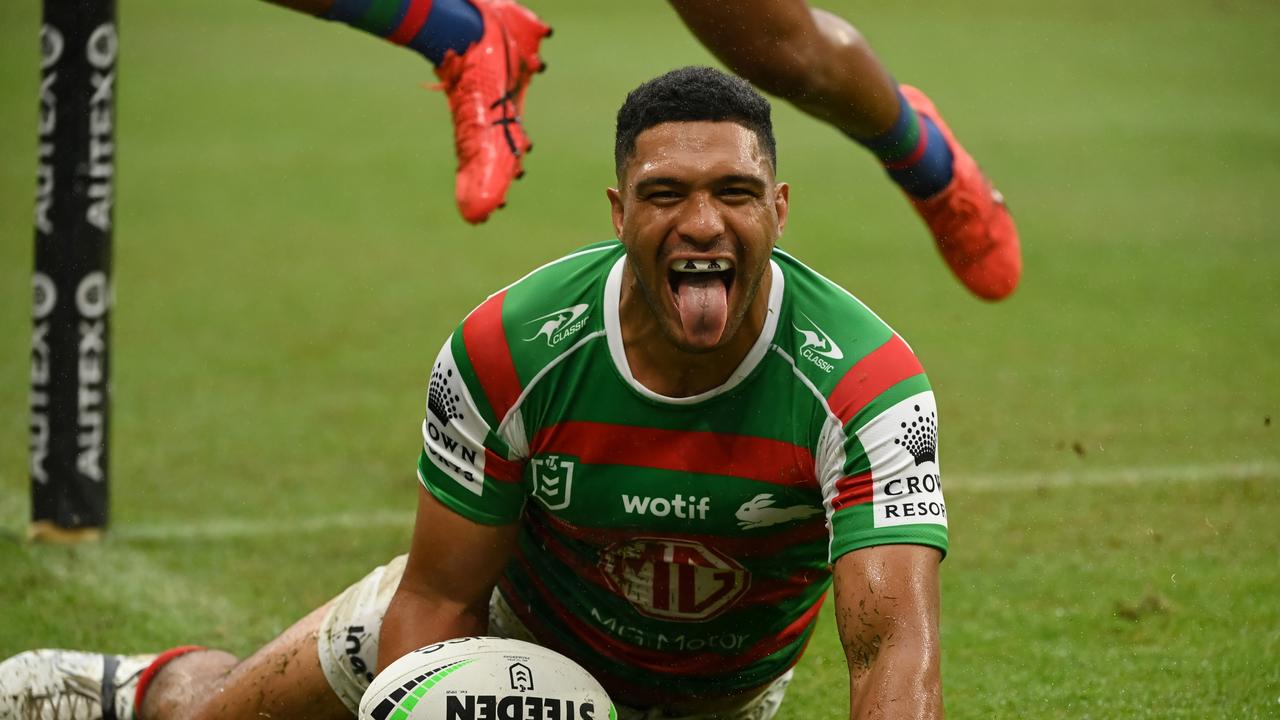 They have struggled with their attack so far in 2022, but Souths seemed to finally click into gear in the first half, before again struggling in the second. Picture: NRL Photos.
WALSH WHIZ
The Maroons have a big decision to make about their fullback. Kalyn Ponga is favoured to get the nod in the Origin opener but Walsh is giving Slater plenty to think about. His display in the second half was electrifying and a sample of how the 19-year-old has the capacity to turn a game on his own. His 170m from 15 runs was impressive enough but his energy lifted the entire side. The collapse of the Warriors defensive systems was exposed by a bulldozer barge by Damien Cook through five defenders from 15m out. The scars from the 70-10 whipping they received from the Storm have clearly not healed and defensive deficiencies on the edges left them too much to do.
"We can look at the comeback and nearly getting there… or we can focus on the first half. As the coach we have got to focus on the first half because that is certainly not where you want to be as a football club," Warriors coach Nathan Brown said. "You don't want to be a team that doesn't start games well … has a great fightback and gets beaten."
Apart from Walsh's display, the Warriors did have some more good news with captain Tohu Harris getting through the game in his return from an ACL injury.
COULDN'T GO BACK TO NZ: NIKORIMA OPENS UP ON WARRIORS EXIT
—Brent Read
Kodi Nikorima wants to help Lachlan Ilias. South Sydney's newest recruit has watched the Rabbitohs young half closely and likes what he sees.
If Nikorima can help him get better, he will do so. He hasn't arrived at Redfern, having made a surprise mid-season switch from the Warriors, looking to rock the boat.
He has come to lend a helping hand and ease the load on Ilias and halves partner Cody Walker.
"I have been watching him (Ilias) pretty closely and he has definitely shown signs," Nikorima said.
"I don't know how old he is but he is still a young player. He is pretty sound defensively. The attack will come once he gets more and more reps playing.
"I am happy to help him out wherever I can. Once we start training together, I will definitely let him know where he is going well or how I can help his game as well.
"This is Lachie's first full year and I have been around a while now. I know the ins and outs of this game. I am just happy to help out wherever."
Kodi Nikorima has the stress of partner alone in New Zealand during Covid was a big reason behind his desire to stay in Australia. Picture: Getty Images.
Nikorima was signed by Souths with money they originally had reserved for Anthony Milford. When the Milford deal went pear-shaped, the Rabbitohs had a gap to fill.
Nikorima was off contract at the end of the season and had made it clear to the Warriors that he had no plans to return to New Zealand.
The Rabbitohs loomed as a logical option given Nikorima's longstanding relationship with Souths coach Jason Demetriou - the pair worked together at the Broncos before Nikorima moved to the Warriors.
"When I was playing there (at the Broncos), he definitely helped with my attack, giving me that confidence," Nikorima said.
"Me and Milf used to always catch up with him weekly to see where we were at and what we could improve. He is definitely a smart coach.
"Everything just happened real fast. With Milf not being here, they were still wanting an experienced player to help out and be another voice around the joint.
"They have some young players coming through - some young, exciting players - that I am definitely keen to train and play alongside.
"I still have a good relationship with Jason which goes back to when we were at the Broncs together. He was pretty keen to get me down.
"As a player, all you really want is to feel wanted. He definitely made me feel that."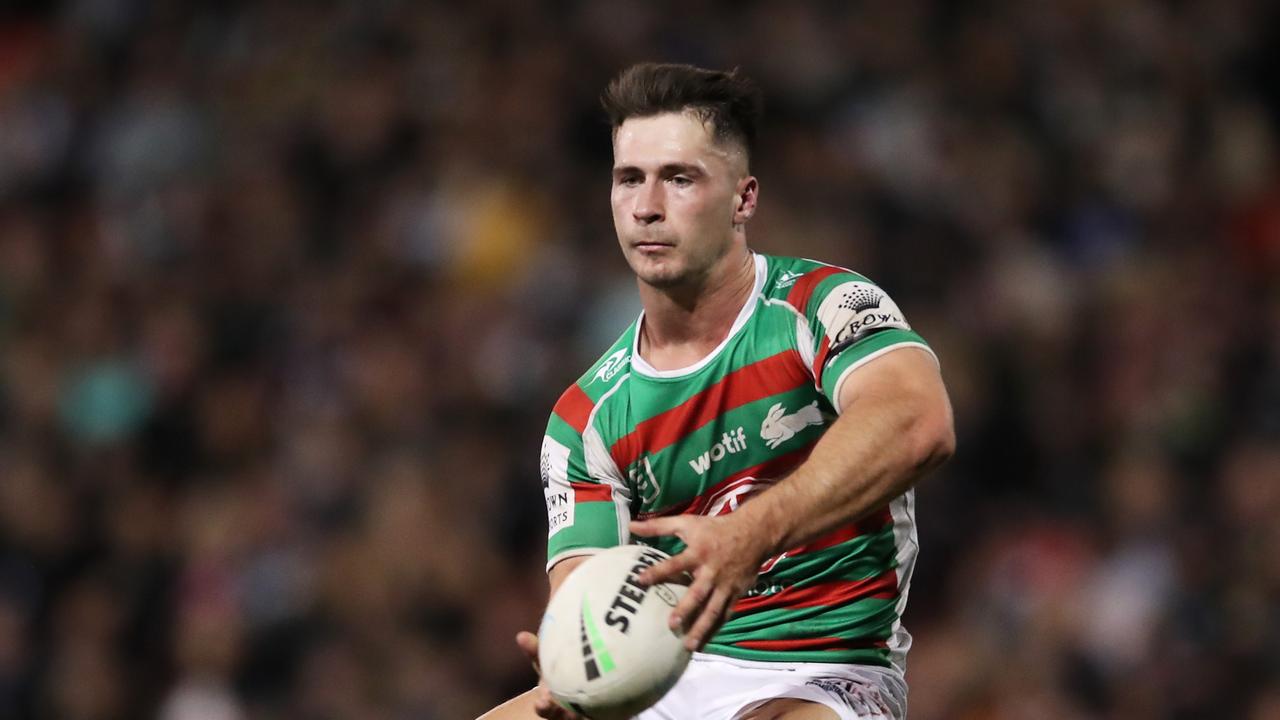 Nikorima has been watching the development of Lachlan Ilias and likes what he's seen from the young half. Picture: Getty Images.
Nikorima's future was always somewhere other than the Warriors. There was speculation last year that he wanted to return to Queensland and he makes it clear that his decision to leave was driven by a desire to be closer to family to help out his partner and young children.
"It was a family thing of wanting to be in Australia," Nikorima said.
"I have all my family over there in Brisbane and so does my partner. When Covid happened and we moved to the central coast, it got pretty tough on my partner being in NZ alone with no real support.
"I guess that was a turning point for myself not wanting to put her in that situation ever again."
He has an option in his deal with South Sydney for next year but 2023 is on the back burner while he helps the Rabbitohs turn around their season.
Coincidentally, his first outing for the Rabbitohs will be against the Warriors.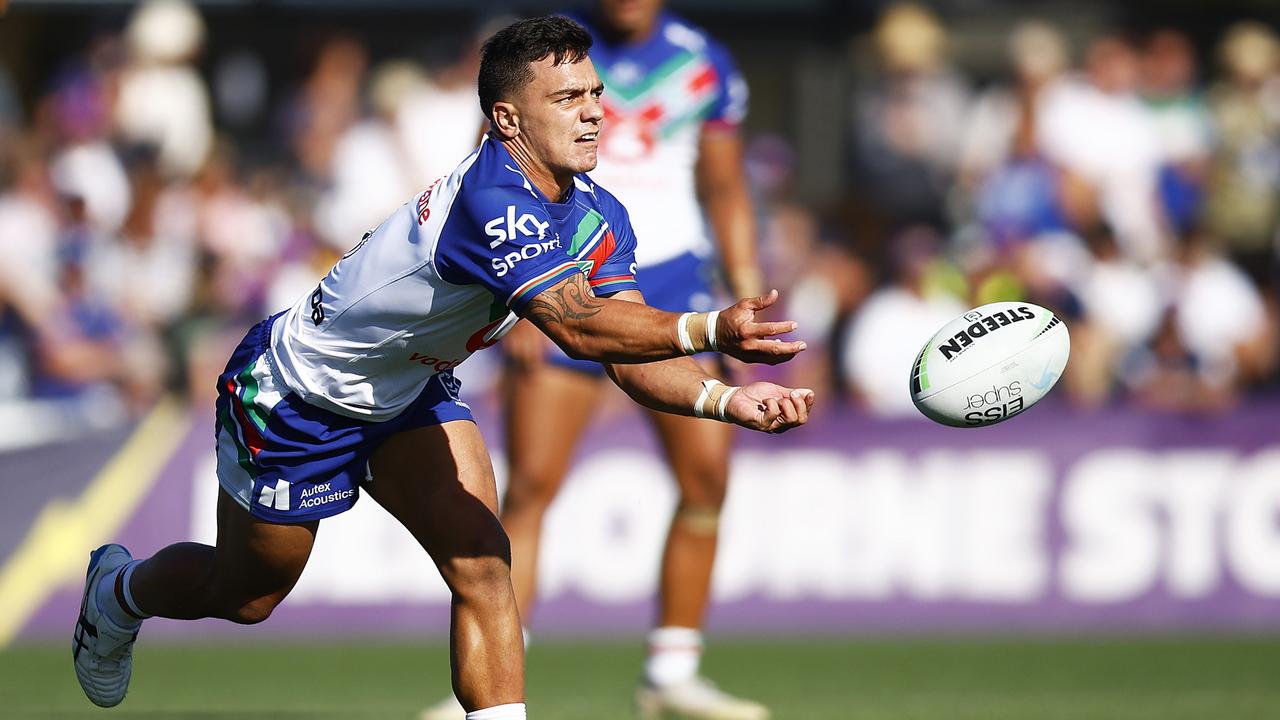 Nikorima's Souths deal sees him at the club for 2022 with an option for 2023, but he's yet to make a decision on his future beyond this year. Picture: Getty Images.
"It is one of those things that was going to happen eventually," Nikorima said.
"Pretty crazy how it is going to happen this week. Funnily enough, when I left the Broncos, I played my first game for the Warriors in Magic Round.
"Now when I play them, it will be Magic Round as well. It is definitely a tough one.
"When you play in this game you obviously spend a lot of time together and form some close relationships, which I have with the Warriors.
"I am definitely excited to come up against them. I know it is all business when you cross that white line but afterwards it will be good to catch up with them again."
As for next year, Nikorima insists he is in no hurry to make a call.
"That's something I will definitely decide later on," Nikorima said.
"Just for now, I am trying to learn new systems and find my way around the area, and make the most of this opportunity.
"First and foremost I want to play. I haven't played in three weeks due to Covid protocols.
"When I was playing, some games I have only played 15 minutes. For me it is just trying to get some time playing which is part of the reason I took up this opportunity.
"All that contract stuff will take care of itself."
Originally published as NRL 2022: South Sydney Rabbitohs win 32-30 over New Zealand Warriors | Match Report