State of Origin 2022: Late start is killing the appeal of showcase game
The clock is ticking for Origin broadcasters, with ARLC chairman Peter V'landys championing a push to change the kick-off time of rugby league's showcase. HAVE YOUR SAY IN OUR POLL
The two most-watched shows on American television last year went to air no later than 6.40pm.
Almost 93 million viewers watched the Tampa Bay Buccaneers destroy the Kansas City Chiefs in Super Bowl LV.
The biggest show on earth kicked-off at 6.30pm.

The second most-watched prime time telecast of 2021 in the US was also an NFL game, going to air at 6.40pm.

A thrilling finish for the AFC championship between the Chiefs and Buffalo attracted 42.5 million TV viewers across the US.
The Monaco Grand Prix is widely considered to be one of the most important and prestigious car races in the world.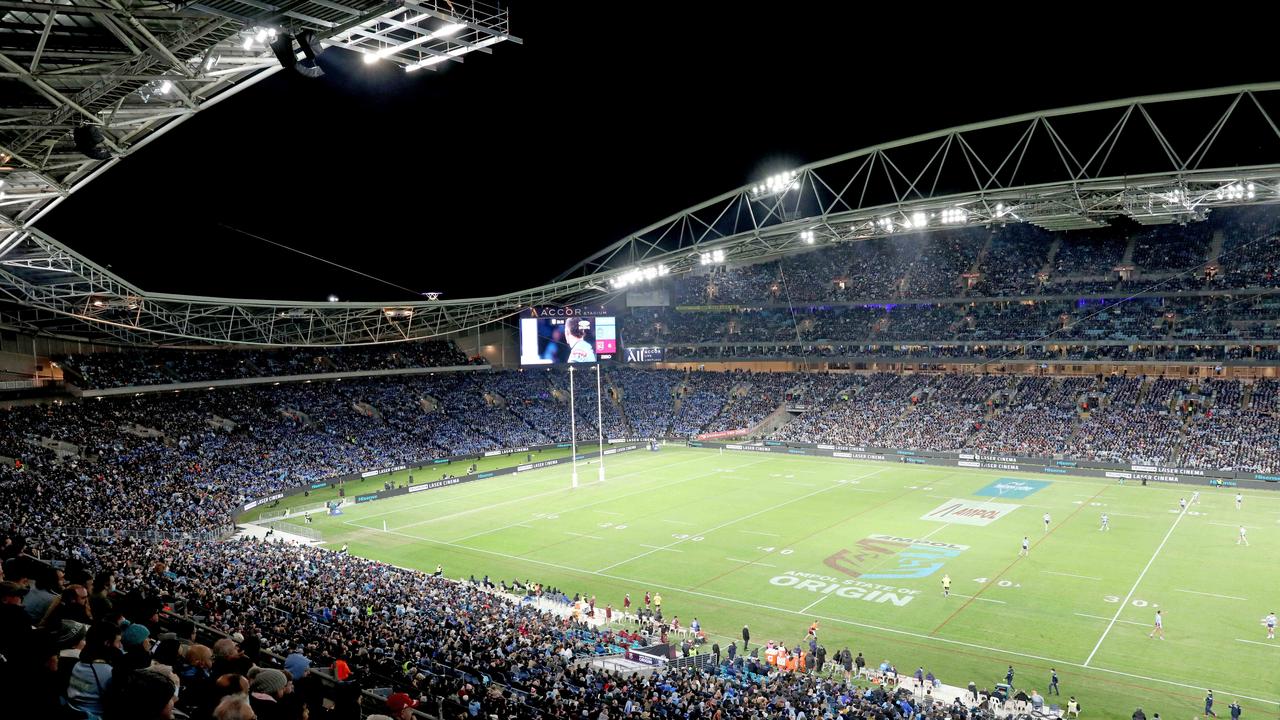 Game one of the 2022 Origin series did not start till 8:14pm. Picture: Damian Shaw
The green flag to start the glamorous race is waved at three o'clock in the afternoon.

Nothing means more to football fans than the final round of the English Premier League.
Life long dreams, chest-pain from anxiety and heartbroken tears are both expected and accepted in an afternoon of passion and drama that few, if any at all, sports can rival.
Every game in that epic final round of EPL competition kicks-off at 1pm.
There's no contest when it comes to determining the most decorated tennis event in the world.
Wimbledon is and always will, stand alone, as the premier tennis major.
The women's final – who can forget Ash Barty last year – starts at 2pm.
Last year's men's final, which saw Novak Djokovic win his sixth Wimbledon title to equal Roger Federer and Rafael Nadal's record of 20 men's Grand Slam victories, also began at 2pm.
Victorian Racing Club officials in charge of staging the time-honoured Melbourne Cup haven't budged on shifting the race that stops the nation away from it's 3pm start time.
The AFL were howled down by their fans for shifting the grand final from their traditional afternoon grand final timeslot to a night decider for the first time in 2020.
The latest the AFL was willing to go to was 6.30pm.
Still, it didn't last more than one season. The AFL wound last year's grand final back to 5.15pm.
Even that wasn't enough.
Just last month, on the back of an AFL Fans Association survey which revealed 79.9% wanted an afternoon start, CEO Gill McLachlan announced they were going back to their long-held 2.30pm start time for the premiership decider at the MCG later this year.

The NRL have proven that they too, are also driven by the hum of their fans.
And thankfully, ARL Commission chairman Peter V'landys is willing to dissect the issue with the commission over the coming months.
He's already ticked-off on this being the last Sunday night State of Origin fixture.
For the next five years of the NRL's broadcast deal with Nine, all three matches will be played on Wednesday night's from next year.
The kick-off time of next year's series will be the next item of discussion.
He says that because Nine pay in excess of $570 million to broadcast the game, they have the majority say on what time Origin is played.
But, V'landys will be asking why, at the very least, Origin can't start earlier than 8pm in 2023.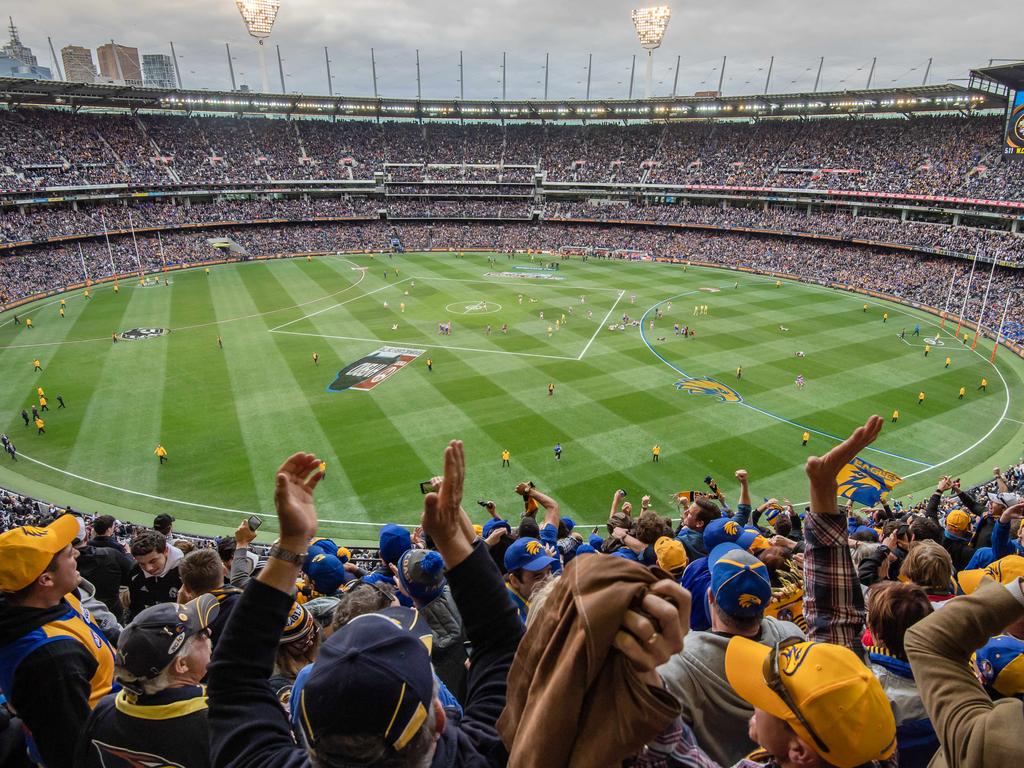 The AFL listened to fans and reinstated an afternoon kickoff for the Grand Final. Picture: Jason Edwards
"When you sell broadcast rights, you have to balance your partners commercial rights and looking after the fans,'' V'landys said.
"We respect Nine's commercial opportunities that come with showcasing State of Origin and Mike Sneesby (CEO of Nine) in particular, has been a fantastic partner to work with.

"But without fans, there is no game and I certainly want to look after the fans. I've said for a long time we want a kid-friendly time and we'll certainly be discussing it.''
Any fear that State of Origin wouldn't work or sell at 6pm, 6.30pm or at the latest 7pm, is farcical.
The actual product, State of Origin, is rugby league's greatest billboard.
So popular, expats and general sports fans go searching for a bar at 6am in New York with Origin up on the big screen.
Origin is a concept that should be promoted and geared towards attracting more eyeballs, not the prospect of less.

As the rest of the world has shown, a major sporting event will still sell, well before 8pm.
For too long, the time of which a State of Origin match starts and finishes, has been overlooked for the wallets of high-paying corporates, who while holding a glass of Veuve, can text message their PA to cancel their Thursday morning meeting.

The commercial dollar is highlighted by TV executives with one mention of bleary-eyed school kids, shiftworkers or plain-buggered mums and dads, wanting to watch rugby league's showpiece at a respectable hour.
State of Origin I in Sydney kicked-off at 8:14pm.
It was the latest start to an Origin match since 2020 – and the second-latest Origin start in four years.
Due to stoppages and halftime, the 80-minute contest had an actual duration of 112-minutes.

Referee Ashley Klein blew full time at 10.06pm.
In New Zealand, where the growth of the game at a junior level has struggled without the Warriors to call on over the past three years, the result wasn't determined until after midnight.
On Sunday night, Origin II in Perth is scheduled to be shown in the eastern states at 7.50pm.
Cancel that Monday morning meeting.
SMITH STILL LIVING RENT-FREE IN BLUES' HEADS
– Brent Read
Five years on from State of Origin retirement and Cameron Smith is still living rent-free in NSW heads. Still getting under their skin. Still tormenting them even though the closest he gets to the action these days is a seat on sidelines.
Smith's presence in Queensland camp has the Blues rattled. Scrambling to find answers. How else do you explain the reaction to defeat in the opening game of the Origin series, when NSW made special mention of Queensland slowing down the play the ball and heaped pressure on the NRL to dump Ashley Klein.
The difference, in truth, between the two sides in play the ball speed was negligible, something head of football Graham Annesley pointed out in his weekly briefing with the media after the game.
Stream every game of every round of the 2022 NRL Telstra Premiership Season Live & Ad-Break Free During Play on Kayo. New to Kayo? Try 14-days free now.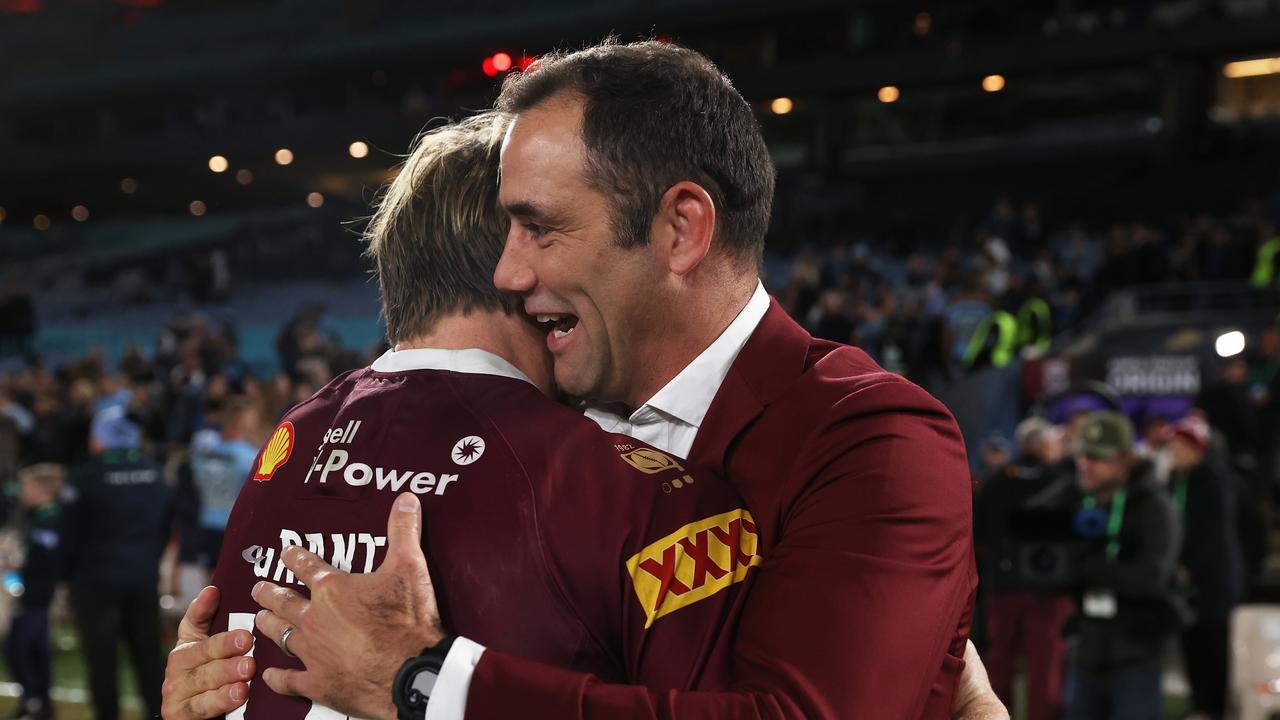 Maroons assistant coach Cameron Smith is still tormenting NSW – through hookers Harry Grant and Ben Hunt. Picture: Getty Images.
Certainly not enough to justify the gulf between the two sides at Accor Stadium. The scoreboard said six points but the difference was more significant, a point Blues coach Brad Fittler and advisor Greg Alexander acknowledged when they put a broom through their squad.
They made sweeping changes. The number of changes you only make when you believe you have plenty of catching up to do heading into a must-win game in Perth.
They are good changes too. The Blues will be better. But their greatest challenge may be beating the Maroons off the field. Much was made of the Queensland's brain's trust heading into Origin I and their potential to inspire their players with their past deeds.
That suggestion undersold their tactical nous. They out-coached NSW in Origin I and in the aftermath, Smith has vindicated his appointment by Maroons coach Billy Slater. He has the Blues rattled as suspicion grows of the Melbourne influence on Queensland.
The Storm and Smith have been the greatest exponents of ruck control in the game's history. At times, to the detriment of their reputations. In his book, Smith talked about how in the later stages of his career some people started calling him 'The Octopus', innocently suggesting it may have something do with his mastery of the tackle.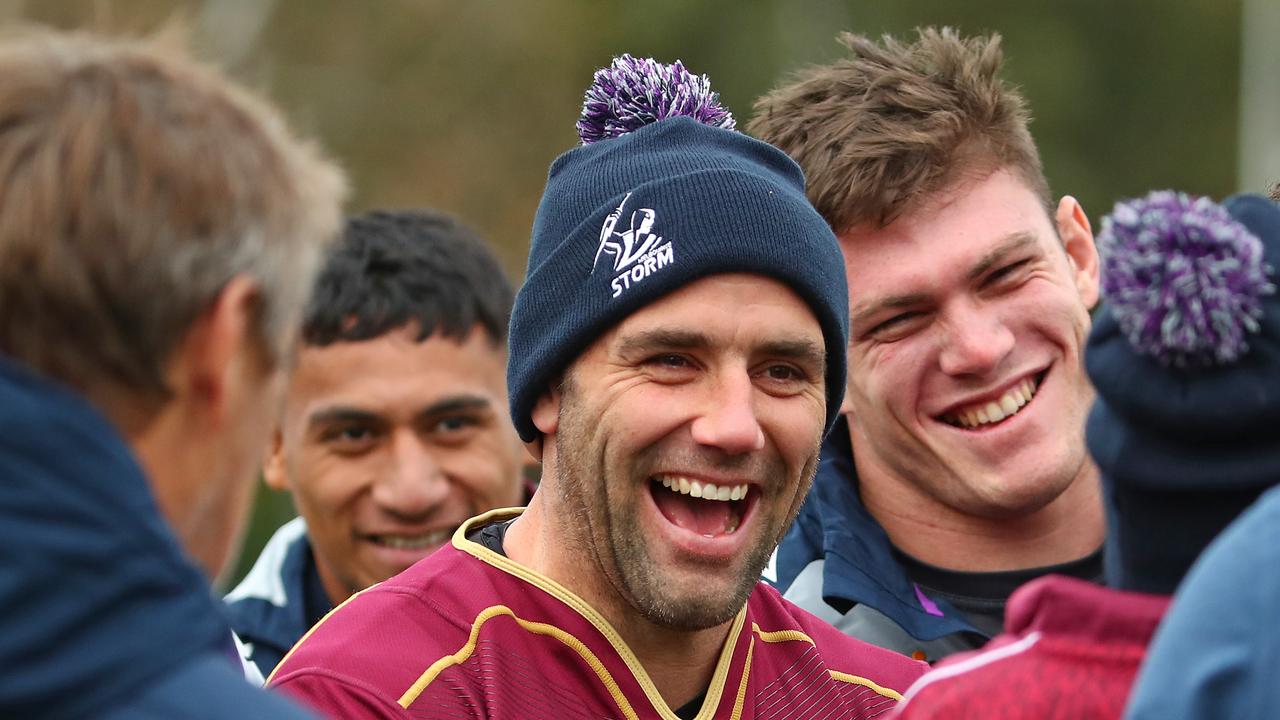 Cameron Smith is arguably the best ever player at controlling the ruck, and his fingerprints were all over the Maroons Game I victory. Picture: Getty Images.
"I assume they were talking about my ability to get tangled up with the ball-carrier as the tackle is being made," he wrote.
"I didn't see myself as an octopus, but I placed a lot of emphasis on my defensive work, especially my groundwork, to slow the play-the-ball.
"As a dummy half, I knew how important that was."
On allegations the Storm pushed the envelope, he added: "There's a difference between dirty play that hurts an opponent and slowing down the ruck.
"We were looking at ways to move players onto their back, or other positions, to allow our defence more time to get set."
No-one did it better. Fittler and the Blues should have seen it coming when Smith's return to Origin was first discussed on the pages of News Corp newspaper nearly a year ago.
Smith told this columnist in late-August that he was prepared to play a role to help Queensland on the proviso that it worked in with his other commitments, of which there are many.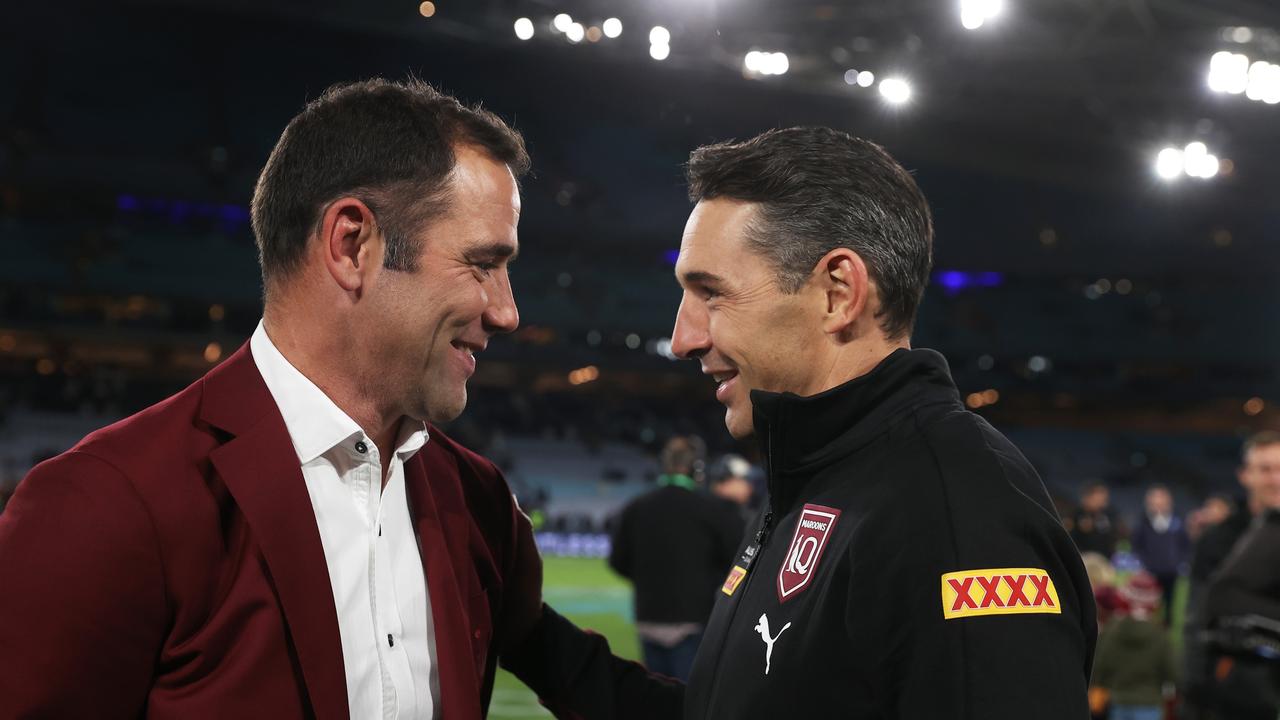 Smith promised to work with Slater to overhaul the Maroons and so far they have delivered. Picture: Getty Images.
Smith has a weekly radio show on SEN, commentary work with the Nine Network and most importantly, family duties. He has been so busy, that more than a year after his retirement, he is yet to be officially farewelled by the Storm.
They have tried to find a date to fly Smith and his family to Melbourne so he can get the send-off his career deserved. Smith, however, hasn't had a spare minute. He found one for his old mate Billy Slater and the Maroons.
He promised to work with Slater to make sure a different Queensland played in this year's series. After one game, he and Slater have delivered and the challenge now is to finish what they have started.
Smith may be the greatest closer in the game's history. Few knew how to get their side to the line better. Queensland would love nothing more than to wrap up the series in Perth then head to Brisbane for a party at a sold-out Suncorp Stadium.
Time to go to work.
* * * * *

Suddenly, the US PGA Tour has found $50 million lying around. Greg Norman wanted to shake up the establishment and he has done just that.
He promised that the players would be the big winners and they have been. The US PGA Tour has been stirred into action and have made changes that will potentially benefit Australia down the track.
The return to a calendar year schedule should benefit the Australasian tour. So should the promise to play three global tour events on an annual basis.
Why did it take Greg Norman and the Saudi's billions to force the US PGA Tour into action? Picture: AFP.
At some point, Australia will be in the mix. US PGA Tour commissioner Jay Monahan has been forced to give ground by Norman's Saudi-backed LIV Tour.
Monahan acknowledged in a press conference this week that the US PGA Tour can't compete with the LUV Tour when it comes to cash.
"If this is an arms race, and if the only weapons here are dollar bills, the PGA Tour can't compete," Monahan told reporters at the Travelers Championship.
"The PGA Tour, an American institution, can't compete with a foreign monarchy that is spending billions of dollars in an attempt to buy the game of golf."
Yet he found enough to potentially stem the tide to Norman's rebel tour. Why, though, did it take Norman and the Saudi's billions to stir the US PGA Tour into action?
Originally published as State of Origin 2022: Late start is killing the appeal of showcase game