NRL 2022: Penrith Panthers need to juggle the roles of Nathan Cleary and Isaah Yeo | Matty Johns
In a warning for rivals, Penrith should win four or five premierships in the next decade, but there's one thing they need to solve first, MATTY JOHNS writes.
It's obvious that the Penrith Panthers are the team of the next decade.
If the Panthers don't win four or five titles in the next 10 years it'll surprise me.
Sure, the Gods of football do have a way of making things tricky for all things obvious, but it's gonna take something big to put a dent in the dynasty.
One of those tricky things is going to be managing wages and salary cap as more and more of their players peak or reach potential.
But, as I've written previously, this Panthers squad are more than a team, they look like family, celebrating each other's successes as if it's their own.
Stream every game of every round of the 2022 NRL Telstra Premiership Season Live & Ad-Break Free During Play on Kayo. New to Kayo? Try 14-days free now.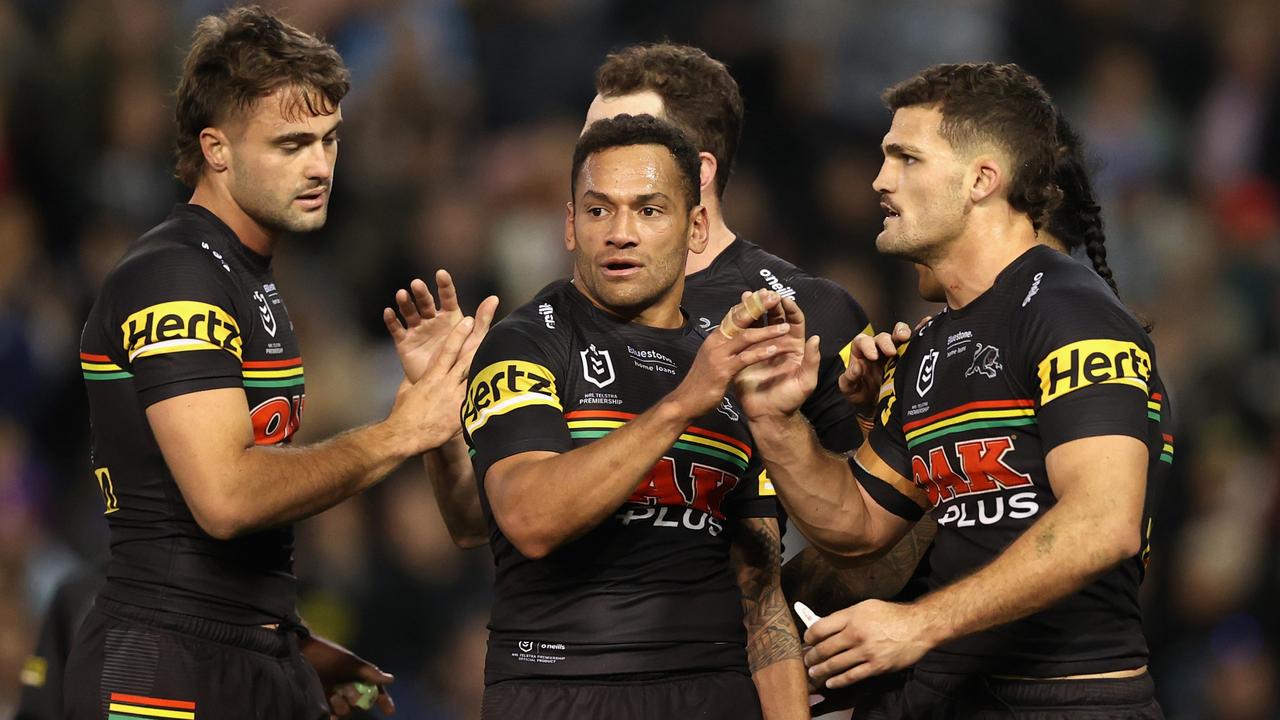 Nathan Cleary and the Panthers should finish with five premierships in the next decade. Picture: Ashley Feder/Getty Images
Players will stay for less pay in these environments. And they'll stay for less to play with Nathan Cleary. Where Cameron Smith led Melbourne Storm to a long period of success, Nathan will emulate.
Cleary has built his career in reverse. Most young playmakers arrive and play with flair and an almost naive confidence, developing poise and composure with miles on the clock.
Nathan, however, arrived with a rare maturity, able to steer a team, find the right kick and compose an attack.
What he's had to develop is a greater attacking arsenal, more variation, a willingness to venture to the unorthodox.
That part of his game has improve dramatically in the past two seasons, and in NSW's State of Origin II victory over Queensland we saw him take another step forward as a playmaker.
AGE-OLD DEBATE
Where some positions in rugby league see players peak in their mid 20s, playmakers reach their apex closer to 30.
In fact, with the advancement of sports science, we've seen champions like Cameron Smith, Cooper Cronk and Johnathan Thurston find their best past their 30th birthdays.
Ball players never stop learning new things about their game: how to improve their craft, what plays to their strengths, how to minimise the impact of their weaknesses.
After the disappointment of Origin I, Cleary has gone away and clearly examined his game.
In game one, sure, he was given little space and time, but he had a tendency to pass first rather than run at defenders.
Just days after that Origin performance, Cleary travelled to Newcastle and took the field with a clear intent, to blow the Knights' middle defence apart with a run-first attitude.
Before kick-off the camera panned to him and you could see he was in an aggressive mood.
Forget backing up from Origin and playing in a dinner suit, he was there to get his football back on track.
He indeed blew the Knights' middle apart, putting on a first-half masterclass. In the second half, with his compass reset, he eased off the gas and slipped on the top hat and tails, and cruised to an easy victory.
Yet, in the opening 30 minutes in Origin II, Cleary once again found himself passing more than threatening. But how he adjusted and how that brought his game to life is a great template for his future football.
Cleary is a far more dangerous footballer when he stands flat up on the ruck line and takes the role of first receiver.
In the first 30 minutes last Sunday we saw him, as we often do with Penrith, sitting behind the middle forwards and taking the football on a sweep play from Isaah Yeo.
Sweep plays have their place, but for playmakers they are restrictive and give the outside defenders a chance to rush you outside-in, cramping time and space.
Unless the defence makes an error, it's a pass play.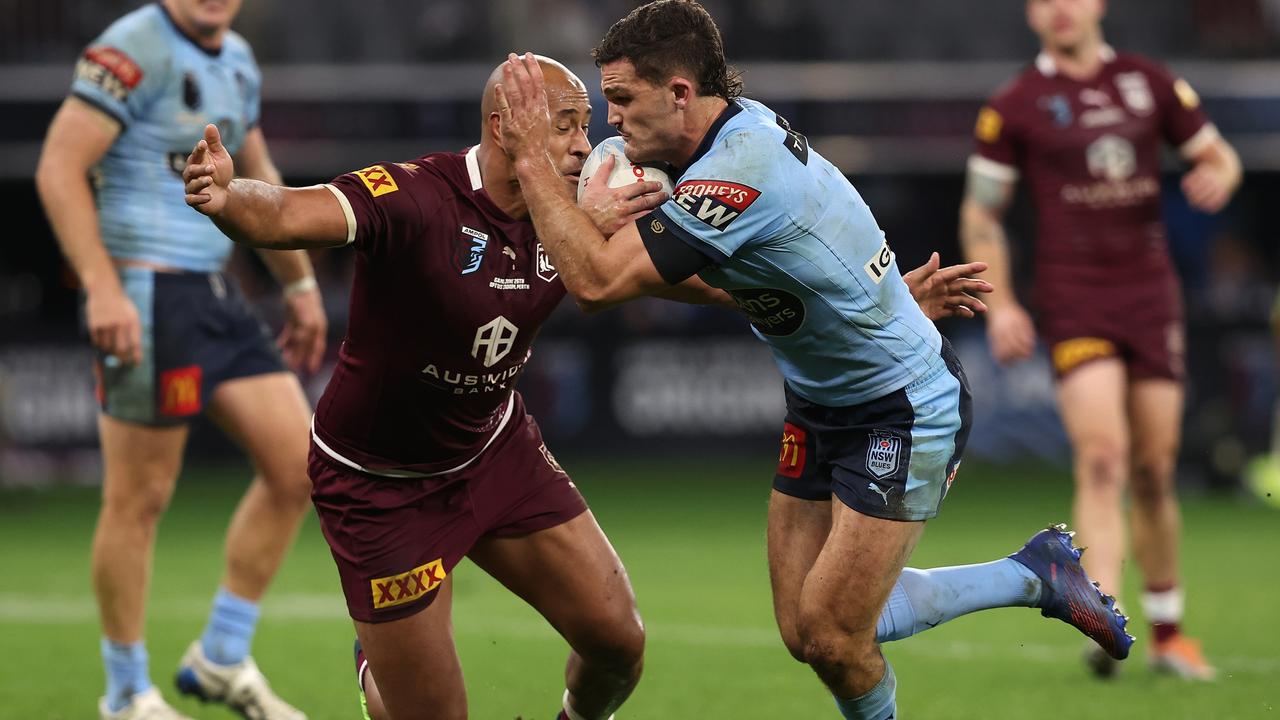 Cleary's running game broke up the Maroons' defence. Picture: Paul Kane/Getty Images
In the second half everything about Cleary's game changed when he took the ball on fewer sweep plays and instead took the flat, first pass.
It gave him time, it gave him options, and it gave him the chance to attack tired defenders in a direct manner.
Ask any middle defender, there's nothing that terrifies them more than halves with footwork, running straight at them.
PENRITH'S PREDICAMENT
Here's the tricky thing for the Panthers, in making this adjustment, you don't want to reduce the role of Isaah Yeo.
Yeo is also a brilliant first receiver, and his pass selection is close to, if not, the best in the game.
This is the challenge for the Panthers and their coaching staff.
How do you get the two most intelligent players in the game, playing in the same space, and not reduce one's role?
Many will say, "If it's not broke, don't fix it." But if they can figure it out, it will make them an even better football team.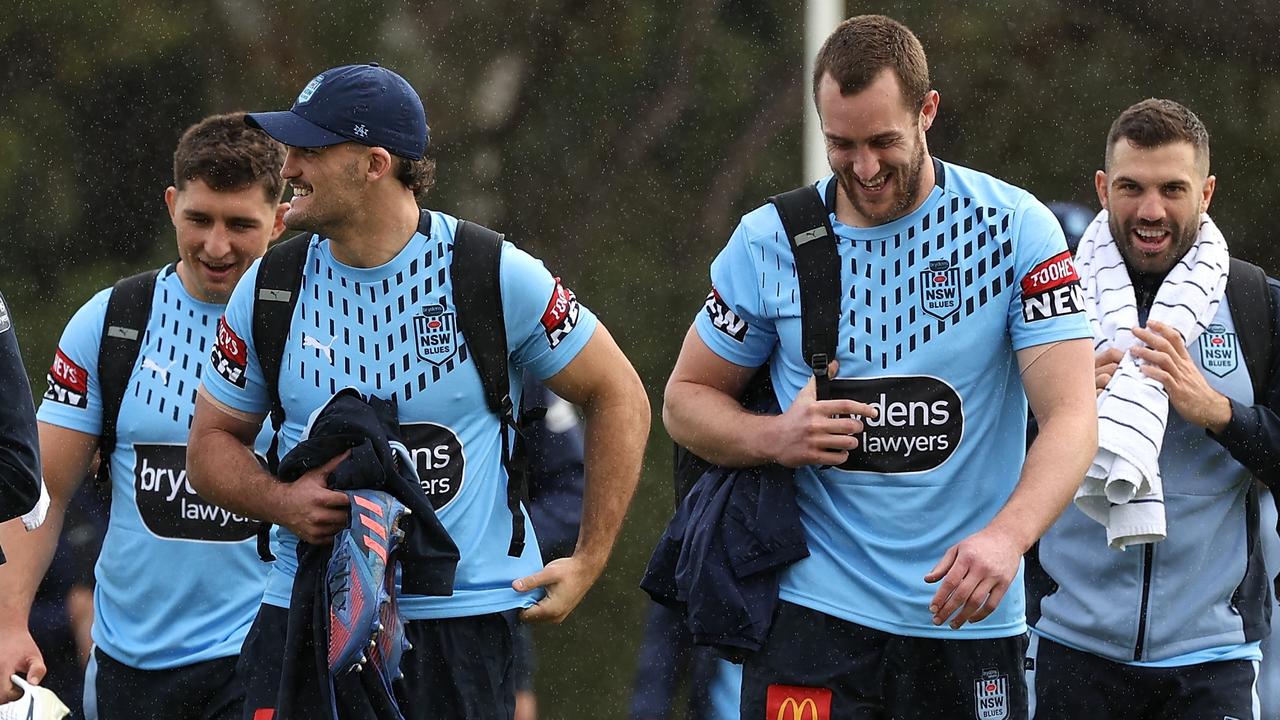 Can Penrith get the most out of Nathan Cleary and Isaah Yeo playing in the same space? Picture: Paul Kane/Getty Images
AND ANOTHER THING ….
A decider in Queensland is a great result for the game with a week and a half of maximum interest and exposure. The Blues go North with confidence and momentum, but Origin in Brisbane is its own beast.
The whole state rallies behind the Maroons and energises the players.
In the middle of their recent decade long dominance I witnessed first-hand how the city motivates the team. The Maroons had just completed a training session at a Brisbane boxing gym, I was there to interview a couple of the coaching staff. As the players were boarding the bus to head back to the hotel, skipper Darren Lockyer signalled for his teammates to get off, and as a squad they jogged back to the hotel.
It wasn't about fitness, it was about feeling the energy of support from the people of the city.
Queenslanders ran out of their houses and shops to cheer the players. It gives you a sense of why Origin is a different beast in Brisbane.
Originally published as NRL 2022: Penrith Panthers need to juggle the roles of Nathan Cleary and Isaah Yeo | Matty Johns