NRL 2022 Sport Confidential: Why the Broncos have hope of Reece Walsh return
The Broncos' bid to bring Reece Walsh back to Red Hill has receives a boost, why the Maroons have bumped Fourex and more in Sport Confidential.
Warriors whiz-kid Reece Walsh is keeping an open mind on his future – fuelling speculation the Queensland Origin hopeful could make a stunning return to the Broncos.
Walsh's stint at the Warriors will take a new twist next week when he leaves Queensland's extended Origin squad next week and moves to New Zealand as part of the Kiwi club's return home following their two-year Covid ordeal.
Walsh dropped a bombshell on the Broncos last year when he sensationally quit the club to sign a $1.3 million deal with the Warriors.
Under the terms of his three-year deal, Walsh has a get-out 'welfare' clause for the 2024 season if he struggles to adjust to life in New Zealand.
The Broncos have made no secret of their desire to bring Walsh back to Brisbane. The 19-year-old says he is happy at the Warriors, but has not ruled out a Broncos comeback.
"I am signed with the Warriors for next year and I have to worry about playing good footy and when you play good footy, decisions come off the back of it," he said.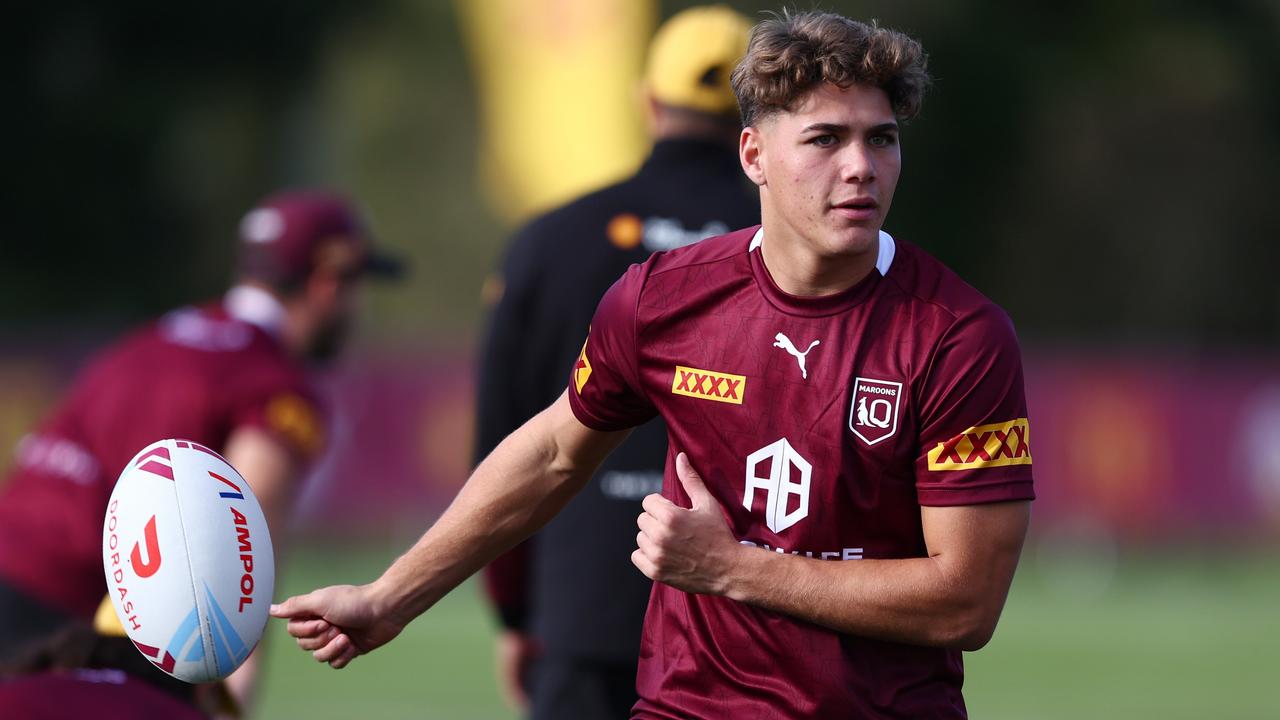 Reece Walsh during Maroons training. Picture: Chris Hyde/Getty Images
"I have to sit down with my family and go through things.
"I am not thinking too far ahead. I am here in camp with the Queensland boys and enjoying myself.
"I head to New Zealand next week and I am really excited for all the boys who haven't been home for a while. They get to see their families and it will be awesome for them. It will be an emotional time for the Kiwi boys.
"I enjoyed my time at the Broncos. I came through there and I was only in the NRL system for a couple of months. I made a lot of good friendships there and I'm in camp now with (Broncos trio) Corey Oates, Tom Flegler and Pat Carrigan.
"I have a lot of good mates there and I'm happy the Broncos are going well.
"Right now, I am focused on the Warriors … they have been good to me."
ICONIC XXXX LOGO WIPED FROM MAROONS JERSEY
Iconic beer Fourex has relinquished its sponsorship spot on Queensland's jersey to honour where the Maroons come from.
Instead of the XXXX logo sitting on the sleeve of the Maroons' jersey when they run out at Perth's Optus Stadium on Sunday night, the players will have their home postcode instead.
That means Selwyn Cobbo will be sporting Cherbourg's 4605 and backrower Kurt Capewell will proudly be wearing the 4470 of Charleville.
For Game Three at Suncorp Stadium on July 13, a further 18 Queensland town postcodes will be applied to the sleeves. These towns have been hand picked as communities that best embody the Queensland spirit of mateship and triumph in the face of adversity.
Stream every game of every round of the 2022 NRL Telstra Premiership Season Live & Ad-Break Free During Play on Kayo. New to Kayo? Try 14-days free now.
"I was extremely lucky to grow up out there on a little bit of land," Capewell said.
"I'm one of four boys and the community is so friendly and thoughtful.
"It's awesome to call Charleville home. I have plenty of friends there and mum and dad still call it home. I will always have a connection to Charleville.
"It's a great initiative by Fourex. For the 4470 to be on the jersey gives me great honour to represent the people from there."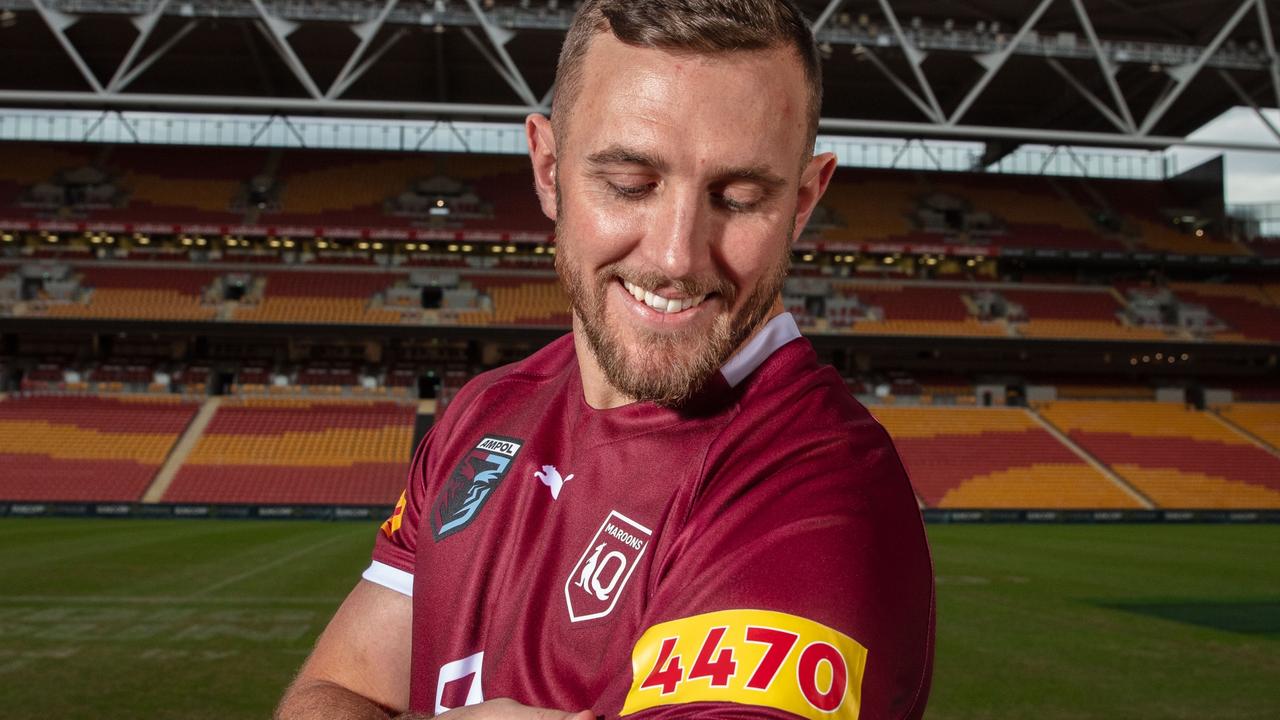 Charleville junior Kurt Capewell admires the 'new' Queensland Maroons jersey, with sponsor XXXX is giving up its 2022 branding by replacing with the home postcodes of the players.
BRONCOS STAR FACES SIX-FIGURE PAY CUT
Rejuvenated winger Corey Oates is set to remain at the Broncos, but it will come at a cost.
After months of uncertainty, Sport Confidential can reveal the Broncos have finally tabled an offer to the off-contract Oates, who was named in Queensland's extended squad this week in the wake of his superb fightback at Brisbane.
Just six months ago, Brisbane bosses had privately discussed offloading Oates for 2023, opening the door for expansion rivals the Dolphins, but such has been his form this season, the 27-year-old is back in favour at Red Hill.
It is understood the Broncos are open to a two-year extension to keep Oates at the club until the end of 2024.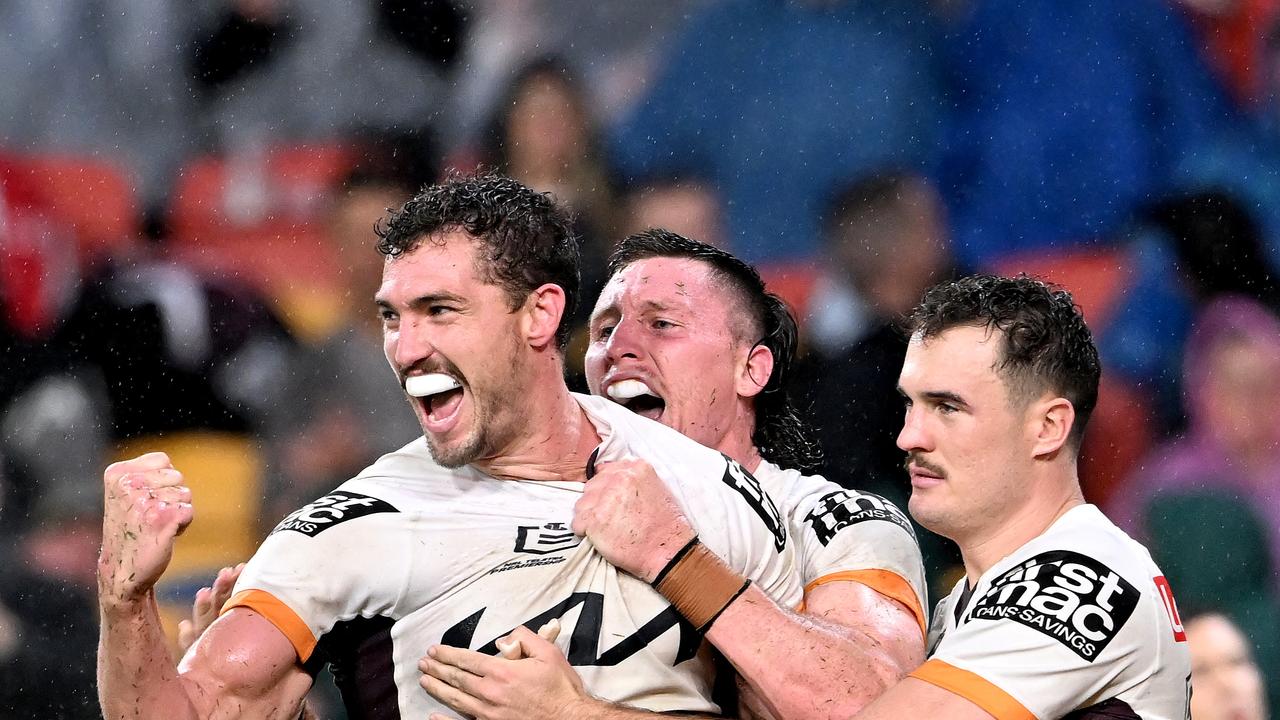 Corey Oates is on track to be a one-club player, with Broncos tabling an offer to the off-contract winger. Picture: Getty Images.
Oates will almost certainly ink the deal – his ambition is to be a one-club Brisbane legend – but the veteran of eight Origin matches faces a pay cut of around $200,000 a season to remain in Broncos colours.
Oates is on an estimated $550,000 a season on his current deal, but the Broncos are facing a salary-cap squeeze after retaining Herbie Farnworth and facing a major upgrade for Queensland Origin bolter Selwyn Cobbo.
Oates has been linked with Dolphins coach Wayne Bennett but Brisbane's decision to table a fresh offer is evidence they have backflipped on plans to offload the fan favourite. Broncos football boss Ben Ikin lauded the fightback of Oates, who has scored 12 tries from 14 games this season and regained his menace on kick returns.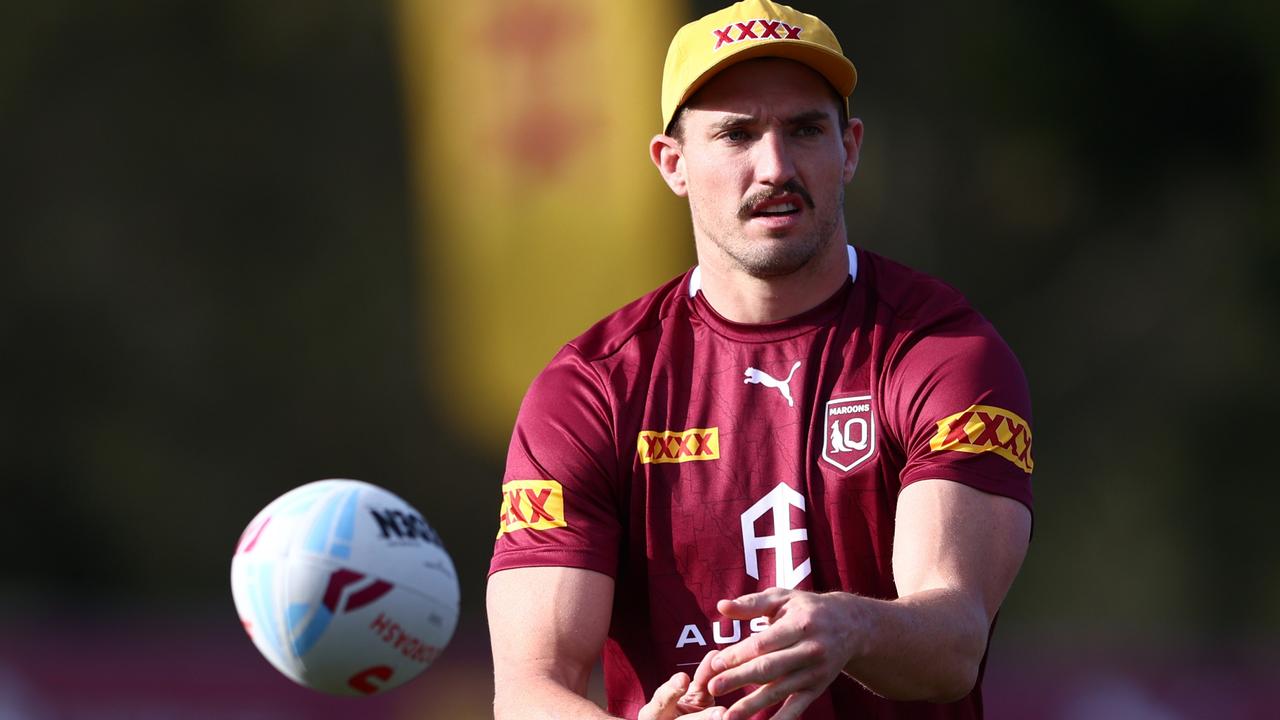 Oates form revival in 2022 has seen him called back into Queensland Origin camp. Picture: Getty Images
"I am really proud of Corey," Ikin said.
"He will admit he had some seasons where he wasn't playing his best footy, but he decided to turn it around and he hatched a plan in his own mind on how he was going to do it and he went to work.
"He has turned things around. It can be hard to do at the latter stages of your career because people start writing you off and age isn't on your side. I know Corey is not old, but he made a commitment to be better than he was.
"He had to do the work and change his attitude and he has done that. He is playing some outstanding football. It is great to see."
NRL BOSS HITS BACK AT GOULD OVER DOLPHINS
NRL chief executive Andrew Abdo has defended criticism of the Dolphins after leading commentator Phil Gould lashed the governing body over their handling of the expansion process.
Channel 9 commentator Gould, one of the code's most powerful voices and also the Bulldogs football boss, lashed the NRL during the week, claiming the Dolphins have not been given enough time or help to build from scratch for their debut in 2023.
But Abdo backed the ARL Commission's expansion strategy and is confident the Dolphins will not be easybeats with super coach Wayne Bennett at the helm.
"We made it clear from the outset that we wanted a team that could enter the competition and stand on their own two feet," Abdo said.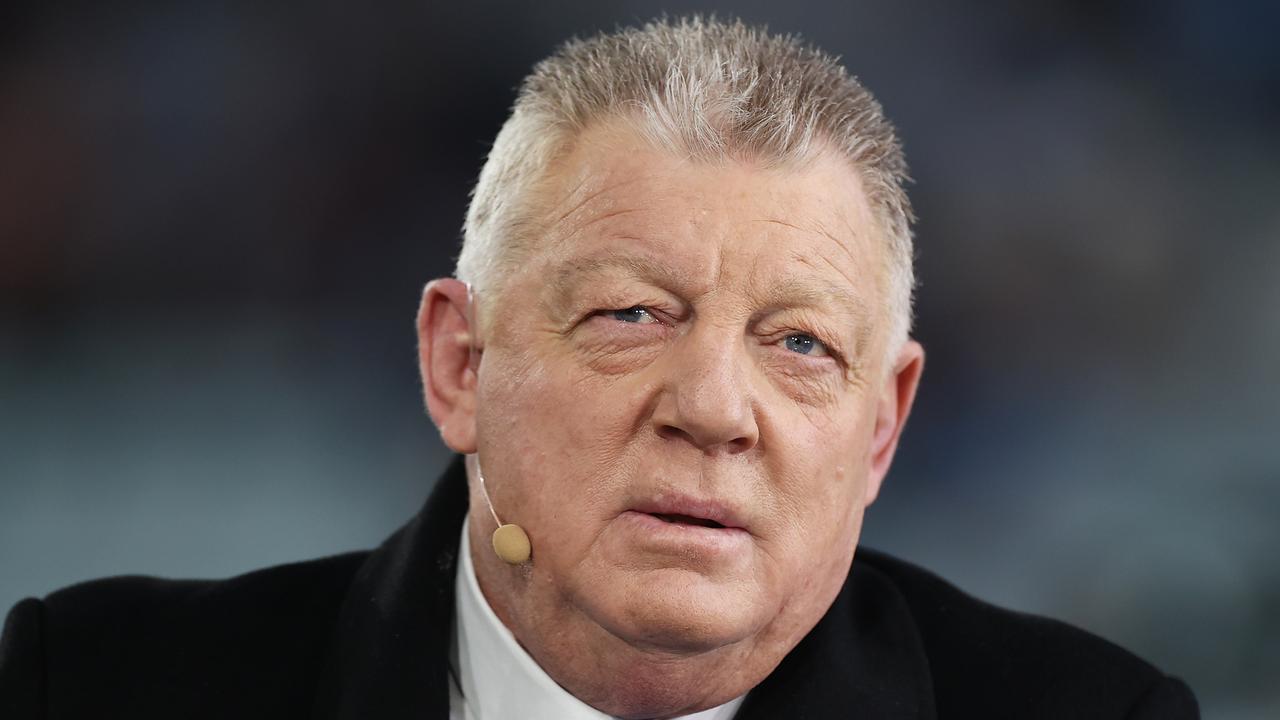 Commentator and Bulldogs head of football Phil Gould Picture: Mark Kolbe/Getty Images
"As part of our assessment process, we wanted the new team to establish key success indicators in a range of areas, so it was important to look at financial strength, commercial strength and football strength, as well as development pathways.
"I am confident the Dolphins will be successful based on that process and our interactions with the club subsequently. We check in with them from time to time.
"It will always be difficult when you are coming into one of the most competitive and toughest competitions in the world, but I am confident they can make an impact right from the start.
"Like any new team, there may not be overnight success, but I believe they will build quickly.
"We have great confidence in Wayne. He is one of the greatest coaches of all-time and Wayne has the proven ability to get success and he knows what it takes to build a roster. The Dolphins are entering the lion's den but with Wayne there, the new team is in good hands."
TITANS RECRUITMENT PANEL UNDER PRESSURE
Titans performance chief Klint Hoare has become the first scapegoat of the Gold Coast's crash as club bosses defended the recruitment decisions that have sent them into wooden spoon contention.
Fitness head Hoare was sacked this week with the Titans sitting last on the ladder after 15 rounds in what's been a disastrous year.
At the crux of the Gold Coast's free fall has been a questionable spine backed by coach Justin Holbrook that was destined to fail in 2022.
The Titans released established halfback Jamal Fogarty and opted for rookies Toby Sexton and Jayden Campbell to go with the inexperienced Erin Clark and injury-prone Origin player AJ Brimson.
And it's been nothing short of a shocking decision, with the Titans lacking leadership and structure on the field to guide a heavily stacked forward pack which chews up most of the club's salary cap.
The Titans boast a cast of thousands on their recruitment panel including club owners Brett Frizelle and Darryl Kelly along with advisor Mal Meninga, recruitment chief Ezra Howe, football boss Anthony Laffranchi, CEO Steve Mitchell, chairman Dennis Watt and Holbrook.
How eight of them decided to go with this playmaking approach is remarkable, but Mitchell insisted it was a collective decision.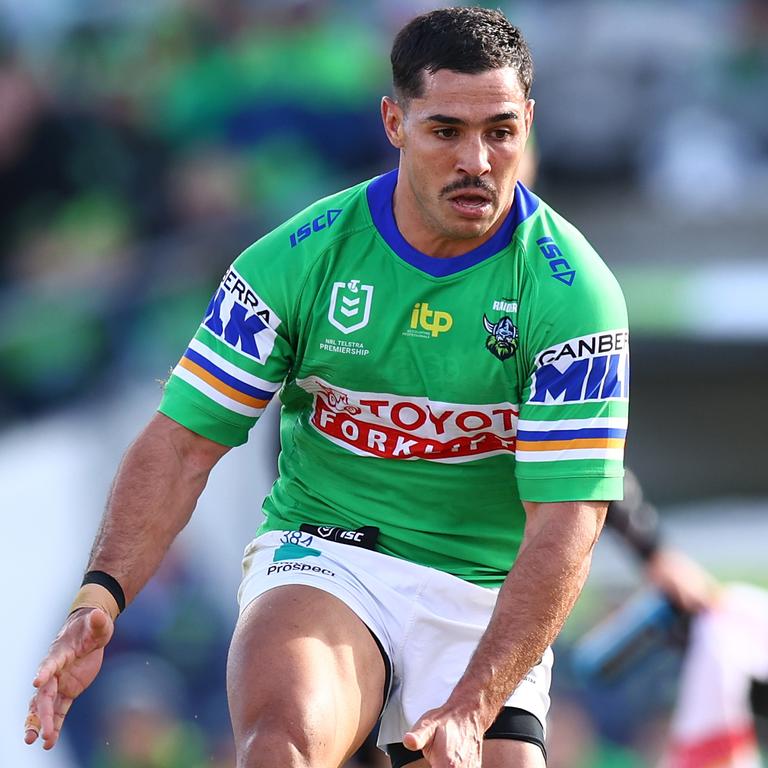 Former Titan Jamal Fogarty.
"We've got a young spine that we're believing in and know in time it's going to be a good spine, it's a very talented young group," he said.
"They're being tested every week in the NRL arena and we've suffered some injuries.
"The recruitment piece has been the case now for the last three years. Justin works with Ezra Howe to look at our squad and where it is over years ahead.
"Then we go out and look at individuals and who we think might fit that piece. They have to fit a particular criteria. Then it comes to the recruitment committee to be discussed. It's a fairly disciplined process.
"That was a decision we made as a club. The recruitment committee is a process and something we believe in. We are still on that journey.
"These young men need some time on the paddock. Between them they haven't played a lot of NRL fixtures.
"This experience will make them better for it, but it's a period of time where you have to have the patience to go through the journey.
"The entire club – our executive and footy staff – made a decision on it and it's something we're committed to. It wasn't the sole decision of the coach."
While Mitchell says they are backing the young spine, the club's only 2023 recruit at this stage is ageing Manly playmaker Kieran Foran, whose lack of speed is a concern.
MUNSTER MAKING DIGITAL WAVES
Maroons star Cameron Munster has jumped on board Queensland's rugby league's first "metaverse".
Munster has joined forces with the Queensland Rugby League, Lion Nathan and Ministry of Sport to launch The Ultimate Queenslander NFT.
The NFT will include 10,000 tokens, with an initial drop of 1000 to take place next week.
Prominent Queenslanders Wally Lewis, Johnathan Thurston, Karl Stefanovic and Natalie Cook are also backing the concept.
Munster is heavily invested in the booming cryptocurrency and NFT – non-fungible tokens – industries and The Ultimate Queenslander has former Maroons forward Nate Myles involved.
"I'm in the NFT space as an owner of Dead Diamond Society and we're doing really good things for the community around Australia," Munster said.
"Nate wanted to do a Queenslander one with greats like JT, Wally Lewis and myself as an NFT.
"I looked at the designs and ideas he had around it and it was a perfect fit."
Lewis has been dubbed "The King" of The Ultimate Queenslander, which represents five areas of the state in the beach, city, country, tropics and burbs.
Fans can purchase tokens and have the chance of securing a star Queenslander like Lewis, Thurston or Munster.
An initial drop will launch next Wednesday and the QRL is planning to filter some proceeds from the NFT concept back into grassroots footy.
JUNIOR MAROONS SKIPPER HAS EYES FOR GALLEN
Sydney Roosters prop Xavier Va'a is an impressive specimen. He is studying a psychology degree and underlined his leadership qualities by being handed the captaincy for Queensland's under-19s clash with NSW on Thursday night at Leichhardt Oval.
But while the former Broncos Academy young gun has a huge future in the NRL, Va'a is also a champion boxer and is keen to eventually jump in the ring with NSW Origin legend-turned-fighter Paul Gallen.
At 193cm and 116kg, Va'a is a big unit and he sparred Gallen last year to help the Sharks great prepare for his heavyweight bout with Justis Huni.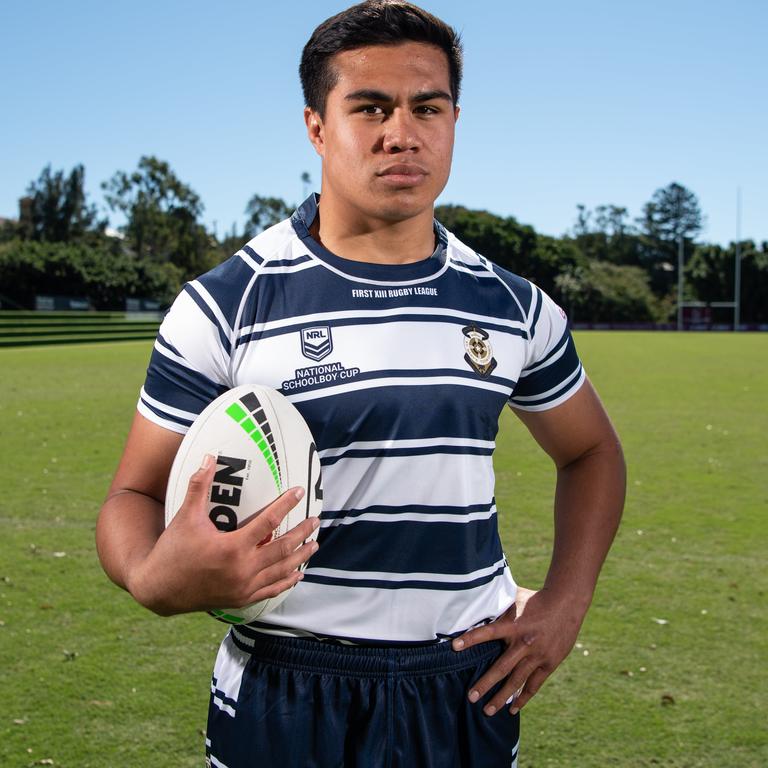 Xavier Va'a.
While Va'a's immediate priority is cracking the NRL with the Roosters and playing well for the junior Maroons, he says he has not closed the door on winning a world-title as a professional boxer.
"I love boxing," he said.
"I definitely still have dreams to pursue boxing at a high level. At the moment, my focus is on football, but I would love to keep up my boxing and I'd like to make my professional debut this year or possibly next year.
"The opportunity is there for me to fight Paul Gallen and if he wants to agree, I am happy to fight anyone. Whether it's a big name like Paul Gallen or not, I just want an opportunity to fight and test myself.
"Paul has improved a lot. I had the opportunity to spar him before the Justis Huni fight and he is a great learner. It's incredible he could be fighting at 40, I find that inspirational. He still has humility.
"I wouldn't rule it out for sure. If the time is right for me and Paul to fight, then that would be great, we'll see what happens.
"I always had the dream to be the world champion as a boxer and I still have those dreams, but for the moment I'm happy at the Roosters, they are an awesome club."
COBBO'S MISSING WARDROBE
Maroons flyer Selwyn Cobbo has been wearing teammates' training gear after giving his away.
Cobbo passed on his Queensland kit to family following his State of Origin debut in Game One.
Cobbo got rid of it because he assumed he would be given more when he entered Camp Maroon for Origin II.
But that wasn't the case and he has been wearing spare gear that was missing sponsors logos and borrowing off his teammates.
Cobbo trained on Wednesday afternoon in reserve player Beau Fermor's training shirt.
He taped over Fermor's name on the back, but it peeled off by the end of the session.
NO REST FOR INJURED REYNO
No-one can question Broncos skipper Adam Reynolds' commitment to the fans. Despite fracturing his ribs a fortnight ago, Reynolds played through the pain barrier to meet diehard Broncos fans Harry, 6, and Hugo, 5, at a promotional event last Sunday.
A sore-and-sorry Reynolds attended the reopening of the flood-hit Bunnings store at Rocklea, which suffered major damage during Brisbane's floods in May.
Adam Reynolds has still been giving back to the community while injured, meeting Broncos fans Hugo, 5, and Harry, 6.
BIG DADDY EYES MONSTER PAY DAY
He was famously beaten by NRL legend Paul Gallen but Lucas 'Big Daddy' Browne is back in business.
Sport Confidential can reveal Browne is in talks with former world champion Joseph Parker for a showdown in London later this year which could be worth up to $300,000 for the 43-year-old heavyweight hulk.
Browne's career appeared over when he suffered a shock loss to Gallen last year but he stunned the boxing world with his first-round knockout of Junior Fa on the undercard of the George Kambosos-Devin Haney world-title fight a fortnight ago.
The 118kg monster believes he has three fights left and is eyeing bouts with Kiwi giant Parker and Australian duo Demsey McKean and Justis Huni before he retires.
"I have the power to knock out anyone in the world," he said. "I know I'm coming to the end, so I want a few quality fights, some good pay days, and I will retire a happy man."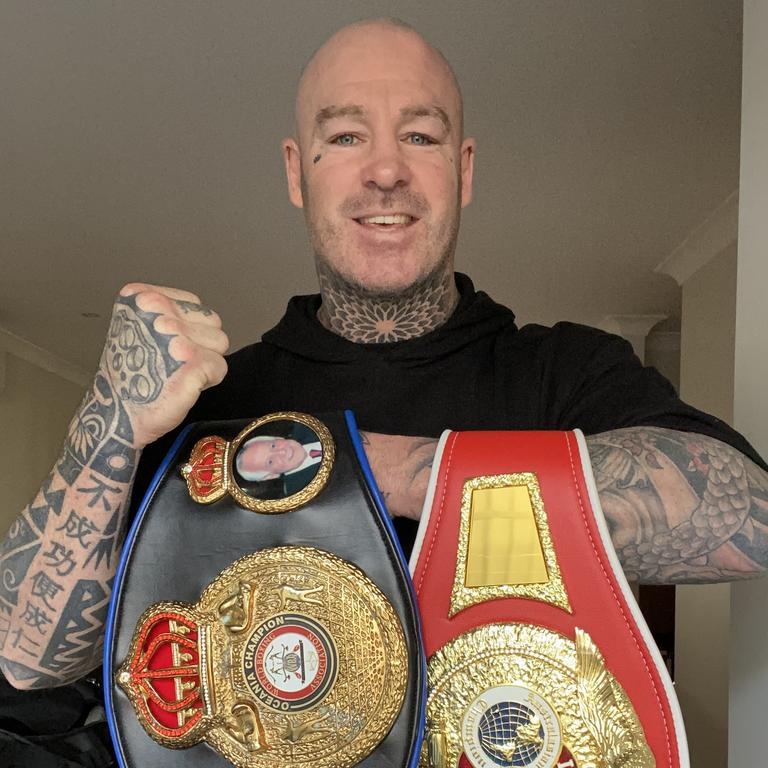 Australian boxer Lucas 'Big Daddy' Browne.
NRL STARS BRING 'CONFRO' MAGIC
Rugby league's most famous school carnival returns next week with a bunch of former NRL stars on the sidelines.
Matt Geyer Former (Marymount College, Burleigh Waters) and his 1999 Melbourne Storm premiership teammate Tony Martin (The Cathedral College, Rockhampton) will coach two of the 57 teams in the Confraternity Carnival in Mackay.
Chris McKenna (Iona College), Antonio Kaufusi (Shalom College girls team, Bundaberg), Scott Minto (St Brendan's College, Yeppoon) and David Faiumu (Rockhampton Grammar) are also involved in the coaching and management of teams.
The Covid pandemic prevented "Confro" from holding finals for the last two years but the carnival, which was first held in 1980, continues to have a significant impact on elite football.
Eight of the members of the Maroons Origin II squad are Confro graduates: Daly Cherry-Evans (St Patrick's College, Mackay), Cameron Munster (Emmaus College, Rockhampton), Valentine Holmes (Ignatius Park College, Townsville), Ben Hunt, Harry Grant and Corey Oates (St Brendan's College), Felise Kaufusi (Shalom College), and Lindsay Collins (Padua College, Kedron). Injured Xavier Coates (Marymount College) played Confro in 2018.
The Carnival begins on Monday with all games live streamed at www.confraternitycarnival.com.au
SPOTTED
Former NSW hardman Greg Bird just metres away from Queensland Origin training on Tuesday. He wasn't there as one of Brad Fittler's spies though – Bird was playing golf at Sanctuary Cove with former Maroon Mat Rogers.
Originally published as NRL 2022 Sport Confidential: Why the Broncos have hope of Reece Walsh return