NRL 2022: Kristian Woolf rejects Warriors bid to replace coach Nathan Brown
The Warriors wanted Kristian Woolf so bad that owner Mark Robinson flew over to the UK to meet him. But the star coach has turned down a lucrative multi-year contract.
Kristian Woolf has rejected the Warriors bid to have him replace Nathan Brown as the club's long-term head coach.
Woolf was offered the Warriors job after the club's owner Mark Robinson flew to England earlier this month in a bid to convince the St Helens coach to take over the club.
He was the Warriors first choice and the club were prepared to offer him a long-term deal to entice him to New Zealand. However the Tongan coach has knocked back the lucrative multi-year contract after telling the club he was keen on returning to Australia.
Stream every game of every round of the 2022 NRL Telstra Premiership Season Live & Ad-Break Free During Play on Kayo. New to Kayo? Try 14-days free now.
The Warriors identified Woolf as their No. 1 target after parting ways with Brown. So much so that Robinson flew to the UK to try and entice Woolf into taking on the job. Stacey Jones has replaced Brown on an interim basis but is unlikely to be given the job permanently.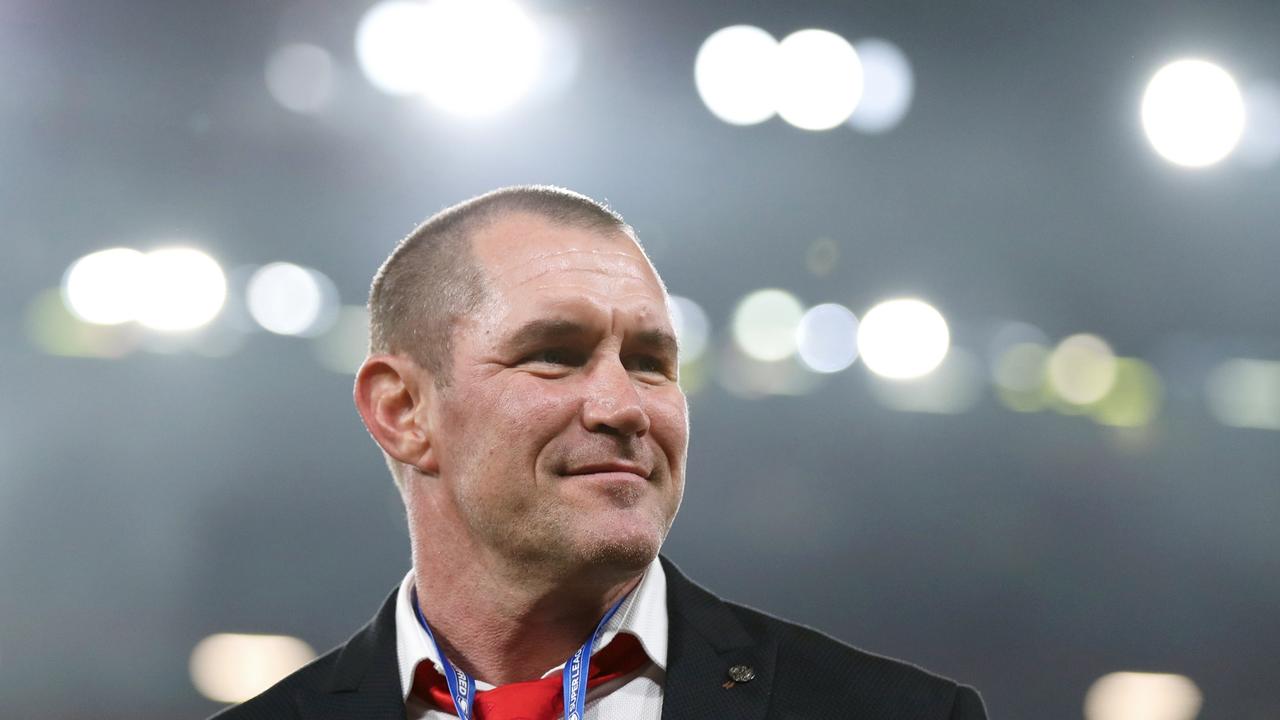 St Helens coach Kristian Woolf, has rejected the Warriors bid to have him replace Nathan Brown. Picture: Getty Images.
Woolf's decision is the first major move in the impending coaching shake-up across the NRL. Three clubs – the Warriors, Tigers and Canterbury – are yet to fill their vacancies.
Woolf has been linked with joining Wayne Bennett as his right-hand man at the Dolphins before taking over when Bennett retires.
However, he is also likely to be considered by the Bulldogs or Tigers – or both – if Cameron Ciraldo opts to remain at Penrith.
Woolf is highly though of given his two-time premiership-winning success at St Helens, and leading Tonga's revival.
The Warriors will now have to turn their attention elsewhere. Already Ciraldo and premiership-winning coach Shane Flanagan have ruled out pursuing the job.
Robinson also all but put a line through Kiwis coach Michael Maguire. Robinson said earlier this month that the South Sydney premiership mentor was not on his club's radar.
It is understood they are on the lookout for an emerging coach, ruling premiership-winner Paul Green out of the mix. The likes of Josh Hannay, John Morris, Ben Hornby and Dean Young could be potential options.
SPORT CONFIDENTIAL
DESPERATE DOLPHINS' BID TO CHEAT THE SYSTEM
The Dolphins have failed in a bid to have the NRL relax its November 1 rule to allow them to make big-money plays for the likes of Latrell Mitchell, Cody Walker, Stephen Crichton and Mitchell Moses.
Confidential understands Dolphins powerbrokers approached the club late last year when it became apparent that they would struggle to attract high-profile stars for their inaugural season in 2023.
It is understood coach Wayne Bennett was enlisted to help push their cause with NRL officialdom. Sources close to the NRL confirmed the bid was eventually rejected by head office.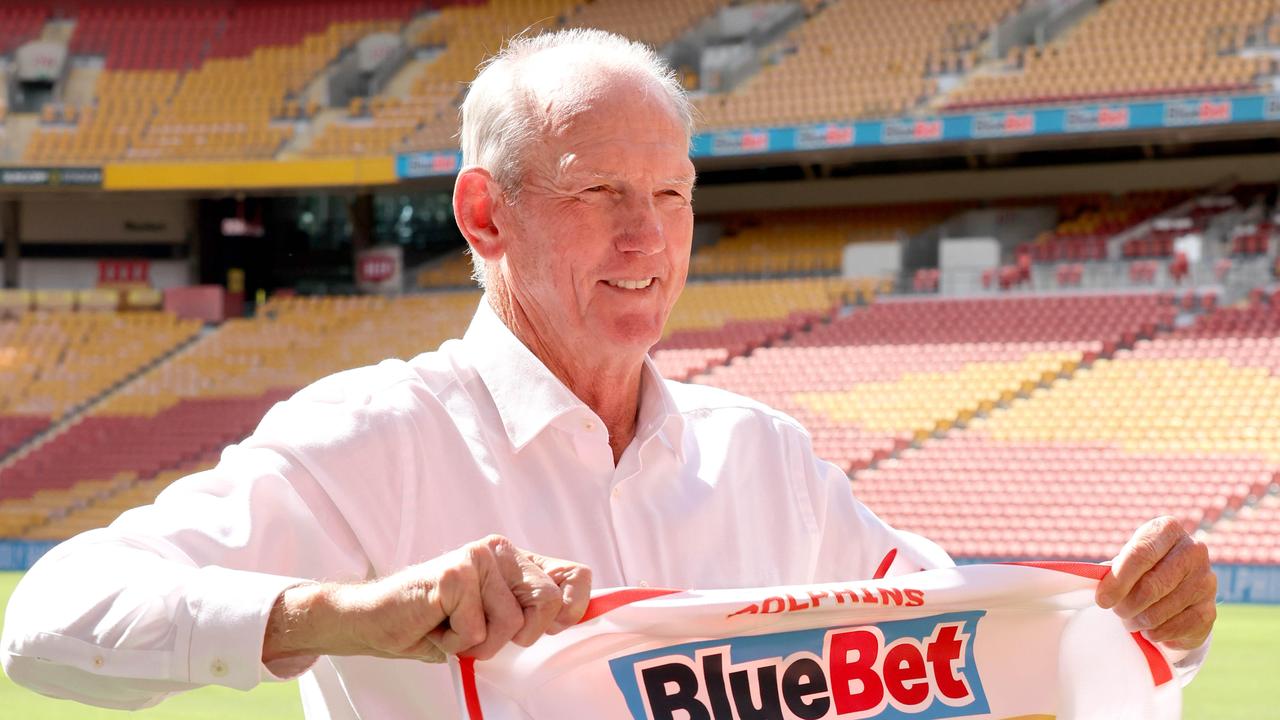 Dolphins coach Wayne Bennett has yet to secure a marquee signing for the club. Picture: Steve Pohlner
Under NRL rules, rival clubs are only able to sign players once they enter the final year of their deals on November 1.
However, The Dolphins wanted that rule relaxed so they would have immediate access to the likes of Walker, Mitchell, Moses, Crichton, Ben Hunt, Damien Cook, Victor Radley, Cameron Munster, Matt Burton, Sam Walker and Reece Walsh.
As it stands, the Dolphins can talk to those players but can't sign any of them until November 1 this year, meaning their existing clubs have the leeway to convince them to stay on their books.
The Dolphins lack of star recruits in the spine has been a source of concern in some quarters, although NRL officials and the club themselves insist they will field a competitive side.
TALAKAI TAKES HIMSELF TO TASK
NSW debutant Siosifa Talakai has broken his silence on the dramatic arrest warrant which threatened to dash his Origin hopes describing himself as "the worst role model" as he faces sentencing the day after game three.
Talakai was rewarded with a barnstorming start to the season after earning a place on the NSW bench for Origin II in Perth on Sunday night.
But before he was called into the squad he created headlines for the wrong reasons. Talakai has spoken of his remorse after a magistrate issued a warrant for his arrest after Talakai failed to show up to court to answer a minor driving charge earlier this month.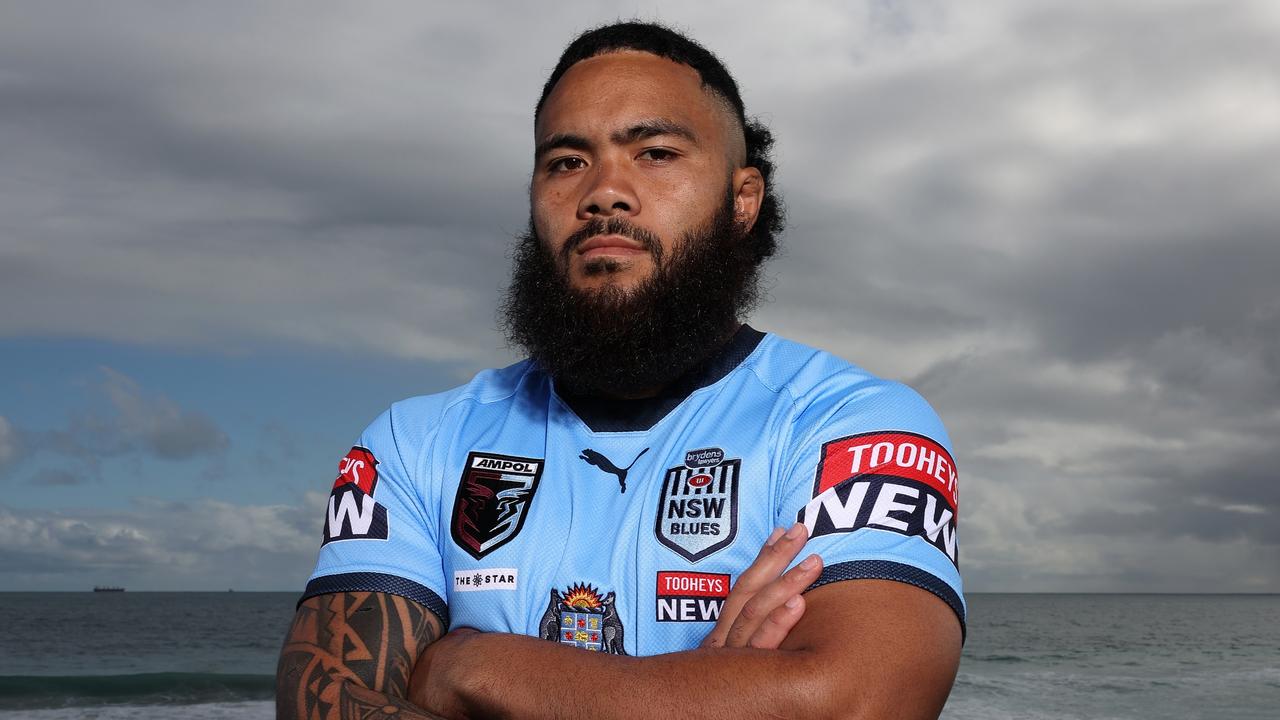 Siosifa Talakai failed to show up to court earlier this month on a minor driving charge. Picture: Paul Kane/Getty Images
"Don't be like me," Talakai said. "I'm the worst role model. Get your licence everyone. It was a poor decision by me. I deeply regret it and I should be better than that."
He was charged with driving with a "licence expired less than two years" at Cook Drive at Caringbah on May 13.
Talakai's matter was mentioned in Sutherland Local Court on Thursday, where his lawyer, Warwick Korn, pleaded guilty on his clients behalf.
He is due to be sentenced on July 14, the day after Origin III.
BURGESS TORN OVER COACHING FUTURE
Sam Burgess has spoken of the temptation to join Wayne Bennett at The Dolphins as he prepares to hold crunch talks with South Sydney powerbrokers over his coaching future at his beloved Rabbitohs.
Burgess is weighing up his next move, having been offered the chance to join Bennett's coaching staff for The Dolphins' inaugural season in the NRL.
The retired Rabbitohs legend admitted the lure of working alongside Bennett was proving hard to resist during an interview with former teammate James Graham on his new podcast, 'The Bye Round with James Graham'.
"It is appetising," Burgess said. "I have worked with Wayne for a long time with England and at Souths. You know how much of a great man he is.
"So as a young aspiring coach, it is appetising. Also what I like about it too is it is not another NRL club — I don't have any history with that club, I don't have any sort of bad blood or whatever.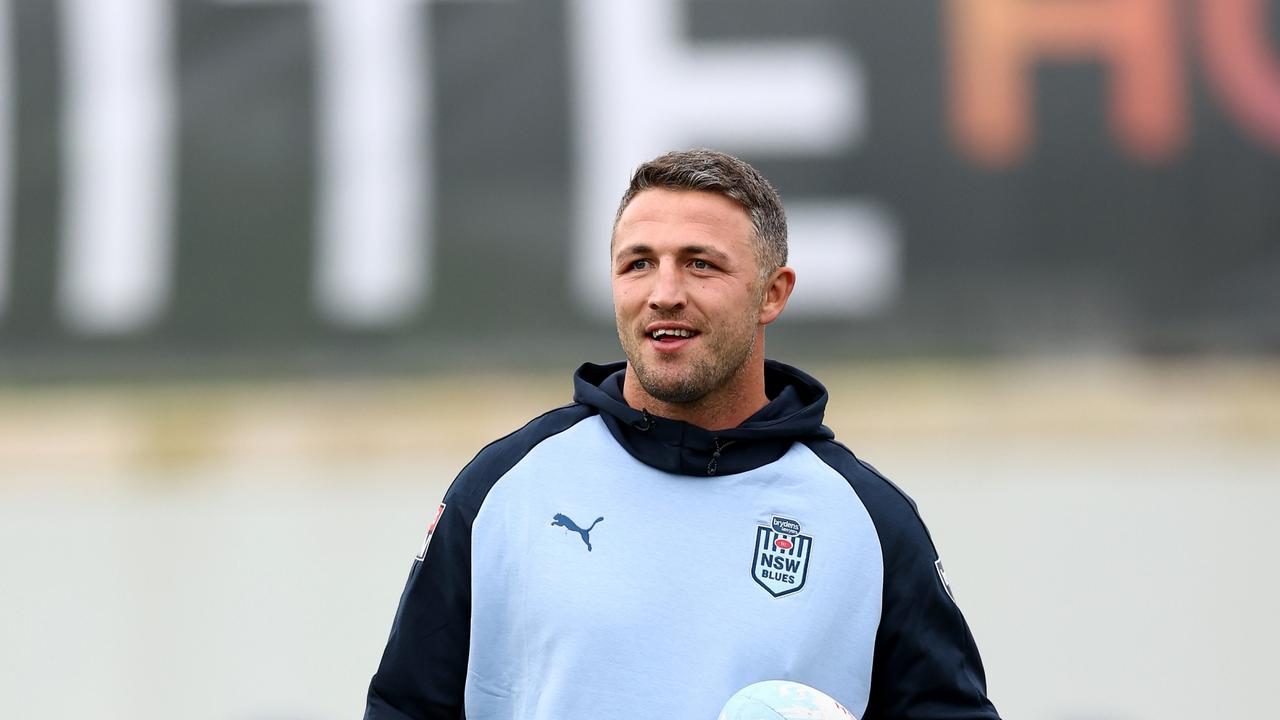 Sam Burgess is torn over his coaching future, with Wayne Bennett keen to bring him to the Dolphins. Picture: Getty Images.
"Also the chance to learn next to Wayne on a new franchise, when does that come around? It is not often a new franchise comes along and Wayne Bennett is the coach.
"In that respect I think it is a good opportunity for growth. There is a bit to get through yet before we get there."
Asked whether his head was saying The Dolphins, Burgess said: "I wouldn't say it is there. Like I am interested in it for sure. I would be stupid not to be.
"My head, my heart is probably South Sydney because I gave so much to the club. I feel that deep draw to the place.
"Wayne wants me there, I would like to work with him."
Burgess is expected to hold talks with Souths officials next week over his future at Redfern. At one point he was destined to coach the club's under 19s with former teammate John Sutton but then his personal life exploded and he stepped away from the club and the game.
He made his return to rugby league this season in Group 2 at the helm of the Orara Valley Axemen, the club that is supported by his great mate Russell Crowe.
The Axeman have lost only once, a defeat that left an impression on Burgess the coach.
Bennett and Burgess have a close bond, but Sam's heart is still with Souths. Picture: AAP.
"I lost my first game a couple of weeks ago — first loss," Burgess said.
"I did't expect it. I didn't take it very well and it made me a better coach. I spoke to Wayne Bennett about that emotion. He was like, 'Sam, I have lost more games than any other coach in the game, it never gets easier'.
"He said you are in the right place. The moment you stop caring about the loss is when you should give it away.
"I looked internally and I thought I didn't give them enough, I didn't prep well enough. Next week I became a better coach and we got the result.
"Win, lose, draw you have to be that same meticulous guy. It has reaffirmed that I want to pursue coaching. I have a couple of opportunities in the pipeline for next year.
"I am just in the process of figuring out what is going to be the best for all involved."
Asked what sort of coach he would be, Burgess harked back to his time under Bennett and Michael Maguire, who led South Sydney to a drought-breaking premiership in 2014.
"If I am honest, I am still figuring out my method," he said.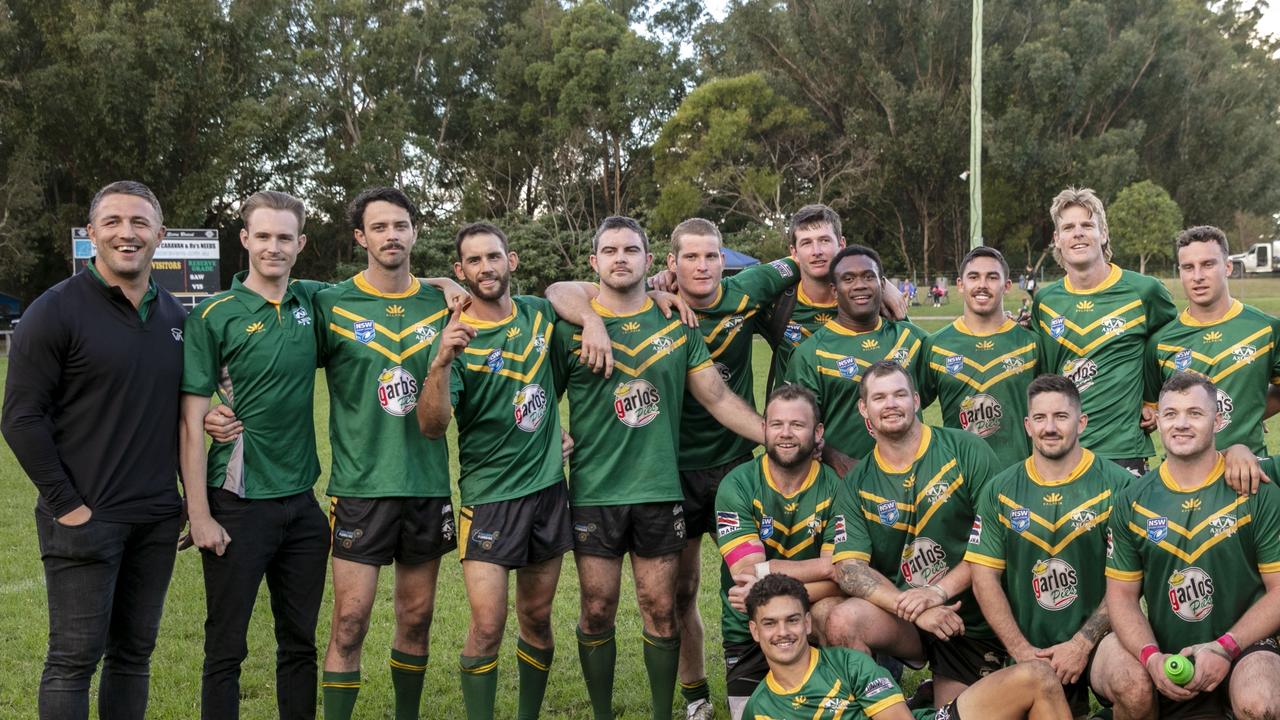 Burgess has been coaching the Orara Valley Axemen, losing just one game so far in 2022.
"I am sometimes more intense than Wayne, less intense than Maguire. There's all different sides of me. I am going to be myself.
"I am going to be exactly who I am. I retired a bit sooner than I had imagined so I had not really thought that far ahead.
"I got back into the coaching environment and instantly felt that satisfaction of being able to make a difference, help people.
"I started to think gee, I am all right at this. I know how to communicate, how to get my point across, how to connect with players.
"Instantly I felt drawn to that position. I would rather do something that fulfils me and makes me happy. That is coaching - being around a team environment and making a difference."
* Listen to "The Bye Round With James Graham" wherever you get your podcasts or watch it on YouTube. The full Sam Burgess interview comes out on Monday June 27.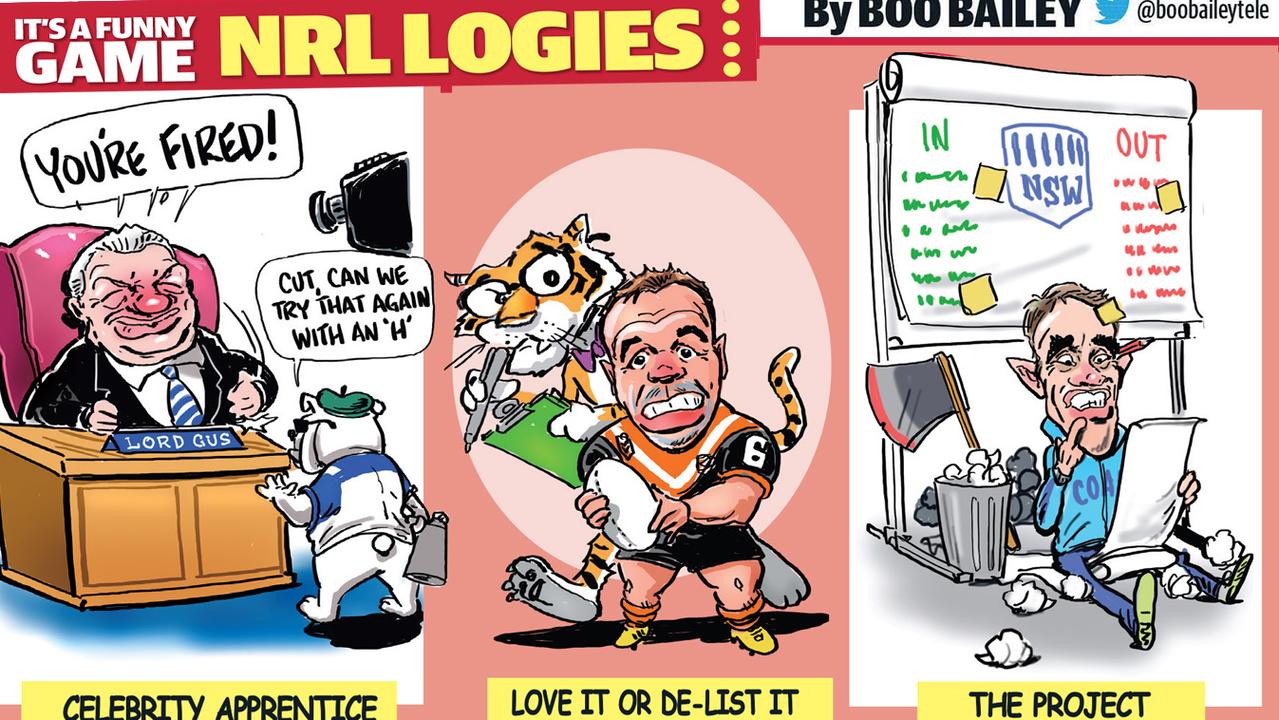 Boo Bailey's take on the week in NRL.
SOUTHS' GRAND PLAN FOR COOK
South Sydney are preparing to make Damien Cook a Rabbitoh for life after meeting with the star's agent on Monday.
The Rabbitohs are in the process of offering Cook a two-year contract extension, despite the NSW hooker having 12 months left on his deal.
The deal would take Cook, who turned 32 on Thursday, through to the end of the 2025 season. South Sydney boss Blake Solly met Cook's agent Mario Tartak on Monday to outline the plan. The Rabbitohs also hope to keep Cook at the club beyond his playing career.
It is understood Cook's camp are hoping to secure a three-year deal.
Cook confirmed negotiations have begun.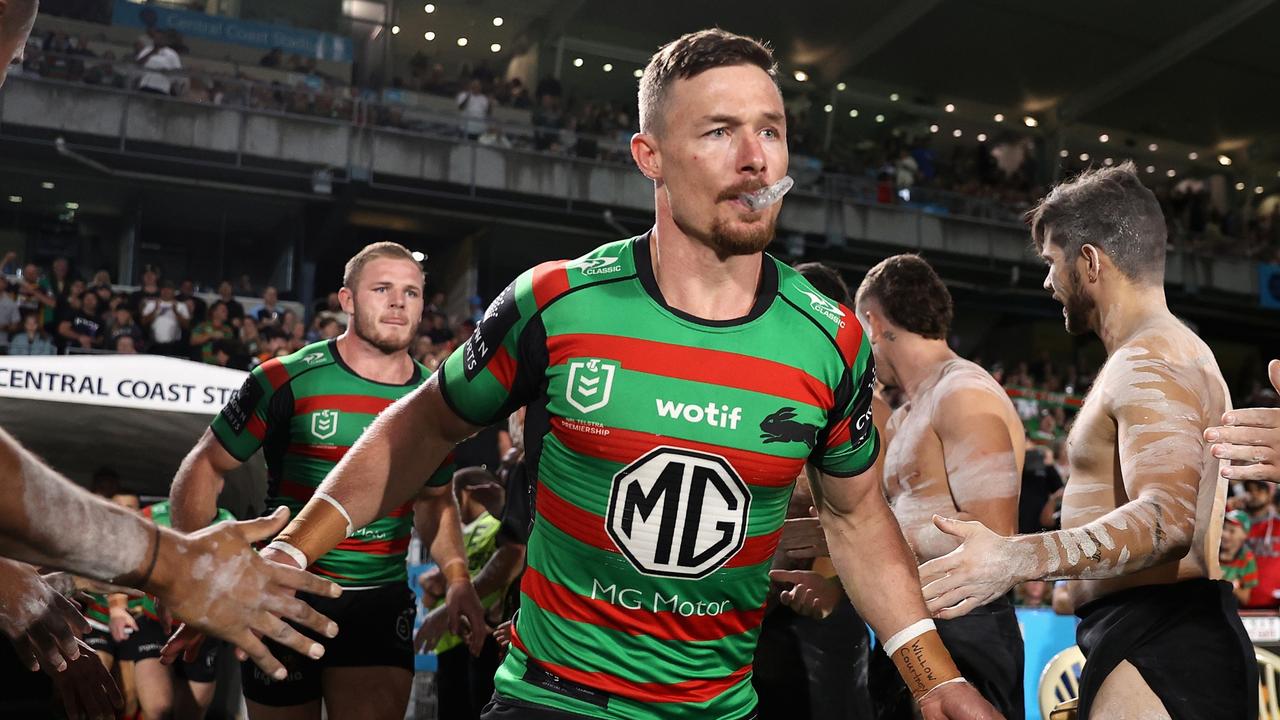 Souths are set to offer Damien Cook a two-year contract extension. Picture: Cameron Spencer/Getty Images
"They have started," Cook said. "I spoke to my manager a couple of weeks ago before Origin started because I didn't want anything to do with it while this was happening.
"I also spoke to the coach as well and the club, so they know where I want to be.
"I love the club, they know that so now I can just leave it between the club and the management. He'll keep me updated but I have told him not to tell me anything during camp and to keep it to himself."
The Rabbitohs have a host of big-names who will become free agents come November 1.
They have already begun talks with Latrell Mitchell, Cody Walker, Lachlan Ilias and Davvy Moale.
DRAGONS UP THE ANTE FOR AMONE
St George Illawarra have tabled a revised offer to keep Talatau Amone at the club while they have taken more steps to keep impressive prop Michael Molo.
The Dragons are looking to thwart the threat of the Dolphins circling Amone, who will become a free agent from November 1. In trying to do so they have offered Amone a 12-month contract extension, which will keep him at the club until the end of 2024. He is already locked in for next season.
It remains to be seen if Amone will take up the new deal. Amone produced his best performance of his young career during the Dragons last-start win against South Sydney.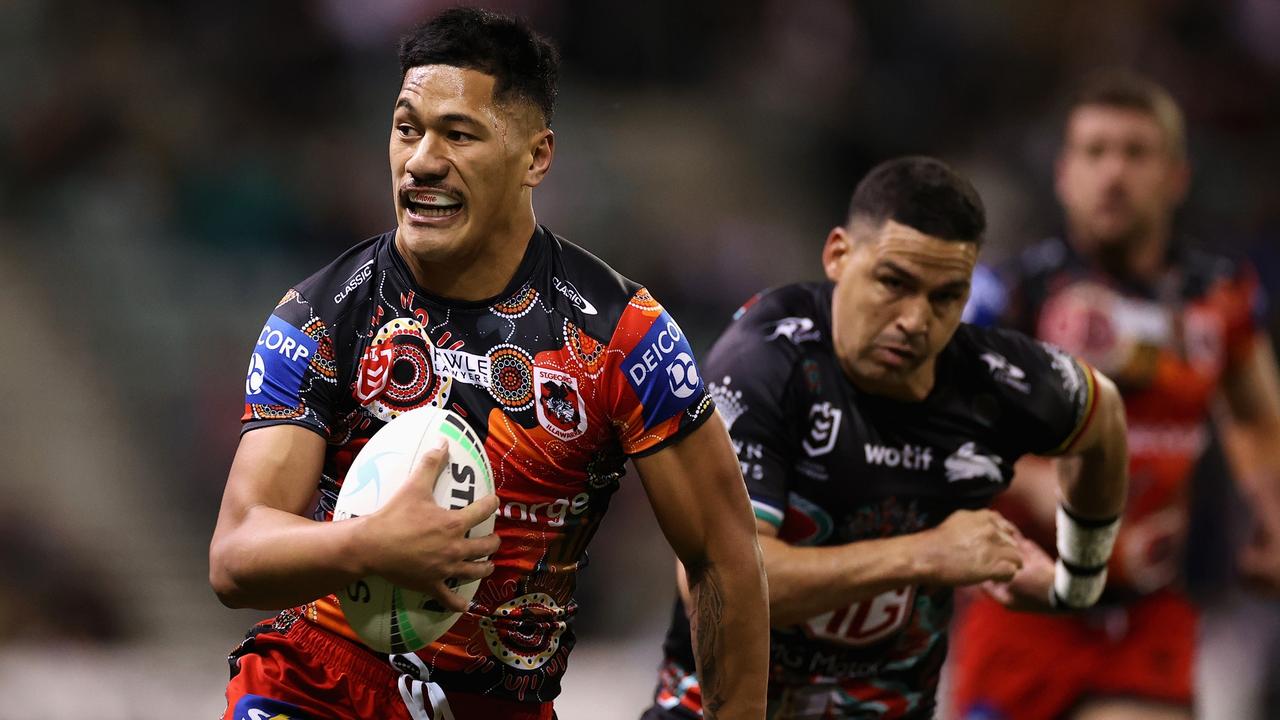 Talatau Amone has been in good form for the Dragons. Picture: Cameron Spencer/Getty Images
Meanwhile, Molo's shot at an NRL career continues after the late-bloomer picked up a new two-year deal with the Dragons.
Molo has impressed in his four appearances after being handed a career lifeline when the Dragons gave him a train and trial contract in the pre-season.
The 25-year-old – brother of Dragons teammate Francis – worked hard in the summer and forced his way into the top squad. The Bulldogs were circling but Molo will remain with the Dragons.
PRICE JOINS KIWIS
Former St George Illawarra coach Steve Price has joined Michael Maguire's New Zealand coaching staff. Price, who returned to the NRL this year and rejoined the Sharks as an assistant, is overseeing the Kiwi defence as part of their preparations to play Tonga on Saturday.
COWBOYS REWARD GRANVILLE
The ever-impressive Cowboys have tied down one of their few premiership-winning players left. Jake Granville will remain at the club for another 12 months after North Queensland took up the option to keep him next season.
Granville, 33, has been a mainstay at the club since joining them in 2015. He has started 10 matches from the interchange bench this year.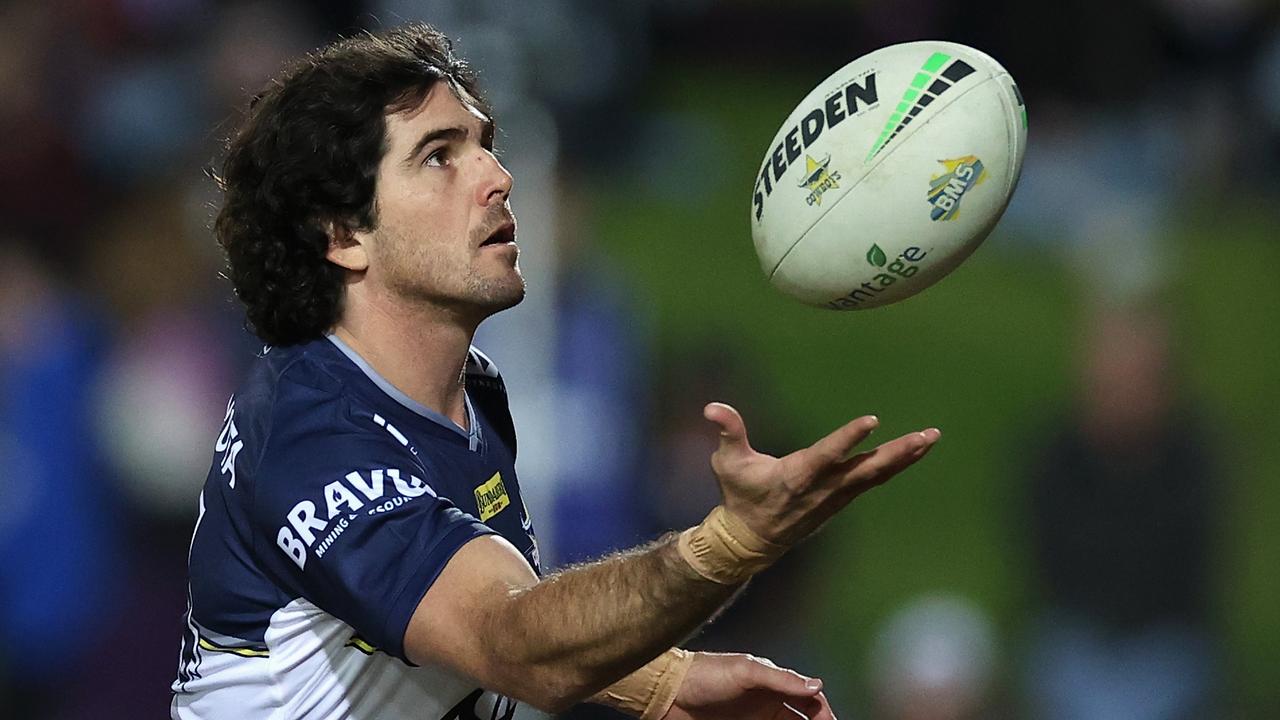 Jake Granville will remain at the Cowboys for another season. Picture: Cameron Spencer/Getty Images
RIVALS CIRCLING TOUGH WARRIOR
Warriors forward Jack Murchie could become the latest New Zealand player to leave the club with rivals circling. The Warriors are keen to lock down the 24-year-old but he is on the radar of several clubs. Murchie will finally get a chance to play in New Zealand when the Warriors return home on July 3.
HOY SET FOR SUPER LEAGUE SWITCH
The son of a Newcastle legend may be about to leave the Knights.
Tex Hoy, whose father Matt is a surfing legend and close family friend of the Johns brothers, looks set to join Hull FC in the English Super League next season.
Confidential understands Hoy has all but agreed to move to England but has a clause in his deal that allows him to stay in the NRL if he can find a suitable alternative.
His name has appeared on the radar of a handful of NRL clubs but he is yet to secure a new deal. Hoy has played 21 games for the Knights and spent his childhood with Andrew and Matthew Johns frequently dropping into the family home.
He has played four games for the Knights this year but hasn't appeared in first grade since he played five-eighth as Newcastle beat the Bulldogs in round 10.
His final appearance coincided with the arrival of Anthony Milford a week later. Milford took Hoy's place in the side and the Knights are doing their best to convince him to turn his back on The Dolphins and Wayne Bennett to stay at the club next year.
Hoy's departure may be a pointer to the Knights keeping Milford.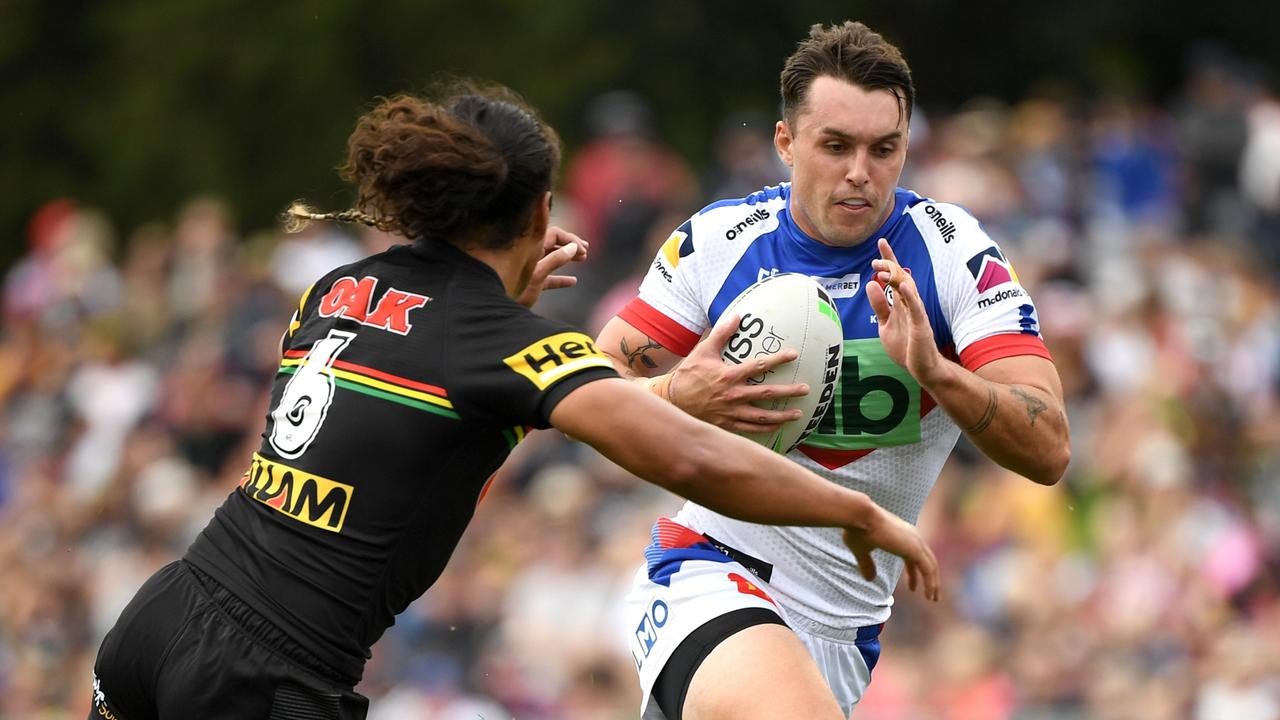 Tex Hoy has only played four games for the Knights this season. Picture: NRL Imagery
SPOTTED ...
Former Leeds coach Richard Agar was an interested observer at the Canterbury-Wests Tigers game last weekend.
Agar has been in Australia catching up with NRL coaches and associates, including his good mate Craig Fitzgibbon.
Fitzgibbon actually wanted Agar to join his coaching staff at one point but the pair couldn't make it happen.
BOOST FOR BLACKER
The Panthers are set to re-sign Eddie Blacker. Blacker is yet to appear for the Panthers in the top grade after making the switch from St George Illawarra mid-season last year. The prop played one game for the Dragons.
YOUNG ROOSTER EYEING GALLEN
Roosters prop Xavier Va'a is an impressive specimen. He is studying a psychology degree and underlined his leadership qualities by being handed the captaincy for Queensland's under-19s clash with NSW on Thursday night at Leichhardt Oval.
But while the former Broncos Academy young gun has a huge future in the NRL, Va'a is also a champion boxer and is keen to eventually jump in the ring with NSW Origin legend-turned-fighter Paul Gallen.
At 193cm and 116kg, Va'a is a big unit and he sparred Gallen last year to help the Sharks great prepare for his heavyweight bout with Justis Huni.
While Va'a's immediate priority is cracking the NRL with the Roosters and playing well for the junior Maroons, he says he has not closed the door on winning a world-title as a professional boxer.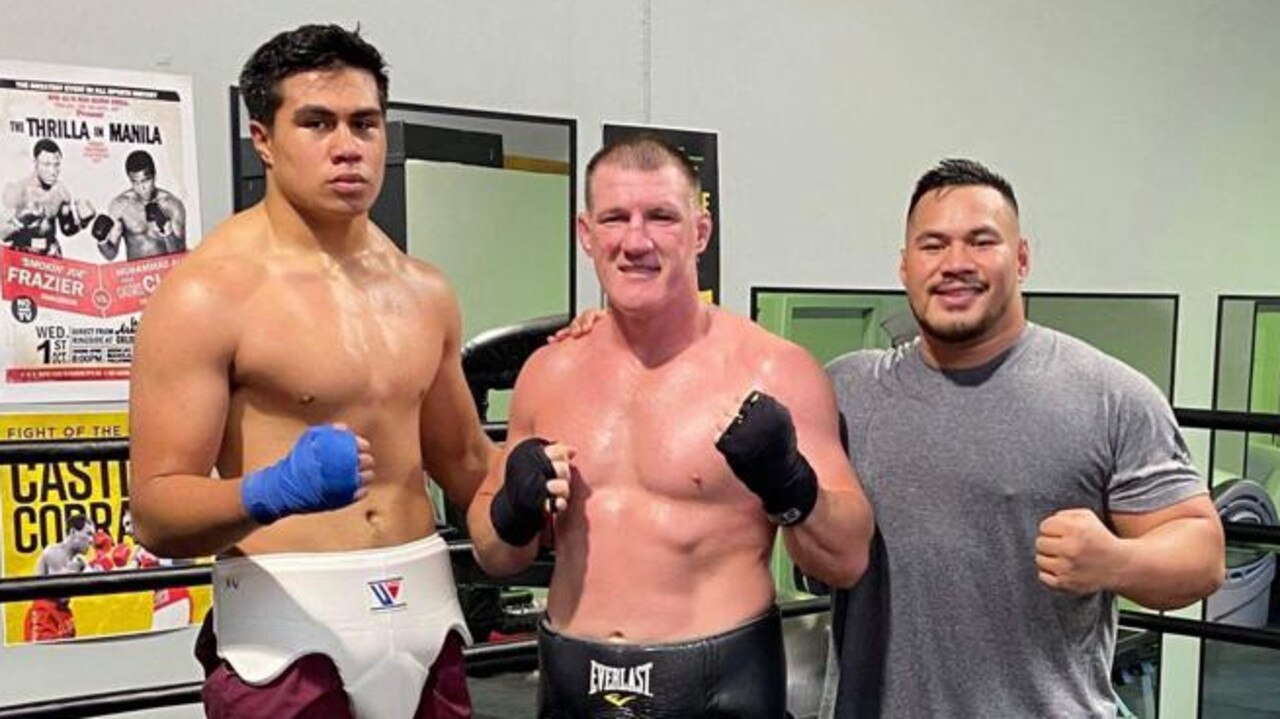 Roosters youngster Xavier Va'a, left, and Paul Gallen after a sparring session last year.
"I love boxing," he said.
"I definitely still have dreams to pursue boxing at a high level. At the moment, my focus is on football, but I would love to keep up my boxing and I'd like to make my professional debut this year or possibly next year.
"The opportunity is there for me to fight Paul Gallen and if he wants to agree, I am happy to fight anyone. Whether it's a big name like Paul Gallen or not, I just want an opportunity to fight and test myself.
"Paul has improved a lot. I had the opportunity to spar him before the Justis Huni fight and he is a great learner. It's incredible he could be fighting at 40, I find that inspirational. He still has humility.
"I wouldn't rule it out for sure. If the time is right for me and Paul to fight, then that would be great, we'll see what happens.
"I always had the dream to be the world champion as a boxer and I still have those dreams, but for the moment I'm happy at the Roosters, they are an awesome club."
Originally published as NRL 2022: Kristian Woolf rejects Warriors bid to replace coach Nathan Brown