NRL 2022: The Brisbane Broncos paid Sydney Roosters prop Matt Lodge $1 million to leave the club
The Brisbane Broncos paid Matt Lodge more than $1 million to leave Red Hill. Now at his third club in a year, we can reveal why Brisbane parted with so much money.
Matt Lodge was viewed as such a divisive and destabilising character at Red Hill the Broncos paid him more than $1 million to leave Brisbane.
Lodge will confront his former Broncos teammates when he starts in the front row for the Roosters in Thursday night's blockbuster clash at the SCG.
It has been just over a year since the Broncos severed ties with Lodge following a turbulent four-season relationship.
The Broncos risked their reputation in bringing Lodge back to the NRL in 2018 following his infamous New York night of shame three years earlier.
Stream every game of every round of the 2022 NRL Telstra Premiership Season Live & Ad-Break Free During Play on Kayo. New to Kayo? Start your free trial now >
The blowback was fierce in the weeks leading up to Lodge's NRL comeback as CCTV footage emerged of the New York incident and the Broncos arrogantly tried to sweep the saga under the carpet.
Lodge, 27, repaid Brisbane's faith with some strong on-field performances in a 65-game career for the Broncos, earning himself a bumper five-year contract worth up to $4 million.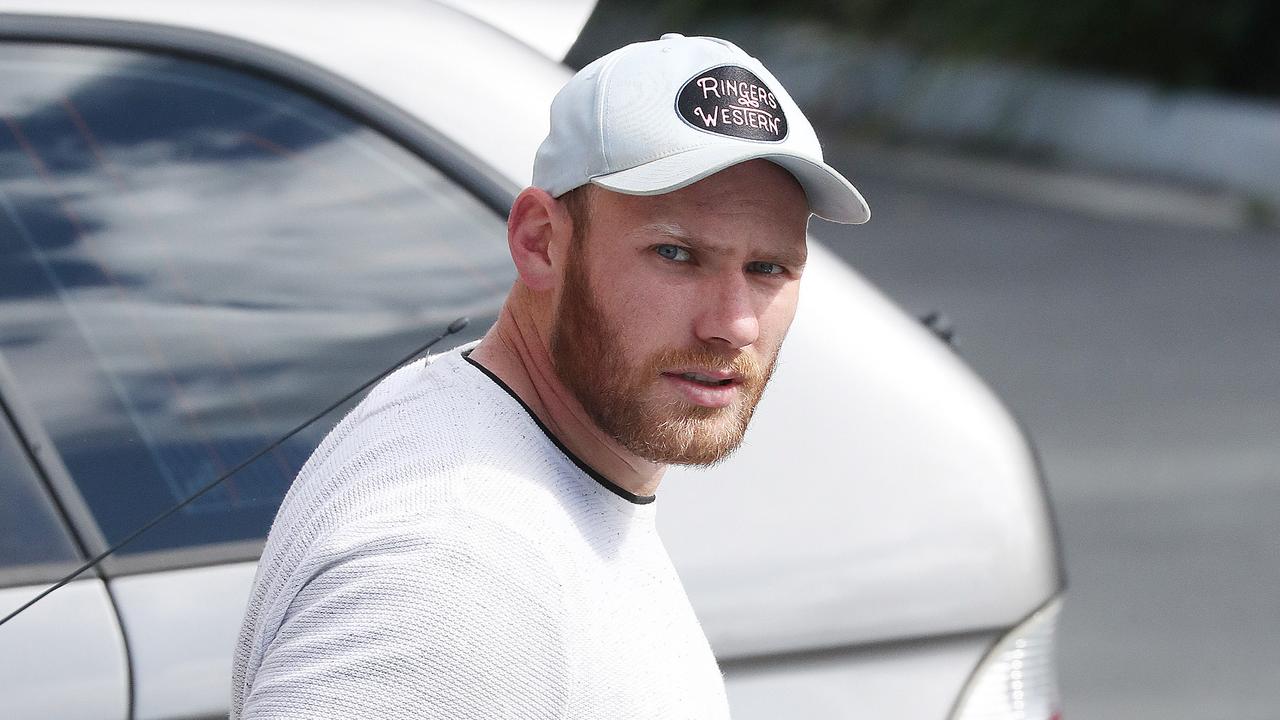 The Broncos helped resurrect Matt Lodge's NRL career after the New York scandal. Picture: Annette Dew
But beneath Lodge's strong carries and enforcer persona was a character that struggled to fit into what Broncos coach Kevin Walters was trying to create after taking on Brisbane's top job last year.
Lodge was seen as a player that "managed up" well, but lacked the ability to unify those around him as fractures appeared in the Broncos' playing group.
Fitness staff had noticed Lodge cutting corners at training and he copped a dressing down from one Broncos official for his attire around the club.
Perhaps, a tattoo on his shoulder summed up where Lodge saw himself within the Broncos' inner sanctum.
"A lion does not concern himself with the opinions of a sheep," it reads.
That is why the Broncos bit the bullet, backed Walters and agreed to pay Lodge – who was in career best form at the time – more than $1 million to leave the club with up to three years remaining on his contract.
They are still paying him now, along with his most recent former club the Warriors – who paid Lodge more than $700,000 to leave after less than a year with them.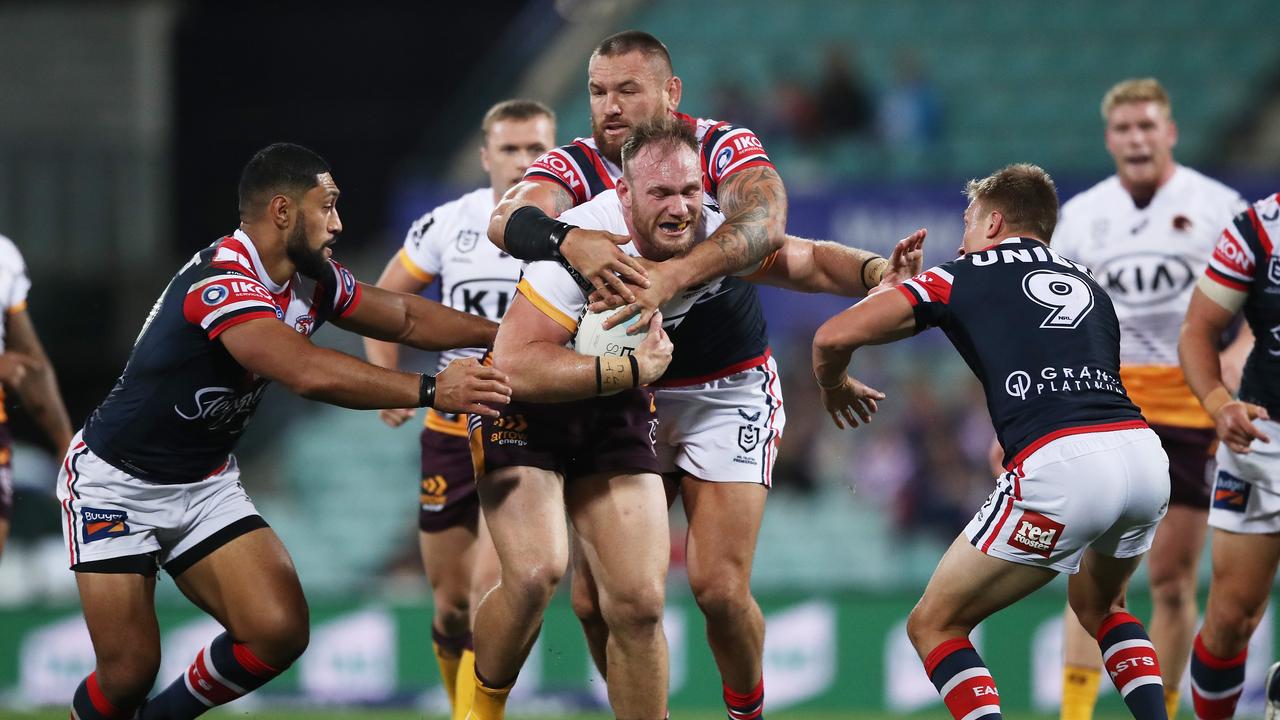 Lodge has now been paid $1.7m to leave the Broncos and Warriors. Picture: Getty Images.
Lodge is currently one of the NRL's highest-paid players thanks to payouts from the Broncos and Warriors, allowing the Roosters to sign him on cut-price deal for the remainder of the 2022 season.
Broncos chairman Karl Morris backed Lodge from the outset and couldn't fault his dedication to getting back into the NRL following the New York scandal.
But he admitted the Broncos and Lodge weren't going to work out in the long-term and it was best they parted ways.
"Matt Lodge was a redemption story and it was great to have him back," Morris said.
"He did all the tough work he had to do while playing for Redcliffe to get back into the NRL. He completely gave up the drink and was a model citizen while he was with us.
"For whatever reason, culturally, it didn't work with him and the new coaching staff and we decided to part ways.
"Kevvie wants a certain type of player and person at the Broncos and he just didn't suit the type of team Kevvie was trying to build."
Former Broncos coach Wayne Bennett, football chief Peter Nolan and CEO Paul White were the main players in bringing Lodge back to the NRL.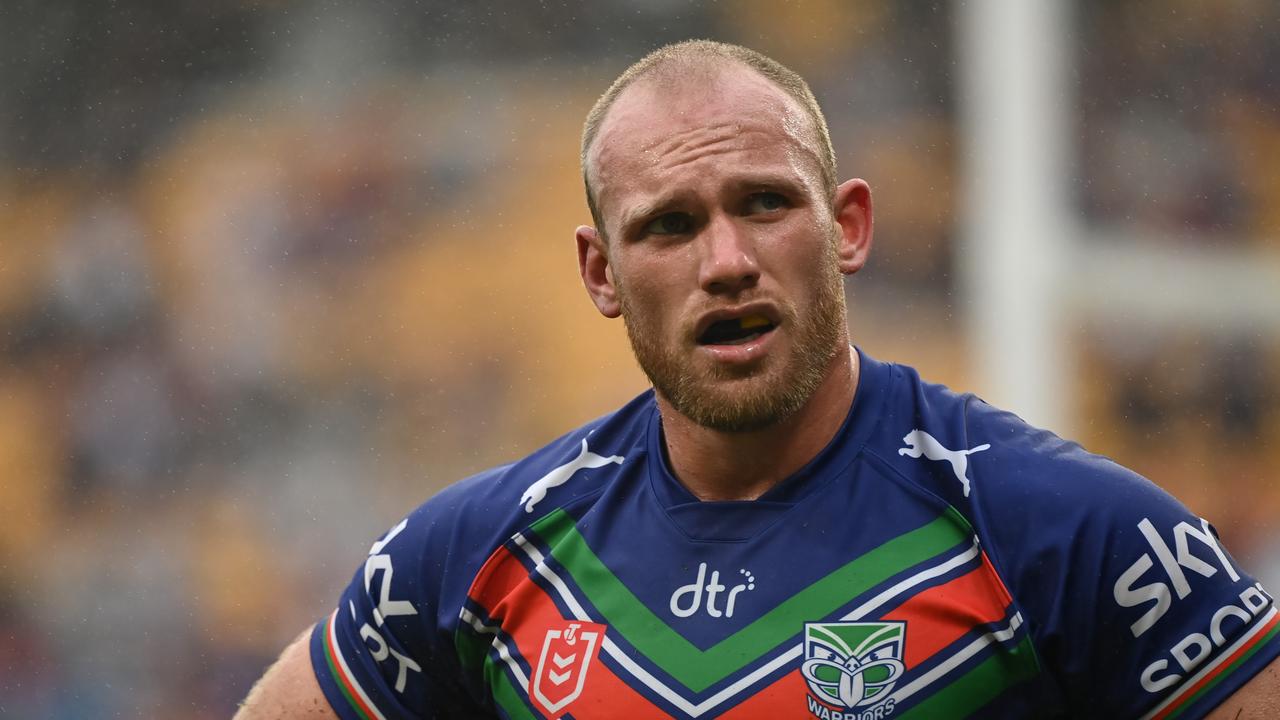 Lodge's stint with the Warriors lasted less than a year before being released in May 2022. Picture: NRL Photos.
The Broncos arranged for Lodge to join Queensland Cup club Redcliffe in 2017 as he completed NRL-assigned rehabilitation courses to prove he was ready to return.
Lodge was seen as the front row enforcer that could lead Brisbane's next premiership assault and he played 25 games in his return NRL season in 2018 before earning a bumper contract extension in 2019.
Injuries limited Lodge to six games in 2020 but he rebounded with strong form last year, Walters' first season in charge of the Broncos.
But that wasn't enough for Walters, who made a statement by releasing big personalities in Lodge and Tevita Pangai Jr (Panthers then Bulldogs) to shake-up the Broncos' dressing room culture.
Walters has been vindicated with the Broncos rebounding from a 14th-placed finish last year to top four contention, but he was reluctant to revisit Lodge's exit.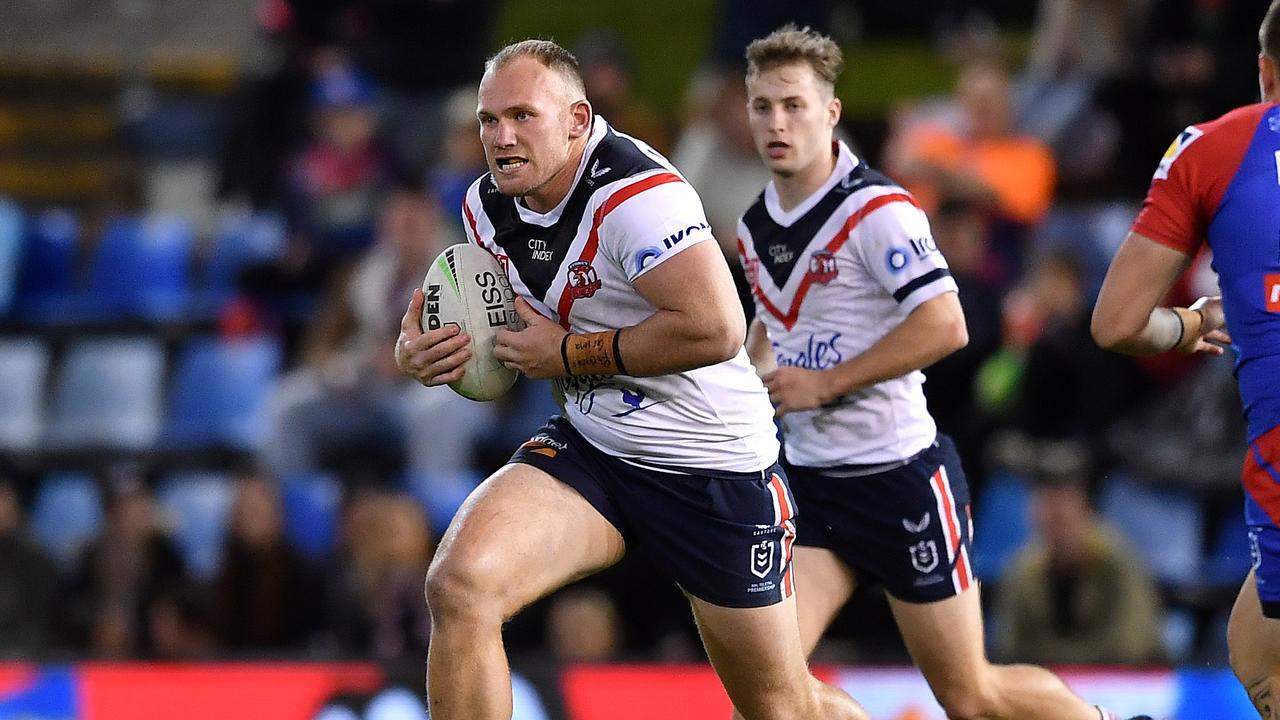 Lodge is now at the Roosters on a bargain deal after being paid out by other clubs. Picture: NRL Imagery.
"I don't want to go back over that," Walters said. "It was a long time ago. He is playing for them now and we're playing against him. We're looking forward to that challenge.
"It's always tough speaking to players about that (moving on), but I'm not concerned about it.
"Lodgey has moved on and been to two more clubs since then. We're looking forward to what we can bring, more so than anyone in the opposition's team. He has been a good player for a long time and the Roosters have been a good team for a long time."
The Broncos are expecting Lodge to come out firing alongside Roosters enforcer Jared Waerea-Hargreaves in a mouth-watering front row battle with Payne Haas and Tom Flegler.
Suspended Broncos forward Pat Carrigan paid tribute to Lodge's influence at Red Hill, insisting he made a positive impact on the club's emerging stars that are now shining on the big stage.
"Lodgey always plays well and I'm sure he will step up against us, I'm excited for him," he said. "He's a halfback in a front-rower's body, he's actually a very smart footballer and he taught me a lot about the game.
"I am grateful for a lot of the stuff Lodgey did for us younger blokes here. He gave us that introduction to first grade. We had some good battles on the training ground so he will be up for this one and we will be too."
D-day has arrived for Broncos
-Robert Craddock
So here it is … the barometer, the litmus test, the fork in the road.
The Broncos' Thursday night game against the Roosters is one of those matches which define the direction a team is heading.
By making the finals, the Broncos and coach Kevin Walters already have a solid pass mark this winter. But they want the cream and that means a top-four finish.
Are they simply good or very good? The verdict is coming soon enough
If the Broncos, minus the inspirational Pat Carrigan, get smashed by the Roosters in the intimidating setting of the Sydney Cricket Ground it is a sign that their place in the pecking order is just below the game's best side.
That, for all their improvement, they are not where they want to be just yet.
Their top-four chances will nosedive for trying to win the premiership from fifth to eighth spot is like a swimmer trying to catch Emma McKeon from behind.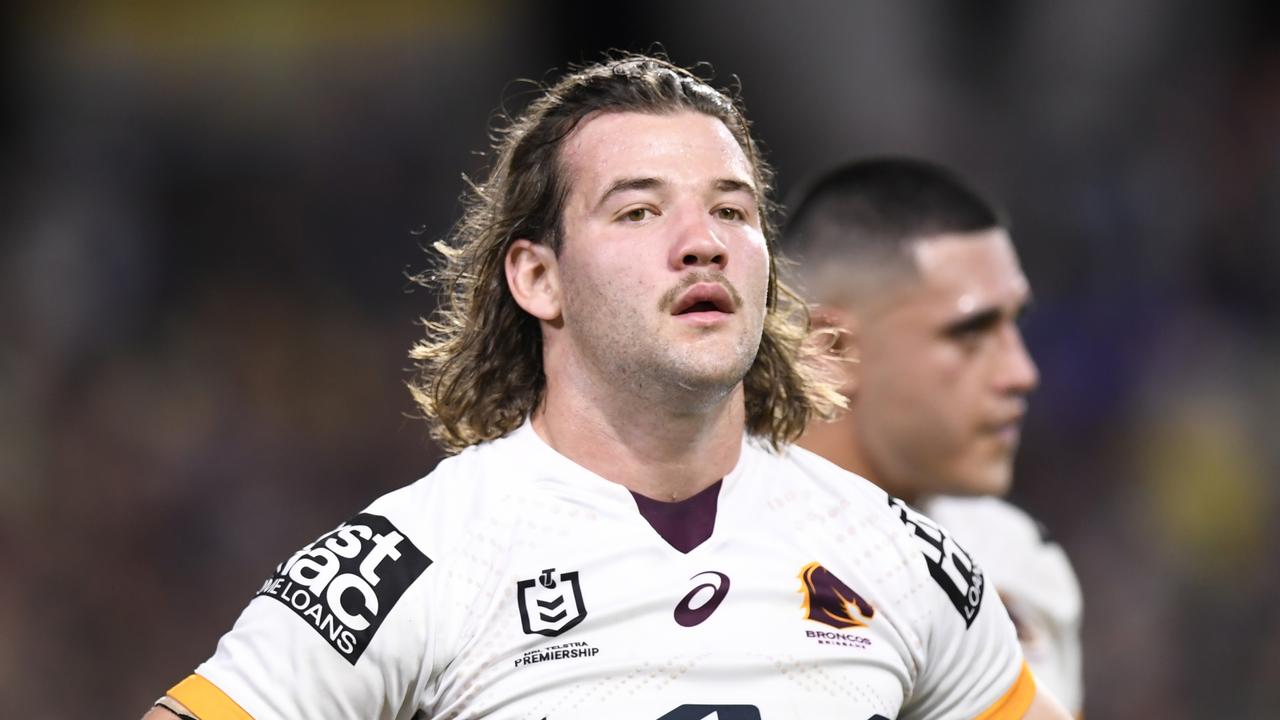 Pat Carrigan will miss the Broncos' next four games due to suspension. Picture: Scott Davis, NRL Imagery
But if they can absorb the potency of James Tedesco, Luke Keary and Jared Waerea-Hargreaves and beat a Roosters side which has won three out of their last four, then anything is possible this year.
Playing the Roosters is always a nostalgically awkward experience for the Broncos because of the sight of Queensland-raised Sam Walker, who, for all money, was heading to the Broncos until an unfortunate contract meeting when he had to Uber it down from Ipswich and wasn't allowed to let his family attend.
Even at Broncos training on Wednesday, Walker's uncle, Chris, was seen buzzing around the clubhouse, a reminder of the families long-lasting connection with the club. Sam and the Broncos seemed such a natural fit.
Queensland produces so many players its inevitable many head south but some departures are felt more deeply than others.
The photo of Cameron Smith, Billy Slater and Cooper Cronk sitting side by side for the Norths Devils is the ultimate tease for the ones of who got away but they are not alone.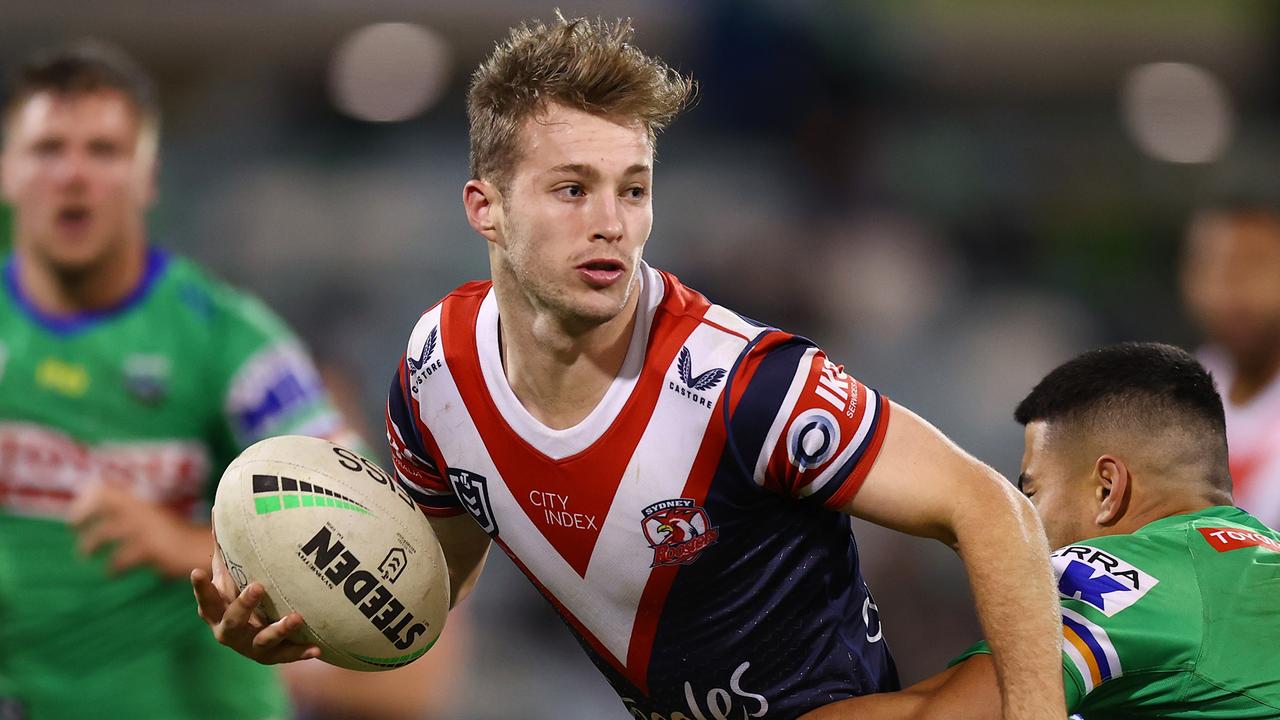 Sam Walker was destined to be a Bronco until the Roosters swooped. Picture: Mark Nolan/Getty Images
Even now, apart from Walker, there is a neat top five of players Queensland fans would have loved seeing north of the border.
They are …
1. Cameron Munster (Storm): A scholarship holder with the Broncos, he was famously rejected for a fulltime deal and was never seen as a standout junior player in Rockhampton. Would have added so much life and character to the Queensland club scene because of his colourful ways.
2. Kalyn Ponga (Knights): Burst through at the Cowboys but plucked by the Knights on a long-term deal, which was deemed very pricey at the time, but was actually as cheap as chips. Adds so much to the club with his powerful connection to the game's young fans.
3. Christian Welch (Storm): The 2011 Villanova college captain – and proud of it. He is the thinking man's prop who will be a media star when he retires. A clean-cut character who took his mum to the Dally M's in Brisbane last year, his strident views, which he is happy to share, would have been a powerful promotional tool for any Queensland club,
4. Daly Cherry-Evans (Manly): A bad miss for Queensland teams, given he was the son of Redcliffe hooker Troy Evans and played his first game for the Dolphins as a five-year-old. The Titans thought they had him but he wriggled free.
5. Harry Grant (Storm): Rockhampton-born Grant was once a tee boy for Ben Hunt in side coached by Grant's father. Both ended up slipping through the net.
Originally published as NRL 2022: The Brisbane Broncos paid Sydney Roosters prop Matt Lodge $1 million to leave the club