NRL 2022 transfer news: Jack Bird reveals Dragons snub, shuts door on switch to Dolphins
Off-contract St George Illawarra star Jack Bird's NRL future remains up in the air despite contact with a rival heavyweight Sydney club.
Off-contract St George Illawarra star Jack Bird has shut the door on a move to Redcliffe but has confirmed interest from rivals Parramatta for season 2023.
On Wednesday, Bird revealed the Dragons pulled a two-year deal late last year after rushing the 26-year-old into making a decision. Bird also denied reports that a new deal for the same term, worth $1.1 million, was currently on the table.
"To be honest, I haven't been tabled an offer," Bird said.
Stream every game of every round of the 2022 NRL Telstra Premiership Season Live & Ad-Break Free In Play on Kayo. New to Kayo? Try 14-days free now.
"The talk about dollars, they offered me at the end of last year and only gave me a few days to decide and I told them I need more time to decide … they only gave me four or five days to make a decision on my future and I wasn't ready to make the decision at that time and then they pulled the offer.
"I didn't have an offer to look forward to, the talks are back in action now. I've made it clear I want to stay here in the long run. I want to be a Dragons player in the future.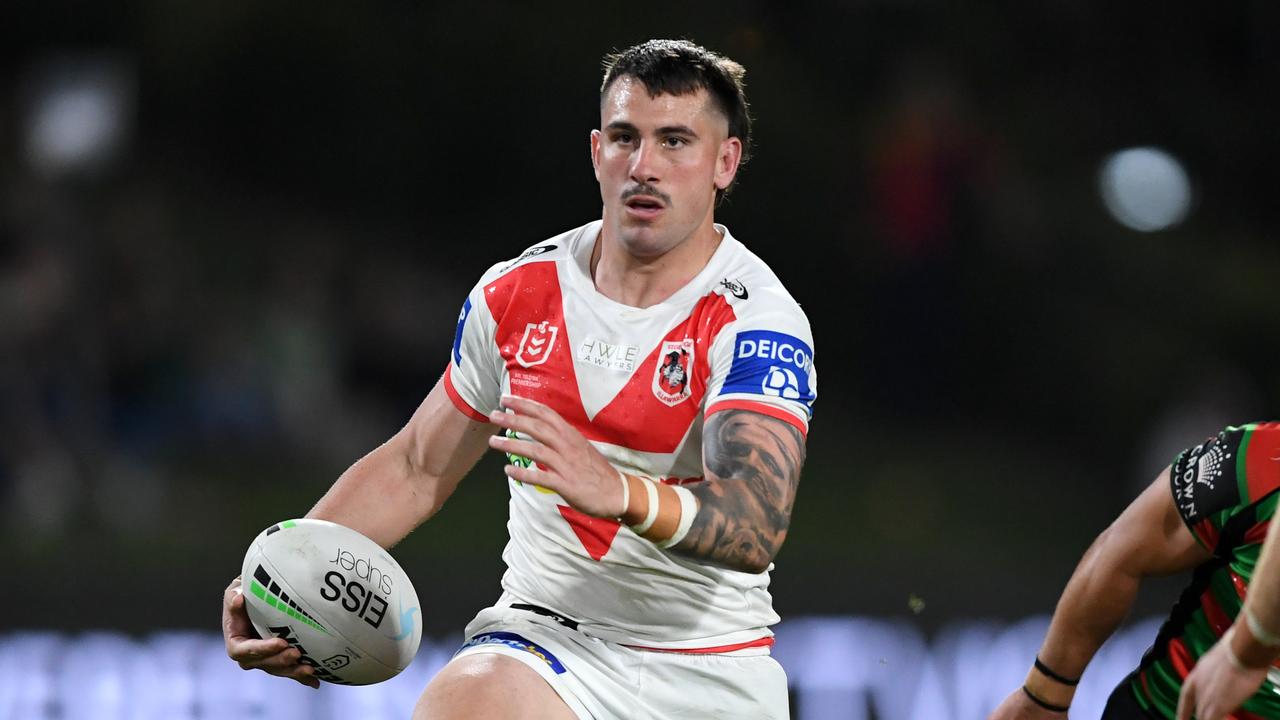 Jack Bird wants to stay at the Dragons. Picture: NRL Imagery
"Hopefully we can make a decision soon, in the next few weeks."
Since the Dragons pulled their initial offer, Bird has had a number of discussions about his playing future with Dolphins coach and mentor Wayne Bennett and Eels coach Brad Arthur.
The Eels view Bird as a potential replacement for backrower Isaiah Papali'I, who has agreed to join the Wests Tigers from next season.
"I'm off contract at the end of this year," Bird said. "I have spoken to BA [Arthur] but for context, there weren't any offers or anything like that.
"I've only spoken to BA once, probably at the start of January, that was two months ago. If I was going to go there, I'd be there by now.
"Like every player, they talk to different clubs. It was just interest, that has gone cold.
"[The chat] was just where he sees me playing and that kind of stuff. They are losing Papali'i, so obviously in that edge back row position.
"But it wasn't anything too serious, it was just a catch up chat on the phone. It wasn't like 'I really want you to come here'. I heard they were interested so I had a chat with him. I'm not hiding anything, there are no secrets."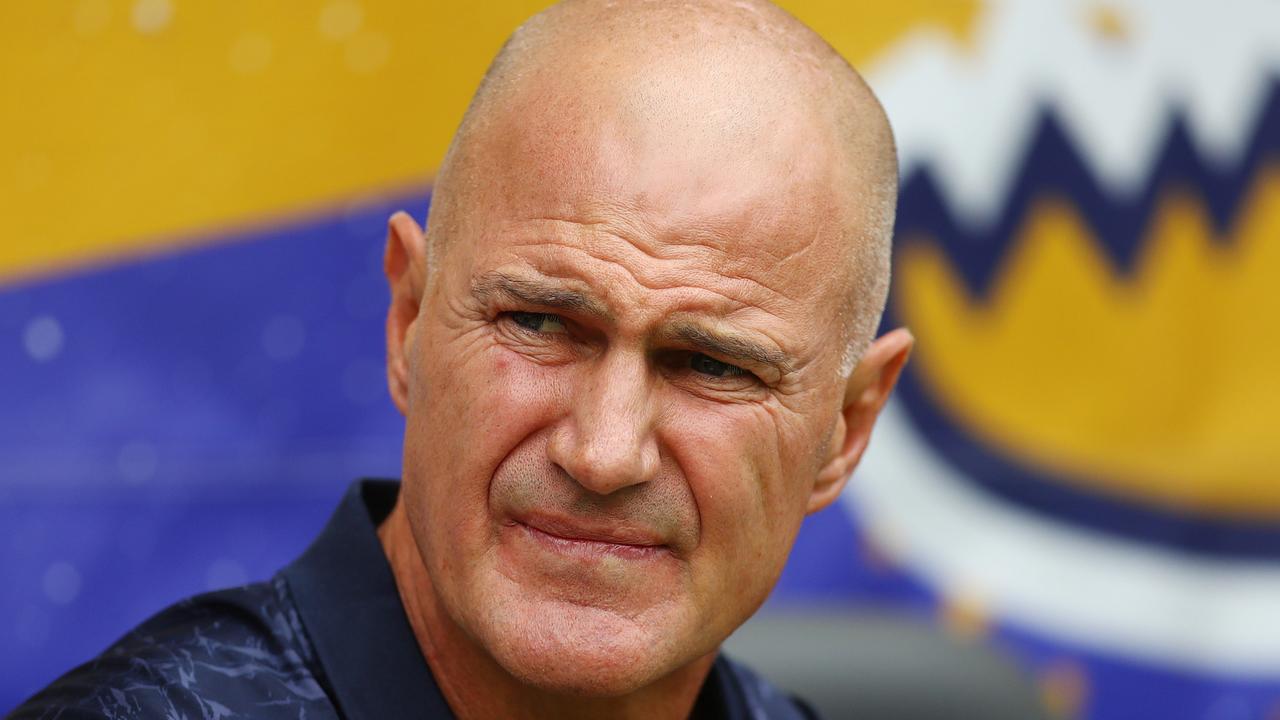 Jack Bird confirmed he had spoken to Eels coach Brad Arthur. Picture: Mark Metcalfe/Getty Images
Bird also put a line through any potential reunion with Bennett at Redcliffe next season, preferring to stay 'close to family' in Wollongong. The two have maintained a close relationship since working together at the Brisbane Broncos back in 2018.
"I keep in contact with Wayne, but nothing to do with the Dolphins," Bird said.
"I think he knows that I'm not keen on going back to Queensland. And, to be honest, me talking to Wayne or BA [Arthur], is me being nice. I don't want to ruin my reputation.
"You have to try and get the best deal you can get. I'm getting older now, had a few injuries. I'm just trying to get my future sorted and get some security behind me."
Bird, who joined the Dragons last season after struggling with injuries at Red Hill, also moved to knock back claims his manager is seeking a three-year, $2 million deal for his signature.
Bird also rejected claims the deal offered by the Dragons deal didn't meet his asking price.
"It wasn't anything to do with money," he said. "What came out in the [media] made me look like I was selfish and greedy with money."
Rookie slips through Tigers' fingers
Enjoy it while it lasts, Wests Tigers fans.
The clock has started ticking on the most promising backrow prospects seen at Concord in recent times.
Boom forward Kelma Tuilagi will join North Queensland-bound Luciano Leilua in departing the club at the end of the season.
The 23-year old, who beat Luke Garner to a starting edge spot, has agreed to join rivals Manly on a long-term deal. Tuilagi opted to take the security of a three-year contract with the Sea Eagles over the two years offered by the Tigers.
"Madge (Michael Maguire) fought to bring me here from Melbourne. I had tears in my eyes telling him," Tuilagi told News Corp.
"We came back from the Christmas break but Madge had Covid, so I had to wait another week before telling him in person.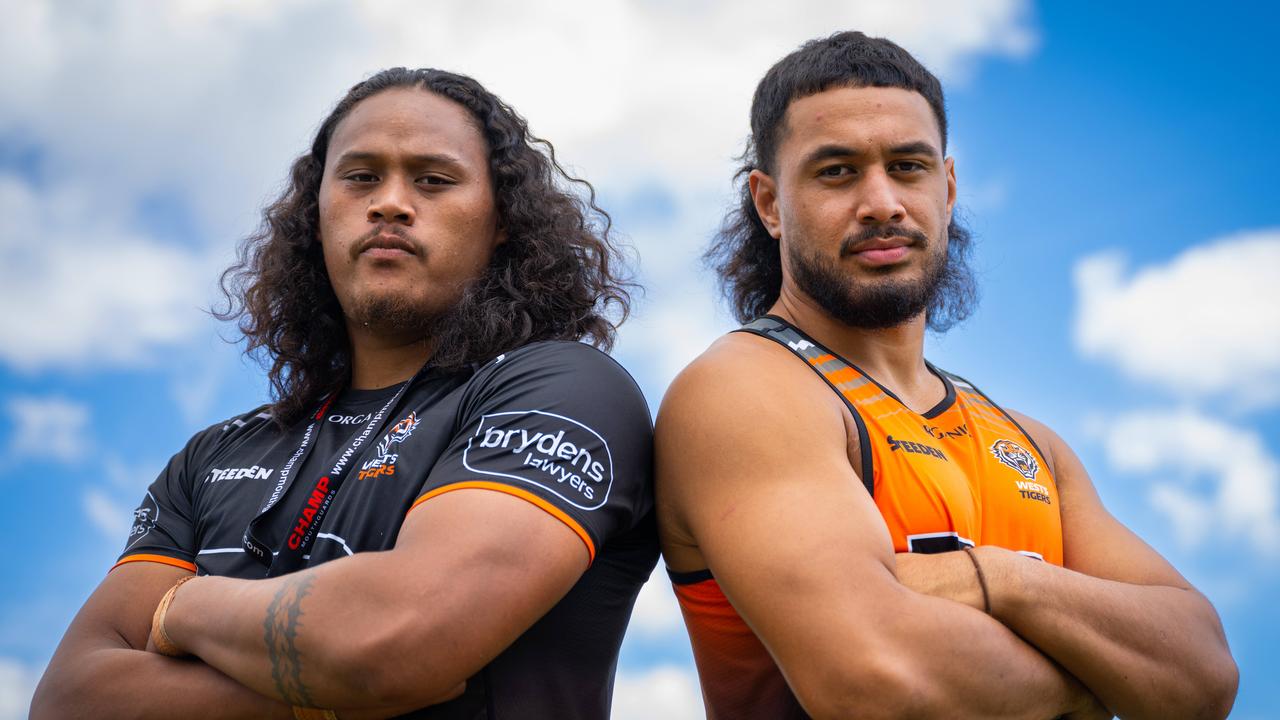 Wests Tiger have lost Luciano Leilua to the Cowboys and now Kelma Tuilagi.
"Holding it in was so hard. I didn't want to do it on the phone. I wanted to tell him face-to-face because he was confident I would stay."
It's not the first time Tuilagi has slipped through a club's fingers.
Stuck down the pecking order behind the likes Kenny Bromwich, Felise Kaufusi and Dale Finucane at the Storm, Melbourne let Tuilagi walk away at the end of season 2020.
The Storm could rue the decision to let the rising forward leave with lock Finucane no longer at the club and second rowers Kaufusi and Bromwich switching to the Redcliffe Dolphins in 2023.
"I started playing league when I was 15 in New Zealand. Melbourne came over and picked me up, I played some edge, some middle back then," Tuilagi said.
"I was grateful I started off with the Storm because they are a pretty good team.
"But coming to the Tigers was the start of me.
"I had been down in Melbourne quite a bit … but the Tigers gave me the opportunity to play NRL."
While Tuilagi opted for security, Leilua was searching for a sea change when deciding to sign a three-year deal with the Cowboys.
"It was time to get out of Sydney for me," Leilua said.
"Madge was the main reason I wanted to stay, because he built me up to what I am today. Everything I have done in footy is because of Madge. He's turned me into the 80 minute player that I am."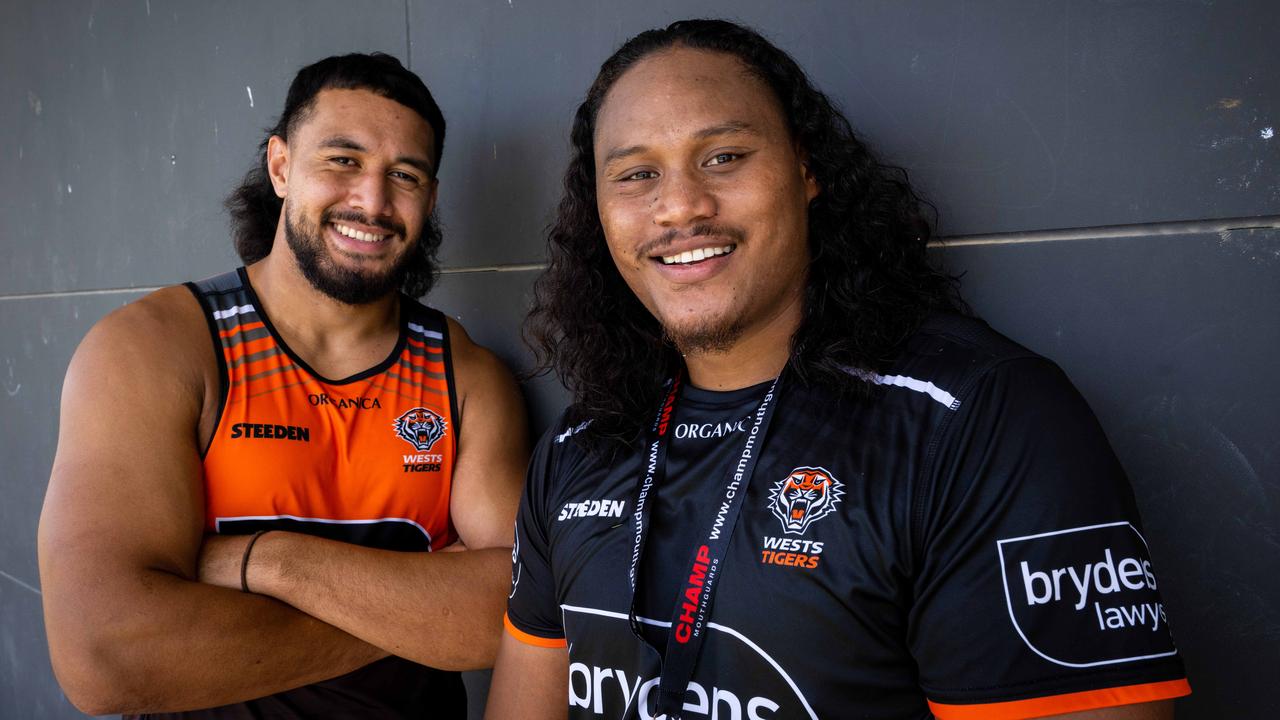 Tuilagi and Leilua looked very good together for the Tigers in Round One.
Impressive in the trials series, Leilua has carried that form into the start of the season on the right edge.
It's been a similar story on the left side for Tuilagi.
After five games off the bench last season, Tuilagi has claimed a starting spot and is primed for a breakout season.
Tuilagi's physicality is already causing problems for opposition defences with his line-bending runs and offloading ability.
"He's a man of few words, he can be funny when you get to know him … he's impressed me with just how physical he is … we don't really see it at training. He is the nice guy," Leilua said.
"And then on the field, he's putting on shots, he's got line speed. He's menacing."
But Tuilagi is more reluctant than Leilua to take on the tag as the club's newest 'bash brothers'.
"I'll leave the bashing to Luce. I'm a lover, I'm not a basher," Tuilagi laughed.
"Everyone looks at me and sees someone who doesn't say much, whether it's on the field or off the field … on the field, I'm a quiet and shy dude.
"I keep telling myself I don't need to say anything, just let your actions talk.
"From how I play, people think I'm aggressive but deep down. I'm not."
The dynamic duo have pledged to do everything they can to help return the Tigers to the finals for first time since 2011 before departing the club.
"Everyone says it … but I desperately want to make the finals," Leilua said.
"I want to have a good time here. When you're having a good time you're winning games. I want to win games.
"We're also from the same village in Samoa, Fatausi. That would make the finals even more special," Leilua said.
While the Tigers lose Leilua and Tuilagi, the club has signed Parramatta backrower Isaiah Papali'I from season 2023.
Originally published as NRL 2022 transfer news: Jack Bird reveals Dragons snub, shuts door on switch to Dolphins