NRL 2022: Mitch Barnett reflects on his six-week ban, Newcastle's losing streak and his move to the Warriors
Knights forward Mitch Barnett admits his brain-fade elbow incident will "always be in the back of his mind" but there was a reason he needed to watch it again.
Mitch Barnett says his brain-fade elbow incident will "always be in the back of my mind" as he prepares to make his return from a six-week ban.
Barnett has opened up in a wide-ranging interview with News Corp after he was named to take on the Bulldogs on Friday night.
He spoke about his "aggressive" style of play, the fallout from his long-term ban, his battle to stay on top of his mental health, the torment of watching his teammates go winless without him and his surprise move to the Warriors at the end of the season.
Watch every game of Magic Round next weekend Live & Ad-Break Free In Play on Kayo. New to Kayo? Try 14-days free now >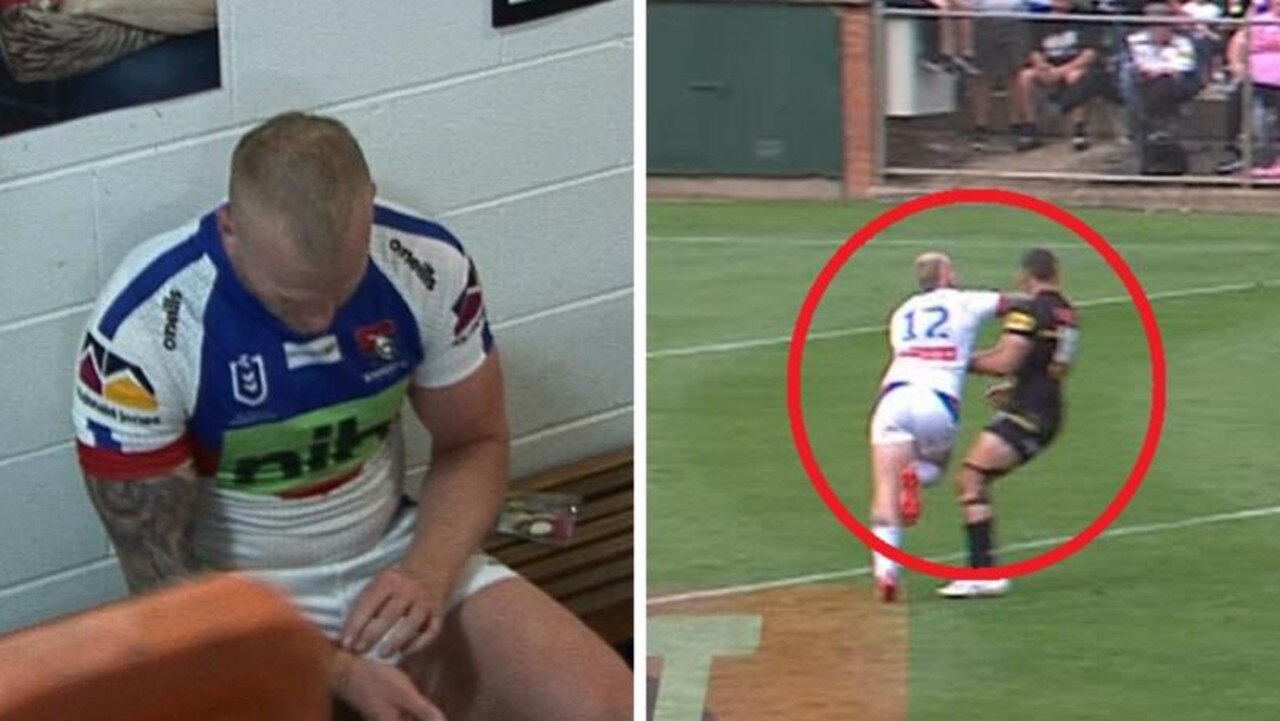 Mitchell Barnett was sent off for his elbow on Penrith's Chris Smith.
THE INCIDENT
For Barnett to get closure he had to watch the tackle one last time. He had studied the elbow on Penrith's Chris Smith "1000" times before his judiciary hearing but Barnett felt obliged to go over it one last time.
"I got the tackle wrong," Barnett said. "It's all I can think of. I didn't intentionally go out to do that. It was something that happened. I'm not denying it looked ugly. It could've potentially been very bad.
"I don't know why I watched it again. I just wanted to see it and move on. The incident is not a reflection of who I am as a person. I made an error of judgment and got it completely wrong. I knew I was going to get a heavy punishment. Once I spoke with Chris and he said he was all right I felt better."
Barnett reached out to Smith the day after the round three incident in Bathurst. While the Panthers back-rower avoided serious injury he has not played first grade since.
"I apologised and he just thanked me for the apology," Barnett said. "It was brief but he seemed like a bloke that didn't hold a grudge. It means a lot for me for him not to carry it. He could've brushed me but he understood I didn't do it intentionally.
"When I see him in person I will follow the chat up."
Mitch Barnett copped a six-week ban after being sent off against the Panthers. Picture: NRL Imagery
REAL PAIN AND MENTAL ANGUISH
It has been the on-field cost his teammates have had to wear which has caused Barnett the most anguish. His side were taking the contest to the defending premiers with the scores level before Penrith finished 38-20 winners after his first half send-off.
The Knights are now in the midst of a seven-game losing streak and have been patching a team together as injuries mount.
"Every morning when I see the boys struggling and coming into training I reflect on what I've done," Barnett said. "It hasn't been good to watch and makes me feel horrible. Watching how it has impacted them is where the real negative thoughts come in."
Barnett has spoken openly in the past about his mental health battles. The club has devoted plenty of time to helping Barnett navigate through that period.
"I suffered from a lot of home sickness and depression when I was younger," he said. "That used to come out in the way I played. I've been in a good mental health space. Having a son has given me a new lease on life. The incident did have an impact on how I was feeling."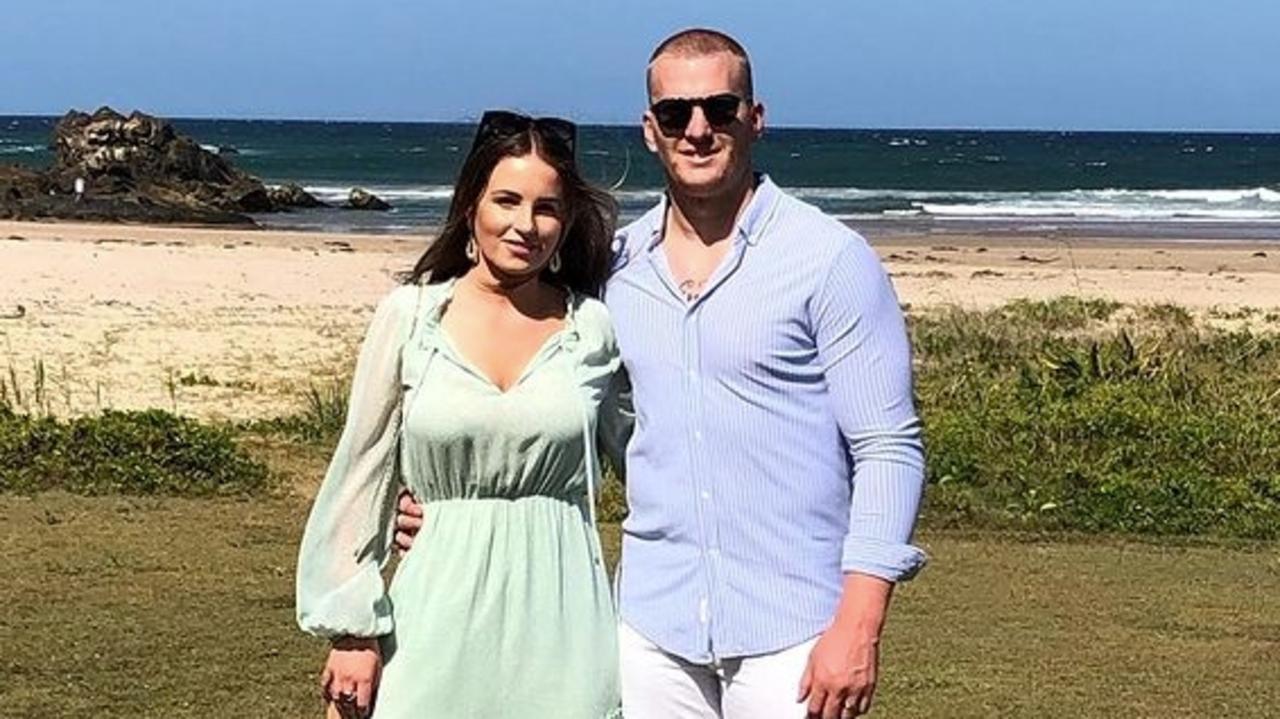 Mitch Barnett and wife Clare Barnett. Credit: Instagram
SWITCHING CLUBS
Barnett was granted permission from the Knights to explore his options before his lengthy ban despite a year remaining on his contract. He was well down the track with negotiations with the Warriors and agreed to a three year deal to reunite with ex-Knights coach Nathan Brown from next season.
"It played out well before the incident, the timing was just unfortunate," Barnett said. "It's a good long-term deal and an adventure for my family but I am 100 per cent focused on the Knights."
Barnett will leave Newcastle as a two-time player of the year award winner. Despite the poor timing he said he maintained a close relationship with coach Adam O'Brien.
"I spoke to him about all of it," Barnett said. "We spoke about it at length as a mate and a coach."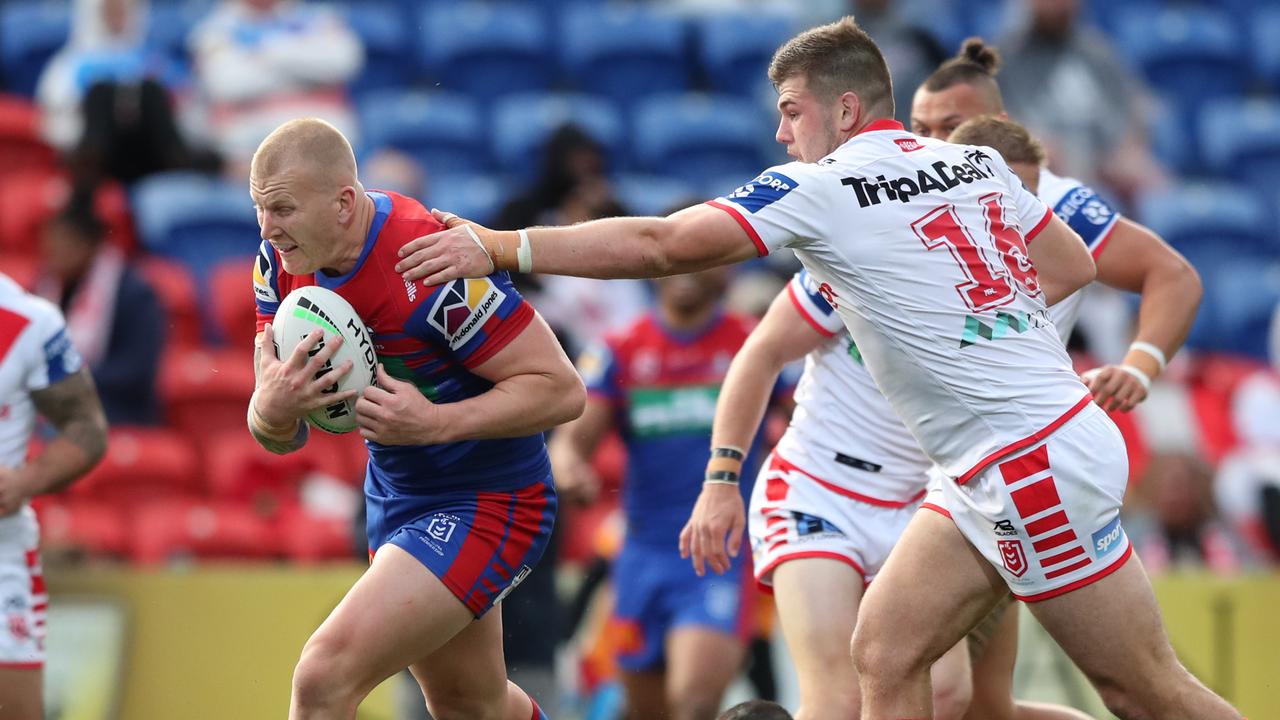 Mitch Barnett will make his return against the Bulldogs on Friday night. Picture: Ashley Feder/Getty Images
THE COMEBACK
Barnett was named on Tuesday to make his return. He rejoins a Newcastle side down on players and confidence. The loser of their clash against the Bulldogs on Friday to kickstart magic round will be entrenched at the bottom of the ladder.
"The incident will always be in the back of my mind," Barnett said.
"I am a bit nervous about having an extended break. I didn't get much of a pre-season so I used the time out as a mini pre-season.
"I feel good. Adam wants me to bring energy and line-speed. When you're going through a tough trot you can lose belief and second-guess yourself. I hope my influence on the side can help us turn a corner."
Guilty: Sharks bad boys cop bans
- David Riccio
Cronulla's backline will need an overhaul with fullback Will Kennedy ruled out for two matches after taking the early guilty plea for his high shot on Warriors fullback Reece Walsh.
Kennedy was sent off for his swinging arm that clipped Walsh in Cronulla's gutsy win over the Warriors on Sunday.
Fellow Shark Jesse Ramien will serve a three-match ban after also taking an early guilty plea for his high shot that concussed Warriors centre Euan Aitken.
The Sharks face the Raiders on Sunday on Magic Round.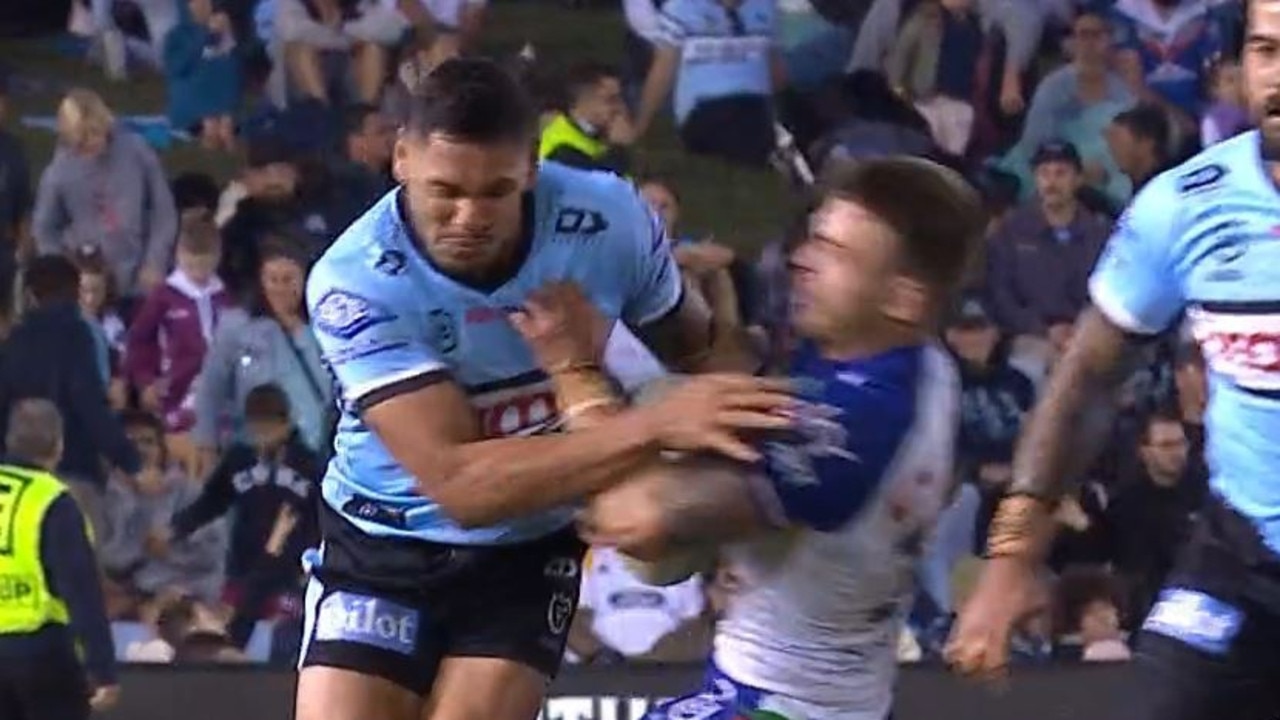 Jesse Ramien could spend four weeks on the sideline for this high shot on Warrior's Euan Aitken. Supplied
MOST EMBARRASSING NRL LOSS IN 14 YEARS
- Adam Lucius
A 12-man Cronulla has recorded a courageous 29-10 win over the Warriors after fullback Will Kennedy was sent off for an ugly coathanger tackle on Reece Walsh at Points Bet Stadium.
The No.1 was marched in the 17th minute after striking Walsh across the neck after the speedy fullback wrong-footed him after stepping back inside the defence.
The Sharks went down to 11 men early in the second half after Jesse Ramien was sin-binned yet dug deep in his absence to deny the Warriors with stirring defence and relentless ball movement.
With the vocal home crowd cheering every tackle and set negotiated, Cronulla's belief grew.
Jesse Ramien celebrates a try (Photo by Cameron Spencer/Getty Images)
Manly couldn't do it with 12 men against Souths but Cronulla showed it can be done a man – or two — down, simply refusing to curl up and die.
It was gusty, it was courageous, it was emotional — and it will surely go down as one of the greatest wins in the club's 55-year history.
It may also prove season-defining.
Up Up Cronulla has rarely been sung with as much gusto at a regular season game as the crowd gave the players a rousing reception at fulltime.
Walsh, to his credit, jumped to his feet straight away the Kennedy hit but the Sharks star was never going to survive after the failure to send Roosters winger Daniel Tupou off for a similar tackle on Dragons winger Mikaele Ravalawa on Anzac Day.
Referee Todd Smith told the Bunker: "I don't really like it."
He then called Kennedy over and said: "Will, you are off mate."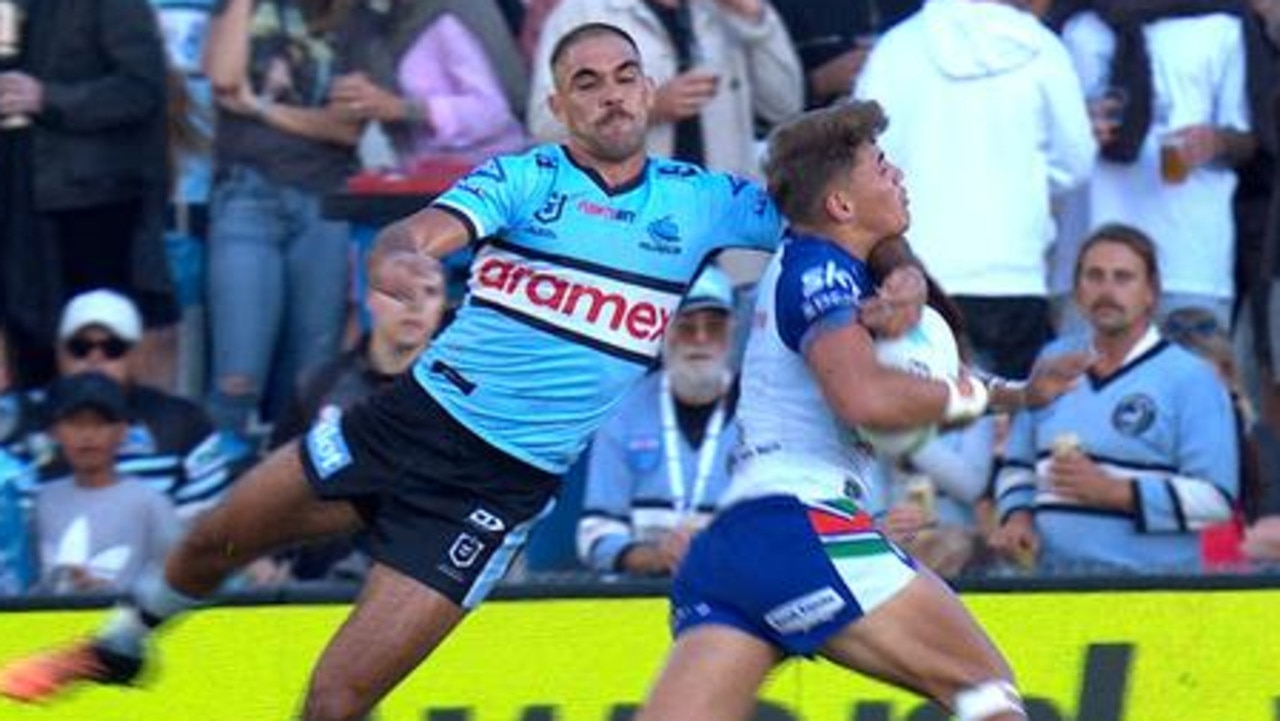 Will Kennedy was sent off for this coathanger.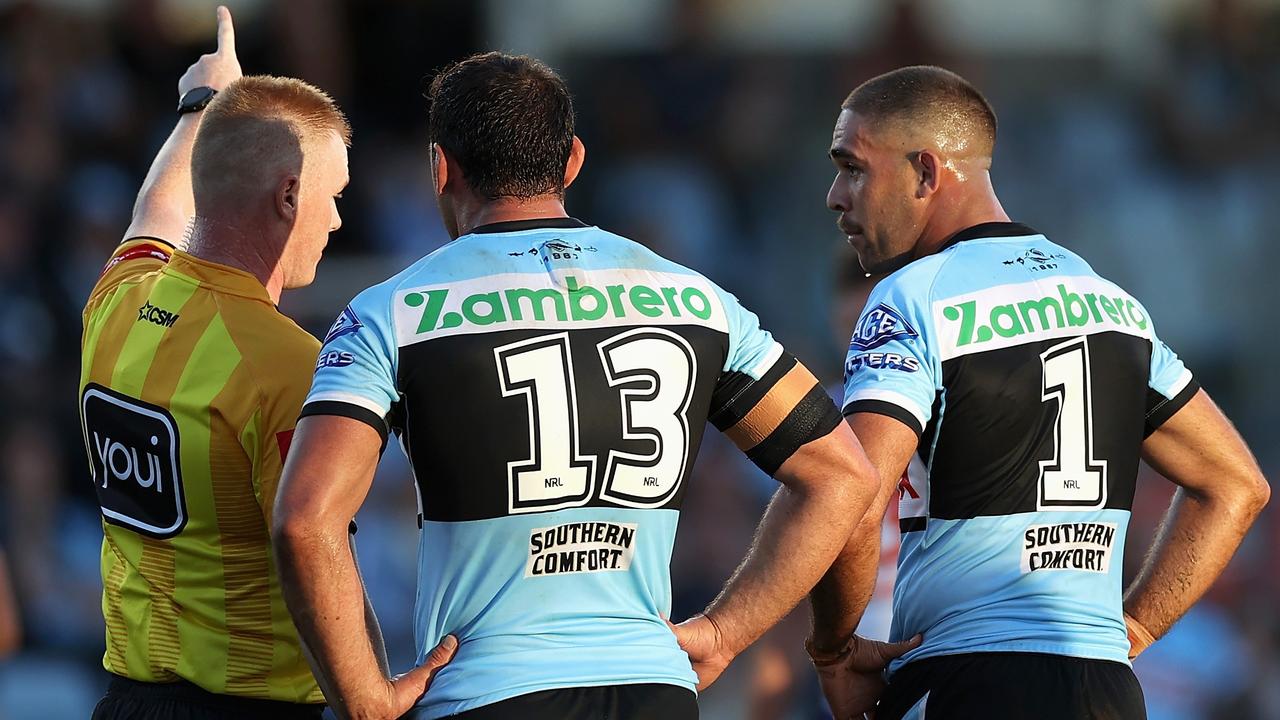 Referee Todd Smith sends off William Kennedy (Photo by Cameron Spencer/Getty Images)
The Sharks star looked half in shock as he jogged off, becoming the first Cronulla player to be marched since Chad Townsend in 2020.
Nicho Hynes slotted in at fullback — the position in which he dominated at the Storm last year — but the home side immediately conceded two tries as they readjusted.
The Warriors led 10-6 midway through the half but it was Cronulla, despite being down a man, who took a narrow two-point lead into the break following a try to Teig Wilton.
The Sharks refused to shed their free-wheeling ways with the ball, moving it at every opportunity and asking constant questions of a tiring Warriors defence.
Somehow, they conjured up a one-man overlap seven minutes into the second half to increase their lead via a try to winger Connor Tracey.
When Tracey grabbed his double 13 minutes from time, Cronulla led 22-10 and a win for the ages loomed.
A Hynes field and late Ramien try iced a truly remarkable victory.
Big celebrations in the Shire (Photo by Cameron Spencer/Getty Images)
MANY UNHAPPY RETURNS
Shaun Johnson spent three years at Cronulla but the Sharks never really saw the best of him on a consistent basis due to injury.
In-coming coach Craig Fitzgibbon showed no appetite to retain him and Johnson returned in Warriors colours with a point to prove
But he has a poor afternoon, underlined by an inability to crack the Cronulla defence when they were down to 11 men.
The Warriors failed to score a point in the final 57 minutes despite enjoying their numerical advantage.
DWZ DAZZLES AGAIN
No-one needs to tell Dallin Watene-Zelezniak rugby league can be a brutal game.
The Warriors winger was knocked out cold in the Anzac Day loss to Melbourne, stretchered from the field with grave concerns about his short-term health.
So it was great to see DWZ back in the thick of the action against the Sharks.
He went at his usual pace — flat out into the teeth of the defence — in a brave return but was unable to prevent Cronulla from pulling off a minor miracle.
WHY GRAHAM WON'T QUIT
— David Riccio
Wade Graham has outlined his plan to continue leading Cronulla next year - a goal that could elevate his name alongside the greatest Sharks of all time.
Ahead of his first match as captain at Pointsbet Stadium in almost three years against the Warriors on Sunday, off-contract Graham said a sense of being "part of something special" was driving him towards playing on.
"The immediate focus is to get a good block of footy under my belt," Graham said.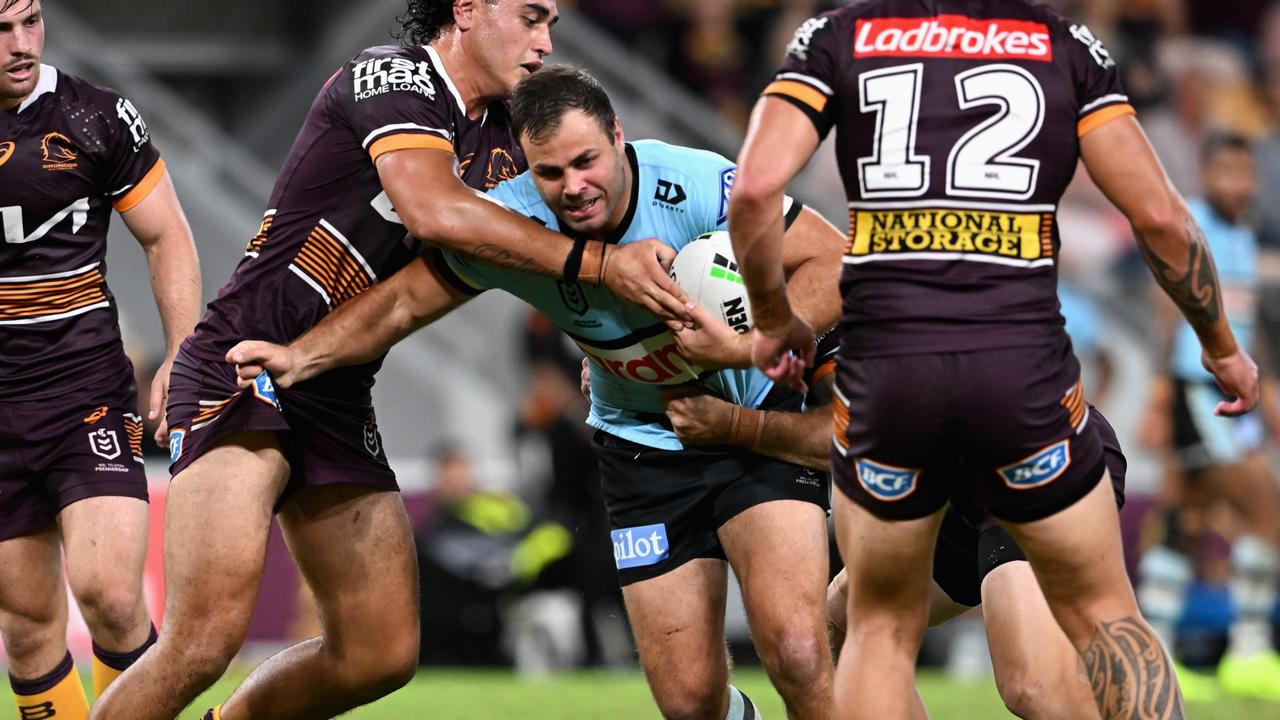 Wade Graham reveals his motivation to play on.
"We've had some challenges as a team over the last couple of weeks (loss to the Broncos), so I want to help the team to get back to playing good footy and those chats with the club will come down the track.
"I want to stay here for sure.
"The only way I can show I've still got something to offer is by playing footy and getting back out there and doing my job.
"When the time comes, I can sit down with Fitzy (Sharks coach Craig Fitzgibbon) and Moons (GM of football Darren Mooney) and have a chat about it.
"My biggest motivation to remain here is that I see the direction Fitzy and the club are going and I want to be a part of that.
"We've made great strides already and where we end up who knows, but I definitely feel like over the next two years, the club is going to be going in a great direction.''
If Graham (218 games) can secure a new deal at the Sharks, the skilful backrower can overtake Mitch Healey (223) and David Peachey (232) and move into third position for most-games played for the club behind Cronulla immortals Andrew Ettingshausen (328) and Paul Gallen (348).
Graham, 31, returned to the field for the first time in 10 months last week against the Broncos.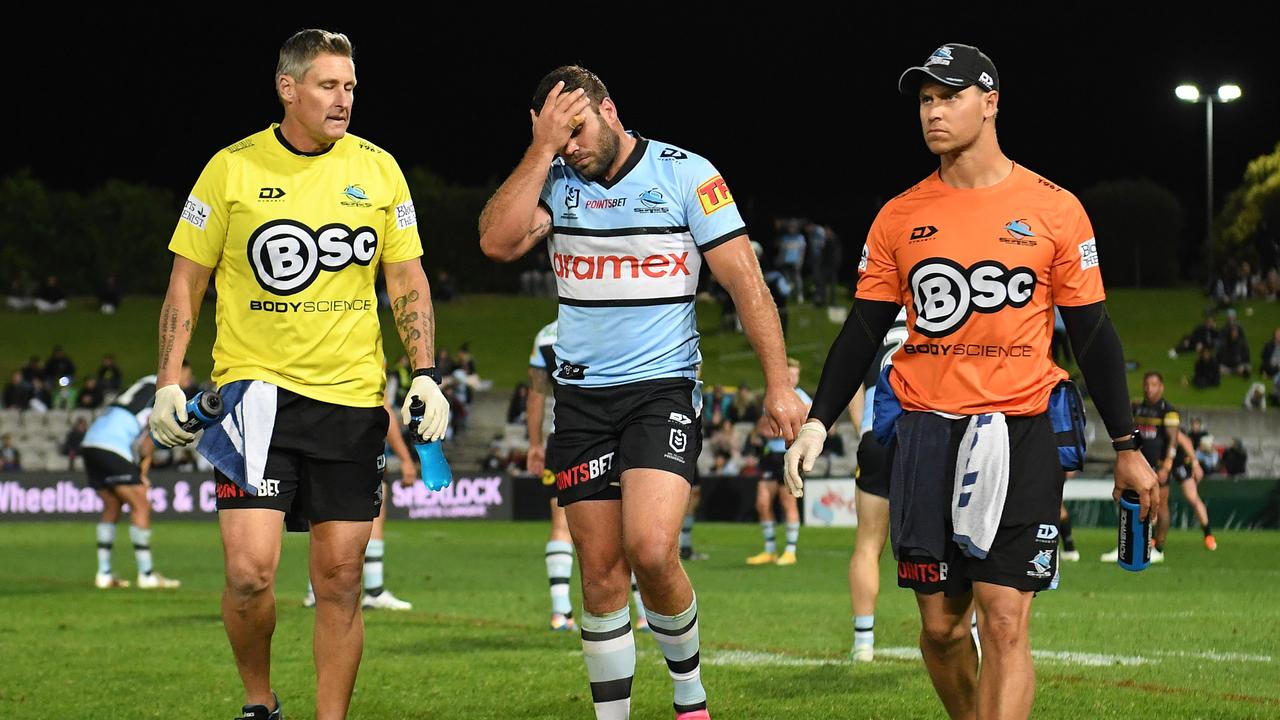 Wade Graham took time away from the game last season due to a series of head knocks.
As has been widely reported, the former Test and NSW Origin backrower took time away from the game last season due to a series of worrying head knocks.
It was the best decision of Graham's career.
"If anything having that time off and then coming back under a new coach and new system reenergised me," Graham said.
"It's a fair thing to be able to say that in my 14th pre-season that not only did I love coming to pre-season training, I didn't miss a session.
"I had the best pre-season of my career, I didn't miss one day of training and to have that setback with my ankle, was really disappointing.''
Graham's ankle twisted during a Sharks pre-season trial match.
Despite the injury being completely unrelated to his head knocks, questions have been asked whether Graham can rediscover his elite-level form.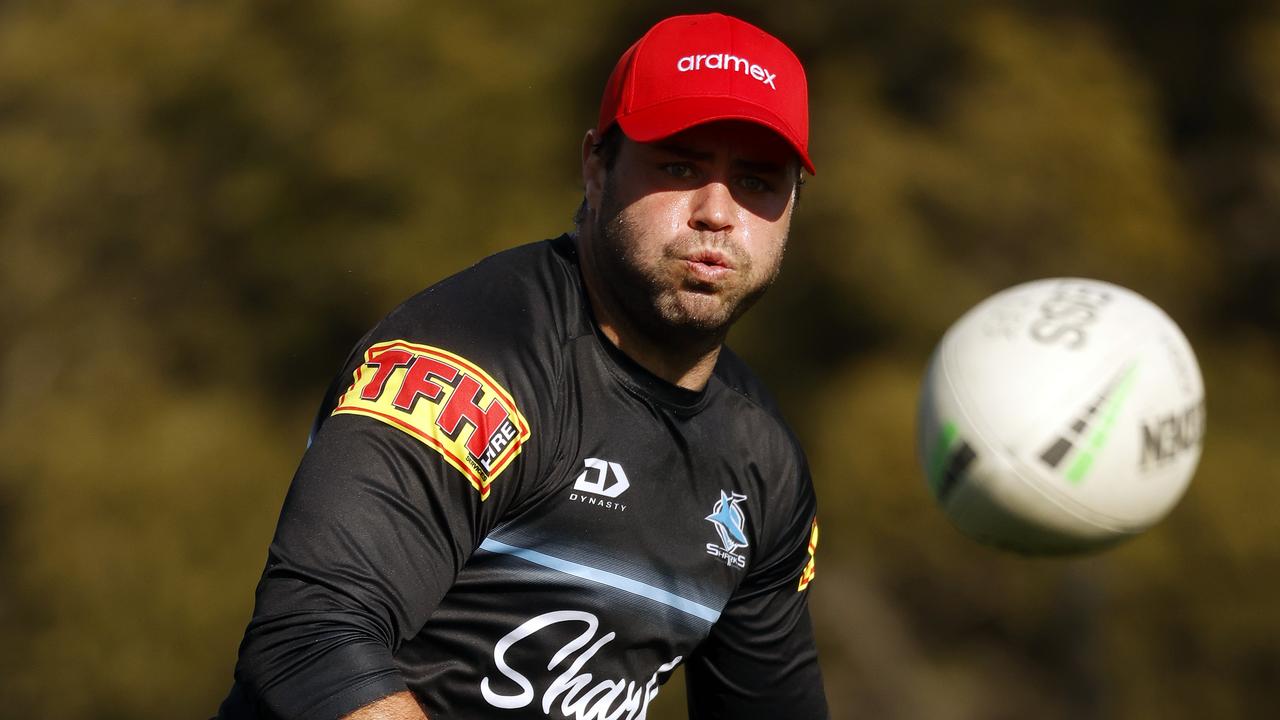 Wade Graham didn't miss a day of preseason following his return from an extended break.
Respected for his brutal honesty, Graham said he had no such concern, pointing to a coaching staff plan to steadily increase his game-time over the next month.
"I wasn't worried about playing, I was just anxious to get that first game over and done with,'' Graham said.
"It had been such a long time between games.
"It was a tough game to come back too, the period I was on the field was a tough part of the game. It was end-to-end and in the long-run it was a good one for me to get through.
"I felt great making and taking contact and now I want to get back to being the player I know I can be."
Originally published as NRL 2022: Mitch Barnett reflects on his six-week ban, Newcastle's losing streak and his move to the Warriors