NRL 2022: Victor Radley was in contention to play for Australia at Rugby League World Cup
It appears Victor Radley may not have just thrown away a Blues jersey after Kangaroos coach Mal Meninga revealed the defector was in his World Cup plans.
Kangaroos coach Mal Meninga has revealed that Victor Radley was part of his discussions for the World Cup and confirmed that he wants clarity around the allegiances of Jarome Luai and Stephen Crichton as he steps up planning for the tournament over the next fortnight.
Radley stunned the rugby league world over the weekend when he revealed that he had pledged his International commitment to England, turning his back on the chance to represent NSW and Australia.
Meninga admitted he was caught off guard by Radley's call but insisted he harboured no ill-will towards the Sydney Roosters star. He did, however, concede that Radley was in the mix to play for the Kangaroos, having been at the forefront of Meninga's thoughts in the past.
"It is disappointing but if he feels that way, I think I have made my feelings let - I just want people who want to play for Australia, the green and gold jersey," Meninga said.
"He is always in the mix. I had him in the squad I took over to New Zealand last time in '19. Yeah, it was disappointing to hear the news but in saying that it was good for England, because he is a quality player and a quality fella.
Stream every game of every round of the 2022 NRL Telstra Premiership Season Live & Ad-Break Free During Play on Kayo. New to Kayo? Try 14-days free now.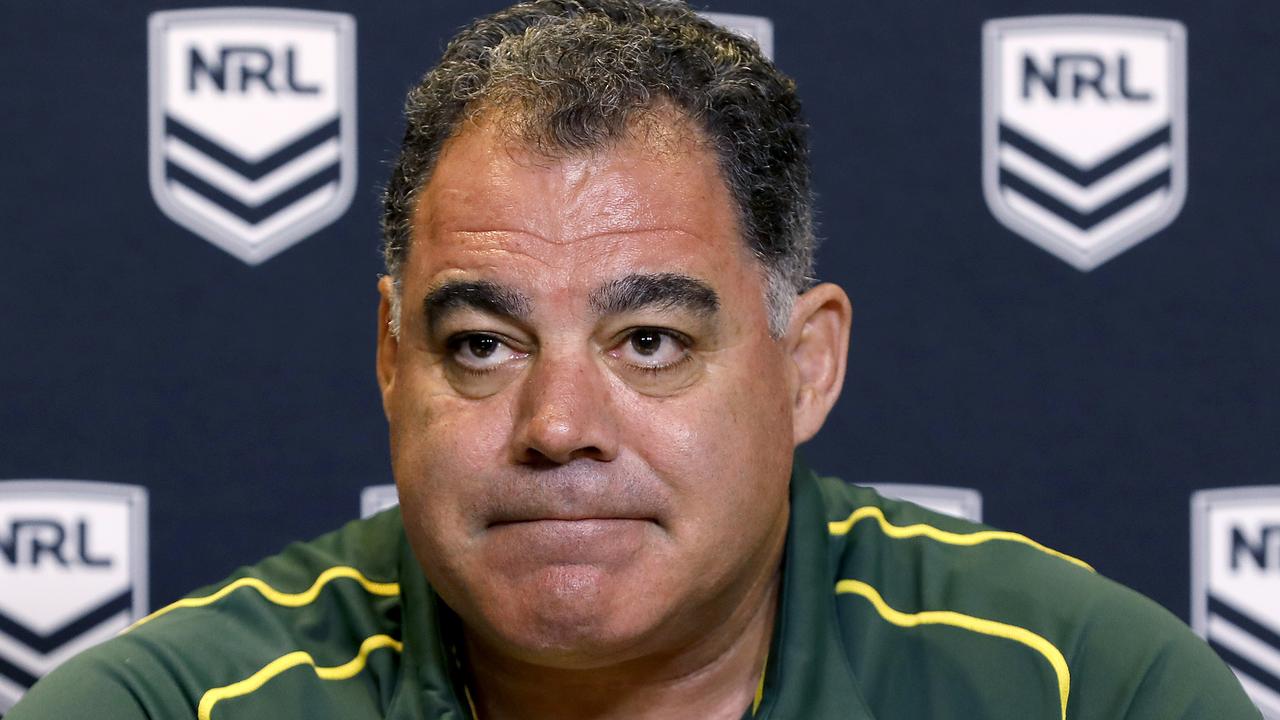 Australian coach Mal Meninga was disappointed Victor Radley chose England over the Kangaroos. Picture: AAP/Chris Pavlich
"He is a good player and a good fella - those two characteristics make up a good Kangaroo."
While Radley has made public his allegiance, Luai and Crichton are yet to divulge their plans for the end-of-season tournament. The sense is that both are likely to follow the lead of Brian To'o and commit to Samoa. Meninga just wants some clarity as he looks to whittle down his options for the tournament.
"This is all the issue at the moment - it is really, really messy," Meninga said.
"Because Origin is over now we can get on with the process of seeing who is available and who isn't available.
"By all reports they have made their decision and they want to play for Samoa. I have plenty of people who want to play for Australia - Munster and Jackie Wighton and Matty Burton, those sort of guys.
"They are very capable rugby league players. I will have to get some clarity around it sooner rather than later. Like I said, Origin is over and done with now. I will jump on the phone and just find out for sure.
"I know Josh Papalii wants to play for Samoa. I shouldn't need to have those conversations. I should know when they sign their contracts who they want to play for."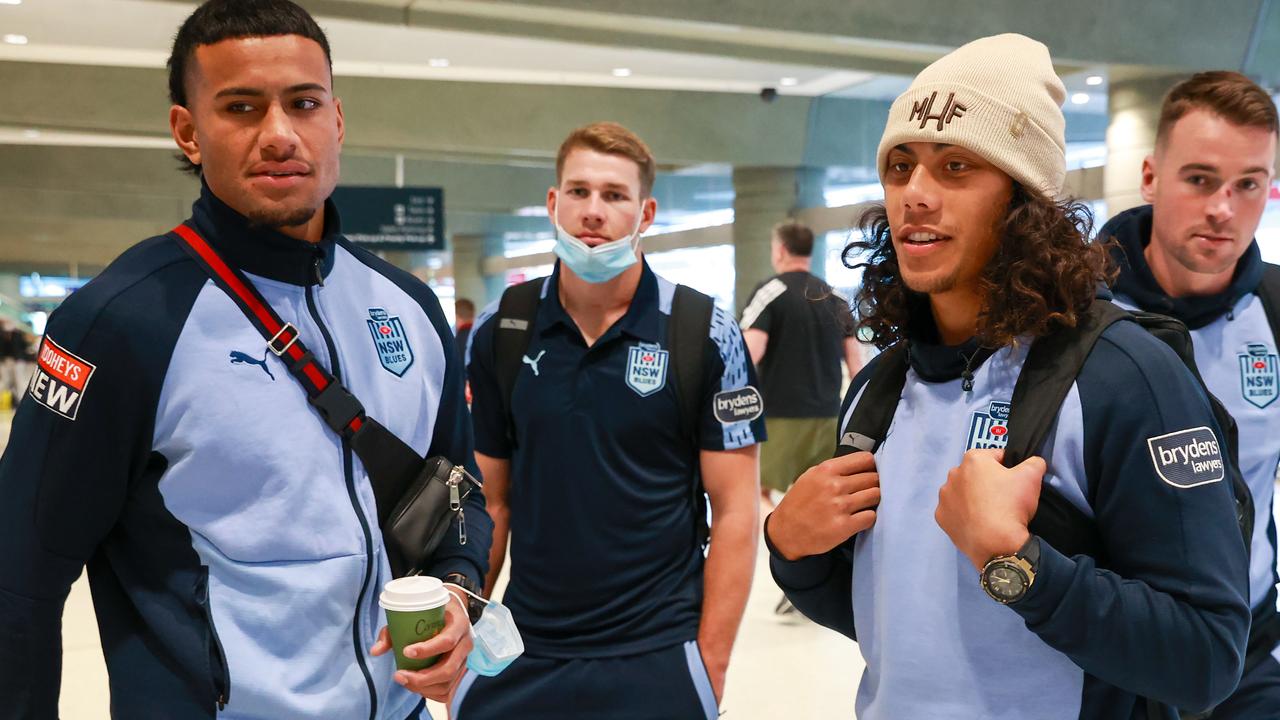 Meninga wants to know if Stephen Crichton and Jarome Luai are putting their hands to play for Australia at the World Cup. Picture: Justin Lloyd.
To say Meninga is frustrated with the rules would be an understatement.
"The simpler the better," he said.
"If you are born in Queensland or NSW, you should be able to play for Queensland or NSW. But you then pick ancestral nation and you shouldn't be able to change.
"Everyone should be a tier one nation."
While Luai and Crichton may be lost to the Kangaroos, Meninga has Sydney Roosters teenage sensation Joseph Suaalii in his sights.
He also revealed that Daly Cherry-Evans and Nathan Cleary would be part of his squad later this year and would be given the opportunity to show which deserved the No.7 jersey though the pool games.
"They will both go," Meninga said.
"If they keep playing the way they are playing, they will both go on tour. Then we will make that decision while we are over there.
"We have the pool rounds, and so on. Daly was tremendous the other day, for Manly as well. It is a good position to be in.
"It is going to be a hard decision when we have to make it."
Why Radley turned back on Blues
- Fatima Kdouh and Michael Carayannis
Victor Radley could not ignore the 'Yorkshire blood' coursing through his veins and the Sydney Roosters star is ready to 'bleed' for England in the Rugby League World Cup.
Radley has pledged allegiance to England, where father Nigel was born, effectively walking away from the chance to ever pull on a NSW or Australian jumper.
Radley's decision comes as the Blues face criticism that the Maroon jersey means more to Queenslanders than the light blue of NSW.
"It was a feeling in my chest, I could not look away from it. It's years of Yorkshire blood in me and it's coming out," Radley said.
"I have made this decision because I want to bleed for England.
"I love Australia, I love this country but I had to choose one. All I know is when the ball kicks off, no matter what jersey, I'm going hard.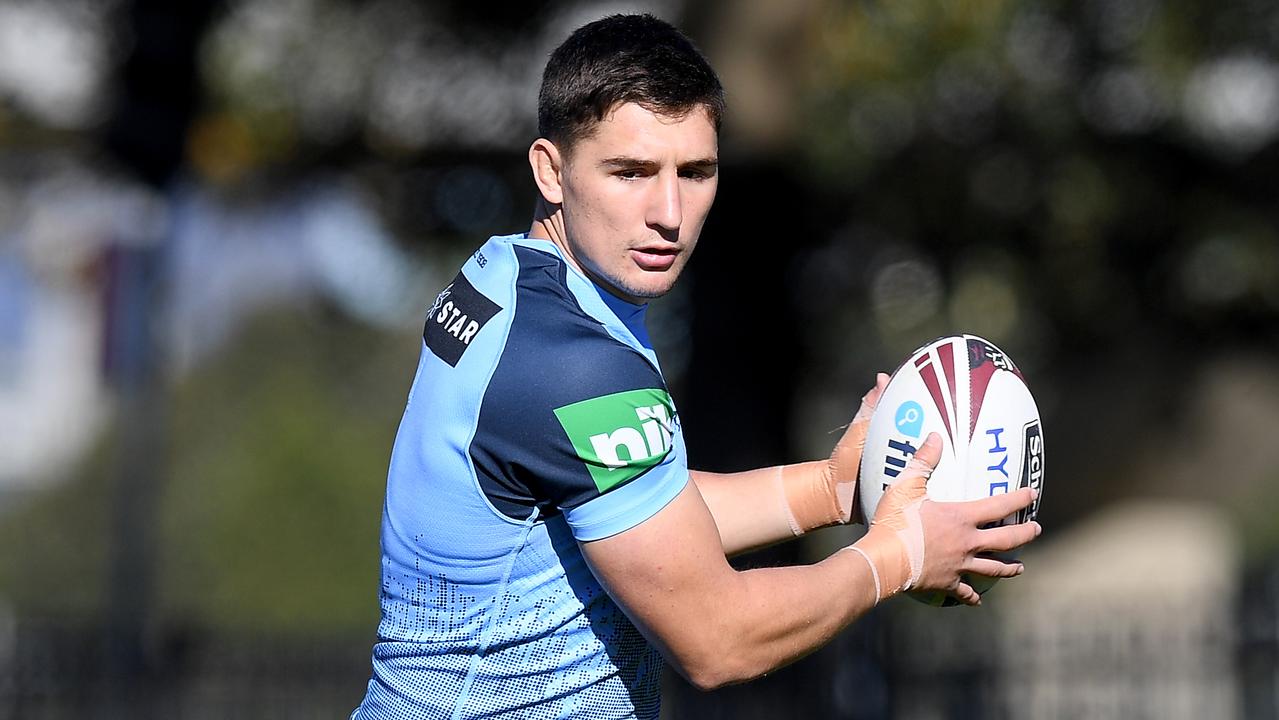 Victor Radley will play for England at the World Cup (AAP Image/Dan Himbrechts)
"I grew up with my dad being English, I worked on a building site with everyone being English and I love English people, fans.
"I love playing the World Club challenge there. It hits home for me, playing for England, in front of England fans."
Radley also revealed former England captain James Graham, who played 44 Tests for Lions and was famous for his passion, had an influence on his decision that was years in the making.
"I remember you saying something ... when I started my career… 'I would never retire from England if they want me, I'll be there," Radley told Graham on Triple M.
"That has sat with me pretty solid.
"That saying, I thought that is one way to look at life and I have held onto that since.
"Whatever I am doing, I want to do it until I am broken, so that's something that helped my decision."
The 24-year-old has been in the frame for Blues selection, only to be cruelled by injury or suspension.
Radley reached out to NSW coach Brad Fittler about being included in the squad for game two in Perth, and did so again before walking away from Origin.
"I wanted to wait until Origin was over to make my decision because I was waiting to see if something there ticked," Radley said.
That 'tick' never came and Blues advisor Greg Alexander believes that is because Radley did not get the chance to play for his state.
"It's a massive decision to rule himself out of Origin ... playing for the Blues might have changed his decision to play for England. That is the decision he has made. We'll see how it pans out," Alexander said.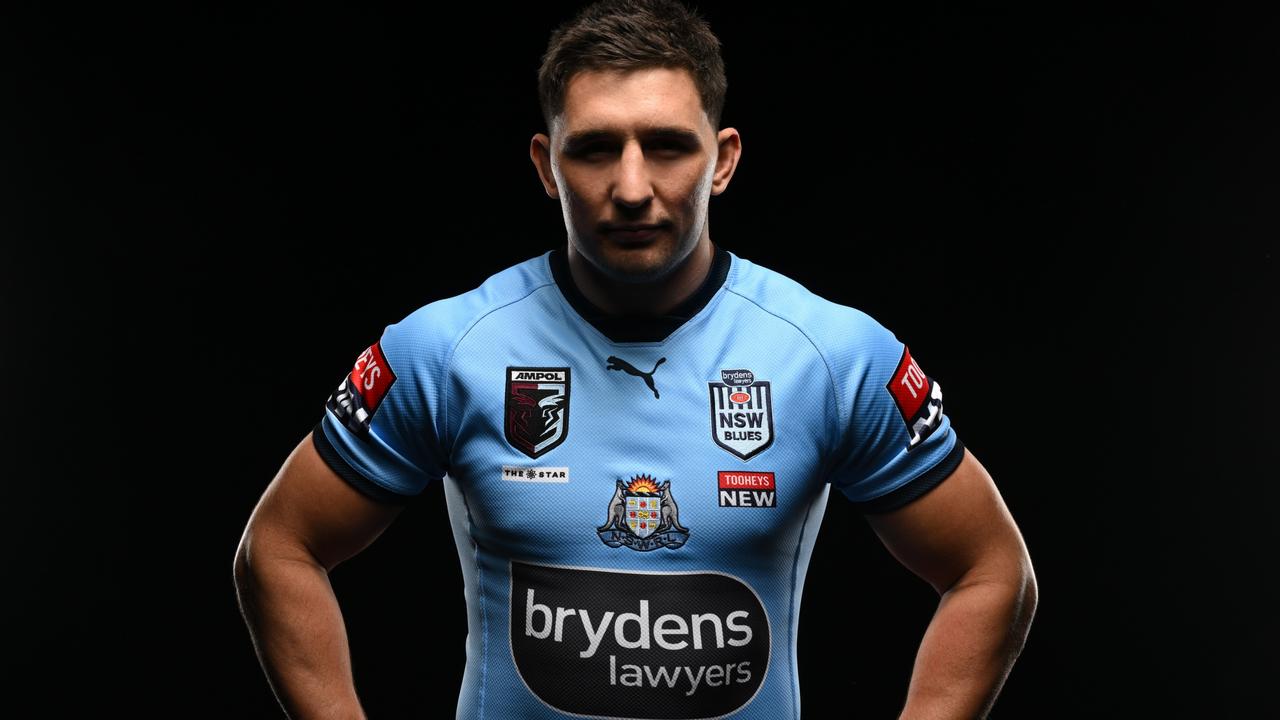 Victor Radley has turned his back on the Blues.
Radley also leaned on his dad Nigel, who moved from Sheffield to Coogee in the late 1980s and never lost his thick English accent.
Behind the accent is a love for State of Origin footy.
When News Corp contacted Nigel about his son's decision to represent England over the Blues, he was still in Brisbane after travelling north to watch the decider at Suncorp Stadium.
What unfolded before Nigel last Wednesday night was an Origin clash for the ages, one that was made for a player with the intensity and physicality of his son.
Many anticipated Radley would play a key part in the Blues' hopes of reclaiming the shield next year.
But Nigel revealed Radley caught the World Cup bug after watching Roosters teammates play for their respective homelands with passion – something that resonated with the 24-year old – during the representative round.
"I think that's what made him do it … when Tonga and Fiji played there were almost 20 players across the Roosters involved and he wasn't involved in anything and he thought 'it will come to the end of the season and they are all going to the World Cup and I ain't'," Nigel said.
"I think that's what made him think 'what do I do here?'.
Roosters coach Trent Robinson encouraged Radley not to rush the decision given the long term implications.
Players cannot switch between tier one – Australia, England or New Zealand – countries.
The most sage advice came from mum Peta, who endearingly warned her son not be pledging his future to England for the sake of an end of season 'piss-up'.
"She thinks all Englishmen are drunks," Radley said.
"So she goes 'you're not just going there for a piss up, are ya?'.
"I said 'no, no, we are going there to win and after will be a piss up'. She's so supportive, I could play for anyone."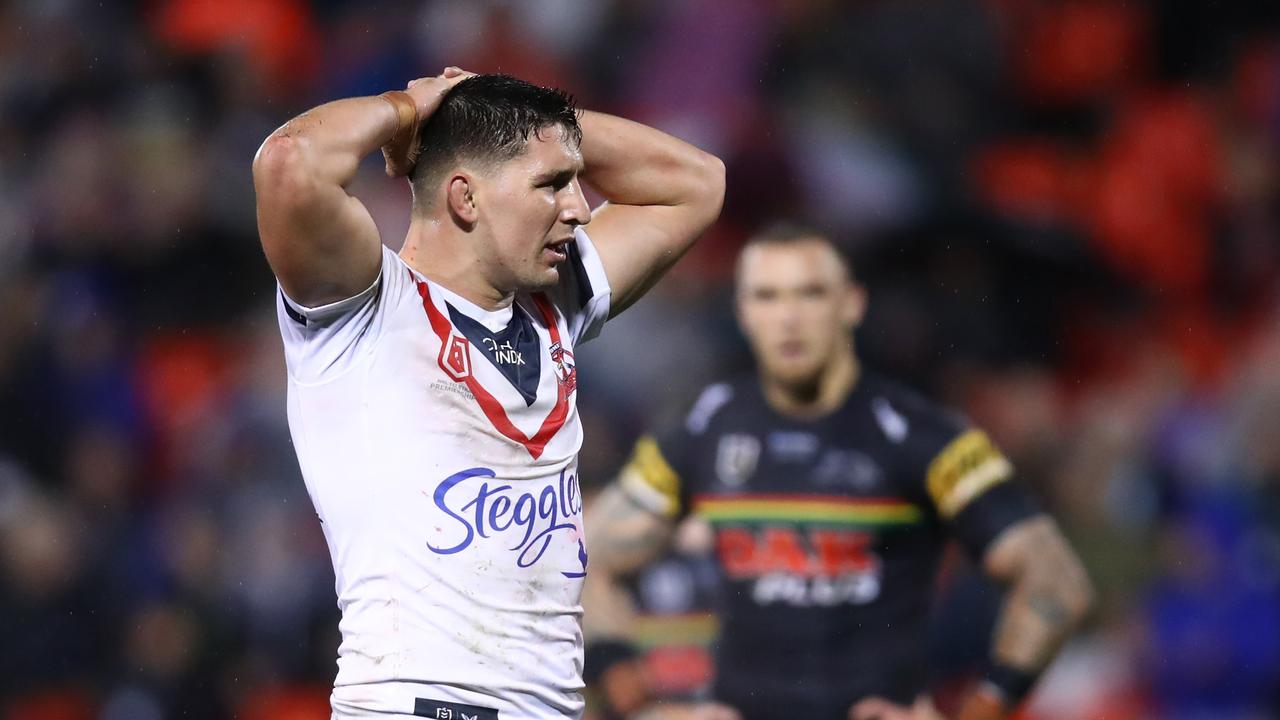 Victor Radley is set to rule himself out of future Origin representation, if he chooses to represent England. Picture: Getty Images.
ORIGIN BOMBSHELL: RADLEY TURNS BACK ON NSW
The Blues have been dealt a fresh Origin blow with Victor Radley set to rule himself out of representing NSW to pursue international honours with England.
Radley has publicly committed to playing for England at the end of year world cup. With England a tier one nation that decision will make Radley ineligible to represent the Blues or Australia down the track. Players cannot switch between tier one – Australia, England or New Zealand – countries.
The bombshell comes just days after the Blues lost the Origin decider to Queensland on Wednesday night. Many anticipated Radley would play a key part in the Blues' hopes of reclaiming the shield next year.
Instead he will rule himself out of being picked in the future.
"It's something I've always wanted to do," Radley said.
"I've always wanted to play for England for my old man. Everybody wants to do the right thing by their dad, don't they?
"Dad's proud of where he's from, proud of his family, proud of supporting Sheffield Wednesday.
"This was a gut feeling that it's what I want to do – and with the World Cup coming up in England at the end of this year, it was now or never.
"If I ended up sitting there watching the World Cup and knowing I could have been playing for England – that wouldn't have felt good."
Radley was also a potential Kangaroos squad member. He has been a long-term fringe Origin player with only suspension and injury stopping him from making his debut. The Roosters lock was part of an Origin extended squad this year.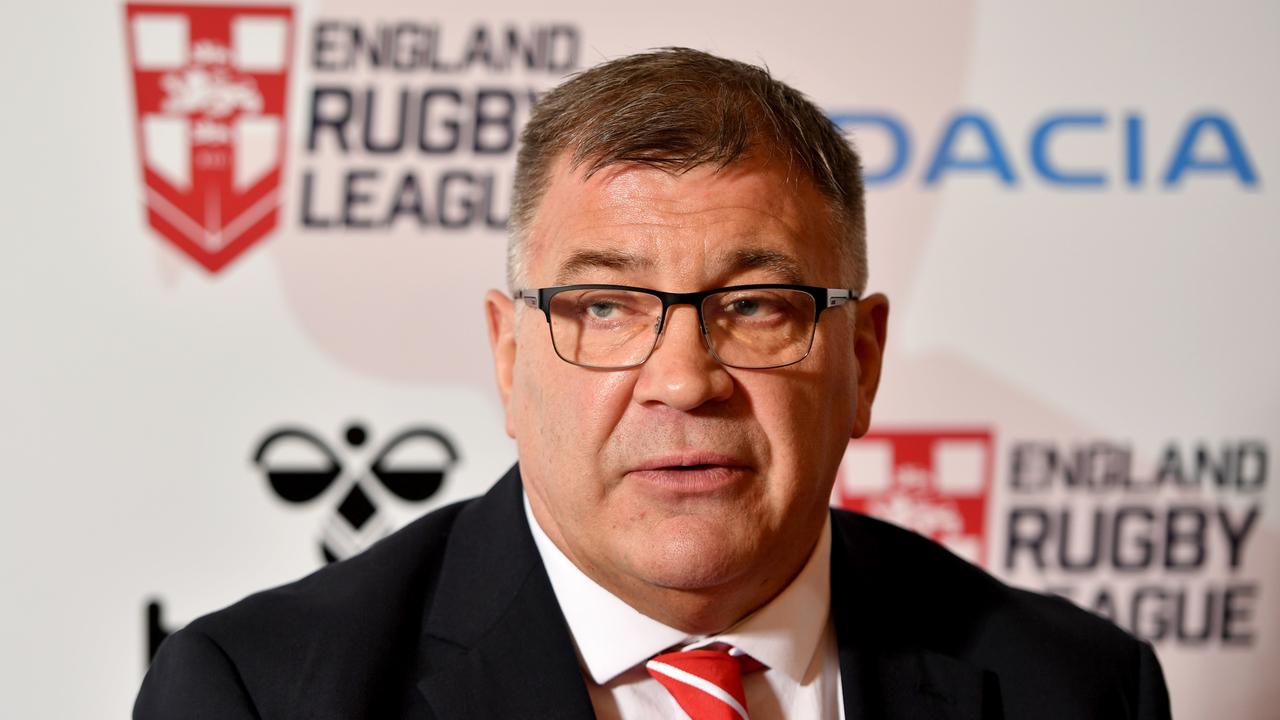 Radley met with England head coach Shaun Wane when he toured Australia earlier in 2022. Picture: Getty Images.
England coach Shaun Wane spoke with Radley when he toured Australia earlier this year.
"I've always said that I'm open to selecting players who want to represent their English heritage – but they have to be outstanding in their position and 100 per cent committed," Wane said.
"I rate Victor Radley very highly as a player, and he's a great addition to the options we have in a position where we have some really strong contenders. We need quality in depth in every position, and Victor is a big addition to that.
"He now joins the group we already have playing in the NRL who will be part of our preparations for the world cup. We're in regular touch, sharing a lot of information with them, to make sure they're already to be part of our squad if they're selected."
BASH BROTHERS BLUES NEED TO TOUGHEN THEM UP
—David Riccio
The mentality of the Blues has to change.
Origin has never been played like an NRL game. If it was, Josh Morris would never have picked himself off the ground and run away from medical help in Origin II, 2015, with a busted knee to tackle Greg Inglis.
This job gets your ear close to those who have laid down on Lang Park the night before an Origin game.
They speak of how, even though the Blues ran away with the score in game two, it was only after they shifted away from the typically Penrith style in the first-half, of attacking plays that focused on swinging from side-to-side, to running hard and straight in the second-half, that NSW got on top.
Hard and straight. Ring a bell? Think Queenslanders Reuben Cotter, Patrick Carrigan, Lindsay Collins.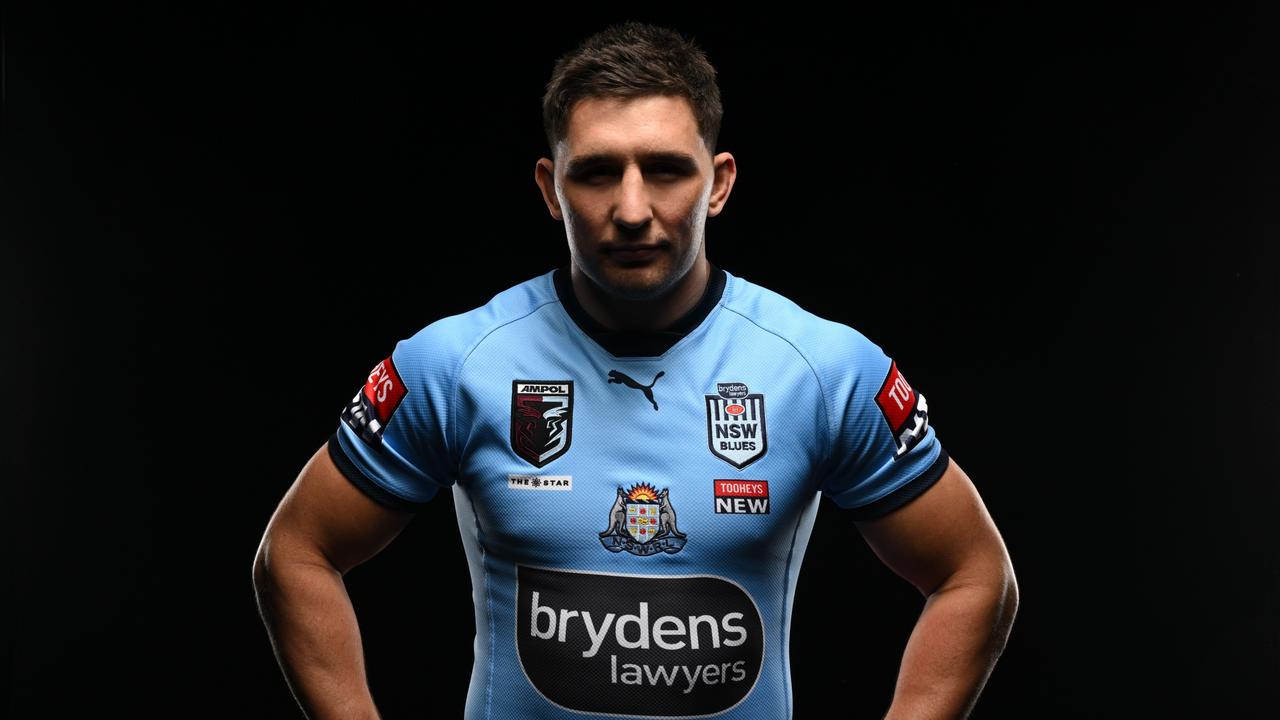 The NSW Blues must go with Victor Radley in 2023, writes David Riccio. Picture: Supplied.
The Blues response should be with Victor Radley. Ignore everything he does in the opening seven rounds and just wind him up and pick him.
Radley bleeds passion, often to his detriment.
Sure, the Roosters lock treads a fine line, but did that worry Tino Fa'asuamaleaui?
The Blues are in desperate need of a new Greg Bird or Paul Gallen and Radley fits the bill.
Jack Wighton is another one who oozes Origin toughness. He has developed into a leader at the Raiders and when the chips are down, he drags his side with him.
He's also a different type of leader to James Tedesco, who is short on churchilian speeches, but rather leads by his elite effort.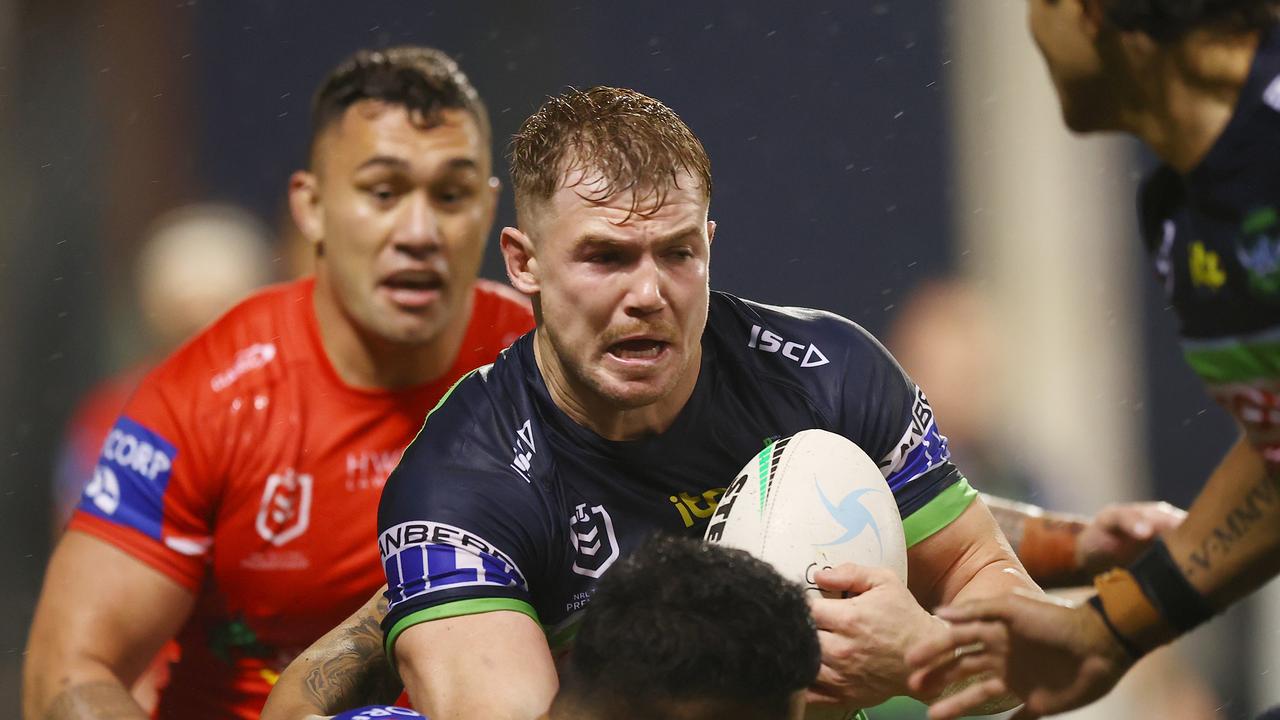 Canberra's Hudson Young could be another left field choice for the Blues. Picture: Getty Images.
Wighton would help ease the strain on Tedesco and ask yourself this, would Dane Gagai have hurled haymakers at Wighton, like he did at two-gamer Matt Burton?
Another one and a bolter perhaps, but that doesn't seem to faze Queensland, is Raiders forward Hudson Young, who has ripped through 31 tackle busts this year.
Watch the way he plays.
Canberra wouldn't swap him for any other forward. Ruthless in attack and defence. He can become the Blues' Patrick Carrigan.
45 MINUTES OF HELL BLUES MUST NEVER FORGET
Forty-five minutes after NSW submitted to the defiance of Queensland, disbelief dripped from the walls of the Blues losing dressing room.
Huddled in small groups on the lower level of Suncorp Stadium, NSW staff and players communicated not with words, but with their despondent body language.
Mostly they just sat there, stunned and staring into the white besser block walls.
It was eerily quiet.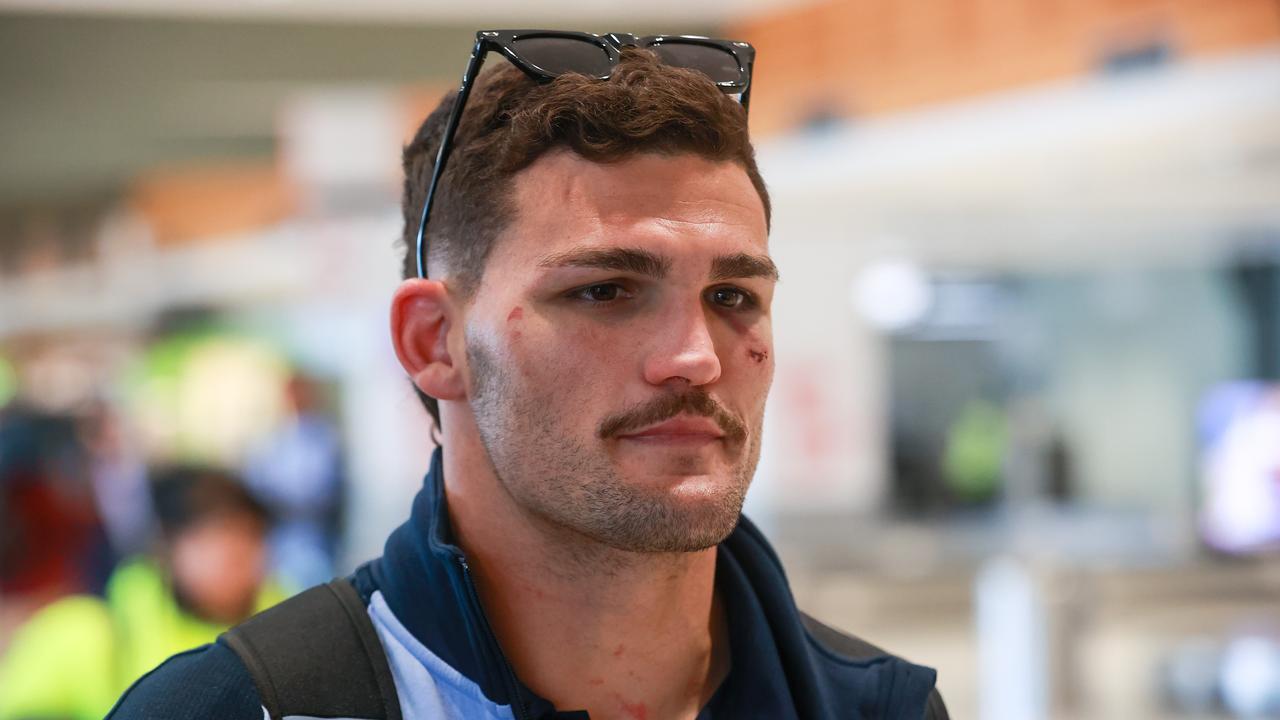 Nathan Cleary could hardly take his eyes off the floor after the Blues' Game 2 loss. Picture: Justin Lloyd.
Small talk felt uncomfortable, similar to that of the small condolences that are passed following a funeral.
Nathan Cleary walked with his eyes to the floor.
Offering little but short, incomplete responses to questions from journalists, Cleary apologised, realising that he couldn't find the words to decipher what had just happened.
Matt Burton, with his left cheekbone swollen and radiating purple under his eye, held back when asked if Maroons forward Tino Fa'asuamaleaui should've been sin-binned for a swinging arm that clocked him high in the first-half.
"I'm not the ref,'' Burton said.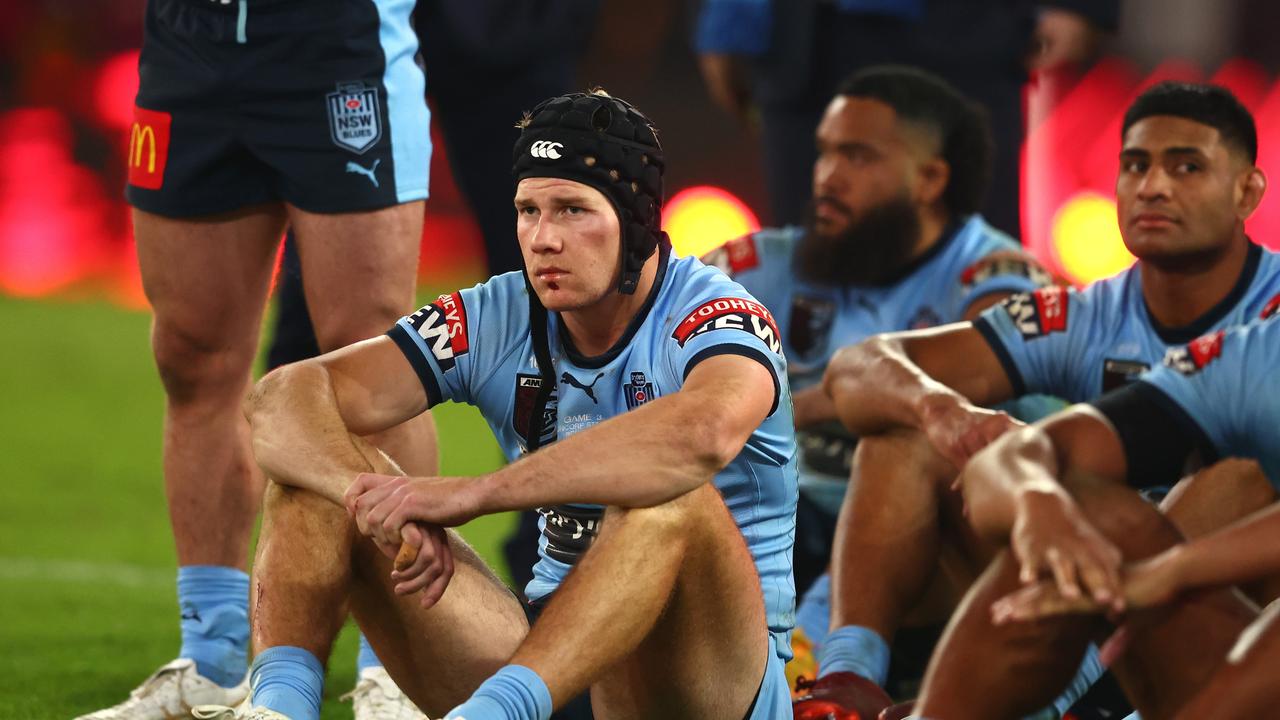 The Blues must never forget this 45 minutes of hell and use it to fuel their 2023 campaign. Picture: Getty Images.
Big Jacob Saifiti. Sensational in his Origin debut played the type of game he should remember for the rest of his life.
"It was all for nothing,'' Saifiti said. "I would've rather played the worst game of my life and win than play well and lose,'' Saifiti said.
As cold and empty as it felt, this is the forty-five minutes the Blues must never forget.
It should be bottled and then poured down the throats of every NSW player ahead of next year's series.
When we're all playing Guess Who ahead of the NSW team being chosen for game one next year, remember the pain and pick players who will swallow it up.
FIGHT FIRE WITH FIRE
It was also in the dressing rooms, this time after the Blues had lost game one, that Wighton stood drawing a fat red circle around where his side went wrong.
"We didn't retaliate,'' Wighton said.
"They (Queensland) pushed the ref and they just played a very smart Origin game.
"That's something we have to retaliate with.
"It's a learning curve, we should've woke-up earlier.
"We should have held them down longer - simple.''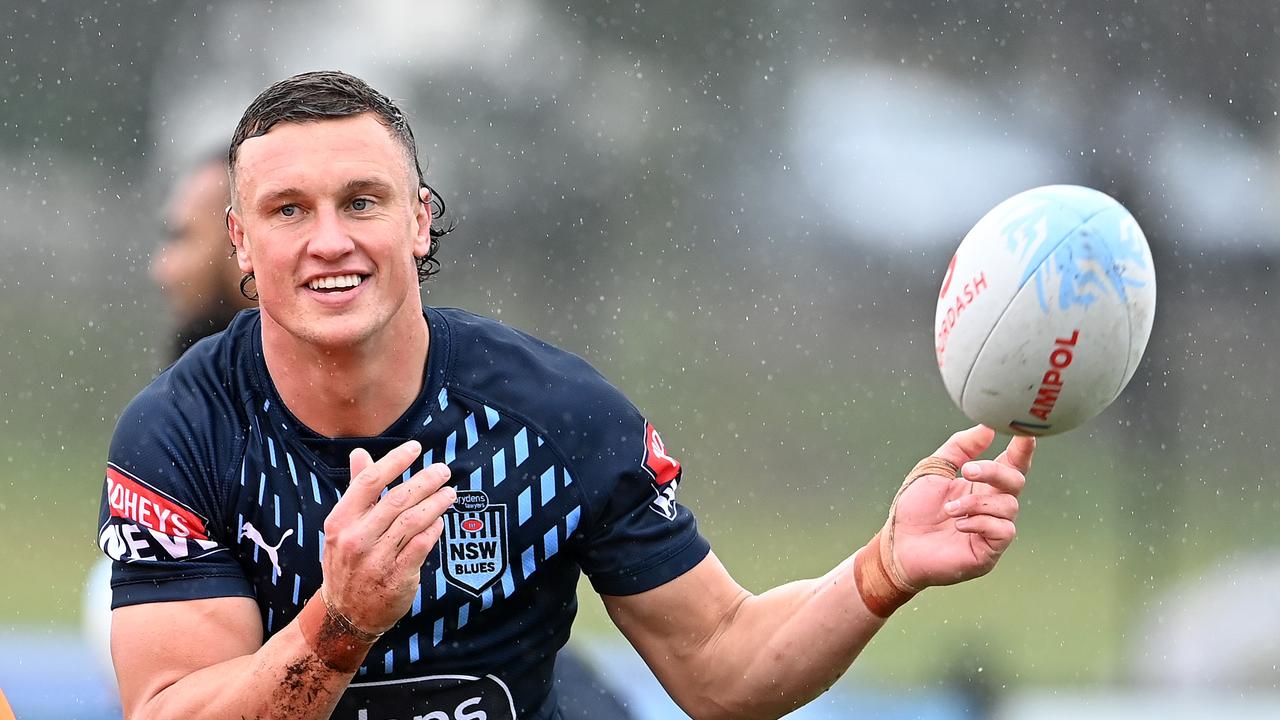 Jack Wighton knew the Blues needed to fight back, but didn't play a smart enough game in Origin III. Picture: Getty Images.
The Blues did respond in game two.
And then it happened again on Wednesday night at Suncorp Stadium. The Maroons retaliated back, using elbows, high shots and punches to stifle the Blues.
Wighton's warning after game one should have been the end of it.
The Blues are a wonderful team of ambassadors for the state. Their work across the series within the community was outstanding.
But as Queensland have shown, playing nice doesn't win State of Origin shields.
SO WHAT'S MISSING
That's obvious.
Tom Trbojevic (shoulder) and Latrell Mitchell (unavailable).
The duo ripped Queensland apart last year and undeniably the Blues are a vastly different side with the strike weapons in the team.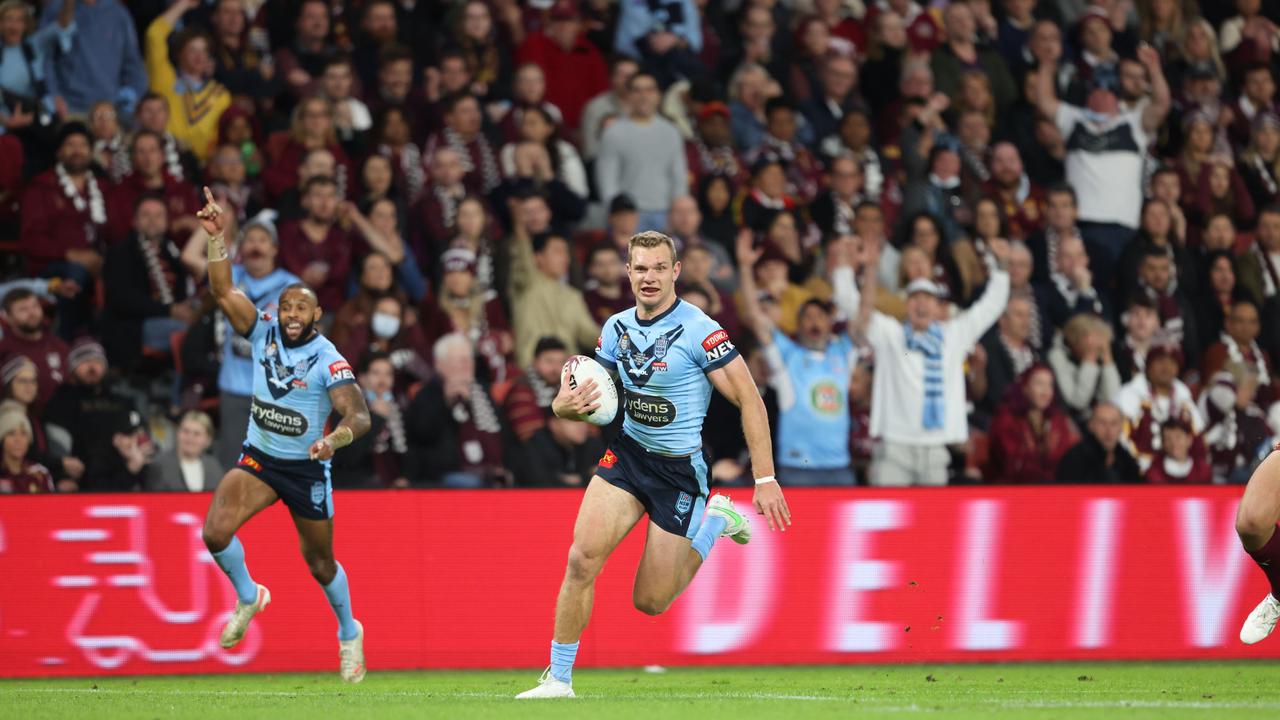 The series could have been very different for the Blues if they had the likes of Tom Trbojevic and Latrell Mitchell in the team. Picture: Peter Wallis.
Payne Haas (shoulder) was also a major omission.
Haas' go-forward and ability to play long-minutes was missing in Origin III, which had a major impact on the NSW bench rotation.
The loss of Cameron Murray, the Blues workhorse, after one minute can't be forgotten either.
Stephen Crichton is a wonderful talent within the Panthers system, but across the three matches he failed to show us that he is an Origin player.
Josh Addo-Carr will feel unlucky, but must use his series omission as motivation.
FREDDY FUTURE
Brad Fittler's record of three series wins from the past five has garnered him enough credits to survive as NSW coach.
Remembering too, had he won the series on Wednesday night, it would've triggered an immediate contract extension for 2024.
Undeniably, his next series moves are career-defining.
The NSW coach will now conduct a complete review of the series and preparation.
Fittler has assembled an experienced crew around him in assistant coaches Danny Buderus (Knights GM of football) and Paul McGregor (Eels consultant).
With three series wins from five in charge, Freddy should be safe … for now. Picture: Getty Images.
No one has mentioned the impact that the exit after last year's series of former defence coach Craig Fitzgibbon - to focus on being head coach of the Sharks - from the Blues set-up has potentially had.
It will be interesting to see if Fittler chases an assistant from NRL club land, like Fitzgibbon was and who is familiar with the training and game-day demands and intensity of a coaches box.
Billy Slater employed Sharks assistant coach Josh Hannay as the only member of his staff who operates on a day-to-day basis within an NRL structure.
Listen next time the way Slater speaks of how significant Hannay was.
Worth noting too, the Blues produced their finest performance - in game two - when they only had seven days to prepare.
The typical 10-day camps need to be reassessed. They were once designed for player bonding and for media to build the game into a sellout.
Neither are no longer relevant with game three sold-out two weeks before kick-off.
The camps are too long, particularly when the players are in the midst of a Covid pandemic and protocols, which limits their ability to keep busy outside of their hotel room.
Twelve-months is a long time for revenge.
But not for the Blues, if they bottle up the pain and spray it across every player next year.
Originally published as NRL 2022: Victor Radley was in contention to play for Australia at Rugby League World Cup