NRL 2022: Storm star Xavier Coates reveals why he quit the Broncos ahead of Brisbane return
Xavier Coates rocked the Broncos when he quit the club last year to join Craig Bellamy's Melbourne Storm. Now ahead of his return to Brisbane he reveals why he walked out.
Storm sensation Xavier Coates has opened up about why he quit the Broncos ahead of his Magic Round return to Brisbane.
Coates will run on to Suncorp Stadium against Penrith on Saturday night for the first time since rejecting the Broncos last year to join Craig Bellamy's surging Storm in Melbourne.
With 10 tries in eight games this season, Coates has already taken his game to another level in Melbourne and is in the box seat to retain his Queensland jersey for Origin I next month.
Having blooded him in the NRL in 2019, the Broncos were desperate to retain Coates last year after the Storm launched a targeted poaching raid on the athletic winger.
Watch every game of Magic Round this weekend Live & Ad-Break Free In Play on Kayo. New to Kayo? Try 14-Days Free Now >
But with Brisbane battling to avoid a second wooden spoon in coach Kevin Walters' first season in charge, Coates opted to ink a two-year deal with the Storm, which he recently extended until 2026.
Coates, 21, first met with Bellamy at a Coolangatta cafe in December, 2020, and it took six months until he officially pledged his future to the Storm.
Now, in the lead-up to his Suncorp return, Coates revealed why he chose Melbourne over Brisbane.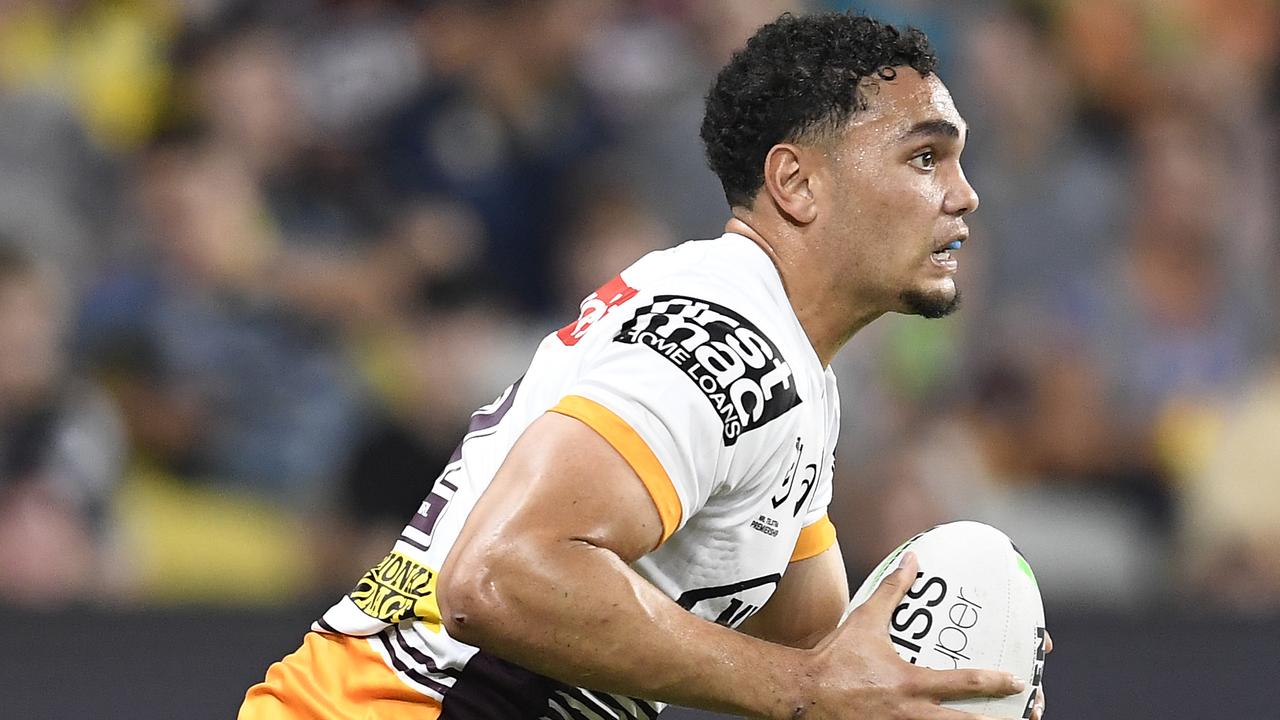 Xavier Coates made his NRL debut for the Broncos. Picture: Ian Hitchcock/Getty
"It wasn't anything wrong with the Broncos," he said.
"I thought Melbourne had a really good opportunity down here, especially with a coach like Craig. Certain players have come down here (and thrived) and certain players he's produced. I really wanted to experience that, to be put into this sort of environment to help me flourish.
"It wasn't anything the Broncos did wrong. I just saw the Melbourne move as a really good opportunity for myself and my growth.
"Craig told me the people at Melbourne are really good people and when you come down into this environment there's not too many that have failed. That was the main thing that caught my eye.
"It is hard work straight away from the first day. I was struggling pretty badly but then I found my feet as you start to do more sessions. It slowly gets a bit easier here and there, but it's not an easy pre-season by any means. It definitely helps you when it comes to in-season.
"It's gone above and beyond (my expectations). The staff and players here … you can't get any better than that.
"I was a bit nervous at first, but as soon as I walked through the doors I was greeted by everyone and felt like it was my home. I'm loving my time here so far."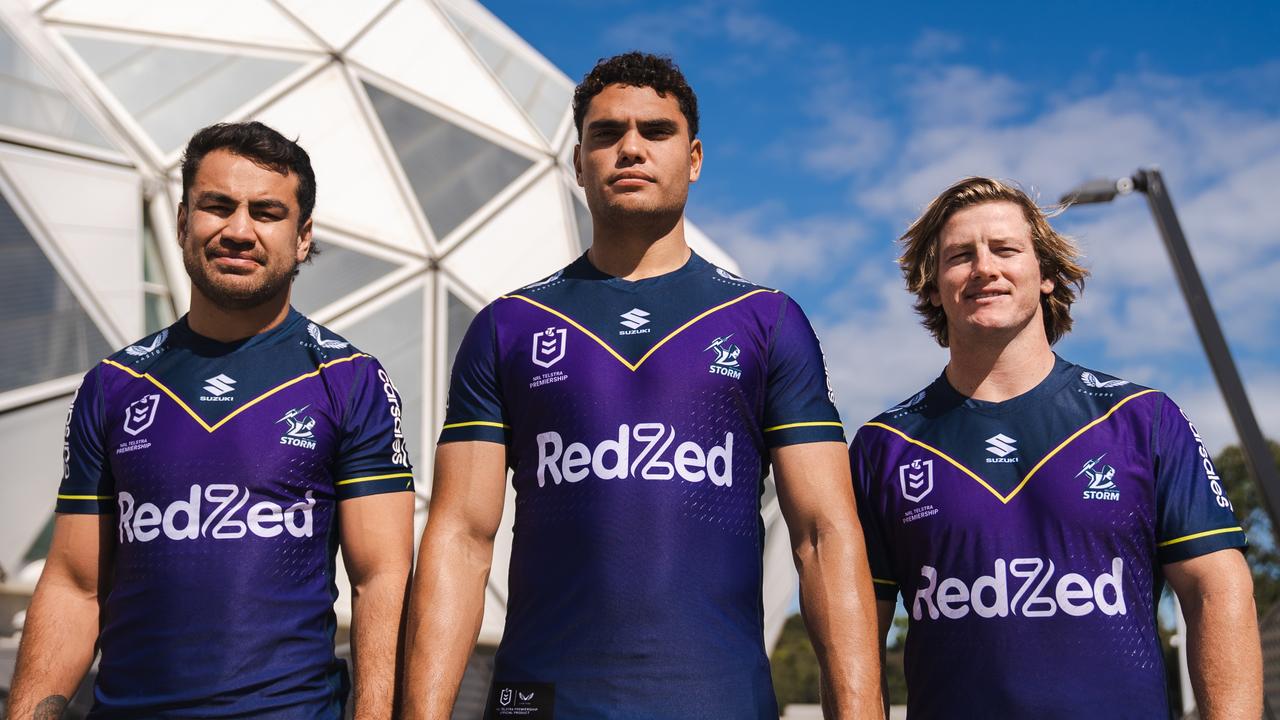 Xavier Coates (middle) has committed to Melbourne long-term along with Jahrome Hughes and Harry Grant.
The Broncos fought hard for Coates' signature and attempted to prolong the negotiations so the club could prove it was turning a corner after the 2020 wooden spoon debacle under former coach Anthony Seibold.
But Coates had made up his mind. He wanted to be part of Bellamy's Storm system and signed with Melbourne in May last year to replace Bulldogs-bound winger Josh Addo-Carr.
After a turbulent Origin series, Coates found himself on the outer at the Broncos and spent six mysterious weeks out of the NRL before returning late in the season, finishing his Brisbane tenure with 32 games for the club.
Coates scored tries in each of his first three games for the Storm then bagged four against the Warriors and a hat-trick against Newcastle.
Provided he remains fit, Coates will be on one wing for the Maroons when the Origin series kicks off in Sydney on June 8 and he is hoping for a more stable Queensland campaign this.
After featuring in Game One last year, Coates was dropped for the second match only to be recalled on game day following the Ronaldo Mulitalo eligibility scandal.
With a better lead-up he could be a real attacking threat for the Maroons under new coach Billy Slater, but Coates insists he has nothing to prove in the Origin arena and his focus is on Saturday's top-of-the-table clash with the Panthers.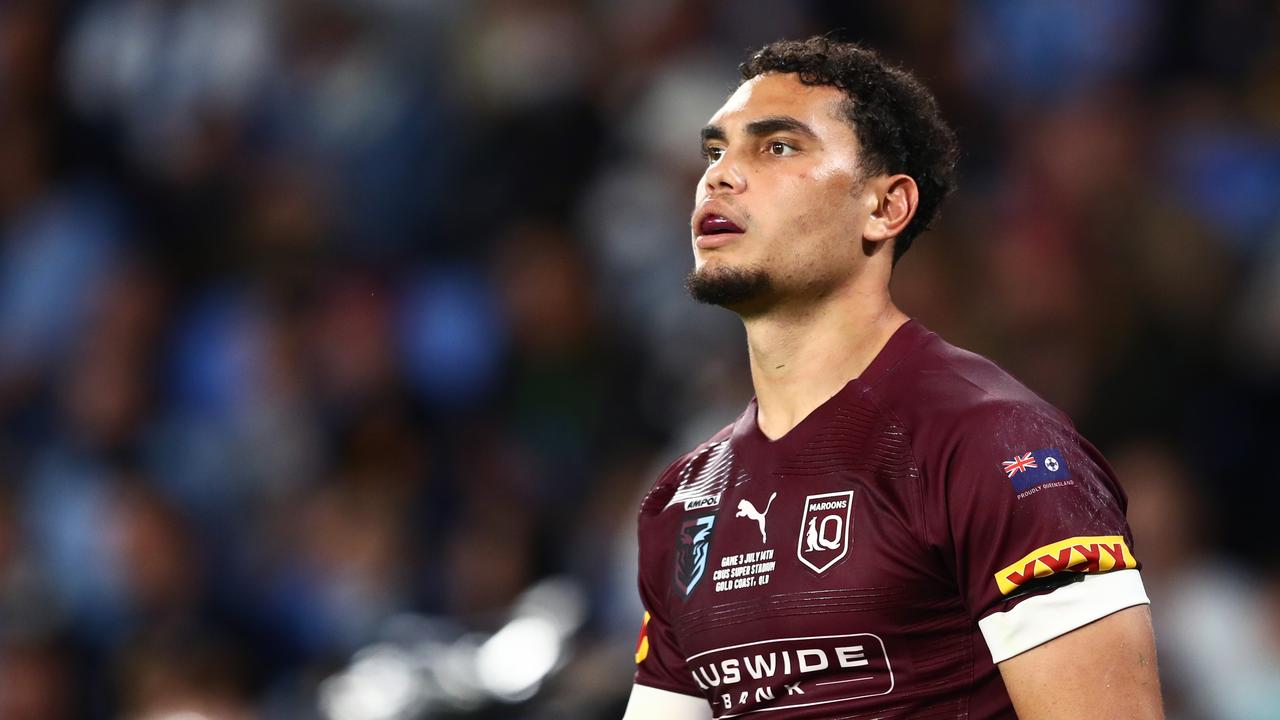 Xavier Coates had a turbulent 2021 Origin campaign. Picture: Chris Hyde/Getty
"I don't think I want to prove anything," he said.
"Last year certain things happened. I don't hold any grudges. Ronaldo was playing unreal footy and deserved to play, but because of the circumstances he couldn't get that opportunity.
"As soon as I got the call-up I was ready to go. I don't have a grudge.
"Fingers crossed I get to pull on the jersey again this year. For the time being I want to focus on each week as it comes by. I don't want to get too far ahead of myself."
Pap's Origin curse continues
- Brent Read
The scramble for the NSW No.14 jersey just became a little less congested.
NSW coach Brad Fittler can officially put a line through Melbourne fullback Ryan Papenhuyzen after scans on Tuesday confirmed he would miss at least four weeks — and potentially six — with knee and hamstring injuries.
Once again, Papenhuyzen has been cruelled by the injury gods.
The good news is he should return in time to push his cause for the remainder of the Origin series, but game one appears out of reach after a difficult weekend in Melbourne which left the Storm seeking an exemption so Samoan centre Marion Seve could be activated from the development list.
Coach Craig Bellamy on Tuesday named Nick Meaney at fullback — the alternative option, Tyran Wishart, was named among the interchange players — while Seve was handed his first start of the season in the centres.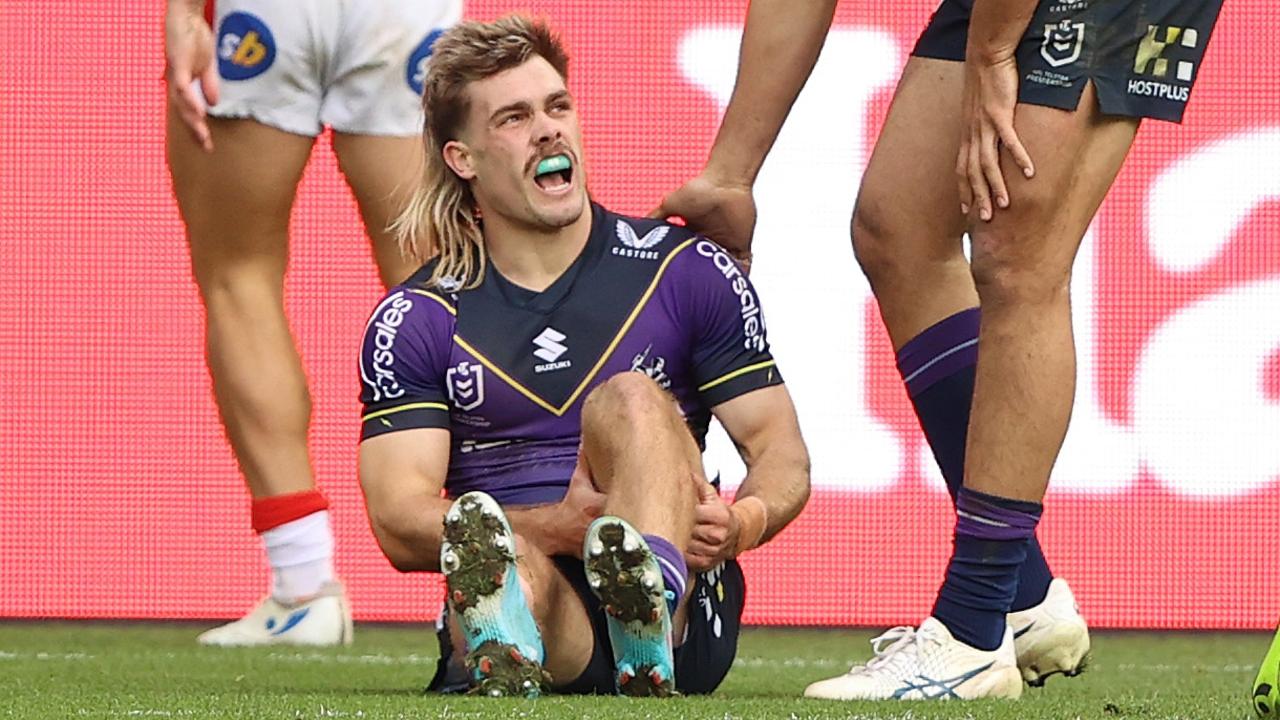 Ryan Papenhuyzen will be sidelined for at least four weeks. Picture: Robert Cianflone/Getty Images
Seve has played 21 games for Melbourne over the past two seasons, including two last year in which he scored two tries. He has shown he can handle the NRL and adversity — he fought off testicular cancer as a teenager.
Yet Papenhuyzen leaves a significant hole because it places further pressure on a backline that is already bereft of Reimis Smith (chest), Will Warbrick (ribs) and George Jennings (knee).
Meaney is a more than able replacement, having played the vast majority of his first grade career at Canterbury at fullback, but his move to the No.1 jersey adds to the strain as the Storm prepare for a grudge match against arch rivals Penrith.
Papenhuyzen's absence is also a blow to Fittler given he was widely expected to figure prominently in the debate over who should play as the No.14 on the Blues bench.
Canberra's Jack Wighton is now a clear-cut favourite to fill the utility role, although the likes of Cronulla duo Nicho Hynes and Sifa Talakai will also feature in discussions.
Melbourne's best hope is to have Papenhuyzen back in four weeks — Origin I at Accor Stadium is to be played on June 8.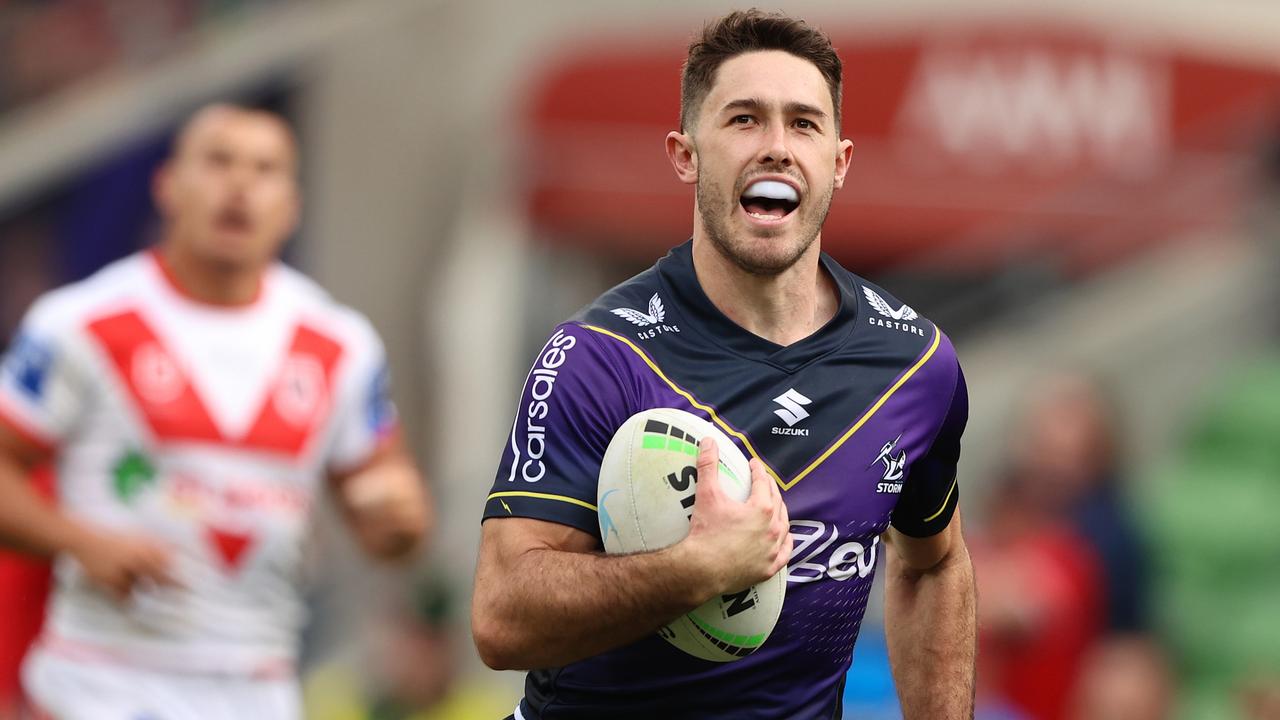 Nick Meaney will play fullback for the Storm against the Panthers. Picture: Robert Cianflone/Getty Images
"We were a bit surprised by Paps' injury — it was a lot worse than what we thought it was on Sunday," Melbourne head of football Frank Ponissi said.
Seve gets his chance in centres after scans revealed Reimis Smith would need surgery on a ruptured pectoral muscle that would sideline him for up to 12 weeks.
Seve is on a development contract with the Storm but the club requested dispensation to select him this week following an injury crisis that has tested their backline depth.
The Samoan international is no stranger to the NRL — he has played 21 games for the Storm over the past four seasons.
"Marion has really earned his spot," Ponissi said. "He's had a fantastic pre-season. He has been one of our best trainers even though he knew he potentially couldn't play until round 11 unless circumstances happened like we have with Reimis."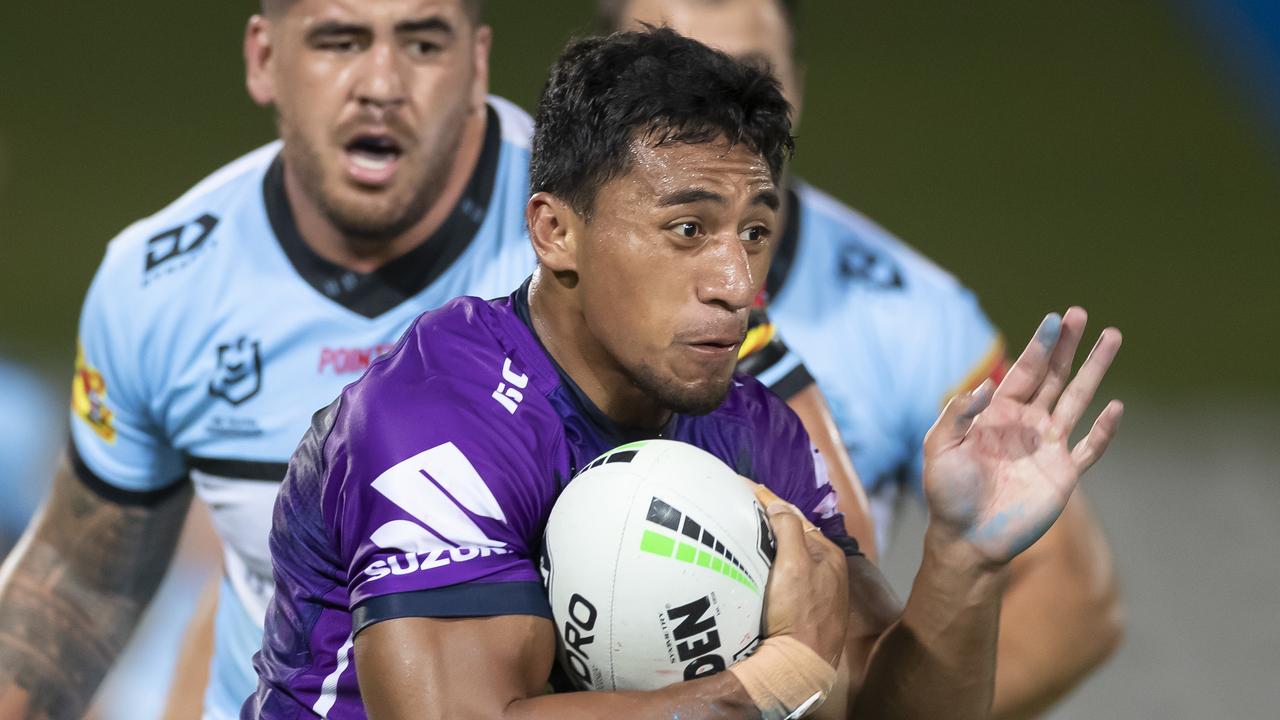 Marion Seve is back for the Storm. Picture: AAP Image/Craig Golding
Meanwhile, the Dolphins have struck another blow in the player market after landing Connelly Lemuelu from the North Queensland Cowboys for their inaugural season.
Lemuelu has only cracked the Cowboys starting 17 once this season but he has been outstanding for the Northern Price in the Queensland Cup and sealed a deal with the Dolphins are starring against them last weekend.
SURPRISE PITCH FOR MAGIC MOVE
Storm CEO Justin Rodski has revealed talks with NRL CEO Andrew Abdo had begun about Melbourne pinching the Magic Round from Brisbane.
Rodski plans to initiate discussions with the Victorian Government about taking the annual Magic Round away from rugby league's two major states.
The plan involves playing all eight games at AAMI Park for a bumper combined attendance of 90,000 over three days. That figure could well topple the total AFL crowds for a round in Melbourne.
If the NRL's crowd numbers grow for the event, one of the three days could be transferred to the 53,000 Marvel Stadium.
Brisbane will host Magic Round this weekend with Sydney also wanting to pinch the premium event.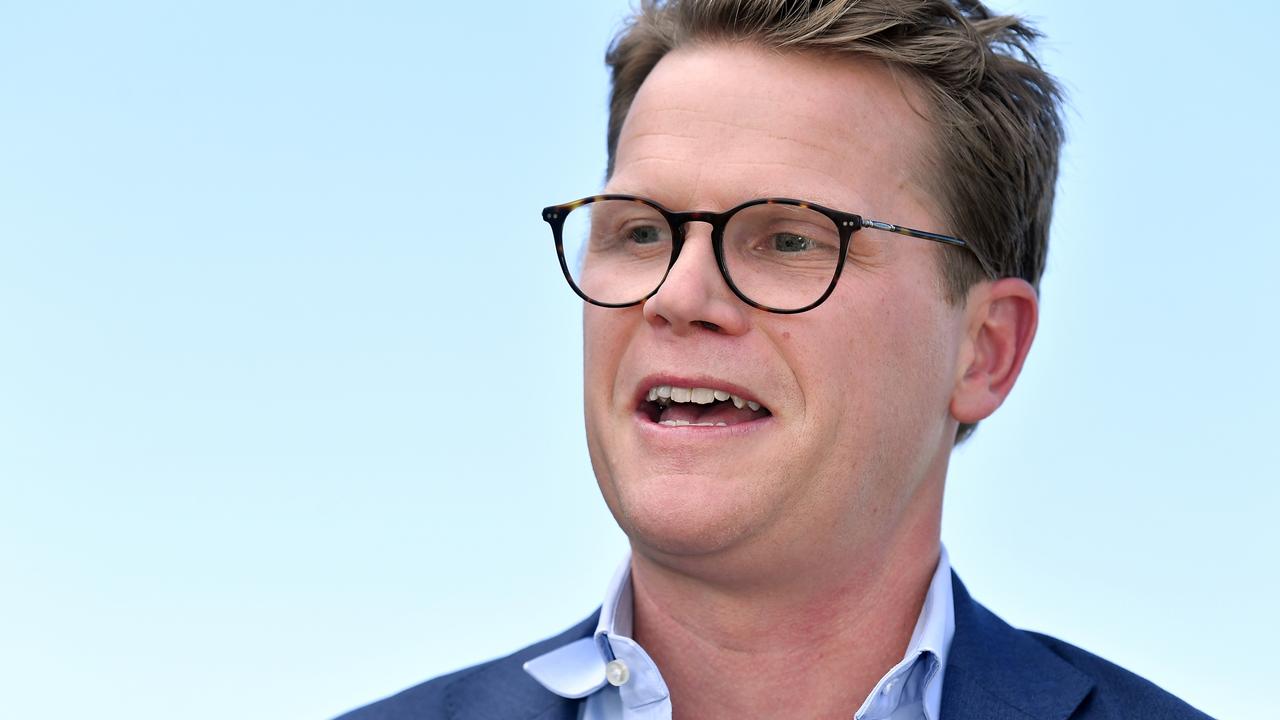 Storm CEO Justin Rodski has joined the battle for Magic Round, keen to bring the event to Melbourne. Picture: Patrick Woods.
Melbourne's interest is genuine with Rodski saying: "We have had some initial discussions with Andrew about how we can continue to promote rugby league in Melbourne and one idea was bringing Magic Round to Melbourne.
"As a club we love being a part of the Magic Round weekend. We think it's a great innovation about creating that festival of rugby league in a city.
"We spoke about Melbourne being an events city and if we could bring the showcase event of rugby league to Melbourne, it would be a significant coup for the city and the Storm.
"We think it could be commercially lucrative for the game and we've got the facilities and interest in the game here to make it a huge success.
"This would be an opportunity to bring rugby league into AFL heartland and showcase the game for Melburnians in front of a big audience."
Rodski predicted Magic Round would attract around 150,000 fans to Melbourne from other states. "We've also got a lot of expats from north of the border now living in Melbourne," he said.
STORM, ORIGIN, SUPERCOACH BLOW: STAR'S INJURY DISASTER
— Michael Carayannis
Melbourne superstar Ryan Papenhuyzen's State of Origin dream is on ice as he faces a month on the sidelines to recover from a triple whammy of hamstring, knee and ankle injuries.
Papenhuyzen starred for the Storm in a blistering 48-minute stint, scoring two tries in his side's 42-6 victory over the Dragons. But his performance was soured by a small hamstring tear which will cruel his chances of making a State of Origin debut.
NSW coach Brad Fittler will name his squad of 24 for the series opener in three weeks before the June 8 game.
"I have a little hamstring tear," Papenhuyzen said. "It's not ideal. The silver lining is I have a few niggles I need to get to right. I will have a break now and get all of those right
"I'll be back in a few weeks."
Ryan Papenhuyzen leaves the field. Picture: Robert Cianflone/Getty
Only injuries have stopped Papenhuyzen from making his Origin debut sooner. He was considered a strong chance of playing as the bench utility in game one.
Papenhuyzen has been nursing a knee cartilage issue in recent weeks but his form has not dipped. He knocked it in the first half and struggled to see out the opening 40 minutes.
"It stirred it up," Papenhuyzen said. "It felt a little better in the second half with some strapping on it. I obviously favoured the left leg too much and the hammie went.
"A few weeks with rehab. It's going to be interesting. I'll need to do the knee, hamstring and ankle. There's no rush now. It's about getting it right.
"I've been all right. I've been in a routine where I tick all to w boxers and I feel good
The hamstring will set me back a few weeks."
Storm star considered walking away
— Brent Read
Melbourne forward Nelson Asofa-Solomona has revealed that he considered a shock move to the NFL in the off-season as he found himself frozen out of rugby league by the game and the government's vaccination policy.
Asofa-Solomona was left with little choice but to explore his options given he was prevented from entering AAMI Park due to his stance on the Covid vaccine. At one point, he appeared destined to move to Japanese rugby union, having also investigated his options in England.
The most radical plan would have been a move to the NFL. The bright lights of America were calling the Kiwi giant, who would appear to have the frame and aggression to suit the NFL.
Asofa-Solomona resolved to leave his future in the hands of the man upstairs. God's plan, he says, meant he stayed at the Storm, where he will play his 150th game for the Storm against St George Illawarra at AAMI Park on Sunday afternoon.
"It was a little bit difficult in terms of planning where my future lay," Asofa-Solomona told Weekend Read.
"I had plans to go to Japan, plans to go to the UK, plans to even try the NFL out. You can have all these plans but God's plan prevails over all this stuff.
"God's plan was for me to be here at the Melbourne Storm and celebrate my 150th. It was unprecedented times.
"I didn't know where my future lay so we had to look at options. I wanted to be here. My heart was at the Melbourne Storm.
"I didn't know if it was going to work out."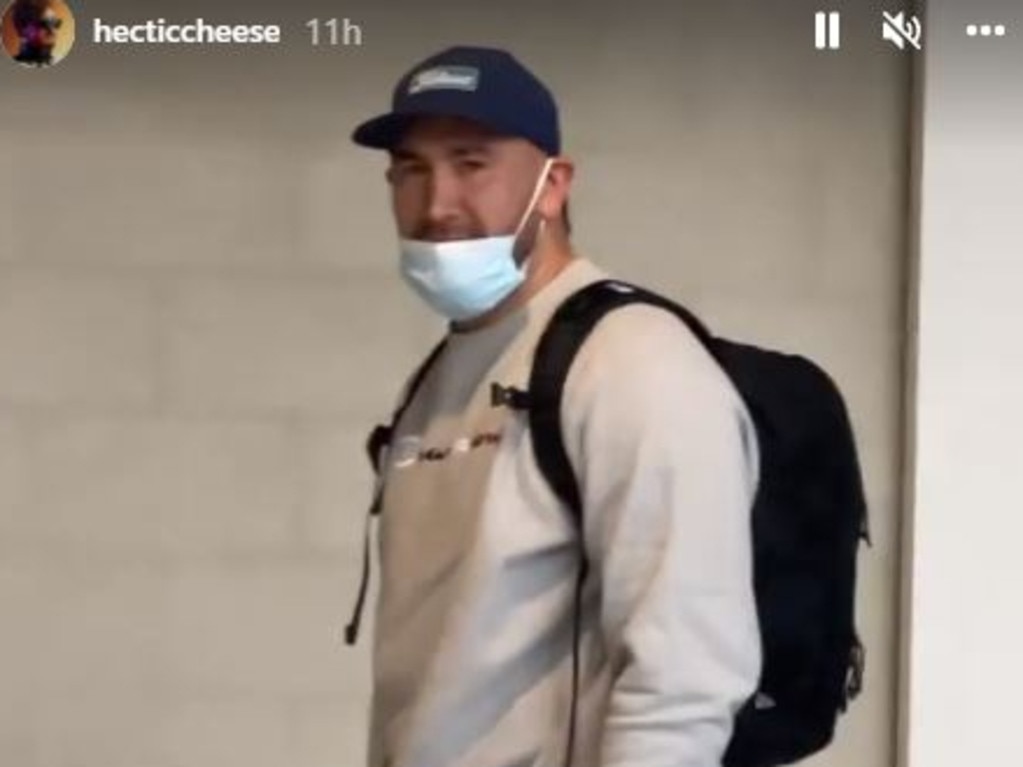 Asofa-Solomona has kept his counsel since his return to Melbourne. On Thursday, he agreed to speak to News Corp to make his 150th game for Storm, a milestone few saw coming as he became the face of the game's vaccination crisis over summer.
Asofa-Solomona is reluctant to revisit those times, other than to say it has ended how God wanted it to end. As he was prevented from joining his Melbourne teammates at AAMI Park due to public health guidelines, Asofa-Solomona kept fit by playing pick-up basketball games.
"It was hard because I was by myself," Asofa-Solomona said.
"I found a group of mates. We went down and played basketball nearly every day. There were all these Filipino guys and Sudanese guys I was linking up with.
"I hung by the rim. They just passed it to me and I would put it in. I just tried to have as much fun as I could in the off-season.
"I wanted to make training fun so I could be motivated to do it because I was by myself."
He kept his distance from teammates and club officials, patiently waiting for the issue to be resolved. As his future hung in the balance, he endured personal tragedy with the loss of his father Vasa.
Vasa Asofa-Solomona wasn't overly happy when his son chose rugby league and the Storm. His father was a rugby union man who wanted his son to play for the All Blacks. Over time, he came to love the Storm as much as his son.
"The main reason why I chose league over union at that time was that Melbourne Storm saw something in me that I didn't see in myself," Asofa-Solomona said.
"As I got older I started to appreciate that loyalty. When it came to signing with the Storm it was a no-brainer for me.
"Even though my dad wasn't a big fan, I had to follow my heart. I played rugby (union) from four years old until about 17. Somewhere long that period I ventured in rugby league because I didn't make the school first XV.
"My dad wasn't too happy about that because we are rugby union through and through. All Blacks was always the dream.
"He said to me if you keep playing rugby league – and this was still at club level – you are going to start making rep teams and before you know it you could make a career out of it.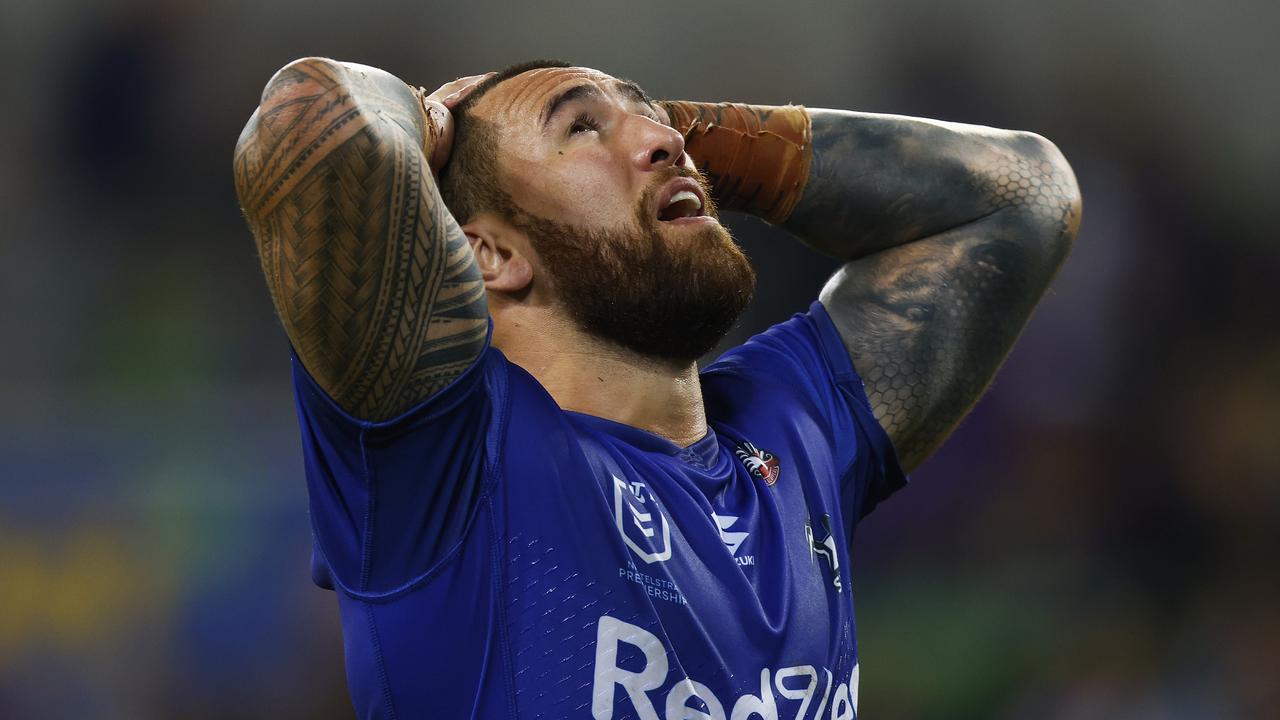 Nelson Asofa-Solomona says he owes a debt to Melbourne Storm.
"He wasn't saying that happily. He was a bit disappointed that I went off to play rugby league."
Before his passing, Vasa came to terms with Nelson's decision.
"My dad is very happy, he was very happy with the decision I made," Nelson said.
"Can't ask for anything better. He has passed on now. As time went on, he saw his son enjoying it.
"That was the most important thing. He saw me enjoying it and winning a couple of premierships. He was like maybe you did make the right decision son.
"(When) my dad passed on, we had a lot of closure with a few situations I won't touch on before he passed away. "
Asofa-Solomona was eventually cleared to return and he was quickly welcomed back into the fold. On his first day back, teammate Brandon Smith posted an Instagram image of Asofa-Solomona entering AAMI Park to the strains of Eminem's Without Me.
"Look who's back, back again." The day before, Asofa-Solomona had taken a seat in the office of head of football Frank Ponissi, where he assured coach Craig Bellamy that he was committed to the club.
"That was pretty positive," Asofa-Solomona said.
"I was sitting there in Frank's office. Craig was there, (Chief executive) Justin (Rodski) popped in.
"We just spoke about where my heart was at and where my intentions lied. I just said I was all in with the Storm. That was all that conversation was about.
"The things I can't control, I just gave it to God and he handled the rest. It gives you a lot of anxiety and stress when you try to control things you can't control.
"I give him all the credit for why I am back at the Storm because he found a way for me. It was something I definitely thought about over the break – that I was going to miss this game, this 150 milestone.
"It definitely crossed my mind but in saying that, I think God didn't have any other plan for me than to spend my 150th at the Melbourne Storm."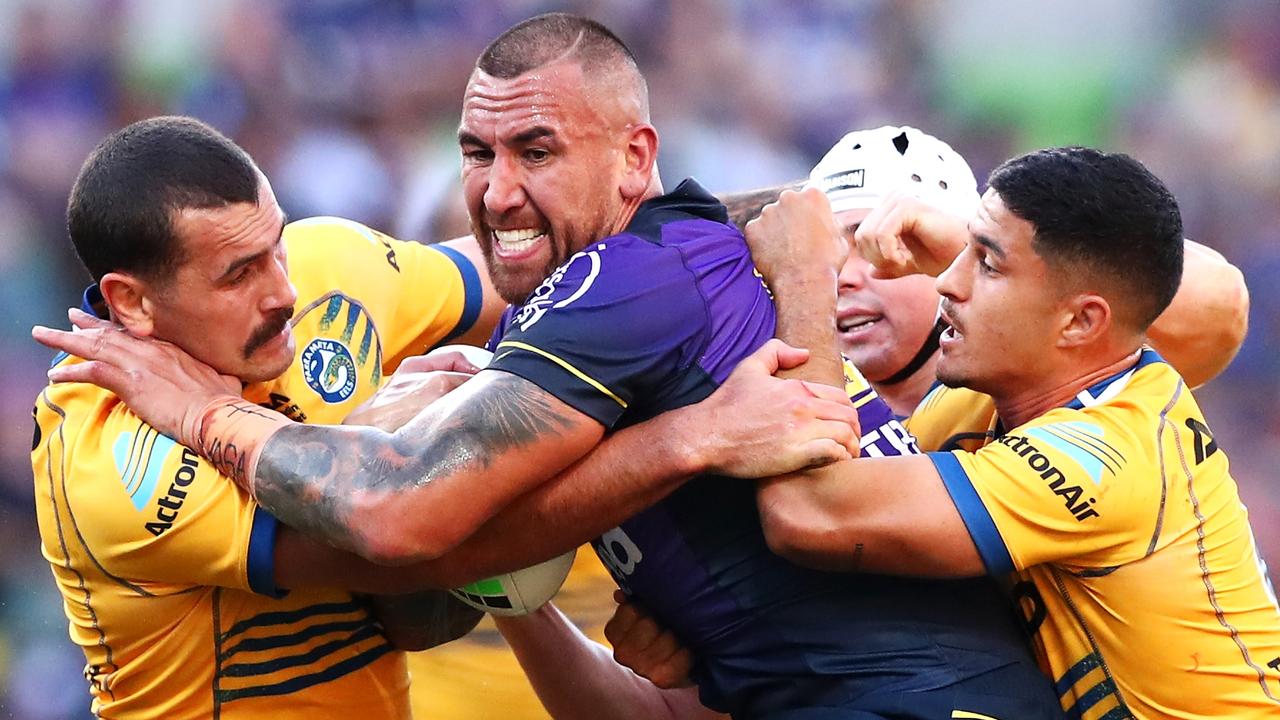 Nelson Asofa-Solomona considered heading to America during his vaccination standoff.
As for his teammates, Asofa-Solomona said: "It was tough. Yeah, it was tough not talking to the boys.
"At the same time, there were a few things going on and I couldn't say too much. They didn't hold any grudges.
"They just genuinely wanted to know that I was okay. That meant a lot to me, especially people reaching out and sending condolences for my old man.
"That meant a lot."
Asofa-Solomona has been outstanding through the opening eight weeks of the season, his form all the more remarkable when you take into account his off-season.
He has another year remaining on his contract with Melbourne and he is yet to contemplate what lies next. At some point he may look to honour his father's wish by returning to rugby union. At the moment, his only priority is playing well for the Storm and helping the club win another premiership.
"My last year is next year," Asofa-Solomona said.
"My head is 100 per cent here. I haven't thought about it. In the back of my mind, to look into it (rugby) would be good.
"Like I said, my dad wanted me to play rugby union my whole life and that is something. I enjoy playing rugby as well. I could end up there at some stage.
"Yeah man, who knows."