Paul Gallen vs Kris Terzievski fight: One thing holding ex-NRL star back, Paul Kent
Paul Gallen will be looking to join an elite group when he takes on Kris Terzievski for a heavyweight title, but there is one thing he's missing, writes PAUL KENT
Paul Gallen always was the no-frills kind of footballer, so it was no genuine surprise when he turned up at a sparring session at a western Sydney gym several years back with an entourage of none.
Gallen was always accountable to himself, which was a very un-boxing kind of thing.
Maybe because it is such a solitary sport inside the ring, fighters like to travel in groups outside the ropes.
Muhammad Ali, for instance, went nowhere without an entourage, unless it was to pray.
Sugar Ray Robinson was the undisputed champion, though, famously touring Europe with an entourage so large not everybody could cite the full roster.
Sugar Ray scouted so wide his entourage included his manager, two trainers, a voice coach, golf pro, drama teacher, a masseur, several girlfriends who might or might not have been aware of each other's presence, his secretary and his own personal barber.
The story nowadays would have a different focus, of course.
The entourage is the only piece left for Gallen to complete the transition to full-blown fighter, although that is unlikely.
It nearly got him in trouble once, though.
Stream every game of every round of the 2022 NRL Telstra Premiership Season Live & Ad-Break Free In Play on Kayo. New to Kayo? Try 14-Days Free Now >
Paul Gallen was always a no-frills footy player, so it's no surprise he doesn't travel with an entourage like many other boxers, writes Paul Kent. Picture: Getty Images.
His trainer Graham Shaw was overseas with Daniel Lewis and Gallen was in the final weeks of his preparation to fight Barry Hall and so he headed to a gym in Sydney's west to spar with UFC fighter Tyson Pedro.
Pedro was tall and had a reach that would mimic Hall's long arms and, on top of that, he had a right hand that landed like a mule kick.
Gallen walked to his corner and draped his towel over the corner buckle as Pedro bounced around warming up he turned around for a willing accomplice.
He came up desperately short on applicants so, with a shrug, he looked in my direction.
"Can you corner for me?"
As working jobs go, it wouldn't be the most difficult encountered.
Time was called and they moved around, Pedro flicking long jabs and Gallen slipping and trying to find a way to move in.
A couple of straight rights landed and, when Gallen came back to the corner at the end of the round, I gave him a drink and a squirt on the back of the neck.
The second round continued much the same as the first, Gallen tying to find a way inside without getting tagged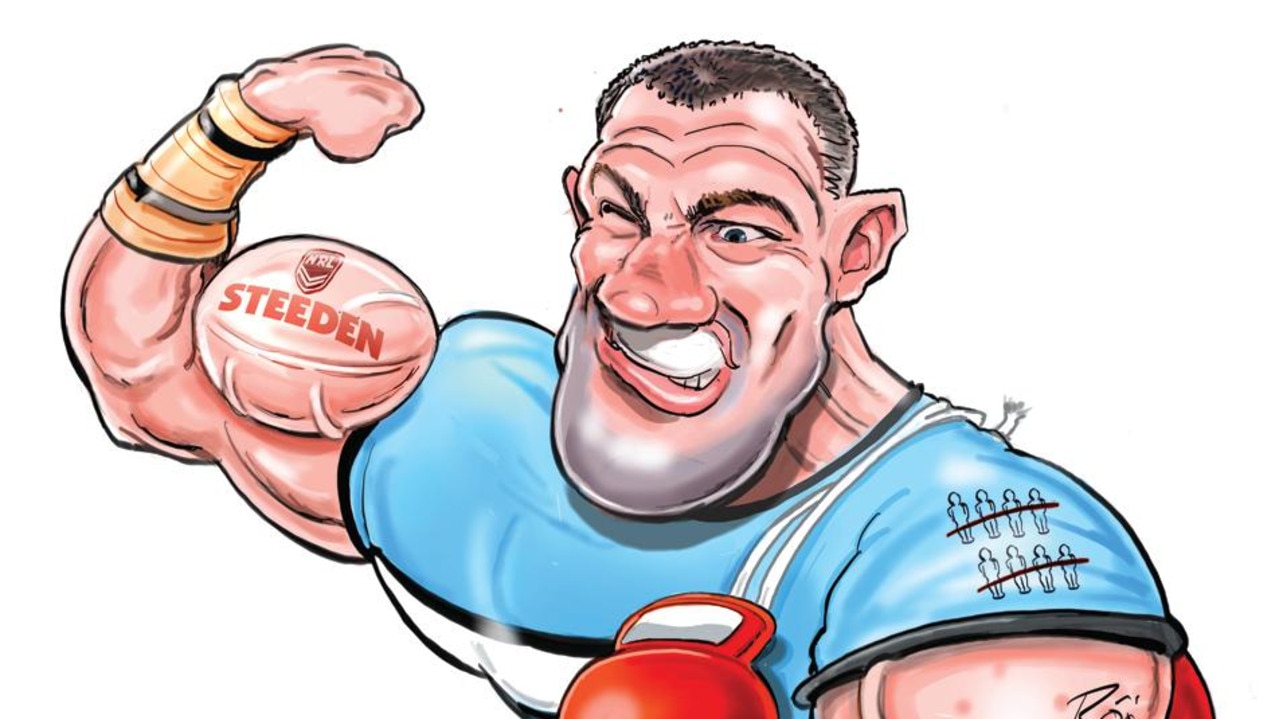 Paul Kent was roped into helping Gallen at a recent sparring session against Tyson Pedro.
"What do you think?" he said.
"You're doing OK."
"Tell me."
Despite old buster here's reputation for being a blowhard, it was not the place to begin telling Gallen how to fight. So it was a quiet corner, topped up with a couple of squirts of water and some basic encouragement.
As tends to happen, shortly after they resumed for the third, the inadequacies of the corner quickly became apparent.
Pedro fired a straight right hand and Gallen walked straight into it and his left leg travelled a full circle, toe pointed, like he was drawing a circle in dirt, as his body swayed clockwise in the opposite direction.
Never as a player did I see Gallen hurt like this and never as a fighter but, here he was, failing to find the full stop in the sentence.
Good grief.
Pedro saw the damage and took half a step back.
Gallen put up a glove to pause the round.
He walked to the ropes and draped his arms over them and bent down with his head between his arms, giving his brain some time to resume its equilibrium.
I walked around and squirted some water on the back of his head and neck, which felt shockingly inadequate but is about all you can do in such circumstances.
He took a drink.
More water was squirted.
"You OK?"
Gallen said nothing but took the water bottle and squeezed water on to his face, a man still determined to look after himself.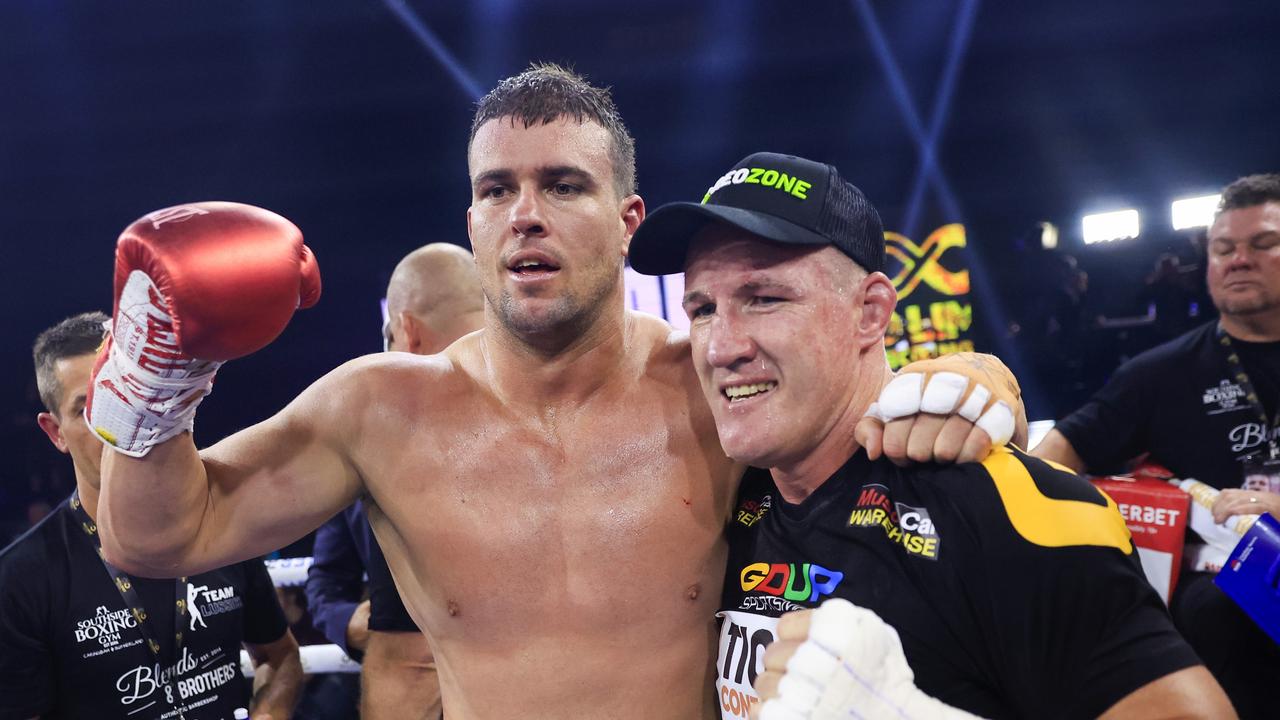 Gallen may be the toughest person to ever play NRL in terms of his ability to absorb punishment from opponents, writes Kent. Picture: Getty Images.
It was a strange, uncomfortable sight. I wanted to help but was incapable.
But in that moment, and in his response, the thought occurred Gallen might be the toughest bloke to have ever played the game.
Not in the typical sense, with men dishing it out, but his ability to absorb it.
There are few like him who can simply will their way forward through, whatever might come.
They did five more rounds and when it was done Pedro, who had nothing to prove, took Gallen aside and with great generosity showed him how he caught Gallen by bringing him on to his right hand.
Gallen had a rookie habit of slipping the jab the same way each time, making it easy to predict where his head would return.
Pedro had caught him as Gallen was resetting his stance.
With that, Gallen stayed in the ring and practised slipping and catching and trying to create a muscle memory so he would not be set up for a straight right hand like that again.
Watching him, you could say why he was able to work his way to success.
And now, next Wednesday, Gallen heads to Newcastle to fight Kris Terzievski for the Australasian heavyweight title and also the Australian heavyweight title.
The first Australian heavyweight champion was a fellow long forgotten from history named Byrone Santos, who won the title in 1884 and who no doubt sported a handsome moustache, but who also has no real footprint in the sport other than his two title defences.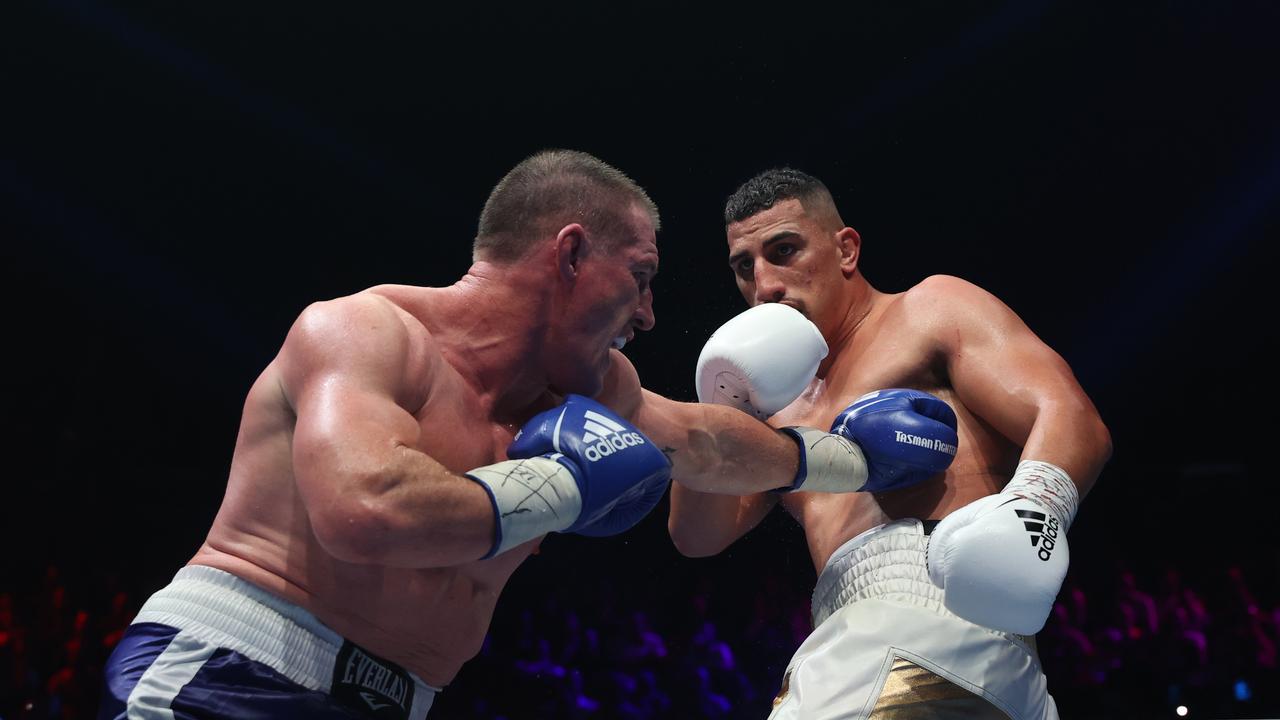 Paul Gallen will look to become the fourth person to play elite rugby league and be an Australian heavyweight champion. Picture: Richard Dobson
Rugby league began in 1908 and in the 114 years since only three men have played the game at the elite level and also doubled as the Australian heavyweight champion.
The first and long regarded as the finest was Herb Narvo. Narvo played for Newtown (1937, 1943-45, 1949) and St George (1946) and in 1945 won the Australian heavyweight title against Billy Britt in just 25 seconds, the shortest Australian heavyweight title fight.
He defended it once before he lost the title a year later, then captained the Dragons the next day.
In 2008, the NRL named Narvo in the NRL's 100 greatest players of all time to celebrate the NRL's centenary season.
The other two NRL players to hold the title are Solomon Haumono and John Hopoate.
Gallen was a polarising figure his entire football career, which means he will never get the full credit he deserves for what he was able to carve out playing captaining NSW and playing for Australia and leading Cronulla to its only premiership, and now Wednesday he has the chance to achieve something only three other men in the history of this country have.
He will attempt it behind a chin that has failed him only once, driven by a will that might be the greatest ever.
SHORT SHOT
It is not even three months since the great Johnny Raper left us, yet new nuggets of what a treasured, fortunate life he lived continue to emerge.
Just this week Nola Porter, the wife of the late Dragons and Sharks great Monty Porter, found an old postcard Raper wrote to Porter back when he was touring with the Kangaroos in 1963.
Back then, they did those kinds of things.
Australia won the first Test 28-2 and Raper wrote to Porter how there was a "bit of punching", which was one way to put it, and then said as they approach the second Test the Kangaroos grasped, "We all realise that we have to win this one for they won't let us win the third".
Rugby league great Johnny Raper's postcard back home from the Kangaroo tour to the UK in 1963. Picture: Supplied
Referees, it seems, found it even tougher to keep everybody happy back then.
It's what he wrote next, though, that sheds a light on how Raper was always one of those men who just seemed to be always where the action was happening.
Things just happened for him.
"While we were in London," he wrote, "we went to the Palladium to watch a rock group called 'The Beatles' and boy you should dig their music."
This was in 1963, just before Beatlemania took off in 1964, but they were still so little known that Raper described them as a "rock group called The Beatles".
Originally published as Paul Gallen vs Kris Terzievski fight: One thing holding ex-NRL star back, Paul Kent