NRL 2022: Payne Haas opens up on court battle, Brisbane Broncos future
Broncos superstar Payne Haas is in the midst of a Supreme Court stoush and his future at the Bronocs has also been the subject of speculation.
Payne Haas is adamant his off-field legal battle has not been a distraction as the Broncos star maintains full focus on the season ahead.
The 22-year-old is in the midst of a Supreme Court stoush, where he is hoping to recover agent fees he paid to his former manager, Chris Orr.
The court case was still ongoing as of Monday morning but the star Broncos prop admitted it had not disrupted his preparation for the 2022 NRL season, which kicks off in less than a month.
"I've got good people around so obviously that (the court case) is not going to be a distraction," Haas said on Monday morning.
"I can't allow that as well.
"I want to be at my best for my team.
"I've got good people around me and it'll be all good.
"I don't want to say too much now because I'm still going through it all in court but … hopefully we'll sort it out soon.
"I've got good people around me, a good circle, so they've made it pretty easy for me.
"I've just been worrying about my training and going about my footy."
Stream every game of every round of the 2022 NRL Telstra Premiership Season Live & Ad-Break Free During Play on Kayo. New to Kayo? Try 14-days free now.
]Payne Haas passes the ball during a Brisbane Broncos training session. Picture: Getty Images
Haas is contracted to the Broncos until the end of the 2024 season but is yet to commit to an upgraded six-year deal which has been approved by the Brisbane board.
The Roosters are reportedly circling the Origin and Kangaroos representative but Haas downplayed any concerns about his long term future.
"I've still got (a contract until) 2024 so I've still got a while here," he said.
"I am committed until 2024 and we'll see what happens from there.
"I've still got a while here so I'm not worried about that kind of stuff.
"I'm just here to play good footy.
"(This season) I hope to keep progressing, even on last year.
"(I want to) keep on trying to find ways to improve."
HAAS REVALS PLAN FOR PREMIERSHIP GLORY
By Peter Badel
Payne Haas says he is sick of losing at the Broncos and would happily trade his hat-trick of Paul Morgan Medals to spearhead a premiership dynasty at Red Hill with Brisbane's band of young guns.
In an appraisal that will have NRL front-row rivals on notice, Brisbane's superstar prop declared he hasn't reached his peak, insisting he won't be satisfied until he leads the Broncos back to finals credibility — starting this season.
The 118kg enforcer is so serious about firing this season he has relocated from the Gold Coast — his home for almost a decade — and moved to Brisbane in a bid to help break the Broncos' 16-year premiership drought.
The past three years have been bittersweet for Haas. He has experienced the joy of winning two State of Origin series with NSW and basked in the personal glory of clinching Brisbane's player-of-the-year award for a record three consecutive seasons.
But against that backdrop of success, Haas has struggled to digest the club's wooden-spoon debacle under Anthony Seibold in 2020 and 14th-placing last year that has triggered fears he might walk out on the Broncos.
Stream every game of every round of the 2022 NRL Telstra Premiership Season Live & Ad-Break Free During Play on Kayo. New to Kayo? Try 14-days free now.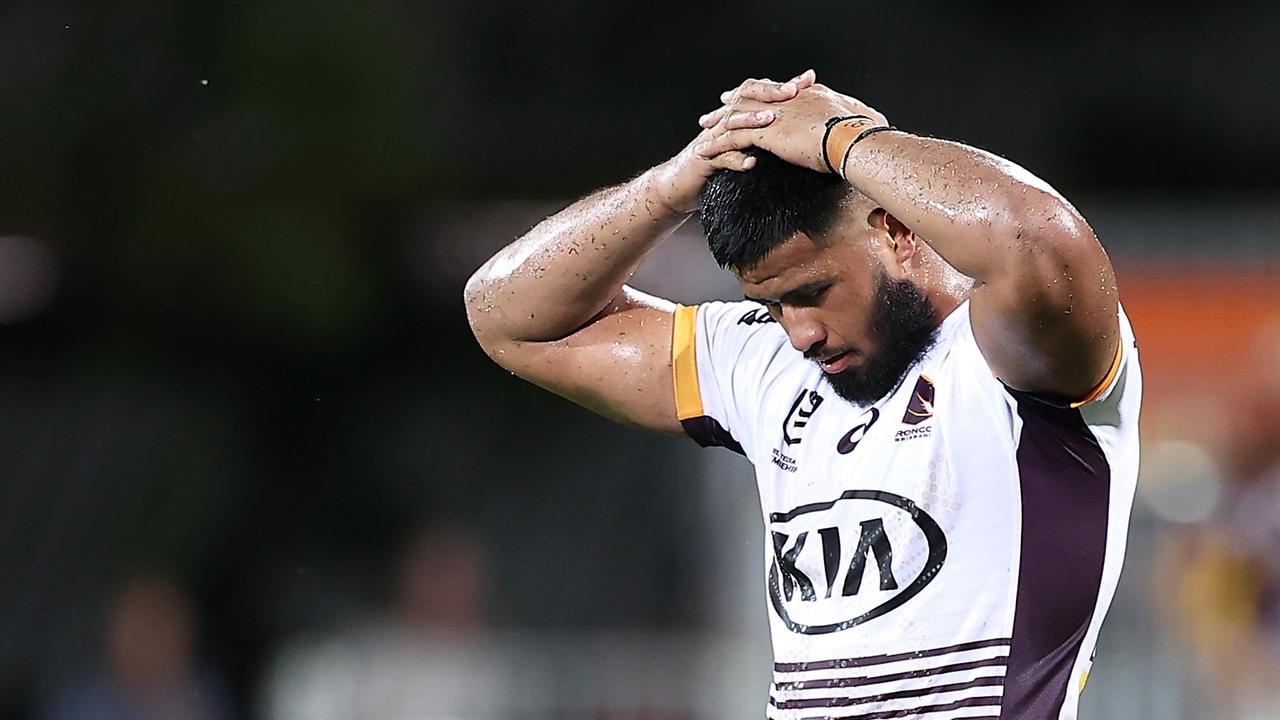 Payne Haas is sick of losing at the Broncos and is keen to make the club a premiership force.
Stung by two failed seasons, Haas is desperate for results and says he is hellbent on driving a new premiership dynasty at the Broncos with fellow rising stars Kotoni Staggs, Selwyn Cobbo, Pat Carrigan, Brendan Piakura, TC Robati and Tom Flegler.
"I'm not satisfied at all yet," Haas said in the countdown to Brisbane's season-opener against Souths on March 11.
"It means a lot to win the Paul Morgan Medal, but I would rather win premierships for the Broncos.
"The individual accolades are nice but I would rather win comps and play finals footy.
"I have missed out the last two years and it sucks sitting there watching other teams play in the big sudden-death games and lifting the NRL trophy.
"I would love to bring that to the Broncos. This is a special club and I know we have the young guys coming through here, like Patty Carrigan, Kotoni, Selwyn and TC Robati, to get to the top.
"I want to help us build that legacy and make the Broncos successful again."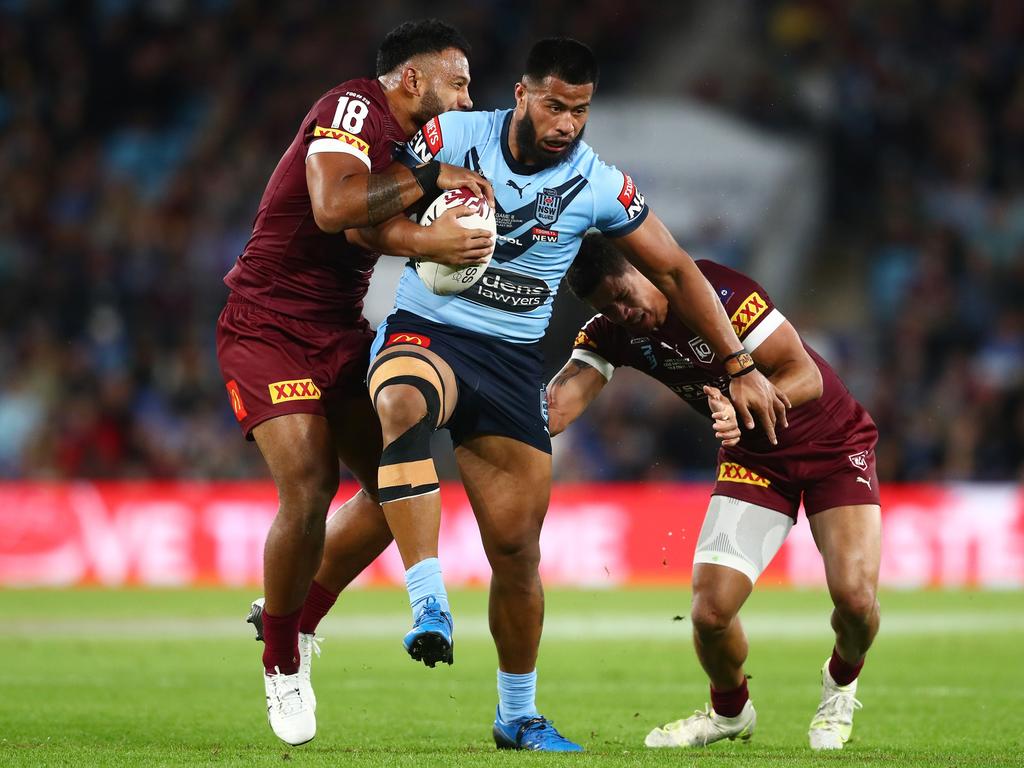 Haas has tasted glory with the Blues, now he wants it at club level. Picture: Chris Hyde/Getty Images
It is scary to think Haas has only just turned 22.
At an age where some players are still finding their feet in the NRL, Haas is a frighteningly dominant force in the toughest position in the code — the engine room.
During Brisbane's slide over the past two seasons, Haas has still charged for 6339 metres at 171m per game and amassed 1416 tackles at an average of 38 per match, remarkable numbers for one of the heaviest players in rugby league.
It begs the question — how good can Haas get in a winning football team? The Broncos' No. 1 forward is itching to find out.
"Since I was a kid, I have this thing inside me where I am always hungry," he said.
"I never settle for less than the best and I want the Broncos to be the best.
"I believe in this game, if you work hard, the results will come.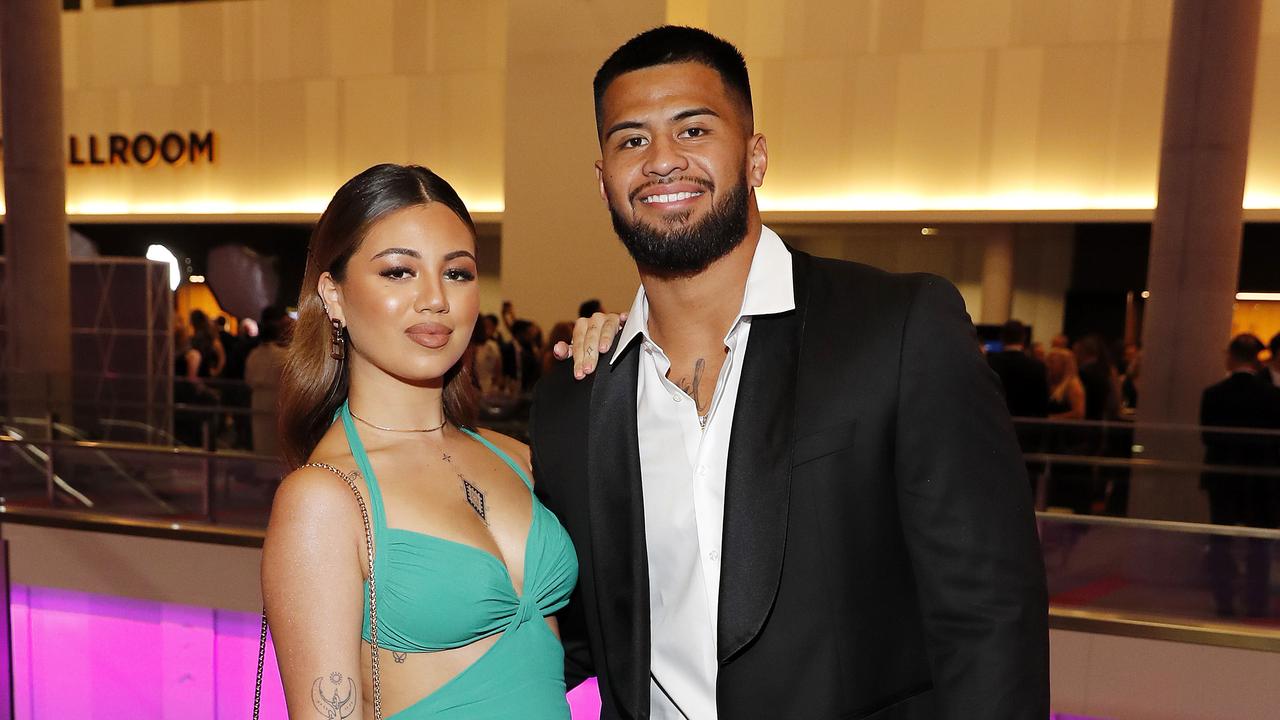 Payne Haas, with partner Leilani, was Brisbane's player of the year for a third straight season at last year's Broncos ball.
"When you look at what I have achieved so far in my career, it's pretty cool to see, but I have to keep on improving and I won't be complacent.
"I believe I'm a few years away from hitting my peak, so I'm a sponge at the moment. I am looking for new ways to do things.
"Any rugby league player at this level wants to win.
"No NRL player wants to sit there for five years and keep winning wooden spoons and miss finals. Every player in this game wants to make the top eight and win premiership rings.
"We all want success and I'm no different."
Brisbane's slide into the cellar has raised concerns that their form slump could convince Haas to chase glory elsewhere at big guns like the Roosters or Melbourne, who went within a whisker of poaching him as a 17-year-old before Wayne Bennett stepped in.
Haas' contractual saga has become one of the most confusing deals in the game.
The Broncos board has approved a six-year extension to be tabled to Haas. That would keep him at the Broncos until 2027. Currently contracted until the end of 2024, Haas has yet to commit to the upgraded deal at a time when he has severed ties with his management firm.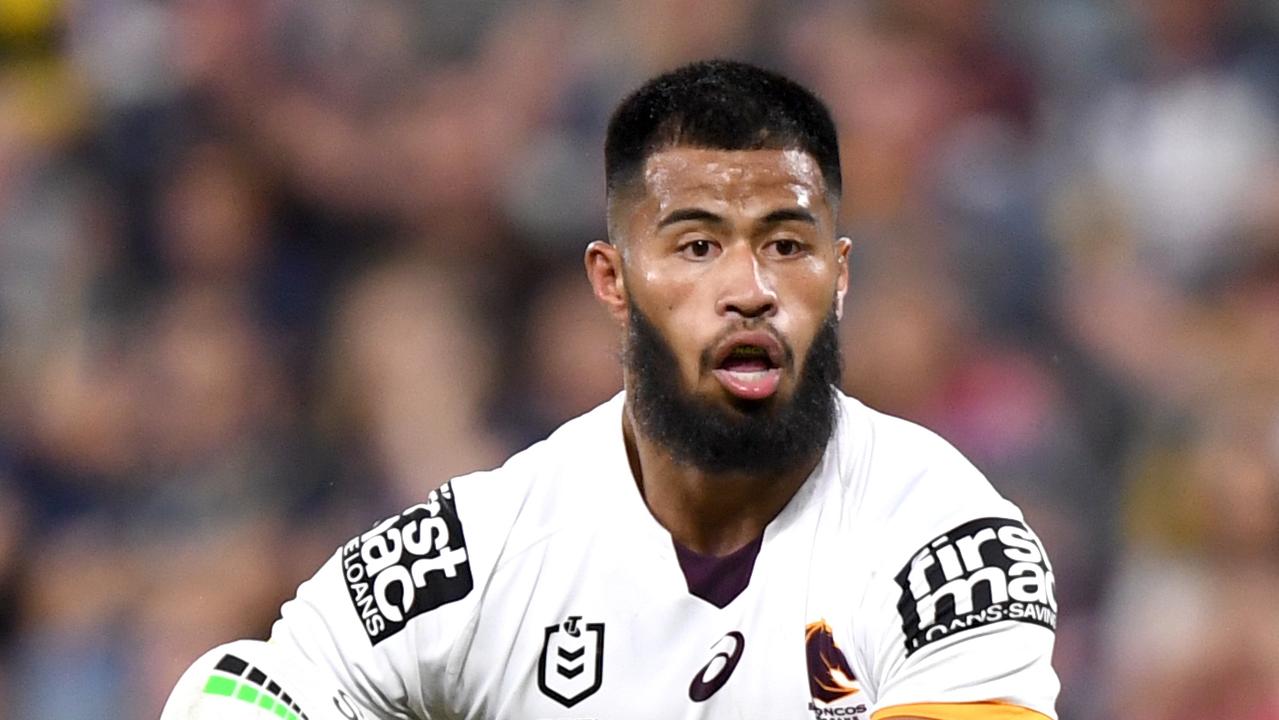 NSW Origin prop Haas has charged for more than 6000 metres over the past two seasons.
There is speculation the Roosters are circling via club legend Sonny Bill Williams, who has forged a friendship with Haas, helping the young Bronco in his conversion to Islam in 2019.
"I have a few more years on contract at the Broncos and I'm happy here," Haas said.
"There's been a lot of talk (about his future) but I'm enjoying my time at the Broncos.
"The friendships will always be here. You know what rugby league is like, things can change quickly.
"It's easy just to say stuff, but it can turn out to be false promises. The reality is I'm enjoying my time at the Broncos, I've come through the system with a lot of guys here and I'm just looking to enjoy this year.
"I will worry about my future down the track. I still have a few years to go on my contract. I don't see it as a hassle. There's no need for me to rush."
Seeking a performance edge, Haas recently moved out of the Glitter Strip and has settled in an inner-city Brisbane suburb with his partner and their baby daughter in his quest to return the Broncos to the finals.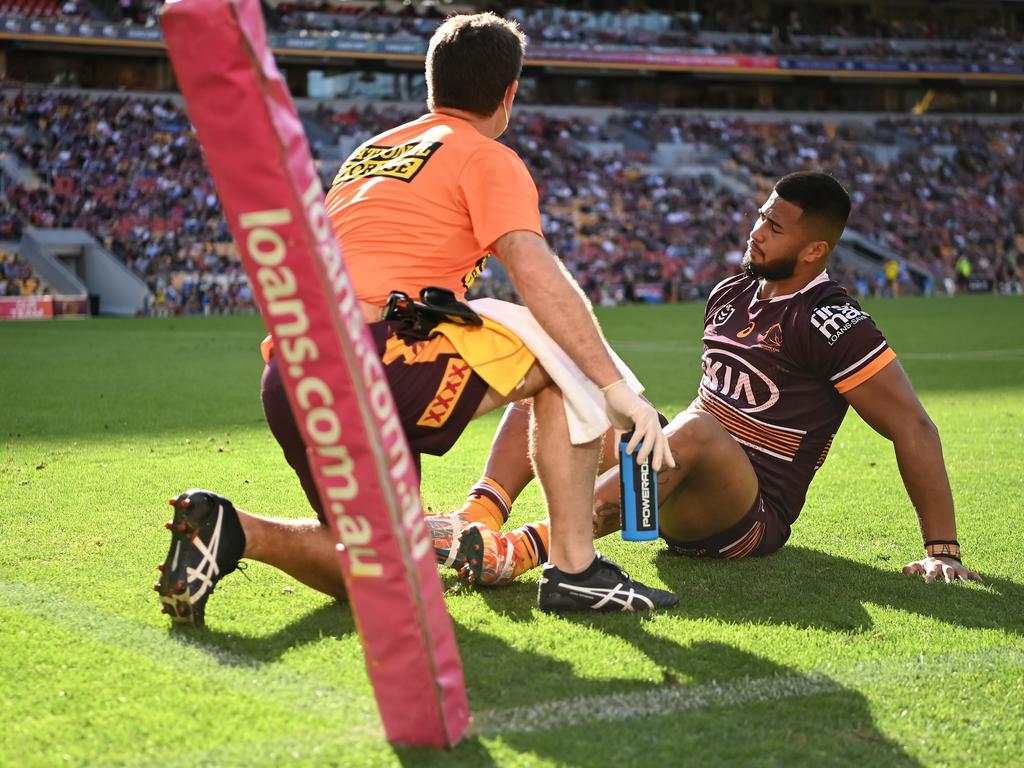 Payne Haas injury Pictured his ankle in the final regular season game of 2021. Picture: NRL Images
"I moved to Brisbane just before pre-season," he said.
"I was getting sick of living on the Gold Coast and travelling to Brisbane to get to training every day.
"My life has been way better. When I was on the Gold Coast, I was waking up at 4.30 to get to training and that's tough on you mentally. Now I wake up at 7am and I'm five minutes from training and being closer to the Broncos.
"I get to spend more time with my partner and our young daughter. It's been a good move so far.
"A lot has changed at the Broncos. I've seen a change in the club, 'Kevvie' (coach Kevin Walters) and Ben Ikin (head of football) have done a great job and I love Brisbane as a city for my family, so I'm very settled at the moment.
"I believe we will play finals this year. If we don't make the finals this year, it's a massive failure and I would be really disappointed in ourselves.
"We can make a deep run in the finals, but we need to get there first and there's a lot of hard work to do and games to play."
Originally published as NRL 2022: Payne Haas opens up on court battle, Brisbane Broncos future