Peter Lalor: Steve Smith must apologise to Usman Khawaja for run-out reaction
Steve Smith's reaction was the real negative in his calamitous run-out, and he should be the one apologising to his batting partner Usman Khawaja.
At the well this morning the social media villagers were divided on whose call it was and who was to blame.
It doesn't matter. Run outs happen and nobody sets out to strand their partner. Mix ups that cost a wicket leave a sick feeling in the survivor's stomach regardless of who was to blame.
(There was the obvious exception when Ian Botham sacrificed Geoff Boycott in the second Test against New Zealand in 1978. England had a brief window to increase their fourth innings lead but the Yorkshireman was proceeding at snail's pace.)
That did not happen here and who was at fault in the mix-up is unclear, but who was at fault in the aftermath isn't. Smith threw his arms out and was as peed-off as a plate smashing President as he left the ground.
Watch Australia's Tour of Sri Lanka. Every T20, ODI and Test Match Live & On-Demand on Kayo. New to Kayo? Try 14-Days Free Now >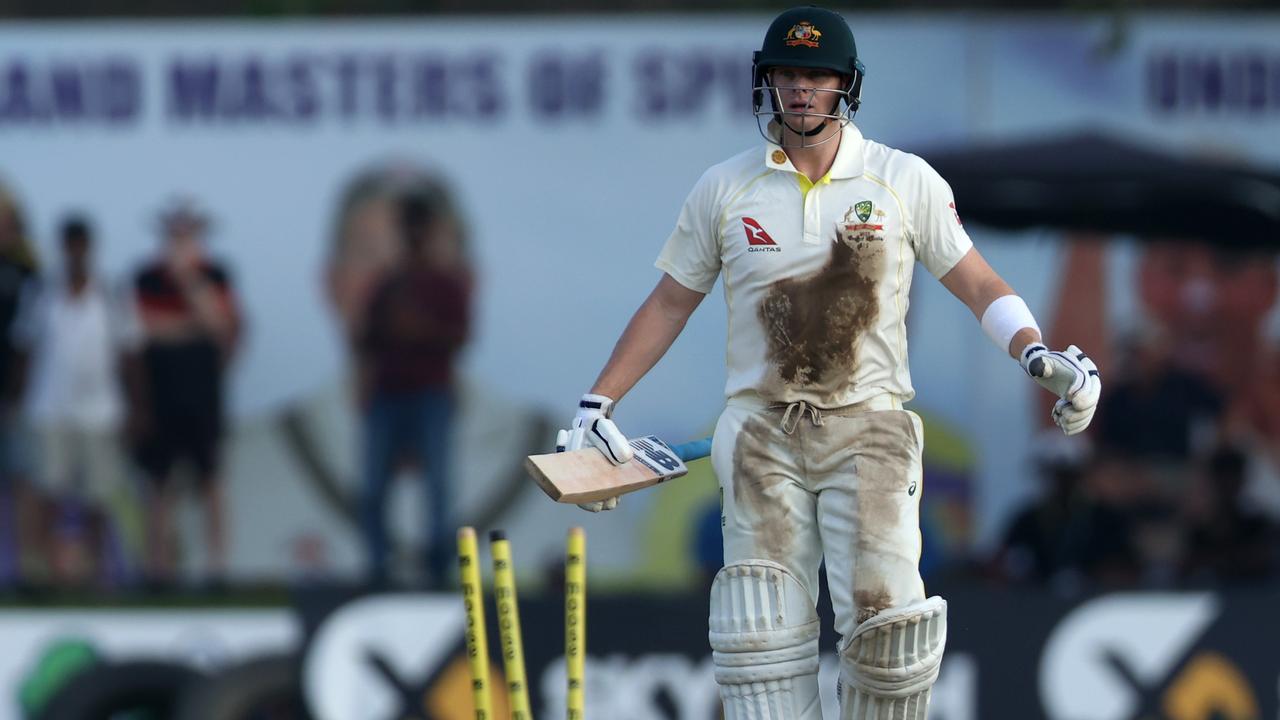 Steve Smith was fuming after being run-out in Galle. Picture: Getty Images
He was filthy. Dirty. Figuratively and literally and obviously.
He shook his head, he jerked, he muttered, he fumed. Carbon was emitted.
Smith's emotions are always writ large. They rent a billboard, they broadcast themselves for the world to witness. He ain't no iceman and it comes as somewhat of a surprise to learn that he is one of the keener card sharks on the team bus during England Ashes series.
The cameras caught him some time after the incident clutching a comforter but still with a face that could kill.
You could only wonder what scenes there were in the dressing room. Teammates know to vacate the space in such situations.
A former Test player told me recently that he has never seen a run-out batter pick up the argument when his partner joined him later, but Khawaja was taking no chances and stayed out in the middle until the last ball was bowled.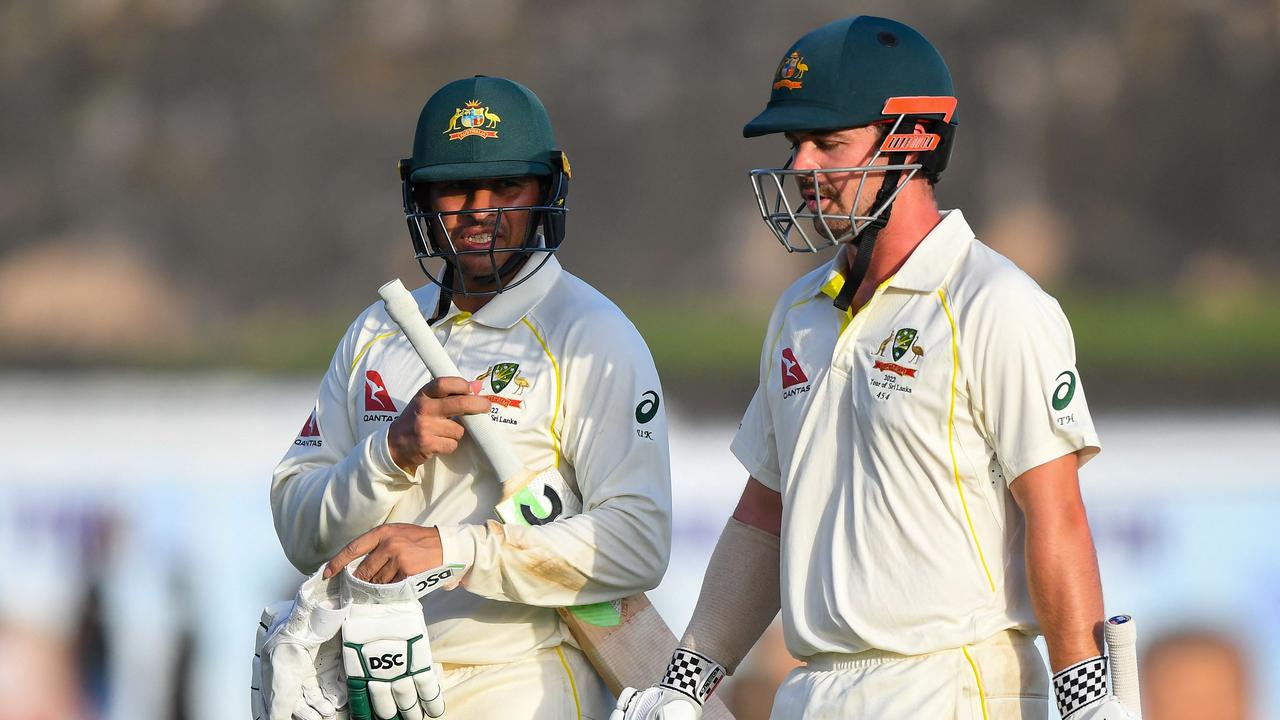 Australian batsmen Usman Khawaja (left) and Travis Head walk back to the pavilion at the end of the first day of the first Test match against Sri Lanka at the Galle International Cricket Stadium. Picture: AFP
You would not have blamed him if he'd snuck out a side gate at the end of play and maybe killed some time over a croissant in a quiet Fort cafe before heading back to the team hotel.
There are some very nice boutique hotels in that part of town …
All that said, you don't really know what was going on in Smith's head as he sat on the balcony. Maybe that was devastation without any accusation. No-fault fury.
It is fair to speculate that here is a man who possibly cares too much and is frustrated by the fact that he has scored just one century since the 2019 Ashes.
He had a career average of 64.5 at the end of that series but has averaged 38.6 since.
Smith, robbed of a year by the ban imposed on him over ball-tampering in Cape Town and of all but another by the death of Test cricket during the early days of the pandemic, would be aware that your days pass a hell of a lot faster in the back half of your career.
The run-out cost him one of four chances to bat this series, cost him a chance to reassure the world that he was still capable of that extraordinary stretch where he scored 26 centuries in 57 Tests at an average of 73.
Australia's Steve Smith is run out Sri Lanka's Kusal Mendis. Picture: AFP
It was as bad a moment for the team as it was for the former captain. In good position at 1-75, they'd stumbled when Marnus Labuschagne reverse-swept a catch to backward point, but Smith's dismissal soon left the first day evenly poised when it should have been the visitors'.
Nathan Lyon's five wickets in the country where it all started 11 years ago moved him past Richard Hadlee on the all-time list. The off-spinner now has 432 Test wickets and should move past Rangana Herath (433) and Kapil Dev (434) to rank among the top 10 of all-time before this Test is over.
This Test is moving fast. Niroshan Dickwella's 58 from 59 balls helped his side post 212 but their innings was done in just 59 overs after winning the toss.
Balls started going through the top of the wicket and bounding bizarrely in the seventh over of the day. The home side picked one seamer in its side and Khawaja's 86-ball 47no was the longest stay at the crease.
Originally published as Peter Lalor: Steve Smith must apologise to Usman Khawaja for run-out reaction