Queen's Birthday honours: Mike Sheahan awarded Medal of the Order of Australia
Mike Sheahan's first media job came about by chance. More than 50 years — and 2000 MCG trips later — the journalism icon has been recognised in the Queen's Birthday honours.
Mike Sheahan's sage advice to aspiring journalists encapsulated part of the reason why he was so respected and so well read in an industry he towered over for almost half a century.
"We have two eyes and one mouth for a very good reason … and never lose your curiosity," Sheahan has always told those seeking counsel about embarking on a career in journalism.
He adhered to those principles throughout an extraordinary journey that took him from a cadet at the Werribee Banner to the chief football writer on Victoria's top-selling Herald Sun newspaper, while shaping news and views across multiple television and radio platforms.
Having won countless awards throughout his distinguished career, it is fitting that Sheahan has received a Medal of the Order of Australia (OAM) for services to sports journalism.
Sheahan said he was humbled when he received news of his special honour.
"The thing I take from it is that an independent group has thought my body of work worthy of such an honour," Sheahan said.
"There are some people who may not have liked me or liked what I have written, but (this group) has said on the balance that I may have enriched the game. I'm flattered by that.
"It only seems like yesterday when I was sitting there on the Werribee Banner in the 1960s wondering if I would ever get an opportunity in a Melbourne paper and I ended up being the chief football writer of the Herald Sun.
"I'm not saying that in a cocky way, but hopefully it shows that sometimes if you keep banging on the door, it will open and you don't know where it will take you."
Sheahan's career as a football journalist grew alongside the game he covered so extensively with an almost boyhood passion that never waned, an inquiring mind and one of the best contact books in the business.
He documented – and helped to shape – the competition's journey from a semi-professional VFL into the billion-dollar AFL industry we know it as today.
"Whenever people ask me my view of the modern game, I always say the best of today is better than it has ever been," he explained.
"I've had plenty of blues (fights) with people over the years. But when I have the blues, I've always said: 'It's not your game, you just played it better than I did. It belongs to all of us.'"
He won his start in journalism at the Werribee Banner almost by chance. One of his best friends, Peter Shanahan – who would later play for Footscray – lived next door to the proprietor of the local paper. He was looking for a young cadet and Mike got his chance.
Sheahan played football for Werribee in the VFA and for a time at North Hobart, when he transferred to the Hobart Mercury.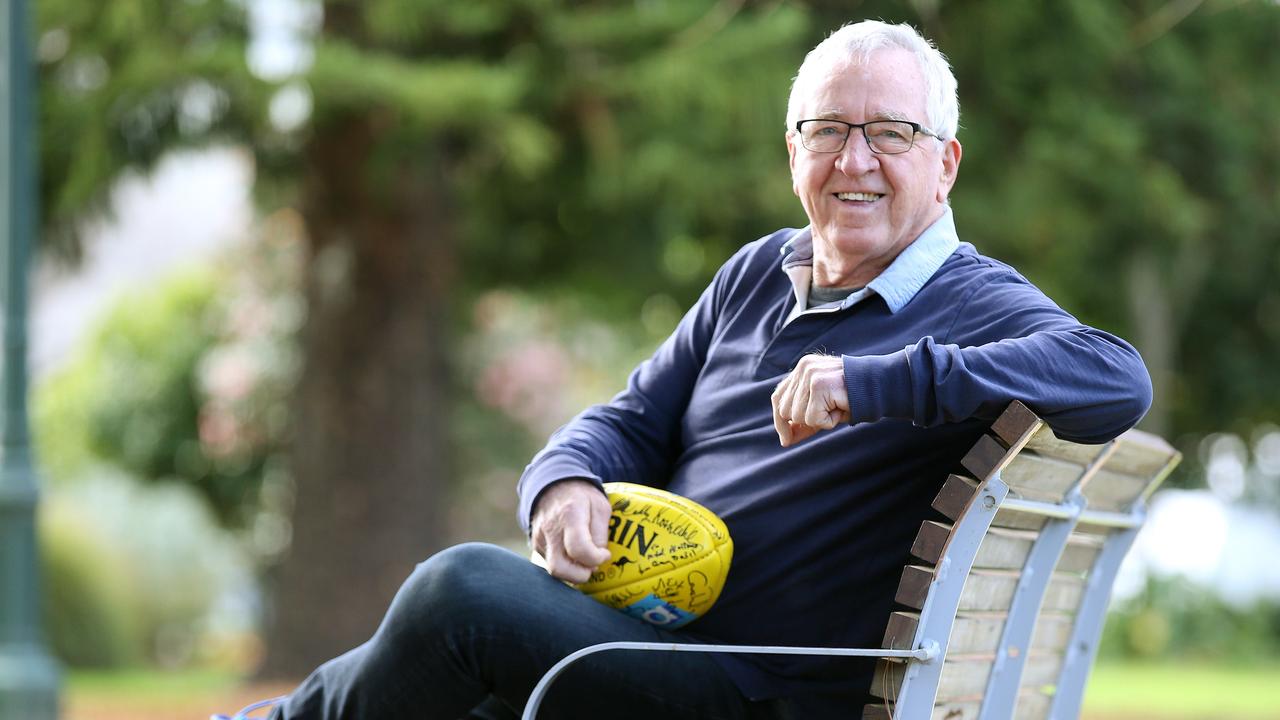 Mike Sheahan shapes decades of sport as one of the media's legendary figures. Picture: Michael Klein
On his return from Tasmania, he worked for Inside Football and the Age before being approached by the Herald's Ron Reed to take over from legendary journalist Alf Brown as the paper's chief football writer in 1979.
Sheahan was one of the hundreds to attend Reed's funeral last Friday.
He was the league's first media manager as the game went national, joined the Sunday Age in 1989 and was appointed the Herald Sun's chief football writer in 1993, a role he relished for almost 20 years.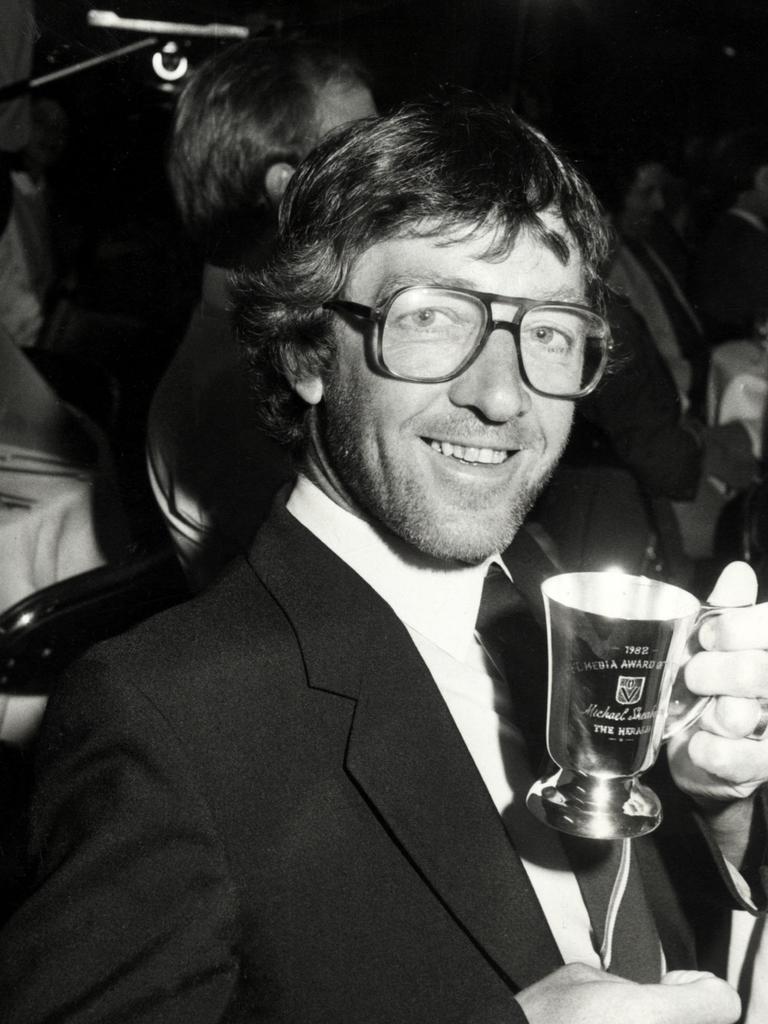 Mike Sheahan with a media award in 1982.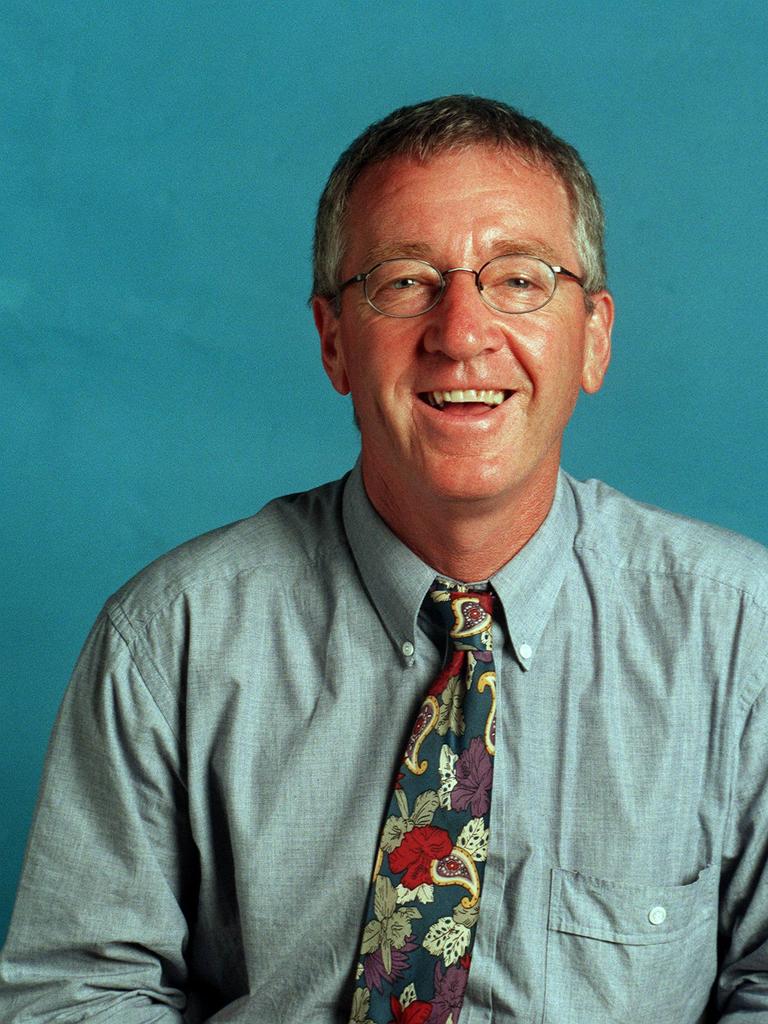 Mike Sheahan became the Herald Sun's chief football writer in 1993.
Sheahan's enthusiasm and passion for the game – as well as the footballers who played it and the characters who ran it – remains as strong in retirement as it was during his career.
He calculated he has been to the MCG around 2000 times, with his early recollections including the 1958 Grand Final when Collingwood upset Melbourne, the team he barracked for.
"I've done the rough calculations, within about 50, but I've been there around 2000 times."
Ross Oakley, Mike Sheahan, Malcolm Blight and Bruce McAvaney on Talking Footy.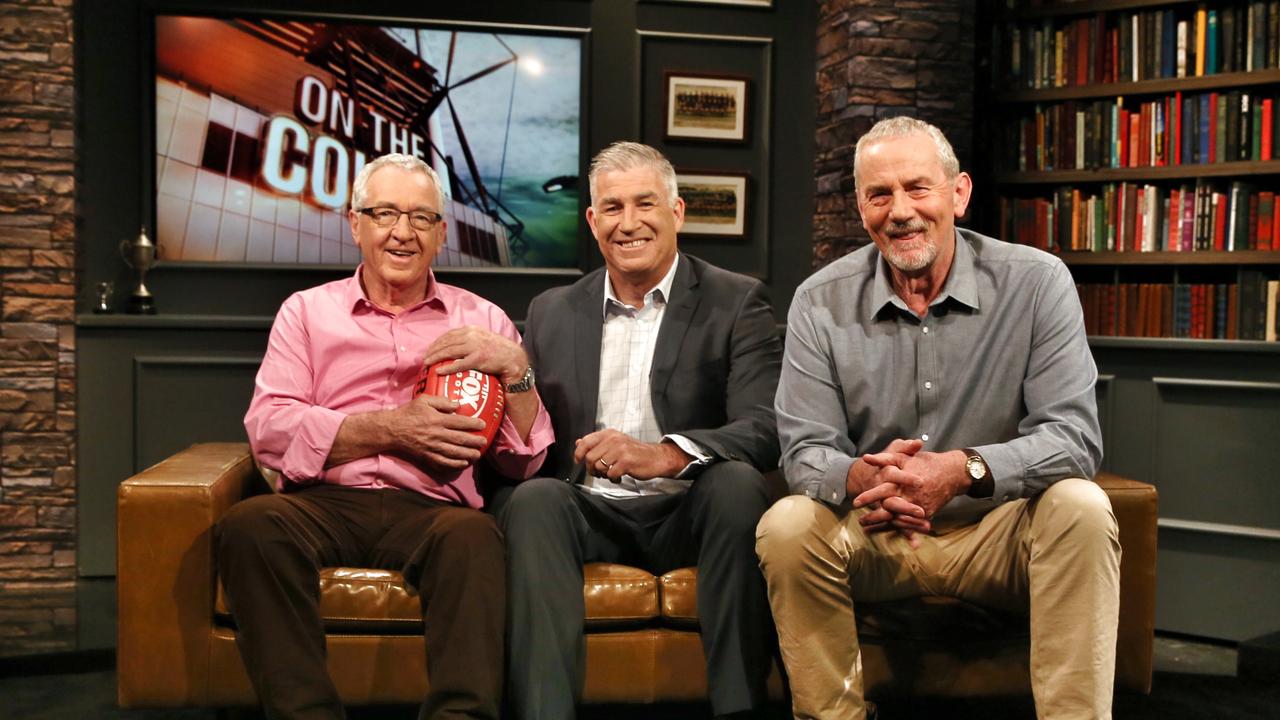 The original on the couch trio: Mike Sheahan, Gerad Healy and Robert Walls. Picture: Michael Klein.
His favourite footy moment was watching the Western Bulldogs win a fairytale flag in 2016 after a 62-year drought.
"The one I got the most joy out of was when the Bulldogs broke their spell in 2016," he explained.
"(AFL boss) Gillon McLachlan passed me seconds after the siren sounded. He said: 'What did you think of that?' I remember saying to him: 'This is the best day of my reporting life."
"I barrack for Melbourne, but I'm still a bit of a western suburbs boy at heart."
That favourite moment might change this year if the Demons can make it back-to-back flags, as Sheahan had to watch Melbourne's 2021 Perth triumph on television from afar.
Just as he did throughout his working life, Sheahan is still looking excitedly to the future, just as much as he remains respectful of the past.
Originally published as Queen's Birthday honours: Mike Sheahan awarded Medal of the Order of Australia