Rugby Confidential: World Cup celebrations to kick off early, Australia will host men's and women's tournaments
While Rugby Australia is still refusing to admit hosting the World Cup is a done deal, it has agreed to get behind a plan to light up a Sydney Harbour icon in the hours before the big vote.
After keeping the powder dry for so long, Rugby Australia has finally agreed to allow the celebrations to kick-off before Thursday's World Cup announcement.
Still refusing to admit it's a done deal until the final vote takes place in Ireland, Rugby Australia has agreed to get behind a plan to light up the Sydney Harbour Bridge in green and gold in the hours before the vote.
Wallabies skipper Michael Hooper and Wallaroos captain Shannon Parry will be at the bridge — which officials are calling a "countdown" rather than a celebration.
Stream Over 50 Sports Live & On-Demand with Kayo. New to Kayo? Try 14-Days Free Now >
The formal decision is expected around 10pm, with World Rugby council members asked to vote on whether to simultaneously award the five World Cups at once.
Australia is listed to host the men's tournament in 2027 and the women's in 2029.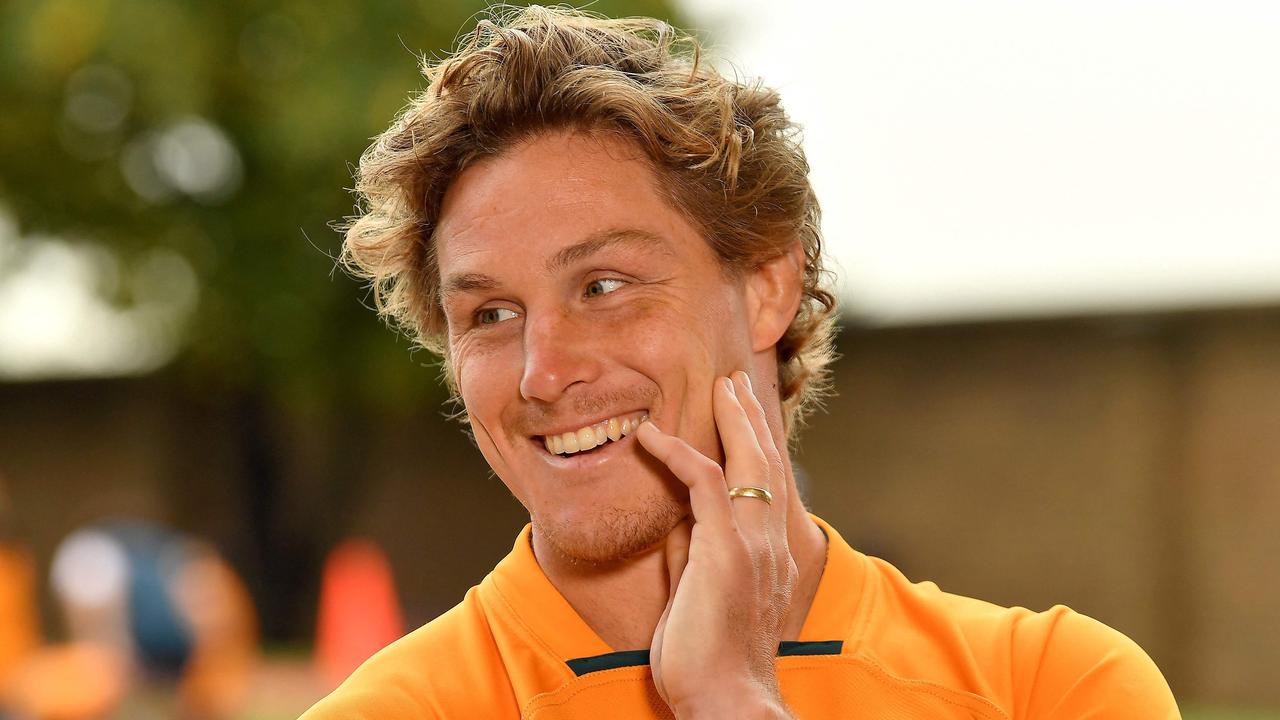 Wallabies captain Michael Hooper will on hand in Sydney for the announcement of the Rugby World Cup hosts. Picture: Saeed Khan/AFP
Carter's warning for World Cup hopefuls
Dan Carter has issued a warning to Test incumbents in Australia and New Zealand to dominate the remaining Super Rugby Pacific season to ensure they hold their spots for next year's World Cup.
The all-time leading Test pointscorer and man-of-the-match in the All Blacks' 2015 World Cup final win over the Wallabies, Carter said the big names must step up in the final three rounds and playoff series of Super Rugby.
"I'm a purist, I've always felt the first half of Super Rugby is when the new boys put their hand up, and the second half is when it really matters and the Test guys stand up," Carter told Rugby Confidential.
"If I'm a Wallabies or All Blacks selector, I'm looking for new guys early on, and in the second half it's time for the incumbents to really put their hand up.
"A lot of people are going on about the quality of the rugby and the amount of cards, but I think the intensity will now pick up and the games will be a better spectacle. This is when I started getting excited about Super Rugby."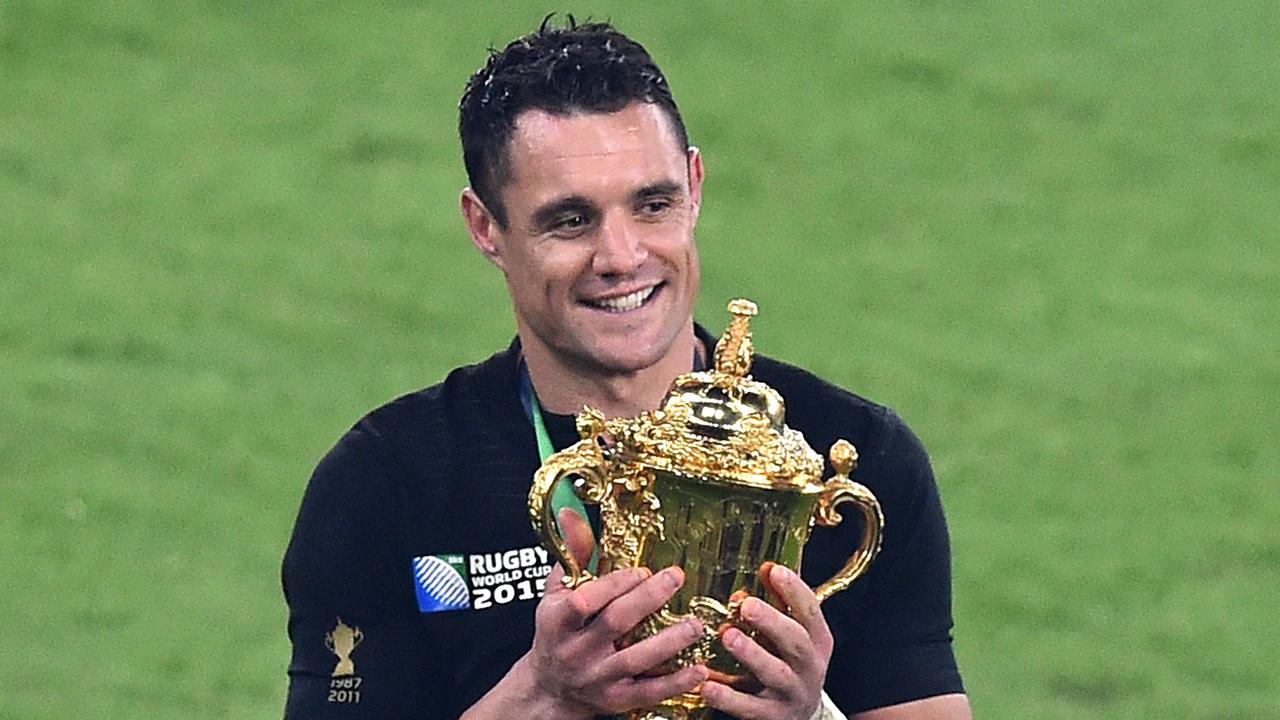 All Blacks great Dan Carter knows what it takes to win the Rugby World Cup. Picture: Gabriel Bouys/AFP
Carter said national coaches must give clarity and security to players in key positions now, and can't be experimenting during this year's Tests if they want to win the 2023 World Cup in France.
"You need to know the players that are being backed around you as well, because you've got to build combinations and that's something the All Blacks haven't been able to do for whatever reason over the past couple of years," Carter said.
"It's normal post World Cup to give guys a go, but there comes a time when you need to establish, you can't be doing that next year at the World Cup, you need to do it this year."
All Blacks legend's new passion
While Richie McCaw has started doing high intensity interval training sessions now he's an ambassador for F45, he has developed a love for extreme adventure racing that can take a week to finish.
"I've got into adventure racing, multi sports," McCaw said. "When I finished playing rugby, I've got a mate that does it and I always wondered if I'd be able to handle it, 1600km long, multidiscipline, you start when you start and finish when you finish, sleep when you need to.
"I wondered if I could handle it, I did one not long after I finished it and managed to complete it, and thought 'I don't need to do that again'.
"But when you're at the start line, knowing it's a week before you're finished, is pretty intimidating. It gives you a similar feel to just before kickoff of a rugby game, not knowing what the opposition is going to do, what's being thrown at you.
"And you do it in teams of four, you rely on your teammates to get through, there's ups and downs and dark patches, it's something that ticked a few boxes of things I missed out on in rugby that I could do.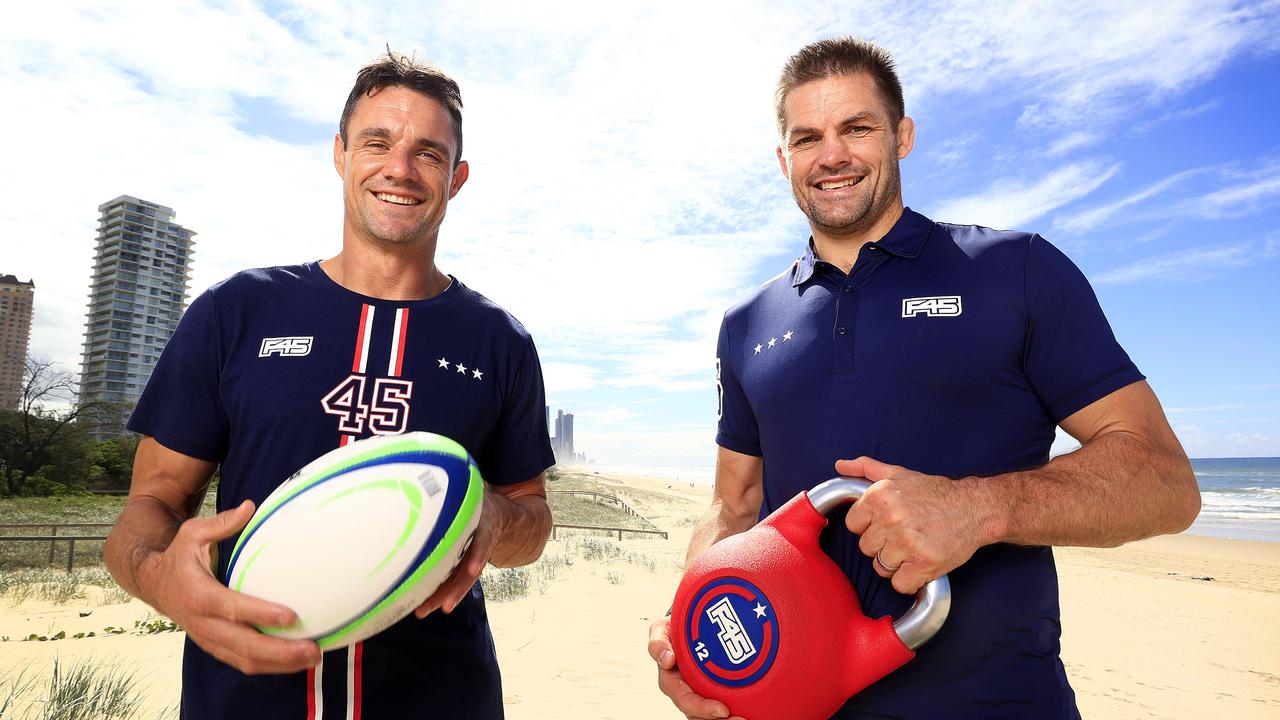 F45 Ambassadors and former All Blacks Dan Carter and Richie McCaw. Picture: Adam Head
"You get to go against people that are the best in the world at it. At first I did just because I wanted to, but then you want to gain the respect of these people, it takes years to build up endurance, I've been finished for six years now and it's only now that I'm starting to get a good base and compete at the pointy end."
The adventure racing includes running mountain trails, swimming, kayaking and even abseiling.
"In rugby, high intensity for short periods is how we trained, which I really enjoy, but this is being able to dial that back but go for a long time," McCaw said.
"It just takes time to build that base. The teams that do well in these events don't necessarily go a whole lot faster, they just don't slow down, they're very efficient.
"Across four disciplines you've got to prioritise how you train."
New-look strip for Wallabies
The Wallabies have unveiled their new-look jerseys for 2022, with fresh hope the tweaks from the last version will coincide with a change in the team's fortunes.
The two jerseys, which include an Indigenous version in classic gold, will be worn for the first time in the three-match series against England in July.
If ever there was a team the Wallabies needed a change of luck against then it's the Poms — who have won eight straight against Australia since Eddie Jones took over six years ago.
"It doesn't feel like that long ago that we were playing in 2016 when they came out here last," Hooper said.
"A lot has happened since then. It's a great series to have, 18 months out from a World Cup.
"The staff are putting in a heap of time. They've known this is on the cards, so they have put in hours and hours. We've got a really good plan."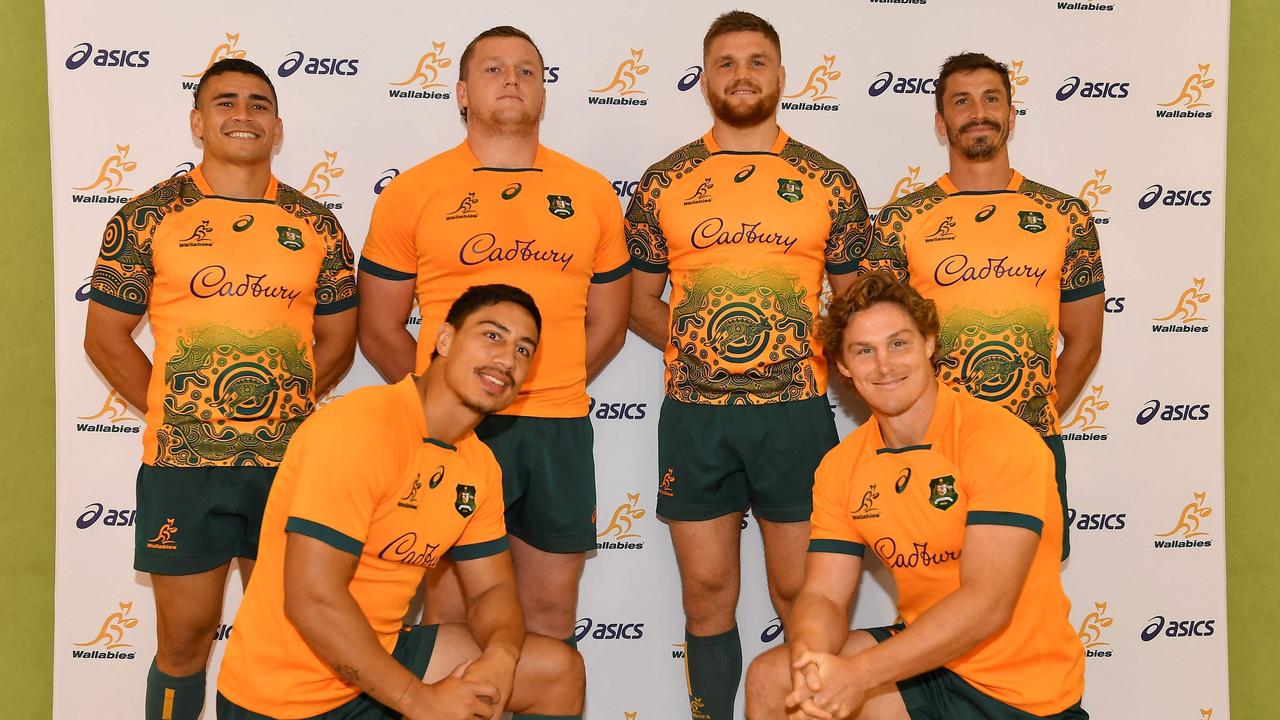 The Wallabies unveiled their 2022 international jerseys on Wednesday. Picture: Saeed Khan/AFP
Australia primed for back-to-back Rugby World Cups
While Australia's hosting rights for the 2027 and 2029 World Cups are set to be soon be rubber-stamped, a battle is brewing for the semi-final and final at the 2027 event.
While Sydney, Melbourne, Brisbane, Adelaide, Perth, Newcastle and Townsville will split the pool games, the battle to host the final is down to three state capitals: Sydney, Melbourne and Perth.
They are the only cities with stadiums that hold at least 60,000 spectators, the minimum requirement for the final, and the competition is so intense that officials are considering a left-field compromise.
Don't pay too much attention to all the fuss about a roof at Accor Stadium, Sydney is still the strong favourite to get the final, but may miss out on a bigger windfall, with the semis going elsewhere.
Since 2003, the semi-finals and final have all been played in the same city but insiders have told Rugby Confidential that policy could change for 2027 so if Sydney does get the final, it may end up sharing the money it would have made from the two semis to other cities.
A decision on where the women's World Cup matches will be played won't be made until much later but is likely to be restricted to a limited number of venues.
John Eales and George Gregan with the Rugby World Cup in 1999.
Aussie World Cup bid success to be fast-tracked
The formal vote that will confirm Australia as host of the 2027 and 2029 Rugby World Cups will take place a little earlier than originally planned, giving the code's supporters an extra night to kick up their heels and celebrate – if everything goes according to plan.
Originally due to take place in Dublin around 6am AEST on Friday 13 May, the ballot has been brought forward half a day and will now take place the night before – on Thursday 12 May.
The exact timing of the poll is still up in the air because the sport's international council members have five World Cups to dish out during the meeting but it'll be well before last drinks are called because each one has already been decided.
Under the new selection system, a single 'preferred candidate' has been chosen for each tournament so there are no rival candidates to choose between so the only job the council members have to do is rubber stamp the countries already selected.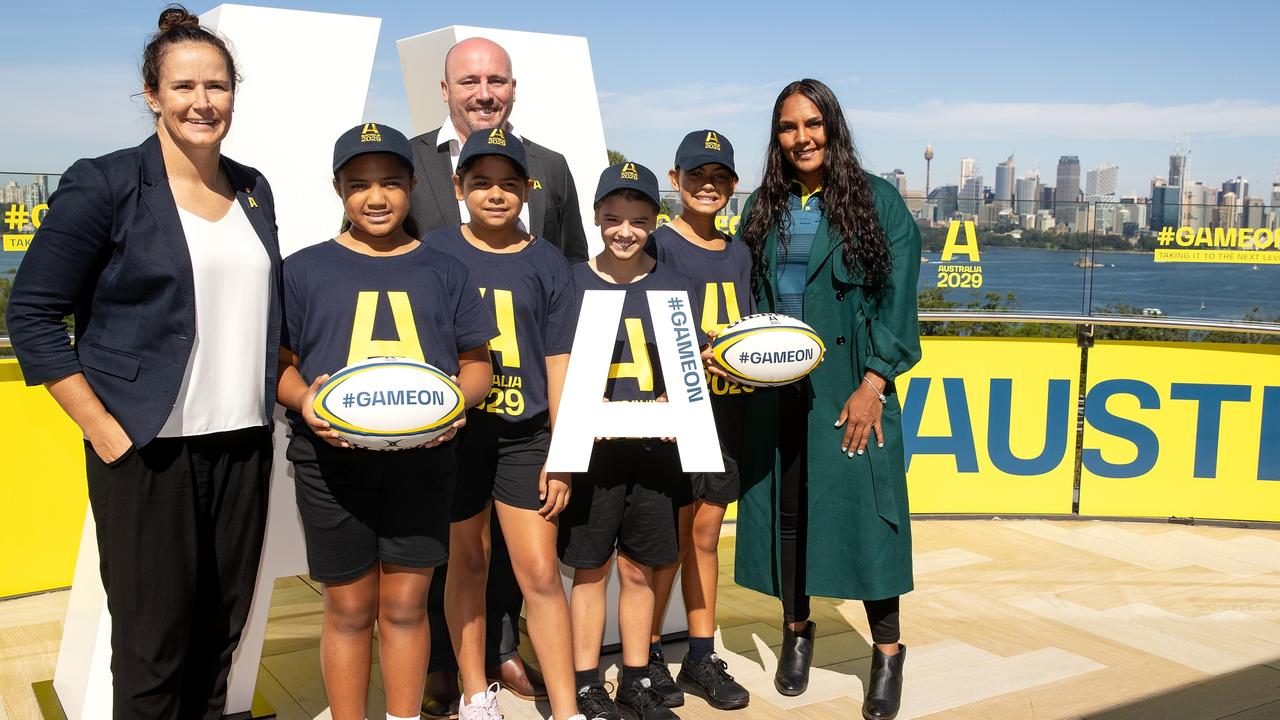 Shannon Parry (l) of the Wallaroos, Wallaroos head coach Jay Tregonning (c) and Mahalia Murphy (r) of the Wallaroos pose with junior rugby players during an Australian Rugby World Cup Bid event.
In Australia's case, that means getting the 2027 men's Rugby World Cup and the 2029 women's Rugby World Cup – a breakthrough the game's true believers think will turn things around after a few lean years because the profits from hosting are astronomical.
It will be the third time Australia has hosted the men's tournament after co-sharing with New Zealand in 1987 then going it alone in 2003. It's the first time the women's World Cup has been awarded to Australia after missing out to New Zealand for the 2022 tournament.
In a sign of how the game is spreading its wings, the sport's sleeping giant, the United States, will also be awarded two championships – the men's World Cup for 2031 and the women's for 2033 – while England will be given the 2025 women's event.
Originally published as Rugby Confidential: World Cup celebrations to kick off early, Australia will host men's and women's tournaments