State of Origin 2022: How Michael Maguire helped Damien Cook and Api Koroisau rise to the top
Michael Maguire saw the potential of Damien Cook and Api Koroisau before they were Origin stars and now the Blues are set to reap the rewards of his early development of the crafty duo.
He was sacked by Wests Tigers and remains an out-of-work NRL coach but Michael Maguire has inadvertently become the influential figure behind NSW's point of attack on Sunday night.
Maguire has been identified as the man who helped develop and expedite the playing careers of both NSW hookers – Damien Cook and Api Koroisau.
As then South Sydney coach, Maguire plucked Koroisau from then feeder club North Sydney in 2014, later that year rushing him into the club's grand final-winning side after Issac Luke was suspended.
Stream every game of every round of the 2022 NRL Telstra Premiership Season Live & Ad-Break Free During Play on Kayo. New to Kayo? Try 14-days free now >
And it was Maguire, currently in Auckland coaching New Zealand, who saw the talent and merit in Cook, who was signed by the Rabbitohs in 2016 after being used as an unwanted utility player at Canterbury.
Both players were languishing in reserve grade – their careers seemingly stalled – until Maguire quietly detected their untapped ability. Now, several years later, Maguire's impact will help NSW at dummy half in Sunday night's State of Origin game in Perth.
Blues hookers Damien Cook and Api Koroisau. Picture: Paul Kane/Getty Images
"It was Madge, mate, it was Madge," former South Sydney chief executive Shane Richardson said, recalling the stunning rise of Cook and Koroisau.
"There's no question mark about. Madge built Api up and gave him the chance in a grand final and then he brought Damien Cook to the club."
Koroisau will start Origin II, with Cook's speed to be used when he comes off the bench.
"Api came through North Sydney, who were our feeder club back then," Richardson said. "I'm not sure how he got to North Sydney but he was on the fringe and looking for an opportunity.
"Madge brought him into our top squad because he was playing well and he ended up playing in our grand final side. Api was always a good kid who worked hard.
"Api only played one game in the final series and that was the grand final. I remember it was quite emotional that we'd lost 'Bully' (Luke).
"I'll be brutally honest, we didn't really know how Api would go in a grand final. It was a big call, it was huge for him and us and he came up trumps. That just showed you what he was going to be.
"So it was Madge who gave him his chance. It was North Sydney, onto Madge and then Madge showed faith to put him in a grand final.
"We could have moved other guys around and played a hooker who wasn't really a hooker but Madge knew he deserved his chance because he had been playing really well in the lower grades."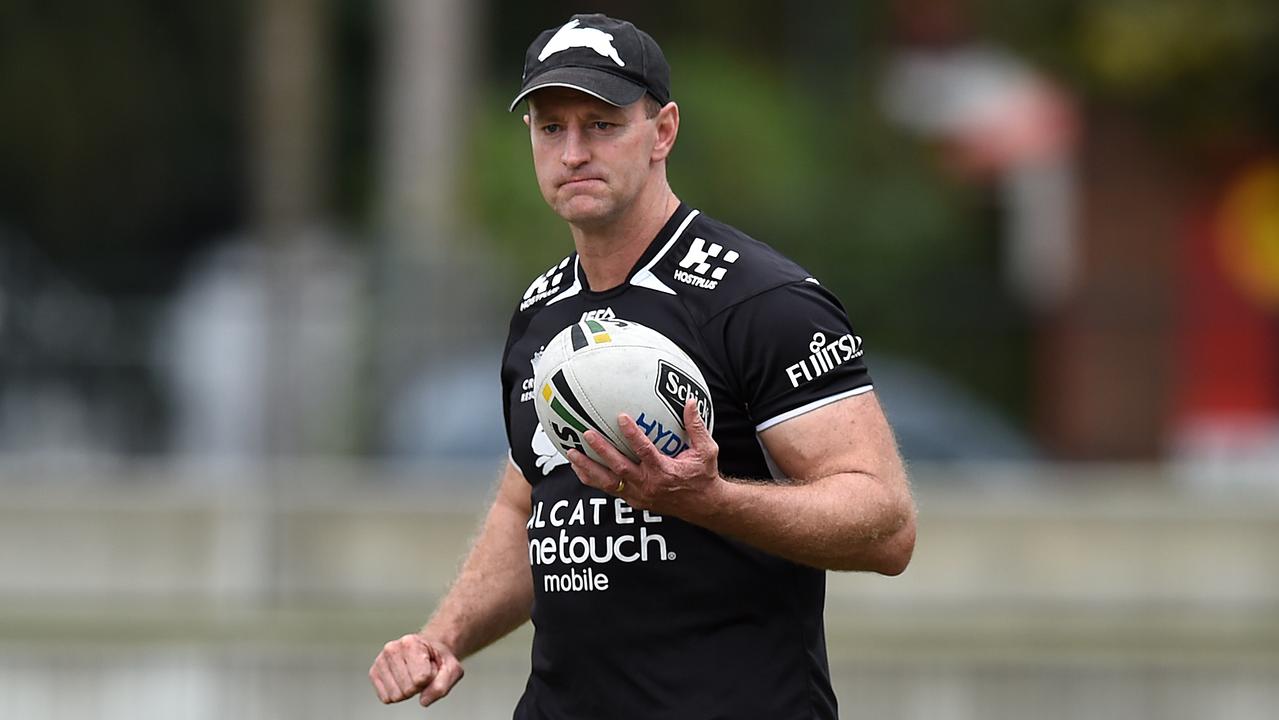 Michael Maguire gave Api Koroisau and Damien Cook their chance to shine at Souths. Picture: AAP Image/Dan Himbrechts
Cook arrived two years later as a back-up behind Luke.
"We had obviously watched him play closely and saw what he could do but he was really a back up," Richardson said. "Again, I put it down to Madge. Madge said he liked him and wanted him at the club. Madge really pushed for him and Api.
"Cook was a really good alternative and he turned out to be successful for everyone. He was playing lower grades at Canterbury. He was playing all over the place and was an unsung hero at Canterbury – he should have played more first grade.
"Even when he came to us, he was playing lower grades at halfback and fullback. He was the perfect guy to bring in underneath your top squad because he could play so many positions. It was a no-brainer.
"It was Madge who really pushed him to come to the club. He saw his pace."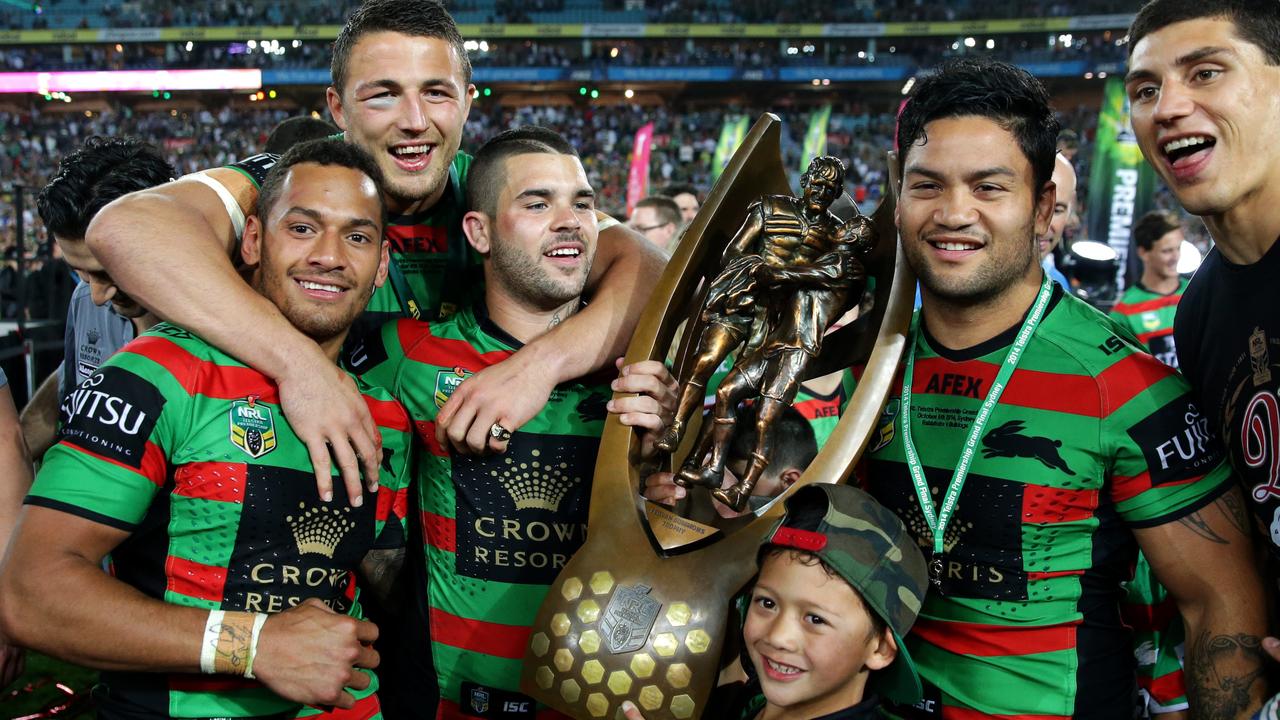 Api Koroisau, left, won the 2014 NRL grand final with Souths under coach Michael Maguire. Picture: Gregg Porteous
Crichtons ready to add 'mongrel' to Blues
-Dean Ritchie
They are Crichton and Crichton – two stars from opposite ends of Sydney ready to put some much-needed niggle back into the Blues.
Both new to the NSW starting side, Angus and namesake Stephen Crichton appear to be rugby league clean skins – but don't let looks fool you.
They are ready to goad and needle Queensland in Perth on Sunday night, adding some spice to a largely passive NSW side in Sydney.
Between them over the past 18 months, Stephen and Angus have quietly accumulated eight charges from the NRL match review committee – four each. Their indiscretions have included a crusher tackle, late contact, grapple, fighting, lashing out with feet and contrary conduct.
"You've got to be ready to mix it in this arena," Angus said. "To win these games, you've got to have mongrel and go and attack the game and that's what I will look to bring."
Stephen added: "You wouldn't want to be the one (player) out there just standing around and wasting a jersey."
While NSW coach Brad Fittler will be strong on discipline, Crichton and Crichton will look to unsettle a Queensland team allowed to find a comfortable rhythm in game one.
The pair have contrasting backgrounds – Angus a private school country lad while a deeply religious Stephen is from St Mary's – yet these are the two NSW desperately need to unsettle cocky Queensland.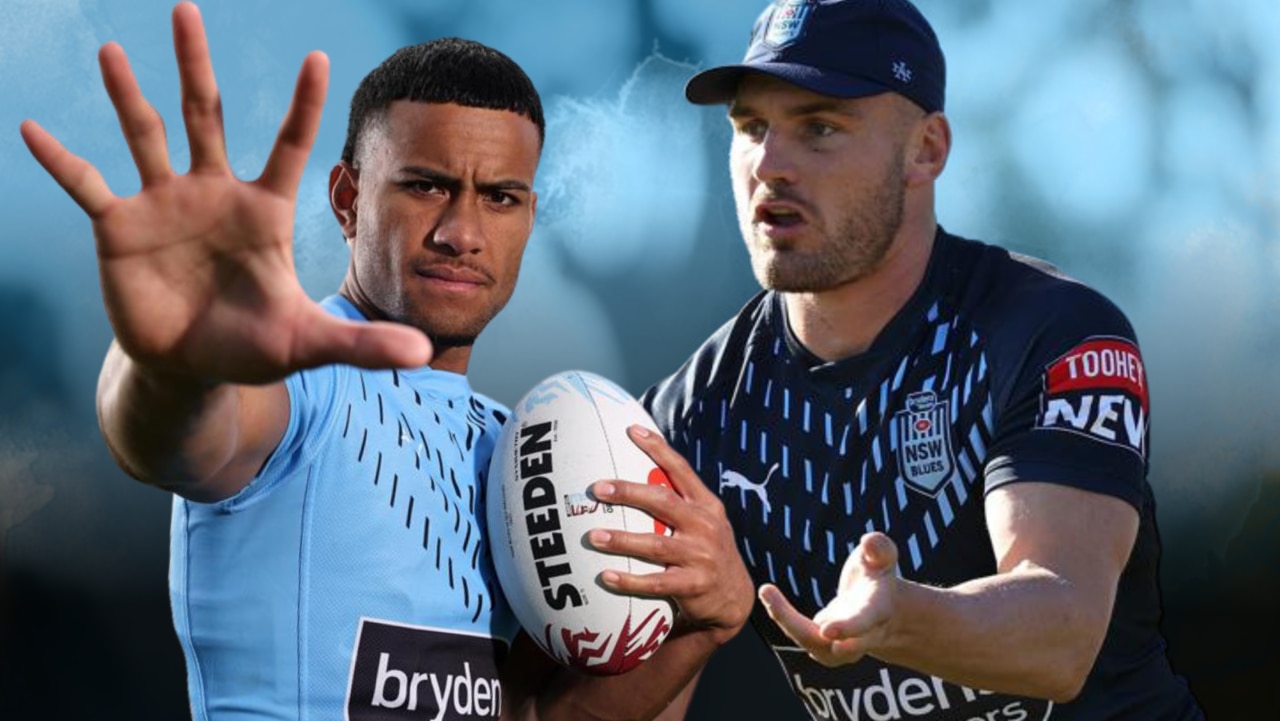 The Crichton boys are ready to rumble for the Blues.
"That's your role coming off the bench – you need to provide that spark, intensity and power. Playing the middle simplifies your role a little and lets you go after the game more," Angus said.
"My mentality here is, whatever the team needs – whatever is going to get me in the team – however we can make this team win – I'm happy to do that.
"We all know what Origin is about. Everyone hypes and pumps it up. The fans love it, we all love it. That rivalry is definitely there and it's real. "I'm not going to come out and give you a headline but there is obviously a lot of feeling in these games."
Stephen also stressed he wouldn't play the game with a passiveness.
Told he liked to mix it with the opposition on-field, Crichton said: "One hundred per cent. That comes with the game and that aggression comes with the game as well. We're playing for our state and we're playing for our families as well.
"I reckon all the boys will be ready to roll up their sleeves and take those tough carries, make those tough tackles and be ready to grind it all the way until the end."
Stephen, named at centre after starting game one from the bench, wouldn't admit to hating Queensland but did say: "Hate is a strong word but definitely dislike them and they think the same thing.
"It's good to have that aggression and that cool head at the same time and be thinking about what you're doing. We will take our intensity into the game and we'll see what happens when the game starts."
Crichton's deal at Penrith expires after next season but is reluctant to focus on any contract negotiations.
"I haven't really spoken to my manager yet and I've just been focused on being in Origin camp," Stephen said. "I'm enjoying my time here. When that (negotiation) time comes to re-sign, that's when I will worry about it but I do want to stay there (at Penrith).
Junior Paulo says it's time for the Blues to fire up. Picture: Getty Images
NSW enforcer vows no more Mr Nice Guys after criticism
—Fatima Kdouh
Junior Paulo has pledged to bring the mongrel back to the Blues after advisor Greg Alexander accused NSW players of being 'too nice' in Origin I.
Alexander said the Blues allowed Queensland to not only dominate the ruck but dictate terms in the series opener at Accor Stadium.
It's a biting criticism that Blues behemoth Paulo is using as motivation to find a mean streak in Sunday's must win clash in Perth.
"Brandy is right. We came into camp and reviewed the first game and he certainly was not wrong. The areas we can improve is around the ruck and were too nice in giving Queensland a lot of opportunities to attack and get on the front foot. We have to find ways to slow it down and match it with them," Paulo said.
"You always do (take it personal) and kind of criticism you want to use it as motivation heading into a game."
For the Blues, finding that mongrel and aggression started with a boxing session at Danny Green's gym in Scarborough on Tuesday afternoon.
"Certainly with sessions like this boxing, you don't learn too much about footy in here," Paulo said.
"It's more so that mental challenge …. finding that extra bit that you need so when it comes to the field you are able to fall back on all the stuff we have done during the week at training."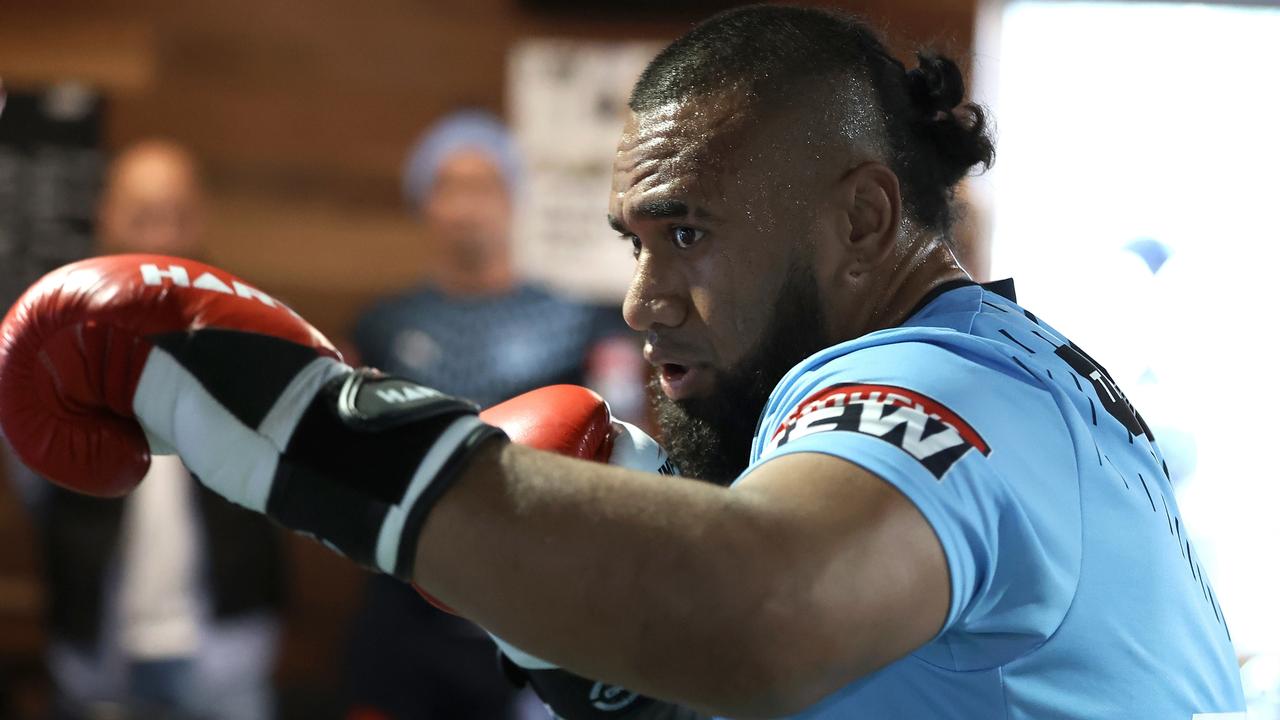 Junior Paulo wants to ensure the Blues pack a punch in game two.
Fittler also recalled forward Angus Crichton, who will play off the bench, after a number of 'powerful' performances for the Sydney Roosters in club land.
Like Paulo, Crichton has vowed to make the challenge against Maroons' big men on Sunday night a 'personal' one.
"That will be my role off the bench, to bring that power and carry hard, tackle hard and bring that aggression and impact from the bench. It will be a pretty simple game for me going back to the middle and bringing that power. I'm pretty excited to attack it," Crichton said.
Prop Payne Haas watched on during the late afternoon boxing session from a nearby exercise bike in the gym.
Haas sat out the session to limit his workload after picking up a shoulder injury almost two weeks ago.
Penrith backrower Liam Martin also didn't take part with Blues medical staff managing what was described as a 'minor wrist niggle'.
Bombs away: Blues move to ease Cleary pressure
-Fatima Kdouh
Taking a dossier of complaints to the referees boss didn't get NSW anywhere, so Blues coach Brad Fittler is hatching a plan to inject Matt Burton's kicking game in Origin II after Queensland smothered halfback Nathan Cleary in Sydney.
Adviser Greg Alexander hinted the Blues would be finding a way to get the ball into Burton's hands at the end of the set to exploit the Canterbury playmaker's towering left foot bomb.
The task won't be a simple one, with Burton starting the must-win clash at left centre, as Jack Wighton's replacement.
"It would be silly if Matt was there and we don't use it," Alexander said.
"But Matt's playing centre and not five-eighth. We'll see if we can work Matt infield and put a couple of big ones up … he's got a huge left foot. I would expect Matt to kick the ball a few times on Sunday night. The ball might just find its way out to Matt."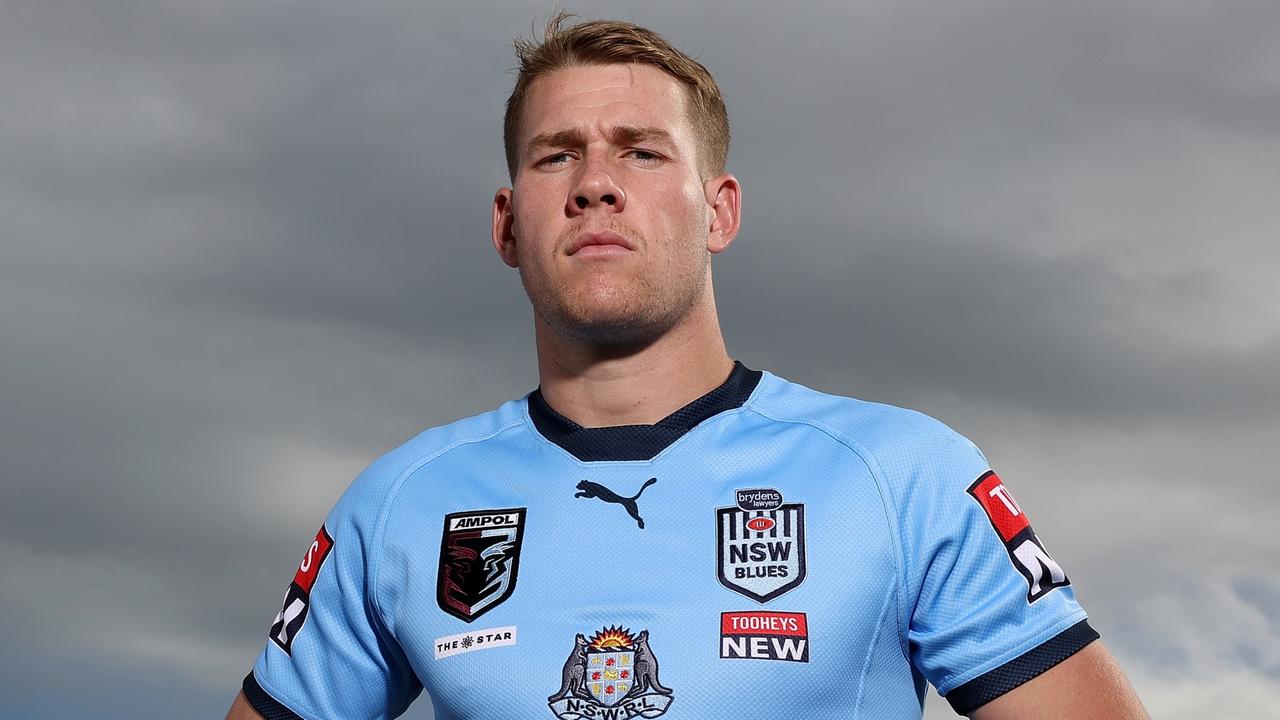 The Blues will make use of Matt Burton's booming kicking game in Origin II. Picture: Paul Kane/Getty Images
Fittler had a private meeting with refs boss Jared Maxwell about a number of contentious calls from game one, including illegal kick pressure and hits on Cleary.
The Blues believe at least three shots on Cleary warranted a penalty but Maxwell gave the hits the all clear. Fittler also made a point about Queensland slowing down the ruck, which referee Ashley Klein let slide.
Alexander believes the Maroons ability to slow down the ruck was the main reason the Maroons were able to get at Cleary in Sydney.
"The contact seemed to be as Nathan was kicking," Alexander said.
"There might have been one or two that are a fraction late but as we know games are refereed differently in Origin and I think you have to remind yourself of that and keep reminding yourself that games are refereed differently.
"That's a lesson. Yes, the ruck was also refereed differently. I'm not saying it was to anyone's favour, it was refereed differently.
"Nathan got the ball on the back foot where our play was very slow … it left Nathan standing there and he had very little to no protection or option around him."
The Maroons put Nathan Cleary under plenty of pressure in Origin I. Picture: Cameron Spencer/Getty Images
Cleary kicked 20 out of 25 times for the Blues in game one, where he was pressured by the Maroons defence 13 times and contact was made on seven occasions.
Queensland had a more balanced approach, with halfback Daly Cherry-Evans taking 13 from 25 kicks.
Burton told News Corp that he is ready to step-in and relieve some of the pressure of Cleary's kicking game on Sunday night.
"If that's what they want me to do then I'm ready to stand up and do that for the team," Burton said. "Nathan has a really good kicking game, one of the best, but if I'm needed to step up then I can do that."
Cleary's halves partner at state and club level Jarome Luai will also take on more of the kicking role.
The Penrith five-eighth kicked once in game one compared to Maroons counterpart Cameron Munster, who put boot to ball nine times.
"It's situational depending on where we are on the field with who will kick," Cleary said. "But Romy (Luai) has got a good kicking game as well and we can definitely utilise that a bit more.
"We've obviously got Burto (Burton) out there too. It will be hard with him out in the centres but everyone has seen the way he kicks the ball. If we can get him in opportunities where he can get a kick away that would be nice … we'll work on doing that."
Alexander also challenged the entire Blues outfit to provide Cleary with more protection in game two and combat the Maroons' kick pressure.
Queensland enforcers Lindsay Collins, Pat Carrigan and Reuben Cotter whacked Cleary at every opportunity, leaving the Panthers halfback battered, bruised and sporting a black right eye after game one.
"That's the team's job, it is on the whole team to do that a little bit better. It's not going to fall on any one person," Alexander said.
Origin greats question NSW shake-up
-Peter Badel, Travis Meyn
NSW legend Benny Elias has expressed shock at one of the most dramatic selection shake-ups in Origin history as Queensland great Billy Moore accused Blues coach Brad Fittler of panicking and "pandering" to his critics.
Elias fears the Maroons have a psychological edge over NSW after Fittler sensationally wielded the axe, making seven changes to his Blues outfit for Origin II in Perth this Sunday night.
'Blind Freddy' finally opened his eyes to what the NRL fraternity could already see, recalling inspirational Jake Trbojevic just a fortnight after Fittler controversially snubbed the Manly warhorse for Origin I at Accor Stadium.
Underscoring Fittler's desperation to save the series, the Blues coach has put the broom through his entire interchange bench, as well as axing Kotoni Staggs, Reagan Campbell-Gillard and Ryan Matterson following Queensland's epic 16-10 victory.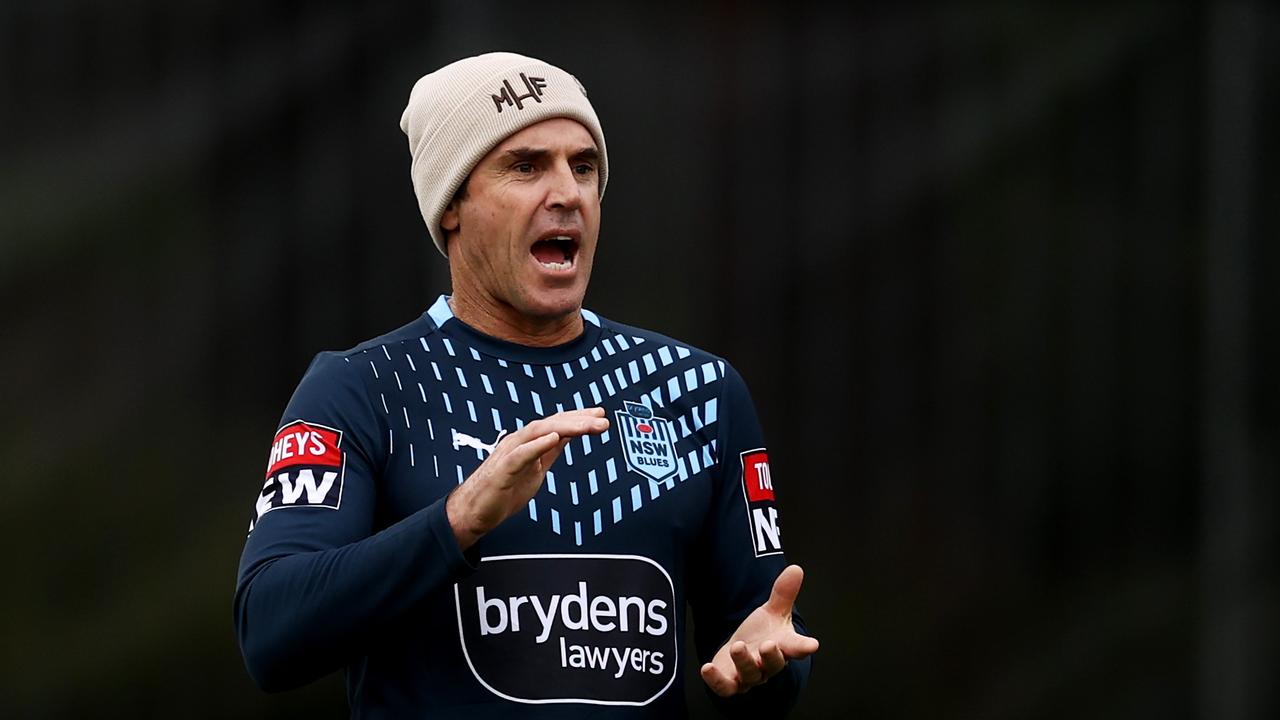 Origin great Billy Moore has accused Brad Fittler of panicking and pandering to critics. Picture: Getty Images.
In 2011, then NSW coach Ricky Stuart ripped his roster apart, making seven changes after the Blues lost the series opener 16-12 at Suncorp Stadium.
Now there is more selection blood in the Blues' waters – and Elias, the crafty NSW hooker Queenslanders loved to hate, admits Billy Slater's Maroons may be getting inside Fittler's head.
"I can't recall the last time we made seven changes from Game One to Game Two, I am really shocked," said Elias, the 22-game Blues icon.
"The definition of insanity is picking the same side and expecting a different result, so Freddy has had the courage to make so many changes, but I didn't expect so many.
"I know Freddy well. I was his NSW skipper, so I know his demeanour.
"Knowing Freddy the way I do, he seems to revel in the pressure and I hope he does this time because there is suddenly enormous pressure on the Blues.
"We should never have dropped Jake Trbojevic in the first place, he is the heart and soul of a team. I'm glad he has been recalled, because in the heat of Origin battle, the NSW players know he will have their back.
"I'm staying optimistic. This is potentially a better NSW team than Game One, but Queensland will be even more confident now. That worries me. They now know they can beat us and that is our biggest problem."
Moore, the industrious lock who played 17 games for Queensland, believes Fittler has hit the panic button.
"They were only one metre away from going to golden point in Origin I," Moore said.
"To make seven wholesale changes – that's virtually half the team – that smells like panic to me.
"Freddy is feeling the heat. He is listening to the critics down south and virtually pandering to them. The critics have been screaming for certain blokes to go and Fittler seems to have listened to the noise.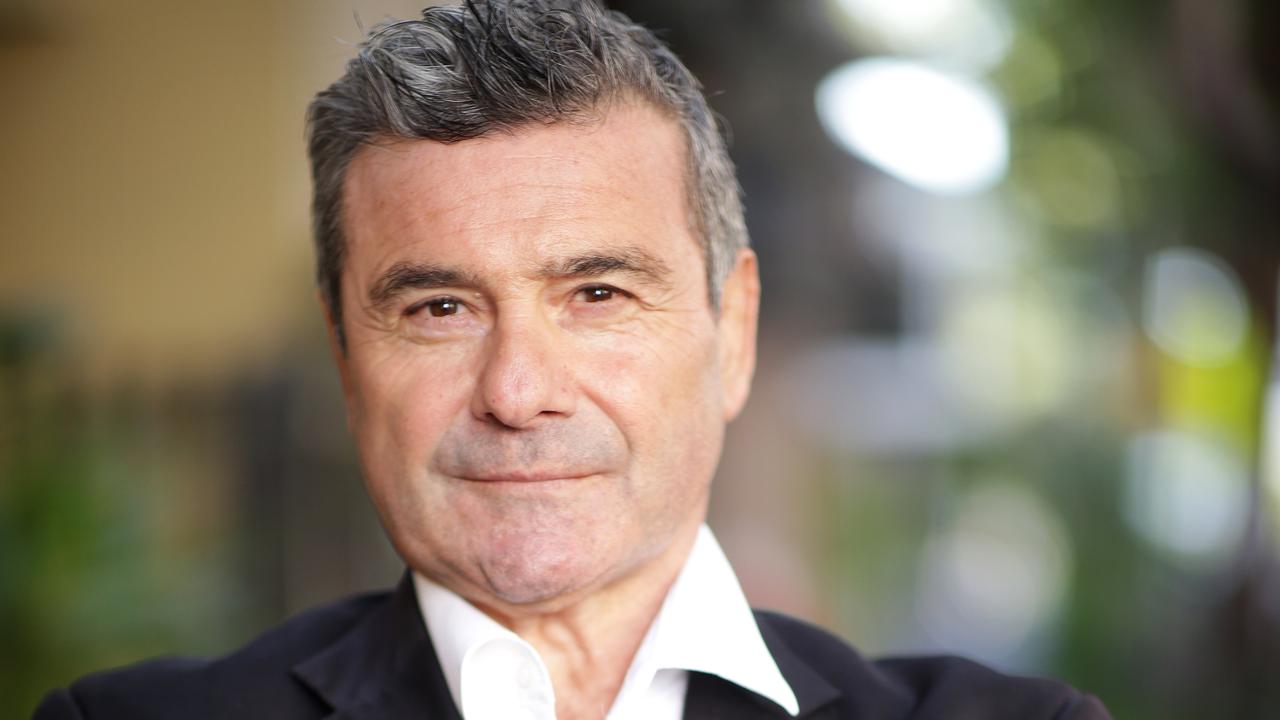 NSW legend Benny Elias says he's shocked at the Blues dramatic selection shake-up. Picture: Christian Gilles
"It's amazing that NSW would wield the axe when they were involved in one of the greatest games in Origin history. NSW's Game One team wasn't that bad to be honest.
"Bringing more Penrith into your team can't be a bad thing given their NRL dominance, but there is no doubt for mine that Fittler has reacted to the fallout.
"There could be a hint of panic and chaos in the NSW team.
"If this shake-up causes a bit of disharmony and disquiet, it's not a bad thing at all for Queensland."
When asked if he thought the Blues were panicking, Slater refused to supply any Origin II ammunition for Fittler, his Channel 9 commentary cohort.
"I don't know what they're thinking," he said.
"I haven't looked deeply into their team just yet. Both sides are going to be prioritising their preparation around themselves. That's what we need to do.
"We need to have a look at what we did well in Game One and how we can get better.
"Origin shows that Game Two is a much more complete performance than Game One and both sides will improve.
"We need to really prioritise that we're going to improve and how we do that.
"They are a good team, that's a position NSW are in. They're going to field a quality team no matter who they pick.
"They've decided to go with some changes and that's fine.
"We will certainly respect them, like we did in Game One."
Proof NSW got it horribly wrong in Game I
-Brent Read
A mild state of panic appears to have swept across NSW. Blues supporters don't dare look down lest they see a head rolling by. The axe has been wielded and Queensland fans are no doubt watching with a sense of glee.
The Blues are reeling after defeat in the opening game of the State of Origin series. The response has been swift and savage, the mass changes a stark admission from Fittler and Adviser Greg Alexander that the Blues got it wrong in Origin I. Horribly wrong.
Where to start? How about with the decision leading into the opening game to dump Jake Trbojevic, a player who has been the heart and soul of the team in recent years.
The sort of player that Queensland insiders suggest would always be one of their first picked for the Maroons because of his intrinsic value to the side. With players like Trbojevic, form doesn't always matter. He adds value in other ways, often through sheer weight of personality.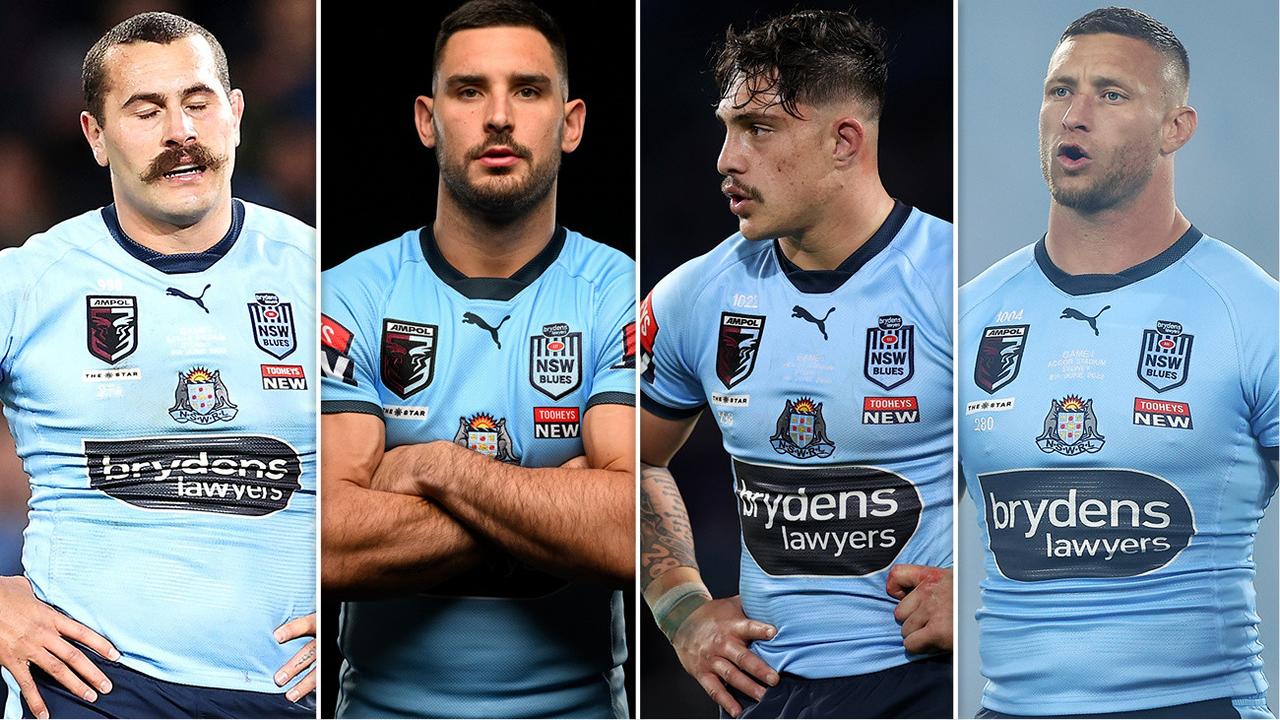 Reagan Campbell-Gillard, Ryan Matterson, Kotoni Staggs and Tariq Sims are all out of the side for Origin Game II.
Choosing Stephen Crichton as the utility on the interchange bench was a risk. Api Koroisau is a better bet and his presence is a warning shot across the bow of Damien Cook, whose recent form has prompted some to suggest change is in order.
There were mixed messages heading into Origin I. Tariq Sims hasn't exactly set the world on fire this season but he was selected for the opening game. Yet Trbojevic and Josh Addo-Carr were overlooked.
Sims is now gone along with Ryan Matterson, Kotoni Staggs and Reagan Campbell-Gillard. Fittler and Alexander have done what is necessary to save the series with two games remaining and the wind in Maroons' sails.
Queensland have made changes too, although both were forced after injury sidelined Xavier Coates and Reuben Cotter. The Blues can only use the injury excuse for Jack Wighton, who was ruled out with Covid. The other changes were all Fittler's doing.
There is a tendency in some quarters to underestimate Fittler as a coach. His mind at times works in mysterious ways. Earthing and all that. Often, however, the best coaches are a little left of centre.
Legendary Chicago Bulls coach Phil Jackson once made his team practice in silence to awaken their senses. On another occasion he made them scrimmage with the lights out. Former Tottenham and PSG boss Mauricio Pochettino always keeps a bowl of lemons in his office to soak up the negativity.
Yet Jackson and Pochettino also had a ruthless streak and so does Fittler. History suggests the Blues boss has never been afraid to make the contentious calls. He wielded the axe three years ago heading to Perth after a loss in the opening game of the series, dumping a host of players including Latrell Mitchell.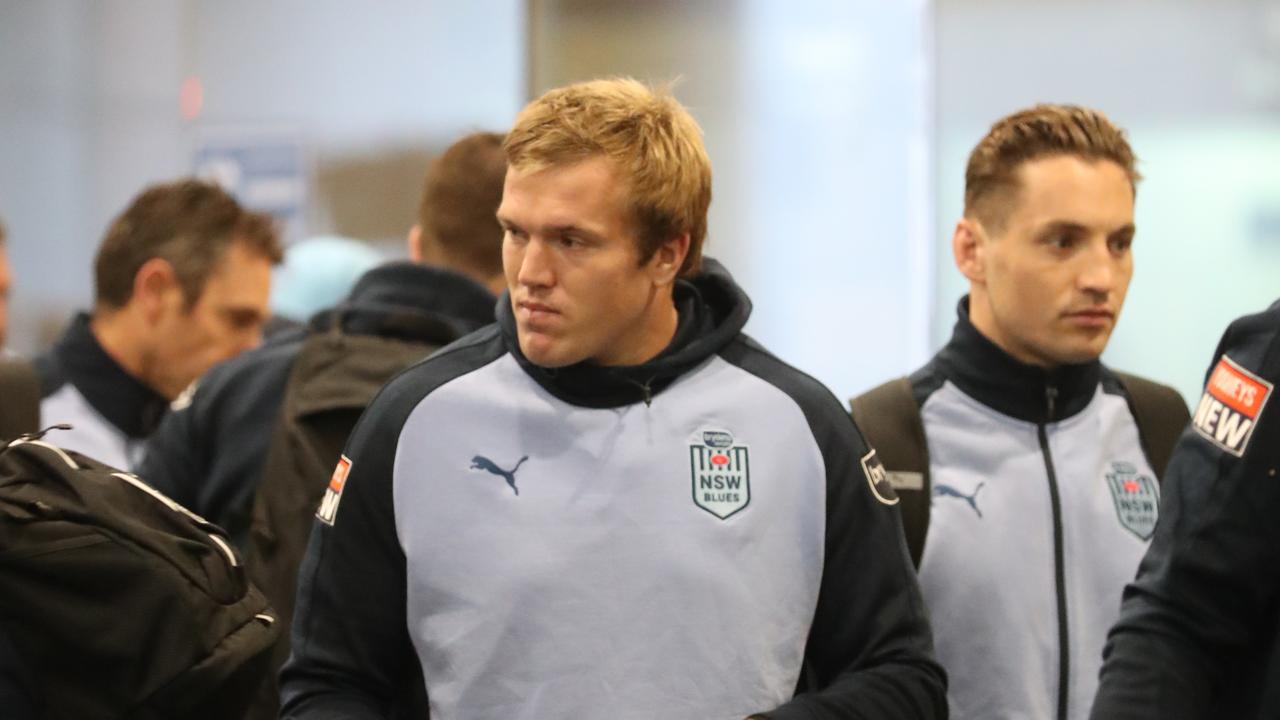 Jake Trbojevic is back in the Blues squad, but never have been dropped in the first place. Picture: John Grainger.
He recalled Mitchell Pearce when the series was on the line in that same series. He found a way to play three fullbacks – James Tedesco, Tom Trbojevic and Mitchell – last year and it proved a masterstroke.
For all the talk about changing personnel, and the unavailability of Mitchell and Tom Trbojevic, perhaps the biggest void for NSW is one that is proving impossible to fill.
It is in the coaches box where Fittler finds himself without the sage advice of Craig Fitzgibbon. Fitzgibbon was Fittler's right-hand man for three years, a time in which they won two series. He walked away at the end of last year's series to focus on his commitments with Cronulla.
He has done a cracking job too, turning the Sharks into a premiership force. Cronulla's gain has been NSW's loss. A loss that may yet prove terminal.
Invariably, Fittler has pulled the right rein during his Origin coaching career. He clearly recognises that now is not the time to be stubborn and dig in your heels. The scoreline suggested Origin I was a close affair but for Queensland fans, it always felt relatively comfortable.
The Maroons were the better team and it would have been naive of Fittler to ignore that. So maybe the Blues have panicked. Truth be told, they had no choice.
Originally published as State of Origin 2022: How Michael Maguire helped Damien Cook and Api Koroisau rise to the top