State of Origin Game 2: NSW Blues beat Queensland Maroons 44-12 to set up decider
The Blues have done a 'Queensland' on the Maroons by flipping the game plan, but history tells us that a thumping may actually favour Billy Slater in a decider, writes Robert Craddock.
If the first State of Origin match was a journey back to the Maroon glory years the second was a grizzly flashback to the hard yakka era before Origin began.
This one was a bit like the pre-1980 years when NSW just seemed bigger, faster and stronger and just better.
History tells us the further you push a Queensland team down a hole in a State of Origin series the more likely they are to bounce back at Suncorp Stadium in the decider – and that's a relief.
Because the rousing effort from NSW in thumping Queensland 44-12 in Perth was that of a side who will take a power of beating in the decider.
Bring it on.
Stream the FOX LEAGUE State of Origin Game 2 REPLAY on Kayo with no ads during-play. Both full and condensed replays available from 10:45PM AEST Sunday. New to Kayo? Try 14-Days Free Now >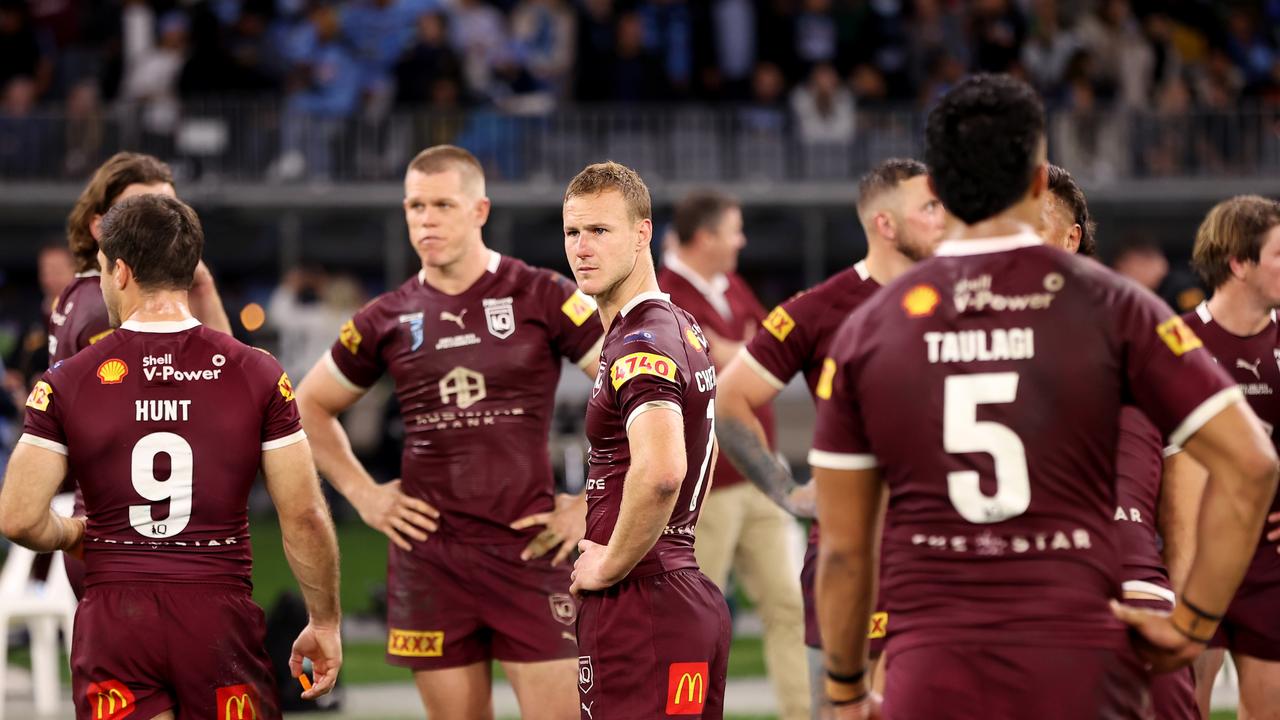 History shows the Maroons always turn up at Suncorp deciders. Picture: Getty Images.
NSW did a Queensland on Queensland, flipping the Maroons game plan from game one.
The use of two hookers, the bustling early charge downs, the raging defensive line that reduced time and space – that was Queensland in game one and NSW in game two.
Last night's result continued a long held Origin theme of the Blues fighting back when they lose the first game – they have won seven of the last eight times they have been in that predicament.
The Blues had the electric sizzle of a desperate team. Desperation morphed onto, power, poise and cohesion. They looked bigger, faster and stronger.
Queensland will not change much for the last game.
Faith and unity has been the cornerstone of their campaign and they won't break the mantra now. And, it must be said, they don't have many options.
All of Queensland's first game magic evaporated under the Blues ruthlessly physical game plan with Nathan Cleary's kicking game superb.
Queensland seemed to spend the vast majority of the game tackling and when they did get the ball they looked as listless as desert explorers who had just staggered into and oasis.
Not one Queensland player enhanced their reputation. Kalyn Ponga, replaced late after a head knock, cemented his reputation as a man who can find the sniff of clear air when others see brick walls when he set up two first half tries.
But even the great conjurer Cam Munster, robbed of time and space, could not find anything up his sleeve.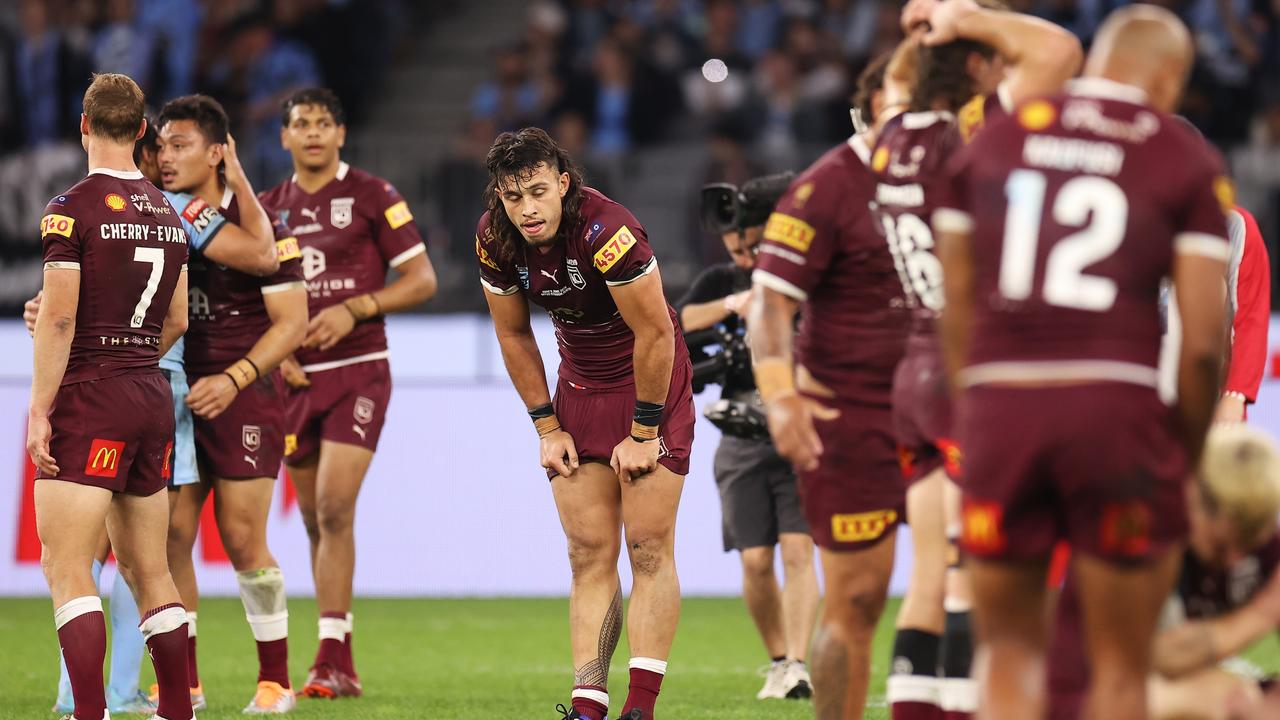 With just 34 per cent possession, the Maroons forwards were just too fatigued as the Blues ran away with it. Picture: Getty Images.
With Queensland having just 34 per cent of possession the forwards were taxed and sapped to the nth degree by a team hungrier than they were.
NSW coach Brad Fittler gambled and won when he made seven changed for Perth against what seemed to be a very settled, united and clearly well bonded Queensland team.
New coach Billy Slater, who has left nothing to chance in his forensically planned preparation which stretched all the way to the airport where he organised a charter flight to Perth, now faces a test of his nerve in the countdown to the Suncorp decider.
Queensland loves the cut of his jib and would happily see him stay in the job for a decent stint but a first series win would take all the pressure off.
Time passes slowly for losing Origin coaches while those that win have the luxury of looking down from the mountaintop until the next series starts midway through next year.
For Fittler, the pressure remains solid but his ship is suddenly sitting high in the water again after their shock loss in the first game in Sydney.
Suncorp deciders are normally great games for Queensland. The sell out crowd is an unofficial 18th man. The crowd force drives Queensland out from their own line in attack and seems to give them a spoonful of extra venom on defence.
They may need it … a great battle awaits us.
MAROONS EMBARRASSED: SLATER ERA'S BRUTAL REALITY CHECK
—Travis Meyn
Billy Slater faces his first major test as Maroons coach after Queensland's Perth nightmare came back to life in a 44-12 massacre on Sunday night.
The 59,368 at a sold-out Optus Stadium witnessed a Maroon mauling in the Wild West as Queensland was pummelled by the resurgent Blues.
The 32-point defeat was Queensland's equal third worst ever loss in Origin's 42-year history and levels the series at 1-all, setting up a blockbuster decider at Suncorp Stadium on July 13.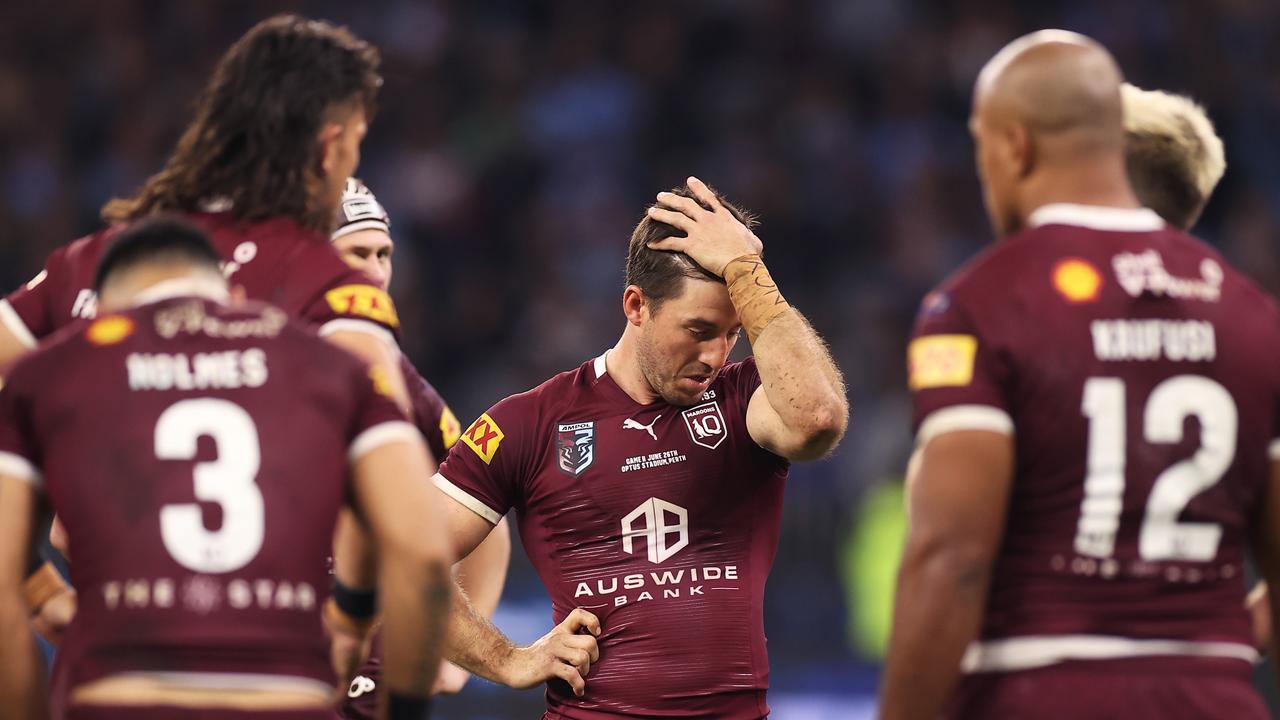 An exasperated Ben Hunt reacts during the Maroons' horrendous Game 2 defeat. Picture: Getty
After withstanding a Blues barrage in the first half to trail 14-12 at the break, the Maroons crumbled in a five-try second half blitz from a rejuvenated NSW following their Origin I embarrassment at home.
The match evoked memories of Queensland's 38-6 thrashing in Origin's last venture to Perth in 2019 as the Maroons were hammered 30-nil in the second half.
While the Maroons must improve across the field after being outgunned by the vastly-improved Blues, they had little support from officials.
Now Slater must weigh up changes ahead of the decider.
BILLY'S ROOKIES EXPOSED
Queensland coach Slater has shown great faith in his young side but their Origin inexperience was glaring.
He was dubbed "Selwyn Droppo" by the Sydney press in the lead-up to his debut and Selwyn Cobbo's slippery hands came back to haunt him.
Cobbo made four errors to put the Maroons under pressure and debutant winger Murray Taulagi was also wobbly under the high ball.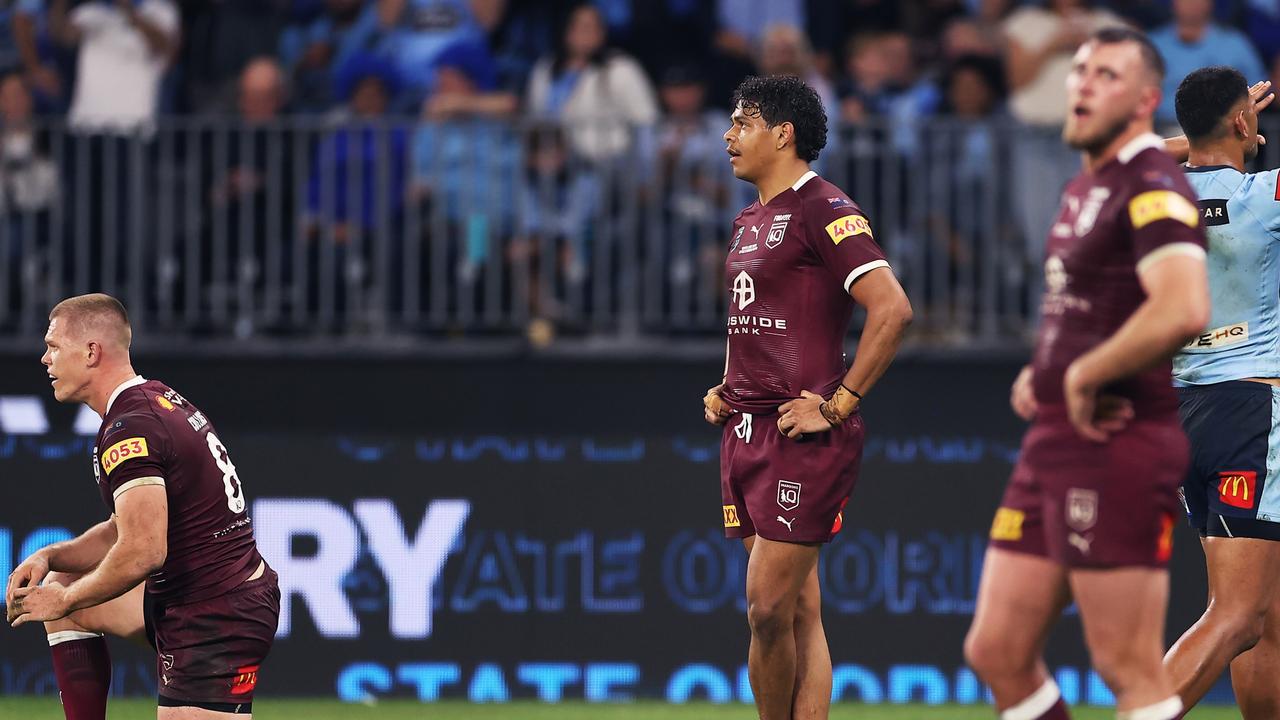 Selwyn Cobbo (C) had a rough night under the high ball. Picture: Getty
Man-of-the-match Nathan Cleary exposed Cobbo's positional play with his smart kicking and the Maroons have to be cleaner at the back in Brisbane.
Rookie backrower Jeremiah Nanai's missed tackle on Jarome Luai was a limp effort after he just came on the field.
The Blues' forwards fired up and racked up 1600m with the ball compared to Queensland's 878m while the Maroons were forced to make 311 tackles to NSW's 226.
WHINGING BLUES WIN
The Blues spent the past two weeks complaining about the officiating in their 16-10 Game One loss and their cries were heard.
The writing was on the wall early for the Maroons when The Bunker penalised Felise Kaufusi for a strip and things didn't improve.
The Blues received three set restarts in the first half compared to Queensland's zero, the last which resulted in Kaufusi being controversially sin-binned on the stroke of halftime.
With a one-man advantage, Blues winger Brian To'o scored to give the Blues a 14-12 lead at the break and sapped energy from Queensland.
The Maroons only had six tackles in attacking territory compared to NSW's 33 and ran out of gas on the back of a taxing first 50 minutes after which they only trailed 14-12 – then the floodgates opened.
PENRITH CONNECTION STRIKES
Blues coach Brad Fittler wanted to mimic the mighty Panthers by playing eight members from last year's premiership team and it worked.
Debutant Matt Burton was sensational, pouncing on a Cleary grubber for the first try and then put To'o across for NSW's second with a slick pass.
The Maroons simply didn't defend NSW's attack with any venom and paid the price.
Two-try hero Cleary was given too much time with the ball and his class shone following a quiet first game.
MAROONS STILL IN IT
The good news for Slater is history is on Queensland's side.
The Maroons are the decider kings, having won 14 of 21 (two draws), and eight of the past nine, with NSW's only triumph in that time coming in 2019.
After winning Origin I, Queensland has gone on to win 16 of 20 series and it will be a huge effort from the Blues to salvage their fourth series win in five years at a packed Suncorp.
Bring it on.
KING KALYN CAN'T DO IT ALL
Slater played his trump card early when Harry Grant was injected into the action after 22 minutes, with starting hooker Ben Hunt shifting to lock.
And the Maroons' five-pronged attack paid dividends immediately when Hunt linked with Cherry-Evans and Ponga to put Kaufusi in for the first try of the game.
Ponga was at it again minutes later, slicing past Blues centre Stephen Crichton with his sizzling speed for Munster to open up a 12-8 lead.
But the Maroons simply didn't have enough field position for their superstars to shine.
Queensland's poor ball control resulted in 11 errors, compared to NSW's four, and put the Maroons under the pump when they were already up against it.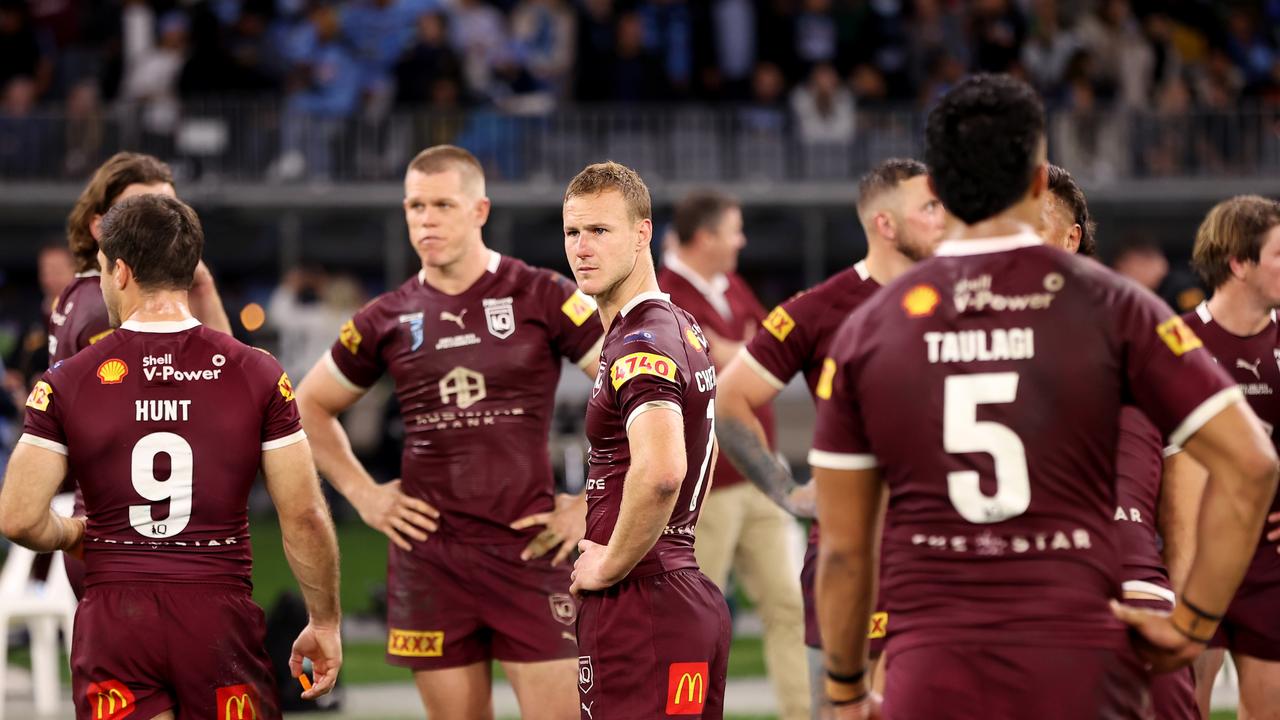 History shows the Maroons always turn up at Suncorp deciders. Picture: Getty Images.
Re-live our live Origin Coverage below
FULTIME IN PERTH: BLUES FORCE EPIC DECIDER
We're going to a decider at Suncorp, and Queensland will have to come up with something special to pick themselves up after an absolute assault at Perth's Optus Stadium.
Narrow winners in Game One, Queensland went down 44-12 in a stunning collapse as Blues halfback Nathan Cleary put in a five-star display – scoring two tries on a night of precision with the boot.
Cleary finished the night on report for a heavy tackle on Kalyn Ponga, but was utterly ruthless across the board.
Queensland never recovered following a controversial sin-binning of second-rower Felise Kaufusi, with the energy used while their enforcer was off felt throughout the second half as tired defenders fell off tackles and NSW ran riot.
75TH MINUTE - CRICHTON SEALS LANDSLIDE WIN
TRYTIME! And that looked a little too easy…. But Angus Crichton has crossed untouched as the score creeps towards 50.
Queensland are complaining about obstruction, with Jake Trbojevic loitering in the line, but the ruling is the play is good to go – and the Cleary's conversion pushes NSW ahead 44-12.
Things have completely unravelled for Queensland as this second half has played out – the fatigue factor of defending with 12 men has had a huge impact, but even so there are major concerns for Billy Slater and his troops.
Meanwhile, he's been involved in everything – good and bad – tonight, and Nathan Cleary will finish the night on report for a heavy shot which has ended Kalyn Ponga's night early.
Cleary raced out of the line to put a monster shot on Ponga that stung the Newcastle fullback, who played on before being pulled out of the game by the independent doctor.
"What for? Tackling too hard?" asks Andrew Johns, who doesn't seem too concerned.
67TH – CLEARY DOUBLE COMPLETES STUNNING BOUNCE BACK
TRYTIME! Nathan Cleary has just put a double exclamation point on a brilliant display.
In the space of three minutes, he splits the tired
Queensland defence on two occasions to bury the Maroons and cap a scintillating performance.
It's party time now for the Blues, who won back possession via a cheeky strip from Matt Burton on Dane Gagai.
Cleary did the rest, stepping Kalyn Ponga and reaching out to escape the clutches of Felise Kaufusi before converting his own try to give the Blues a seemingly insurmountable 20 point lead.
And then? He did it again, stepping around Ponga once more to score his second and extended the scoreline to 38-12
"There was a lot criticism after game 1 for Nathan Cleary, I think it was harsh," says Andrew Johns.
"But he's stewed on it."
He certainly has. He's been superb, tonight, Cleary. And there's still 15 minutes to go.
59TH MINUTE – LUAI EXPLODES AS BLUES IGNITE
TRYTIME! NSW have blown this game wide open, with Jarome Luai doing his best Cameron Munster impression to score a spectacular individual try.
Stopping on a dime, Luai slows down before stepping back inside and bursting through the defences of Jeremiah Nanai and Dane Gagai to give NSW a 14-point lead following Cleary's conversion.
There was nothing on there, but Luai found space and put the foot on the throat of Queensland.
NSW were already starting to turning the screws, on the back of a kicking masterclass from Luai's club teammate Nathan Cleary.
Cleary has bounced back beautifully from his ugly game one game and has putting on a clinic – coming millimetres short of a 40-20, before winning a repeat set by pinning Kalyn Ponga in goal.
There's 20 minutes remaining. But Queensland needs a huge turnaround in the very near future – or this series will be all square.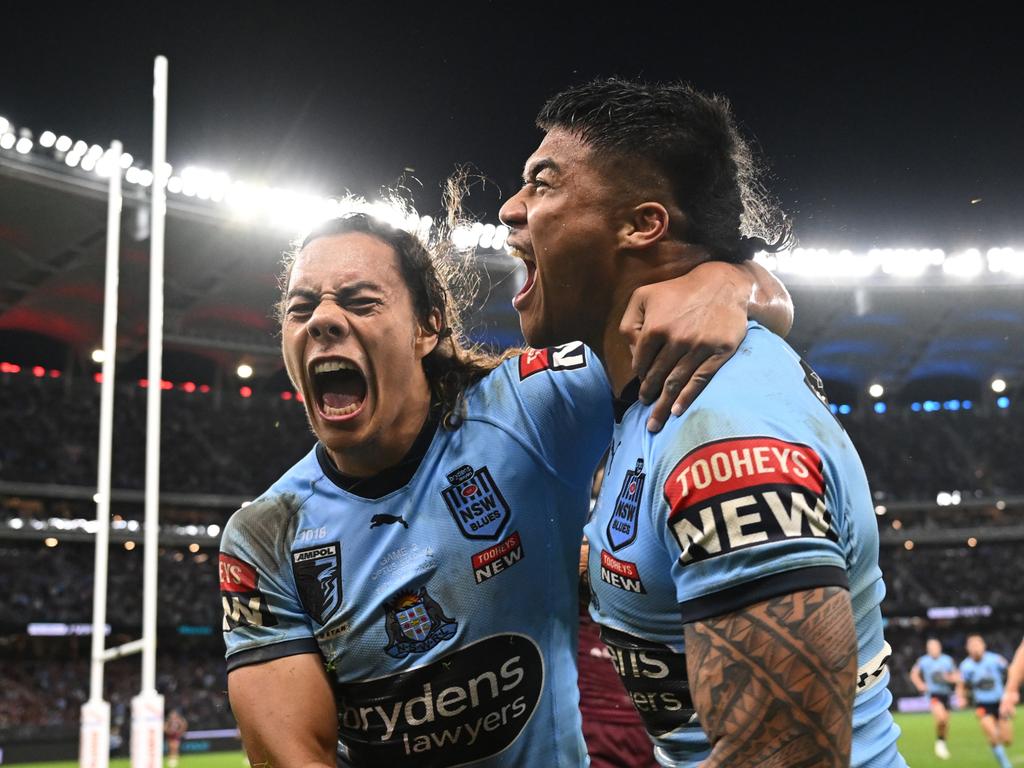 Jarome Luai celebrates a try. Picture: NRL Photos
48TH – BLUES LAND HEAVY BLOW AS MAROONS ENFORCER RETURNS
TRYTIME!
Queensland held for as long as humanly possible – but it's Daniel Tupou who scores first in the second half, capitalising on a sweet Nathan Cleary cut-out pass and a fatigued Queensland defensive line.
The past eight minutes have been energy-sapping for the Maroons, as they grimly hung on while a man down – how much gas will it take out of the tank?
Cleary's conversion gives NSW a 20-12 lead with half an hour remaining.
Earlier, Daniel Tupou went within an inch of the tryline after some desperate goal line defence, with
NSW attempting to stretch the Maroons by going side to side to take advantage of the extra man.
Looking like they may score with every single tackle, the Blues throw everything at the 12-man Queensland.
But it's the Maroon wall that wins out – with Stephen Crichton denied a maiden Origin try after his dummy-half pass is ruled forward.
The ruling takes away a beautiful piece of skill from Junior Paulo, who took Crichton's pass, turned into the defensive line, and popped it back to the centre to cross the tryline.
And now we're back to a full-strength contest.
Felise Kaufusi returned, but NSW's pressure wins out as Tupou gave the Blues some extra breathing room.
43RD MINUTE – BLUES LEAD 14-12
A huge 10 minutes coming up to start things for Queensland. Felise Kaufusi remains in the bin to start things off – and NSW will be desperate to drive home their advantage.
They start in perfect fashion, rolling through their opening set before Matt Burton deploys an enormous bomb that Murray Tuilagi cannot handle.
The Maroons debutant scrambles back and recovers, before the Blues are penalised for being off-side off the subsequent play-the-ball.
A typically frenetic start for what should be an enormous 40 minutes.
HALFTIME - BLUES IN COMMANDED AFTER SIN BIN
What a wild half of footy. I don't know where to start... But it's hard to go past the sin bin.
Repeat offences was the reason given by Ashley Klein – but in the Origin arena that seems like an incredible punishment for slowing the play-the-ball down.
Perhaps Brad Fittler's referee complaints after Game 1 have had their impact?
"I'm disappointed in the sin bin, but I hope it doesn't decide the game," says former Blues coach Phil Gould.
"I don't like sin bins at the best of times, but not in Origin football. I don't think there was ever a warning here."
The Maroons will be without Felesi Kaufusi – the game's opening tryscorer - for the first eight minutes of the second half, and Brian To'o's try right on halftime will have been a dagger to the heart of Billy Slater's charges.
It was a relentless 40 minutes of end-to-end footy, with Kalyn Ponga playing his best football in several seasons with some beautiful touches on both sides of the field.
NSW are trying to batter the door down through the middle, and it must be said are riding their luck a touch – but on the scoreboard is where they're leading at the moment.
40TH MINUTE – BLUES SCORE AS KAUFUSI CONTROVERSIALLY SIN-BINNED
WOW.
Queensland are down to 12 man for the next 10 minutes, with Felesi Kaufusi giving a spell after a string of ruck penalties.
"There's been three ruck penalties," says referee Ashley Klein.
But Maroons captain Daly Cherry-Evans was enraged.
"They're all different!"
And how costly will that be? NSW score immediately on the left-hand side, where Kaufusi would normally be defending.
A slick backline movement, from the Penrith connection of Luai and ex-Panther Matt Burton is finished off by Brian To'o.
To'o scores his third Origin try. He's been busy tonight, with nearly 100m to his name as well.
Cleary converts from the sideline, giving NSW a 14-12 advantage at the break.
Also, Jai Arrow has left the field for an HIA. There's plenty happening.
31ST MINUTE – MUNSTER MAGIC GIVES QUEENSLAND EDGE
TRYTIME! And wowwwww. That is Queensland at their best.
Ponga. Holmes. Munster. Simply unstoppable.
Ponga does a number on Stephen Crichton, sliding to his outside and simply burning him for pace before sending the ball infield to Holmes, who draws the fullback and puts Munster in next to the posts.
That was electric, and a huge danger sign for NSW – Munster taking confidence into the halftime break is music to the ears of Queensland fans across Australia.
27TH MINUTE - BLUES HIT BACK THROUGH CLEARY GENIUS
NSW waste no time in hitting back – and it's the debutant Matt Burton who gets the four-pointer.
That was NSW's most enterprising set of the match, with the offloads and a variety of playmakers causing havoc for Queensland.
But it was a piece of genius from Nathan Cleary which splits them open, with the Queensland defence rushing up to cut down on the Blues' half-back's thinking time.
Cleary quickly assesses and drops a superb grubber into the path of Burton, the 2021 Dally M centre of the year, who scoops it up and sidesteps Kalyn Ponga en route to the tryline.
That levels up the scores before Cleary's conversion restores NSW's two-point lead. Blues lead 8-6.
Meanwhile, more concern for Billy Slater as enforcer Lindsay Collins comes from the field for an HIA.
He won't return in the first half, but Slater will be desperate to unleash him after the break.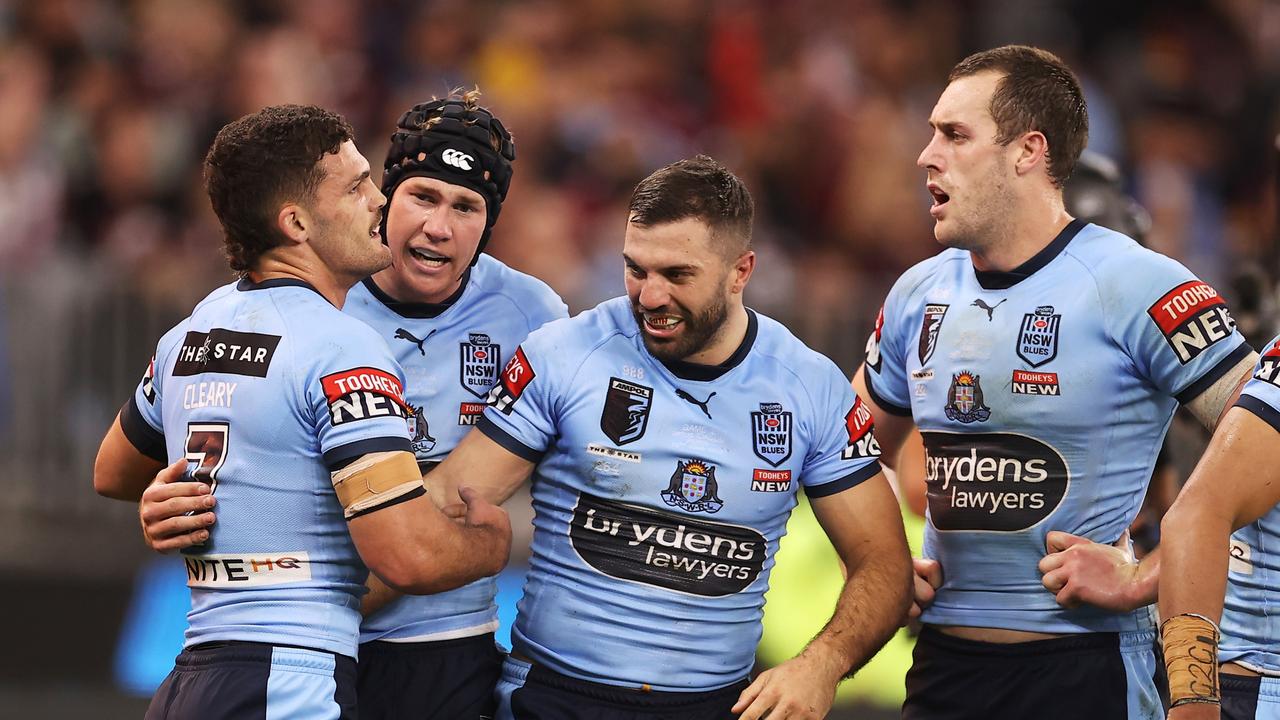 The Blues celebrate Burton's try. Picture: Mark Kolbe/Getty
23RD MINUTE – BRUTAL KAUFUSI BREAKS BLUES
TRYTIME!
Queensland have opened the scoring with a beautiful piece of skill from Kalyn Ponga, and a devatasting run from Felise Kaufusi.
Ponga runs to the line, holds his pass long enough to engage the defence before unleashing Kaufusi – who bursts through an attempted tackle from Jarome Luai, and then runs over the top of James Tedesco.
That was outstanding. The Maroons have been on the back foot for much of the opening 20 minutes, as they were in Game 1, but hit back in the best possible fashion: on the scoreboard.
Meanwhile, Cameron Murray has passed his HIA and had his ear stitched up, and will be ready to return to the field for the Blues shortly.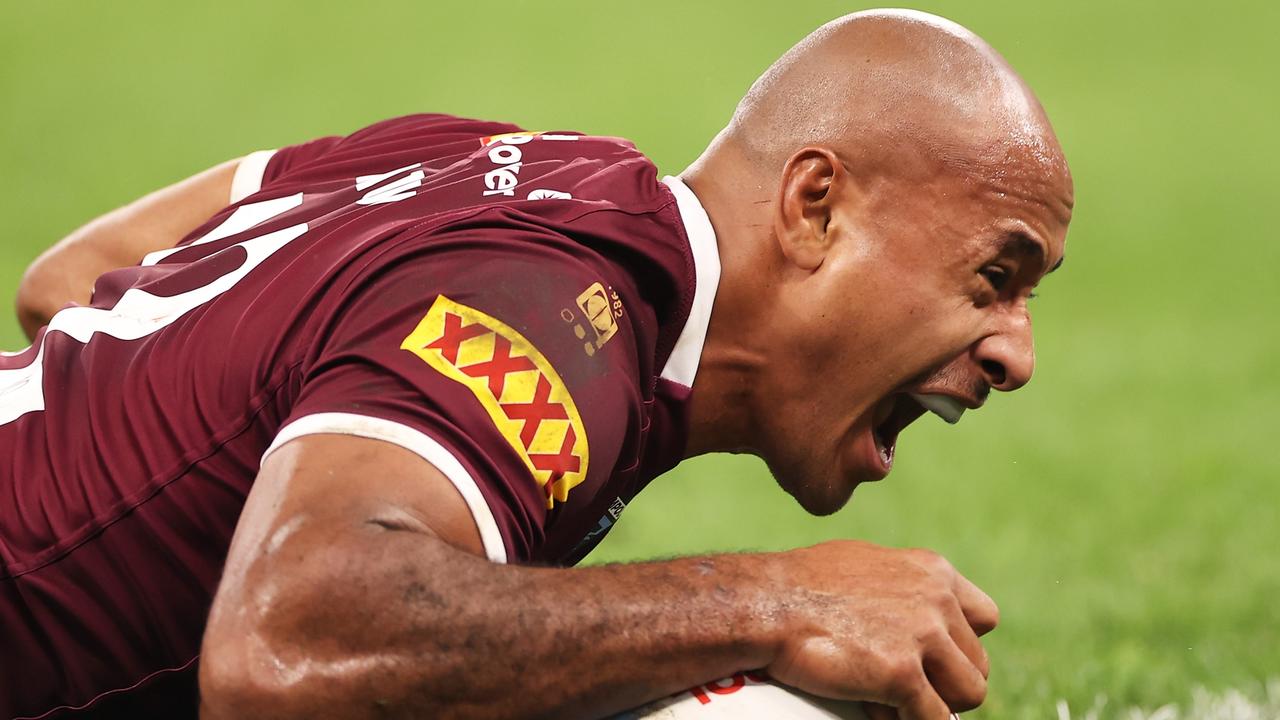 Felise Kaufusi celebrates scoring Queensland's first try. Picture: Mark Kolbe/Getty
16TH MINUTE – MAROONS BOMB OPENING TRY
Oh no, Cobbo!
The game one magician has butchered the opening try tonight, with the youngster failing to capitalise on a cheeky Daly Cherry-Evans grubber – with Blues winger Brian To'o mystifyingly letting the kick bounce around in the in-goal.
Cobbo had a clear shot, but could barely get a hand to the ball as the Blues received an enormous let-off.
Queensland are in the trenches here – another charged down kick briefly left them exposed, before Kalyn Ponga recovered and scampered downfield before earning a penalty for slow ruck play from the Blues.
And in the chaos of that play, Angus Crichton copped a stray boot.
It's all happening… and Billy Slater has made his first change of the night, bringing on Patrick Carrigan – arguably Queensland's best forward from Game 1 – into the fray early.
11TH MINUTE – BLUES LOSE MURRAY, DRAW FIRST BLOOD
There's some concern over Blues backrower Cameron Murray – who copped a heavy blow, got up with blood pouring from his right ear, and has been taken from the field for an HIA.
And it came from a nasty high shot from Queensland debutant Murray Tuilagi, which surprisingly was not penalised.
However back-to-back strip penalties gave the Blues their first shot at points – and Nathan Cleary duly obliged, taking the penalty goal to open the scoring.
Earlier, Queensland were awarded the first penalty of the match, with Payne Haas caught out in an off-side position around the ruck and penalised for obstruction.
The penalty nullified a James Tedesco line-break as the Blues make their intentions clear. They're punching through the middle tonight.
But instead, it is Queensland who have their best change of the contest to date letting the ball sing to the right as Cameron Munster tries to put his stamp on the contest.
He zigs and zags and gives Dane Gagai space, but the swarming Blues defence drives Selwyn Cobbo over the sideline with the tryline begging.
Queensland have kicked early on multiple occasions, trying to change the momentum of the Blues' fast start.
"That's trying to get field position, turning the NSW forwards around and testing out the back three – keeping the Blues honest," says Cameron Smith.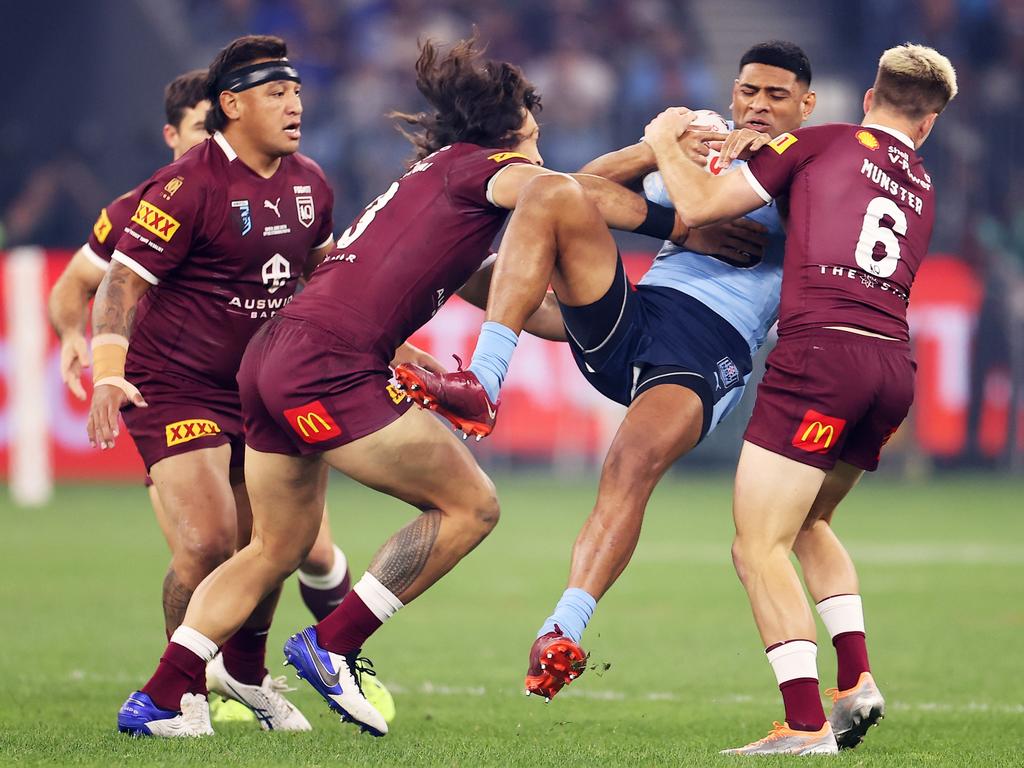 Daniel Tupou is up-ended. Picture: Mark Kolbe/Getty
4TH MINUTE – BLUES STUN QUEENSLAND WITH AGGRESSIVE START
Is it just me or is NSW's linespeed a little bit quicker than two weeks ago? Maybe that conversation
They've certainly started Game 2 with a lot more energy – or so it looked until Payne Haas took his first hitup.
The Brisbane superstar is absolutely levelled with his first hit-up of the match – picked up and slammed onto his back by front-row rival Josh Papalii.
"I've never seen that before," says Andrew Johns of the normally unstoppable Brisbane enforcer.
And still, NSW go on the attack as Nathan Cleary puts pressure on Cameron Munster's kick, and comes up with a charge-down regather to give NSW possession inside the Queensland half.
But it amounts to nothing – a sloppy left-edge attack results in the ball evading the hands of Brian To'o and sliding over the touchline.
7.54PM — ORIGIN II IS UNDERWAY
And we're underway!
A huge 80 minutes await, with Queensland on the verge of completing a stunning boilover and sealing a series win in Billy Slater's coaching debut.
Queensland haven't sealed a series inside two games since 2016, and came into this year as healthy underdogs – exactly where they like to be.
For NSW, they have to throw everything into tonight's match – lose, and it's all over. And there'll be plenty of quiet introspection.
7.50PM — WHERE GAME II WILL BE DECIDED
We're 10 minutes from kick-off at Optus Stadium, and rival coaches Brad Fittler and Billy Slater have done everything they can to prepare their sides.
But where will the game be won?
Even in Origin, the simple things ring true. And whichever team wins the middle, will almost certainly win the match.
Fittler was vocal in the wake of the Blues' Game 1 defeat, pointing to Queensland's go-slow efforts around the ruck and accusing his side of playing 'too nice'.
But he needed to look no further than the performances of his middle forwards to understand where things turned ugly.
Where Queensland had five forwards crack the 100m mark, NSW had just three - including Reagan Campbell-Gillard, who has been axed for tonight's clash.
Fittler has shaken things up, bringing Jake Trbojevic, Angus Crichton and Cronulla wrecking ball Siosifa Talakai - as well as Api Koroisau, in a two-pronged hooking spark alongside Damien Cook.
Win the middle, win the match.
7.19PM — CAN KING CAM DELIVER AGAIN?
How do NSW stop Cameron Munster?
The Queensland superstar ran rings around the Blues in Game 1 - finishing with man-of-the-match honours, after shredding the NSW defence and making a mockery of his rivals.
So good, was Munster, that he has been elevated alongside Wally Lewis as the new 'King' of Origin.
Can he back it up? Maroons great Paul Vautin certainly believes it's possible - as long as his big men lay the platform first up.
"He was only able to play like that because the forwards did a magnificent job up the middle," Vautin said on Channel 9.
"He plays off the cuff, and when he does that he's almost Wally Lewis-like.
"He's found his focus - focusing on the job at hand.
"I expect another brilliant Cameron Munster performance tonight."
7PM — BLUES, MAROONS TEAMS ARE OFFICIAL
Teams have been locked in for tonight's all-important Game 2 - and unlike in the series opener, NSW coach Brad Fittler has avoided making last-second changes.
Both teams will line up 1-17 for tonight's fixture, meaning the predicted changes of Api Koroisau and Jake Trbojevic, both omissions from Game 1, earning starting berths, will stick.
"Holding their nerve this time, the NSW hierarchy," said Michael Ennis.
Cameron Murray has been promoted to the starting second-row after being a last-minute benching in Game One, while Stephen Crichton joins debutant Matt Burton in a new-look centre pairing.
Queensland are also unchanged from the team named, despite suggestions Jai Arrow may have been elevated into the starting line-up - with their only changes from the Game 1 boilover being Murray Tuilagi replacing the injured Xavier Coates on the wing, and Lindsay Collins joining the starting front row to cover for Reuben Cotter's absence.
6.20PM — 'ALL HELL COULD BREAK LOOSE'
NSW coach Brad Fittler set the tone of how his side was going to play in Game 2 in the immediate aftermath of the Blues' heartbreaking loss in this year's series opener - by admitting his side had played 'too nice'.
And former Blues rake Michael Ennis rammed home exactly what needs to happen for NSW to level the series in Perth tonight.
"I hope we're nasty tonight," Ennis told Fox Sports.
"We want to make Queensland uncomfortable on the ground.
"We want to get really comfortable making them uncomfortable.
"All hell could break loose for NSW if we get it right."
5:15pm — CRAZY BETS HAVE BEGUN
There's less than three hours to go until kick-off now and punters must be growing restless, with some truly eye-watering bets being placed.
The TAB have revealed some of the biggest Origin bets placed so far, with one punter placing a $25,000 bet on Qld to win at $2.40.
The craziest bet placed though has to be one madman who has put $100,000 on a +12.5 line bet on NSW at $1.13, while three others have bet $50,000 on the same line at $1.11, $1.12 and $1.14 respectively.
5:00pm — TARGET ACQUIRED: MAROONS IDENTIFY KEY TO VICTORY
The Maroons have identified Blues hooker Api Koroisau as the man they must shut down to win the Origin series.
Koroisau will return to the NSW team in tonight's second game in Perth, which the Blues must win to keep the series alive.
After winning Game One in Sydney 16-10, the Maroons have identified NSW's No. 9 as the key player in the Blues' attack.
Koroisau's inclusion will see eight members of Penrith's 2021 NRL premiership team start the game for the Blues.
And Queensland legend Cameron Smith said Koroisau would be the crucial linkman in NSW's attack.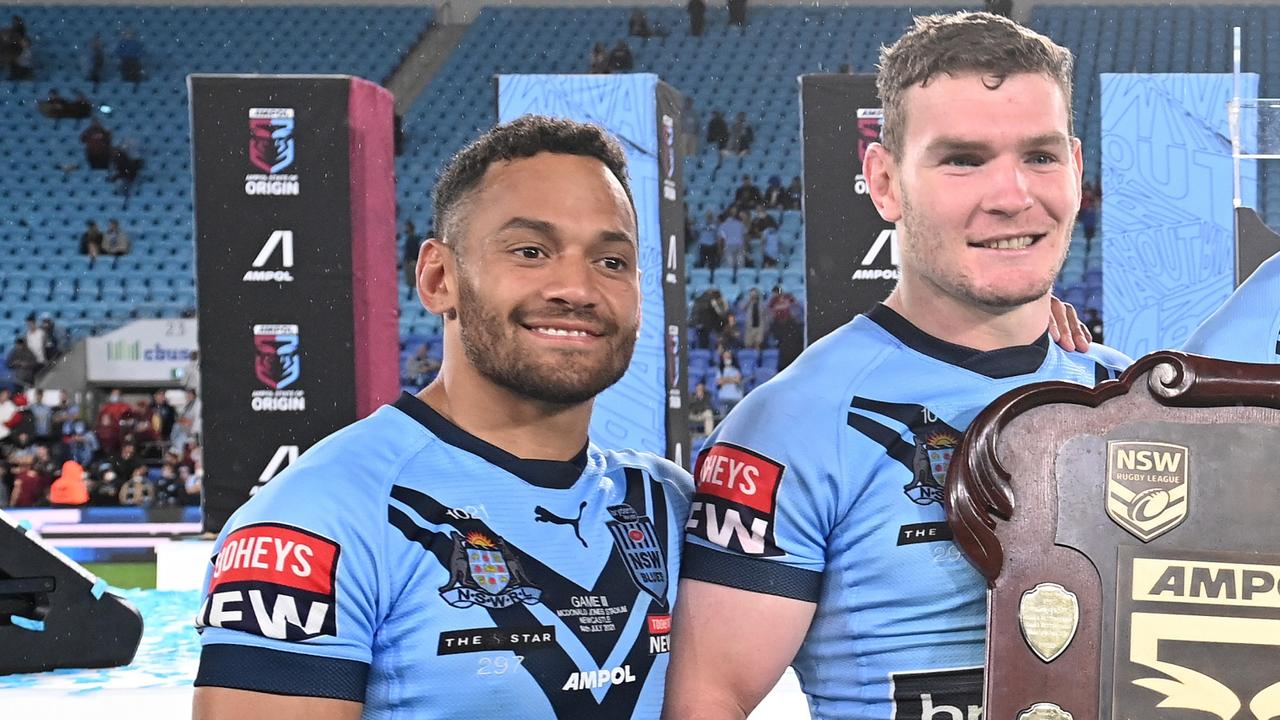 The Maroons believe shutting down Apisai Koroisau will be key to victory in Origin Game II. Picture: Getty Images.
"There are a lot of changes," said Smith, one of Queensland coach Billy Slater's assistants.
"We try not to concern ourselves a whole heap with the opposition. It's about what we can control and our own preparation.
"There are a couple of players that have come into that side we've had to have a look at, particularly Api Koroisau.
"It's a very different looking starting side, although there was a couple of late changes by Freddy (Blues coach Brad Fittler) in game one. I'm not sure what he's got in store for us tonight.
"Api's got a brilliant combination with Nathan Cleary and Isaah Yeo, in particular, so there's no doubt that's the reason he's been brought into this NSW side.
"The combination and connection he shares with those two players…he'll be trying to get a bit more momentum through the middle of the field and allow guys like Isaah and Nathan more time and space with the football.
"That's what we've touched on most, to make the players aware of what they're going to see defensively and all the things we've planned to do around our defence, that they action that."
Smith said the return of Jake Trbojevic to NSW's forward pack was also a boost for the Blues, who were beaten in the midfield battle in game one.
"That's why there's been a few changes made in those positions," he said.
"Particularly Jake Trbojevic coming back into that side. He gives away a little bit of height and size but what he brings to the footy side is a bit of leg speed, mobility and high work rate defensively.
"That's to counter some of the movements we had through the middle of the field.
"It makes for a great contest."
4:00pm — EXPERTS, PUNTERS PREDICTING CLEARY REDEMPTION
Punters have backed Nathan Cleary to bounce back from an Origin I performance that left even the halfback feeling 'filthy' at himself.
The latest TAB odds show Cleary is the short-price favourite at $5.50 to claim man of the match honours, backed by 27 per cent of the market. Only Blues captain James Tedesco is better backed at 28 per cent.
Queensland maestro Cameron Munster's share of the hold has increased from 9 per cent to 12 per cent since yesterday at $6.50.
Munster is far and away the best backed to win the Wally Lewis Medal.
NSW are heavy favourites with punters to level the series at Optus Stadium in Perth with the Blues now holding just over 70 per cent of TAB's H2H market. The Blues have shortened to $1.60 after starting at $1.85, while the Maroons are out to $2.40 after starting at $2.05 when the coach Billy Slater announced his team seven days ago.
Blockbusting Blues winger Brian To'o is still the best backed for first try scorer at $10. NSW debutant Matt Burton has a 11 per cent share of the money at $15.
TAB Odds - State of Origin 2
Head-to-Head
$1.60 NSW (were $1.85)
$2.40 Qld (were $1.90)
Margin
$2.70 NSW 1-12 (35 per cent)
$3.80 NSW 13+ (33 per cent)
$3.40 Qld 1-12 (13 per cent)
$6.50 Qld 13+ (14 per cent)
$17 Draw
Player of the Match
$5.50 N.Cleary (27 per cent)
$6.50 C.Munster (12 per cent)
$7.00 J.Tedesco (28 per cent)
$7.50 D.Cherry-Evans
$9.00 I.Yeo
$11 C.Murray
$13 K.Ponga
3:15pm — WHY CARRIGAN WON'T BE ORIGIN 'ONE-HIT WONDER'
Pat Carrigan produced one of the greatest debuts in State of Origin history. Now the Queensland star wants to prove he isn't a one-hit wonder.
Read the full story here
2.55pm — SMITH'S PLEA TO 'GREAT REFEREE'
Queensland legend Cameron Smith has urged officials to not be influenced by NSW's complaining, insisting whistleblower Ashley Klein is a "great referee" who did a "wonderful job" in Origin I.
Klein will officiate Sunday night's second game of the series at Optus Stadium in Perth, where a win will deliver Queensland the Origin shield.
The Blues wasted no time blaming Klein for their 16-10 loss in Game One in Sydney, nitpicking Queensland's strong ruck defence and complaining to referees boss Jared Maxwell.
The NRL resisted pressure from the Blues to axe Klein and he has been retained for tonight's sold-out blockbuster.
The NSW Blues were critical of Ashley Klein following their Game I loss in Sydney. Picture: Getty Images.
Queensland assistant coach Smith, Origin's most experienced player ever with 42 games, said Klein deserved the appointment.
"I am hoping (he isn't influenced). I don't think he will be," he said.
"Ashley Klein is a wonderful referee and there is a reason why he's been given the job to officiate both games of the series. He is a wonderful referee and has been for a long time.
"I thought he did a great job in game one. He let the players play the game, he didn't try to have too much of an impact on the match. That's great for players and fans, to see the open style of football.
"There was a little bit spoken about the ruck speed and it was mentioned Queensland got away with a little bit in the ruck, but the numbers show there was very little difference.
"It was a matter of 0.2 of a second (advantage to Queensland). Visually, sometimes you can think a lot different to what the numbers show.
"As far as we're concerned, we're going to play a similar style to game one and hopefully that will be good enough."
While NSW was beaten comprehensively in the middle, prompting coach Brad Fittler to make mass changes, they still wanted to blame Klein for the loss on home soil.
The Blues were incensed they didn't receive a penalty until the 63rd minute, however Smith said the best Origin games were allowed to flow.
"The losing side tends to pick apart the game, more so than the team that wins," he said.
"But all in all, it was a really good game by Ashley Klein. There was minimal penalties and interference by the officials. That's what we all love.
"When I was playing, I loved it when the game was open and there was minimal stoppages.
"The players love that, it's a better game for it and great for the fans."
Apart from losing Game One players Xavier Coates and Reuben Cotter to ankle injuries, the Maroons have had a silky smooth preparation and will start 1-17.
Coach Billy Slater has urged the Maroons to capitalise on the opportunity they earned by beating the Blues in Sydney and seal the series in Perth before Game Three in Brisbane on July 13.
Smith said it was now up to the players to deliver.
"That's the challenge for the team – that they don't go into this game tonight with the mindset that we've already won game one and we're going home for game three so this result doesn't matter," he said.
"This result does matter. They've got to think about the opportunity they've created for themselves by going down to Sydney, a place Queensland hasn't enjoyed a whole lot of success at, and they worked extremely hard over 80 minutes to get a victory.
"They need to try and take the opportunity they've created for themselves and build on game one.
"That's been the message all week. We've not been satisfied with what happened in game one, we've looked to build and hopefully we see an even more complete Queensland side tonight.
"That's all the coaching staff ask of them – that they go out and give their very best for the jersey.
"If they do that, no matter the result, everyone back home in Queensland will be proud of them. If they are all at their best, we will be pretty competitive.
"I'm really looking forward to this one. It's going to be better than game one.
"The way the Queensland team has prepared and looks around camp … they're relaxed, and that's a good sign."
2:25pm — SELL OUT!
Brad Fittler and the NSW Blues will be fighting to save the State of Origin series in front of a sell out crowd at Optus Stadium in Perth.
The NRL confirmed on Sunday morning that game two was officially sold out.
It is the first time Origin has been played in Perth since 2019.
"We are thrilled to announce a sellout in Perth for the second State of Origin match," NRL CEO Andrew Abdo said.
"The response from our supporters has confirmed Origin as the greatest rivalry in Australian sport, offering a unique experience for fans on and off the field."
ARIA winning rock band Grinspoon will headline a pre-match line-up that also includes a light show.
Only single tickets remain for game three at Suncorp Stadium in Brisbane on July 13.
—Fatima Kdouh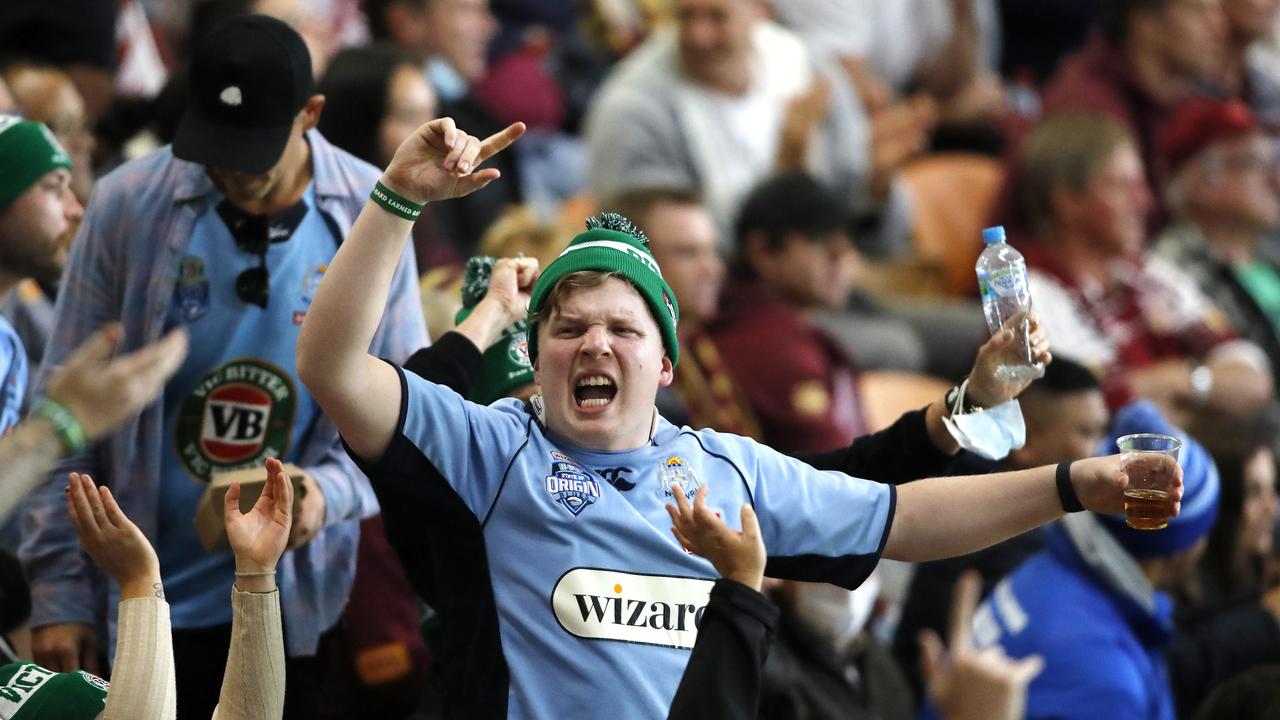 The Blues will be trying to keep the 2022 Origin series alive in front of a packed out crowd in Perth. Picture: AAP.
2:20pm — TEDDY ONE STEP AWAY FROM ORIGIN RECORD
As James Tedesco prepares to for a must-win State of Origin game in Perth, statistics reveal the Blues skipper is literally one step away from a Blues record.
Read the full story here.
1:30pm — BLUES CLEAN SWEEP?
State of Origin U19s: NSW win 32-4 💙
Women's State of Origin U19s: NSW win 22-6 💙
Women's State of Origin: NSW win 20-14 💙
Can the Blues make it a clean-sweep weekend? 🤔
1:15pm — BLUES' PRE-GAME WALK
12:50pm — MAROONS READY FOR WILD WEST REDEMPTION
Welcome back to the Wild West – the place where Queensland's Origin dreams have been shattered.
The Maroons will run on to Perth's Optus Stadium tonight searching for redemption following the nightmare of 2019.
It has been three years since Queensland was smashed 38-6 by NSW in Game Two after taking a 1-nil series lead into the match.
The Maroons were blown off the park that night and their only points came courtesy of a penalty try as the Blues went on to win the series in a thrilling decider at home.
With a 1-nil series lead this year after winning Game One in Sydney 16-10, Queensland does not want to let this opportunity slip.
Coach Billy Slater reminded his team of what happened that year when they convened in Camp Maroon earlier this week.
Seven of the current Queensland players were there in 2019 and five-eighth Cameron Munster said the scars hadn't healed.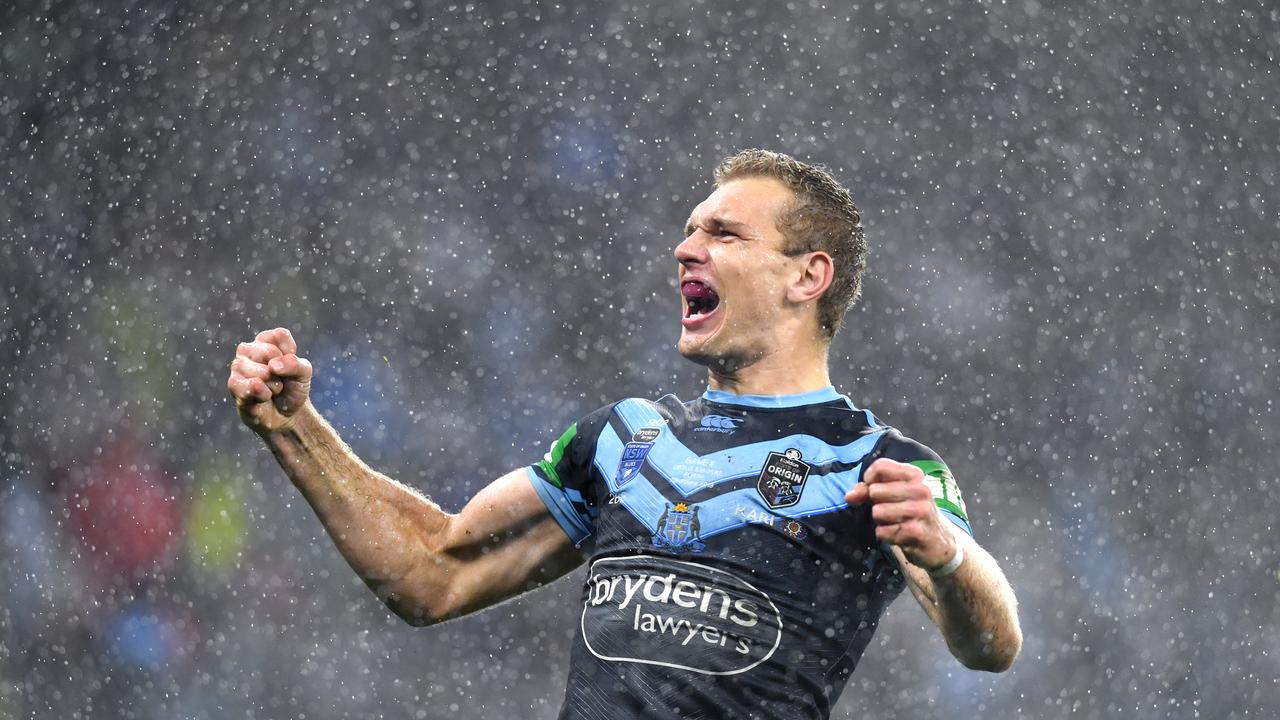 Luckily for Queensland, 2019's hat-trick hero Tom Trbojevic will not be there to terrorise the Maroons. Picture: AAP.
"It's not great," he said of the memories.
"No one ever wants to get flogged like we did. We had a similar feeling last year (50-6 and 26-0 losses) and the boys have a lot more experience from it now and how it feels to lose by so much.
"We've been in this situation in 2019 and got flogged in Perth. Then we went to Sydney in a hostile environment and lost in the last couple of seconds.
"We need to make sure we improve from game one and really make sure that we do everything we can to not have a decider at Suncorp."
Remaining from the team that night along with Munster is captain Daly Cherry-Evans, Kalyn Ponga, Dane Gagai, Ben Hunt, Josh Papalii and Felise Kaufusi.
Following an 18-14 victory at home in Game One, the Maroons endured a tumultuous lead-up in which utility Moses Mbye suffered a severe allergic reaction and was nearly wiped from the game.
Interestingly, NSW's try scorers from that game will not be featuring tonight.
Hat-trick hero Tom Trbojevic is injured while two-try speedster Josh Addo-Carr and Tyson Frizell have not been selected.
For Cherry-Evans, it was a disappointing experience in his first year as Queensland captain.
"It was a tough night," he said.
"We had won the first game in 2019 at Suncorp, so the circumstances are not too dissimilar, 1-nil up heading to Perth.
"It all went wrong for us that night, it was one of the harder nights as a Queensland Origin player.
"The scoreline was so lopsided, but I believe there's a few players left who have learnt a lot about how the preparation was going into the game and that was the first time a lot of us had to fly to Perth on short notice.
"Mentally and physically we will be a lot more prepared and understanding of what's coming from the opposition as well."
The writing was on the wall early for the Maroons when Trbojevic soared over Ponga in the eighth minute to open scoring before Frizell bumped him off for NSW's second.
If not for a penalty try in the 14th minute, the Maroons may have not got on the scoreboard.
"I can't remember a lot of it but I do remember standing behind the goalposts for a fair bit of it," Hunt said.
"We just didn't perform at all. It was pretty disappointing to be honest. We need to have a lot better attitude and really turn up.
"You don't get these opportunities all the time where you win game one.
"The team that loses game one always comes in a lot better prepared and more desperate. We're going to have to be a lot better than we were in the first game."
That's why Slater hasn't ignored the debacle of 2019 this week.
While it may be his first series in charge of the Maroons, Slater doesn't want to let this opportunity slip and send the series to a decider.
It would be a much nicer feeling to be gunning for a clean sweep in front of a home crowd in Brisbane.
"There was a lot of disappointment from that loss so it's one of those things you don't want to feel again," Gagai said.
"We obviously spoke about that. Billy has touched on it.
"We know that NSW are going to be a lot better than they were in game one this year which is what they were back then (in 2019), so we've just got to focus on ourselves and making sure we're improving on game one and being a lot better.
"We have put ourselves in a good position (after winning game one) but we can't take that for granted because we know NSW will come out wanting to get one back."
12.25pm — LESS THAN 8 HOURS TILL KICK-OFF!
11:40am — REVEALED: BLUES' BIZARRE PRE-GAME RITUAL
For Tommy's sake, let's call it the Samson Effect.
He might bleed Blue, but even the late Tommy Raudonikis might have a few choice words about the pre-game ritual of some of the Blues players running out for Origin II tonight – getting perfectly manicured eyebrows at the beauty salon.
A handful of Blues – including Penrith superstars Jarome Luai, Brian To'o and Stephen Crichton – dedicated their only day off during camp in Perth to seek out a beautician on Thursday to help get them primed to face Queensland.
The hairy crew obviously follow the manscaping advice of Atlanta Falcons NFL legend Deion Sanders: "If you look good, you feel good. If you feel good, you play good."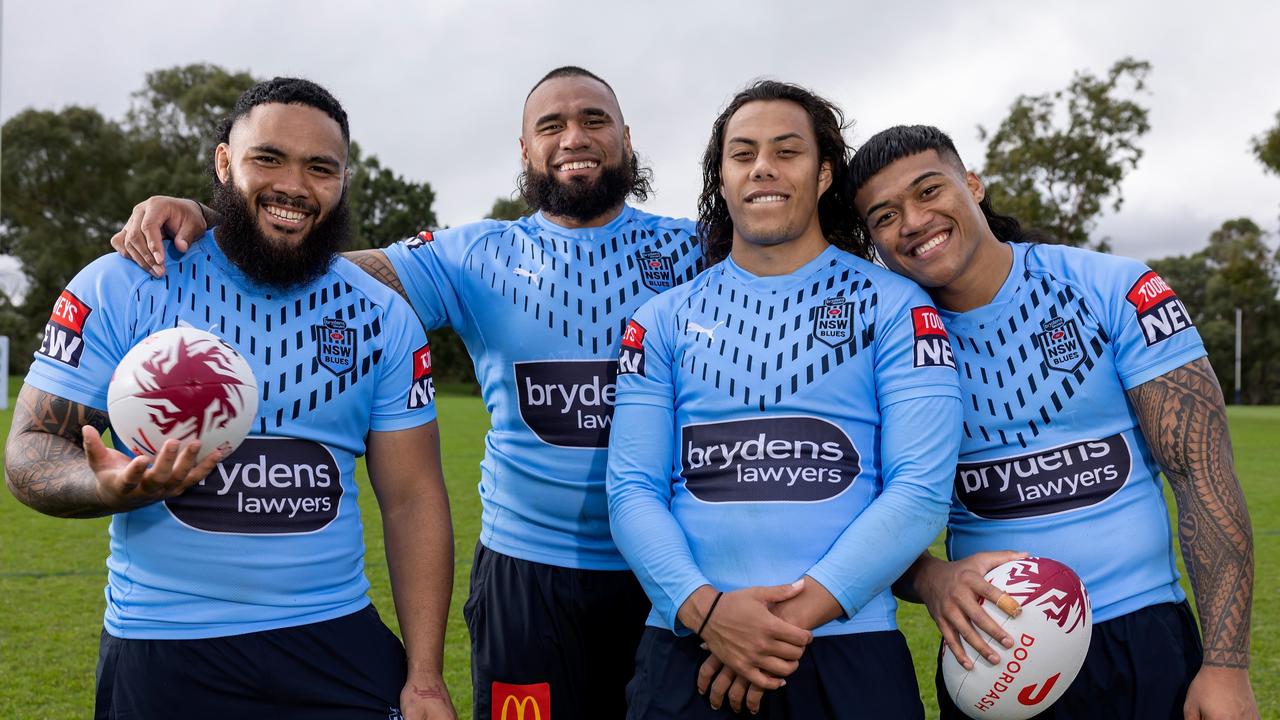 A handful of Blues spent their only day off in camp at a beauty salon, getting their hair and eyebrows perfect for Game II. Picture: Getty Images.
And "playing good" is exactly what the Blues need, as Luai, To'o and wrecking balls Junior Paulo and Siosifa Talakai will need to let their hair down and put their guards up against a Maroons side that ambushed all predictions in Game 1.
For Luai, his waves hold special meaning. The Blues five-eighth made a pact with his young son Izzy to both grow out their hair.
"It was something for us, father son, to do together. That was the main reason. But then Bizza (To'o) jumped on board and grew his hair, too," Luai said.
"My son cut his hair over Christmas time. He got a little over it but I'm still holding on to it. When I started growing it, we were having a really good season and I was too scared to cut it … it felt like it was a bit of good luck, so I wanted to keep that luck going."
10:45am — TINO VOWS TO STEP UP AFTER COTTER INJURY BLOW
Only four weeks ago Tino Fa'asuamaleaui felt he didn't deserve to pull on a Maroons jumper this year.
Now he says he is willing and able to step into the boots vacated by hamstrung Origin I hero Reuben Cotter and help deliver Queensland an unassailable series lead in Perth.
Fa'asuamaleaui will start at lock in place of the injured Cotter on Sunday night after the Cowboys workhorse was ruled out with a hamstring injury suffered in the warm-up prior to North Queensland's 28-26 win over Manly.
That has thrust Fa'asuamaleaui into his favoured 13 jersey, with Maroons coach Billy Slater again putting his faith in the Titans' big man to play a crucial role in Queensland's system.
It continues a whirlwind few weeks for the Gold Coast skipper, who last month conceded he felt he had not done enough to earn a place in Slater's Maroons squad as the Titans' NRL season floundered.
"As soon as you step foot in camp you would do anything to be in this team; for the boys, for the state, for myself and for the people that believe in me. That's what motivates me to push that extra mile," Fa'asuamaleaui said.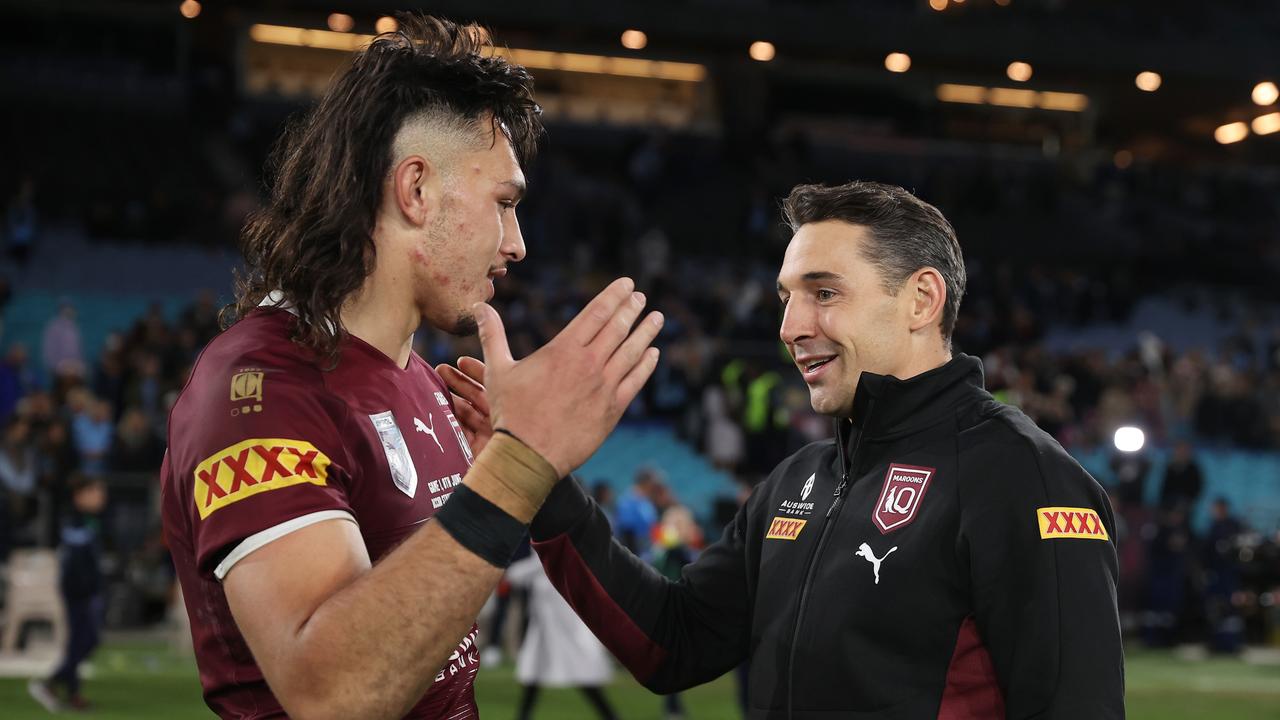 Tino Fa'asuamaleaui was open that his 2022 form didn't warrant Origin selection, but Billy Slater clearly has faith in the Titans skipper. Picture: Getty Images.
One person who clearly believes in him is Slater, and Fa'asuamaleaui says he is ready to prove his coach correct.
"I'm so grateful, like I've said before," he said.
"This opportunity doesn't come around all the time. It's only three games a year and you're lucky to get one. To be heading to this second game in Perth, I want to stay here (part of the team) and make sure I do well for Queensland."
Cotter was monstrous in Origin I, playing the full 80 minutes and earning many fans and pundits' Man of the Match, though ultimately Cameron Munster was a worthy winner.
He was tireless in the tackle and his hurries of Nathan Cleary went a long way to halting the Blues' forward forays.
Fa'asuamaleaui has not yet played 80 minutes in 13 starts at lock for the Titans this season and will be unlikely to start now in the high tempo Origin arena.
Standing 17cm taller and 12kg heavier than Cotter, Fa'asuamaleaui promised to leave his own impact on Origin II.
"Obviously Reubs did so well there in game one and has been unlucky with his injury but moving to lock, things don't really change for me," Fa'asuamaleaui said.
"Keep it simple. Run hard, tackle hard and do the extra work for Queensland and the boys around me.
"We're completely different (players). You can see the size (difference) and everything. If I'm out there for 20 (minutes), 40 or whatever all I can promise is I'll do my best for Queensland."
10:30am — IS MUNSTER THE MAROONS' NEW 'KING'?
He has been compared to "The King" Wally Lewis, but Cameron Munster isn't satisfied with his Origin highlights reel and has challenged the Maroons to produce a proper 'Queenslander' performance to win back the shield.
Munster does not just want to replicate his Origin I heroics, where he was crowned man-of-the-match in Queensland's 16-10 victory against NSW in Sydney.
He wants to go to another level at Perth's Optus Stadium and clinch a series win within two games – just like the Blues did last year to embarrass Queensland.
"I hope there's more, that would be ideal," Munster said when asked if he had peaked as an Origin player.
"I've been very lucky in certain moments of big games but I've also had some low moments in big games as well.
"It would be nice to put the cherry on top (tonight), but there is a lot of hard work that we have to get right. Hopefully we can go up another gear."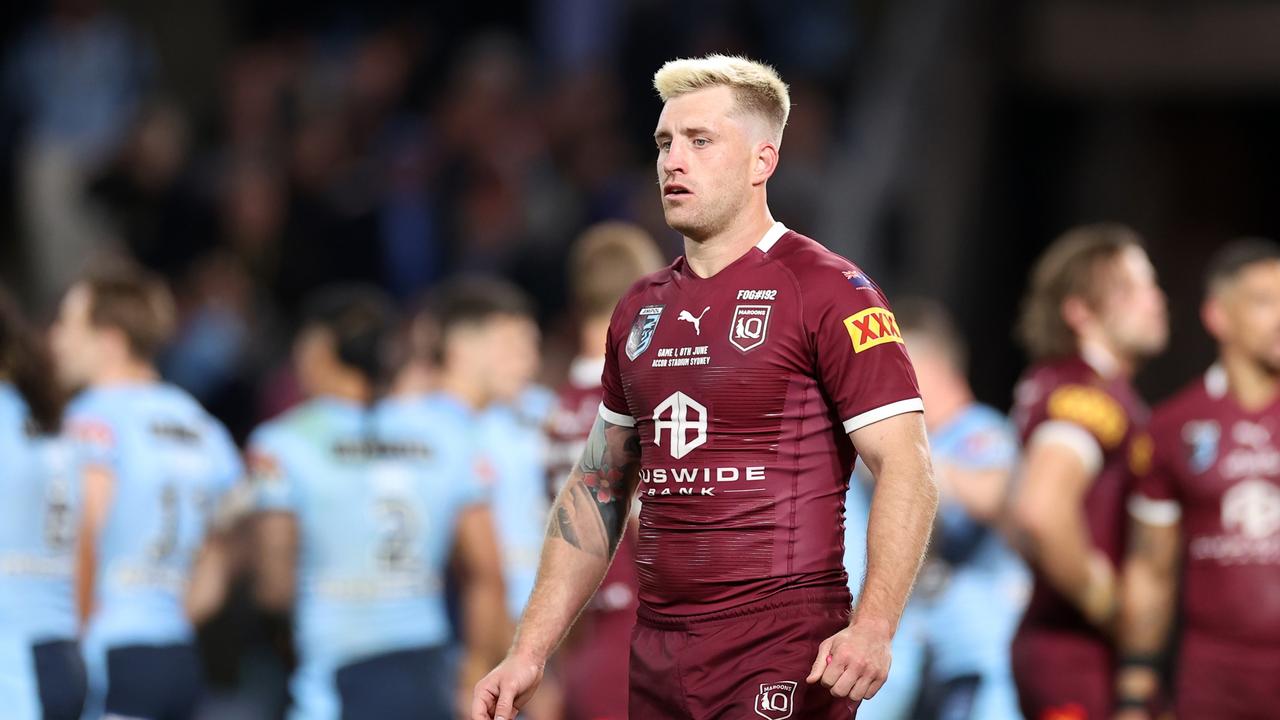 Cameron Munster says the Maroons may have won Game I, but it wasn't a genuine 'Queenslander' performance. Picture: Getty Images.
Much like Maroons legend Lewis – regarded as the greatest Origin player of all time – Munster has quickly become the new king of State of Origin.
He burst into the Origin arena with a stunning debut for Queensland in 2017 and won the Wally Lewis Medal as player-of-the-series in 2020.
Now 27, Munster is in the prime of his career, as evidenced by his dismantling of NSW in Game One at Accor Stadium to give Queensland a 1-nil series lead.
But he isn't content. The scars of last year's horror series, where the Maroons surrendered the Origin shield within two embarrassing games, are still fresh in Munster's mind and he wants redemption in Perth.
"We are just hardworking Queensland battlers who want to go out there and play proud for our state," he said.
"Last year wasn't ideal. It wasn't a Queensland performance. There's obviously a winner and loser, but there was a difference between their style of footy and ours.
"There was no real 'Queenslander' material. It's not over until the fat lady sings and I feel like we toppled over around that 50-60-minute mark in most games. That's not us.
"We always work hard until the last minute and the last series wasn't good enough for us."
While many have compared Cameron Munster to Wally Lewis, the QLD five-eighth insists he's not the new 'King'. Picture: Getty Images.
Heading into his 15th appearance for the Maroons, Munster is now an established Origin player and Queensland's biggest threat.
But he insists he is nowhere near the great Lewis – who won a record eight man-of-the-match awards during a glittering 34-game Origin career.
"There is no one better than Wally Lewis – Wally is the king forever," Munster said.
"He had eight man-of-the-match performances which is why the medal is named after him. He did a lot of things right when he played for Queensland and that's why he's so loved.
"To be mentioned is great, but I've done nothing like him. He's done a lot more than I've done in my career.
"He is the king of Queensland and always will be. There is only one Wally Lewis. We've had greats like Johnathan Thurston and Darren Lockyer in the six jersey as well.
"I can just go out there and do my job for Queensland. I don't want to be pumping my tyres up too much.
"It was a good performance, but it was only one. We've still got two more games and I want to make sure I play consistently for both."
After being overlooked by numerous scouts as a schoolboy in Rockhampton, Munster has developed into one of the NRL's superstar players with the Melbourne Storm.
A jovial character who entered rehabilitation last year to treat alcohol and gambling issues, Munster is a unique talent whose unpredictability makes him a near unstoppable force at times.
But it's his personality that makes him such a dangerous player, according to super coach Wayne Bennett who worked with Munster in Queensland's 2020 miracle series win.
"Cameron has always been a wonderful player," Bennett said.
"He was great for us in the 2020 series and he had a tough year last year, but he has always been in the top category of players.
"Cameron has never been perfect. It's been a part of his journey. In the World Cup in 2017, he got sent home from Darwin because of an off-field incident, so that's been part of Cameron's make up.
"But the one thing I like about Cameron is his football knowledge and he is the extreme competitor.
"I get on so well with Cameron because there is no agendas with him. He is who he is. He just wants to win every time and that's his great strength.
"The night we won the series (2020) he was at his absolute best. I just let Cameron go out and play footy. There was no set plans. I didn't fill his head with anything. I just asked him to play the way he plays and he played what was in front of him with joy.
"I found him a pleasure to coach. There is nothing complex about him. He loves being part of a team and making a contribution."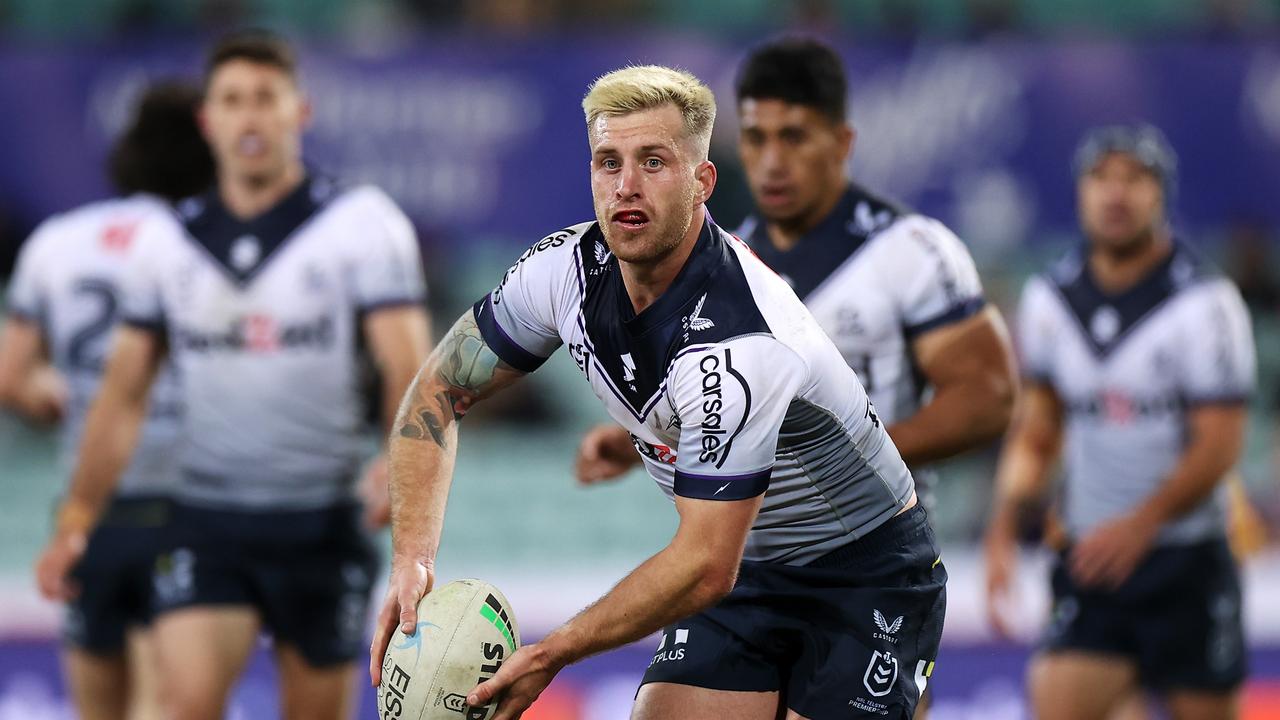 Wayne Bennett says Munster has a lot in common with Maroons legend Allan Langer. Picture: Getty Images.
While Queensland is blessed with talent, it is hard to see the Maroons winning in Perth if Munster does not fire.
Bennett, 72, has seen it all during a 40-year coaching career and reckons Munster has attributes like 34 – game Queensland great Allan "Alfie" Langer.
"He's not short of natural talent. All the great players have those great qualities," he said.
"Allan Langer did things other players couldn't do and that's what Cameron Munster does. He breaks tackles that don't look like they can be broken, but he comes out the other side.
"He has that larrikin nature but what I like first and foremost is his fierce competitive nature. Alfie liked a joke but he was a fierce competitor.
"Cameron just hates losing and it's what allows him to play the way he does in Origin. He never wants to come second. All the great players have it in their DNA, they don't want their opponent putting one over them.
"Cameron, like many great players, can have fun off the field and have the odd issue, but they always deliver on the field.
"Cameron means well. He is a good person. He is not a guy who has done horrible things to anyone else."
Except maybe to the Blues on the scoreboard in Perth tonight, if he has his way.
Originally published as State of Origin Game 2: NSW Blues beat Queensland Maroons 44-12 to set up decider