State of Origin II: Queensland coach Billy Slater could seek a meeting with referees following NSW's constant complaining
Queensland coach Billy Slater hasn't ruled out meeting with State of Origin officials following constant complaints from the Blues as he responds to revelations of a dodgy tactics dirt file.
Queensland coach Billy Slater has not ruled out requesting a meeting with referees following revelations the whinging Blues delivered a dossier of dirt on the Maroons to the NRL.
In a bid to influence the officiating before Origin I, the Blues compiled a dirt file on Queensland's supposedly dodgy tactics for NRL referees boss Jared Maxwell.
Blues coach Brad Fittler was concerned about illegal kick-pressure on his protected species of a halfback Nathan Cleary and Queensland toeing the line in multiple areas.
Stream every game of every round of the 2022 NRL Telstra Premiership Season Live & Ad-Break Free During Play on Kayo. New to Kayo? Try 14-days free now.
Coach Billy Slater has refuted claims that the game was slow when NSW had the ball. Picture: Chris Hyde/Getty Images
The pre-emptive strike did little as Queensland recorded a 16-10 win on enemy soil at Accor Stadium, prompting Fittler to complain about the speed of the ruck under referee Ashley Klein and contact Maxwell again.
While commentators and Origin legends Andrew Johns and Cameron Smith hailed it one of the fastest spectacles they had ever seen, the Blues were complaining about how slow the game apparently was when they had the ball.
The bottom line was NSW's pop-gun forwards were beaten in the middle by Queensland's energised pack that set a platform for Cameron Munster and Daly Cherry-Evans to dominate.
Slater, who played his entire NRL career under ruck specialist coach Craig Bellamy in Melbourne, made no secret of his desire to win the most crucial area of the game.
"That's a part of the game that you want to do well in," he said.
"You want to win that with the footy and without the footy.
"I thought the game was played at a really quick speed. It was well above NRL speed. The speed of the play-the-ball from both teams was really quick and it was an entertaining game.
"That's just part of the game. You want to play fast with the football and slow without it.
"The referees will do what they have to do."
Billy Slater puts his squad for game 2 through their paces. Picture: Nigel Hallett
When pressed on whether he would seek a meeting with Maxwell ahead of Sunday's second game in Perth, which Klein is expected to officiate, Slater was coy.
"My priority is getting our players to play the best football they can on Sunday night," he said.
"I've got my job, the refs have got their job, the players have got their job. I'll be focusing on my job."
The Blues were incensed Queensland received the first four penalties of the game, with Klein not blowing his whistle in NSW's favour until the 63rd minute.
Fittler ignored the fact Payne Haas (139m) was the only Blues forward to crack the 100m barrier as opposed to five Queensland forwards in what was a midfield mauling.
Fittler has responded by making seven squad changes for Origin II, including axing outgunned forwards Reagan Campbell-Gillard, Tariq Sims and Ryan Matterson.
Maroons great Billy Moore said he couldn't understand the criticism of Klein following a memorable Origin game.
"I don't know what the Blues are whinging about," he said.
"I thought Ashley Klein did a good job in Origin I and he deserves to be there again. It's a shame when you have a job where you only get credit when you aren't seen.
"I've watched a lot of Origins and that was one of the fastest, highest quality games I have seen and Klein played a role in that.
"There was obviously some drama about whether NSW should have got one last play in the final seconds, but Klein made the right call in stopping the game.
"I had a lot of non-league people tell me they enjoyed the spectacle and Klein's officiating contributed to that, so I have no issue with him being retained for Game Two."
Air Billy': Slater's private plan to stop Blues hijacking series
Queensland coach Billy Slater has hit back at suggestions the Origin series is headed for a decider after chartering a private jet to fly the Maroons into Perth.
"Air Billy" will take off from Brisbane Airport bound for Western Australia on Thursday afternoon, a day earlier than originally planned.
With only seven days, as opposed to the traditional 10, to prepare for the Sunday night blockbuster at Optus Stadium, the Maroons are taking no risks in ensuring their team is perfectly prepared for the bruised Blues Origin II.
While NSW made the five-hour flight to Perth on Monday, following a bruising weekend of NRL action, the Maroons will spend their first two days in camp on the Gold Coast recovering.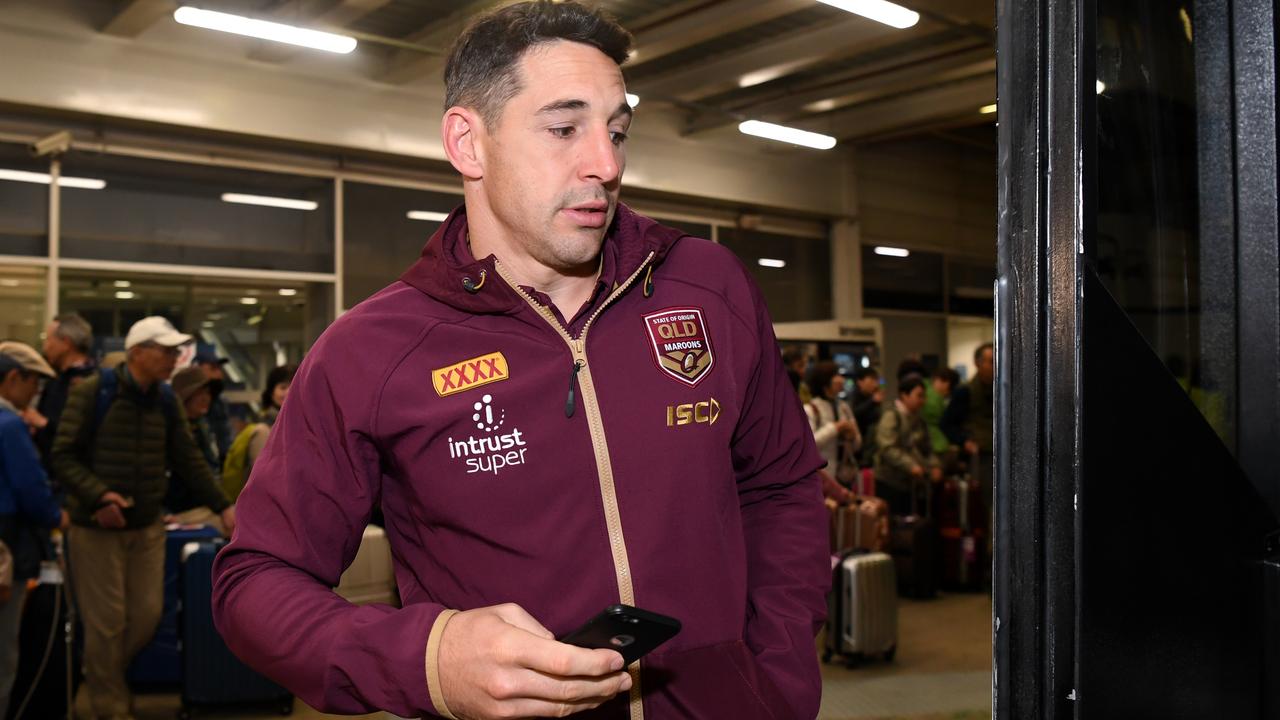 Billy Slater's Maroons are taking to the skies. Picture: AAP
Maroons medical staff kiboshed original plans to fly to Perth on Friday after training at Sanctuary Cove, insisting the players needed to use the scheduled day of rest on Thursday to travel and recover before a major training session on Friday in Perth.
The Queensland Rugby League has chartered a flight to take the squad to the other side of the country so they can travel at their own pace and with more space.
The Maroons held a low intensity "walk-through" training session on Monday afternoon and Slater said recovery was the main focus of the short week with Queensland holding a one-nil series lead.
"It changes a little bit to the 10-day preparation," he said.
"The first thing we need to focus on is getting everyone fit and healthy. We had three guys play (on Sunday) so recovery is what we will be focusing on today and making sure we put to bed game one (16-10 win).
"We need to take out the good things we did and make sure that's part of our foundation and also look at some things where we can get better.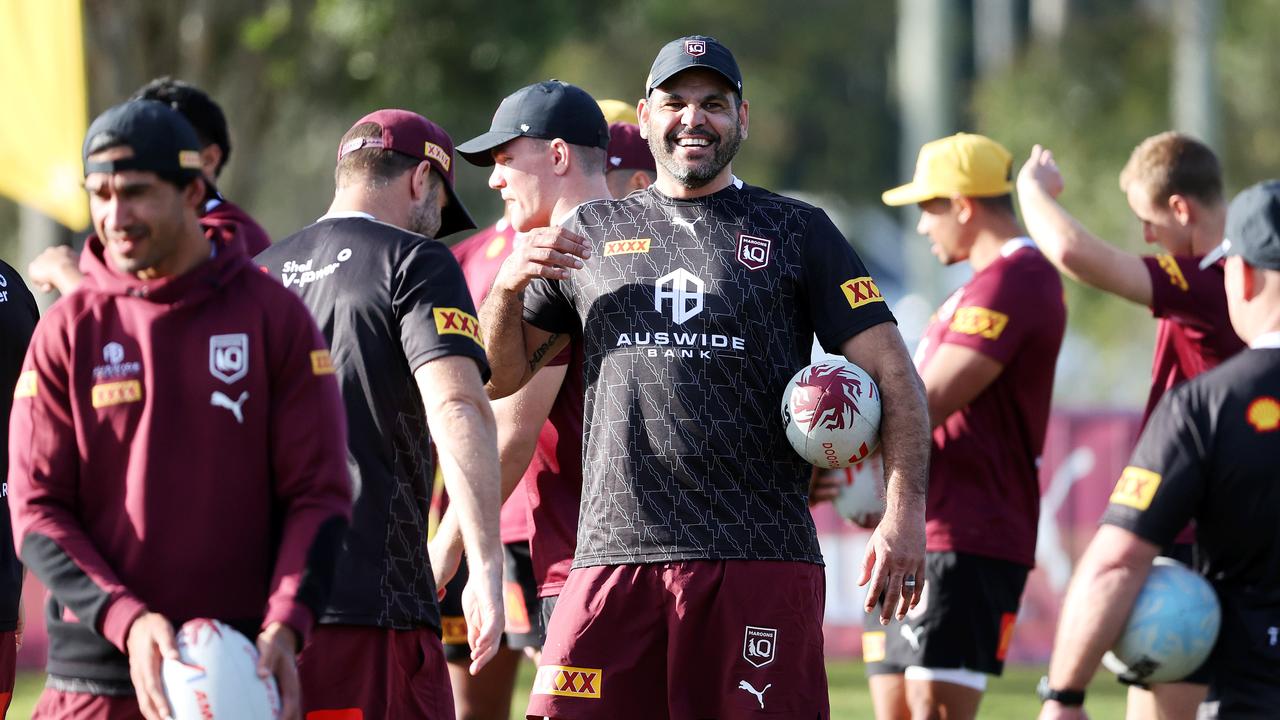 Greg Inglis and the Maroons on the training track. Picture: Nigel Hallett
"We won't hit the track properly until Tuesday and a session on Wednesday then head over to Perth.
"Recovery is certainly something we will consider early in this preparation."
While the Maroons were impressive in winning Origin I in Sydney, if recent history plays a part then the series is likely to head to a decider at Suncorp Stadium on July 13.
Only eight of the last 21 series have been decided after two games and the Blues have made seven changes as they look to level the ledger.
But Slater said he had little regard for what's happened in the past.
"I'm not thinking like that, that's not how I think," he said.
"I will be thinking about how we can get better and play our best footy. I'm not even thinking about winning or losing.
"It's about our performance and how we can get better as a team. That sort of stuff takes care of itself.
"History will write its own piece. I'm not looking back, I'm looking forward.
Cupid's Arrow: Star's mental anguish over Origin exile
Maroons hard man Jai Arrow insists his Covid controversy won't define him as Queensland's villain prepares for a fiery return to the State of Origin arena.
Arrow will pull on a Maroons jersey this weekend for the first time since being banished from last year's series following a breach of the NRL's biosecurity protocols.
Arrow was rubbed out of the 2021 dead-rubber after inviting people from outside Queensland's "bubble" into Camp Maroon on the Gold Coast.
He was immediately sent back to Sydney via road and forced to spend a fortnight in self-isolation, a lonely time in which he contemplated the direction he was heading.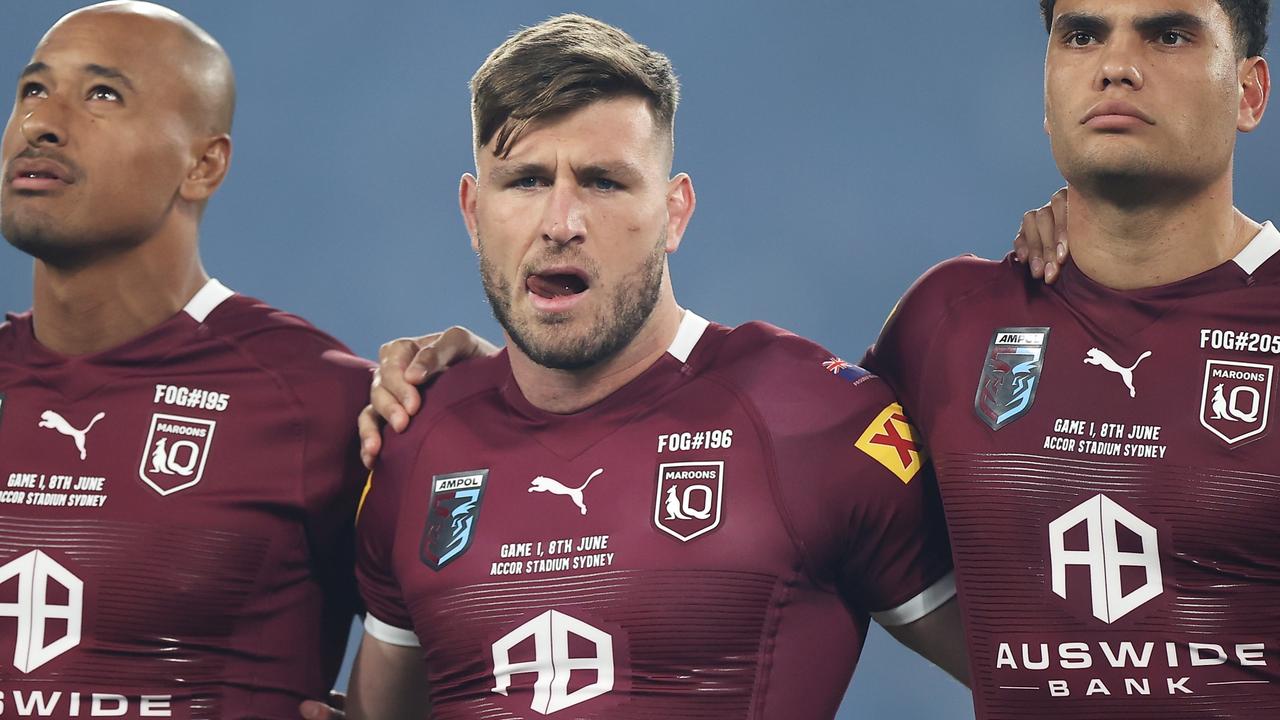 Jai Arrow has earned an Origin recall for Game II and is ready to move past last year's controversy. Picture: Getty Images.
Arrow, 26, was then overlooked by new Queensland coach Billy Slater for this year's series opener, with an injury to game one hero Reuben Cotter opening the door for him to return in Perth on Sunday.
Ahead of his 10th game for the Maroons, Arrow said he had overcome the mental toll of his scandal and was ready to repay the faith.
"I've come a long way," he said.
"That one mistake wasn't going to define me as a person or my character. I had to get back to what I knew and make myself happy again.
"I'm very grateful that I've been given this opportunity to put the jersey back on after a pretty low point in my life.
"It means everything to me. It's something you dream of as a kid.
"I'm going into my 10th game now which is pretty crazy. I love putting on the jersey and the challenge, it's the pinnacle of rugby league."
Arrow has rarely been far from controversy in his Origin career.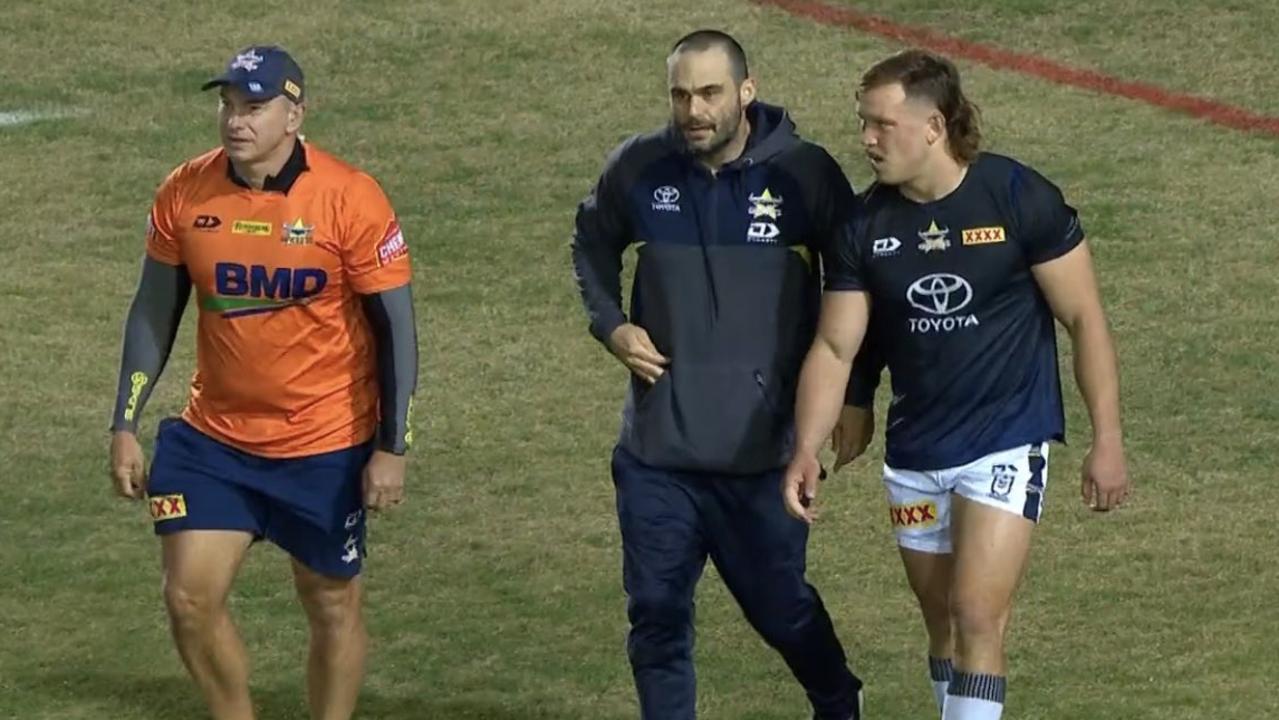 Reuben Cotter's injury opened the door for Arrow to make his return, after serving as 18th man for Game I. Picture: Fox League
In the 2020 decider, he infamously picked up concussed Blues skipper James Tedesco and rag dolled him, prompting a furious backlash from south of the Tweed.
Arrow may have a target on his back at Optus Stadium but he is happy to play the villain in league's toughest arena.
"I wear my heart on my sleeve," he said.
"I am pretty passionate about the game and can get a little bit fired up.
"That doesn't define me as a person off the field. I am an easy going guy who gets along with anyone and has a lot of time for people. That doesn't worry me.
"I didn't know he was knocked out.
"I can't do anything if people hate me. What am I meant to do?"
Slater made a point of telling Arrow his Game One omission had nothing to do with last year's controversy and he was 18th man for Queensland in Sydney.
He will come off the bench as the Maroons look to win back the shield in Perth and Slater said Arrow's attitude had earned him a recall.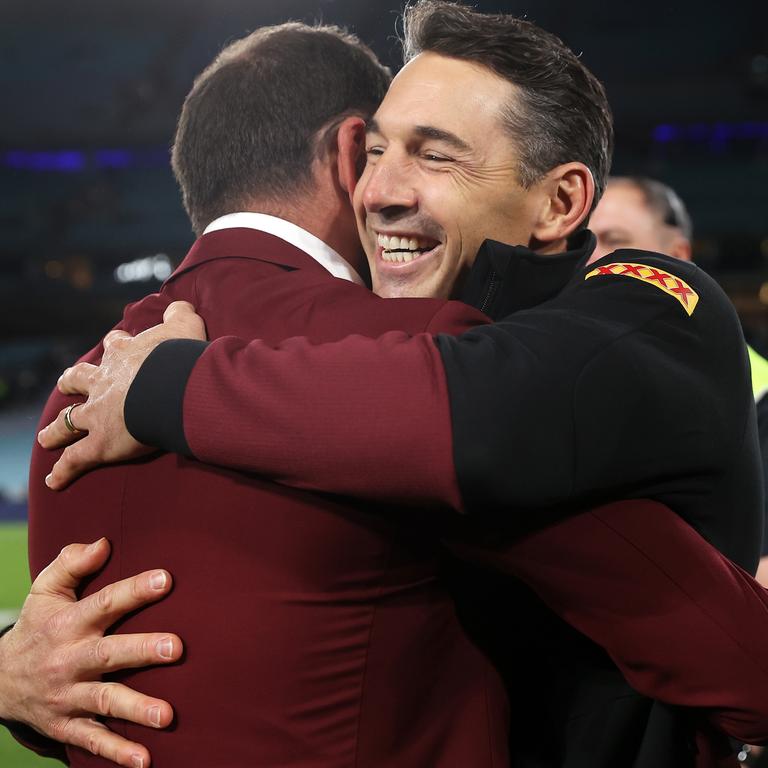 Coach Billy Slater has shown faith in Arrow.
"Jai has earnt his spot in our squad and 17," he said.
"I wasn't involved last year so he's earnt that through his actions this year.
"I've got a relationship with Jai. I played with him and know what he brings to a footy team.
"He would have been disappointed not making the 17 in game one, but the opportunity has come up in Game Two and I'm sure he's going to be ready.
"It was a tough conversation in game one to tell him he wasn't in the 17 but his attitude was second-to-none throughout the whole week.
"He's played nine games for Queensland already and is very experienced in this arena. We've got the luxury of bringing him in."
Originally published as State of Origin II: Queensland coach Billy Slater could seek a meeting with referees following NSW's constant complaining