Super Netball 2022: League cracks down on abuse and online trolling
Netball fans risk being banned from Super Netball games in a league wide crackdown on online abuse in the wake of trolling of Lightning defender, Kate Walsh.
Netball Australia will not hesitate to ban fans, caught abusing athletes or officials online, from matches as part of a league wide crackdown on online trolling and anti-social behaviour.
It comes after Sunshine Coast Lightning defender Kate Walsh was subjected to a number of anti-social and bullying posts across social media networks following the Round 6 clash with Swifts.
Watch Suncorp Super Netball on Kayo. Every game of every round LIVE. New to Kayo? Try 14-days free now >
Cameras captured Walsh making some questionable contact on young Swifts shooter Sophie Fawns in the circle – with some fans quick to share nasty and degrading comments online.
Netball Australia's Head of Integrity Nicole Malcher said the health and wellbeing of athletes and officials was their top priority.
"We do not accept or tolerate any form of abuse or anti-social behaviour, whether it be online, at a match or at a netball event," Malcher said.
"Netball Australia reports any online abuse to the relevant platforms, the eSafety Commissioner and where there are concerns of a criminal nature, the police.
"Where we identify individuals involved who have engaged in anti-social behaviour, Netball Australia will also take appropriate action which may include limiting or removing their opportunity to be able to interact and engage with our people, whether that be online or attending matches."
Swifts' midcourter Maddy Proud said while athletes could choose to stay off social media, the comments and remarks can't always be avoided.
"I really did feel for the athletes that got caught up in it, in some cases you just can't escape it," Proud said.
"We always talk about the only people that matter are the ones sitting in the room when we have those team debriefs and a real focus on making sure you go to the right people after a game to get advice or feedback on your performance.
"When it is there in your face you can't escape it and need to learn how to brush it off.
"You've got to cop it on the chin but also make sure that you don't condone it and speak out about it if you have the opportunity."
Netball great's plea to fix sport's 'biggest challenge'
Diamonds legend Vicki Wilson has called for greater resourcing for Super Netball umpires to allow their evolution to keep pace with that of players in the world's toughest competition.
While the physical nature of the competition has come under the microscope in the past couple of weeks, Wilson said that was inevitable to a degree given athletes in all sports have become fitter, faster and stronger in the professional age.
With 14 players on a court just over 30m long and 15m wide, some contact and collisions were unavoidable.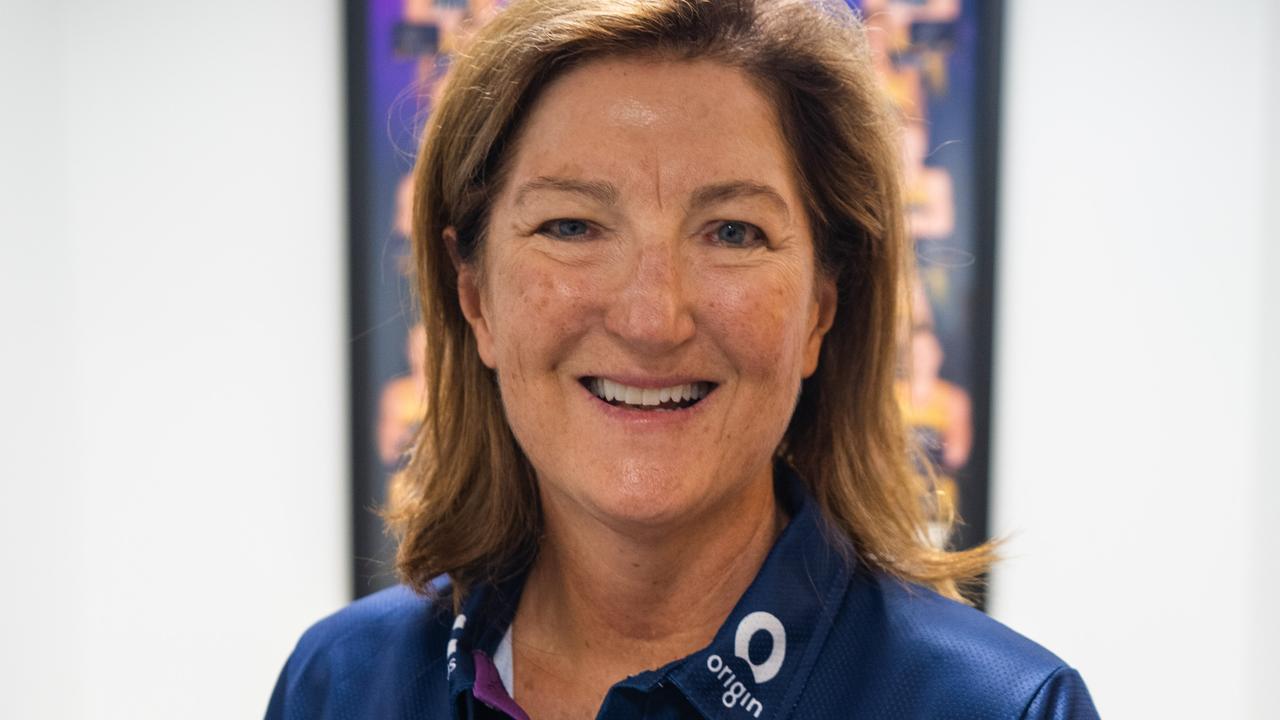 Former Diamonds captain and Sunshine Coast Lightning assistant coach Vicki Wilson.
But Wilson, also the Sunshine Coast Lightning assistant coach, said a display of skill over force was still the goal for every team.
"What you don't want to lose in the game is the skill — the art of losing your player in attack, with dodges, with fast leads, with cutbacks," she said.
"Defensively, your job is tough because you have to track every single one of one of those movements.
"Whether you be a coach or a player, you're continually challenged by outsmarting your opponent with skill.
"Brute force isn't going to win you ball."
Players will push the limits though and the by product of that is a growing number of games blighted by high penalty counts, or occasionally, actions that push the boundaries of fair play.
The loss of several experienced officials ahead of this season has placed more scrutiny than ever before on officials and Wilson believes they could benefit from the same resources players and coaches enjoy to review their performances.
"I suppose it's really about what's the next step in the game," she said.
"From the playing side, the training side, the coaching ranks, we have made some huge inroads. "I suppose the next step is really to say, where do we go for that official side?
"In AFL and rugby league, the umpires are under enormous scrutiny and they have a panel that appoints depending on performance each week, and I don't know if we do that at all.
"But we certainly get the opportunity to chat to the umpires and it'd be great to see that they receive the same amount of resources that we do because I think that's been their biggest challenge for a number of years."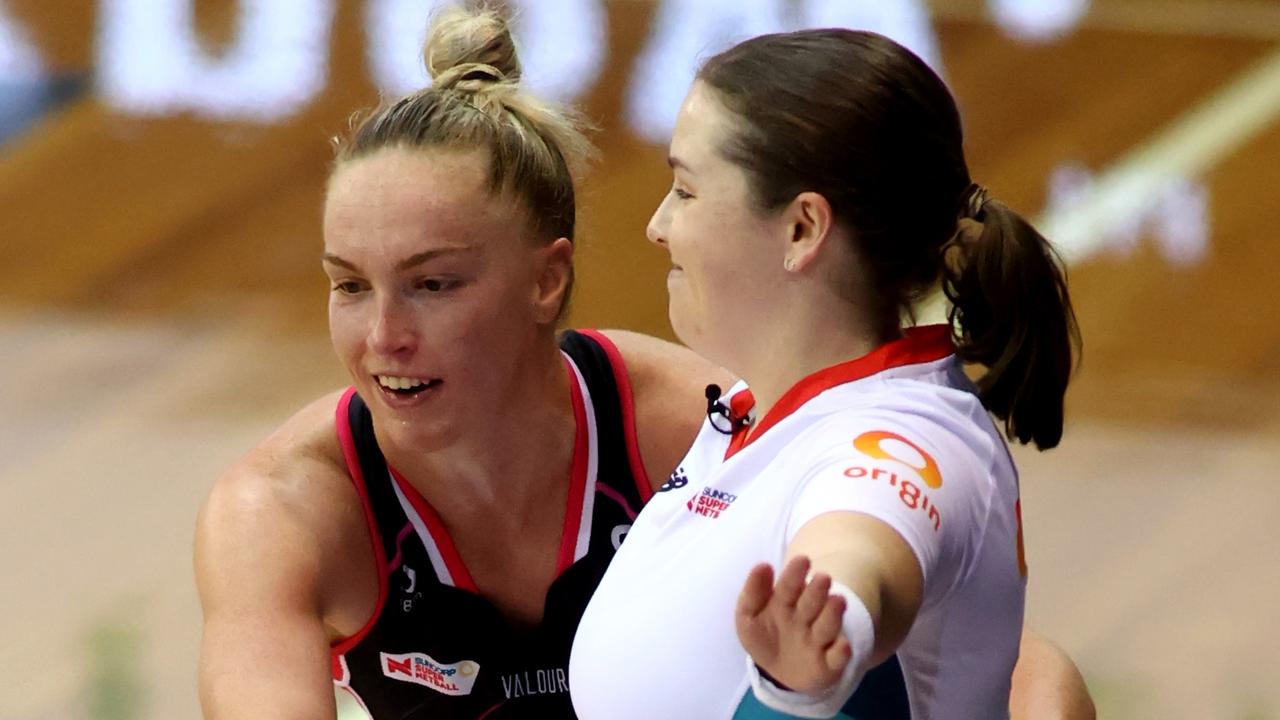 Hannah Petty of the Thunderbirds runs into an umpire during the round seven Super Netball match between Adelaide Thunderbirds and West Coast Fever. Photo: Getty Images
Umpires officiating at the Super Netball level have access to coaching before, during and after matches, while many individuals use tools such as video – which is shot for performance analysis for players and coaches, not necessarily the angles best for officials – to scrutinise their efforts.
Discussions are also being held around the potential use of various technologies to aid officials, while significant resources have also been provided to high performance officials.
But they are not yet in full-time roles and just as professionalism has provided the biggest shift in player performance, it may be the same for those holding the whistles.
Lightning players were under the microscope last week after defender Kate Walsh was involved in a scuffle with Swifts shooter Sophie Fawns that ultimately led to Netball Australia and the Sunshine Coast club condemning online bullying after Walsh became the target of trolls.
Regardless, she was effectively whistled out of the clash against the Giants at the weekend and the Lightning will be looking for her to bounce back when they take on the Adelaide Thunderbirds on Saturday in a game that could define their season.
"Everyone's realised that there's no clear cut winner (in any game), the most bizarre things can happen," Wilson said of the most even season in recent memory.
"People are playing hard. Everyone knows it's going to be really clustered on the on the table and everyone will be caught up on points because there are some surprises in results, whereas it was very predictable a few years ago.
"For us, it's wonderful to be playing at home … and it's a great opportunity to reset, to be able to get our rhythm back and put out a performance that we're really proud of and we know that's expected of the of the club.
"As Lightning, we have high standards and we just want to make sure that we're back to that."
Originally published as Super Netball 2022: League cracks down on abuse and online trolling