Super Netball 2022: Latest news and results from Round 3
As they prepare to host West Coast Fever on Sunday, Queensland Firebirds vice captain Lara Dunkley reveals why 'simply worrying about our own business' has proven so beneficial for her side.
Queensland Firebirds vice-captain Lara Dunkley said being underdogs for the 2022 Super Netball season had been a blessing in disguise.
Before the season started, experts had the Firebirds pinned to the bottom of the ladder, but two rounds in they are sitting in the top four and coming off an equal record Super Netball high score of 82 points against Lightning.
Back in Round One, Firebirds matched it with competition favourites Vixens, falling just five goals short.
Watch Suncorp Super Netball on Kayo. Every game of every round LIVE. New to Kayo? Try 14-days free now >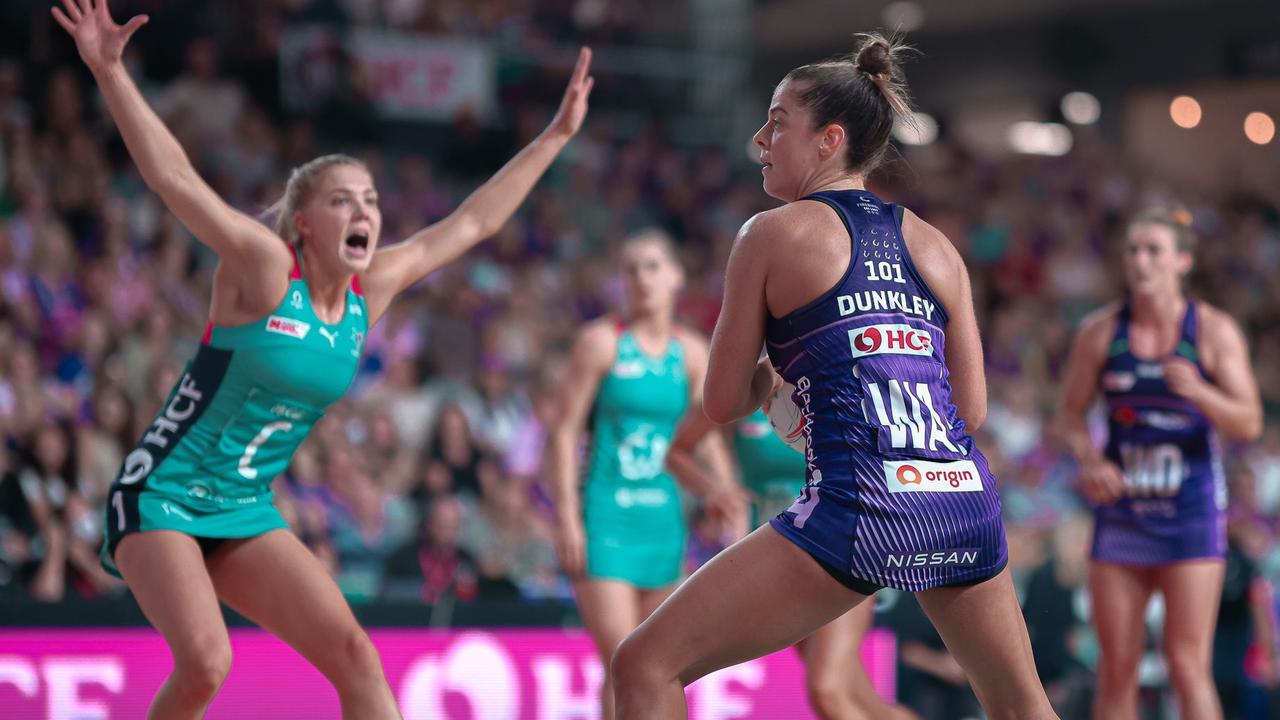 Lara Dunkley says the Firebirds are enjoying life as an underdog.
Dunkley said the Firebirds had no problem with being considered outsiders.
"Being considered an underdog is not a bad thing," the midcourter said.
"Because you can just worry about your own business.
"We've been training really hard and working day in and day out, we are just so excited for the season."
Firebirds will host top of the table rivals West Coast Fever on Sunday.
Fever have started the season on fire with two big wins over Lightning and Magpies and they gain England international Chelsea Pitman for Sunday's match with fellow midcourter Alice Teague-Neeld still out under Covid protocols.
Dunkley said there was no doubt the game would be a challenge, but one they were ready for.
"Netball is a game of forming connections and we are just really fortunate that we are starting to find those connections out there on the court," she said.
One of the most promising connections is the one between two new defenders, Eboni Usoro-Brown and Ruby Bakewell-Doran.
The duo really found their rhythm from the second quarter against the Lightning and they continued to bounce off each other for the rest of the game.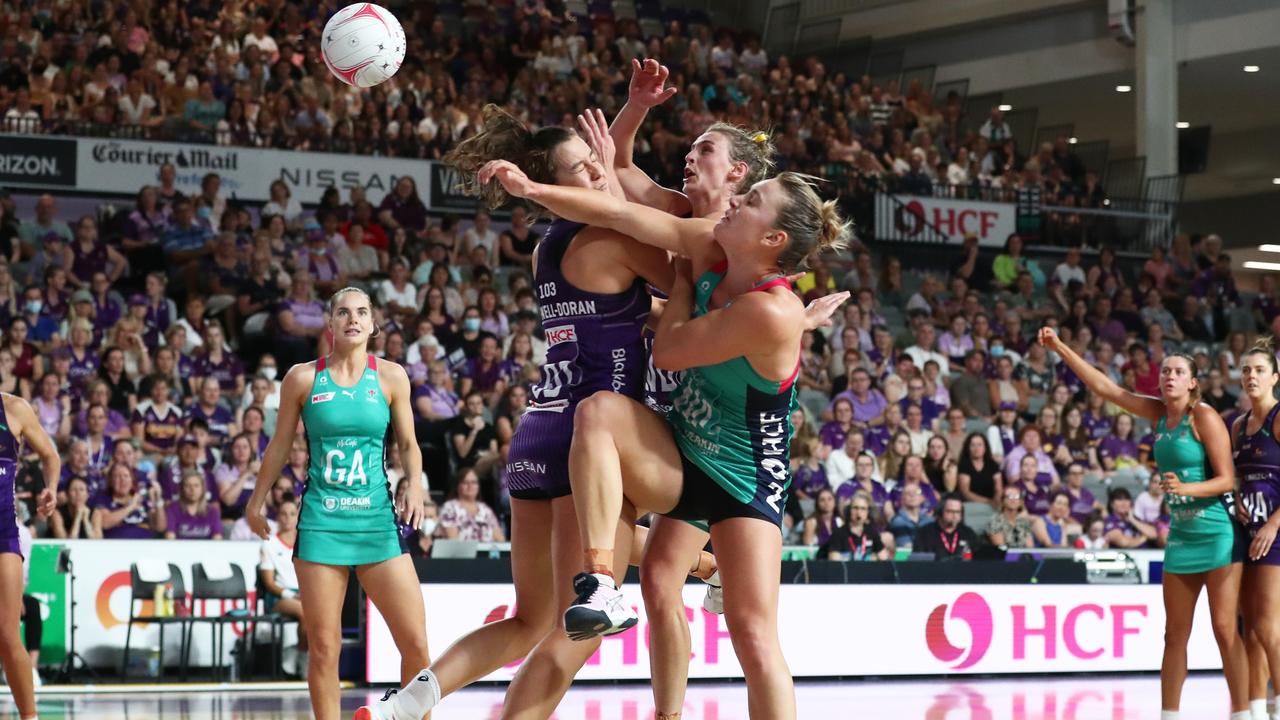 Ruby Bakewell-Doran clashes with two Vixens players.
"No matter who is on the court, everyone knows what their role is," Dunkley said.
"When we all do our job everything just works, so we are in an exciting spot at the moment."
Firebirds will have their purple army cheering them on at Nissan for Sunday's clash.
The club is also celebrating their Heritage Round and 25th anniversary, after Covid forced them to cancel last year's celebrations.
HERITAGE ROUND
FIREBIRDS v FEVER
TODAY, 2PM
NISSAN ARENA, BRISBANE
Tickets via ticketek.com.au
Winless Swifts gunning for Garbin
Bragging rights will be an extra motivator for the Swifts as they look to get their first win of the season against former teammate Sophie Garbin's new team this weekend.
Swifts co-captain Paige Hadley said they had been talking about the Round 3 Magpies clash since the draw was released.
Garbin, a talented shooter, left the club she won two premierships with and moved south to chase more court time.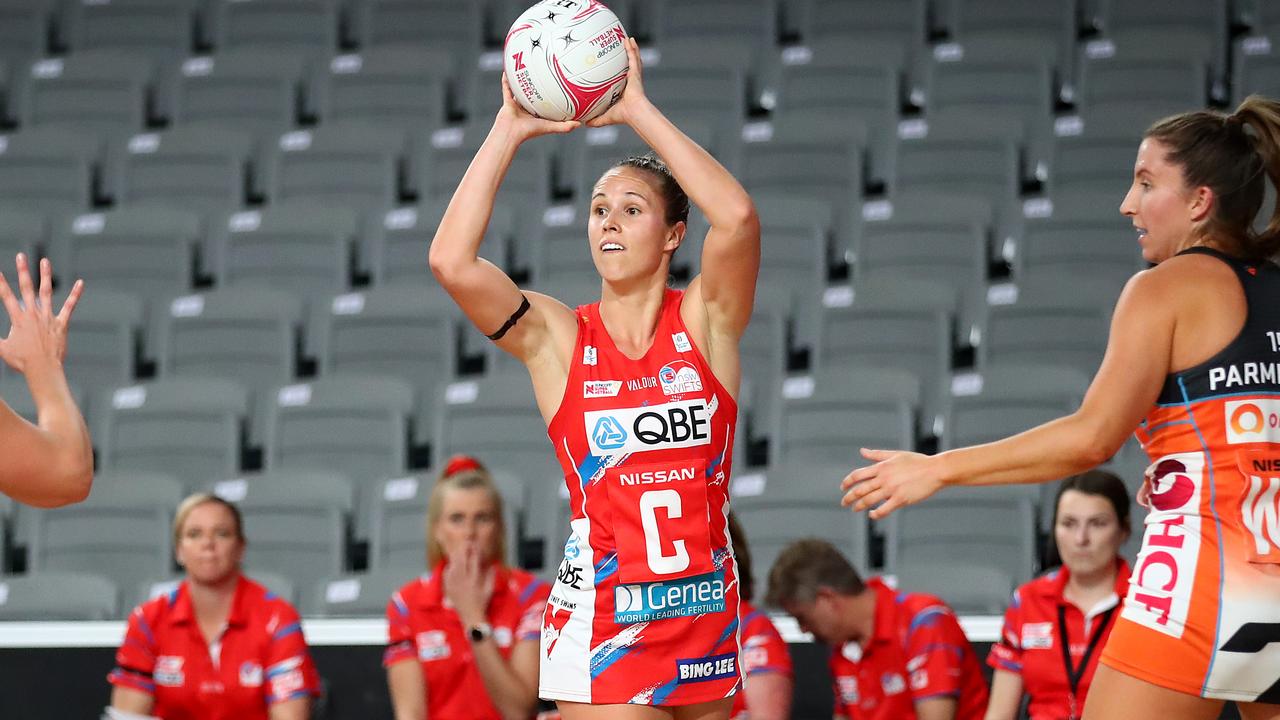 Paige Hadley is back after a week out with Covid.
"Obviously we have been discussing Soph and what she brings to their attack end," Hadley said.
"She is a great holder and is strong in the goal attack role. We are looking forward to seeing her, but we won't be letting her get the win."
It will be Hadley's second game of the season after she missed Round 2 with Covid.
The midcourter impressed in the reigning champions' opening round five-point loss to the Vixens with 15 goal assists.
Feeling refreshed after a week in isolation, Hadley is looking to build on that performance on Saturday night.
Magpies and Swifts are yet to record a win this season.
"It has been a rocky and bumpy few weeks," Hadley said.
"But (this week) is about sticking to our game plan. For us it is about putting everything out there.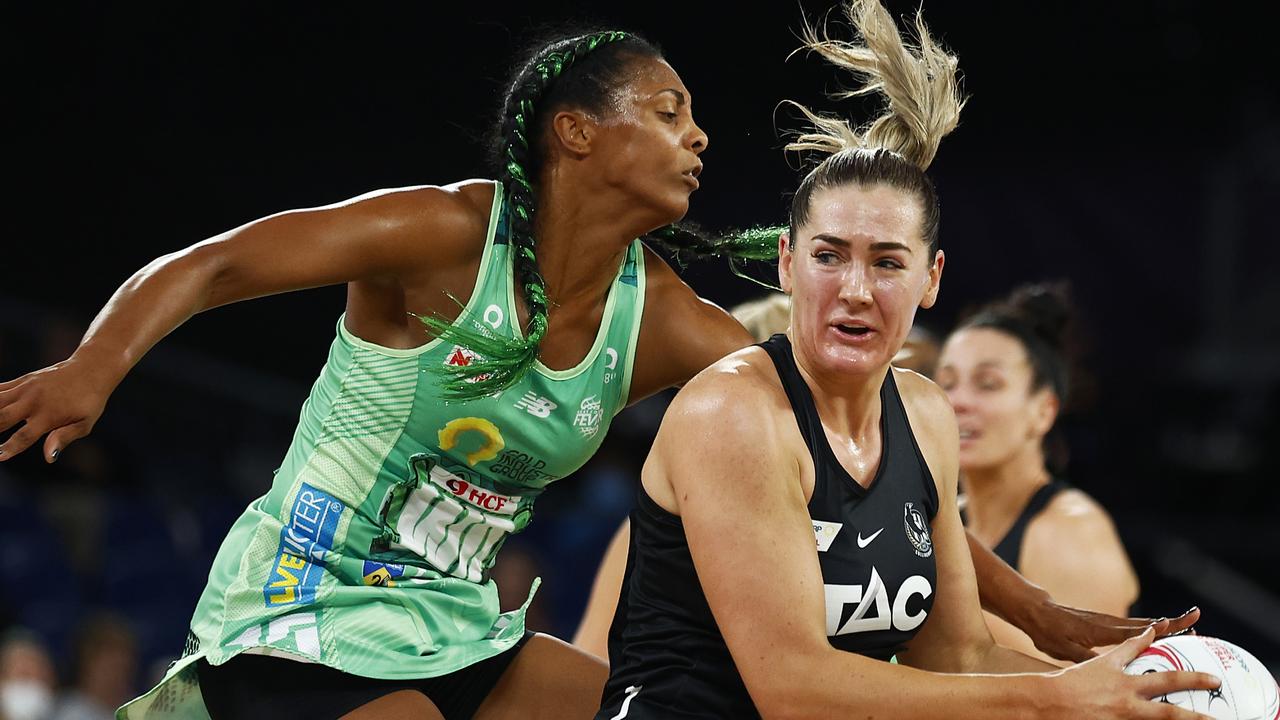 Former Swifts player Sophie Garbin is now part of the Magpies.
"The girls have trained really hard this week and it is about putting that all into play, it is going to take a 60-minute effort and we will have to really cherish the ball against Collingwood."
Swifts star shooter Sam Wallace is out for the season after suffering an ACL tear in Round 1.
The club is yet to name a full-time replacement but teen sensation Sophie Fawns has been given a second chance as a temporary replacement after impressing last week.
Fawns netted 15 goals with an 83 per cent shooting accuracy.
Hadley said the 18-year-old shooter's enthusiasm and energy was already rubbing off on the team.
"She is one of those kids that wants to learn, she wants to get better," Hadley said.
"I think we will see improvements again this week. She brings a lot of versatility and speed in attack for us."
Swifts will play Magpies at Ken Rosewall Arena at 7pm on Saturday April 9.
Loyal Vixens pair celebrate magic milestone
It is faster, tougher and more competitive than ever before but it is the love of the game and team that has kept coach Simone McKinnis and co-captain Kate Moloney at the Vixens for 10 years.
The duo are taking a walk down memory lane this week ahead of the Vixens Super Netball Heritage Round – which will celebrate the 25-year-history of the club.
McKinnis, regarded as one of the best wing defenders to have played the game, joined the Vixens as a specialist coach in 2012, before taking on the head coach role the following year.
Moloney was just 20 when she broke into the Vixens side — a dream come true.
"I played netball growing up and dreamt of playing for the Vixens but I didn't know if it would actually ever happen," the midcourter said.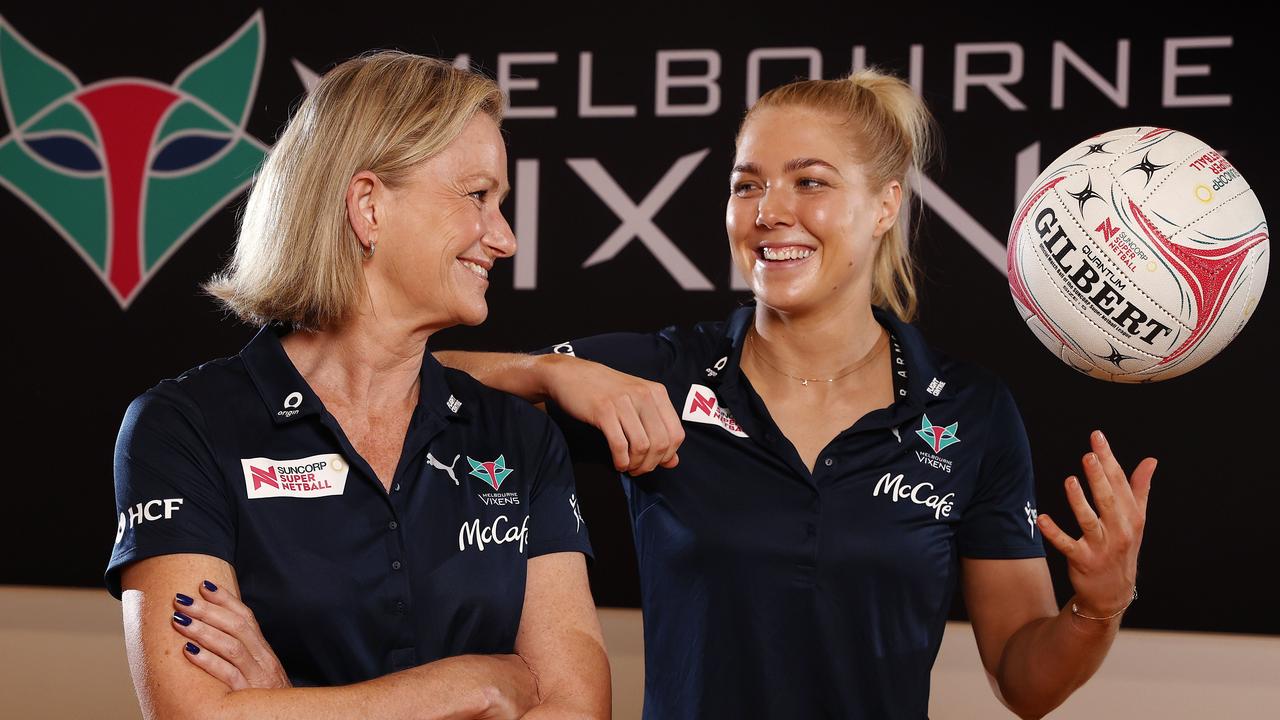 Vixens coach Simone McKinnis and player Kate Moloney, have both been at the Vixens for 10 years. Picture: Michael Klein.
"I got to my first training session with the likes of Bianca Chatfield and Sharelle McMahon.
"I have absolutely loved being part of the group and learned so much from all the players and Simone over the past 10 years."
Moloney said she had never considered swapping team colours, even after the side finished on the bottom of the ladder in 2021.
"This club, the players and coaches, have helped me become the person I am today," Moloney said.
"I just want to be able to repay this club everything that they have given me.
"Being able to pull on the navy blue, which is something that I did as a junior coming through the ranks, I have so much pride in playing for the Vixens and being able to go out and represent Victoria."
McKinnis has seen many changes during her 10 years as coach including the move from ANZ Championship to Super Netball.
Kate Moloney finds a teammate.
While McKinnis said she missed having the NZ involvement in the competition, Super Netball had grown into the best competition in the world.
"Super Netball has added a whole new level in terms of intensity and competitiveness and professionalism around the league," McKinnis said.
"It's faster, and the strength and power of the game has really grown."
Vixens will have a heritage display on show at John Cain arena ahead of the clash with Giants on Saturday night. Fans are also encouraged to wear a touch of Phoenix or Kestrels to the game.
McKinnis said it was important to acknowledge where the club started to appreciate how far it had come.
"Recognising the history of the Vixens and the Phoenix and Kestrels and all those clubs before, it is going to be nice to celebrate that," she said.
"There is a lot that goes into building where we are now and it's all about celebrating Victorian netball."
Vixens will play Giants at John Cain Arena at 5pm on Saturday.
Originally published as Super Netball 2022: Latest news and results from Round 3