Swimming world championships 2022: Synchronised swimmer who fainted underwater not allowed to continue in competition
Despite declaring she feels perfectly fine, FINA has ruled that the American synchronised swimmer who nearly drowned after fainting underwater cannot continue in the competition.
The American synchronised swimmer who nearly drowned after fainting underwater at the world championships in Budapest has been banned from taking any further part in the competition.
Anita Alvarez was planning to resume competing in the team event after reporting she was feeling perfectly fine - just 48 hours after she was dramatically rescued by her coach in the solo event.
But FINA - the world governing body for all swimming disciplines stepped in, convening a meeting that included three representatives of FINA's Sports Medicine Committee, the FINA Executive Director, the Team USA doctor, the Team USA team leader and the President of USA Artistic Swimming.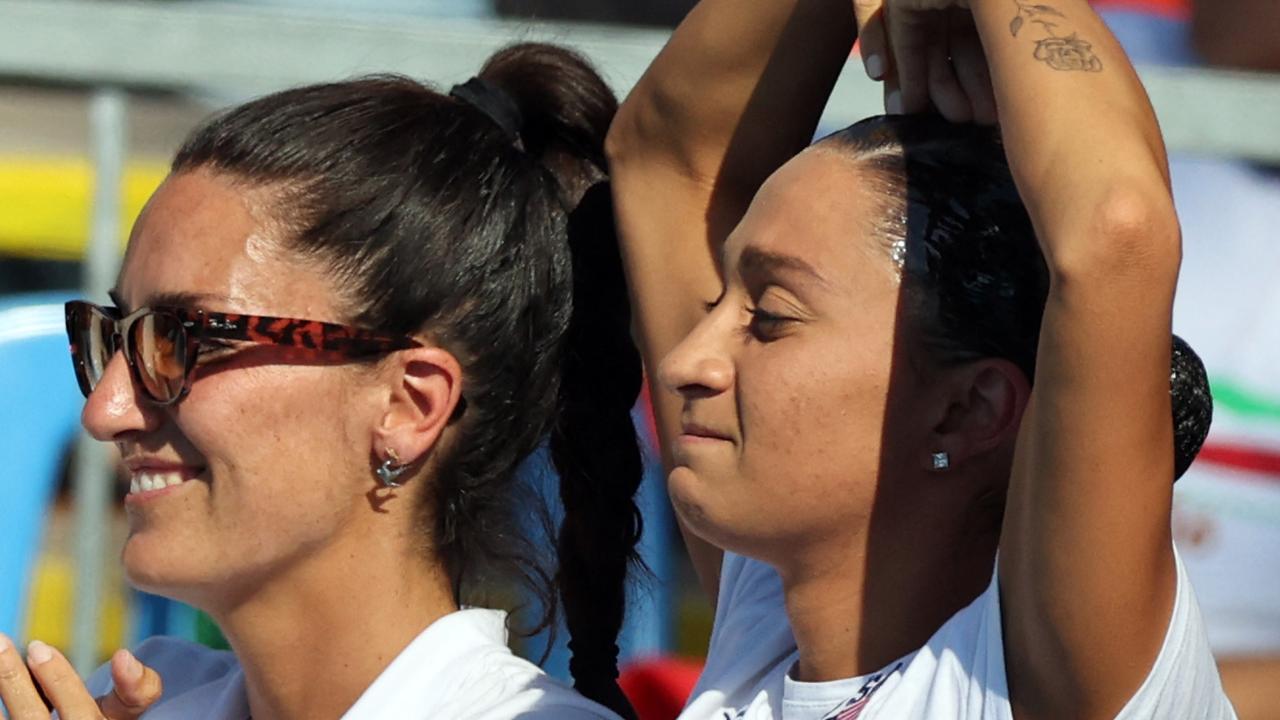 Anita Alvarez, right with Andrea Fuentes, the coach who's quick response saved her Picture: AFP
They later issued a statement saying Alvarez would not be allowed to compete.
"The meeting lasted an hour. Following these discussions, FINA determined that Anita Alvarez should not compete today," the statement said.
"The health and safety of athletes must always come first. While FINA understands why this decision will have been disappointing to the athlete, it was a decision that was made with her best interests in mind.
"FINA is delighted that Anita Alvarez has already made such a strong recovery, and looks forward to seeing her in competition again soon."
Alvarez fainted and sank to the bottom of the pool during her individual routine and was saved by her quick-thinking coach, Andrea Fuentes.
An underwater robotic camera captured the terrifying images of her sinking to the bottom of the pool then being rescued.
"I think she was at least two minutes without breathing because her lungs were full of water," Fuentes said.
World champs Covid outbreak hits Aussie team
The world swimming championships have been rocked by a Covid outbreak that has found its way into the Australian team.
FINA has confirmed to News Corp that a total of eight swimmers have so far tested positive to the coronavirus in Budapest.
Their names and nationalities remain confidential but Australian team officials confirmed that one of them is Lani Pallister - Australia's rising star in distance events.
She tested positive on Thursday and has been placed in immediate isolation for at least six days.
That means she will be forced to miss Friday's final of the women's 800 metres freestyle - where she qualified second behind American superstar Katie Ledecky.
An Australian team official has also tested positive and been placed in isolation, it can be revealed.
The rest of the team have been ordered to wear face masks and report any symptoms so they can be tested immediately.
At this stage, there have been no further positives within the Dolphins camp but head coach Rohan Taylor said team officials were not taking any chances.
"We've been testing every person who's felt sick, just in case," he said.
"We've notified FINA and we're following their protocols. We're just trying to do the right thing."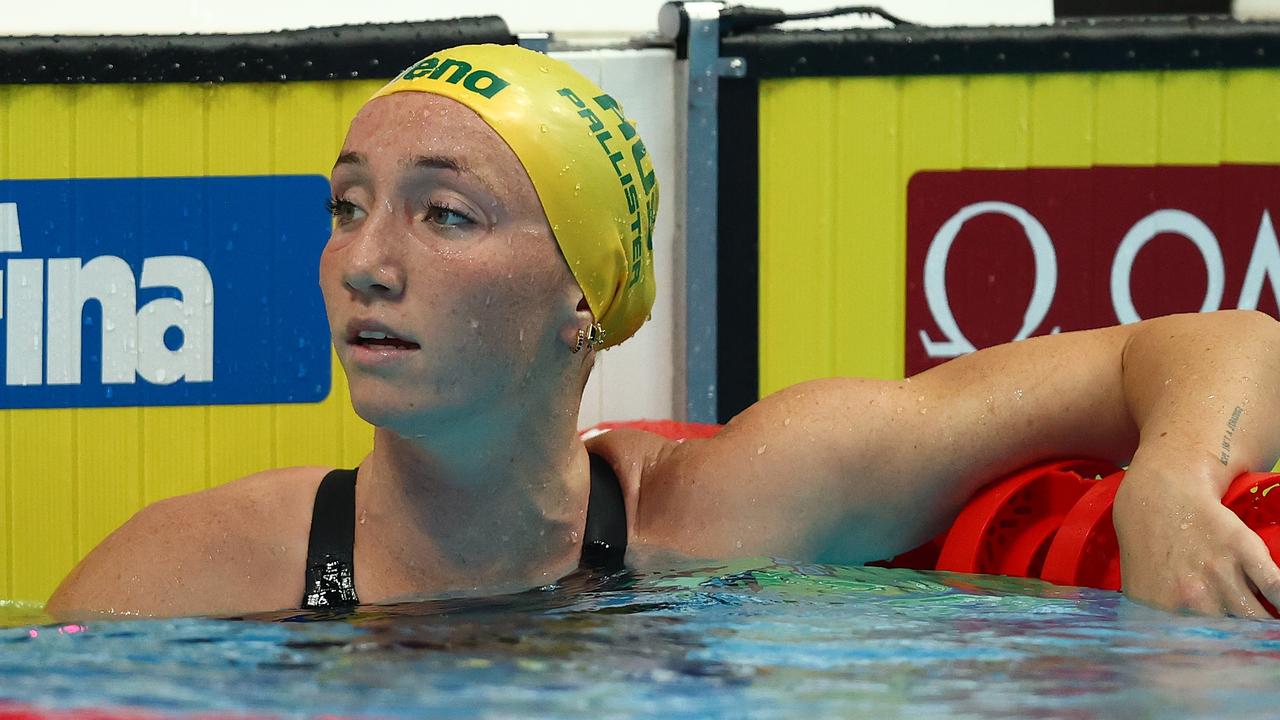 Lani Pallister has tested positive for Covid forcing her to miss the 800m final on Friday. Picture: Getty Images
Pallister was looming as a genuine medal contender in the 800m after performing brilliantly in her other races.
The daughter of former Commonwealth Games champion Janelle Elford, she had already won a bronze in the 1500m behind Ledecky and a silver in the 4x200m relay.
Pallister had no inkling she had contracted Covid when she swam in the 800m heats on Thursday but felt an itch in her throat when she got back to her hotel so decided to test herself.
"She feels fine but it came up positive so she rang the doctor," Taylor said.
"I think he did four tests on her just to be sure, but they came up positive so she's in isolation."
Under FINA's rules, Pallister has to miss her next race and remain in her room until she is clear, meaning she also won't be able to travel to Barcelona with the rest of the team when they relocate to Spain on Sunday, the day after the pool swimming finishes.
Pallister will remain in Budapest until July 1 because the Australian open water team has just arrived in the Hungarian capital - and her mother is one of the coaches.
Once the open water events finish, they will all travel together to France to join the rest of the team for the final training camp before next month's Commonwealth Games in Birmingham.
"That's the good thing, she'll be able to get back in and build back up," Taylor said.
"It is what it is. At the end of the day, we've been very fortunate until now but it's unfortunate for Lani because she can't race so she's obviously devastated."
Rumours of a Covid outbreak have been swirling around the pool deck for days after foreign teams suddenly started wearing face masks again and a number of swimmers pulled out of their races without any explanation.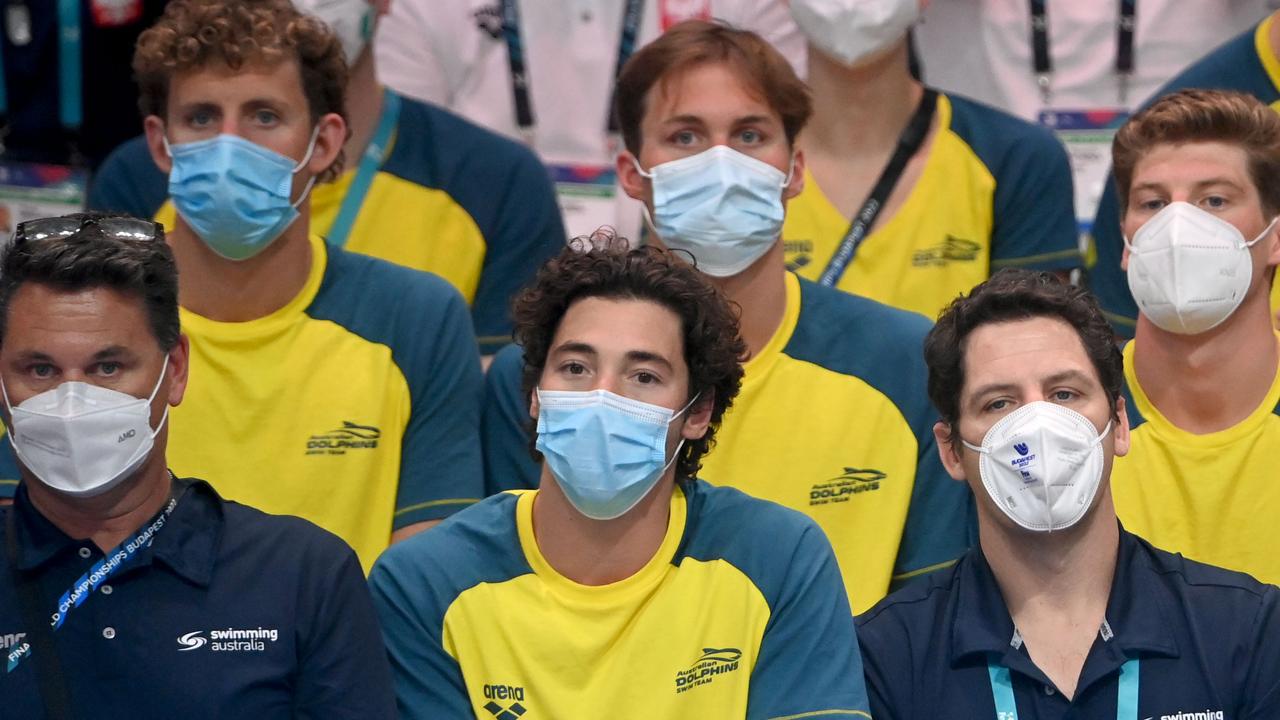 The Australian swimming team has been hit by a wider Covid outbreak at the world championships in Budapest. Picture: Delly Carr
A men's water polo match, between Canada and Italy, was also called off, with officials saying only that it was done for the "health and wellbeing" of all participants.
While eight swimmers have tested positive, it's understood competitors from other sports, as well as officials and staff, have also tested positive after more than 4,000 PCR tests were conducted.
Under the championship rules, all swimmers were tested on arrival but masks are not mandatory even though competitors are in regular close contact.
Pallister stood right next to Ledecky when they posed for photos after Monday's medal presentation for the 1500m and they shared a hug in the mixed zone, where competitors meet to talk with the media.
Originally published as Swimming world championships 2022: Synchronised swimmer who fainted underwater not allowed to continue in competition