The Early Tackle: All the Likes, Dislikes and talking points from Round 8
North Melbourne clearly needs draft help from the AFL after another dispiriting loss, where the most damning number was not even on the field.
We may be just two games into Round 8 but there's already plenty to like and dislike from the footy so far — Glenn McFarlane brings you the best and the worst of it.
LIKES
LYNCHED
IF Tom Lynch hadn't missed two early "sodas" he might well have delivered one of the greatest first-half performances from a key forward in modern memory, according to goalkicking champion Jason Dunstall.
As it was, Lynch grabbed hold of Saturday's clash with Collingwood by the scruff of the neck and staked his claim in what promises to be a tightly-fought Coleman Medal race.
In the first half, the Tiger spearhead tore this game apart with 18 disposals, eight marks and five goals. He finished it with 6.1, 11 marks and a career-best 25 disposals.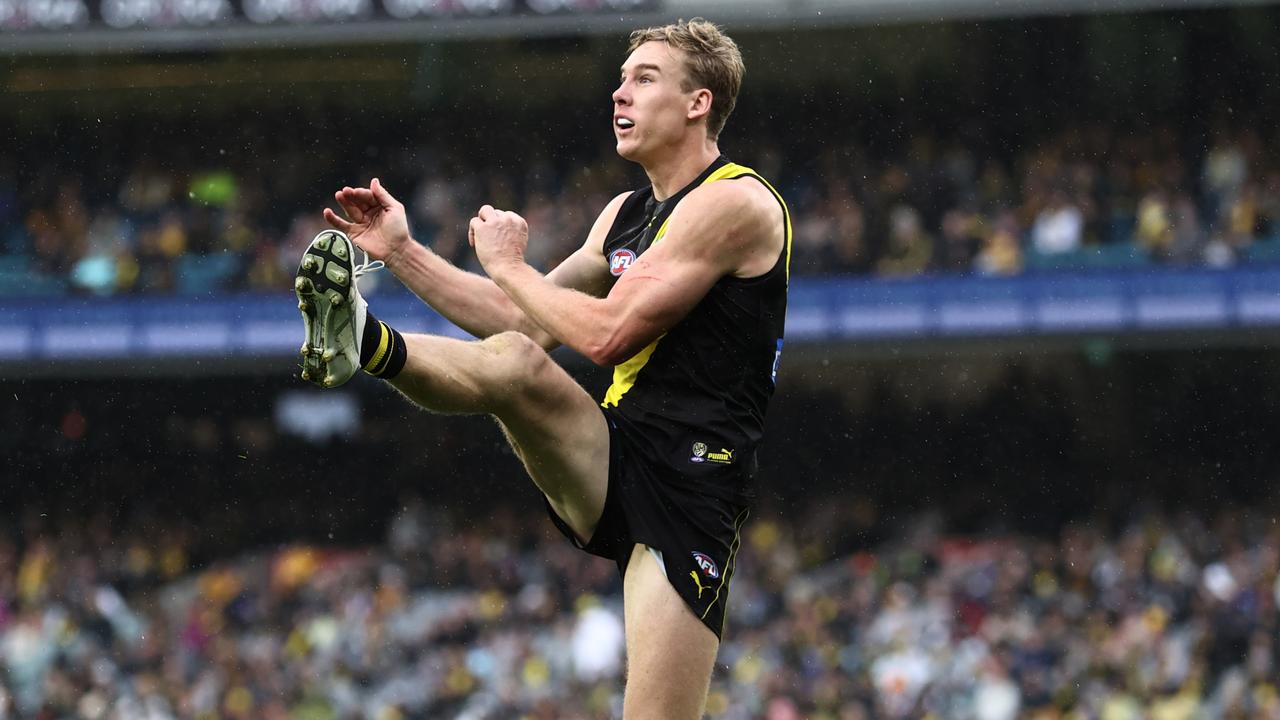 Tom Lynch was the star for the Tigers on Saturday. Picture: Michael Klein
Dunstall said on Fox: "This is a first half from a key forward that you just don't see - 18 possessions, if you don't mind, five goals and he has missed two absolute sodas.
"It could have been the best half of footy we've nearly ever witnessed by a key forward."
Further franking Lynch's performance was that it came on 2020 All-Australian Darcy Moore, who was thrashed early but managed to contain him a little better in the second half.
And in case you missed it, a superstar called Dustin Martin made his comeback with 23 disposals, two goals and a few 'Don't Argues' as the Tigers stamped their 2022 intent.
RUT-BUSTING BOMBERS
It wasn't quite the 'Miracle at Marvel', but this was a galvanising victory against the odds that could finally kickstart Essendon's 2022 season.
Few could have imagined this sort of performance was possible when the club encountered a virus outbreak late in the week.
That resulted in five players – Jordan Ridley, Jake Kelly, Matt Guelfi, Sam Durham and Alec Waterman – being late withdrawals.
Somehow, the inclusions all played their role, including Devon Smith, who was meant to be out injured for almost a month.
Peter Wright bagged six goals, Nic Martin continued to put his Rising Star credentials on show and Ben Rutten's pre-game prediction that the high-energy ballistic Bombers would be back proved correct.
Essendon's eight-goal final term to sink their arch rivals Hawthorn was the club's best return from a fourth-term in a decade.
The task ahead is still onerous at 2-6, but it was a big step forward.
DANGER AVERTED
On paper, this looked like a 'danger' game, but Geelong emerged from its Canberra road trip with a five-goal masterclass from Jeremy Cameron, a refreshed Patrick Dangerfield (28 touches) and Mark Blicavs the stand-alone ruckman against Brayden Preuss.
Better still, the Cats added two debutants in Cooper Stephens and Mitch Knevitt, who acquitted themselves well.
It was the perfect rebound from last week's home loss as the Cats made some slight changes to their 2022 game style by reverting back to what they know best.
And what was Chris Scott discussing in the huddle on the ground long after the final siren?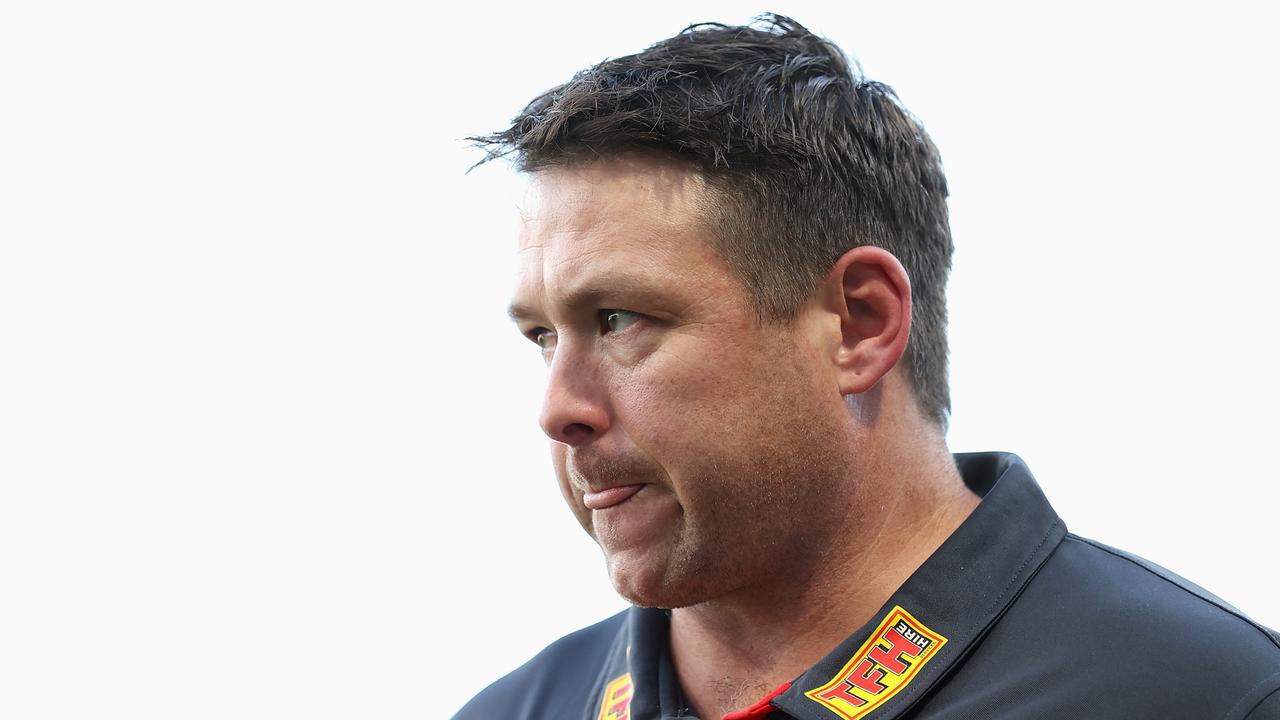 Stuart Dew is 4-2 against Sydney coach John Longmire. Picture: Cameron Spencer/Getty Images
GOLD AFTERNOON FIX
Gold Coast might well have registered one of the most significant wins of coach Stuart Dew's tenure – and they did it playing the Sydney way.
The Suns got their hands dirty at the SCG and got the rewards. They were +10 for contested possessions and +7 in stoppage clearances with a clear plan to deny the Swans the footy. It worked a treat.
Dew actually now possesses a 4-2 record against Swans coach John Longmire.
A late goal to Levi Casboult with two minutes to play sealed the game, as Izak Rankine produced an important game for his team with two majors with plenty of impact.
Could the Suns be turning the corner ... finally?
'NEV' AMISS
IT'S the best new nickname in footy and you could see why from the moment Fremantle debutant Jye Amiss joined the celebrated "first goal, first kick" club.
Only a tick over 300 players have done that in VFL-AFL football.
'Nev' Amiss? It stands for 'Never Miss' which the 18-year-old rarely does, having kicked 51.15 in the East Perth colts last year.
Last year's No.8 draft pick took the spot left vacant on Friday night by Rory Lobb, one of the six Dockers ruled due to Covid.
He might do the same on a more permanent basis next year if, as expected, Lobb looks to head east again as he did last trade period.
400-CLUB CONTENDERS
REMEMBER when we wondered if Shaun Burgoyne might be the last man to reach 400 games?
Only five men in the history of VFL-AFL football have reached that summit but a pack of contenders including two Friday night stars might yet stake a claim.
David Mundy is playing "like a 20-year-old", according to teammate Will Brodie, even though his birth certificate says 36.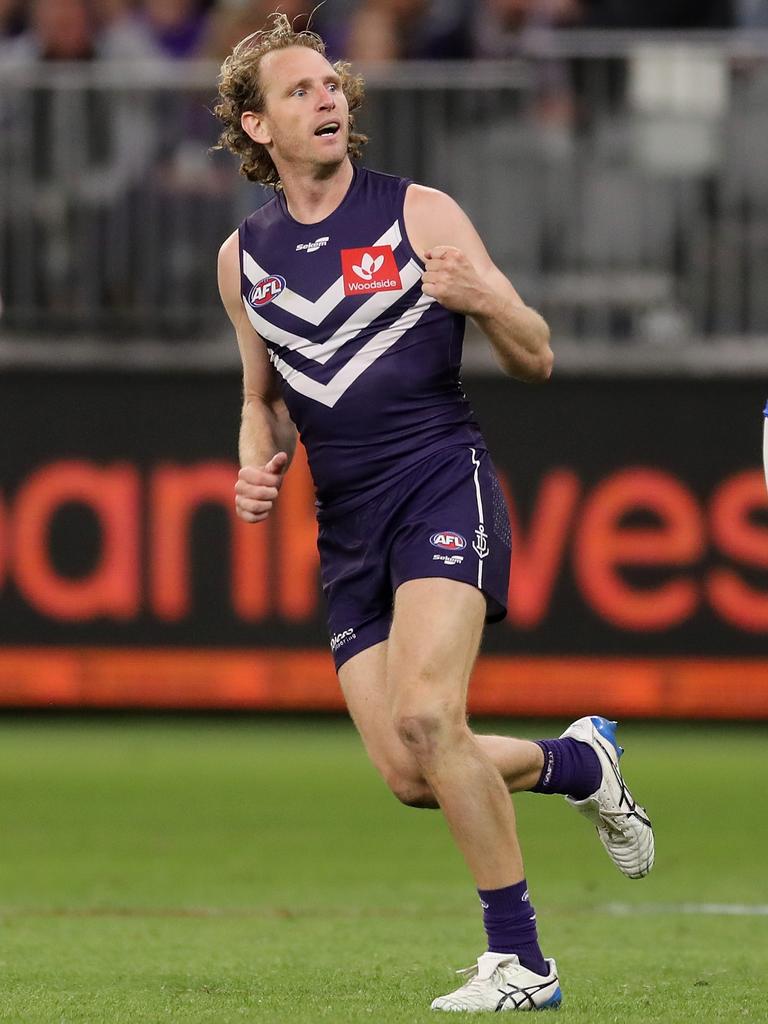 400 games is a definite possibility for evergreen David Mundy. Picture: Getty Images
Friday night was game 360. He could be 375 games by the end of the season and seems certain to play on again next season with finals again on the horizon in 2023. He's going to go awfully close.
Then there's Travis Boak, who at 33, has just had his 40th successive game of 20 or more disposals in his 100th game at Adelaide Oval.
Boak has played 314 games and could have two, three or four more seasons left in him.
Scott Pendlebury (342) and Joel Selwood (341) are also in with a chance, with both skippers keen to extend their careers for as long as possible.
POWER FORWARDS
CHARLIE Who? It's not quite at that level, but having been the Port whipping boys for the first five weeks of the season, Todd Marshall, Jeremy Finlayson and Mitch Georgiadis have played a key role in the club's turnover.
The trio turned in their best collective effort of the season – with Dixon to resume through the SANFL – with the Power forwards having 21 marks inside 50m – 12 more than their season average.
Yes, the Dogs were desperately undermanned down back which made for several mismatches, but the Power attack that looked so barren now looks a lot more fertile.
This was a big win for coach Ken Hinkley and his team, coming off an energy sapping trip to Cairns last week, as they also buried the memories of the Dogs' demolition at the same venue last September.
DISLIKES
CHEAP SHOTS
We love a bit of argy-bargy on a wet, cold Saturday afternoon between two bitter old rivals.
But we don't want to see cheap shots.
Not sure what Rhyan Mansell was thinking when he threw his elbow (twice) into the back of Jack Ginnivan's head in a pack as the three-quarter-time siren sounded.
It was, as Nick Riewoldt said, "poor form." It was unnecessary and wasn't a good look.
Ginnivan wasn't seriously injured, but that's not the point. If the AFL is serious about protecting the head, we need to rid this stuff out of the game. The MRO needs to have a good look at it.
And while we are at it, the Pies got a serious reality check against the Tigers, left wanting in pressure and contested play for one of the rare occasions so far this year.
We know the Magpies are a work in progress, so this might be a salient lesson of what is required against the good sides. They will need to be better against the Dogs on Friday night.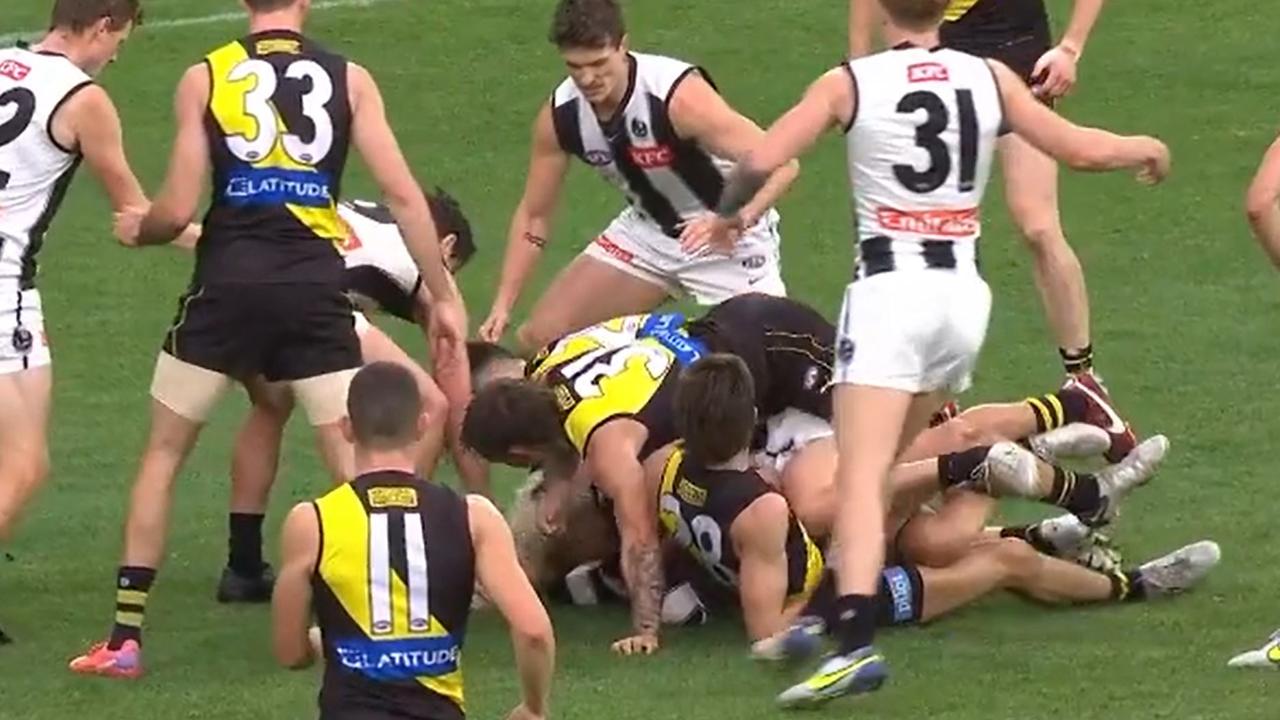 The incident which sparked a fiery clash at the MCG. Picture: Fox Footy
HOW DID WE BLOW THAT ONE?
You didn't have to be a lip reader to know that Sam Mitchell was mouthing something very similar in the last term as Essendon stormed home with the last seven goals of this game.
The Hawks had this match in their keeping for most of it. When Jacob Koschitzke nailed a goal against the flow seven minutes into the final term, the margin was out to 16 points.
It would prove to be Hawthorn's only goal of the final term as Essendon went on a goal-kicking spree.
Good young teams learn from these moments. That's the message Mitchell will be driving home.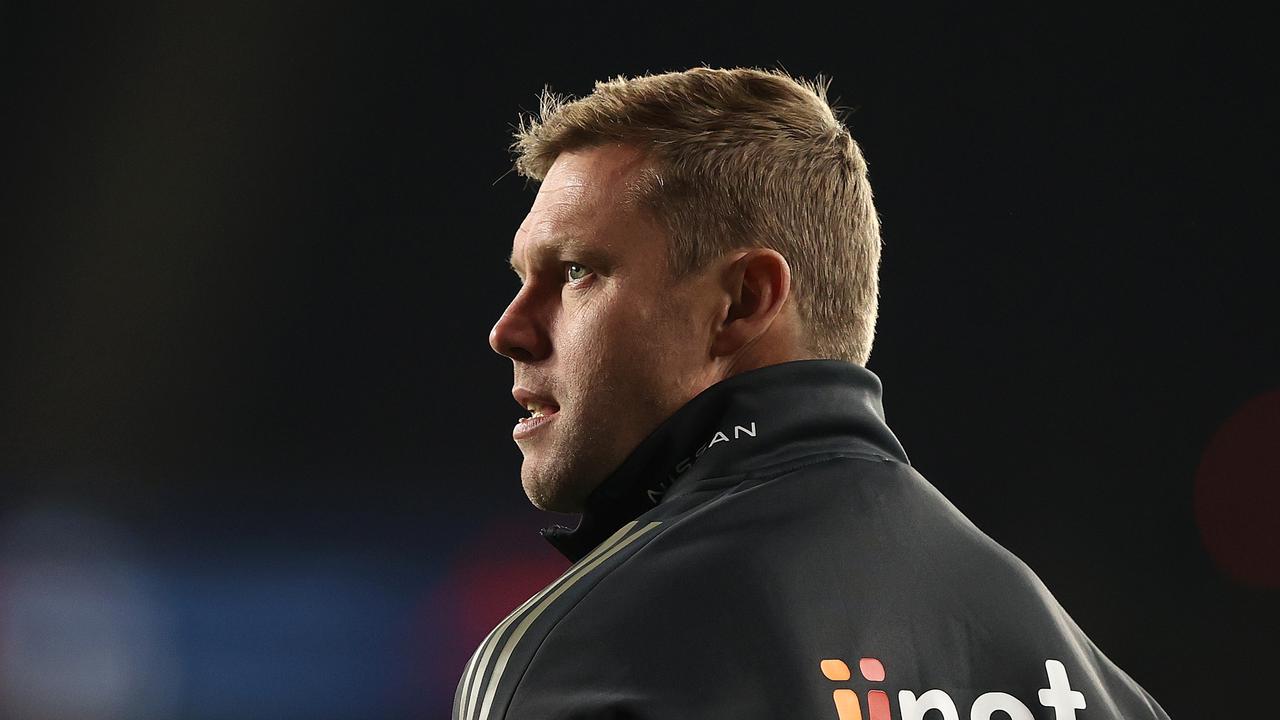 Hawks coach Sam Mitchell after the loss to the Bombers. Picture: Robert Cianflone/Getty Images
GIANT HEADACHE
This won't be an instant coach-killer, but the 53-point loss further eroded any belief Leon Cameron will coach the Giants next season.
It's not a good sign for the future when your team kicks only four goals for the night. It looks even worse when your former star forward, now in Cat colours, kicks more than your team.
Cameron has been a wonderful coach of the Giants. While change looks inevitable, the club needs to treat him with the respect he deserves.
GOODES GREAT; SWANS BAD
Adam Goodes' return to the footy at the SCG was one of the stories of the season, but Sydney's on-field efforts left a fair bit to be desired.
On a weekend where the club honoured the 10-year anniversary of the Bloods' 2012 premiership, John Longmire would have been frustrated by yet another slow start that has become an unwanted Swans' trademark so far this season.
The Swans have won only two opening terms this year. While there was still plenty of time to make that difference up against the Suns, it remains a troubling trend for Longmire.
That's two losses in a row for the Swans at the SCG ahead. The next month is critical for their top two chances - Essendon (SCG), Carlton (Marvel), Richmond (SCG) and Melbourne (MCG).
DISPIRITED, DEJECTED, DESPERATE FOR HELP
NORTH Melbourne is an on-field mess that requires urgent help. If anyone doubted this fact, their three-goal haul against a younger, less experienced, Covid-hit Fremantle made it glaringly obvious.
The most damning stat wasn't necessarily on the scoreboard – as bad as that was.
It was the fact that the Dockers who took the field were almost a year younger on average and had played 11 fewer games on average than their opponents.
It is sad to see this once-proud footy team in the predicament it finds itself in now.
Clubs don't necessarily deserve priority picks as too often their plight comes from mistakes, mismanagement and missteps, but the Kangaroos surely need draft assistance at season's end.
They have won eight games since the start of 2020. They have one win so far this year and it would take a brave man to suggest there would be many more coming anytime soon.
The pressure is on everyone – as it should be.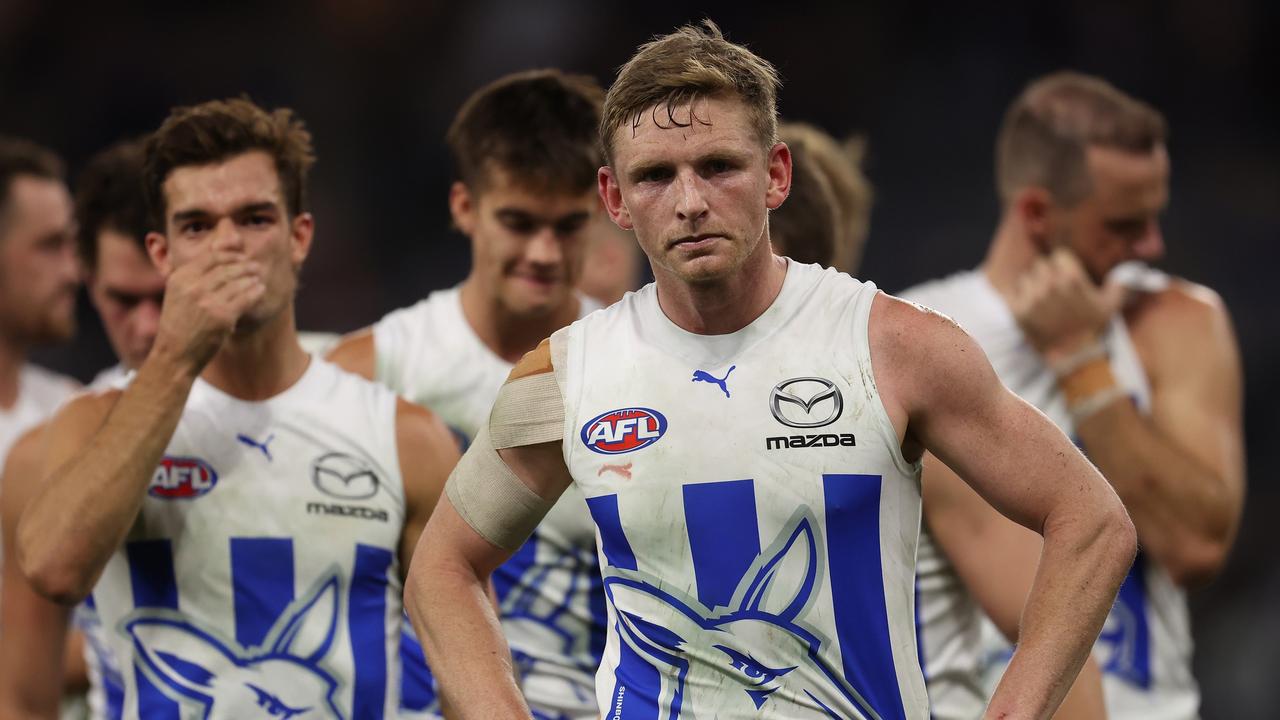 North Melbourne – an onfield mess that requires urgent help. Picture: Getty Images
The players look dispirited and dejected, and not even some false bravado at times changed that. They weren't good enough, but the sad thing was that they didn't look desperate enough!
If that's the case, it's inexcusable.
The pressure will naturally come on coach David Noble as he looks to try and stop the slide.
Perhaps his frustration may have contributed to part of the problem, even though at times it would seem to be justified.
Eight clubs have made inquiries about Alastair Clarkson's future, and the Kangaroos would surely have been one of them.
But why would Clarko – who has knocked back his old club on more than a few occasions – want to take over a side that looks in for a world of hurt for a number of years to come?
Would he not see GWS as a more palatable option?
Whatever happens behind the scenes, the Kangaroos must somehow find a way to rediscover the club's one-time DNA of resilience and fight to take it through to the end of the season.
That must seem like a million miles away from here.
BULLIES ON THE BRINK
THE Western Bulldogs' 2022 season is teetering on the brink after what coach Luke Beveridge called a "night of carnage" at Adelaide Oval.
Their previous visit to the ground in last year's preliminary final had been one of the club's great recent moments; their visit on Friday night may cost them any chance of playing a meaningful role this season.
SEN's Dermott Brereton says the Dogs might have run out of soldiers at a critical time they need to build a platform to attack the middle stages of the season.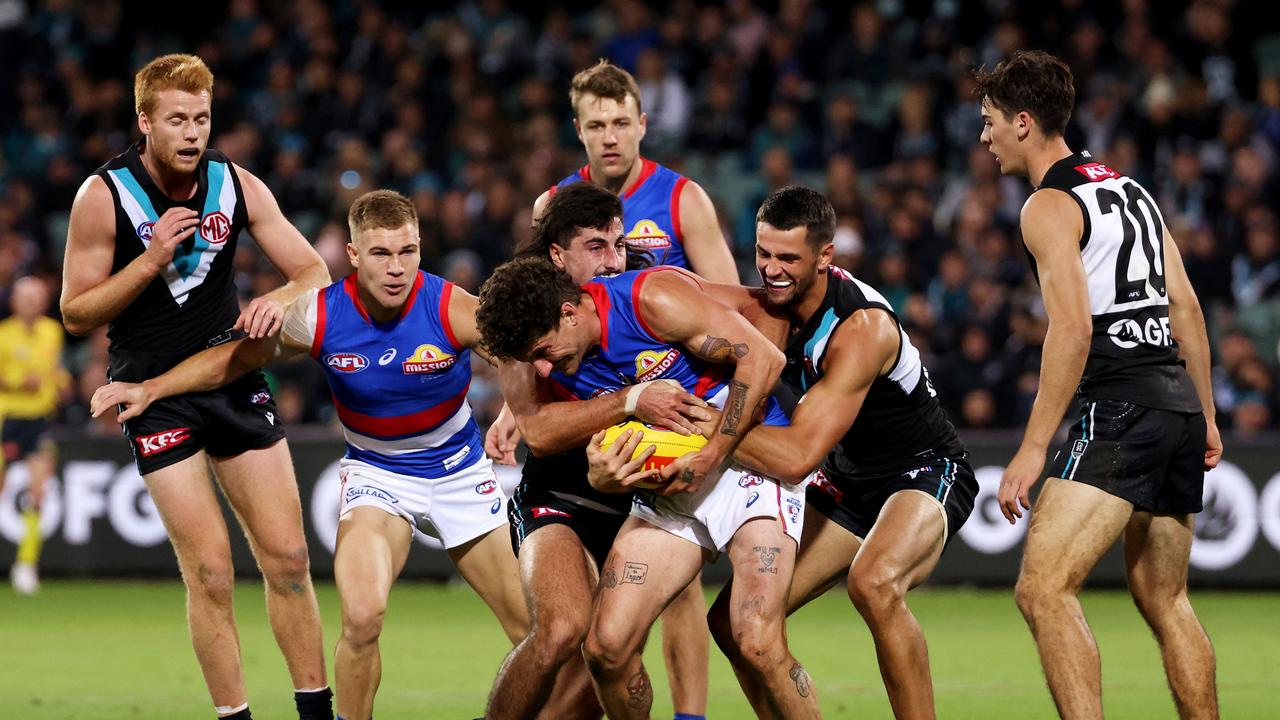 The Western Bulldogs' season is teetering following a night of carnage at the Adelaide Oval Picture: Getty Images
The loss of Cody Weightman (broken collarbone), Latham Vandermeer (hamstring) and Tim O'Brien (calf) made for a sick and sorry night for the Dogs, while Ryan Gardner was limping late in the game.
Their midfield depth has always been a great strength, but their lack of key-position depth is biting deep at the moment.
Did they do enough late last year to shore up their key position stocks, other than O'Brien?
Marcus Bontempelli is likely to return next week, but his injury soreness won't be cured with a week off.
They were also without key players in Tim English, Alex Keath, Lachie Hunter, Mitch Wallis, Jason Johannisen, among others, this week, as that elusive top four berth gets further and further away.
Unless they can get some soldiers back soon, it's going to be a battle all the way through to the end of the season just to play finals.
NO DOUBLE FRIDAYS/LIMITED OVERLAPS
PLEASE AFL, let's bin double-header Friday nights and the unnecessary overlapping of games that made this round look like a dog's breakfast.
Yes, we know it is Mother's Day weekend, hence the need to compact the round and limit the Sunday games.
But two games on a Friday night simply do not work. It is a marquee night to watch, analyse and enjoy the best of the best.
So to dish up a Freo-North game as a late night offering helped no one, least of all an in-form Fremantle who hadn't had a Friday night game in six years.
Could we have just had the lowest ratings of any Friday night game in modern memory?
Originally published as The Early Tackle: All the Likes, Dislikes and talking points from Round 8