UFC: How Israel Adesanya's team made a killer of Tyson Pedro
After almost three years out of the octagon, Tyson Pedro is now looking to fight twice in 12 weeks and credits Israel Adesanya's team for turning his career around.
AUSTRALIAN fighter Tyson Pedro has credited UFC middleweight king Israel Adesanya's team for turning him into a "killer", and now wants to also compete with the New Zealand megastar in July.
After spending almost three years out of the sport thanks to a run of serious knee injuries, Pedro is now looking to fight twice in 12 weeks – and potentially on the same card as either Adesanya or UFC featherweight champ Alexander Volkanovski.
On Sunday, the UFC confirmed its middleweight champ will headline UFC 276, facing American Jared Cannonier in Las Vegas on July 3.
Elsewhere, UFC officials are also finalising a trilogy bout between Volkanovski and Max Holloway, which will likely take place at either UFC 276 or UFC 277.
The latter of those cards, which is the also the more likely for Pedro, will take place on July 31.
After enjoying a resounding KO win over American Ike Villanueva in his return to the cage last month -- which ended his layoff of 1239 days, a UFC record -- the Sydneysider now wants to go again in July and will head to Adesanya's City Kick Boxing gym to prepare.
The quick turnaround is the latest in a run of positives for the light heavyweight, who has also partnered with superstar Penrith No.7 Nathan Cleary and UFC cult favourite Tai Tuivasa in the Drink West beer label, which was this week announced as an official partner of the UFC.
Tyson Pedro with fellow Drink West owners Tai Tuivasa and Nathan Cleary. Picture: Justin Lloyd.
Despite being based out of Penrith, Pedro is a regular at the Auckland fight factory and now has CKB head coach Eugene Bareman in his corner.
Before his recent light heavyweight comeback, the Aussie also worked closely with Adesanya's mental coach David Niethe, whose client list includes the likes of golfer Lydia Ko, four-time NBL champ Alex Pledger, plus Olympic and Commonwealth Games medallists.
Quizzed on his work with Niethe, Pedro replied: "It's opened up a completely new mental side for me.
"Something different to what I've ever had in fighting before.
"And I'm so excited.
"Because now I can use this blueprint, it's going to change how everything is done.
"Like leading into my return, we spoke about how competing at the UFC Apex, you don't go through the same stages you would fighting in a large arena
"You're at the hotel, you drive to Apex, then all of a sudden you're fighting.
"So we spoke about how I would go into one certain state, then another, and then you're in kill mode.
"Which happened for my fight.
"I felt like a killer.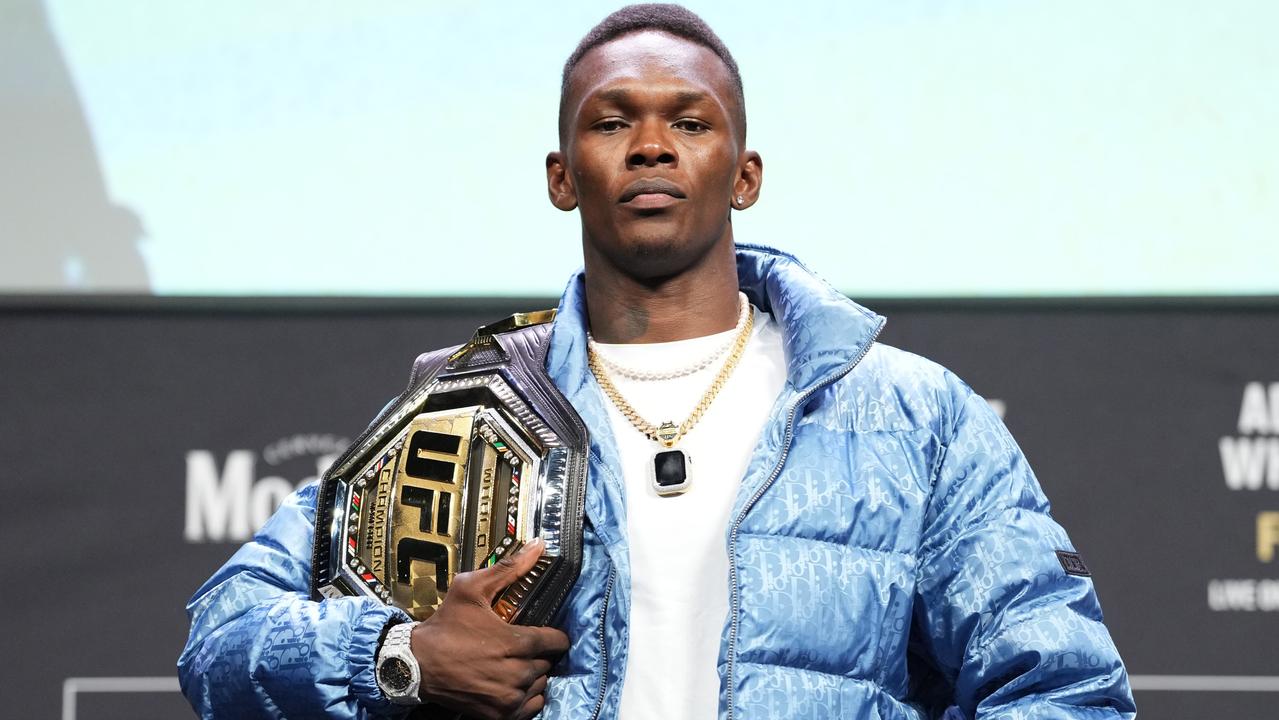 UFC middleweight champ Israel Adesanya. Picture: Josh Hedges/Zuffa LLC
"Even afterwards, I was still in that kill mode. Walking around still wanting to fight.
"It was when the music finally came on – Return of the Mack started playing – that I switched off, started dancing.
While Pedro finished the fight with slight knee soreness, he said the issue had nothing with the three major surgeries that had kept him out of the Octagon.
"No, it happened with the accidental nut shot," he laughed of an early knee which hit Villanueva south of the border.
"(Laughs) His cup was so hard, I almost busted my knee.
"I remember thinking 'imagine getting TKO'd because I've busted my knee on his groin."
Elsewhere, Pedro also credited his strong return to the advice of Bareman, whose most recent victory with Adesanya was a decision win over Australia's Robert Whittaker at UFC 271 in Texas.
"I know I may have been a bit slow early, but that was only because I wanted to have a patient fight," Pedro continued.
"Eugene told me, 'mate, you've got 15 minutes, take your time'.
"And that advice really stuck with me.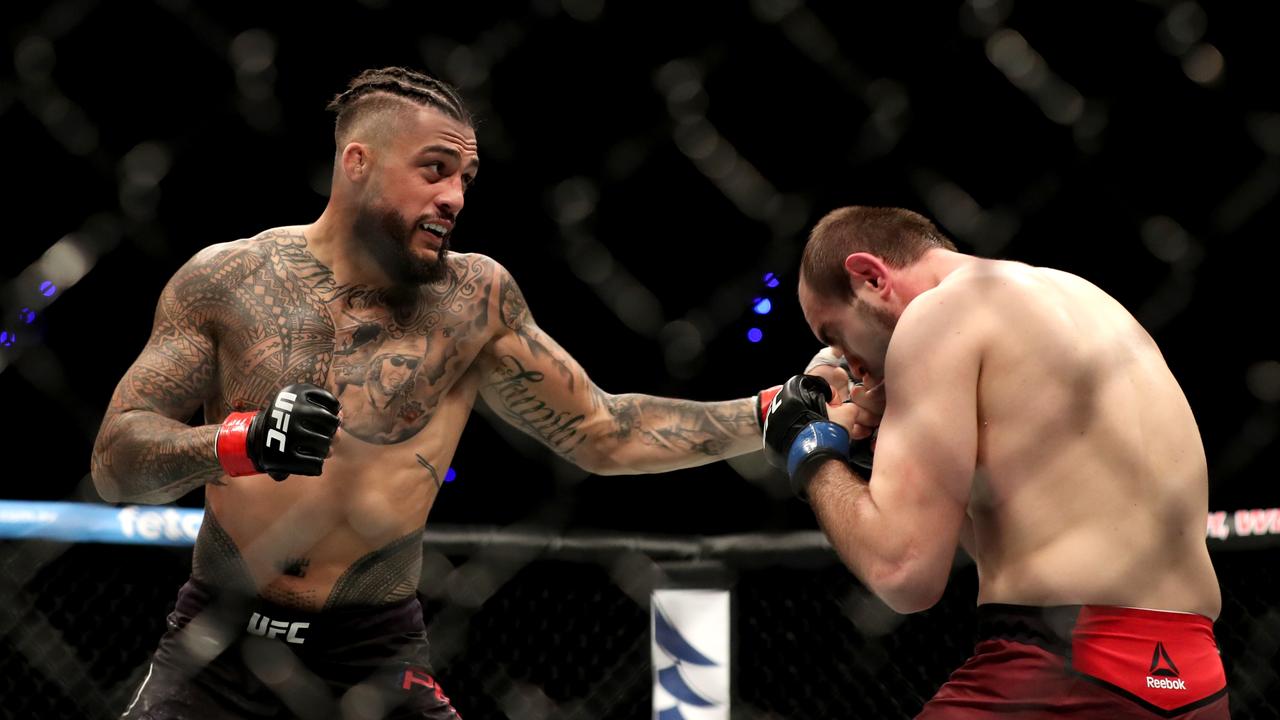 Tyson Pedro lands on Saparbek Safarov at UFC 221. Picture: AAP Image
"I knew I didn't need to rush.
"And the game plan was actually to wrestle more. But as soon as I worked out his (Villanueva's) distancing was way off … he had way shorter punches so I was able to stay long, keep it on the feet and pick him apart.
"Beat him up."
While Adesanya and Volkanovski are both looking to defend in July, two more titles go on the line at UFC 274 this Sunday – headed by Brazilian lightweight champ Charles Oliveira defending against American Justin Gaethje.
UFC women's strawweight champ Rose Namajunas will also defend her strap against Carla Esparza.
Asked for a pick in the main event, Pedro said: "Oliveira is slick but I really want Gaethje to win, man.
"I really like him as a fighter.
"The way he's developed, too, with those nasty leg kicks. So I'd really like him to win."
Originally published as UFC: How Israel Adesanya's team made a killer of Tyson Pedro