NRLW 2022: Bumper TV ratings leave female players in powerful position as new CBA deal nears
NRLW players are hoping to cash in on bumper television ratings as the game's female athletes push hard in the coming weeks for a better collective bargaining agreement deal.
NRLW players will be looking to cash-in on their bumper television ratings as the game's female athletes prepare to start formal negotiations on a new collective bargaining agreement deal.
Like the men, the women's game has proven to be a hit as a television product, averaging an audience of 64,000 which has trumped the juggernaut that is the Women's Big Bash League (average audience 46,000) across the Foxtel Group.
The NRL's current broadcast deal, finalised in December 2021, runs until the end of season 2027 and is set to rake in around $2 billion. The deal also includes the broadcast of the women's game over the same period.
Stream Over 50 Sports Live & On-Demand with Kayo. New to Kayo? Try 14-Days Free Now >
If ratings continue to climb as more franchises are added to the current six-team competition, female players want the ability to renegotiate terms that will give them a fairer share of the revenue over the course of the broadcast deal.
It's believed the players will fight for that right during CBA talks, which are set to heat up over the coming weeks.
The news comes as the AFLW announced a one-year CBA that will see the minimum wage for its female athletes increase to $47,407 a season.
The upcoming 2022 NRLW season will have a salary cap of $350,000 with a minimum wage of $10,000, the lowest among other major women's codes in Australia.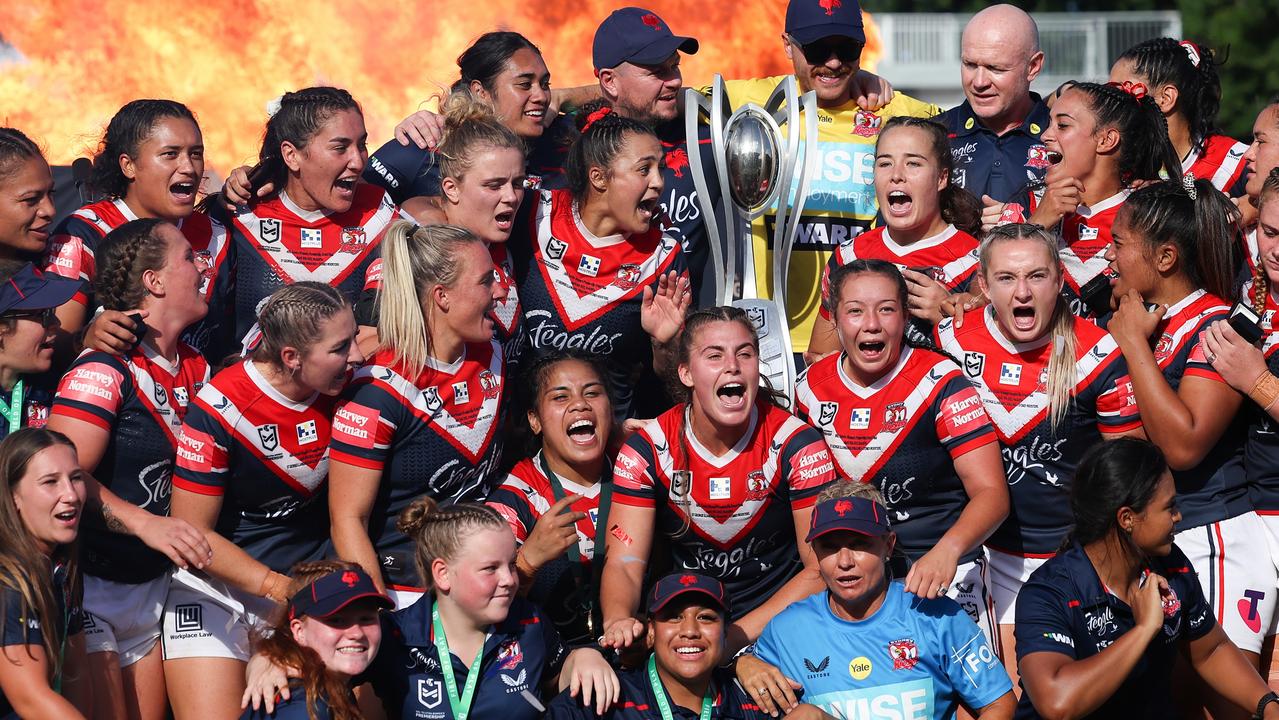 The Roosters celebrate their NRLW premiership as the competition proves a hit on television. Picture: Albert Perez/Getty Images
But NRL CEO Andrew Abdo is confident the new CBA will deliver 'significant' pay increases year on year for its female athletes.
"Our focus is on increasing remuneration for the players, in terms of representative fixtures and contracts for the premiership. We want to see significant increases but the actual amount, that has to be carefully worked out and negotiated," Abdo said.
"Our goal is to increase remuneration for our female athletes every season, every year as we get more organised and professional and get a greater ability to provide reinvestment back into the players.
"It's also about minimum wage, employment opportunities and creating a pathway for a full-time calendar."
Abdo was quick to point out that drawing a comparison between the AFLW and the NRLW minimum wage did not tell the full story given the AFLW has now 18 teams and increased the length of its competition to 10 round games for 2023.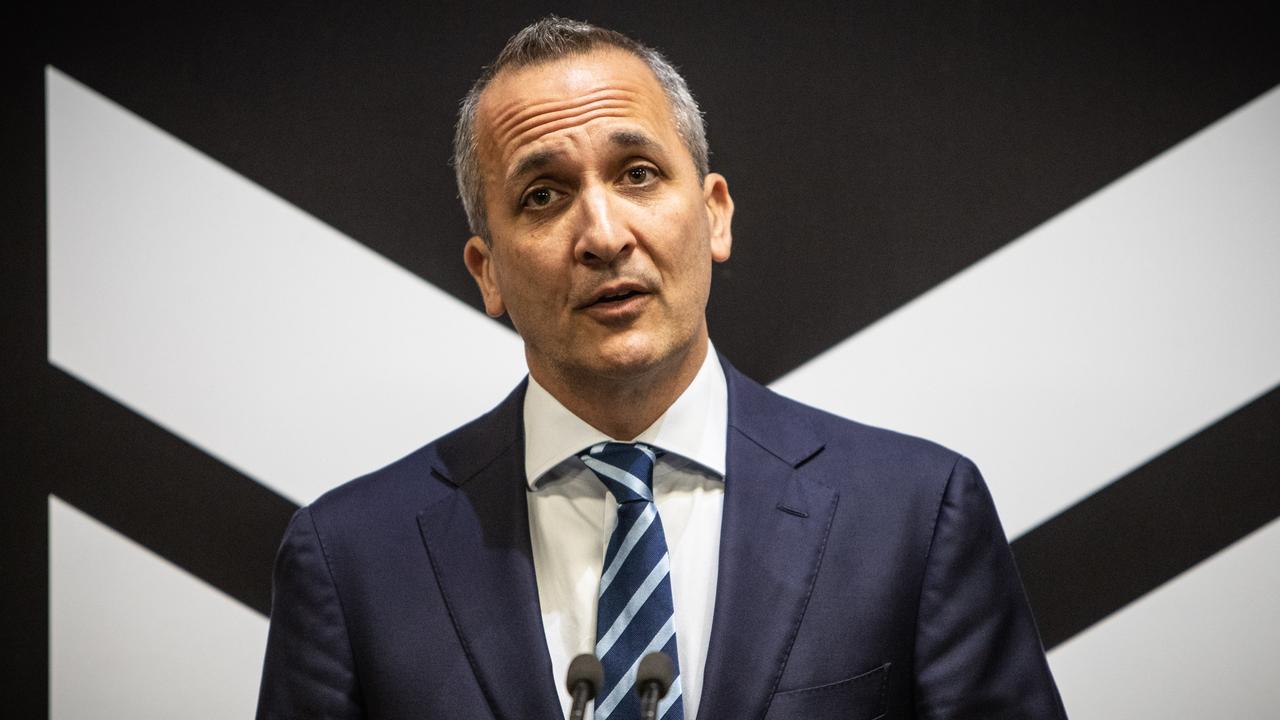 NRL chief executive Andrew Abdo has rejected claims rugby league could lose young female talent to other sports because of inferior wages.

Abdo rejected the notion rugby league could lose young female talent to other sports like domestic cricket ($86,456), netball ($75,167) and AFLW ($47,407) that are offering a minimum wage higher than what can be earned playing NRLW.
"We're focused on a terrific competition with terrific athletes that are appropriately remunerated. If you do that you will attract talent." Abdo said.
"Talent is attracted not just by what they can earn, which is obviously important, but the kind of development they get as athletes, the facilities, the culture.
"We want to attract men and women to rugby league not only because they get really well remunerated but because they can be developed as athletes by the club, at state representative level and international level.
"We have to work hard to make sure we are setting the standard for professionalism."
The NRL and RLPA are due to meet this week to begin financial modelling around remuneration and salary cap.
Lina Caccamo, the RLPA's general manager of elite women, said the current salary cap did not do enough to help remove the financial pressures some NRLW players are facing.
"We are hoping the new CBA pay increases at a level that alleviates the financial pressure that our players feel under the current cap level rate," Caccamo said.
Last week, Millie Boyle and Tamika Upton became the NRLW's first players to sign a $100,000 deal after agreeing to join Newcastle.
Only $16,000 of that will go into the salary cap under the marquee player rule.
Each NRLW club can sign two marquee players meaning the up and coming season could see 10 other players signing similar contracts to Boyle and Upton.
How NRLW must wrestle back control in women's sport
The NRL has been gang tackled in the dash for dollars across women's sport, with a new AFLW pay deal exposing how far rugby league has been left behind.
A Saturday Telegraph investigation into women's pay in Australian domestic sport has confirmed cricket as the most lucrative pathway for female team sport athletes, with netball also leading the charge.
Pressure is mounting on the NRL to drastically increase its investment in the women's professional game with the average wage for an NRLW player just $10,000 compared to AFLW players who are earning on average, $47,407 under a new agreement announced this week.
Tamika Upton (centre) will earn $100,000 with the Newcastle Knights next season.
The NRL's spend of less than $2 million on female contracts is dwarfed by the AFL, which is spending a whopping $25.6 million now it has expanded to a full 18-team women's competition.
What is most exasperating for women's league players about languishing in last place on the pay rankings, is that television ratings are impressive and junior participation numbers surging.
Rugby league is one of the fastest growing women's sports in the country at the grassroots — with participation rates directly linked to the advent of the NRLW climbing at approximately 18 per cent year on year, a faster rate even to Australian rules participation growth at 17.3 per cent.
What's more, the NRLW this season produced better TV ratings (average audience 64,000) than the comparative juggernaut that is the Women's Big Bash League (average audience 46,000) across the Foxtel Group.
Yet female cricketers are the highest paid in the country with an average wage of $86,456, just ahead of Super Netball ($75,167), while rugby league stars like Sarah Togatuki from the Sydney Roosters have struggled to hold down jobs as they are forced to combine work with pursuing their sporting dream on a minimum wage of $8000.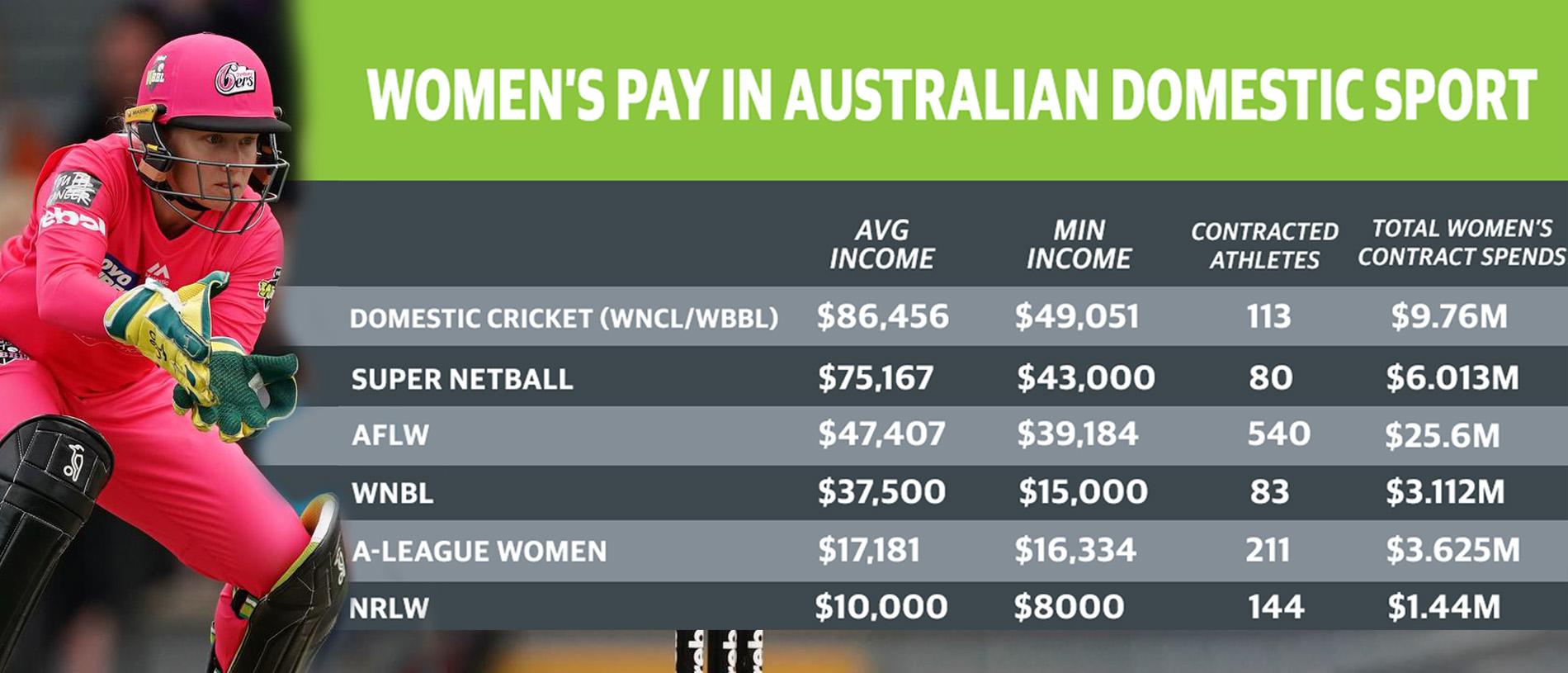 Who is earning what in women's professional sport in Australia?
Millie Boyle is set to earn over $100,000 by joining Newcastle as a marquee player next season. Photo: Getty Images.
Todd Greenberg, the former NRL boss and current head of the Australian Cricketers Association, says women's sport has become a fierce battleground, and financial investment is the only way to win the war.
"I hear this debate in other sports about you've got to be able to find the commercial terms before you start paying the females and I think that needs to be flipped around," Greenberg told News Corp.
"You've got to invest in the beginning, and invest in that talent pipeline and that pathway and cricket is an unbelievably good example of this.
"People a decade ago at Cricket Australia and the ACA saw the opportunity and backed themselves to make those investments, probably against stifling criticism at the time, but they're being rewarded for that right now.
"Professional sports in this country are effectively waging a war on talent. You can't sugar coat this anymore — we are in a war for talent. We are all looking for the very best athletes in this country to play the desired sport of choice and in female sports they now have significant choice.
" … A big part of that is remuneration and commercial success and the benefits that go with being in those sports. We want to be a leader and we want to stay as that leader so young girls can come through a pipeline and a talent pathway and choose cricket as their sport of choice."
Alyssa Healy has helped build the popularity and success of women's cricket with the Sydney Sixers in the WBBL. Photo: AAP
Premiership stars Millie Boyle and Tamika Upton have just become the NRLW's first six-figure players by signing $100,000 deals with the Newcastle Knights to pioneer a new mechanism which allows clubs two marquee signings, with only $16,000 of that counted in the salary cap.
They are not the only women earning six-figure deals domestically, with leading Australian cricketers also pulling in big deals while the AFL has trumpeted that up to 40 women could pull $100,000 deals under their new pay deal next season.
NRLW offers more women contracts than cricket, basketball and netball, but rugby league's minimum wage of $8000 is the lowest among all the major codes. Women earn almost half of WNBL ($15,000) and soccer ($16,334) while AFLW ($39,184), Super Netball ($43,000) and cricket ($49,051) pay at least four times as much to their lowest contracted players.
The NRLW only has a five-week regular season, compared with the AFLW increasing to 10 and cricket's one-day competition boosting to 12, Super Netball and the A-League soccer having 14 matches, and the WNBL with a total season of 21 regular games.
There are fears the best rugby league athletes could be lost to other sports if the gap is not rectified in the NRLW's new collective bargaining agreement later this year.
"If we're stuck in this space for too long, that's when we'll start to lose talent to other codes, definitely," said Lina Caccamo, general manage of Elite Women at the Rugby League Players Association.
"What's really clear with the amount the NRL has invested so far is there has been reciprocated growth within women's participation.
"So while these girls might not be necessarily profit turners in the traditional sense at the moment, they're benefiting the game hugely in a number of other areas.
"We need to make sure the game doesn't lose the competitive edge. We want players to be picking us first. We don't want to be a second option for anyone. We want to be industry leaders for women's sport and that includes pay, and we want young girls to be able to grow up being like, 'I can see that's what I want to be, and I can see how to get there and that's what I want my full-time job to be.'"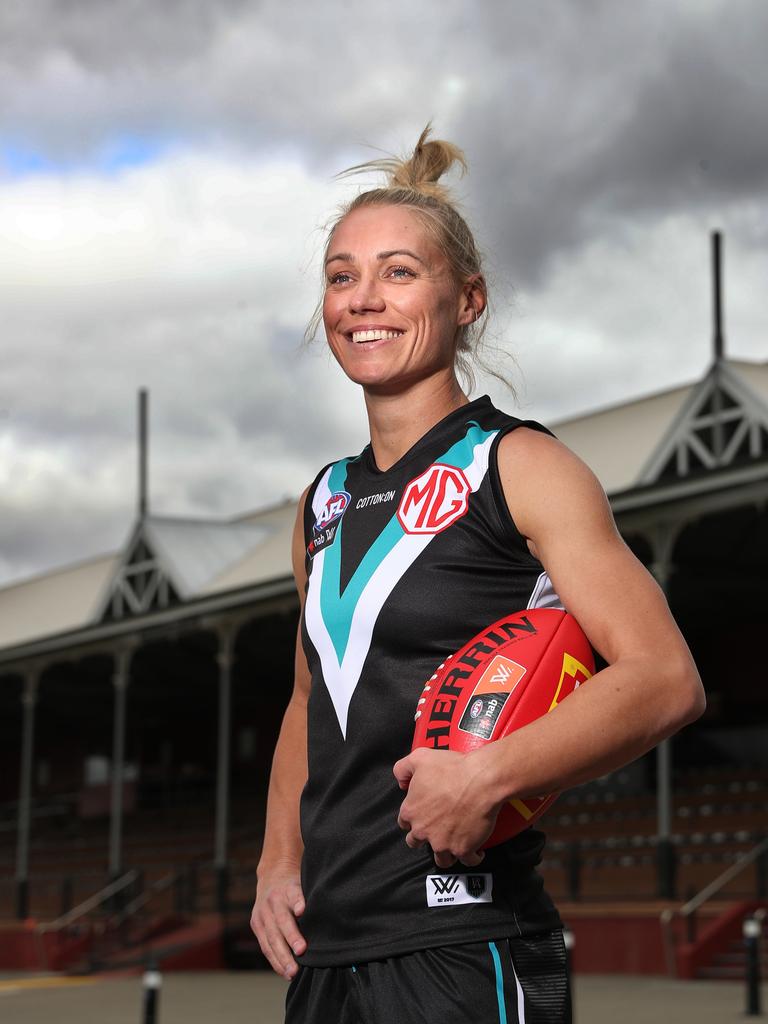 Erin Phillips would be one of the AFLW's highest paid players. Photo: Getty Images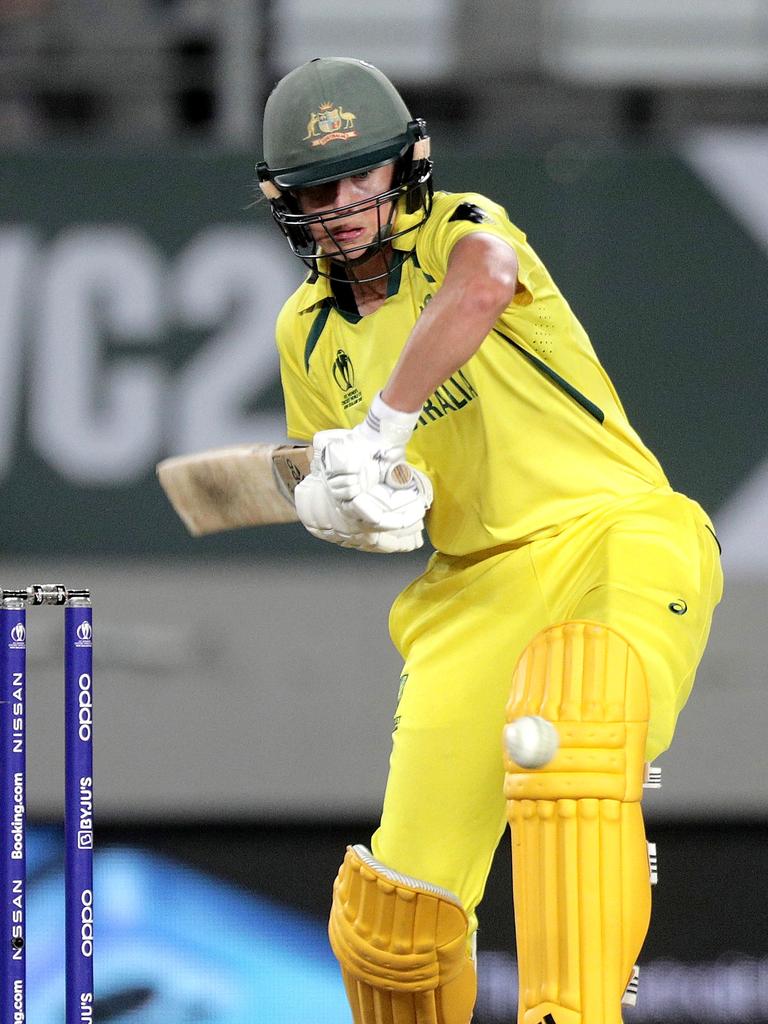 Ellyse Perry has been cricket's marquee star for several years. Photo: AFP
Cricket is the only sport where both male and female players are included in the same collective bargaining agreement – a demonstration cricket "lives and breathes" gender equity, according to Greenberg.
The Commonwealth Bank is a major sponsor of Cricket Australia that is only interested in women's cricket, while Greenberg says it's not beyond the realms of possibility that cricket could negotiate separate broadcast rights deals for its men and women to try and cash in on the distinct commercial value women's cricket brings to the table.
"You bring new investment, new brands and new fans into your sport so it's actually about growing the industry and bringing new money to the sport … not about siphoning off money into different areas," said Greenberg.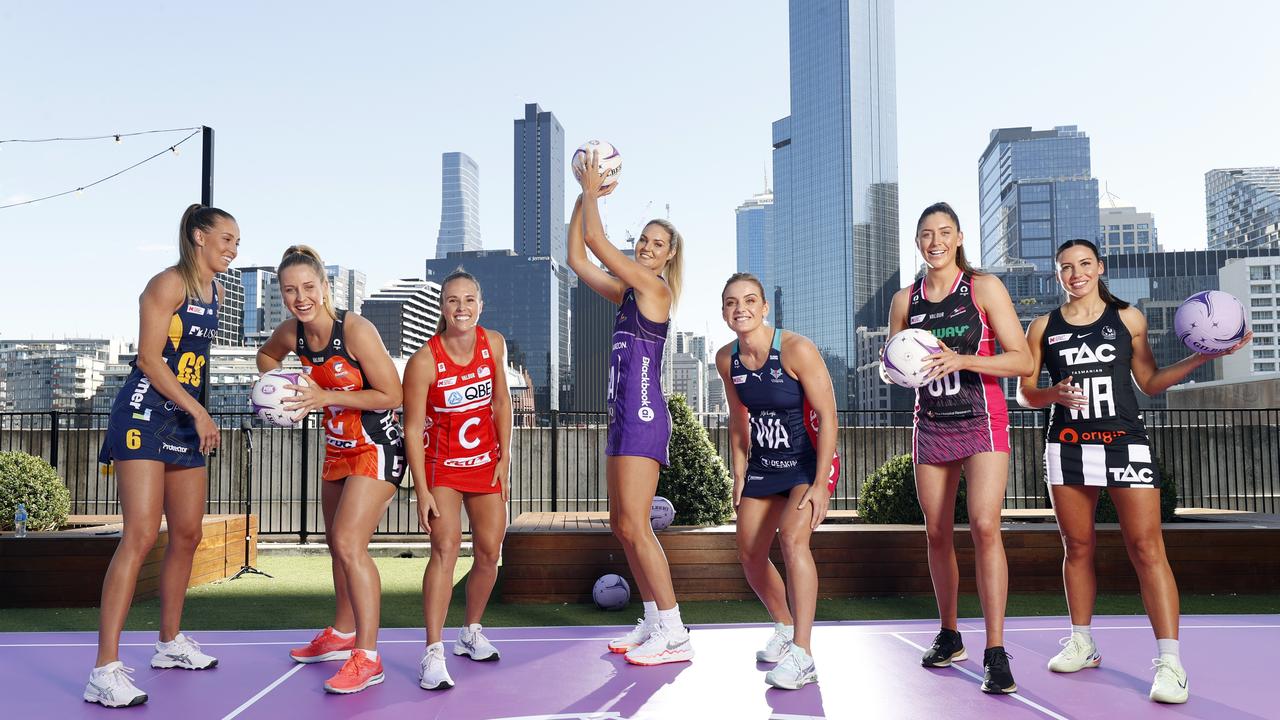 Super Netball players are well paid on the back of a Fox Sports broadcast deal. Picture: Alex Coppel.
Australian Basketball is proving a highly competitive option in the market for female athletes with WNBL players on average earning $37,500 and well ahead of A-League women at $17,181. Both those sports schedule their seasons so that the top players can also travel overseas to earn more money in international leagues.
Women's Rugby Sevens players earn an impressive average of $100,000, but it's a small squad of 16 players which doesn't filter down to a professional domestic league in Sevens or 15s rugby union where those players remain unpaid.
Originally published as NRLW 2022: Bumper TV ratings leave female players in powerful position as new CBA deal nears