World Cup Playoffs: Australia defeats Peru on penalties to qualify for Qatar
Socceroos hero Andrew Redmayne pulled out all the stops to help Australia secure qualification to the World Cup, including a cheeky move to throw off his Peruvian counterpart.
It was revealed exclusively on Tuesday night on Fox Sports' The Back Page that at the start of the penalty shoot out, Redmayne had spotted a cheat sheet on the Australian penalty takers taped to the water bottle of his Peruvian counterpart Pedro Gallese.
Redmayne sneakily picked up the water bottle and tossed it over the sponsorship signage so the Peruvian keeper could no longer refer to his notes at the clutch moment as World Cup qualification went on the line.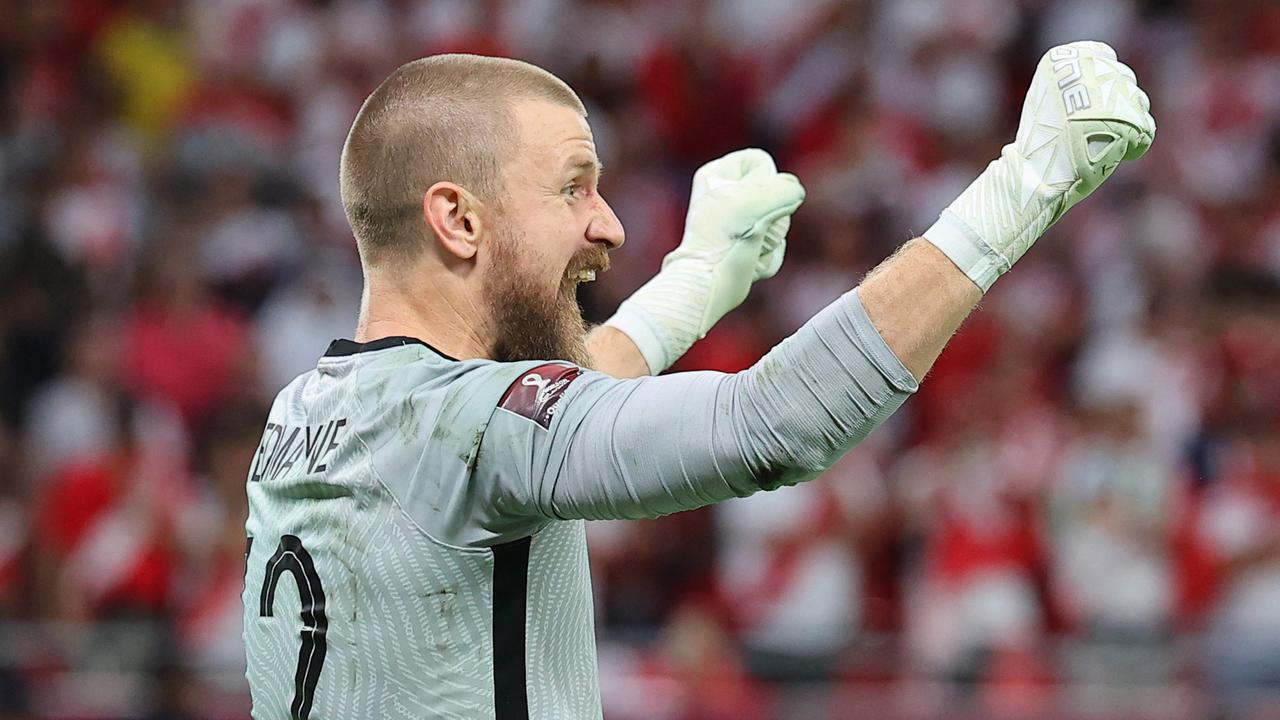 Andrew Redmayne celebrates the save that secured AQustralia a spot at the World Cup. Picture: Karim Jaafar/AFP
Socceroos great Robbie Slater said his good mate, Australian coach Arnold, had confirmed the extraordinary moment of gamesmanship to him on Tuesday night just an hour before he went on air for The Back Page.
"This is a fact. On the water bottle there was a piece of paper taped with the faces of the Australian penalty takers and which side they go," Slater said.
"So Redmayne has seen it and said, 'well you're not having that.'
"He's grabbed it and thrown it.
"Goalkeepers are mad. It's common knowledge in football teams that the maddest player in the team is the goal keeper."
If Redmayne wasn't already a legend due to his dancing penalty shootout heroics against Peru, then his cheekily cunning move during the tense finale will make Australia fall in love with him even more.
Before Craig Goodwin stepped up to take Australia's third penalty in the shootout against Peru, Redmayne was walking back to his mark while Peruvian goalkeeper Pedro Gallese stood on his line, spotted the water bottle, and tossed it over the advertising board.
It's worth noting that when he did have his water bottle, Gallese saved Martin Boyle's penalty and guessed the right way for Aaron Mooy's strike but couldn't get a hand to it.
But after Redmayne's shameless move, Gallese went the wrong way on every other penalty.
It's a common tactic for goalkeepers to have notes on which way a penalty taker will shoot as they try to gain any advantage possible.
As for the Australian gloveman, he had his notes the entire time and dived the right way on Peru's final three penalties, but it was his efforts on the South American's sixth and final penalty that mattered most.
Redmayne dived to his right and kept out Alex Valera's attempt to spark jubilation on the Australian touchline and send the nation into delirium.
The Socceroos were still lapping up their World Cup qualifcation on Tuesday, with some players still wearing their team kit at the pool bar at their hotel.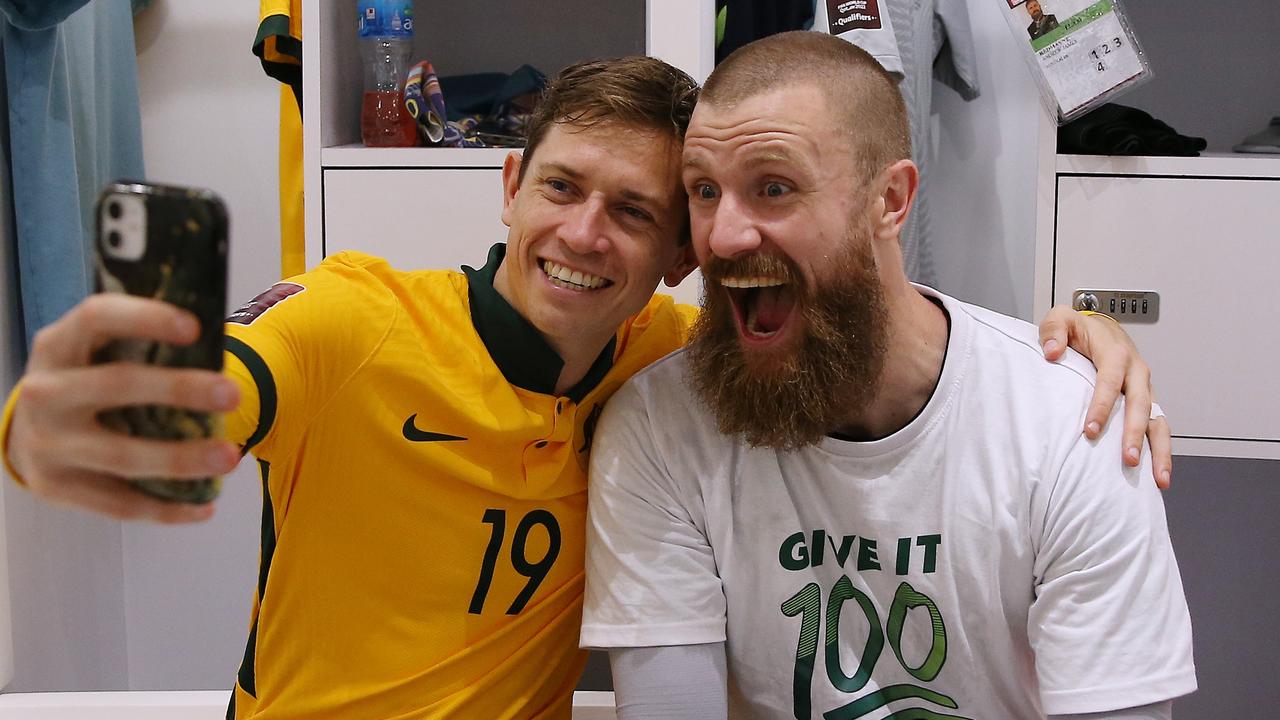 Craig Goodwin and Andrew Redmayne were all smiles after the Socceroos' win. Picture: Mohamed Farag/Getty Images
Arnie's 'bum' call to Albo before Socceroos miracle
-Tom Michell
Australia is going to the World Cup!
Graham Arnold's call to sub Andrew Redmayne on for the shootout paid off in spades as he saved the decisive penalty to seal the Socceroos' passage to Qatar.
Eyebrows were raised in the 119th minute when under-pressure coach Arnold pulled captain Matt Ryan, one of the Socceroos' best players on a night of few chances.
But the brave call paid huge dividends as Australia sealed its berth at the World Cup later this year when Redmayne saved Peru's sixth spot kick.
"Bit lost for words. I can't thank the team enough ... I am not going to take credit for this because the boys ran out 120 minutes," Redmayne told Channel 10.
"It's a team effort, it's a team game so I can't earn any more credit than the other 27 that are here."
The back-up keeper revealed the penalty strategy had been devised weeks ago.
"This idea was floated pre-selection that this might kind of eventuate in these circumstances. For the 2-3 weeks we have been here I've kind of been having that in my mind," he said on Channel 10.
MORE: REDMAYNE BECOMES AN INSTANT AUSSIE CULT HERO
"I'm grateful for the other boys for running out 120 minutes.
"I'm no hero. I just played my role like everyone else did tonight."
Former Socceroo Mark Milligan said: "It's a massive, massive call because if it doesn't work, you own that as well."
Socceroos coach Graham Arnold, whose position came under pressure after Australia failed to earn automatic qualification, said: "Andrew Redmayne is a very good penalty saver. And to try and get into the mind, on the mental aspect for Peru — why are we making that change? To add that little bit of uncertainty in their brains."
Australia's goalkeeper Andrew Redmayne poses for a selfie with fans after his shootout heroics.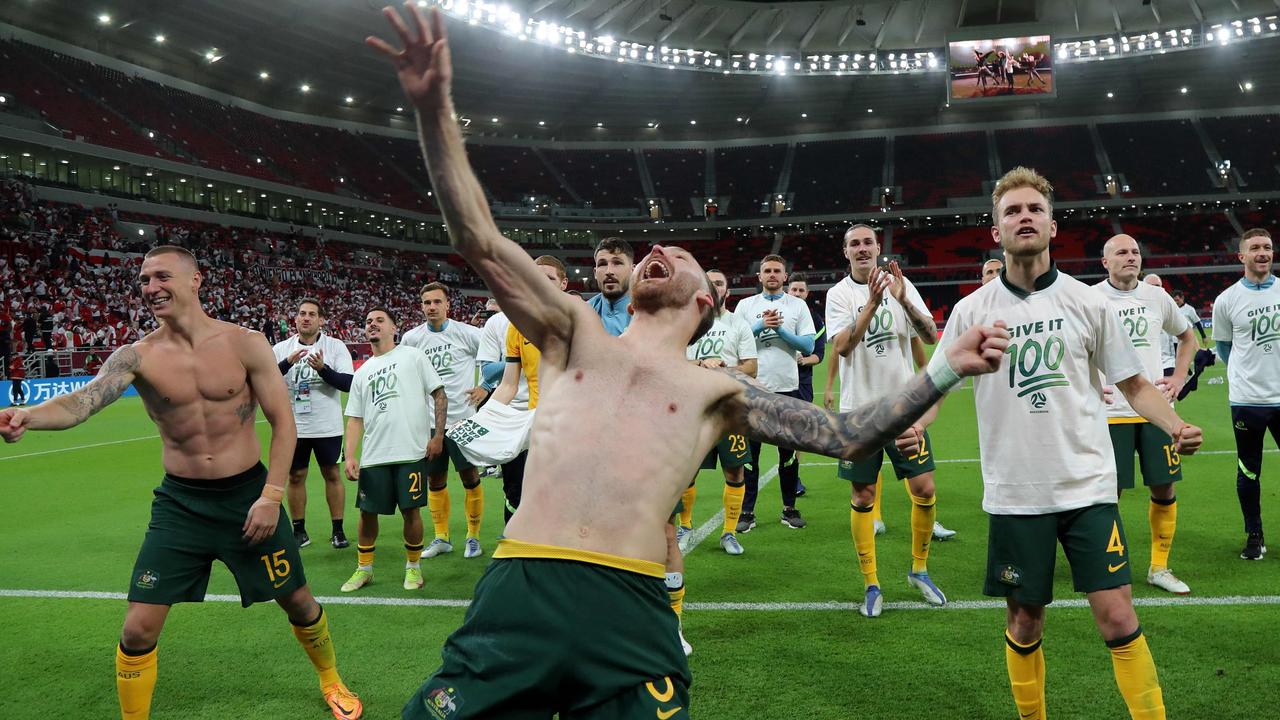 Martin Boyle leads the Australian celebrations.
Australia will face World No.3 France, Denmark and Tunisia in Group D.
Defender Aziz Behich said the Socceroos' gruelling qualification campaign had deserved a spot in the last 32.
"Of course (the shootout was) stressful (with) what's at stake...I trust our players," he said.
"In these type of situations it's all about being confident and having so-called balls and that's what our boys showed tonight.
"We're going to another World Cup and I can't wait."
Arnold went one better, urging Anthony Albanese to give Australians a day off to celebrate, urging the new Prime Minister to follow Bob Hawke's famous call following the 1983 America's Cup victory.
"I called out Anthony Albanese the other day to give everyone a day off to celebrate this because I believe this is one of the greatest achievements ever to qualify for this World Cup the way we had to do things," he said.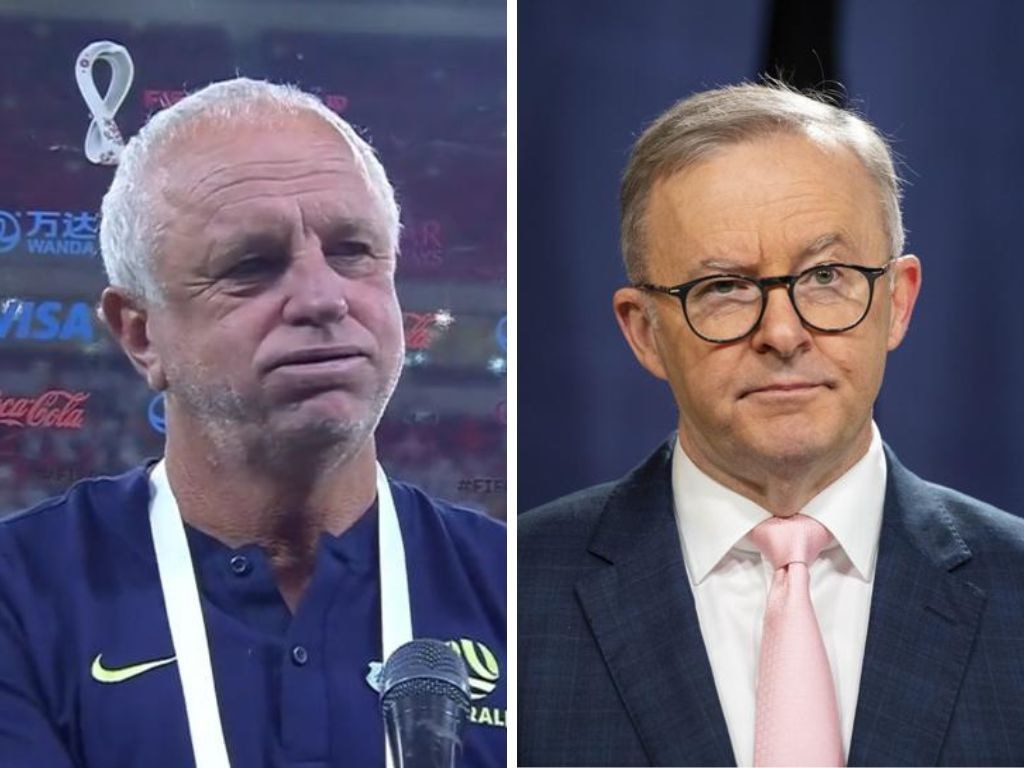 Arnold called Albanese before the victory.
"I'm just so proud of the players. Really, no one knows what these boys have been through to get to here. It was so hard.
"The whole campaign and the way they have stuck at it. The way they have committed themselves to it. Incredible."
Peru came closest to breaking the deadlock in extra-time when substitute Edison Flores struck the upright with a header.
Earlier, Behich's curling effort almost caught Pedro Gallese out and Ajdin Hrustic forced the Peru keeper into a diving save as Australia pressed for a winner in regular time.
Qatar will be Australia's fifth consecutive appearances at the World Cup finals.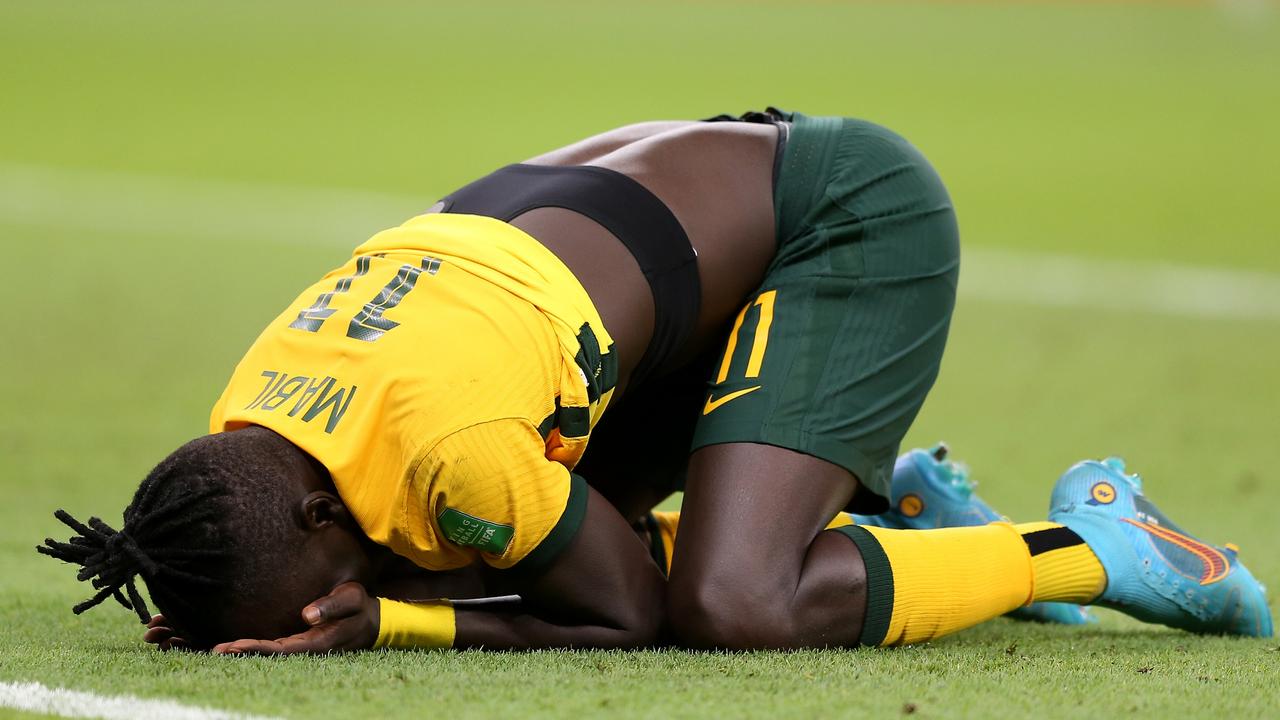 Awer Mabil is overcome by emotion after Australia's win.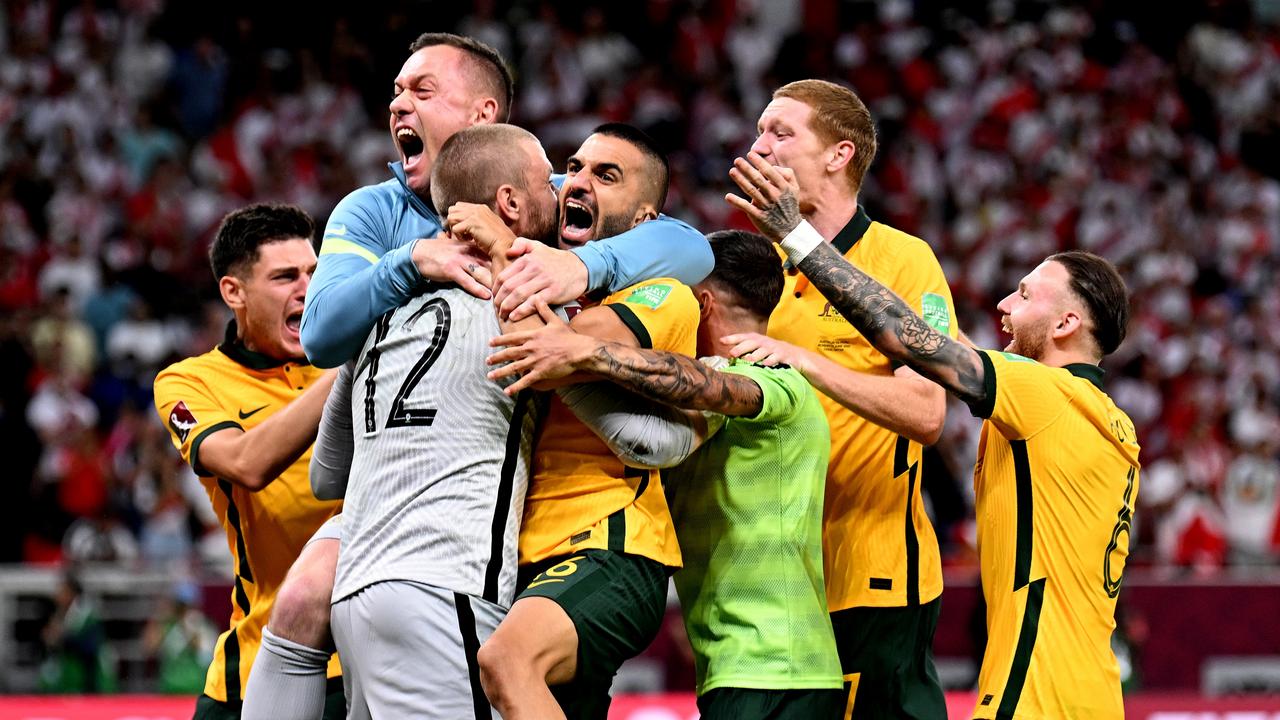 Andrew Redmayne is mobbed after saving the decisive penalty.
Nerves well and truly shredded. Proud of our #Socceroos for taking it this far. Channel that '05 spirit. Come on lads! #AUSvPER

— Rob Greenwood (@robgreenwood1) June 13, 2022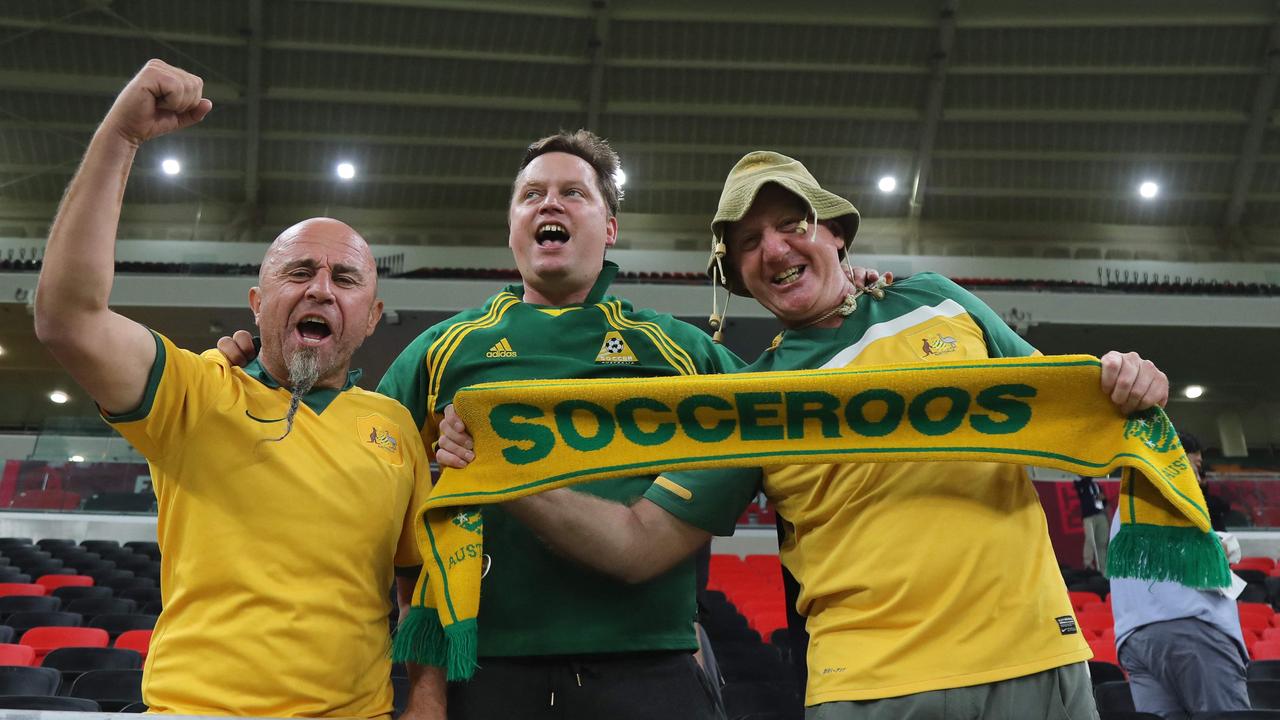 Australian supporters in Doha enjoy the Socceroos' triumph.
Stream Over 50 Sports Live & On-Demand with Kayo. New to Kayo? Try 14-Days Free Now >
Originally published as World Cup Playoffs: Australia defeats Peru on penalties to qualify for Qatar