World swimming body FINA set to for historic vote on transgender participation
The most divisive issue in world sport is about to boilover, with FINA set to make a historic ruling which could define transgender participation in women's sport.
Swimming's world governing body FINA is set to confront the hot potato decision that sports officials around the world have been terrified of making at a landmark meeting in Budapest on Sunday.
There is no simple win-win solution in the highly emotional feud between inclusion of transgender athletes and fair play for biological female athletes, but FINA is prepared to be the first sport to tackle the issue head on.
Stream Over 50 Sports Live & On-Demand with Kayo. New to Kayo? Try 14-Days Free Now >
American transgender swimmer Lia Thomas. Picture: Icon Sportswire/Getty Images
Knowing that the first one through the wall will get a bloodied nose, no major sport has had the guts to make a definitive ruling but highly placed sources have told News Corp that will all change this weekend – and the global response will be deafening.
Speaking under strict confidentiality because less than a handful of people are aware of what's about to take place – highly placed sources have told News Corp that FINA expect a definitive ruling to be made this weekend.
It's already known that FINA's leaders have agreed to discuss the transgender issue at Sunday's extraordinary Congress in the Hungarian capital Budapest.
But what isn't known yet – until now – is that when participants show up, they will be asked to vote on landmark recommendations that could change world sport forever.
Aware that any decision relating to the transgender issue – no matter which way it goes – will set off a firestorm of complaints, FINA's top brass has gone to extreme lengths to keep the recommendations top secret.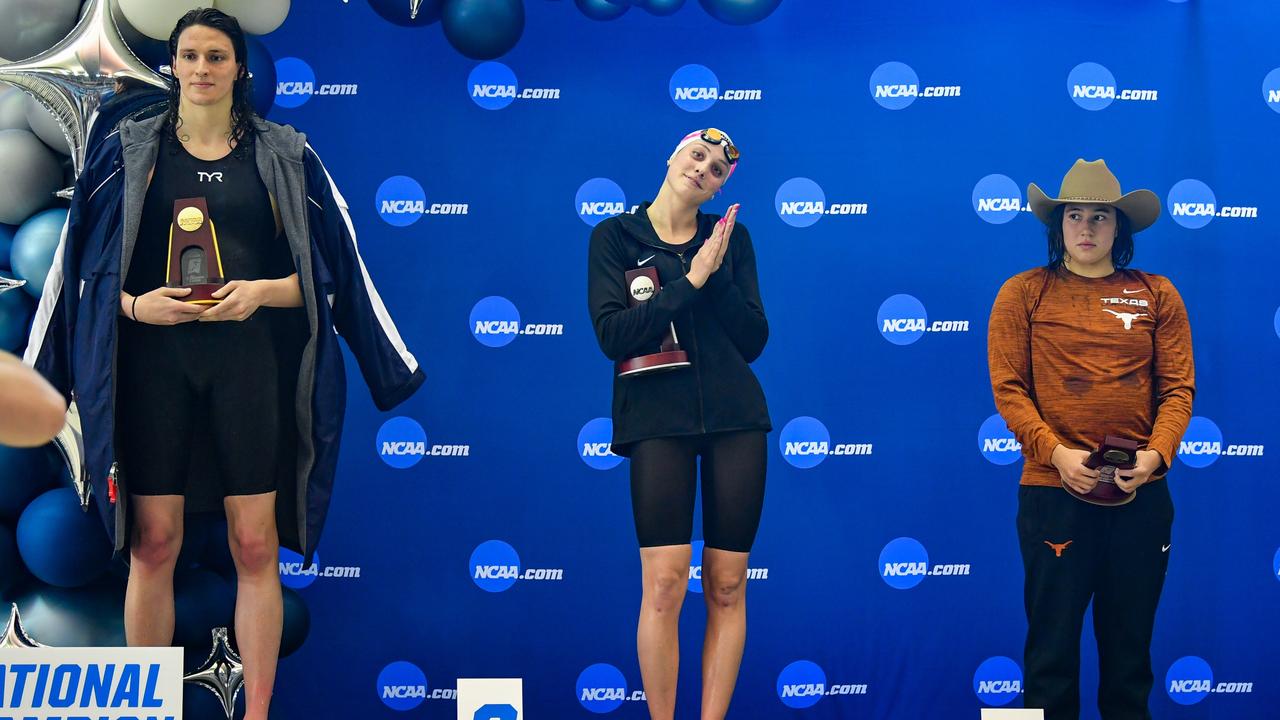 Thomas on the victory dais after her 500m freestyle win at the NCAA Swimming Championships, alongside minor placegetters. Picture: Icon Sportswire/Getty Images
Less than a half a dozen top executives have been told what the final recommendations are – and they are all keeping the details close to their chests because they are considered so sensitive that no-one wants them leaked ahead of Sunday's ballot .
Normally, FINA's decisions are made by the 30-member bureau – which includes Australia's Matt Dunn, the second vice president, who has managed to keep a low profile in the sport despite wielding enormous influence.
But because the transgender issue is so touchy and the stakes are so high – News Corp understands FINA will break with tradition and allow all its members – representing over 190 countries – to vote on whether or not they accept the proposals.
The recommendations are so secretive that leading swimming federations, including Australia and the United States, still have no idea what they are and won't be told until Sunday.
It's also understood the International Olympic President Thomas Bach will travel to Budapest to address the Congress before the vote but will not comment on the transgender issue because it's so precarious.
News Corp's sources have revealed the covert planning operation has been taking place over months and involves three separate groups, each with their own independent recommendations.
Although the identities of the individuals remain under wraps, it's understood that one of the groups was a panel of distinguished international scientists.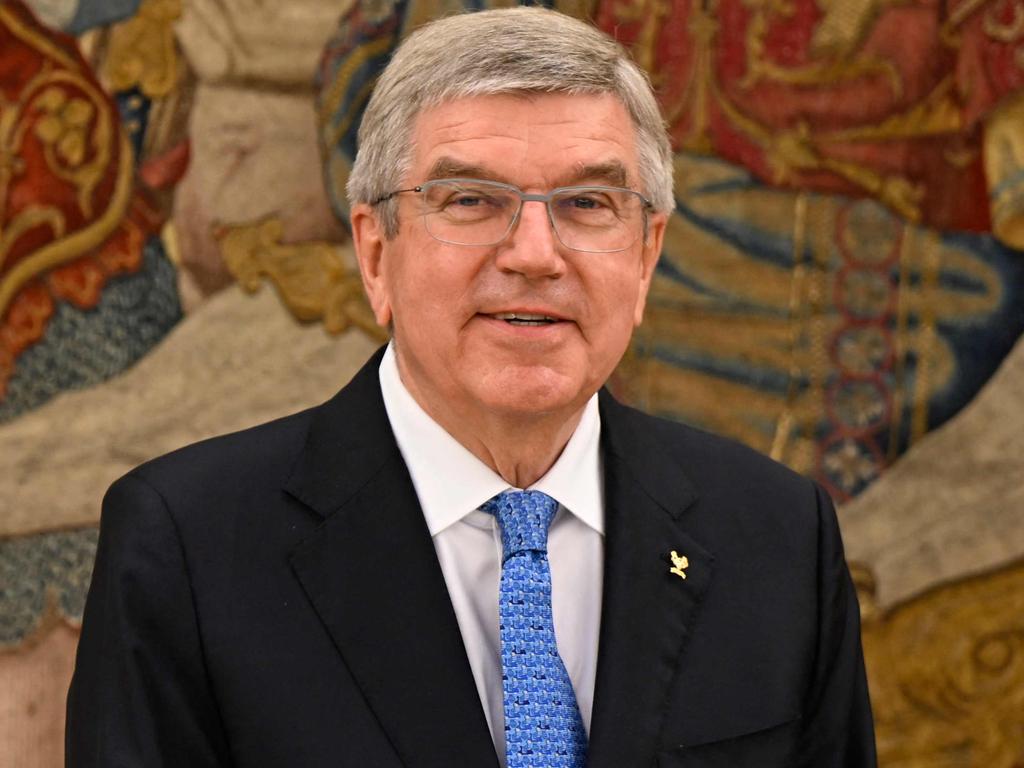 International Olympic Committee president Thomas Bach will address the FINA meeting. Picture: AFP
Another included human rights and some of the best legal minds in the world.
The third was comprised of athletes – including transgender athletes and some of the biggest names in swimming history. Their identities remain strictly confidential but News Corp understands an Australian multi Olympic gold medallist may have been involved.
Exactly what FINA chooses remains unknown but whatever the verdict is, it is sure to create major shockwaves around the sporting world because other international federations have been waiting for someone else to make a stand.
Independent experts have suggested there are three main choices – none of which will satisfy everyone.
These are:
* Allow transgender athletes to compete in women's events without any restrictions.
* Ban transgender athletes from competing against biological women unless they chemically reduce their hormone levels.
* Create a separate, third category for transgender athletes to compete in isolation.
All three proposals have been heavily criticised, along with innocent athletes who have dared to voice an opinion after the issue blew up when American trans swimmer Lia Thomas won at the US College championships then declared she wanted to have a crack at the 2024 Olympics.
Emma McKeon has reservations about the fairness of male-born swimmers competing in women's races. Picture: Getty Images
Caught in the firing line, Australia's Olympic queen Emma McKeon unfairly came under fire for merely stating she had reservations about the fairness of male-born swimmers competing in women's races.
It's those scenarios – that have been playing out all over the world and are getting more heated by the day – that have convinced FINA to bite the bullet and make a ruling, even though they know they could be slaughtered for it.
Although they have not been told what the recommendations are, Australian officials have long insisted the sport's world governing body was the right authority to make the call, rather than leaving it to separate countries.
Speaking exclusively to News Corp last month, Swimming Australia president Tracy Caulkins said she would welcome an overarching decision from FINA.
"It's complicated, it's emotional and it's divisive, depending on people's views," she said.
"I respect everyone's views on it and we have spoken to FINA about doing more research and coming up with an international policy.
"We want to be inclusive but we also want to be fair so the big question is, how do we do that?"
Originally published as World swimming body FINA set to for historic vote on transgender participation