World Swimming Championships: All the latest results, times and news from Budapest
Australia has had a golden night in the pool at the world championships in Budapest with two gold and two silver medals to add to the green and gold haul.
Australia has cleaned up at the world swimming championships in Budapest overnight - winning four medals - including two golds.
Queensland teenager Mollie O'Callaghan has shown the whole world exactly why she's being tipped to become one of the sport's biggest stars with a breathtaking win in the women's 100m freestyle.
Zac Stubblety-Cook then made it a golden double for the Dolphins when he won the men's 200m breaststroke - adding the world title to the Olympic crown he won in Tokyo last year..
Jenna Strauch won a silver in the women's 200m breaststroke and the men's 4x200m relay also won silver after sneaking into the final as the last qualifier.
RISING STAR
Just 18, O'Callaghan joined an illustrious list of Australian champion women to win the blue-riband sprint after overcoming an anxiety attack just before the start.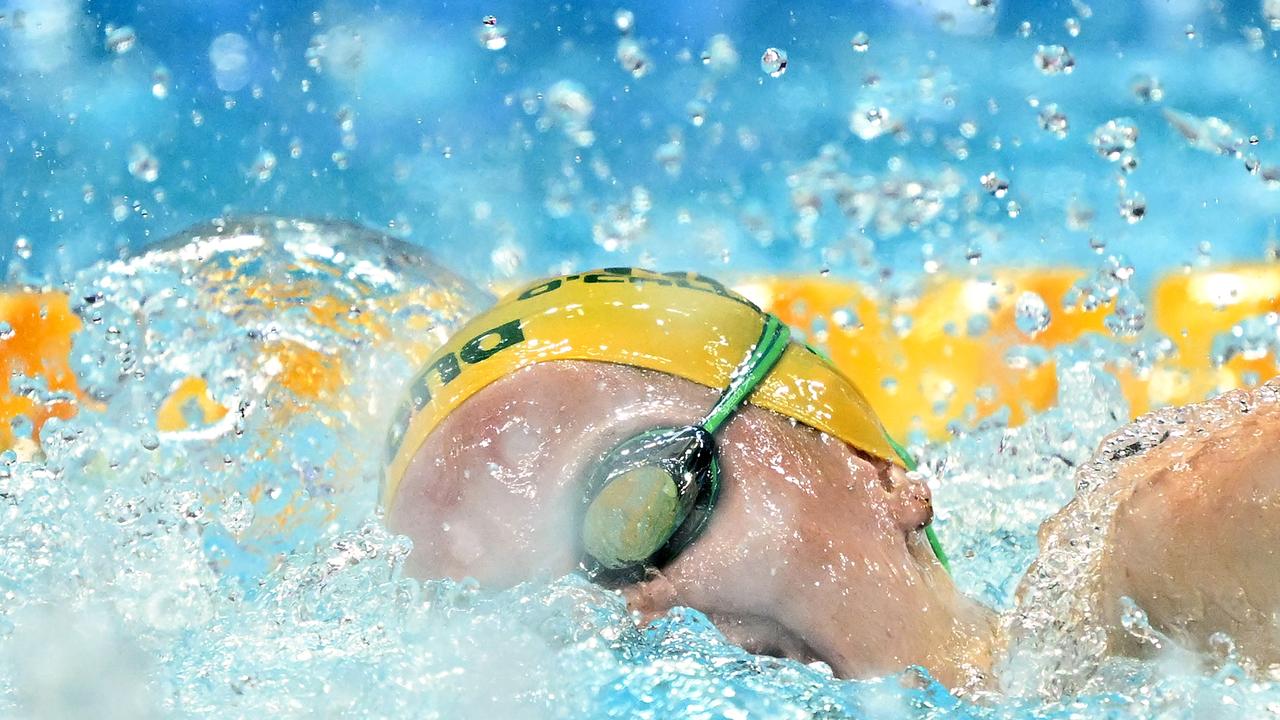 Mollie O'Callaghan overcame an anxiety attack to win gold in the 100m freestyle. Picture: Getty Images
Slowest off the blocks, she was sixth after the first lap but mowed her rivals on the final length to win the gold in 52.67 seconds, joining Jodie Henry (2005), Libby Lenton (2007), Cate Campbell (2013) and Bronte Campbell (2015) on the event's honour roll.
"It's certainly weird at the moment to think that I'm a world champion," O'Callghan said.
"I just finished my last individual and won my first gold, so yeah, it's very crazy."
O'Callaghan always suffers from nerves before her races but said this time was "shocking..the worst ever.
"I was just feeling dizzy, I just felt out of it in warm-up and I started to panic a little.
"But I had teammates there – I had Madi Wilson, I had the whole team and especially (coach) Dean (Boxall) supporting me so I guess that kind of uplifted me for this race."
The odds-on favourite to win after breaking the world record at the Australian trials.
FAST FINISH
Stubblety-Cook was last at the halfway point before motoring home.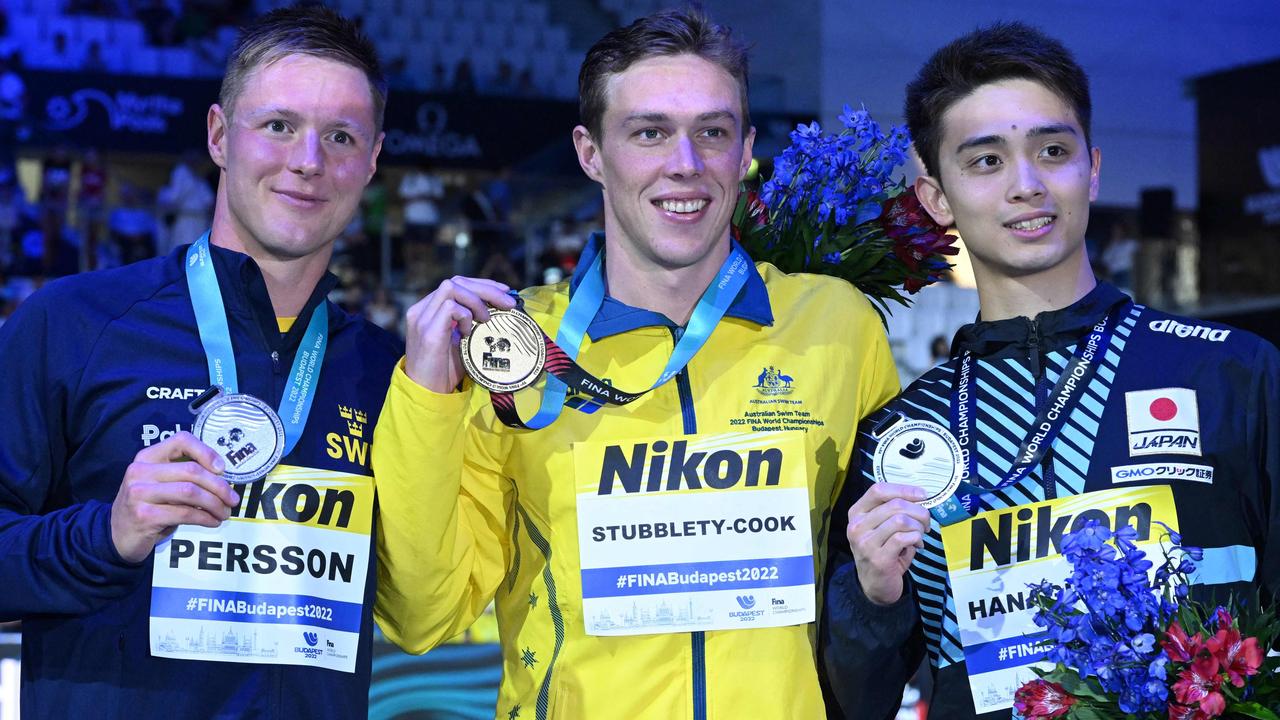 Zac Stubblety-Cook was last at the halfway point but surged home to win gold. Picture: AFP
He got himself to third at the final wall, then surged clear of his rivals to win in 2:07.07, more than a second outside his world record.
"About 35 metres in, I thought, 'Oh no, I've underdone this," Stubblety-Cook said.
"But then I thought, 'Relax, stick to the race plan, enjoy it. Build through the race.' That was the plan.
"I knew the guys would go out fast, especially when they did in the heats and the semis.
LATE BLOOMER
Strauch provided the feelgood story of the team with her stunning silver behind American Lilly King.
Strauch almost quit swimming after she fell seriously ill at the 2013 junior world titles, contracting a rare parasite that doctors were unable to diagnose.
Now 25, she is getting better every time she competes at the highest level, making the semifinals at last year's Tokyo Olympics and now the medal podium.
"It's sort of a dream come true, really," she said.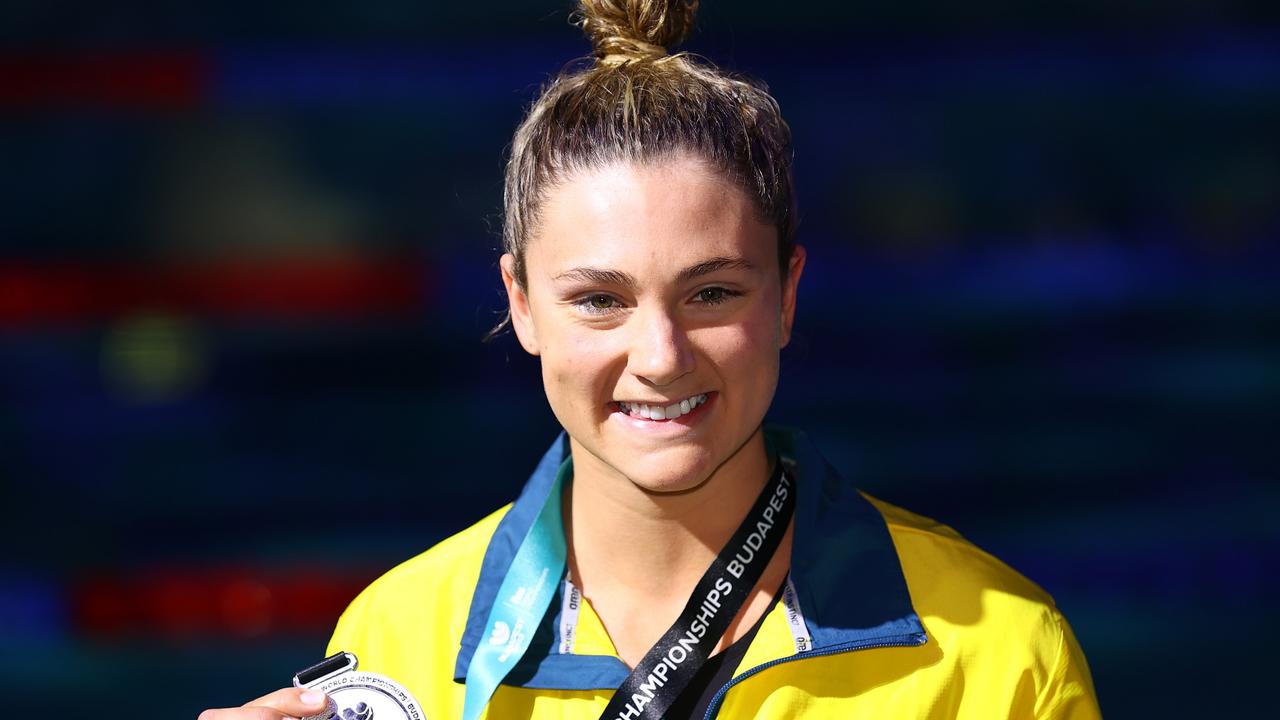 Jenna Strauch stunned the world by winning silver in the 200m breaststroke. Picture: Getty Images
"I was just hoping to make a final here and get all the experience that I could and use it to be better in training and try to walk away.
"Having stood on the podium has exceeded all my expectations.
"It's taken a long time, an eight to 10 years process of me getting here.
"When I chose to come back to swimming, anything that I achieved was a bonus so to stand here today is something that I probably never expected to happen, but it has happened and I am just going to grow as an athlete and use this to hopefully move forward and be further up on the podium."
SNUCK IN
After snatching the last spot in the final, the men;s 4x200m relay, with Elijah Winnington, Zac Incerti, Sam Short and Mack Horton combining to finish second behind the United States.
"It's fun, just swimming with the boys," Horton said.
"I quite enjoy anchoring. You don't get an adrenaline hit like that anywhere else, just standing there for six minutes or so getting pumped up, it's unreal."
Originally published as World Swimming Championships: All the latest results, times and news from Budapest