Ash Barty and coach sign off from the court she grew up on
Ash Barty made a surprise return to this week to the court made famous in her iconic childhood trophy photo. But the visit was emotional for another reason.
A year ago she was the last woman standing at Wimbledon, but all Ash Barty wanted this week was to be the last person hitting at her childhood field of dreams.
Barty elected to retire and not defend her Wimbledon title but even a return to the All England Tennis Club might not have been as emotional as her final trip through the industrial suburb of Archerfield to the West Brisbane Tennis Centre, a journey she first took as a four-year-old.
The Centre, at which Barty learnt her skills under coach Jim Joyce and was famously photographed holding her first trophy as a six-year-old, shut down forever on Wednesday night.
The curtain was drawn after a deeply poignant two person send-off that deserves its own special place in Australian tennis folklore.
After going back in time with a private hit, Barty and Joyce unwound the squeaky old tennis net, shared the beer they had long promised each other, walked out and locked the gate behind them for the last time.
There was no one else around.
Fittingly, it was 5.15pm, just on sunset, and Joyce admitted he was so nostalgic "it honestly felt as if we were on the set of a movie''.
The property, owned by the Joyce family for 70 years, has been sold to an undisclosed buyer with its 52-year life as a tennis centre now over.
Ash Barty as a six-year-old at West Brisbane Tennis Centre.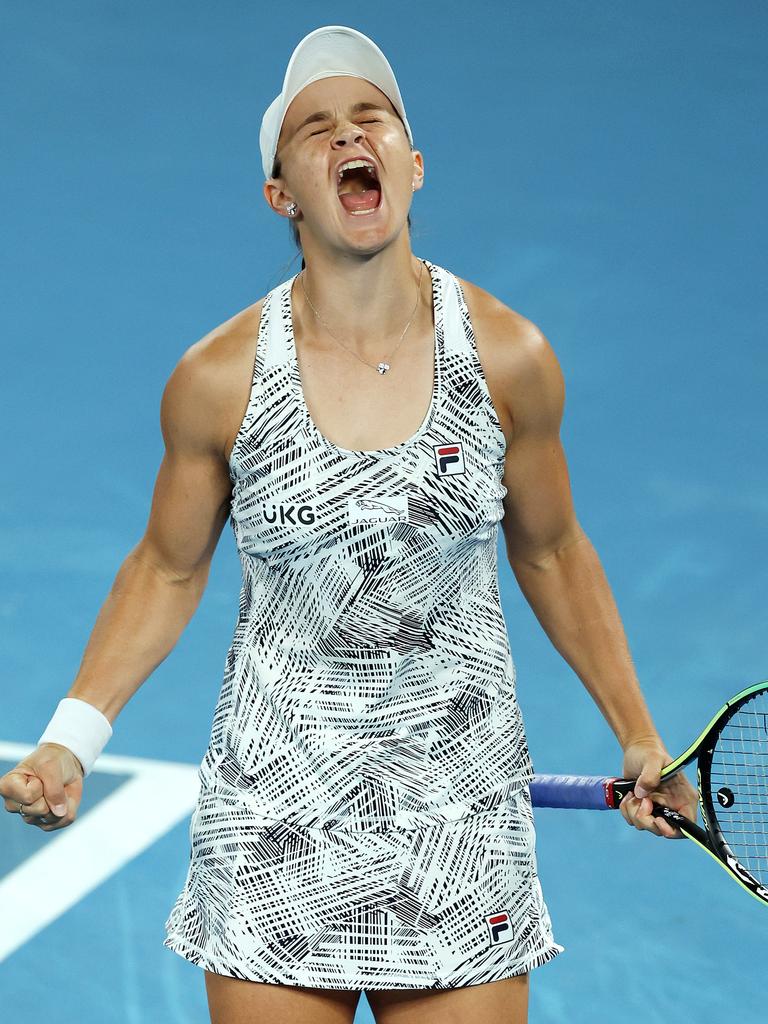 Ash Barty retired as world No.1. Picture: Mark Stewart
As her one-time rivals descended on Wimbledon, a nostalgic Barty fulfilled her wish that she and Joyce would be the last duo to play there as they reworked some childhood drills.
"It was the place I thought would never not be here,'' said Barty, whose time has recently been devoted to completing the soon to be released Little Ash children's book series for HarperCollins.
"It was a real full circle moment and really emotional to sit with Jim and think how far we have come in 21 years. It was pretty amazing. You think of all the kids Jim and his family have coached for 50 years that have left with that positive reinforcement.''
In typically modest Barty fashion, there were no media there to put her name up in lights, just Joyce's partner Andrea to get some snaps and a video to ensure the memories stay with them.
At one point the duo reworked the first drill they ever did together and, just to completely take them back in time, Joyce said "stand where you stood when you were a little kid.''
Much as the afternoon was about celebration not coaching, Joyce felt old instincts stir when Barty netted a couple and he urged her to "punch through'' her strokes.
There was even a bit of coach-pupil banter. Ash Barty adjusted the strings of her racquet claiming they were not quite right, Joyce quipped "gee, you're competitive …''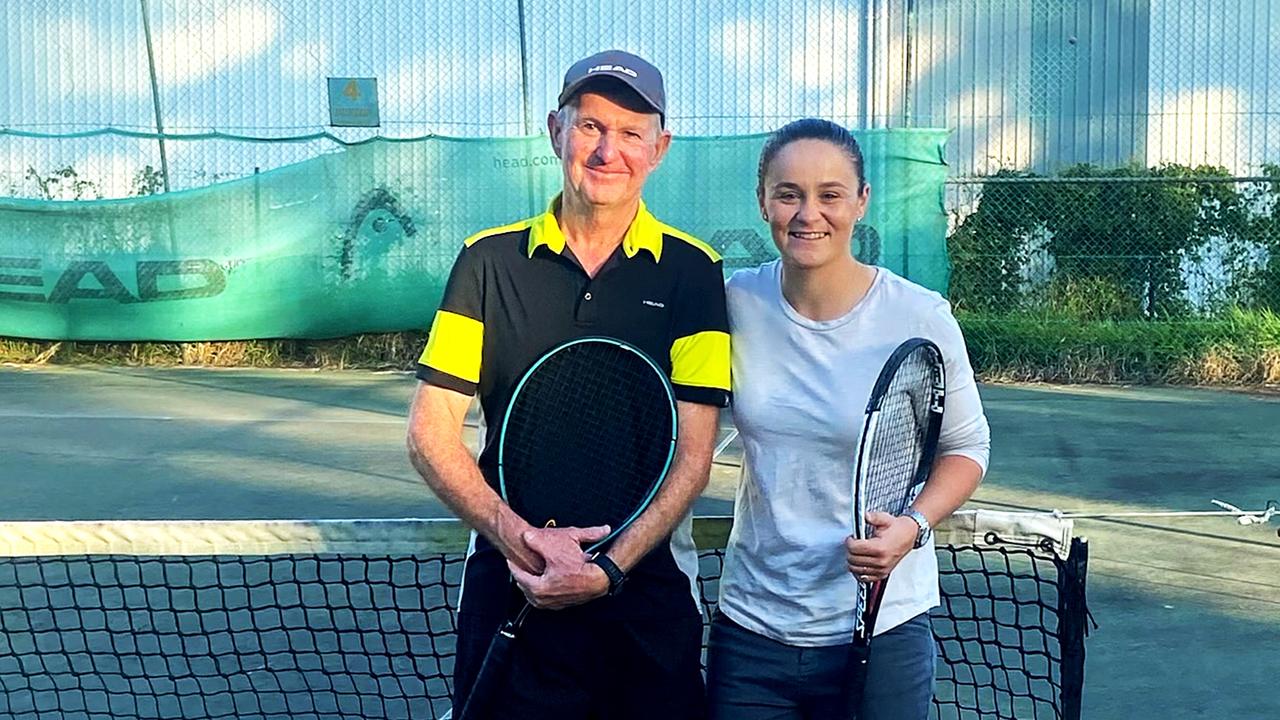 Ash Barty and coach Jim Joyce have their final hit at the West Brisbane Tennis Centre.
When it was all done and the last ball was hit both of them were left misty eyed after a brief hug.
Joyce unwound the net, which squeaked the way only old tennis net winders do. The net had a hole in it but Barty took it home as a souvenir before she and Joyce shared a beer and talked about their journey.
"That afternoon will mean as much to me as a lot of her big wins,'' Joyce said.
"It was just bloody wonderful. There were no seats there because it was all gone. We just stood and chatted about her life and mine, had a bit of a hug and off she went and I pushed the locks across the gate.
"For all she done over the last year at times it still feels as if she is still that little kid I coached. I feel emotional just talking about it.''
Barty said her memories of the centre were vast and deep seated.
"Every one of those courts has a special memory for me. Court four and five was where I hit my first tennis balls. Two and three were where I played my first fixtures and men's fixtures. So many funny times. The kids were playing handball the other day where we played 20 years ago. This beautiful, beautiful place hasn't changed ...''
Originally published as Ash Barty and coach sign off from the court she grew up on