Ash Barty: The secret pain behind a dream Wimbledon win, my miracle on grass
Not even one of her worst injuries was going to stop ASH BARTY from realising her childhood dream at Wimbledon. The former world No.1 exclusively tells the inside story of her 'miracle on grass'.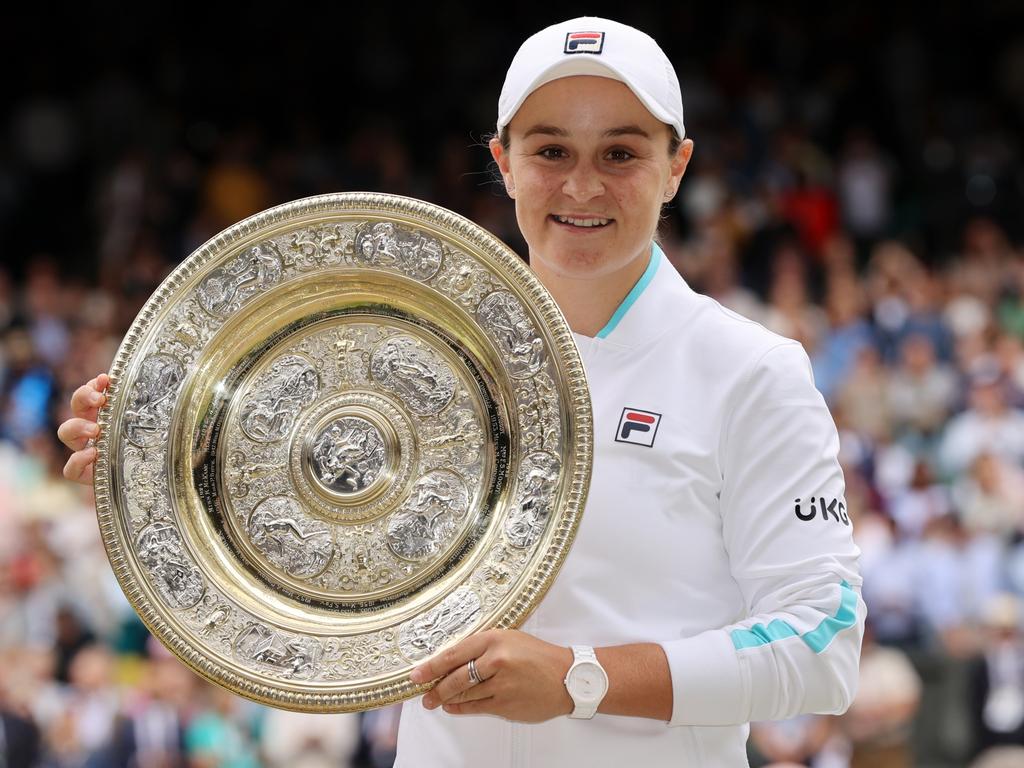 Ash Barty's 2021 Wimbledon victory was a national triumph, but few knew the injury that made the win a mircale. Picture: Clive Brunskill/Getty Images
It was my miracle on grass.
Living out my childhood dream of winning Wimbledon last July was the goal I drove myself towards from the time I started blasting balls against the brick wall in my parents' garage.
But to actually walk onto the All England Club's centre court on June 29, 2021, to begin my Wimbledon campaign was truly a miracle given the injury I was recovering from.
With this year's championships around the corner, I thought it timely to disclose the full extent of the injury that forced me out of Roland Garros and into a race against time.
It is a story that involves leaps of faith, kids scooters, backyard playground equipment, poker faces and deception, frustration and uncertainty, broken broomsticks and, ultimately, a hell of a lot of good luck.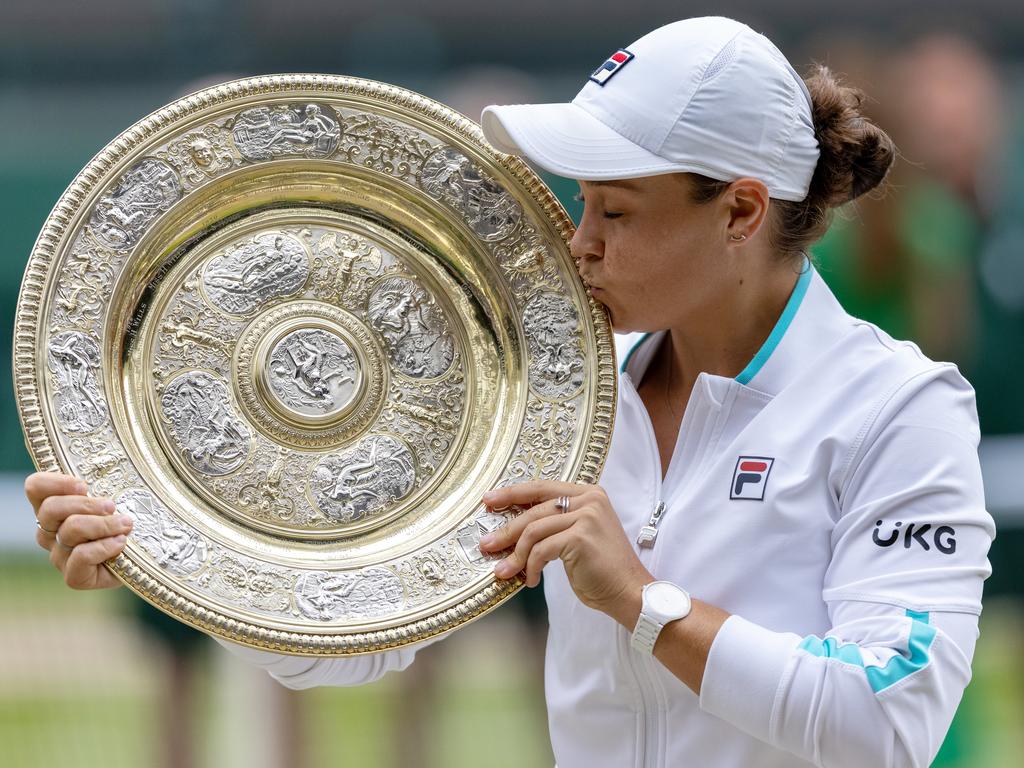 Ash Barty celebrates with the Venus Rosewater Dish trophy after winning the 2021 Wimbledon Final against Karolina Pliskova. Picture: AELTC/Simon Bruty – Pool/Getty Images
All of that just to step on to centre court to open last year's championships against the inspiring Carla Suarez-Navarro to begin the most memorable fortnight of my career.
First things first. It was not specifically a hip injury, as was widely believed at the time.
The problem that almost derailed my bid to emulate my idol Evonne Goolagong-Cawley at Wimbledon was instead a 10cm long tear to my adductor magnus muscle.
In layman's terms, the best way to identify the adductor magnus is to consider the inner part of your thigh muscle closest to the groin.
It is a muscle that works the hardest when your legs are stretched wide apart which, given the nature of tennis, happens almost every single time you hit a shot.
And I had properly torn it, for it was not only the length that was an issue, but how deep into the muscle the tear went.
A couple of days before the 2021 Roland Garros Championships, I was as confident as I have ever felt going into a grand slam tournament and positive about the fortnight ahead.
My form after hitting the road again following the Covid lay-off was really pleasing.
I'd defended my Miami Open title, snared a success in Stuttgart, was edged in the decider in Madrid and then withdrew for precautionary reasons while leading CoCo Gauff in a quarter-final in Rome after feeling some pain in an old arm injury I'd managed for a decade.
Returning to a tournament where you have enjoyed success is always a good thing and I'll never forget my success in Paris in 2019 when I was able to claim my first major title.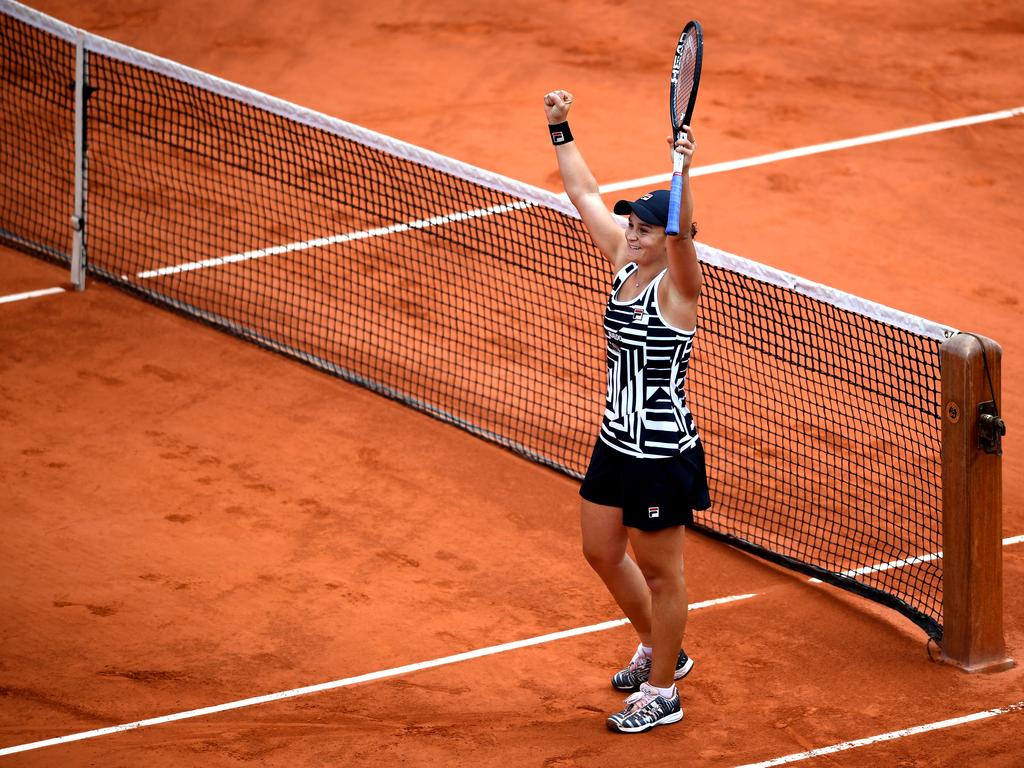 In 2021 Ash Barty was excited to return to the scene of her 2019 French Open triumph. Picture: Clive Mason/Getty Images
All was going well. We had a good training block in a lovely little village in the south of France and arrived at Roland Garros for the first time since my success in good spirits.
We had actually planned to have a day off from training when Wim Fissette, Naomi Osaka's coach, asked if we were interested in a light hitting session and we thought, 'Why not?'.
But after one serve, I remember landing on my left leg and thinking immediately, 'Oh no. That did not feel right'.
For the rest of the session I simply rolled my arm over when serving though, curiously, the issue did not really alter how I was able to move from one side of the court to the other.
The following day we practised with a hitting partner and it was a little more painful.
This dented my confidence but it is not uncommon for tennis players to compete with injuries. Everyone has a niggle here or there for most of the season.
Nor was it the first time I had felt some discomfort, having experienced a similar issue at an Australian Open once when landing after a serve, only for the pain to disappear.
It was a really frustrating time. With my physiotherapist Mel Omizzolo, we tried to identify the source of the issue off the court but simply could not recreate the pain in that setting.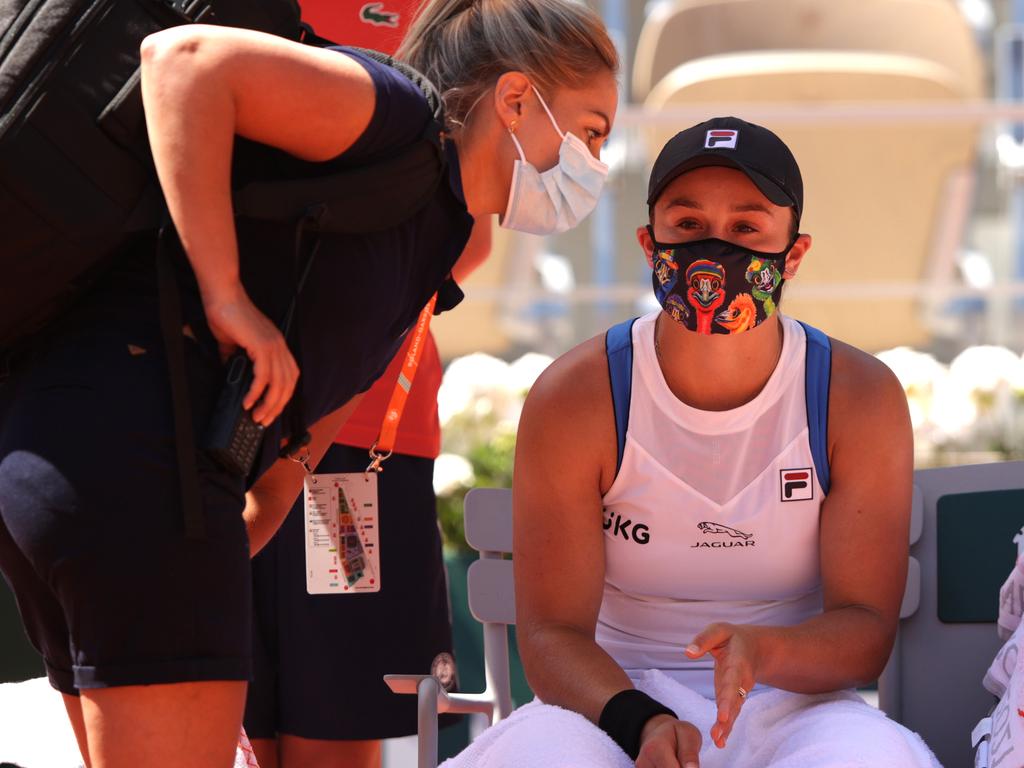 Ash Barty felt pain while warming up for the 2021 French Open. Picture: Adam Pretty/Getty Images
She was calling specialists around the world seeking external opinions. We were considering cortisone injections but ruled that out given we could not figure out the source of the pain.
The following day, when hitting with my great mate Storm Sanders in preparation for my opening round match with another lefty in Bernarda Pera, the mystery problem got worse.
I had never felt in more pain on the court. At its worst, it felt like I was getting stabbed deep in the leg with a burning hot knife. It was just awful.
Leading into my first round, Team Barty had a big chat about what we should do. We had gone from feeling on top of the world to knowing there was no way I could win the thing.
But I told my coach Craig Tyzzer I was determined to try. We had not come all this way without having a crack. I stepped out onto the court with Pera not knowing if I could finish.
Those who have watched me closely realised that I had a problem straight away. Put simply, I had absolutely no pop at all on my serve.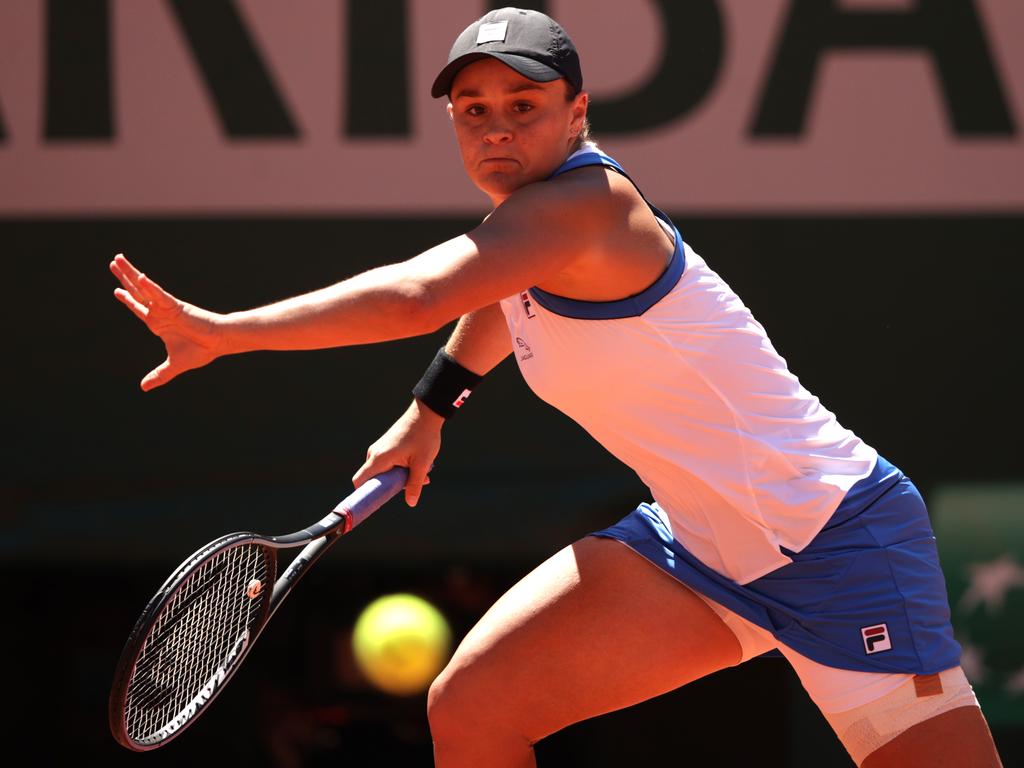 Ash Barty felt pain from her left leg shoot through her body. Picture: Adam Pretty/Getty Images
It was not much of a match. I tried to avoid long rallies, took more risks than I would normally take and swung for winners as often as I could.
There was a point at the start of the second set where Bernarda had pulled me wide on the forehand side.
As I was sliding into the forehand, my left leg made contact with the court and the pain shot all the way through my body.
I groaned so loudly that my team, who were sitting at the other end of the court, was able to hear it and tried to get me off the court almost immediately.
You might already be aware of this, but I am stubborn. Once I have made my mind up, it is hard to twist my arm.
I had decided to play the match and was now determined to finish it. Somehow I snuck through.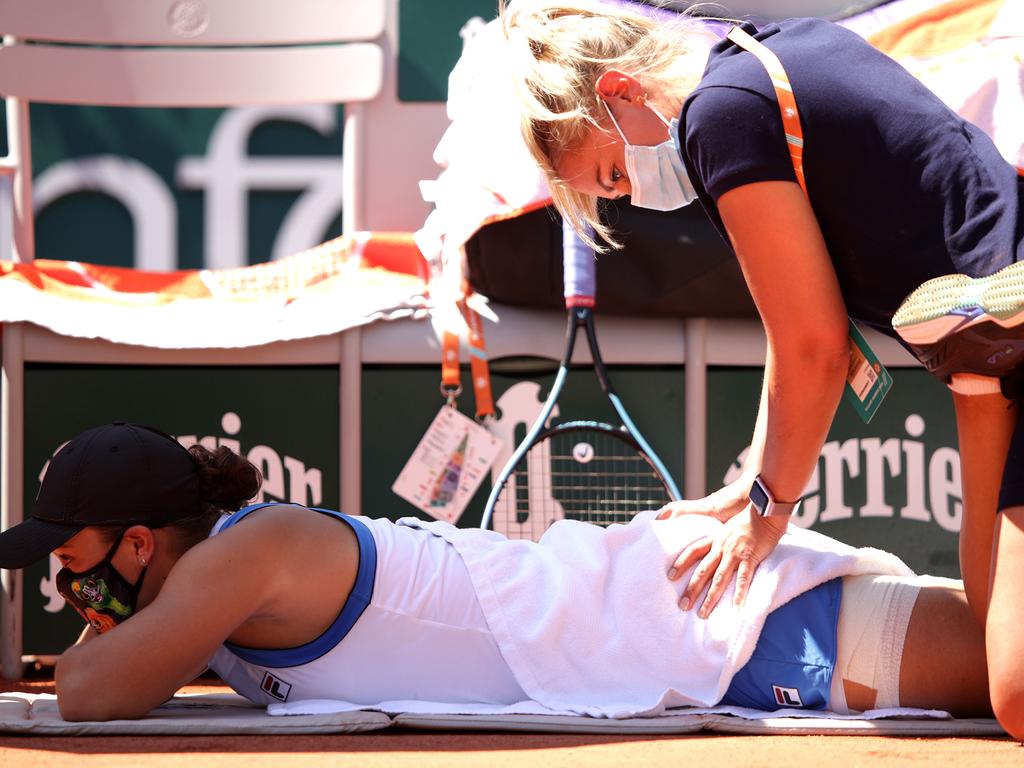 Ash Barty is given medical treatment in her first round match against Bernarda Pera at the 2021 French Open. Picture: Adam Pretty/Getty Images
But after that first round win, I went with Mel for some treatment in a private training room and started crying. There was no way I could win another Roland Garros. I knew I was done.
Except that I was not. We considered pulling out immediately but then thought we could use my second round match against Magda Linette as a medical consultation on the court.
The plan was to build to a point where, for one game only, I had to try to serve at 100 per cent to identify just how restrictive the issue really was.
So I had a crack at that early in the second set and it nearly killed me.
It was the hardest match I have ever played, knowing I was not going to win it, nor was I going to finish it, but at least we all thought it might provide some clarity for the future.
Ash Barty leaves the court injured during her second round match at the 2021 French Open. Picture: Clive Brunskill/Getty Images
After the match, I was devastated again and in tears. By that stage I had about eight areas of my body taped and felt like a walking mummy.
It was taking my team about 90 minutes to tape the various parts of my body, from my thigh to my groin to my glutes and stomach, along with my feet, just to step onto the court.
Even worse, my abductor muscle had started to tear as well because I was trying to cope with the pain from the more serious issue.
We arrived at Roland Garros thinking we might be able to win it again. Now we were hobbling into the unknown. Had I known the truth, we probably would have headed home.
The day after my second round match, I underwent a scan on the region.
For good reason, I would learn the results of that until more than one month later, and what a month it turned out to be.
Winning Wimbledon was the goal all season and I never wavered from that.
I can distinctly remember sitting with Mel after the training session with Storm at Jean Bouin, the practice courts not far from Roland Garros, and telling her that.
Whatever we did in Paris, we needed to make sure it did not interfere with Wimbledon.
After all, for the first time in my life, I was actually worried about something I was going to wear.
I had this incredible outfit designed with my sponsor Fila to wear in honour of Evonne and the Ted Tinling-inspired dress she wore in her triumph at Wimbledon in 1971.
I just had to get there. Mel reassured me it would be all OK and that I would be right.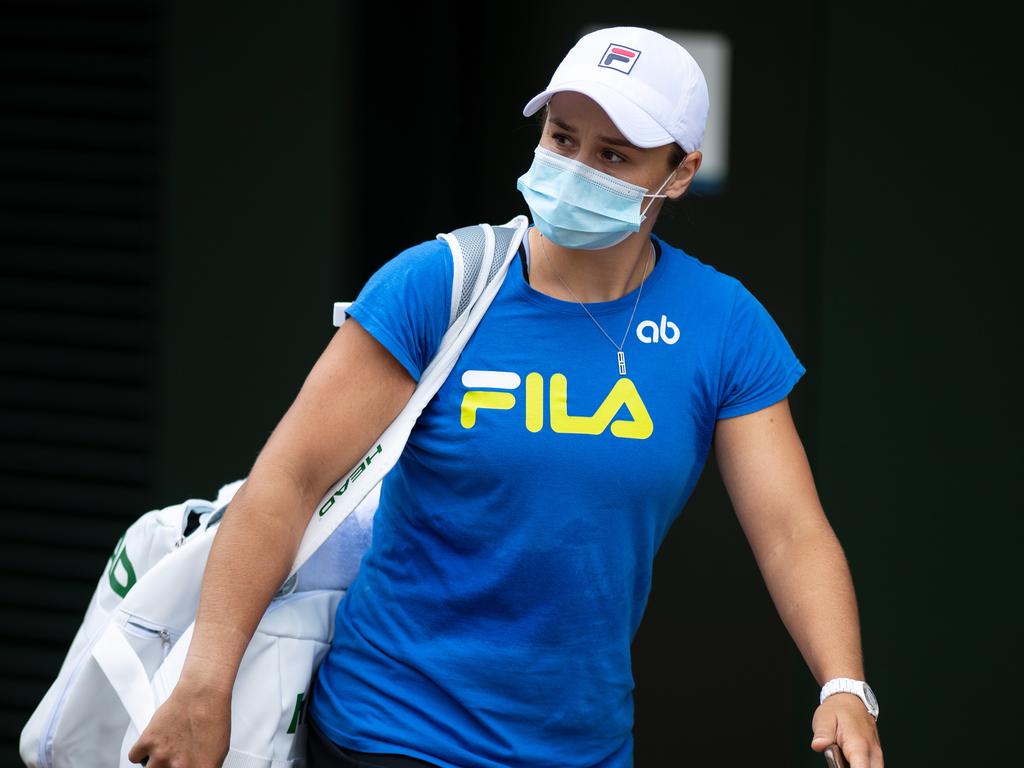 Barty walks to practice ahead of Wimbledon 2021. Picture: AELTC/Pool/Getty Images
I did not realise she was hiding something from me and feared my campaign on the grass was over before it began.
With Roland Garros over, we decided to head straight to London to begin a 10-day stint in home quarantine, with the four of us staying in a rented home in Church Rd in Wimbledon.
As a result, I was unable to undergo a scan on the injury until the end of quarantine. But it was here that we put in place the 21-day plan designed to have me fit to play Wimbledon.
The injury was a hitch. But so too was the quarantine. There was no home gym at our disposal to use. I was able to order a bike in for fitness, but we had to get really creative.
All credit must go to my master trainer Matt Hayes, who had only arrived for the French Open but was now tasked with what seemed a tennis version of Mission Impossible.
The backyard of our quarantine home had a children's swing set and he set about devising several strengthening exercises that I could complete while using the play equipment.
We also had a children's scooter delivered to the home and I set about zooming around the island bench in the kitchen and the bottom floor of the house like a little kid does.
It was a hell of a lot of fun and helped break up the day, but there was a method to the madness as propelling myself around on the scooter was part of the conditioning plan.
Anyone who has been through lockdowns or a quarantine will know random things can help make the time easier for everyone involved. Tyzz knew how stressful a situation it was.
But he was able to make me laugh every day. He was staying in a little kid's bedroom at the home that was full of stuffed toys and every day he would come down and hide one somewhere, or tell a joke or story with another one, just to keep us ticking along mentally.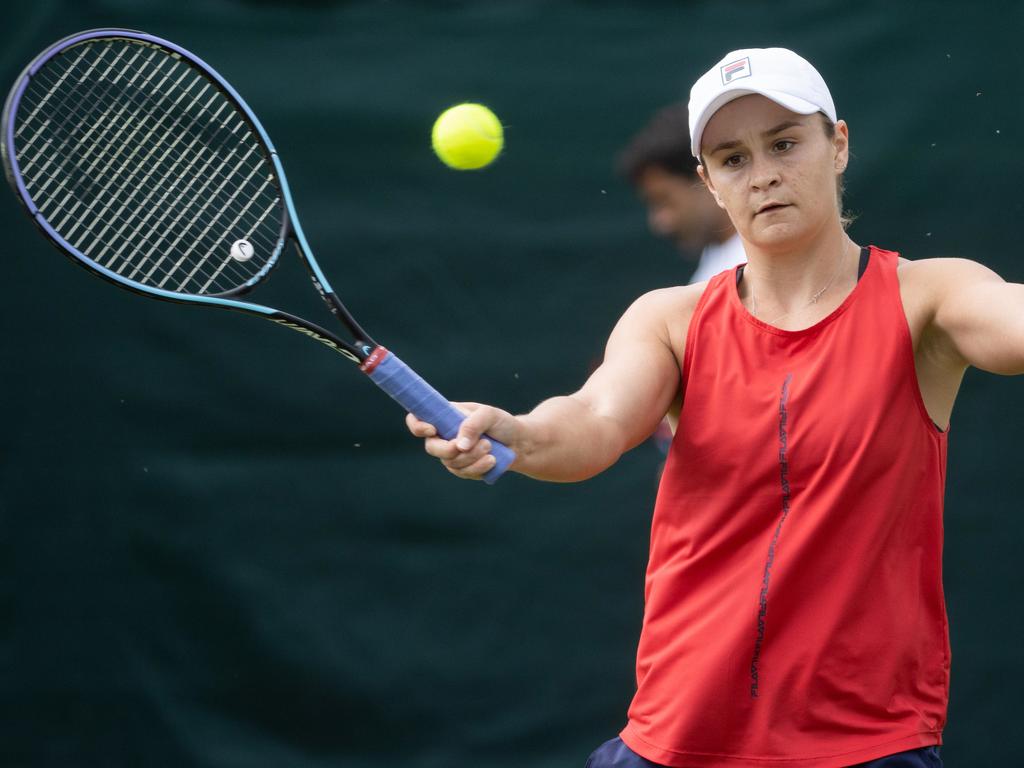 Ash Barty's injury made merely setting foot on court at Wimbledon unlikely. Picture: AELTC/David Gray – Pool/Getty Images
Day 10 arrived. Freedom from quarantine. But more importantly for me, it was scan day.
It could have been a make or break moment. What Mel saw horrified her, she told me far later. I've since been told that ideally I would have required three months off to heal.
But I had made a decision. I just wanted to try. I was not going to give up on my childhood dream without having a crack. And I had always been someone who was a quick healer.
I told Mel and the team that I only wanted to know if the injury had improved since Paris. Mel responded that the scan was fine. Apparently there had been marginal improvement.
They stressed to me the importance of taking it slowly, but said if we followed every step to the letter, I would make it to the baseline on centre court to start the tournament.
Mel was stretching the truth. But from that moment on, the entire team wore their poker faces around me. They were so positive every single time I was within range of them.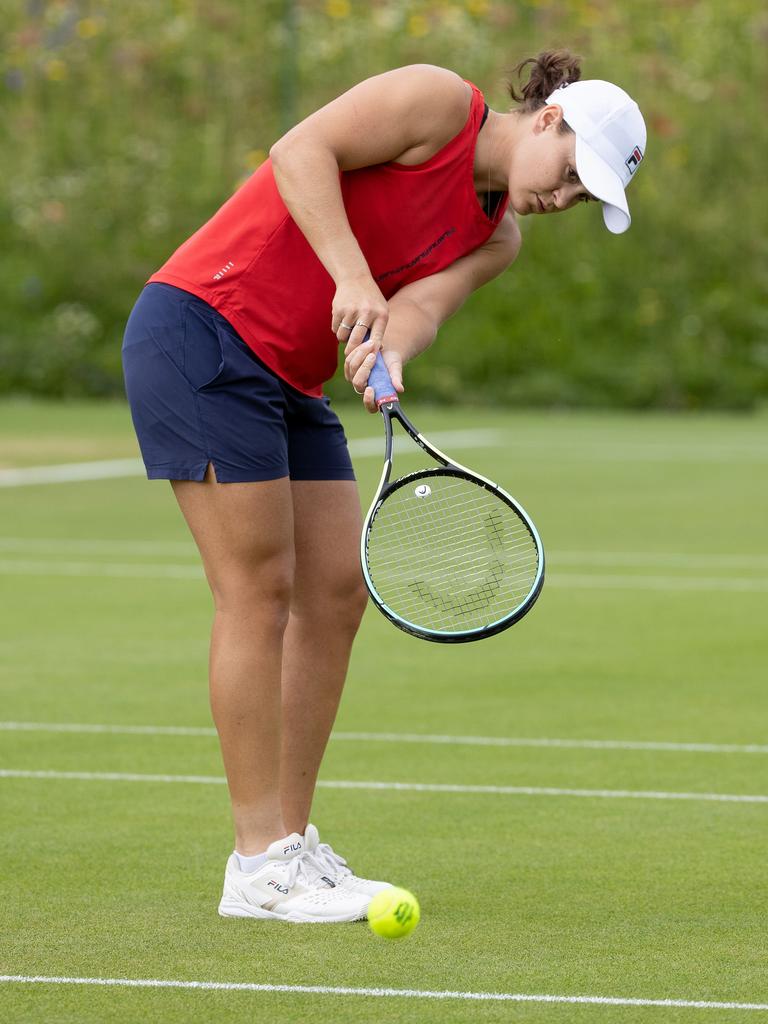 Practice for Wimbledon was not always orthodox as Barty battled injury. Picture: AELTC/David Gray – Pool/Getty Images
The first test was to jump off a step. Not a normal step, instead one basically only a few centimetres tall. We all took a deep breath as I took off and landed. Ouch. It was still sore.
It was our first setback. But incredibly, it was also the last. The next day I tried the jump again and felt no pain. I was pumped.
Somehow, despite a tear that was by then 8cm long according to the scan, that remained the case all the way through the rest of the training program and then the entire tournament.
But if anyone was watching the way I had to prepare for the tournament at Aorangi Park, Wimbledon's training courts, there is no way they would have thought I could compete.
It was hard for the rest of the team, because they knew that even the slightest setback would be enough to bring the entire campaign to an end. So they cracked down on me hard.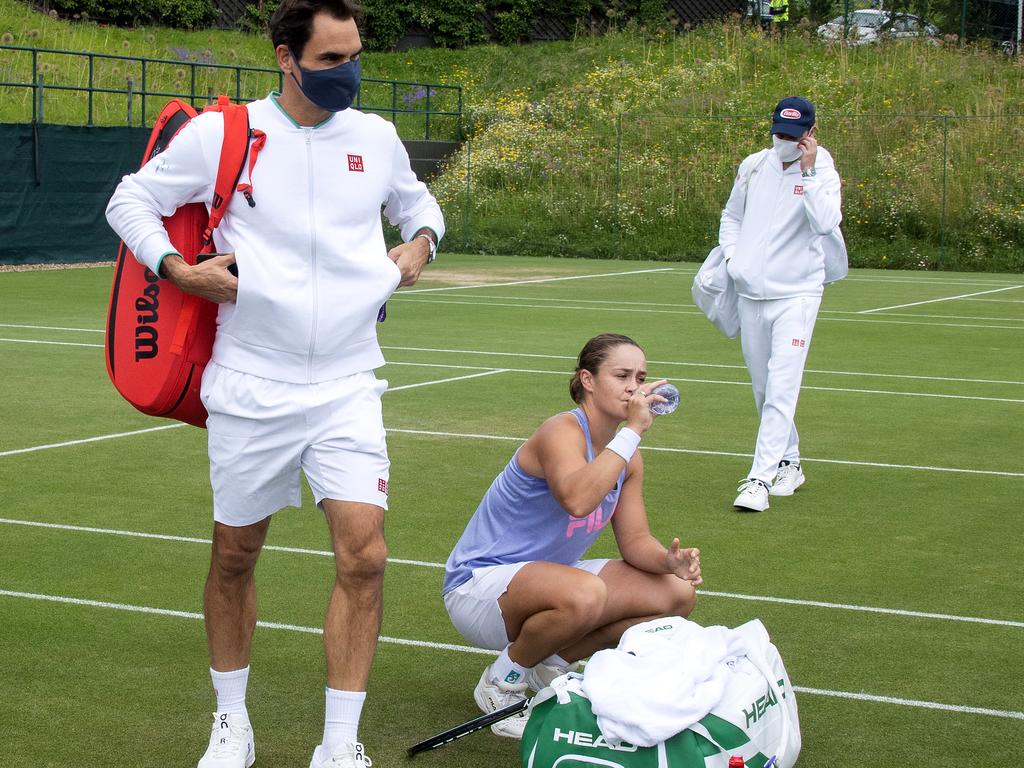 Roger Federer walks past Ash Barty of Australia as he leaves training on the Aorangi Practice Courts. Picture: AELTC/David Gray – Pool/Getty Images
On the first day back on the court, they allowed me to hit for 15 minutes, but I was not able to move. They effectively put barricades either side of me to stop me from breaking through.
The next day they would allow me to move a step either way. Then I was allowed to punch volleys. I was getting frustrated because there was no pain but they were holding me back.
But I was completely oblivious as to how stressed they were given the facade they put up.
To further show how restricted I was, the qualifying tournament for the main draw began and I was still yet to hit a single serve properly or practise beyond 75 per cent capacity.
Mel relented. Slightly. She allowed me to hit 15 serves at 50 per cent. The plus is that I was pain free. But to have any chance of winning Wimbledon, I needed to be serving at my peak.
It was not only a delicate balance of not escalating the muscle tear, I also needed to be able to get some loading into my right arm to ensure it could hold up during the tournament.
My first semi-proper session, less than a week out from the tournament, was with Priscilla Hon and I was allowed to play two service games hitting my delivery at 70 per cent pace.
The day before the tournament began, Team Barty relented enough to let me play two service games at full pace.
Preparing for the most important tournament of my life, I had barely raised a sweat for a month on the court and my team were having kittens about whether I could play at all.
But I had full faith in their judgment. Now it was time to deliver on all of their good work.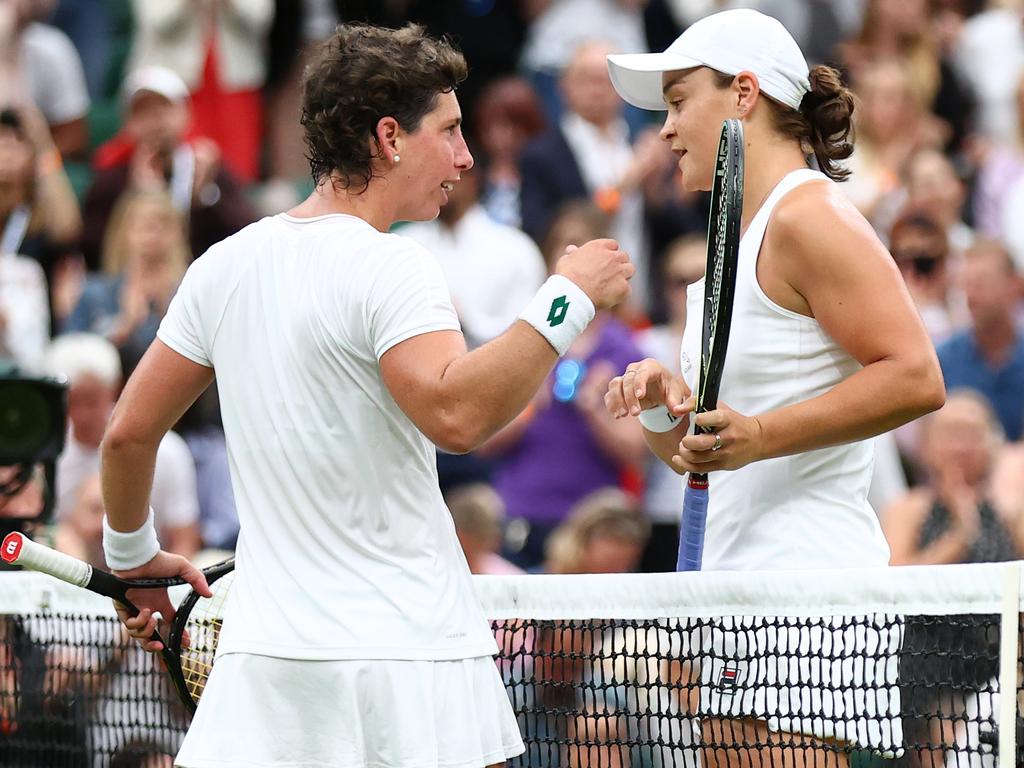 Carla Suarez-Navarro and Ash Barty interact at the net after their first round match. Picture: Julian Finney/Getty Images
The way the draw fell scarcely did me any favours in terms of allowing me to find my feet, but it did provide me with a wonderful opportunity, no matter the result of my first match.
To draw Carla Suarez-Navarro, the outstanding Spanish player who had overcome cancer to return for what was her last match at Wimbledon, was both a challenge and an honour.
From the tennis perspective, I knew she could play on grass and that it would be a real test for me at my best, let alone when I had not played even a practise set in nearly a month.
But Carla was such an impressive person and very popular on tour, so to share the court with her would be beautiful. It almost took the pressure and spotlight off me as well.
The other surprise for me came when I was asked to start proceedings on centre court because Simona Halep, the defending champion who is a close friend of mine, was injured.
It was an unbelievable honour. I started really well, dropped the second set in a tie-breaker when a bit rusty, but was able to finish off strongly for a good 6-1 6-7 (1) 6-1 victory.
Even better is that I was pain free. I came off the court with a big smile on my face and when I saw Mel, I told her how rapt I was to be able to get some extra court time.
Her response was immediate: "Ashleigh. That is not what we talked about."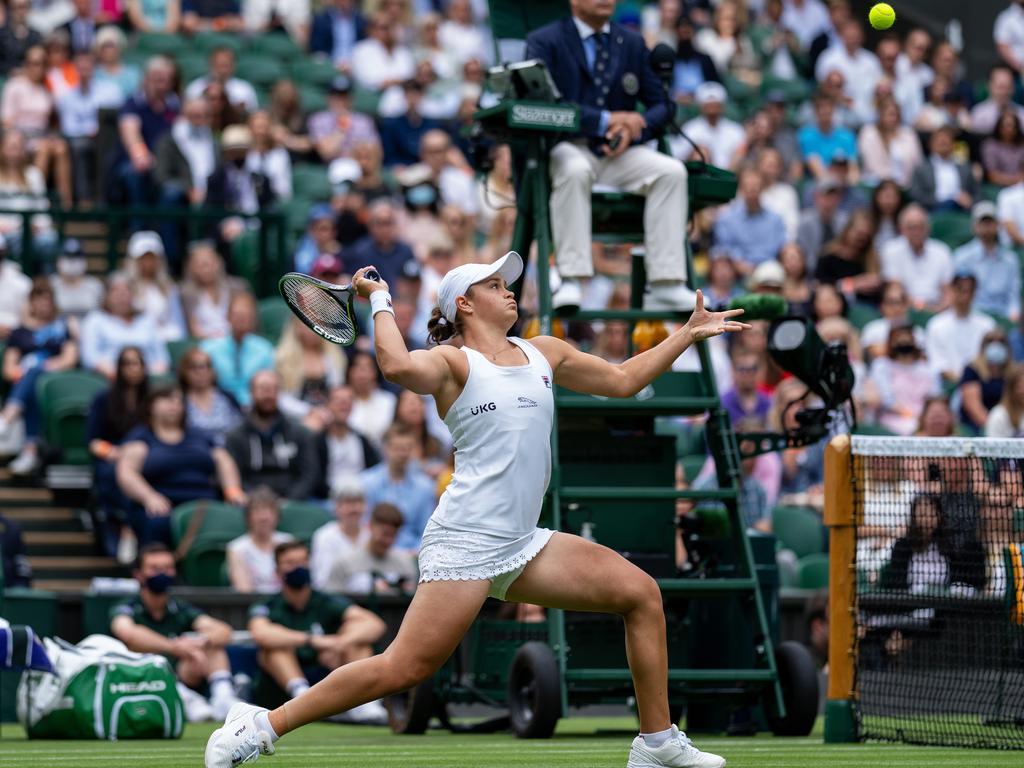 Ash Barty's body was tested during her first round match. Picture: AELTC/Jed Leicester – Pool/Getty Images)
If I went to sleep in a positive frame of mind, the next day I woke with a jolt. I have never, ever been more sore in my life.
Because the intensity lift from training to competing was so great, none of my muscles were ready for the lift up to tackling a former top 10 player in a grand slam match.
Playing on grass, where your centre of gravity has to be a little lower, did not help things either.
Everything was aching. I could scarcely walk, let alone go to the toilet. I tried to have a hit with Tyzz, but I could not even manage that. It was actually funny, how sore I was feeling.
Garry, my fiance, had arrived a couple of days before Wimbledon and he was poking me in the stomach, or in the legs, and I would wince every time but would not be able to respond.
Because of Covid protocols, we had moved into a hotel bubble before the tournament and Mel spent much of the next day in the room just working on getting me ready again.
My second round match against Anna Blinkova was pretty rough, because I was not moving very well at all, but I was lucky in that it was one where I never needed to raise my level.
That was a blessing given how I was feeling in general, but once again, there was a big positive after my 6-4 6-3 win.
I was still alive at Wimbledon and feeling no signs of the injury that forced me out of Roland Garros.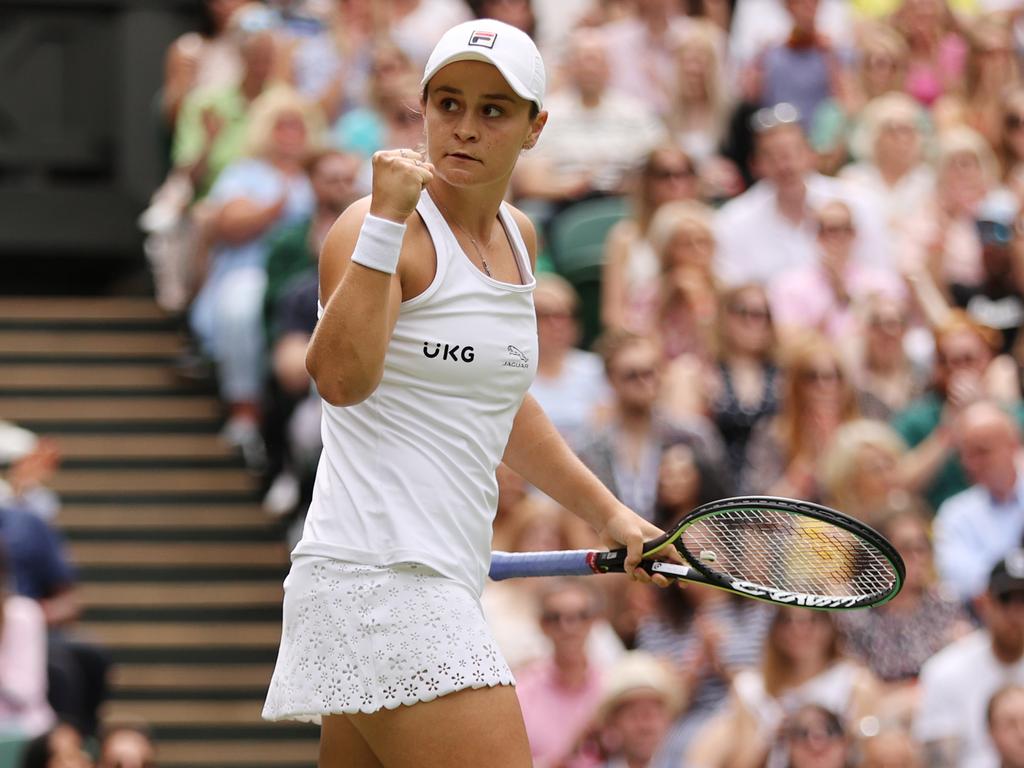 Ash Barty celebrates breaking serve during her second round match against Anna Blinkova. Picture: Clive Brunskill/Getty Images
My third round opponent was Katarina Siniakova, someone I knew was capable of testing me given how talented she was.
But I was able to come through that match in good style. I can remember walking off the court after a 6-3 7-5 triumph and saying to Tyzz that I was starting to feel good on the court.
The reward? Back to the monotonous routine of needling and massaging and every other treatment over a four-hour period.
But the beauty is that Matt and Mel and Tyzz continued to make it fun, which helped me to stay motivated and focused as we were getting deeper into the tournament.
We were doing all manner of things to keep ourselves sane in the bubble and I felt all was going great.
To say that I was determined to win my fourth round clash against Barbora Krejcikova would be an understatement.
The Czech was the in-form player of the tour.
She had soared up the rankings by claiming the singles at Roland Garros a few weeks earlier, which was the major I had wanted to win again in 2021 prior to the injury, as well as the doubles.
I remember telling Tyzz before the match: "I want this match. I refuse to lose to her here. I am not going to let that happen. I have got a better game. I just need to beat her."
I felt really positive heading out to Court 1, one that I absolutely love. I have never lost there and it is where I had managed to win the Wimbledon girls singles title a decade earlier.
Barbora is a hard player to read, and she was super confident, but I was able to find a way through that match when winning 7-5 6-3.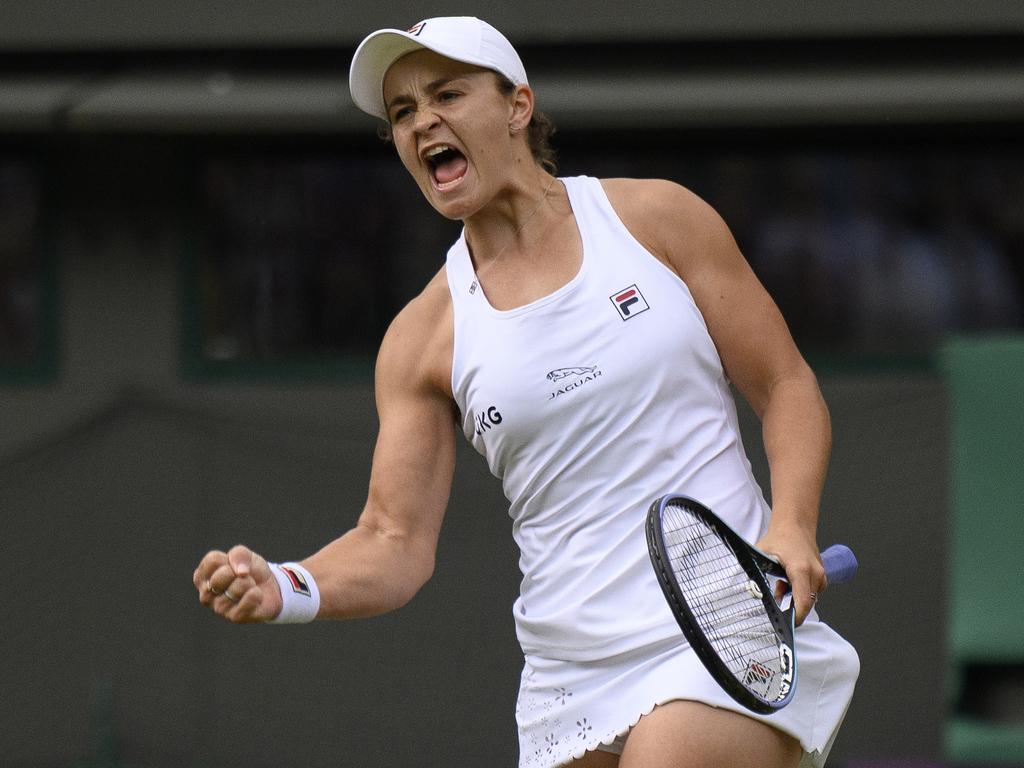 Barty celebrates winning her fourth round match against Barbora Krejcikova. Picture: AELTC/Florian Eisele – Pool/Getty Images
It was the one match of the whole tournament where I really felt like I had that mongrel and that grit driving me.
When I walked off the court, Tyzz smiled at me and asked; "You enjoy that one?"
I was delighted. I had made it through to the quarterfinals of Wimbledon for the first time.
As I was receiving treatment later that day, we tuned in to watch my friend and Australian teammate Ajla Tomljanovic playing Emma Raducanu, with the winner my next opponent.
While I felt like I knew Ajla's game, it was fascinating to watch Emma, who had emerged onto the scene fast and went on to win the US Open.
As an exercise, Tyzz and I decided we would take notes and then send them to each other to see what we thought of her game.
I should have guessed, given we know each other well, but the assessments were almost a mirror image of each other.
As it was, Emma had a breathing issue of some sort and had to retire. This meant that no matter what happened, an Aussie would make the semi-finals.
When we were assessing the match, we were confident that if I was able to play close to my peak, I would be able to handle anything that my compatriot could throw at me.
I was determined to make an impression straight away, mindful that I was the one with experience at this stage of a grand slam and particularly as I could sense she was nervous.
Fortunately I performed really well again and was able to walk off the court a 6-1 6-3 winner.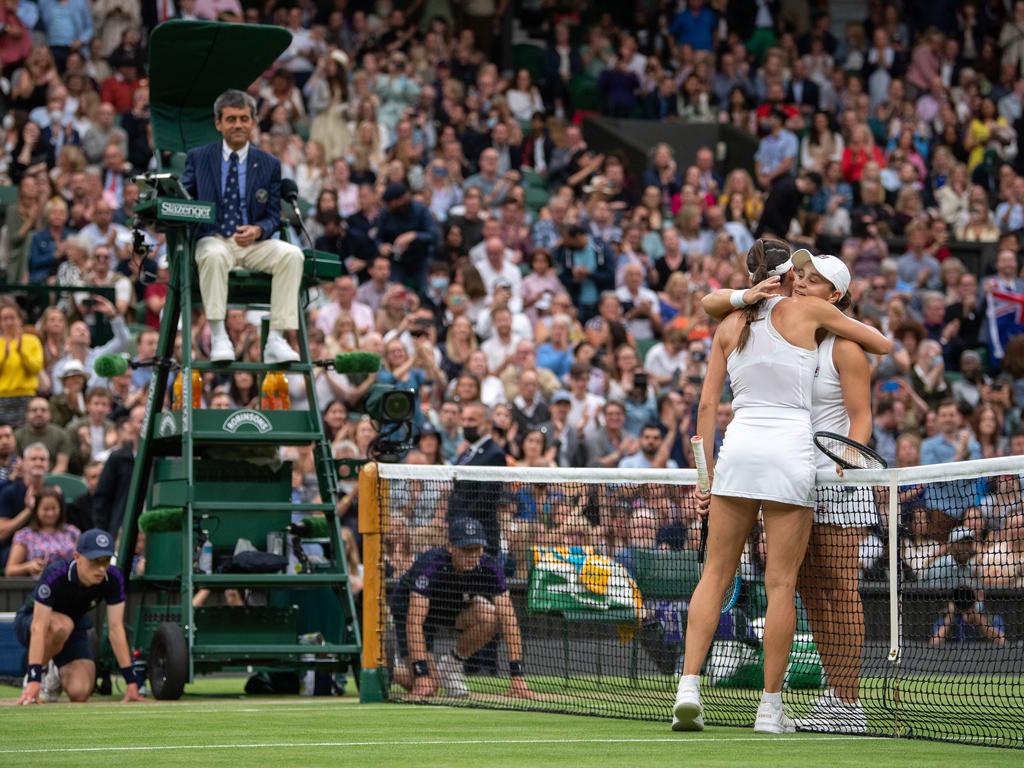 Barty and Ajla Tomljanovic embrace after their all-Australian quarter final. Picture: AELTC/Florian Eisele – Pool/Getty Images
The semi-final against Angelique Kerber was always going to be a massive test.
Angie was a former Wimbledon champion, a three-time major winner and a past world No.1. And if ever someone was going to test the injury, Angie would be the player. She can put the ball in spots I don't want to be playing them. It really is a chess match against her.
I love the way she plays. She fights and never gives up. But I also love her as a person.
She is a no bullshit personality who calls a spade a spade. When she respects you, she respects you for the right reasons. Given the circumstances, I was so excited for the match.
No less than my best would do. So it proved on the court. It turned out to be one of the most physical matches I have ever played, even though the scoreline read 6-3 7-6 (3).
I remember being so nervous as I was trying to close it out and was thankful I had a big lead in the tie-breaker, because my legs were shaking so hard.
When I came off the court, I told Tyzz that it was the best match I had ever played. His response was, "Yep, it is pretty close. That was great".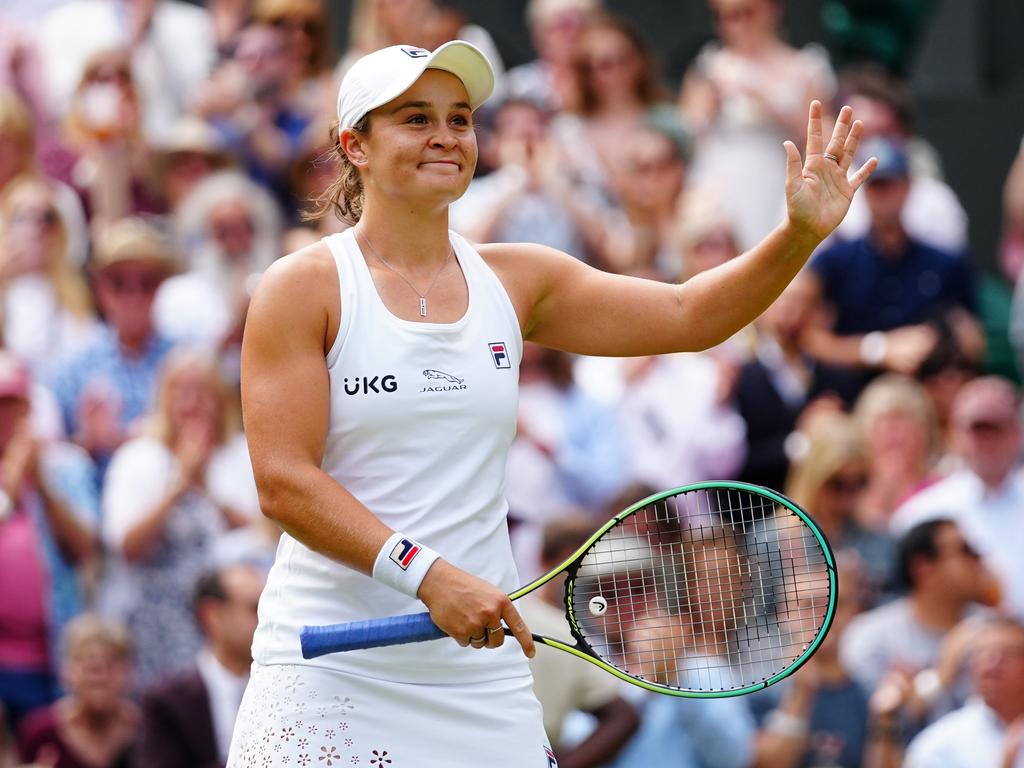 Ash Barty thanks the crowd after winning her semi-final match against Angelique Kerber. Picture: Mike Hewitt/Getty Images.
All of a sudden it hit me. I was in the final of Wimbledon and one win away from achieving my childhood dream.
It was probably a good thing we were in a hotel bubble, because it allowed me to hide away from all the publicity about my run and allowed me to just go about my routine as usual.
The day before the final I practised with John Peers, the Aussie Davis Cup star who I ended up partnering to a bronze medal in the mixed doubles at the Tokyo Olympics a month later.
Because my rival in the final was going to be Karolina Pliskova, I needed someone who had a heavy serve and was capable of hitting powerful groundstrokes hard and flat to me.
But on the eve of the final, I also remember feeling unsure. I turned to Garry in bed that night and told him that I was absolutely terrified. He asked me what I meant by that.
My response was that I was scared that I was going to lose the final, but also scared that I was going to win. It really was such a big deal to me.
His reply was absolutely perfect.
"Don't worry about it," he told me. "Just go and play. If you win it, you win it. If you don't, who cares."
But the nerves had kicked in. I tossed and turned all night and did not get much sleep.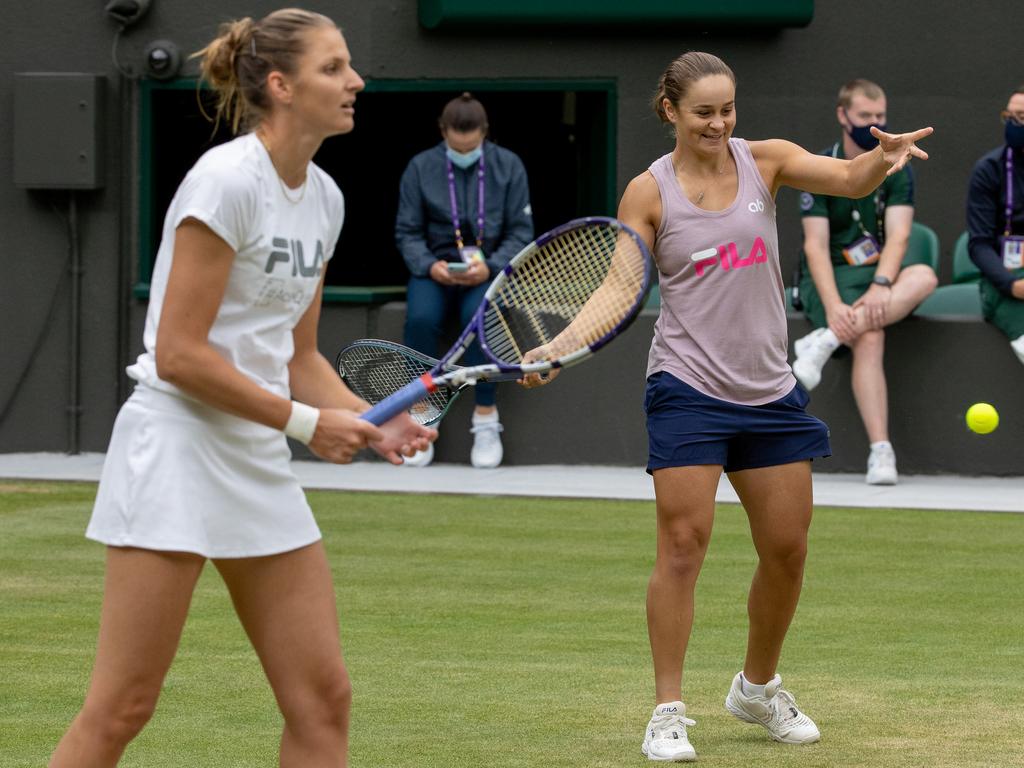 Barty and Karolina Pliskova on practice on No.1 ahead of their final. Picture: AELTC/David Gray – Pool/Getty Images
When I woke, the weather was similar to the weather in Paris on the morning of my Roland Garros triumph a couple of years earlier, with grey skies and drizzly rain.
We got to Wimbledon and met up with Dylan Alcott, who was also playing his singles final, on the balcony, grabbed a coffee and sat down to watch the footy on the iPad, with the Brisbane Lions playing. That was kind of cool, to be able to just chill with a good crew.
The rain added some uncertainty about the start time and whether the final would be played under a roof. Finally, when we headed over to start our warm up, Tyzz struck gold.
Near the court was a broken broomstick. Throughout the entirety of Wimbledon, we had been unable to play cricket in the warm-up, which is one of the things I absolutely love. Now we had a bat!
To be able to get out there and bowl and bat eased some of the stress for me, though not necessarily for Mel, who kept calling on me to come over and begin my treatment.
Another good sign is that we were moved to Court 1 to warm-up because of the uncertainty surrounding the weather. That was unique in itself, but they also allowed Tyzz and me to wear coloured clothes in the warm-up given there was a rush on time due to the weather.
Usually on the match courts you have to wear whites, based on the Wimbledon rules, and I remember feeling a little embarrassed about that.
The other cool thing is that we were sharing the court with Karolina and her coach.
We were having a laugh about that and I remember commenting to her that our coaches were absolutely loving the opportunity to hit on Court 1.
The night before the final, I had been shitting myself. But now I was feeling completely relaxed. It was an awesome feeling.
Ash Barty during the Wimbledon 2021 final. Picture: Supplied
The rest is history. I started the match unbelievably well, scarcely losing a point early on, whereas Karolina was clearly really nervous in the opening few games.
I just felt unbelievable on the court. Everything seemed so clear. My mind was free and the experience of playing that final early on was just sensational.
We got to the second set and I can remember thinking that I was so close to my dream, but at the same time, she started to free up and began landing big serves and groundstrokes.
When I lost the second set in a tie-breaker, I took a moment to analyse what was going on.
I told myself I could approach the setback two ways, thinking about the people who had gotten so close to success, only for it to be ripped away, or by knuckling down harder again.
Early in the third set, I was more physical than I had been, played some really big points and managed to break her. It was game on. And I gave it everything I had.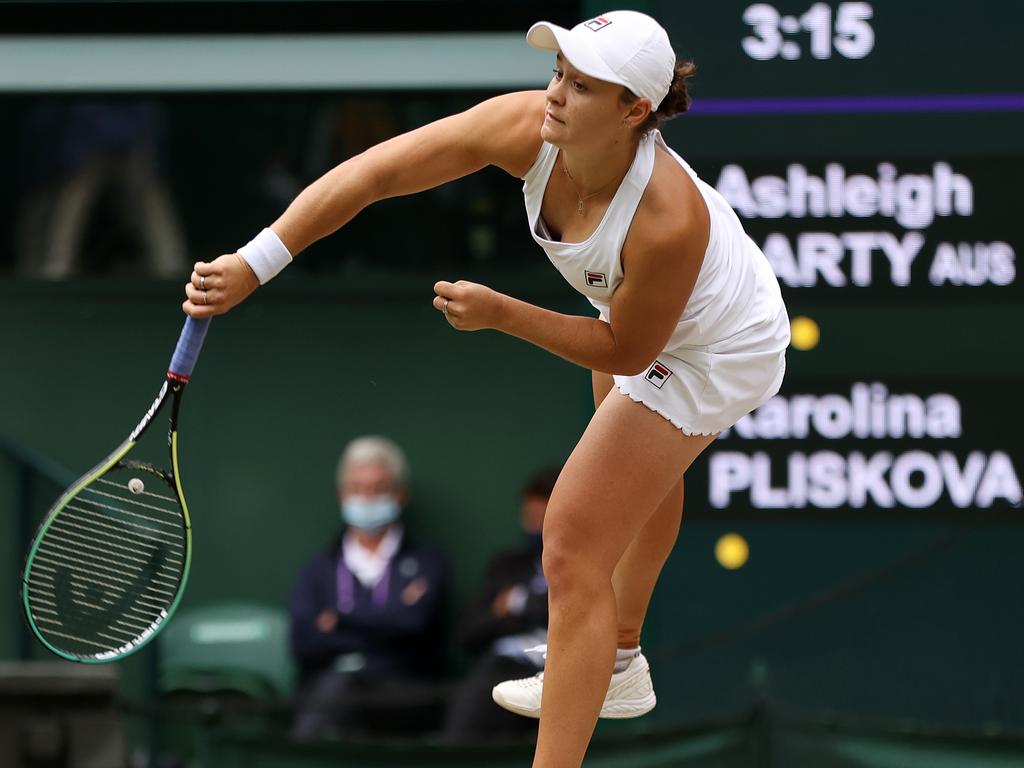 Ash Barty serves during the final. Picture: Clive Brunskill/Getty Images
Being able to close out that final the way I did does not happen without the heartache I had experienced at Wimbledon a few years ago when losing a third-round match to Daria Kasatkina, which felt like one of the lowest moments of my career given the hopes that I had.
It does not happen without what had happened at Roland Garros and the resilience that built in me. It felt like everything had happened for a reason.
It was tough but I closed it out 6-3 6-7 (4) 6-3. I was the Wimbledon champion.
In a previous column for CodeSports, I took you behind the scenes of what unfolded in the corridors afterwards, from meeting Royalty to chatting with the Queens of the tennis court, Martina Navratilova and Chris Evert.
But a couple of other moments really stand out to me on reflection.
I remember climbing into the stands — something I thought I would never do — to celebrate with my team and giving Mel one of the biggest hugs of all time.
Being shepherded onto the balcony overlooking the grounds of Wimbledon, with all those beautiful grass courts below and all the fans staring up at me and applauding is also something I will never forget.
Later, the first message I received on my phone was from Simona Halep stating how proud she was of me and asking me how good it felt to stand there.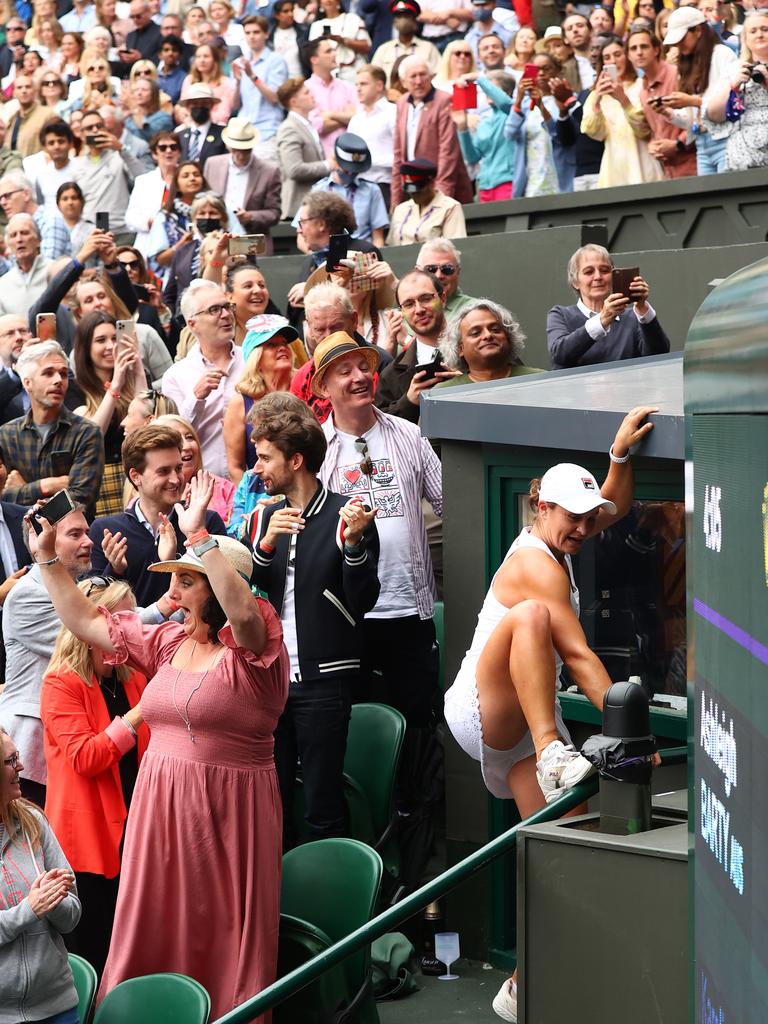 Barty climbs up to see her team after winning the final. Picture: Julian Finney/Getty Images
It was incredibly classy of her, as always, particularly given injury had robbed her of the chance to defend her championship. She is a special human being.
The next few hours were a whirlwind, but finally we made it to the locker rooms, and I can remember sitting down with Mel and asking her what my scans had said.
She told me that when exiting quarantine, the tear was still 8cm long. I knew what it meant.
My first question to her was "How?". She said, "I have absolutely no idea".
It made absolutely no sense at all. This is what fascinates me about the human body.
I wondered how much of it was a placebo effect. From the time they told me the scan was better, I never felt an ounce of pain.
Yet the entire time they were worried one simple misstep would end it all. I sent the scan to mum, who is a radiographer, and her response was the same: "How did you play?"
Barty celebrates with boyfriend Garry Kissick after winning the 2021 Wimbledon final. Picture: Clive Brunskill/Getty Images
It is crazy. Probably the only thing I regret is that the day after we had won Wimbledon, I didn't get a follow up scan to see what the area looked like.
But I have a Wimbledon trophy to get over that. And an amazing story to tell.
It is one that would never have been possible without the brilliance of Mel, Tyzz and Matt and also Garry, who brought such good vibes to the team when he arrived on the eve of the tournament.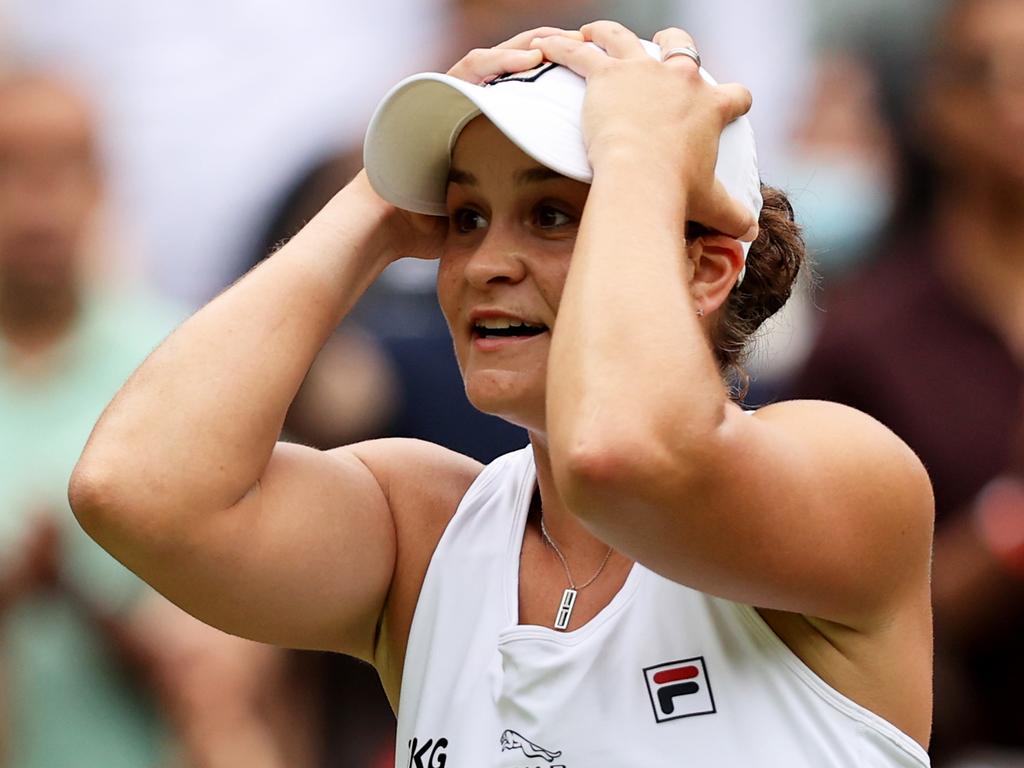 Barty celebrates her 'miracle on grass' at Wimbledon 2021. Picture: Clive Brunskill/Getty Images
If I did not have one of those cogs there, my Wimbledon triumph would not have happened.
It was a fairytale.
My miracle on grass.
What a ride.
It is why I'll be forever grateful to them.