Ash Barty: The tears, the triumphs and the gratitude that led to my decision to retire from tennis
In her farewell to tennis column, ASH BARTY writes why the time is right to walk away from the game she loves.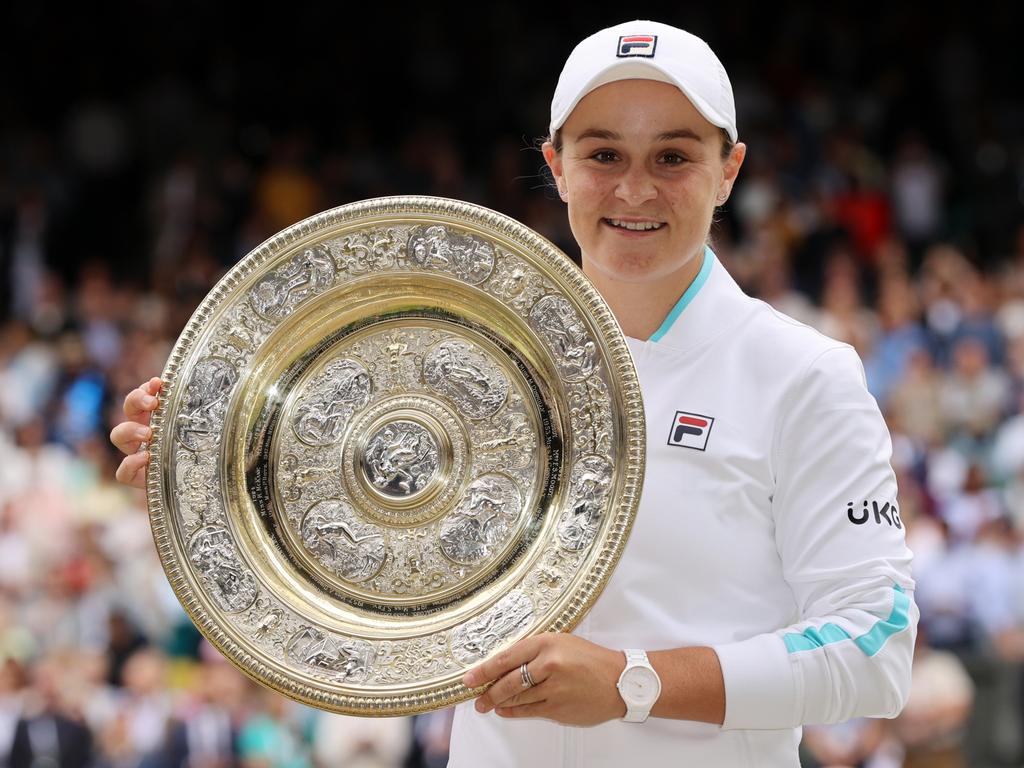 After her Wimbledon triumph, Ash Barty knew retirement was near. Picture: Clive Brunskill/Getty Images
Perfect Fridays are around the corner.
A relaxed eighteen holes of golf at my local course. A quick cold one as I toss the ball back and forth with my dogs in the backyard as the sun sets. Then settling onto the couch to watch the mighty Tigers get to work on winning another flag.
I was lucky enough to see a Richmond premiership in person a couple of years ago. And those are the types of occasions I am looking forward to in the short term after making the biggest decision of my life over the last few weeks.
I have to say that I am truly happy to be at a point in my life where I am comfortable in what I have achieved and truly excited by the opportunities ahead of me. My retirement announcement on Wednesday may have come as a shock to some, but it is something I had been contemplating to some degree for several months and now, I feel, the time is right.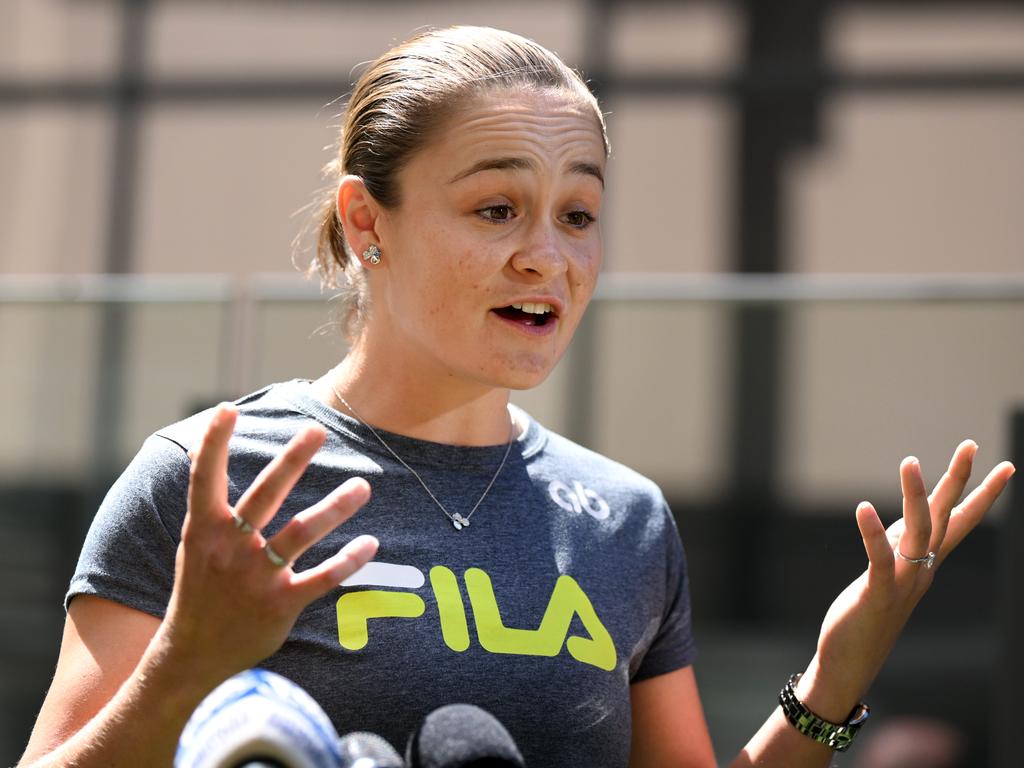 A lot of thought has gone into Barty's retirement decision. Picture: Dan Peled
Is it forever? The door to my career is closed at the moment, and firmly …. but I do hold the key to the padlock and who knows what the future holds.
But before anyone goes rushing to buy tickets to the 2023 Australian Open in the hope I might be back to defend my title, hold your horses. I am certain my future lies elsewhere. Get to the Aussie Open, by all means. It is a truly great tournament and it was the perfect stage to finish my career, a wonderful celebration to farewell this period of my life.
BARTY COLUMN: What Uluru taught me about representing Australia
I'll be checking in to see how my favourites on the tour are going, from Simona Halep and Petra Kvitova to all the Aussies I have loved playing with over the years to come. Having had the best seat in the house for nearly six years, there is so much to look forward to in women's tennis. The talent is incredible.
But at the completion of the Miami Open, a tournament where I have enjoyed great success, my name will be removed from the WTA rankings and the tour will have a new number one. And I could not be happier. I've given tennis my all and enjoyed successes beyond my wildest dreams.
The sport has provided me with experiences I'll forever be grateful for.
But the time to say goodbye to professional tennis is now.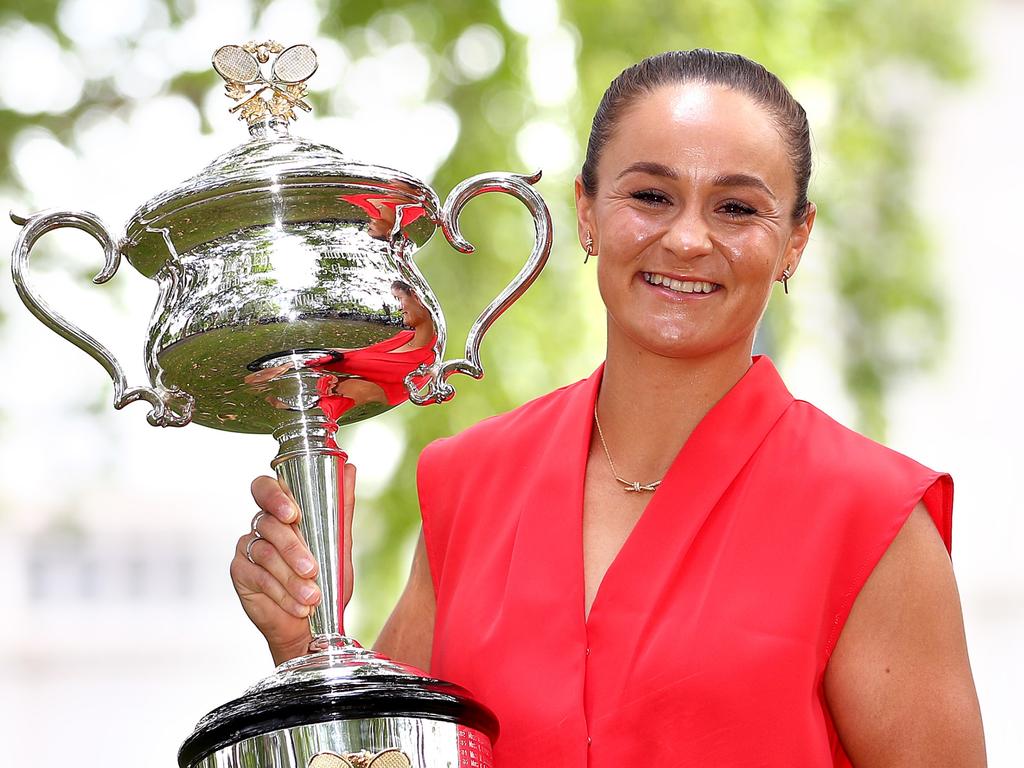 Barty is going out on top with the Australian Open title her last competitive action. Picture: Kelly Defina/Getty Images
*****
Over the past few weeks, I've had plenty of conversations with the people I love and respect, from my family to my team and also those great friends I have on the tour.
I don't think anyone really tried to talk me out of retiring. As they all know, I can be stubborn at the best of times, let alone when my mind is made up. But they did want to make certain that I was sure about this step. They wanted to make sure that I would have no regrets about my decision. As always, they wanted the absolute best for me.
BARTY COLUMN: Two-word promise scribbled on Vegas wall

It did take me some time to formulate my exact reasons and my motivations. Don't get me wrong. I still love tennis. I absolutely love it. And I will continue to have an interest in helping others find their best.
Among those I reached out to when considering my retirement were some peers who were very important to me throughout my career. It was great to be able to say farewell to tennis by talking to my great mate and long-time doubles partner Casey Dellacqua, who was like my tour mum when I was young.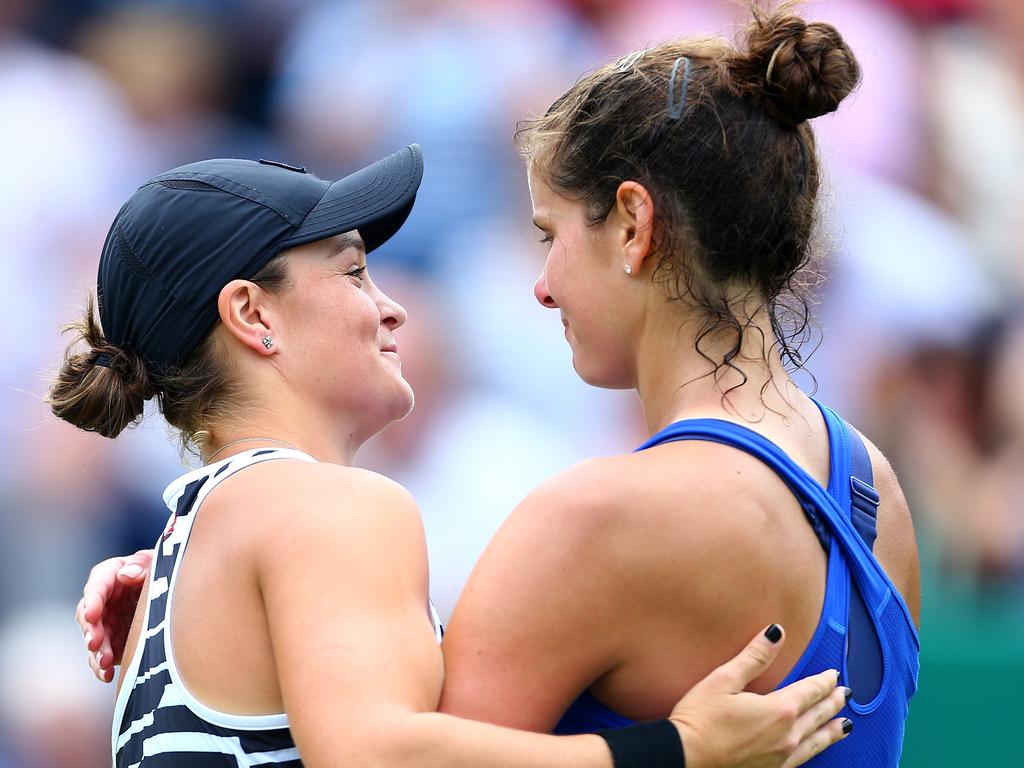 Julia Goerges was a brilliant sounding board and shared her own experiences of retirement. Picture: Jordan Mansfield/Getty Images for LTA
I also spoke to Julia Goerges, the top German whom I defeated at Birmingham in 2019 when claiming the world's top ranking for the first time. Jule, who retired about 18 months ago, was so kind to me when I first came on to the tour as a teenager, even though I was so young at the time. And there are plenty of others.
It really has been overwhelming to receive so many messages from my friends on the tour, and from others in all walks of life, and I am so grateful for all of their support. Once I was able to articulate my feelings properly, and to explain it clearly to my loved ones, I could tell they understood, just as my peers have as well.
I hope everyone else respects my decision, even if they don't quite understand it.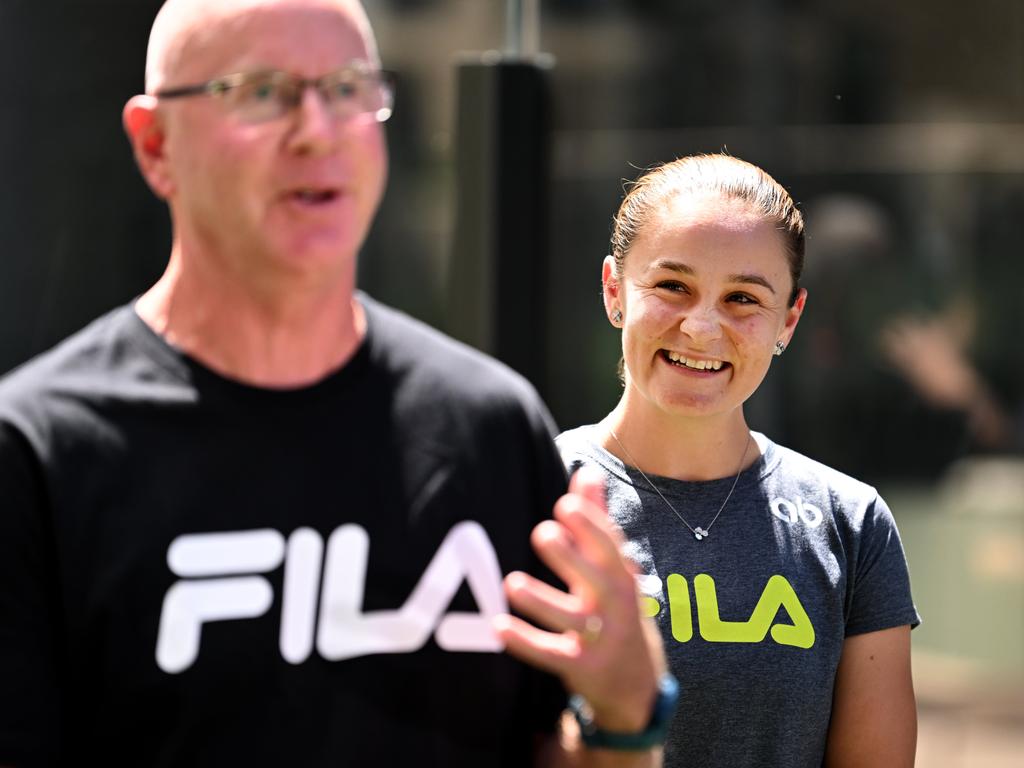 A sense of relief after finally being able to share her retirement news with the world. Picture: Dan Peled
*****
I'm really excited for what happens in my personal life now.
I've a wedding to plan for, but I'll be keeping the details about that private for now.
Spending time with my nieces and nephew, as well as my sisters, is something I've loved being able to do over the last few weeks and I'm looking forward to spending so much more time with them.
READ: Why Barty's Uluru trip was more important than Australian Open win

I'm also excited about what the future involves professionally, and that still includes tennis.
There are so many things I want to do in Australia that, because tennis required a lot of travelling, I've had to put on the backburner. But now I have a lot more time on my hands! I hope to be able to continue giving to the sport. I still feel tennis has given me more than what I have been able to contribute to it.
One thing I am looking forward to is mentoring younger Australian girls playing tennis, particularly those who are aged from 15 to 18 years old.
I think that it is a really important period in any young girl's life and I know first-hand just how tricky those years can be for a female athlete who is either trying to become professional or has already taken steps into that space.
I've tried to give those following my footsteps on the court all the help I can when possible and I am really looking forward to engaging more in that space.
Having more free time will also open doors in terms of being able to travel to Indigenous communities, which is something I really treasure. Seeing the smiles on the faces of the kids of the Mutitjulu community near Uluru in late February was such a grounding, rewarding and inspiring experience.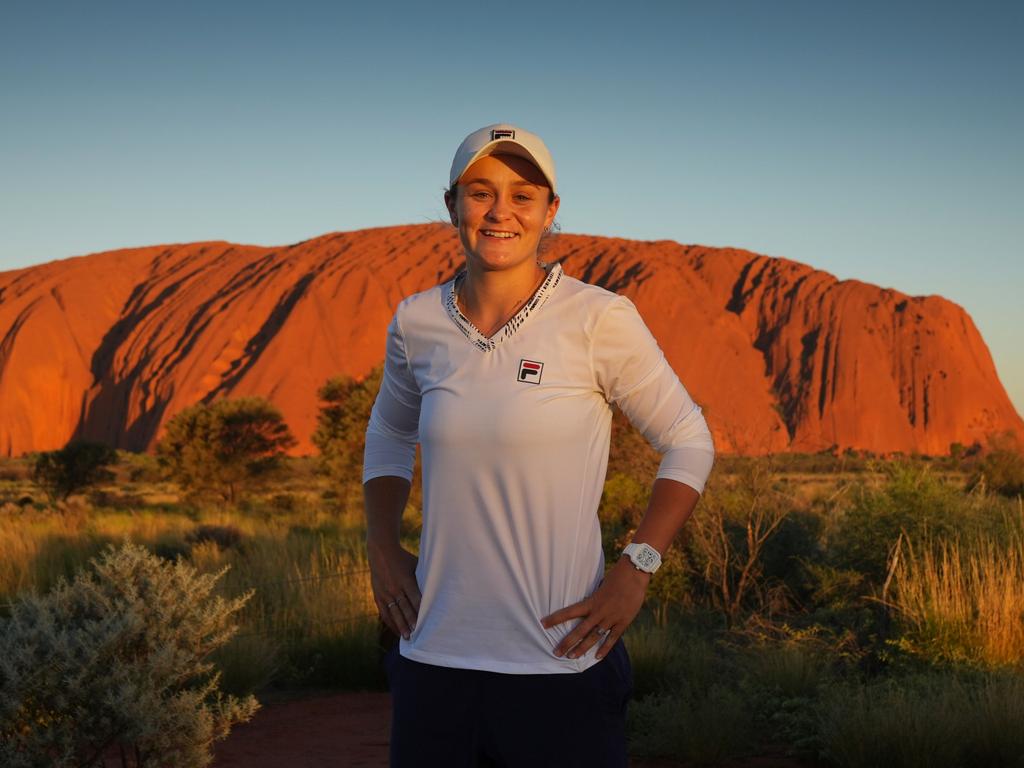 Spending time near Uluru was an incredibly special experience. Picture: Scott Barbour/Tennis Australia
Visiting communities is something I have tried to do when possible, with some of those trips public and others far more informal. And sport participation is not the only area I am interested in.
It is important to make sure I can be of benefit to the communities where I am lucky enough to be invited to, because helping others is something I am driven to do.
PHILIPPOUSSIS ON BARTY: Why we should applaud Barty for leaving on top

As to a career strolling the fairways, or booting the Sherrin around, or picking up the bat again? Well, I've already seen quite a few memes I have been photoshopped into which have made me laugh.
And I have received quite a few messages from athletes from other sports.
But competitively?
Let's just say that I will be happy to stop shooting 10 over par and actually get back to playing more than once in every six months. Golf truly is my hobby, the one thing I find relaxing, no matter whether I square the card or have 100. And I can't see that ever changing.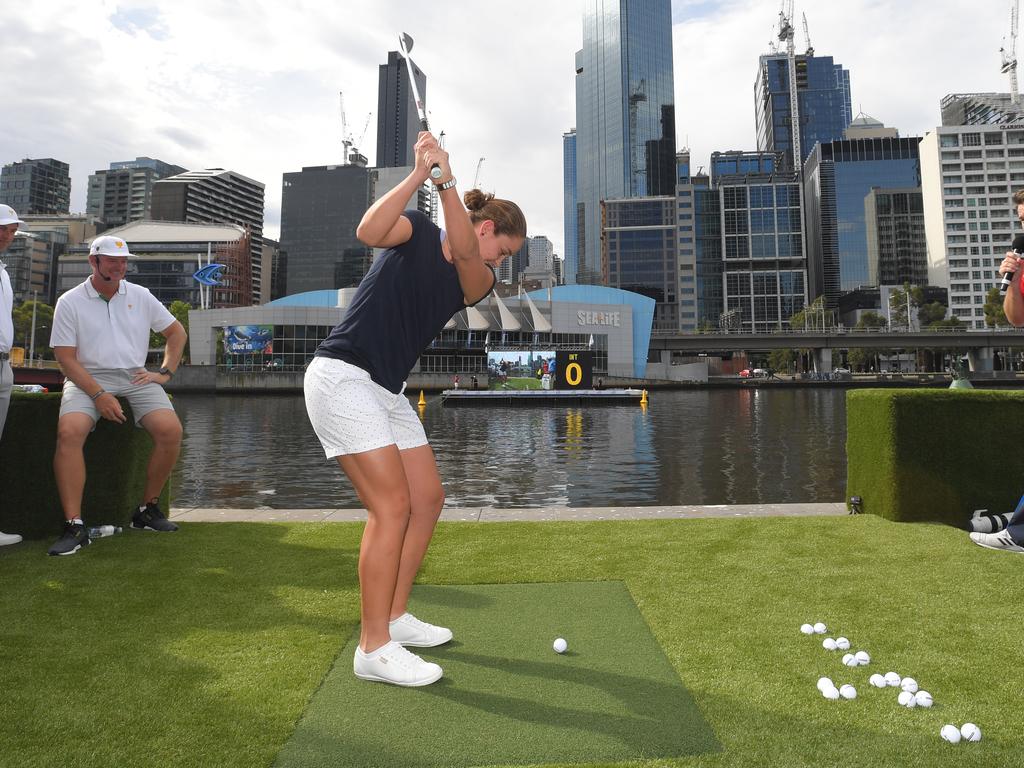 Many have suggested golf as a next career move for Barty, that's unlikely to happen anytime soon. Picture: Stan Badz/PGA TOUR via Getty Images
*****
In an earlier column for CodeSports, I remember walking you through the corridors of Wimbledon after achieving my childhood dream last July.
Greeting the Royals, then meeting with tennis royalty Martina Navratilova and Billie Jean King and celebrating with the crowd, before finally greeting my team was such an extraordinary experience.
READ: The seven unforgettable moments of Ash Barty
The feeling when I fell into the arms of Garry, my fiance, was one of immense relief and the moment where the honour of winning Wimbledon finally sank in was amazing.
It was not long after this that I began to consider what would come next for me in my life.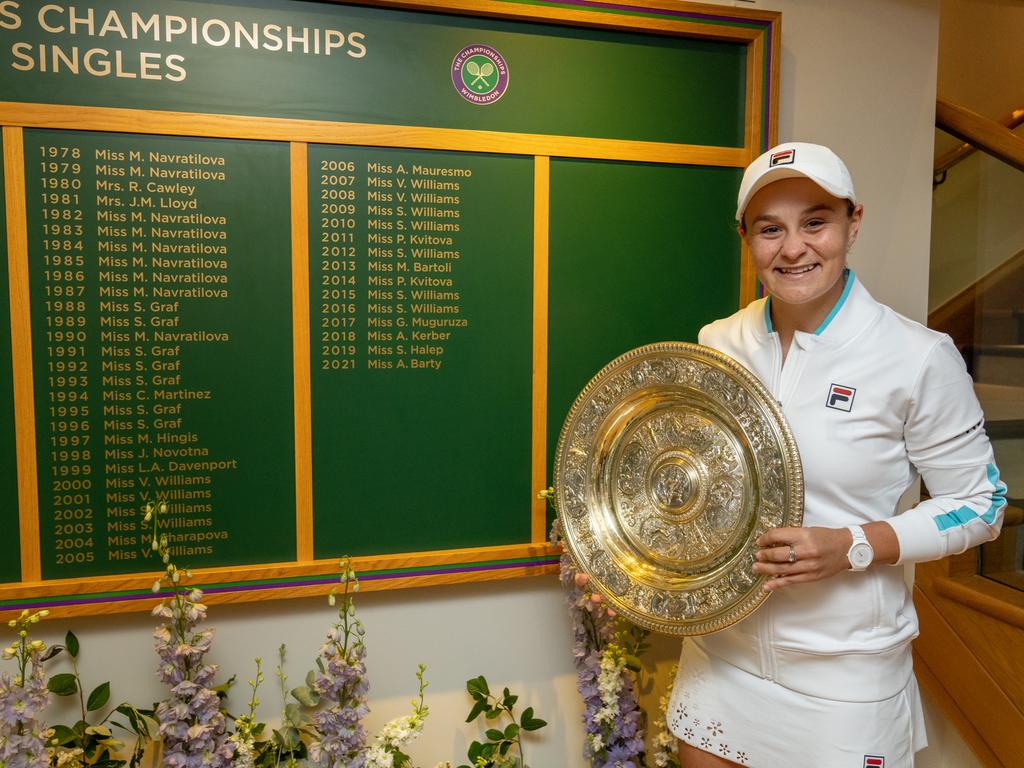 Inside the halls of Wimbledon was when Barty first began to seriously consider retirement. Picture: AELTC/Thomas Lovelock – Pool/Getty Images
Just a fortnight later, at a point that was another high point of my career, I realised the motivation and dedication required to play to my best was not where it needed to be.
The women on the tour are so strong physically and mentally that if you give anything short of your best on court or when training, you will be exposed. You have to give your all.
Being able to represent Australia at the Tokyo Olympics was, truly, a remarkable experience. But I have no doubt in saying that, in hindsight, I should not have stepped on to the court in singles.
READ: Why Barty could join the long list of tennis comebacks

It was a case where my heart won over my head. I knew that I did not have the necessary motivation or focus to succeed in singles, but I was absolutely determined to try for Australia.
The flip side of that is that I found representing the country in the mixed doubles with John Peers and the women's doubles with Storm Sanders remarkably rewarding. For all the mental fatigue I was feeling, being able to compete so well with my good friend Storm and winning a bronze medal with John made it all worthwhile.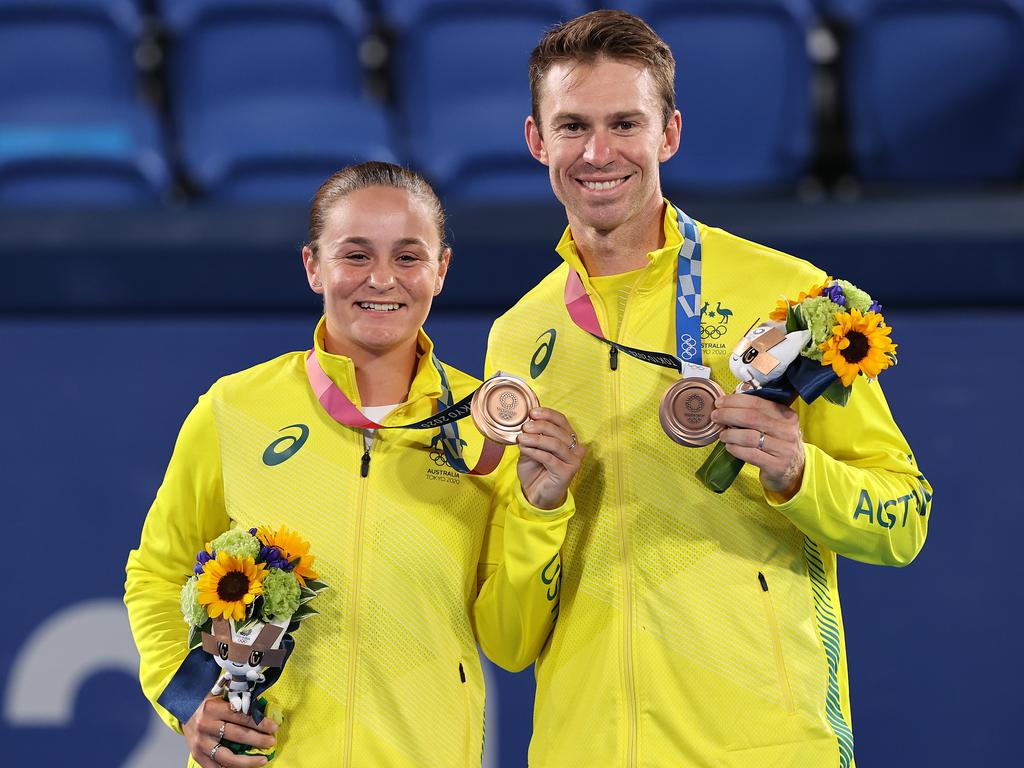 Winning a bronze medal with long-time friend John Peers will remain one of Barty's greatest achievements. Picture: Clive Brunskill/Getty Images
But I was really struggling. The extended time away from home, and my family and friends, was starting to really have an impact on me.
By the time we got to Cincinnati, I was battling and felt extremely distracted.
My practices felt flat and I can remember having a conversation with my coach Craig Tyzzer where I was in tears as we discussed where we were at in terms of my career.
Tyzz, to his great credit, was brilliant, as always. And we found a way to reset.
PHILIPPOUSSIS ON BARTY: Why Ash is set to inspire a new generation of tennis players

A clash against Victoria Azarenka got the juices flowing and I was able to find a way through the tournament in what was an important triumph for me.
It left me drained and I felt I had little left to give, as proved the case at the US Open. I had hoped to play again in the Billie Jean King Cup against Slovakia in Brisbane in April. But more important global events had an impact there, which meant Australia became an automatic finalist later this year.
The girls did a tremendous job when making the semi-finals in Prague last November and I am certain they will be absolutely fine without me. Be assured I will be cheering them on.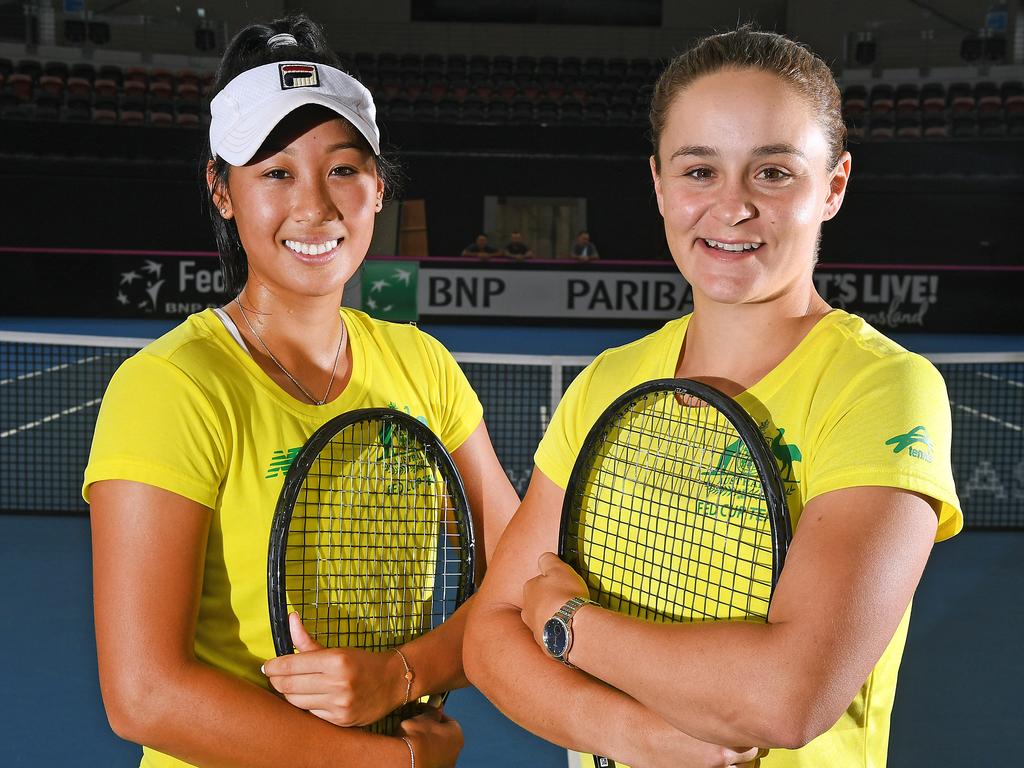 The future of Australian women's tennis is in good hands according to Barty. Picture: AAP image/John Gass
*****
That being said, the Australian summer really did prove the perfect way to bow out on the court. It was the summer where all the dreams I had came true. And it felt so different to any other summer down under.
To start the season in Adelaide, where I was fortunate to win my maiden title on Australian soil, and come away with both the singles and doubles titles was a great start.
In particular, I truly loved playing alongside Storm and it was great to be able to claim a big title with her. She gave me the spark I needed for the summer and I'm so delighted to see her playing so well after the injuries she has overcome.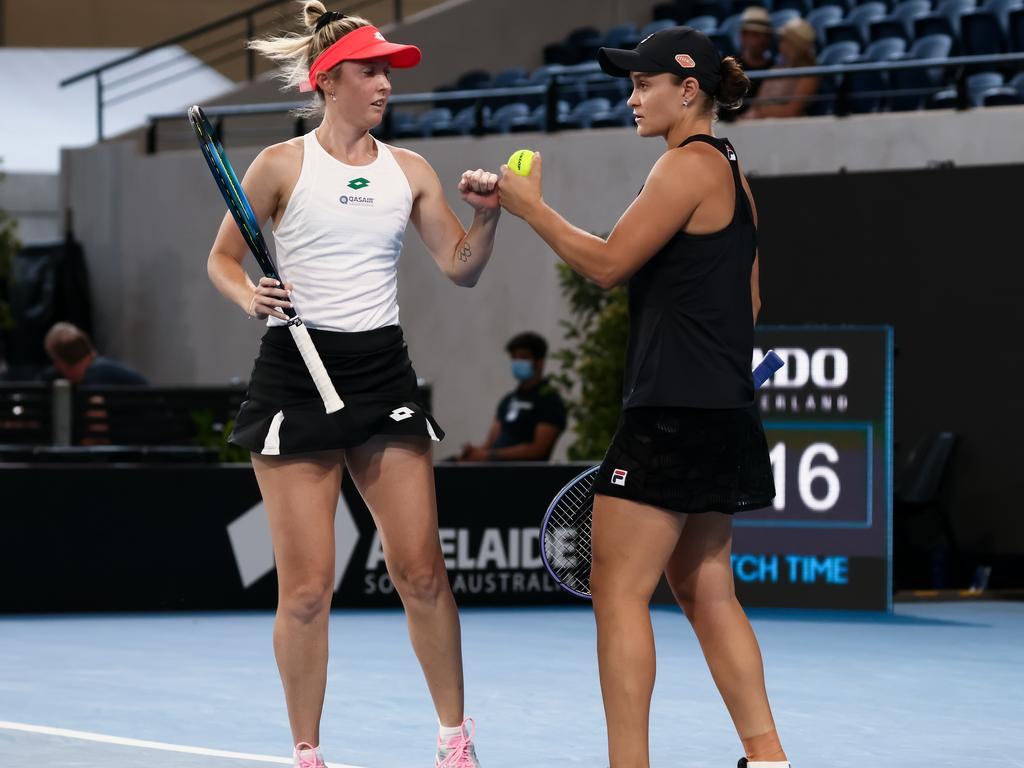 Doubles with Storm Sanders in Adelaide was the perfect energy boost to start Barty's summer season. Picture: Peter Mundy/Speed Media/Icon Sportswire via Getty Images
When I arrived in Melbourne, I was a little nervous for my first match as I walked onto beautiful Rod Laver Arena. I get nerves in lots of different ways but it's always been unique in Australia – a dry mouth but a racing heart. A welcome reminder that I am playing at home.
But, after that, everything truly felt great. I laughed a lot with friends. I felt relaxed on the court and away from it. While we locked ourselves in a Covid-19 bubble and took every precaution from that front, that was the only thing I tried to shield myself from.
It really was the first time that I have properly embraced everything about the Australian Open, be it the full support of the fans, or the excitement and expectations about the tournament.
READ: Why Barty's retirement didn't shock those close to her

Until that fortnight, I really don't think I had ever been able to walk away from Melbourne Park after a summer feeling as though I had given it my best shot.
It felt like something had always gotten in the way. Me, actually. I think I was the one who sabotaged my chances in previous attempts. But I learned from those lessons and my team and I put everything in place to have the perfect crack.
And it all came off.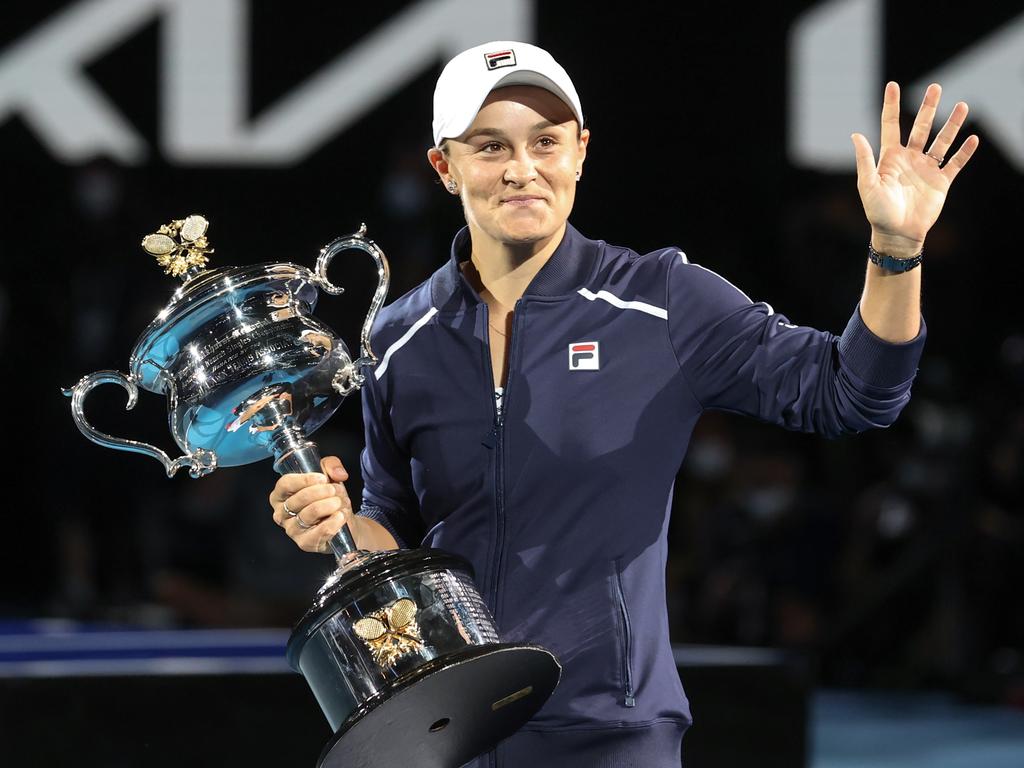 Barty's Australian Open triumph is still surreal to look back on. Picture: David Caird
On Thursday, during a press conference in Brisbane, Tyzz said that it felt to him like I was playing for everyone else throughout the summer, not just for myself and the team. I think that is right. I was definitely playing for so much more than just my own hopes. I feel so grateful that I was able to bring my best tennis to what was my final tournament.
To be an Australian Open champion is an honour I will treasure forever.
It is really cool.
*****
There are, truly, so many people to thank that it is impossible to single them all out individually.
But, first and foremost, to Team Barty.
When we came together back in 2016, after I put an end to my first retirement, it was clear we were all taking a bit of a chance and none of us were certain where we would end up, let alone when.
'Team Barty' has been with Ash every single step of the way. Picture: Cameron Spencer/Getty Images
I had no ranking and really was not sure how I would stack up again on the court, or whether my motivation would remain strong after my battles as a teenager.
It really has been an extraordinary six years. We have created something incredible together, and I am so glad they gave me a chance and then stuck by me.
Everyone has been equal. There has been no ego in the team.
READ: Barty's perfect, history-making night

I think that is what cheers me up even more about the future.
I know that our relationships will not change in the switch from a professional setting to sitting at home watching the footy, ribbing each other about our tipping and teams.
I can't thank them enough for allowing me to be me, to be someone who is imperfect and screws up and makes mistakes. I've always tried to learn from them. They've helped me grow into the woman that I am today with really bold dreams as a person.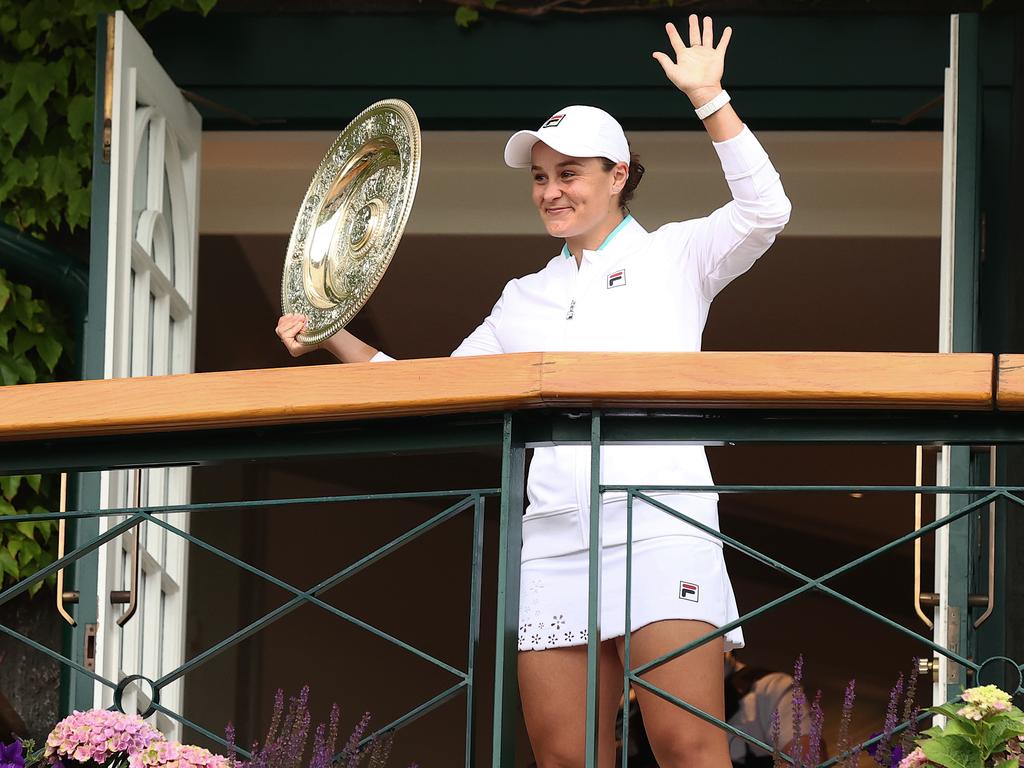 The next chapter of Barty's life has officially begun. Picture: Julian Finney/Getty Images
Nothing lasts forever.
I am content and fulfilled and very much looking forward to what the future holds.
Those memories on the court, and even more importantly the ones we created away from it, are not going to fade.
It has been a blast.