Ash Barty's retirement has revealed gap between Australia's other women players and rest of world
There are many theories but few answers as to why Australia's women have fallen behind the rest of the world, writes LINDA PEARCE.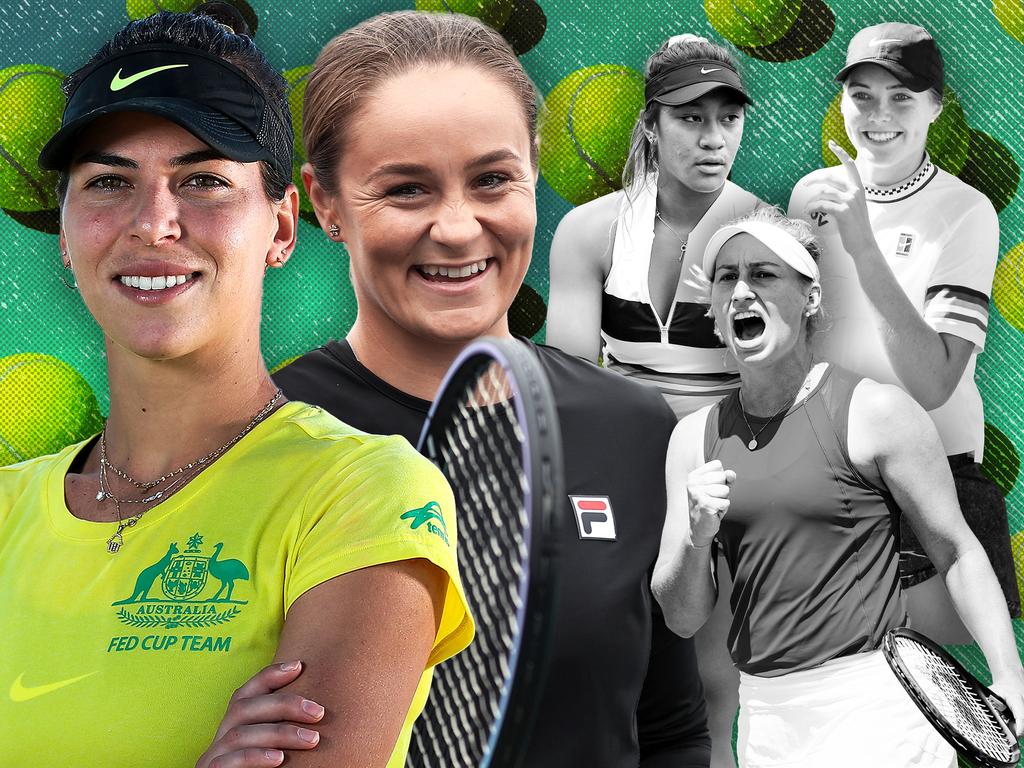 Ash Barty's incredible career partly concealed the struggles Australia's other women players experienced on the world stage.
Before a 14-year-old Ash Barty made her professional debut in Mt Gambier back in 2010, the Tennis Australia high performance coach on the road with her that week, Louise Pleming, received a call from the then national head coach Scott Draper that she has not forgotten.
"He said, 'Lou, whatever you do, don't tell this young girl too much, she's phenomenal, she really figures it out herself,' and I thought, 'My gosh, that's really odd to call a coach and tell her don't tell this player anything, don't coach her!''' recalls Pleming, now captain of Australia's Junior Billie Jean King Cup team.
"But he really nailed it, he got her right. So I just observed Ash that week, and it was amazing how calm and how intuitive this young girl was. She was like a chess player even then. She was one-in-a-million.''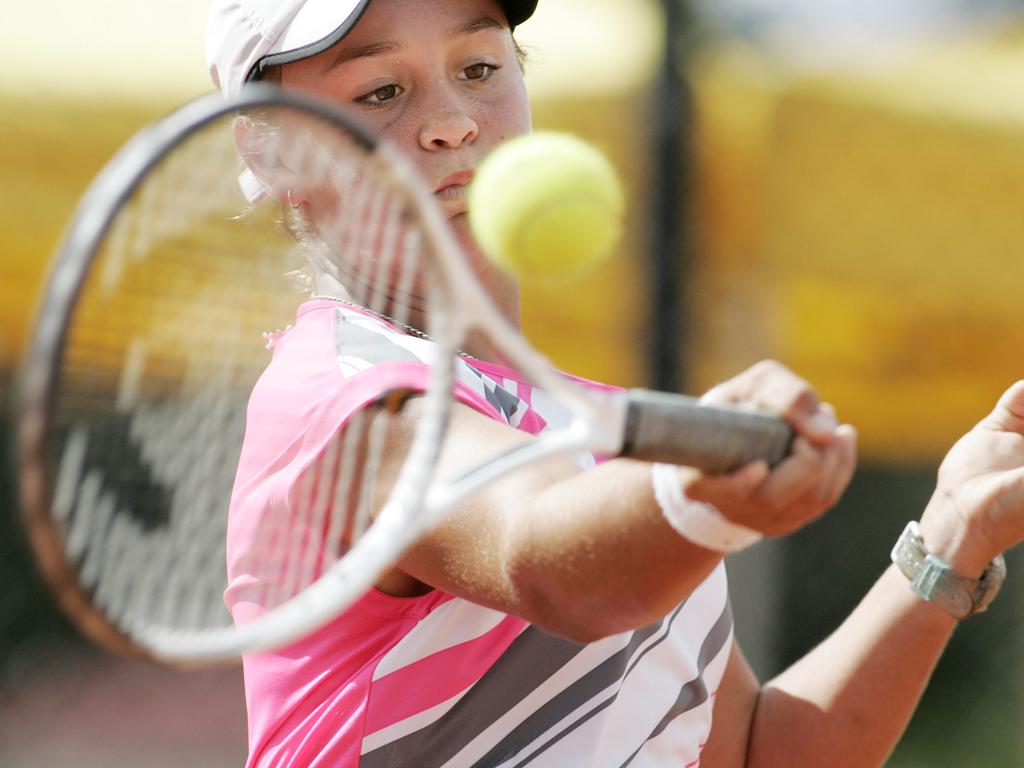 Ash Barty had an intuitive nature with a racquette from a young age. Picture: Jeff Camden/NCA
More than a decade on, the issue facing Australian tennis now is not watching and marvelling at an irresistible talent destined for greatness but, rather, dissecting the seemingly bleak situation the phenomenal Queenslander has left behind.
One variously described in recent weeks as "dire" and "embarrassing".
One that is tricky and complex and includes competing schools of thought, including the need for more help and direction for those who are yet to — and may never — make it into the benchmark top 100 versus the desire to make players more accountable and competitive by weaning them off TA coaching support.
Barty announced her retirement on March 23 at the age of just 25. She was removed from the WTA rankings, at her own request, on April 4 — leaving an almost-bare cupboard in which world No.44 Ajla Tomljanović, who arrived from Croatia via Florida in 2015, is the only Australian woman in double figures.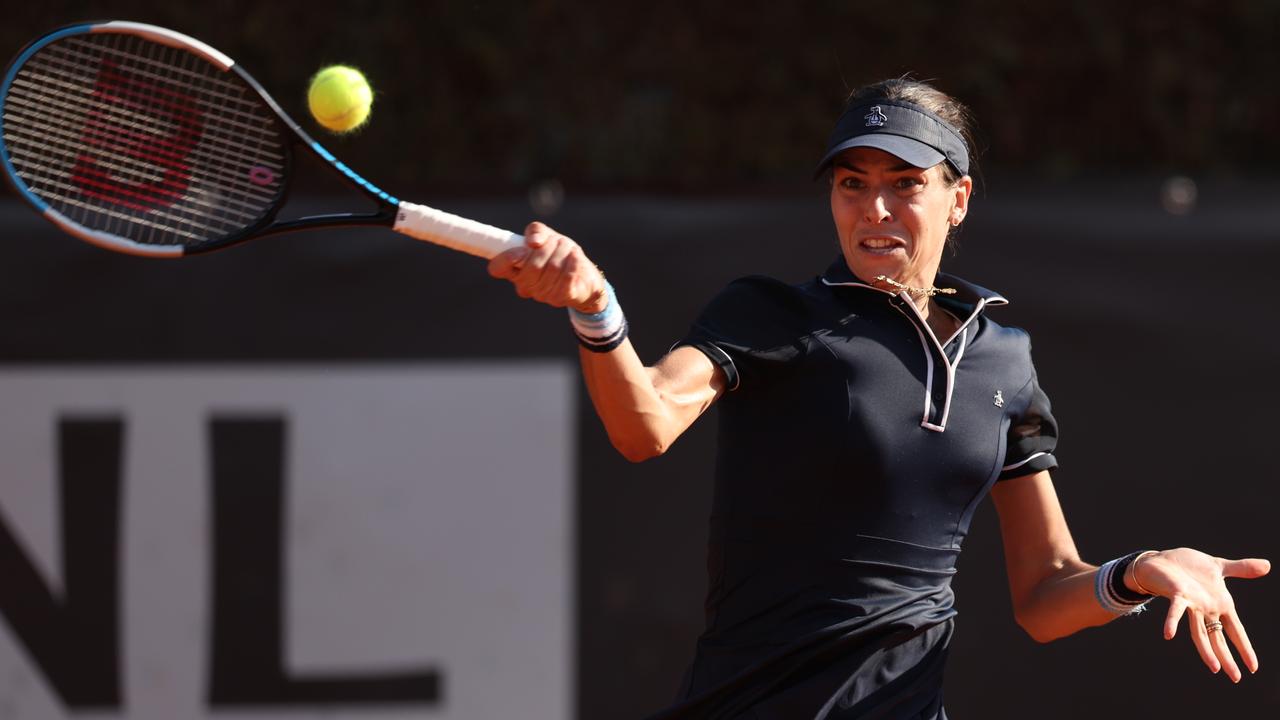 Ajla Tomljanović is currently the only Australian women's player ranked in the WTA top 100. Picture: Alex Pantling/Getty Images
There are just three more inside 150, ranging from a resurgent Daria Saville at No.130, to No.126 Maddison Inglis, whose ranking was boosted by her appearance in the Australian Open's third round. At 24, Inglis is the same age as peers Lizette Cabrera (No. 181), Priscilla Hon (No. 238) and Kim Birrell (No. 506), in whom considerable hope and resources have been invested without, so far, the desired return.
Indeed, 24 is also the age at which TA has decreed that players must be self-sufficient enough to hire a private coach after, often, a decade or so in the national system. They can nevertheless still access training facilities and support staff such as physiotherapy, strength and conditioning and the like.
Whether that is too early continues to be the subject of internal debate, with some asking whether it's counter-productive to effectively cut loose the battling and often later-blooming next generation, or if it's wiser to nurse them a little further along what most tennis mortals find is a hugely challenging path to the magic sub-100 metric that represents a decent living.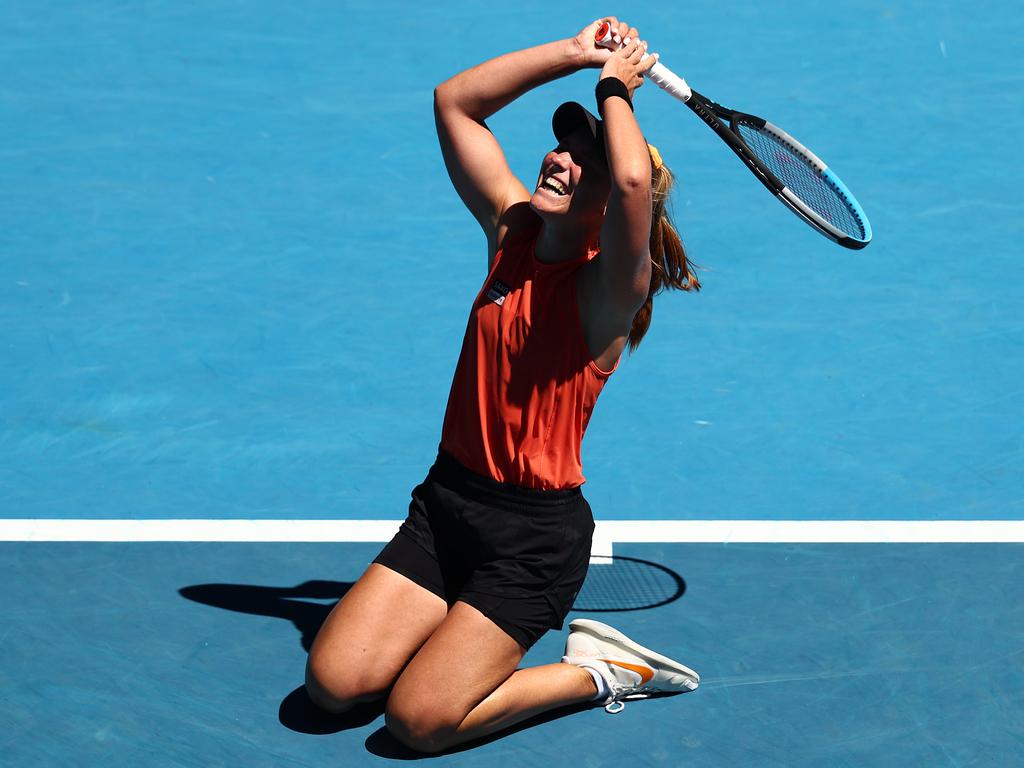 Maddison Inglis is the close to breaking the ton, currently ranked at No.126. Picture: Clive Brunskill/Getty Images
"Ash leaving the sport really does highlight that vacuum that sits behind her in the women's game,'' says TA's former head of professional tennis, Wally Masur. "I look at a lot of our Australian players, and it's true of the men as well, and I just feel like they haven't maximised their potential. And I can't quite put my finger on why.
"We do seem to find a lot of injuries and that's the nature of the tour, which derails some of our players that you hoped would be a generational player — and by that I mean a player that can get inside 100 and stay inside 100 for a decade, which is pretty significant. That's a career. But we seem to have all these individual reasons why that doesn't happen.''
As to how, then, it has come to this: "Leadership is everything,'' says one insider, pointedly. "Culturally we're not where we need to be,'' says another. Is the emphasis on men's tennis the default position, as some contend? Or a system trying to squeeze players into boxes when no one-size fits all?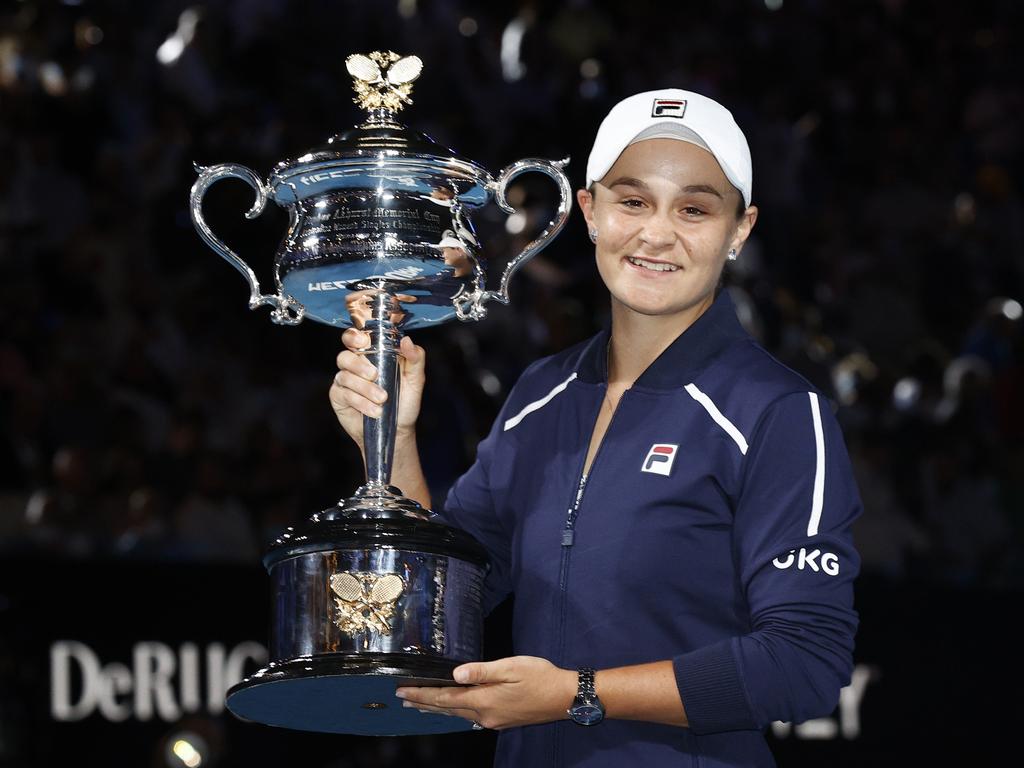 Ash Barty's retirement has left a significant void for Australians at the top of the tennis world. Picture: Darrian Traynor/Getty Images
Others have questioned whether the latest high performance review — or two — of player development which led to yet another restructure that involved the positions of head of women's tennis (Nicole Pratt) and head of men's tennis (Jason Stoltenberg) both being made redundant, has contributed to the decline.
These things are often cyclical, of course. And each player's personal circumstances are unique, with leading prospect Olivia Gadecki, for example, sidelined during the lucrative, wildcard-abundant Australian summer and unable to continue working with respected coach David Taylor due to the 20-year-old's vaccination status.
But could it also be that there were so many eyes on the all-conquering Barty that there were not enough left on, well, the ball? As one source puts it: "Things get missed when Ash is No.1 and that's what you talk about all the time. You rest on your laurels, there's no sense of urgency, no thought of, 'What if Ash retired?''
OK, so now we know.
Olivia Gadecki has been sidelined from 2022 tournaments, due to her anti-vaccination stance. Picture: Peter Mundy/Speed Media/Getty Images
*****
Player development is split into the 15-to-23-year-old group, overseen by Chris Mahony, the head of the National Tennis Academy in Brisbane, and the 24-plus cohort under the professional tennis banner in which Paul Kilderry is the acting head, with Masur having moved "a step sideways and backwards" in February.
"It's certainly disappointing,'' says Kilderry of the current situation. "It's not where we want to be. It is hard when the No.1 player in the world retires, obviously, and Sam Stosur's come to the end of her career, and Dasha was injured, and you've got to start looking at those things and different reasons for different people. But obviously we want as many players as we can in grand slams, playing in main draws and showcasing Australian tennis.''
The NTA opened in January, 2021, with the 32 players in its program now able to choose between a residential scholarship in Brisbane, or to receive funding support to remain at home. Some opt for a mix of both. Critics say that many of the best kids are staying away; a point Masur acknowledges.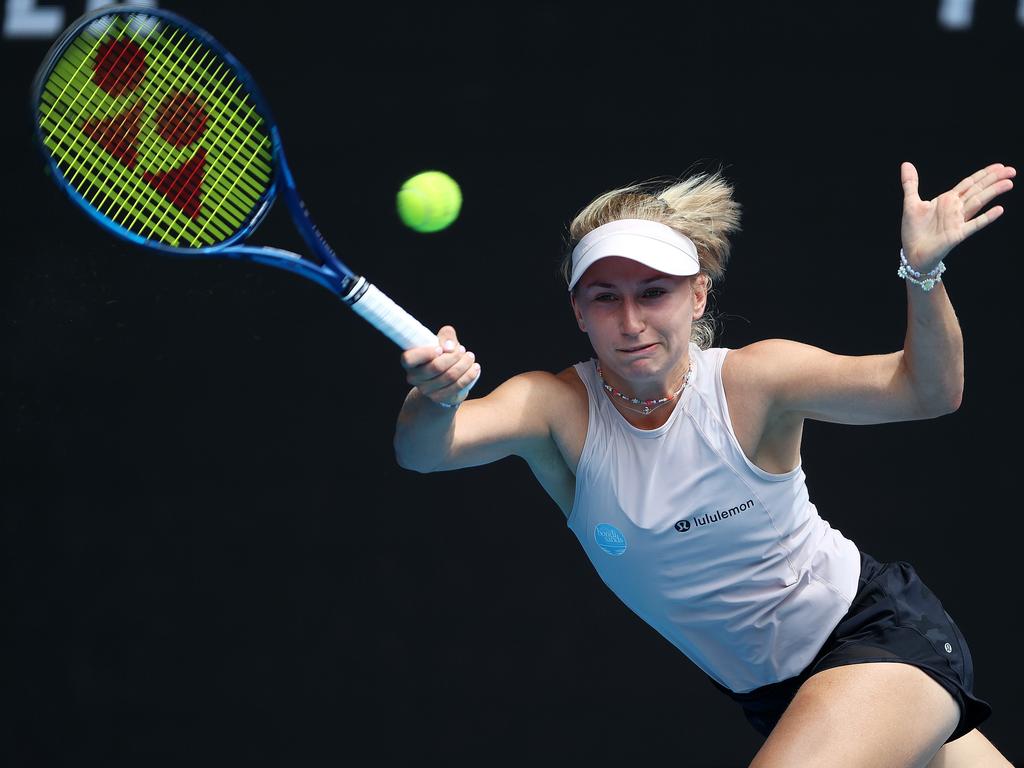 Daria Gavrilova's ongoing injuries have hampered her promising tennis career. Picture: Michael Klein/NCA
"Our job really at the NTA is to prepare these players, get them into the top hundred if we can by the time they're 23, or as close to it as possible, so that they're self-sufficient by the time they're 24 - not just financially but in all the areas, including emotionally, and just ready to handle life on tour,'' Mahony says, stressing the need for athletes to reinvest in themselves and build their own team.
Unlike Nick Bollettieri's or Chris Evert's or countless others in Florida, or Rafael Nadal's or Patrick Mouratoglou's among the many in Europe, Australia does not boast a swag of private facilities as an alternative to TA's national pathway. The KDV Tennis Academy on the Gold Coast is one of the few.
Yet if approaches and resources vary greatly across the globe, and Australia as one of the four grand slam nations has long been more cashed-up than most, then the numbers are revealing.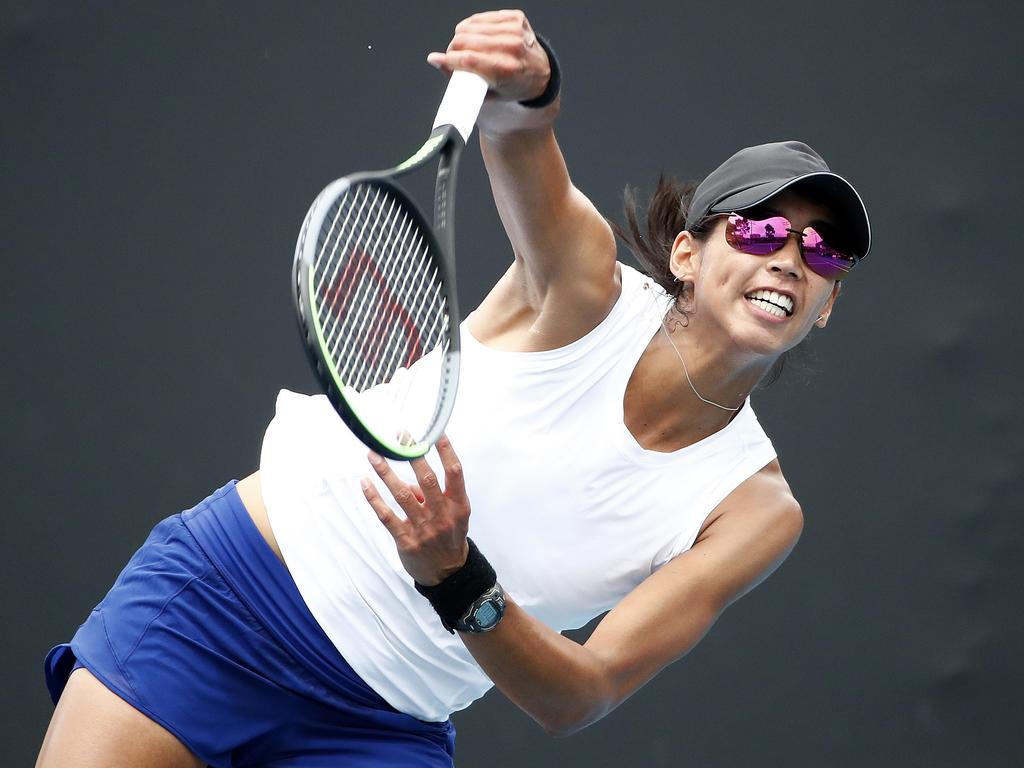 Australia's large sporting population appears incongruent with the number of top tennis players we produce. Picture: Daniel Pockett/Getty Images
The Czech Republic, with less than half our population, has two women in the top 10, five in the top 50 and eight in the top 80. Even Romania, hardly a tennis powerhouse despite Simona Halep's feats, has six in the top 100. Among our major brethren, France has five and the US 12. Thank goodness for the reliably mediocre Brits, who boast only US Open champion Emma Raducanu at No.12.
As to what the eastern Europeans are doing that Australia is not, Kilderry notes the proximity to "the brutal, tough competition" on clay in the continental "boiling pot'', while Mahony says the Czechs have, for around a decade, boasted the best conversion rate from the top 250 into the top 100.
"So they're obviously doing a few things right," he says. "Access to a lot of tournaments in Europe is one thing that helps those type of countries and we're always trying to find solutions that allow our players to spend more time over there without burning out.
"But there's nothing we can do about [the distance factor]. Geography, you've got to deal with it, and you've got to find solutions to it. It's been an age-old problem for Australian players and we're certainly trying to find the answers and trying to help this group of players that have been around for a while now just go one step further.''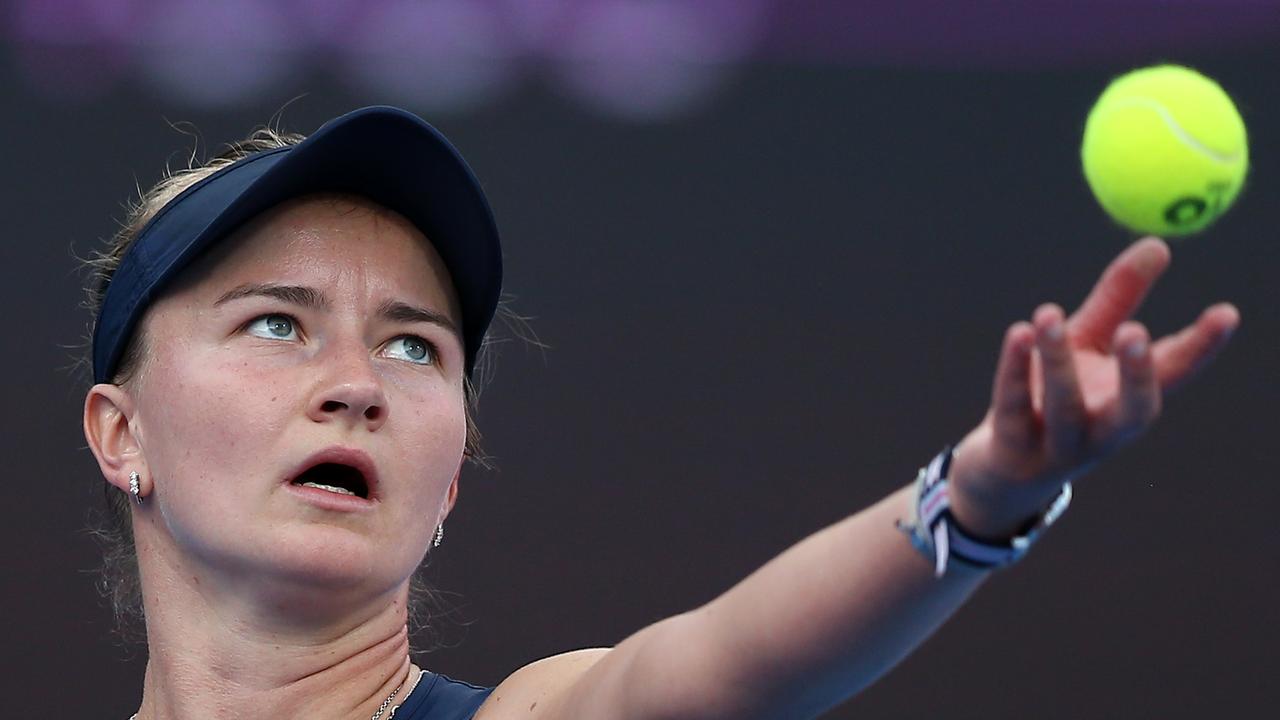 Barbora Krejcikova is one of two womens players from the Czech Republic currently ranked in the top 10. Picture: Mohamed Farag/Getty Images
TA has what Mahony calls "official relationships" with several European academies, including Nadal's in Majorca and Mouratoglou's in Nice, where short stays can be arranged for players to freshen up between tournaments and avoid the long trip home. "It worked well last year, so that's certainly something we can build on and do more; I think it's one of the real ways we can help the players.''
Yet back in Masur's competitive days as a dual grand slam semi-finalist and world No.15, the national association had a far more limited involvement in players' day-to-day careers — outside of Davis Cup times, in the case of the men.
"It was kind of like a sink or swim; it was a little bit Darwinian. You had to fight to survive,'' says Masur, who notes the explosion in popularity in women's tennis in eastern Europe, in particular. "A lot of players are coming from some places where you've got to fight pretty hard to cut through and get out and obviously if you make some US dollars and bring them back home that's pretty damn good."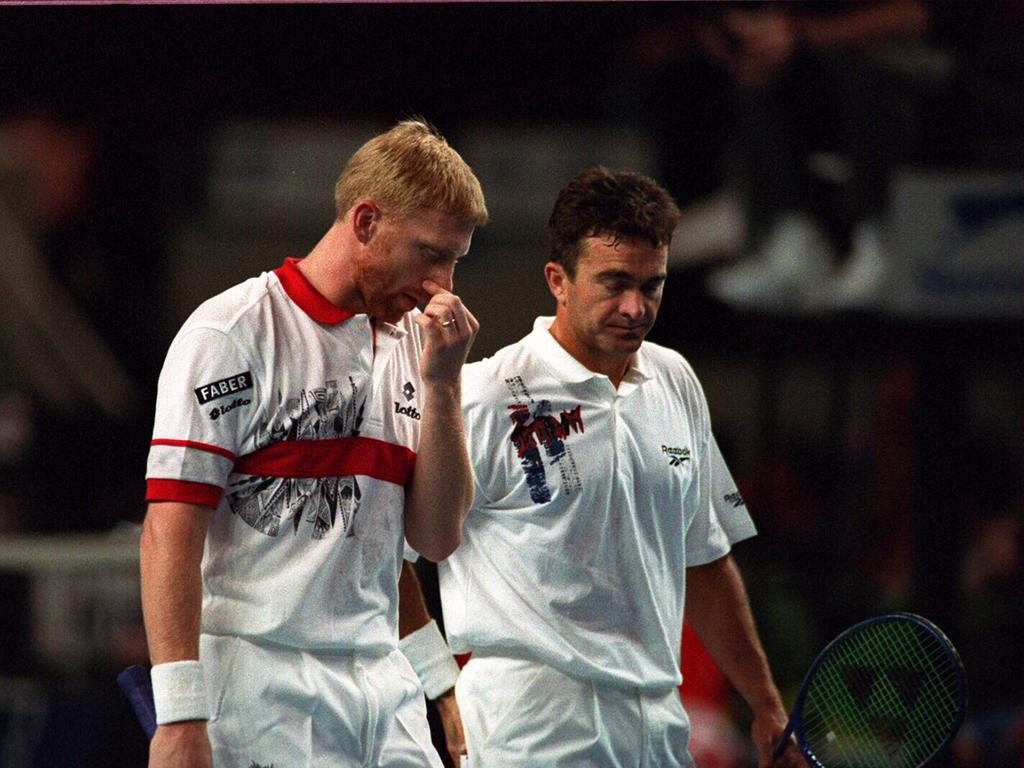 Wally Masur partnered Boris Becker in doubles tennis in his competitive days. Picture: News Corp Australia
"So there's a real hunger there and I think it's really important for a big federation like Tennis Australia that whatever we do we are basically instilling this desire and this really competitive streak, because ultimately there's a lot of different backhands and forehands and serves and different styles of athletes and personalities out there, but underlying that, the players that make it are just mongrel dogs.
"They just fight every point of every day and that's a really important thing: you don't want to create some system whereby everybody's looking to Tennis Australia to solve their problems, because ultimately in tennis everyone has to solve their own problems. It's one of the great problem-solving games.
"So what is the cut off point? When do we say, 'Righto, we haven't caught all the fish for you. Hopefully we've taught you how to fish. Now go fish'.''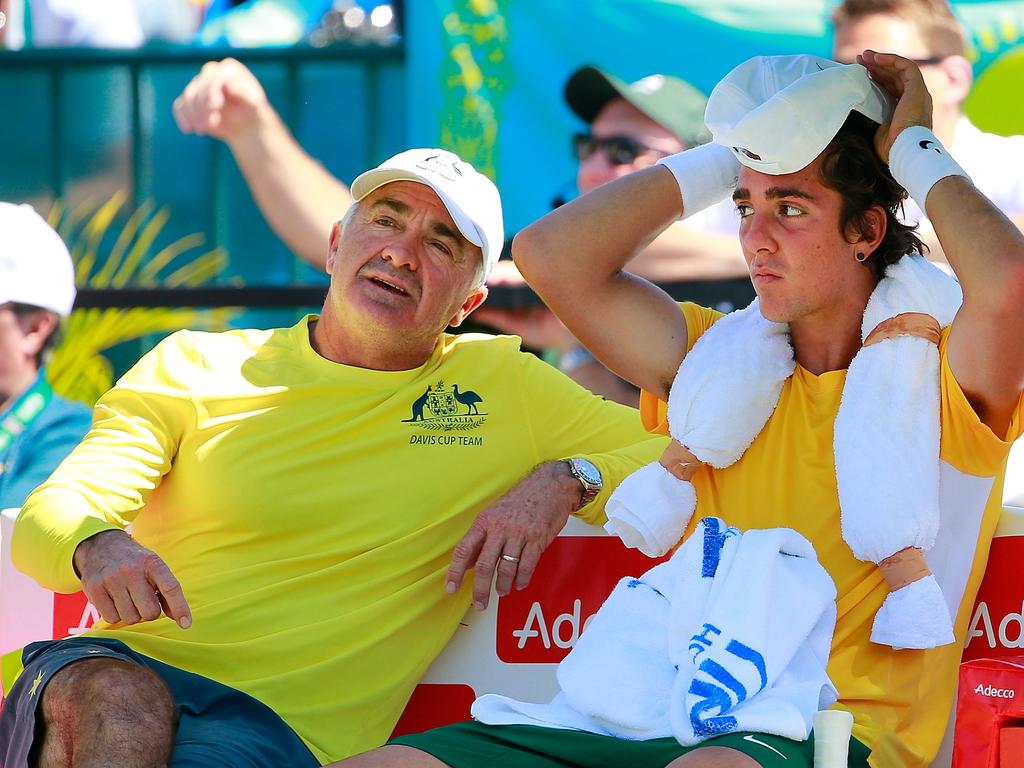 Masur has played an integral role in the development of Australian talent over the last decade. Picture: Scott Barbour/Getty Images
*****
None of this is meant to diminish any individual's achievements, or underestimate the mighty effort it takes to reach the top 200 in a cutthroat global sport. Perhaps it's more appropriate to call the mid-20s cohort the not-quite-there-yets, given that, by guaranteeing main draw entry to the majors, double-figures is the accepted measuring stick for basic financial viability and relevance on tour.
"We've got a group of girls who we've brought through over the last decade who are now 23, 24 years old and we've got five or six of them who have got right up to the edge of the top hundred and haven't quite cracked it yet,'' says Mahony. "We believe they can, and hopefully once one of them does then that motivates and gives confidence and spurs a couple of the other ones to jump in there as well.
"Now that Covid's passed and the schedule's pretty much back to normal and most of these Australian girls can travel to wherever they want. So in terms of scheduling, there's no excuses. It's time to get back on the road and get their team sorted out and crack on with it.''
The 2022 schedule should allow for Australians, like Priscilla Hon, to undertake a less interrupted regular program of tennis throughout the year. Picture: Mark Brake/Getty Images
Inglis, who reached a career-high No.112 in February is now 126th and lost in the first round of French Open qualifying. Cabrera peaked at 119th in early 2020 and is now 181st. Hon, who has been nobbled by a hip problem but confirmed her undoubted talent with a fine upset of dual Wimbledon champion Petra Kvitova in January — reached 188th back in 2019 and is now 50 spots lower. Following extended time out with an elbow issue, Birrell's next move is back to sub-500.
Astra Sharma made it to No. 91 in February, and is thus in the main draw at Roland Garros, while another 26-year-old US College product, Ellen Perez, is at No.222 in singles and top 50 in doubles. Olympian Storm Sanders, 28, has had a horror injury run but was inside 120 last October and is still top 16 in doubles, while others in the conversation (and French Open qualies) include Spanish-based Seone Mendez, 23 and having her best season, and 22-year-old Jamie Fourlis.
Then there's Destanee Aiava. At just 16, she became the first player born this century to win a WTA-level match and play in a major main draw, stormed inside 200 later in 2017, then made an impressive entrance on Rod Laver Arena against Halep the next year before a maiden top 10 scalp on grass just before turning 18.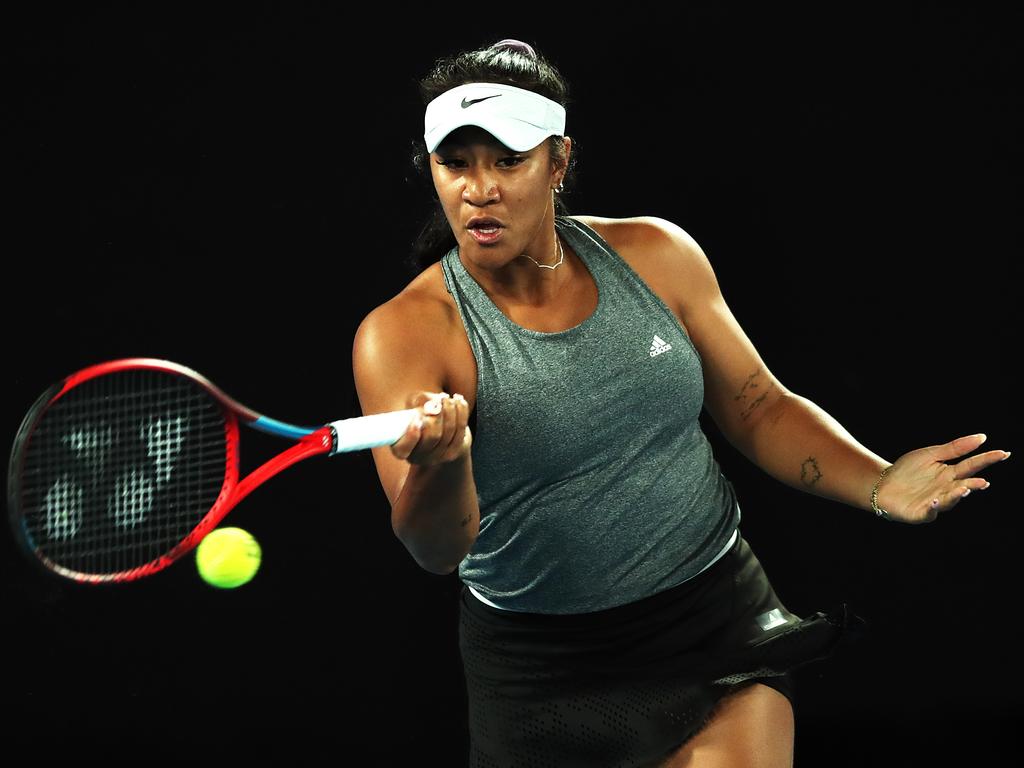 Destanee Aiava was shaping up as the 'next big thing' for Australian tennis before a devastating turn of events. Picture: Graham Denholm/Getty Images
A genuine top 50 talent with a powerful game, Aiava has since been affected by family and other issues and played limited tournaments while sliding towards her current slot: No.463. This week on social media she revealed that on Easter Sunday, not wanting to live to see her 22nd birthday, she was saved by three strangers from jumping off a bridge and taking her own life.
It's a devastating story highlighting the precarious nature of mental health and wellbeing that can be magnified under the microscope of elite sport.
All of which, among the post-teens, leaves as the current hope of the nation the talented 20-year-old Gadecki — who upset slam winner Sofia Kenin (who was unwell, admittedly) in Melbourne 15 months ago and is at a career-high No.162.
"Olivia can really play, she had a stellar year, and this is like a six-month hiatus that I hope we can get over and move forward so she then has the capacity to maximise her potential,'' Masur says.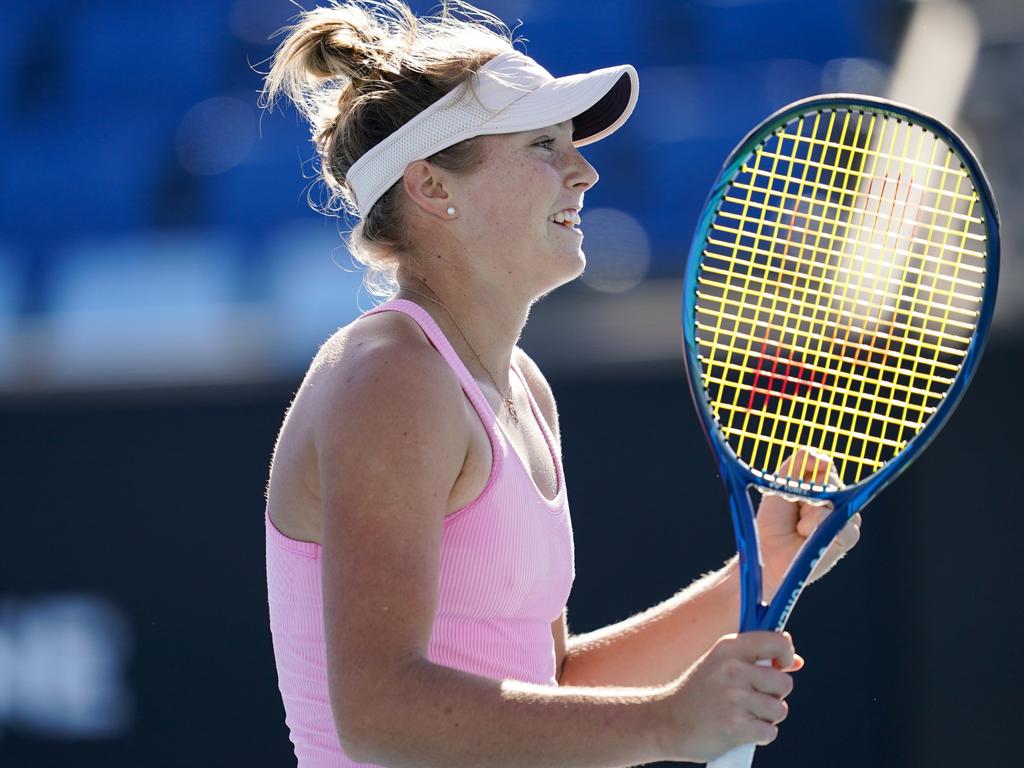 Gadecki celebrates winning match point against Sofia Kenin during the Phillip Island Trophy. Picture: Natasha Morello/Tennis Australia
The Gold Coaster spent some time training at the NTA before leaving for Europe last week, and if her no-vax status is becoming less of an impediment as requirements are being relaxed (see Novak Djokovic, Paris) then it still precludes Gadecki from being provided with a travelling coach. The TA Board also requires all players on its junior tours, including those currently toiling away on the red clay, to be double-vaxxed.
That includes top 50 pair Taylah Preston, 16, and Australian Open girls' semi-finalist Charlotte Kempenaers-Potz, 17. Dave Taylor, meanwhile, also the former long-time coach of Molik and Stosur, among others, is now working with a new group that includes Talia Gibson, an 18-year-old from Perth who has returned from a year off and recently won her first ITF title in Thailand.
Younger still are Pleming's Junior BJK Cup teens Lily Taylor and Sarah Rokusek, 15, and Emmerson Jones, the 13-year-old daughter of former Olympic triathlon silver medallist Loretta Harrop. That trio won last month's Asia/Oceania qualifying series in India and will contest the finals in Turkey in November.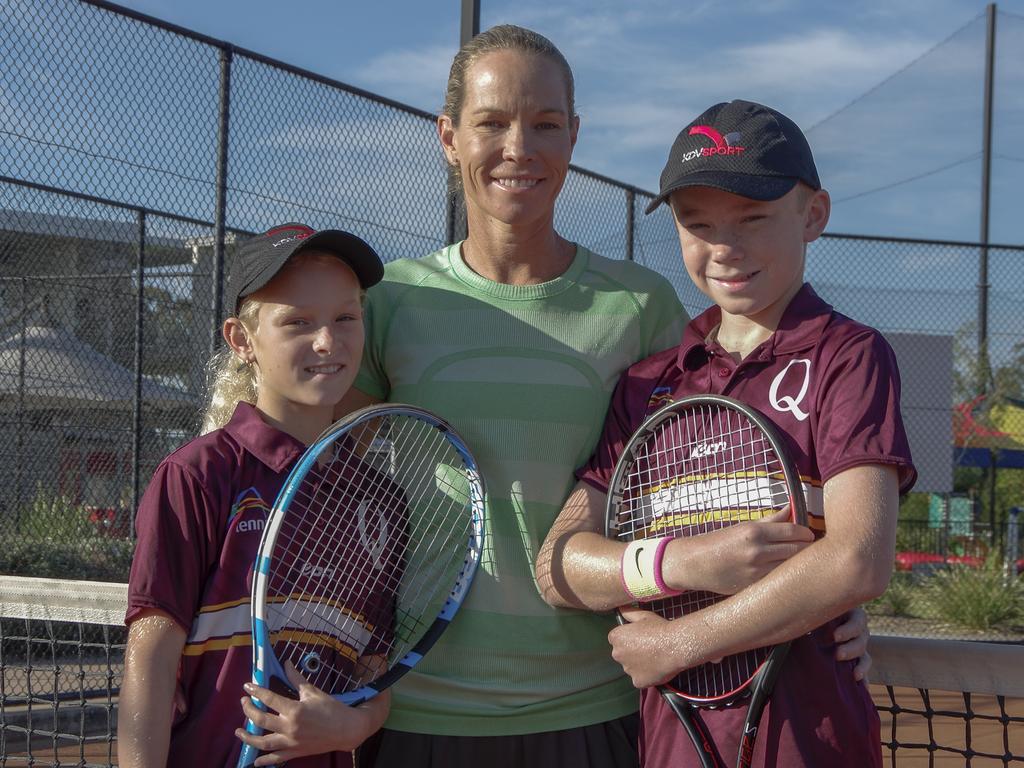 Emmerson Jones with mum Loretta Jones (Harrop) and brother, Hayden. Picture: Chris Seen/News Corp Australia
"Lily Taylor has got a body like Gael Monfils, she's so athletic, and the mentality of Lleyton Hewitt, she does not want to miss, so she's running all over the court,'' says Pleming. "She's got a great attitude and I love her. She's just got to learn to be a little bit more aggressive.
"And Emmerson is a great little fighter. She's got incredible genes and a huge heart. At this age I just gauge everything off attitude and the way they present themselves on the court (because) it doesn't matter how talented you are; it's all about work ethic, your attitude, and that long game. You've got to be able to give your best effort on a daily basis, and it's really hard to see that always in young players, so when you do you know that's a standout.''
Pleming is also bullish about the general prospects of the older cohort.
So the cupboard's not really that bare?
"Not at all.''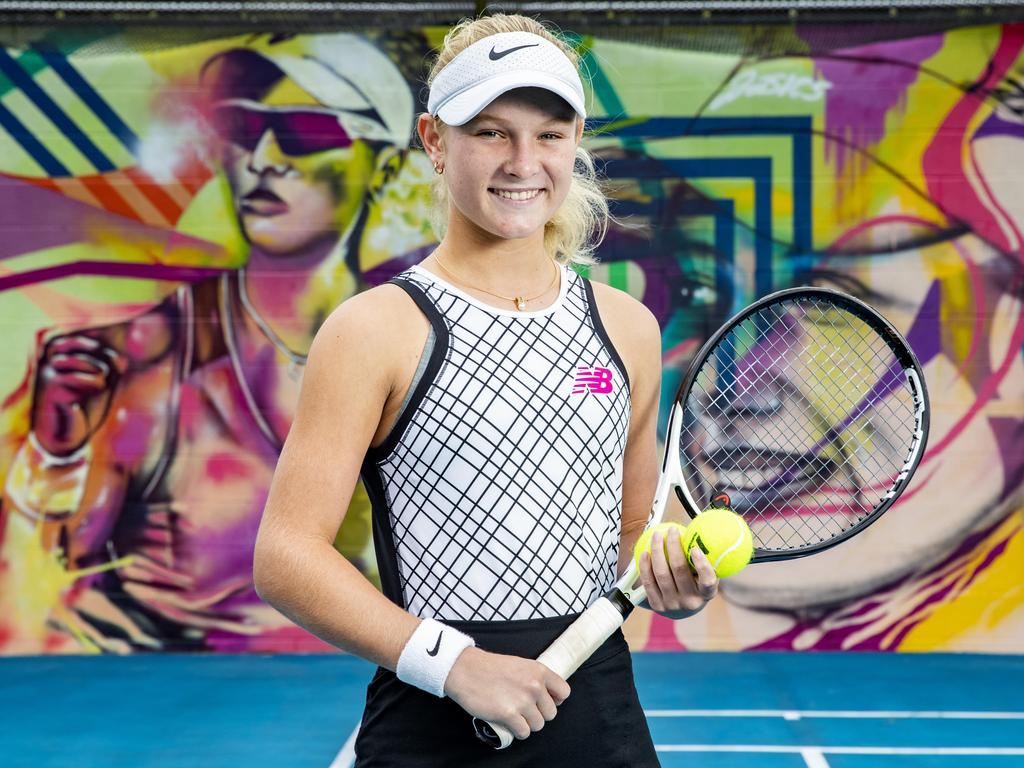 Jones has a promising future in tennis. Picture: Richard Walker/NCA
*****
This month, TA posted an online story trumpeting the fact Australia was starting May with nine men in the top 130 for the first time since Pat Rafter led a same-sized pack back in 1999.
Others preferred to interpret the numbers as only one Australian man, Alex de Minaur, in the top 50.
And, yes, just Aussie Ajla inside 100. Also true.
Whatever the spin, gender does matter in tennis, for few disagree that women/girls have different needs and characteristics than men/boys. Physical and wrist strength, for one thing.
One coach with experience on both the ATP and WTA Tours believes girls are more likely to conform and follow instructions, while boys are keener to push boundaries. "And they always say women are more emotional, but I don't necessarily buy that too much. I've had some pretty emotional guys!''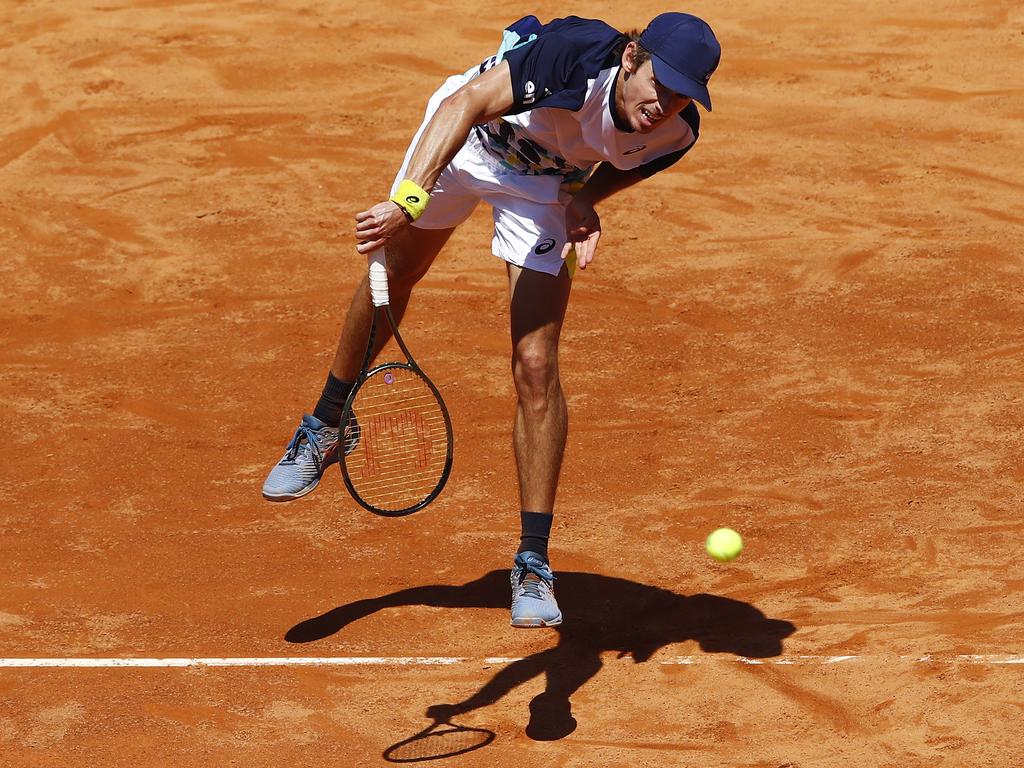 Alex de Minaur is currently Australia's best placed player, sitting at No.21 in the WTA rankings. Picture: Matteo Ciambelli/vi/DeFodi Images via Getty Images
Measures are in place to develop more qualified female coaches, a space led by Pratt, who also remains Fed Cup coach. That includes two performance development roles at the NTA, including shadowing the likes of Taylor and Brent Larkham on two trips this year, with the side-benefit that a male and female coach will both be present.
Mahony says it comes down to personal preference, but that providing individual players with "the true choice" of gender is important, and thus is keen to find more women willing to travel for the 25-30 weeks a year the job typically entails. Regardless, he stresses, the art of coaching is about "finding the right buttons to push", and individualising the approach.
"In terms of what is the difference in coaching a male or female I think every single player has their own needs to what is required for them to succeed,'' Kilderry adds. "It is hard to generalise between sexes. That is the skill of a great coach: to be able to understand the player and work out the best way to fulfil their potential.''
Pleming is adamant that different types of coaches are essential, as are those who "understand women's emotions".
Nicole Pratt (left), who has moved from playing to a coaching role sets a strong example for female leaders in Australian tennis. Picture: Paul Kane/Getty Images
"I think we need as many female coaches in our sport as we can get," he says. "If we look at our female coaches, I think Nicole Pratt is a standout, and she's been an incredible role model.
"I do believe that we need very sensitive coaches — and we do have some very good male coaches, don't get me wrong, but female players certainly have different needs and need to have different conversations.''
During his decade coaching at the National Academy in Sydney, Masur noticed another key distinction, in that tended to be only the male players — the roll-call of names includes James Duckworth, Jordan Thompson, Matt Reid, de Minaur — who graduated to professional ranks.
"We had a lot of girls who drifted, who we felt had promise, but at 16 or 17 didn't have a racquet in their hand any more,'' he says. "Maybe it was personal, they just didn't enjoy the lifestyle, didn't enjoy the competition, I don't know. Maybe it's a myriad of reasons, and maybe you've got to speak to some of the girls to talk about it, but it was definitely a factor (in athlete retention).''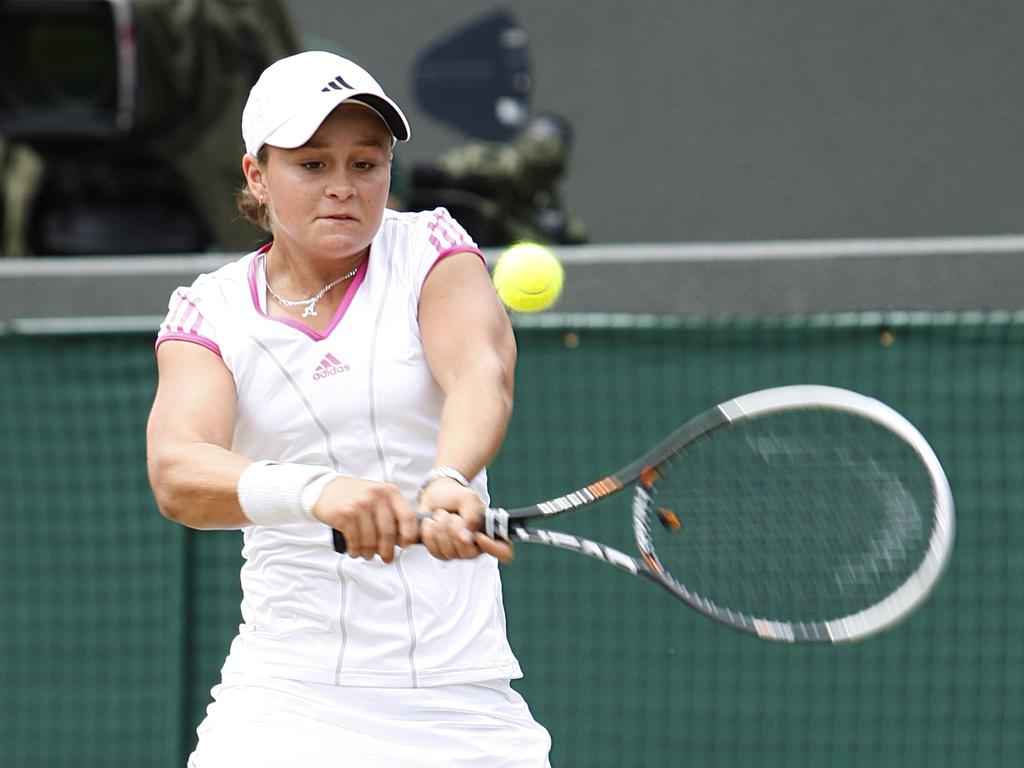 Masur believes one of Tennis Australia's greatest challenges is keeping young female players in the game through the age when girls drop out of organised sports. Picture: Sean Dempsey/PA Images via Getty Images
Asked about possible faults in the system, from shortened overseas tours to holes in the pathway and a rigidity of approach, Masur cites the recent film, King Richard, about the emergence of the Williams sisters and how they arrived at the summit so differently than, say, a Martina Hingis. "The path to the top 100 can be very varied and I'd like to think that all the Australian players, be it men or women, had the opportunity to excel. Personally, I'd like to think that.''
Other considerations are an aggressive shot tolerance and psyche honed on faster courts, yet Masur also wonders why so many current players look like they find tennis to be an almost agonising pursuit, when his own early years, in particular, travelling on the circuit with his mates felt like such an excellent adventure.
"Sometimes I watch our players play and they seem full of anxiety," he says. "They don't seem like the match court is their happy place, and I try to look at that from a federation perspective and I think, 'Why is that?' Why is this not the time of their lives? People coming and going from the sport and not quite enjoying the process.'
"Is it expectation? Is it pressure, real or imagined? Is it [coming from] a bigger federation. Lots of eyes on them? That's been a bit of a theme for me. How do we create that environment where it's just an absolute blast, without the attendant pressure? Maybe money or the potential of money and what the sport can do for you just sits in the background as an overriding anxiety. I don't know.''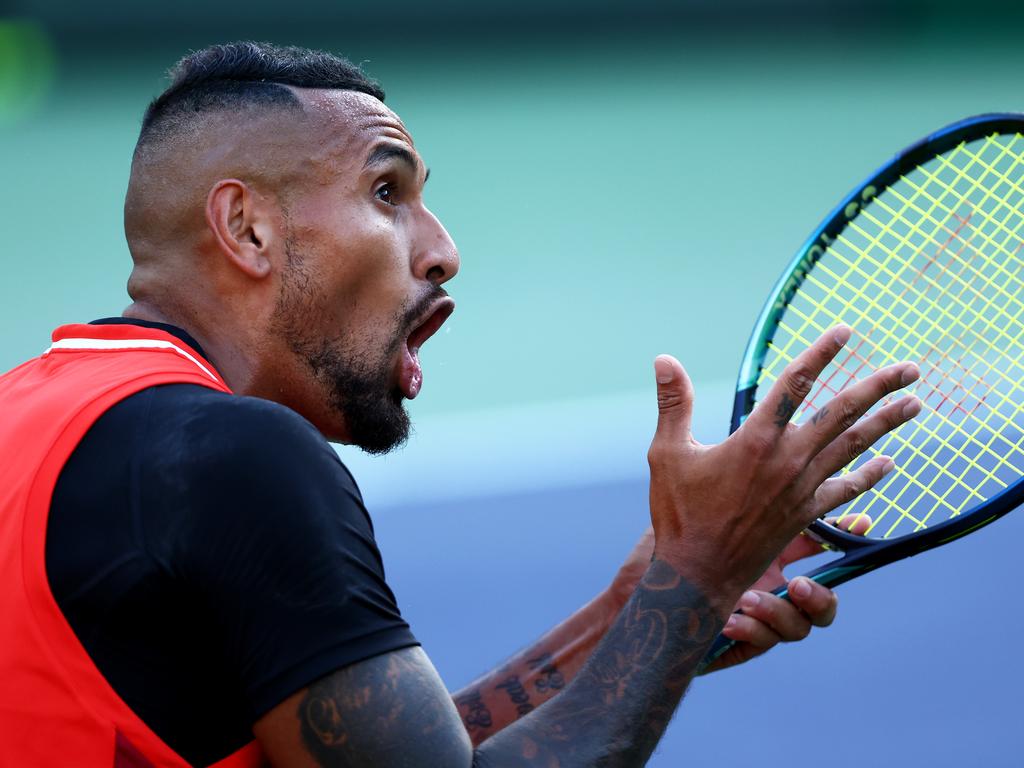 Australians have made a name for themselves as being 'frustrated' on the court. Picture: Clive Brunskill/Getty Images
*****
All 128 women (and men) in the main draw at Roland Garros are guaranteed a minimum payday of $93,000. With Barty happily at home in Brisbane, Tomljanovic and Sharma earned direct entry, Saville was awarded the reciprocal wildcard, and nine hopefuls entered qualifying; with four eliminated in the first round then four more in the second, leaving only Mendez still in contention.
It's a small cast. "It just feels strange because we have such a big history of players, but I think that's gonna change soon,'' says Tomljanovic, whose optimism extends to Sanders, the BJK Cup teammate she encouraged to play more singles after the West Australian beat her in Adelaide at the start of 2021.
"We've certainly got loftier goals than one (top hundred) player, that's for sure,'' says Mahony. "But it's a point in time at the moment where we've had the world No.1 retire and a couple of other players… Dasha and Astra over the past couple of years with their results are solid top 100 players and are just not in there at the moment, so I'm sure they'll get back there.''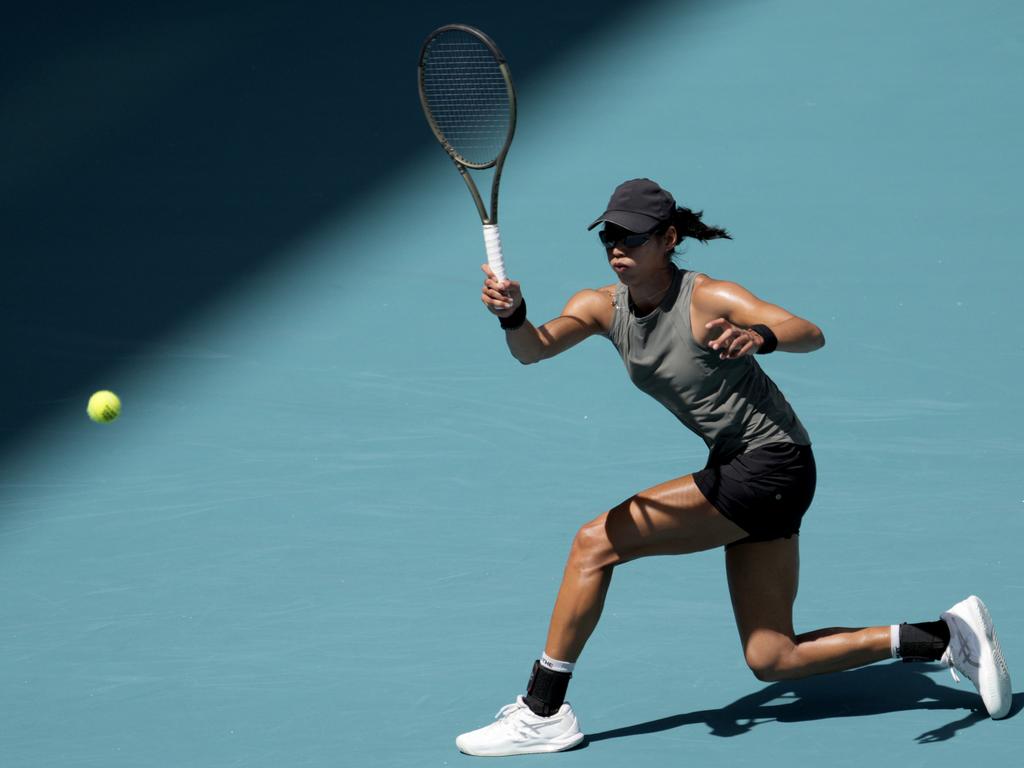 Sharma will be hoping to break back into the top 100 with a strong showing at Rolland Garros. Picture: Mark Brown/Getty Images
The increase in domestic Pro Tour events from around 12 to 16 Futures and Challengers this year will provide more opportunities for those lower down the food chain. "We do have quite a number of tournaments; it would be good to have more,'' says Kilderry. "But in saying that, the toughest competition in the world is on clay, is in Europe, and that's also a big part of a player's development.
"To see it. To know what the best in the world are like. I think we're sending more juniors away on tours and giving them more exposure to the best players in the world, which the last couple of years they haven't been able to get there, and I think that will really help fast track some of the development, as well.''
As for more women-specific measures to address the numerical disparity, Kilderry, who is expected to become Masur's permanent replacement, says discussions are ongoing, with more female coaches among the priorities. He stresses both programs are serviced equally.
Pleming believes Ellen Perez could be the next breakthrough for Australia. Picture: Graham Denholm/Getty Images
Pleming, meanwhile, tips Sharma and Perez as the next two to break through, while confident that when one in the 24-year-old group sparks, the others will fire. "So it's really refining the players' strengths and making sure we're giving them the right support. Normally we had support until the age of 23, so maybe there needs to be a little bit more of an understanding that they might need a little bit more hand-holding and direction until they mature and just take those next steps.''
Extending until, say 25?
"Maybe. I think that could be a very positive shift. They've come so far we can't give up on them when they're so close to the finish line.
"It's a really lonely sport when you're out there on your own and you don't have that support as much as you did have. It's that constant, giving that lift and that trust and that self-belief, because players and athletes left to their own devices do start having those self-doubts and that negative dialogue or 'maybe I can't do this'. And they're so close. They're so close. All of these youngsters.''
Mahony does not believe a more targeted female focus or structure is necessary, while adamant that entry to sub-100 land remains the key springboard.
"Once there, with that guaranteed half-million or whatever it is from the four grand slam tournaments. it's much easier to then reinvest in yourself and hire a good experienced coach who might be charging more,'' he says.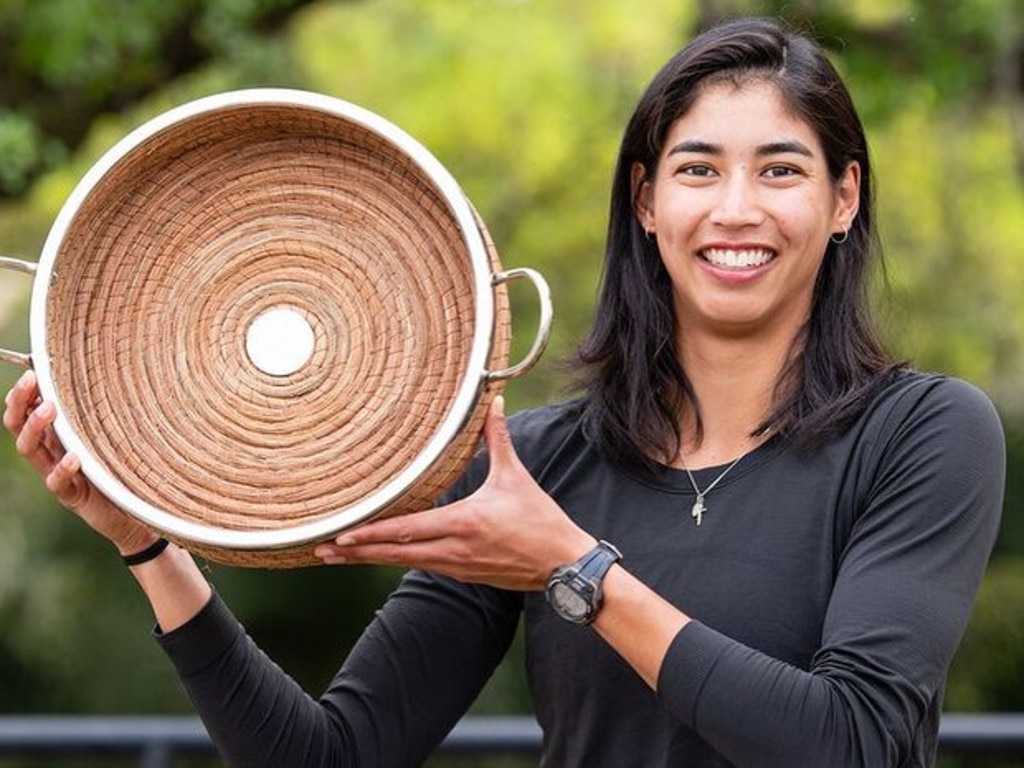 Astra Sharma after winning her title at Charleston. Picture: News Corp Australia
"If you haven't quite got there, some of those players might perceive it as a risk. But it's about believing and investing in yourself. Some of those players who haven't got to the top hundred yet, that's basically what they're gonna need to do.''
Masur confirms that "there are a lot of coaches within Tennis Australia that would say, 'Yeah, they probably do need an extra year or two'.'' But he argues that there is still access to the Davis Cup captain and coach (Lleyton Hewitt/Jaymon Crabb) and their BJK Cup equivalents (Alicia Molik/Pratt), and indirect financial help via the summer wildcards and access to training facilities and support services.
There are also practical and organisational player-coach considerations through scenarios he likens to marriages, with all the attendant tensions, splits, and degrees of amicability, "and I was kind of scratching my head and going, 'Why are we brokering this?'
"We've got nine girls in the qualifying at Roland Garros, so ideally each of those girls should have a one-on-one coach and I can guarantee you that if Tennis Australia was paying for those one-on-one coaches that would be a constant shuffling merry-go-round: one player gets injured, the coach has no job," he says.
"It's complicated. We'd like to think we can be hands on, up to an age of, say, 24, but there would be some people within Tennis Australia that would argue that maybe another year or so would be really helpful, and that might be a shift that happens. But I'm probably not one of them.''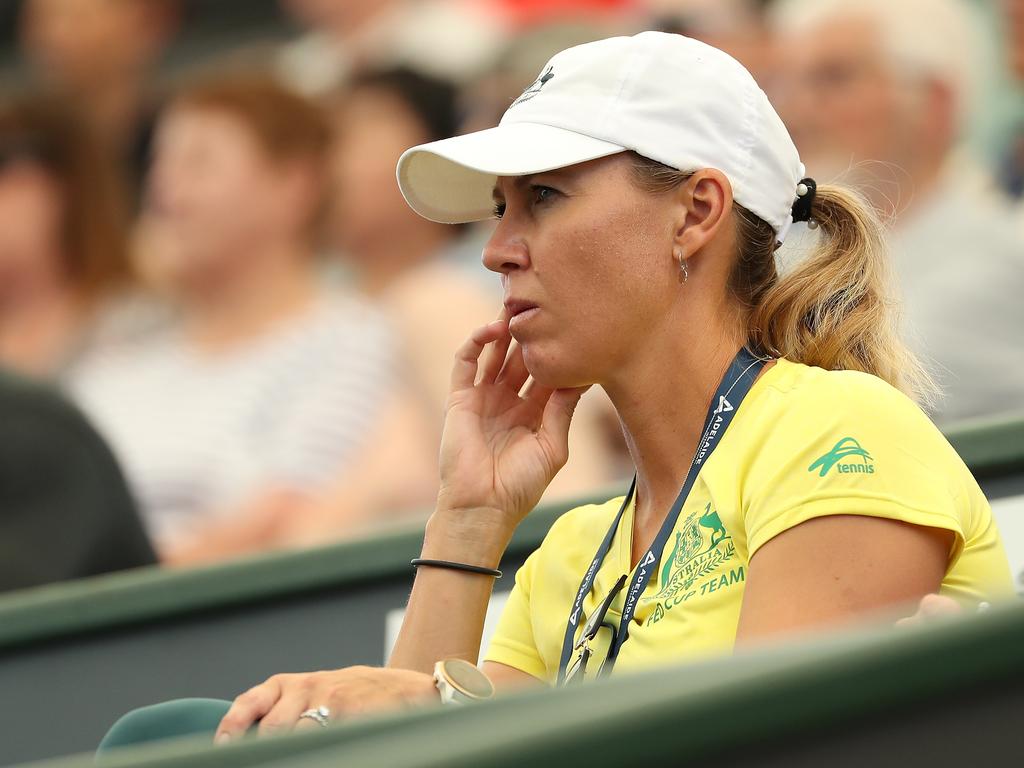 Masur believes Alicia Molik will continue to play an important role in the development of young players. Picture: Paul Kane/Getty Images
*****
Those who know her well believe Barty when she says she will not be lost to tennis; that she will just play a different role. The bar she set is almost impossibly high, though, and her legacy immense.
Pleming believes Barty has forced a rethink about what coaches are teaching, tactically and technically, and a shift from the decades of so much being about "girls coming out and hitting flatter, harder, bigger". She expects to see skill and variety, slices and volleys and, last month in India, heard the 16/U trio speak of their sadness at Barty's retirement but gratitude for what she had given them, and tennis.
Kilderry, the former top-70 player-turned-coach/agent/administrator, rejects any suggestion Barty's success was a cause for complacency, or that it papered over cracks that are now being exposed. "I don't think the eye's been off the ball. It's a moment in time, and what Ash was able to do was incredible, but everyone's got their own story, and we're always working with every player to get them better.''
Masur says Barty's unexpectedly early exit, in tandem with that of wheelchair great Dylan Alcott, left one of "the two big voids in Australian tennis" and heralding generational change. "From Tennis Australia's perspective and from a female sports perspective it's a huge, huge loss, but credit to Ash, she's always done it her way.''
Including on court, as far back as 2010 in Mt Gambier, as a 14-year-old already renowned for her ability to problem-solve. As a precious one-in-a-million prospect, who turned out to be far more rare than that, and whose departure has created a one-in-a-(top)-hundred situation that may not be so easily fixed.