Australian Open 2022: Daniil Medvedev wins epic match against Felix Auger-Aliassime
We will never know what crowd reaction Novak Djokovic would have got had he been granted permission to play in the Australian Open. But after this interview, we have a good idea.
A leadership challenge has fallen just short with Daniil Medvedev remaining as captain of the next generation after an epic Australian Open quarter-final.
The Russian's credentials were severely challenged by Canadian excitement machine Felix Auger-Aliassime over four-and-a-half absorbing hours on Rod Laver Arena.
For just the second time in his career the No. 2 seed fought back from two sets down to win the second-longest match of the tournament 6-7 (4) 3-6 7-6 (2) 7-5 6-4.
Medvedev had to deal with serving yips, unexpected rain delays and a 21-year-old who showed he had all the assets to be one of the game's best.
He saved a match point late in the fourth set before calling on all his experience to wear down Auger-Aliassime in a dramatic fifth set.
Medvedev, 25, the top seed at Melbourne Park in the absence of Novak Djokovic, will now play Stefanos Tsitsipas for a place in the Australian Open final.
Daniil Medvedev celebrates a winner during the match. Picture: AFP Images
However, Djokovic wasn't totally missing from the action.
Asked about his inspiration to charge back from two sets to love down, Medvedev told the crowd:
"He (Auger-Aliassime) was all over me to be honest," he said.
"I didn't really know what to do so I was like, actually, I don't know if people are going to like it but I told myself what Novak would do."
The answer led to large boos from the Rod Laver Arena crowd.
Medvedev then added:
"You know what came to my mind was that because he is one of the greatest champions, or Rafa or Roger to be honest, they have won so many matches like this."
By comparison, the mention of Rafael Nada and Roger Federer drew large cheers.
The quarter-final match-up between Auger-Aliassime and Medvedev was a repeat of last year's US Open semi-final which the Russian won comfortably in straight sets.
He then went on to win his maiden grand slam title at Flushing Meadow which put him in charge of the next generation who were rallying to break up the monopoly of the Big Three – Roger Federer, Rafael Nadal and Djokovic.
Auger-Aliassime certainly had a bullet next to his name after an impressive 2021 season – he also made the quarter-finals at Wimbledon – but was expected to bide his time behind the likes of Medvedev, Tsitsipas and Alexander Zverev.
That didn't look like being the case for much of the night as he controlled the contest on the back of a booming serve and extraordinary athleticism.
Australia's Davis Cup captain and two-time grand slam champion Lleyton Hewitt was moved to declare the Canadian was already equipped to be a top five player.
"He's going to be a contender in all the majors, to my eyes," Hewitt said.
It was Medvedev who cracked first in the opening set with a double-fault on break point at 5-5 handing Auger-Aliassime the first break of serve in the match.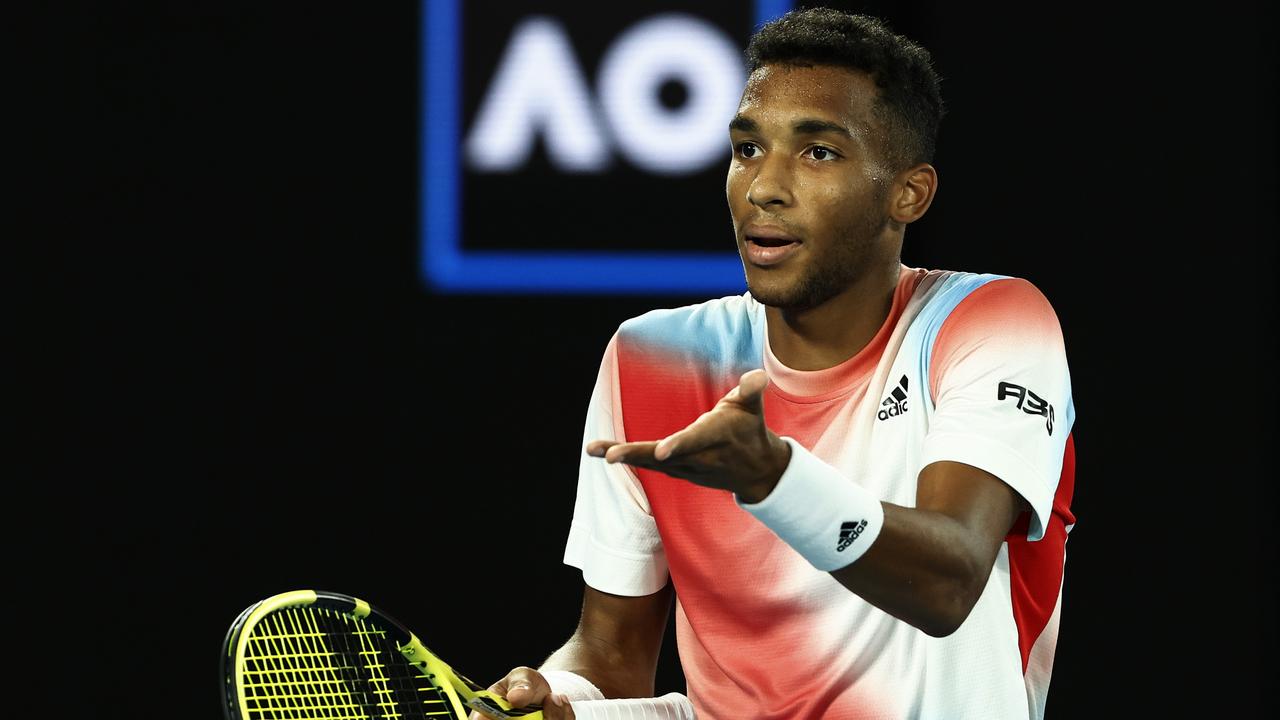 Felix Auger-Aliassime put up an epic fight. Picture: Getty Images
But when he gave back the advantage on his next service game, the common thought was that Medvedev would jump all over his more inexperienced opponent.
Instead he was the one who blinked, producing another double-fault midway through the tie-break which effectively handed Auger-Aliassime the set after 61 minutes.
With his tail up the Canadian quickly raced to a 3-0 lead in the second set on the back of some big serving which Medvedev couldn't infiltrate.
Everyone kept waiting for the match to change complexion but it was much of the same in the third set with Auger-Aliassime showing poise beyond his years until an untimely rain delay.
There had been issues earlier in the match with a couple of unexpected showers hitting Melbourne Park but this one early in the tie-break played into Medvedev's hands.
The roof had to be closed with Medvedev leading 2-1. He won the next three points when play resumed and then raced away to stay alive in the match, closing out the tie-break 7-2.
Once again there was very little between the pair throughout the fourth set until another Medvedev double-fault set up a match point for Auger-Aliassime at 5-4.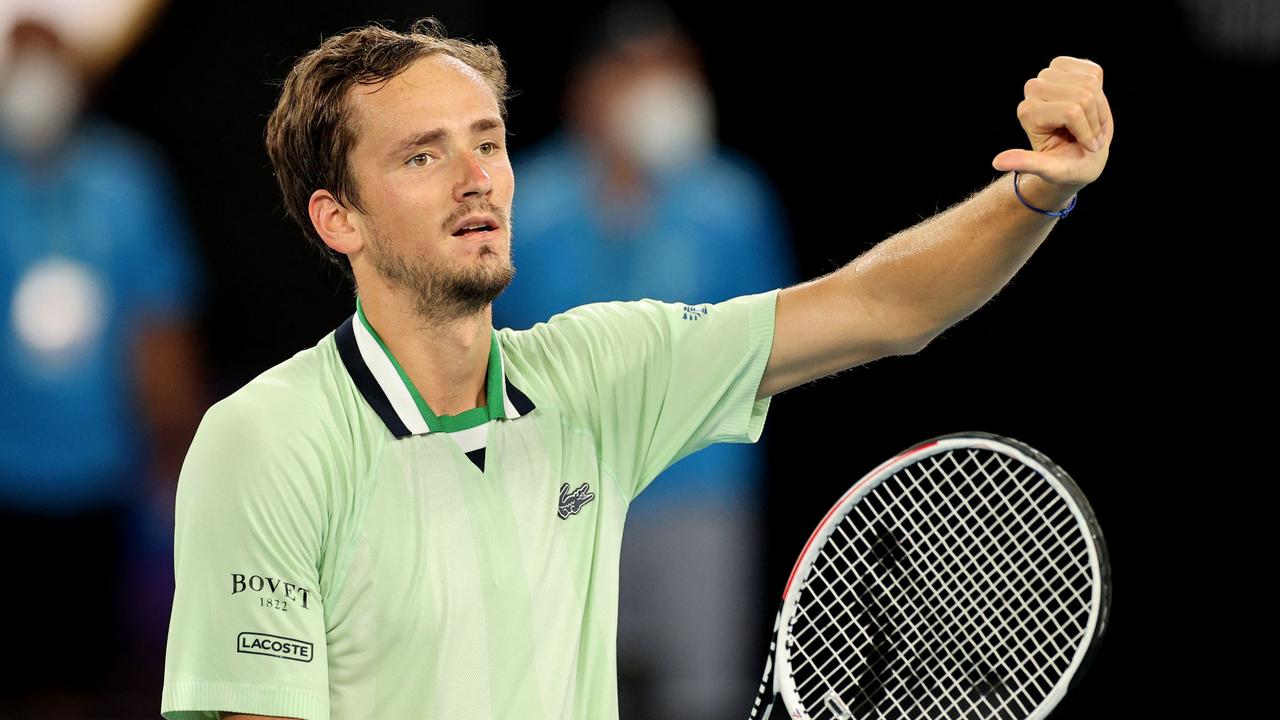 Daniil Medvedev reacts after winning match point. Picture: AFP Images
A big serve saved that and then it was the Russian who capitalised on a rare opening in the 11th game to take the advantage in the set which he then closed out on his fourth set point.
By this stage all the momentum was with the reigning US Open champion and he went on to pull off the great escape, breaking Auger-Aliassime in the third game of the fifth set and then motoring to the finish line.
Medvedev has previously struggled in five-set matches, winning the first of his career in the third round of last year's Australian Open against Filip Krajinovic. He had previously lost all six five-set matches he'd contested at Tour level.
The world No. 2 has some unfinished business at Melbourne Park after losing last year's Australian Open final to Djokovic.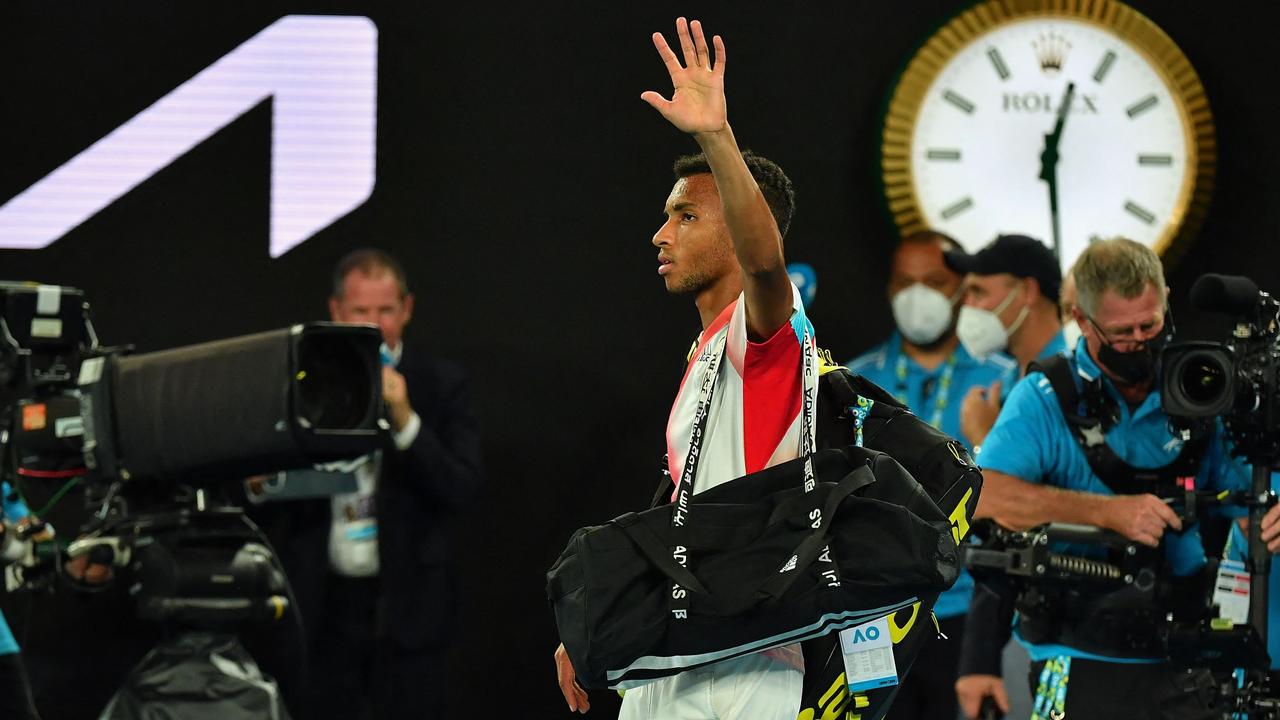 Felix Auger-Aliassime is a star on the rise. Picture: Getty Images
11:47PM: MEDVEDEV MAKES FIRST MOVE IN FINAL SET
What a start to this final set for Daniil Medvedev.
He has snatched the all-important break to start things and the Russian is PUMPED.
He lets out a massive scream after securing the break and then races through his next service game.
Don't look now – this could be the ultimate great escape.
'HOW STUPID CAN HE BE?': STAR RAGES AFTER VIDEO ERROR
Daniil Medvedev is looking to become the first player at the 2022 Australian Open to recover from a two set deficit.
The Russian was in all sorts of trouble at the hands of Felix Auger-Aliassime early on Rod Laver Arena, dropping the opening two sets 7-6 6-3.
However, the drama was only just beginning.
Medvedev has managed to fight his way back into the match, with a combination of power hitting and incredible court speed.
He took a crucial third set in a tiebreak and then broke Auger-Aliassime at 5-5 in the fourth to send the match the distance.
Earlier, Medvedev was far from happy with the Rod Laver Arena technology.
The Russian blasted the chair umpire over something that was posted on the video screen just as he was about to serve during the fourth set.
It is unclear if it was a picture of Auger-Aliassime or vision of a fan that annoyed Medvedev.
But either way, he was far from pleased.
"Stop being really stupid," he was picked up by the on-court microphones saying.
"How stupid can he be? Idiot. You need to be really no brain to do that.
"It is unbelievable."
DID RAIN DELAY COST YOUNG STAR?
The biggest name in the men's draw is in danger of being dumped from the tournament.
However, he isn't giving up without a fight.
Daniil Medvedev trails Felix Auger-Aliassime two sets to one and may have a timely rain delay to thank for still being in the tournament.
With Medvedev leading 2-1 in the third set tie-break, the match was halted for seven minutes for the Rod Laver Arena roof to be closed.
It was the second time the roof had been adjusted for the night, leaving some experts questioning the decision to open it back up.
"I was surprised, to be honest when they opened it back up again," said Sam Groth, who is courtside in commentary.
"They must have been very confident.
"To get to this point in the match... I don't know if they needed to go back to one-third closed as opposed to two-thirds closed.
"It would have been better to keep it closed in my eyes."
Medvedev emerged from the break in better shape and ran through the rest of the tie-breaker.
SEVEN MOMENTS THAT HAVE ANNOYED MEDVEDEV
The biggest name in the men's draw is in danger of being dumped from the tournament.
Daniil Medvedev has dropped the opening two sets to Felix Auger-Aliassime and faces a huge challenge to keep his Australian Open dream alive.
At just 21 years of age, Auger-Aliassime is closing in on what would be the biggest win of his career.
The Canadian has been almost flawless under pressure, clubbing winners from all parts of the court in what has been a night of long and grinding rallies.
Medvedev has been the near-opposite, giving up cheap double faults and loose unforced errors on some of the biggest points of the night.
And his frustration has been there for all to see.
Sitting courtside, Sam Groth detailed all the things that have annoyed the world number two tonight.
"It has been a frustrating night courtside," he said.
"Really noticeable from Daniil Medvedev. He has been frustrated at himself, he has been frustrated at his racquet, at the ballkids, the tournament referee, at the roof, at the weather (and) at the crowd.
"A little bit of everything. But he continues to hang around in this third set."
FANS WARNED NOT TO TAKE ON SEED, 'MIMICKING' CALLED OUT
The Australian Open is on upset watch.
No. 2 seed Daniil Medvedev trails Felix Auger Aliassime by a set and a break and the Russian looks far from his best.
It is another rowdy atmosphere on Rod Laver Arena, with plenty of chat coming from the fans.
Medvedev is clearly starting to get agitated with the noise, particularly between first and second serves.
But former Australian Open champion Jim Courier had a message for anyone looking to go head-to-head with Medvedev.
"Don't be surprised if he addresses them directly," Courier said in commentary.
"He is not afraid to go head-on with hecklers at all. We have seen that in the past.
"When he played (Nick) Kyrgios here, he came prepared for that. He knew that he was going into hostile territory and he didn't look up at anyone the whole match.
"He kept it all in. He did his job. Once the match was over he unleashed."
The crowd is clearly in Auger Aliassime's corner tonight.
After going down 3-0 in the second set, Medvedev sarcastically clapped his racquet and it appeared he was frustrated with the crowd celebrating one of his errors.
"He thinks it is poor etiquette by the crowd and he said it many, many times in press," Courier said.
"And that just shows you where this match stands. That Felix has gotten underneath his skin."
Meanwhile, keen tennis fans watching (or listening to) tonight's match are all wondering the same thing.
What is going on with the Russian's grunting?
In what are still hot conditions at Melbourne Park, even though it is a night session, both men are grunting extremely loudly and deeply after each shot.
However, some attentive fans have questioned if it is a tactic from Medvedev.
"Is Medvedev mimicking Auger Aliassime's grunt?" asked The Tennis Podcast in a tweet.
Plenty of others agreed that there was something going on.
8:50PM: MEDVEDEV DROPS THE OPENING SET
The Australian Open is officially on upset alert.
No. 2 seed Daniil Medvedev has dropped the opening set to Felix Auger Aliassime, with both men producing some of the best tennis of the tournament.
Uncharacteristically, it was the Medvedev serve that fell apart at the crucial moments.
The Russian double faulted to give away the break at 5-5, although he immediately broke back.
However, another key double fault in the tie-break would play a huge role in him dropping the first set.
COURT CALL WASN'T ABOUT EGO
Daniil Medvedev hasn't been far away from the headlines this Australian Open.
The fiery Russian was front and centre after demanding the Australian crowd show some respect for Jim Courier during his post-match interview after beating Nick Kyrgios.
He also raised a few eyebrows when he complained about scheduling.
Despite being the highest ranked man in the draw, Medvedev played two matches on Margaret Court Arena instead of Rod Laver Arena.
But while some were quick to call out the US Open champion's complaints as petty, Courier has explained why it wasn't about ego.
"One thing that Medvedev said when he was complaining about not playing on Rod Laver Arena, it wasn't an ego thing," Courier said on Channel 9.
"It was actually a spatial thing. He was saying Rod Laver Arena is just a bigger court. I need the room.
"Margaret Court Arena doesn't have as much space. I want it."
Medvedev returns serve and plays from well behind the baseline.
For that reason, Kyrgios tried a number of underarm serves during their round two clash.
AUSSIES WIN BIG IN 37-YEAR FIRST
While the spotlight has been shining brightly on the Special K's, another Aussie doubles duo is quietly going about their business.
Matthew Ebden and Max Purcell booked their place in the men's doubles semi-finals with a thrilling come-from-behind win over 10th seed pairing Wesley Koolhof and Neal Skupski.
And their upset 3-6, 6-4, 7-6 (10-6) triumph, which came after a tense third set tiebreak, brought up a four-decade first.
Remarkably, it's the first time since 1985 since two sets of Australian doubles players have made the semi-finals of the Australian Open, setting up a potential all-Aussie final if the pair and Nick Kyrgios/Thanasi Kokkinakis both advance.
They face a difficult test to make it to the final, with second-seed opponents Rajeev Ram and Joe Salisbury in sizzling form.
While Ebden and Purcell may not possess the entertainment factor of the Special K's – who have transformed doubles tennis this Australian Open – they have drawn on the same tactic: getting the home crowd involved.
"The key to victory was probably the crowd. It really was," Ebden said after the win.
"Some people say that it's not true. Today was actually pretty true.
"(We) just sort of thought, 'this is our crowd, this is our court, this is our slam, let's get the crowd involved'.
"They got real loud, real noisy. Something happened there. It fired us up, changed our energy, went a bit crazy."
– Dan Batten
7:00pm TSITSIPAS BLASTS WAY INTO FINAL FOUR
Stefanos Tsitsipas laid down a marker for this year's Australian Open title, powering into a third semi-final by teaching fellow NextGen star Jannik Sinner a grand slam lesson in a dazzling display.
In his maiden Australian Open quarter-final, Sinner was blown off the court by Tsitsipas in a brutal exhibition of power-hitting that highlighted where the 20-year-old Italian stands in the 'grand slam winner in waiting' rankings.
The Greek star, who made the final four at Melbourne Park in 2019 and 2021, produced his most dominant performance of the season to batter his young rival 6-3 6-4 6-2.
Tsitsipas couldn't even be denied by a freak Melbourne storm that hit Rod Laver Arena in the middle of the hottest day of the fortnight, forcing a 15-minute delay as the roof was closed.
Nor an elbow injury, which he revealed might have sidelined him from the tournament.
"(My doctor) certainly told me he didn't see me participating in the Australian Open. I proved him wrong," Tsitsipas said.
"But I got really lucky with Frank. I'm happy I found the right person to bring me back stronger."
– Joe Barton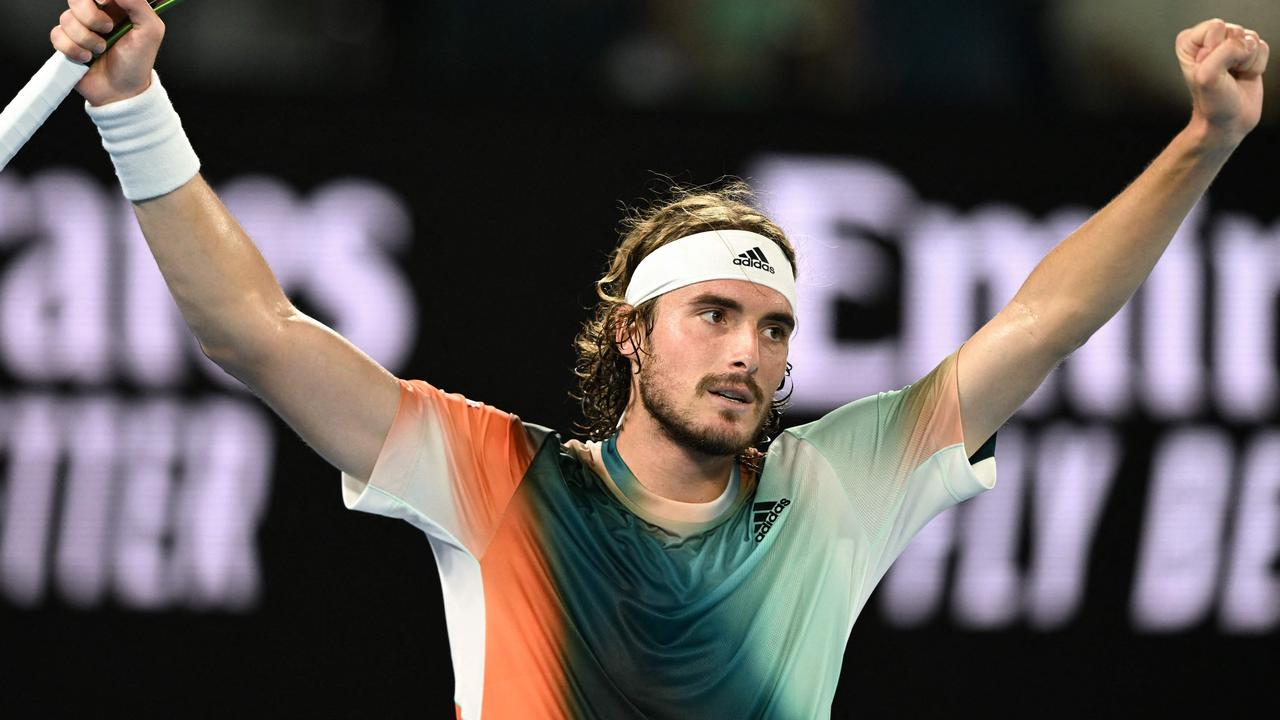 Stefanos Tsitsipas celebrates after beating Jannik Sinner. Picture: AFP Images
KYRGIOS IS A K**B: AUSSIE SLAMMED BY ANGRY RIVAL
Nick Kyrgios has been sensationally branded "an absolute knob" who has the maturity of "about a 10-year-old".
Michael Venus, who lost to Kyrgios and Thanasi Kokkinakis in the men's doubles on Tuesday, described the raucous Kia Arena crowd as "like a circus" and that he had been targeted with comments about his family between points. In a blistering review of the firebrand Australian, Venus declared the tennis star to be a waste of valuable talent.
"You look on my social media and some of the pictures, some of the comments (after the match) … the amount of messages I got from people – an extreme amount. Way, way more than I've ever had but then a lot of messages from people saying how embarrassed they were with the crowd's behaviour and they're sorry, and it shouldn't have been like that," Venus said on New Zealand's 1News.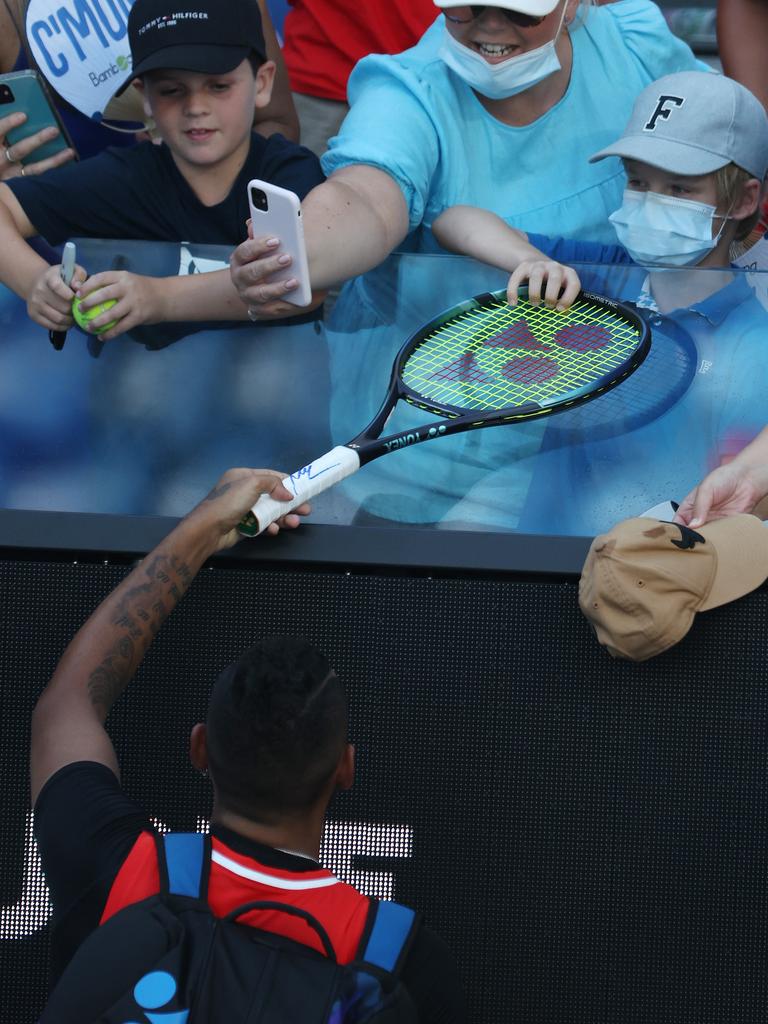 Nick Kyrgios gave away a racquet to a child he accidentally struck with a ball. Picture: Michael Klein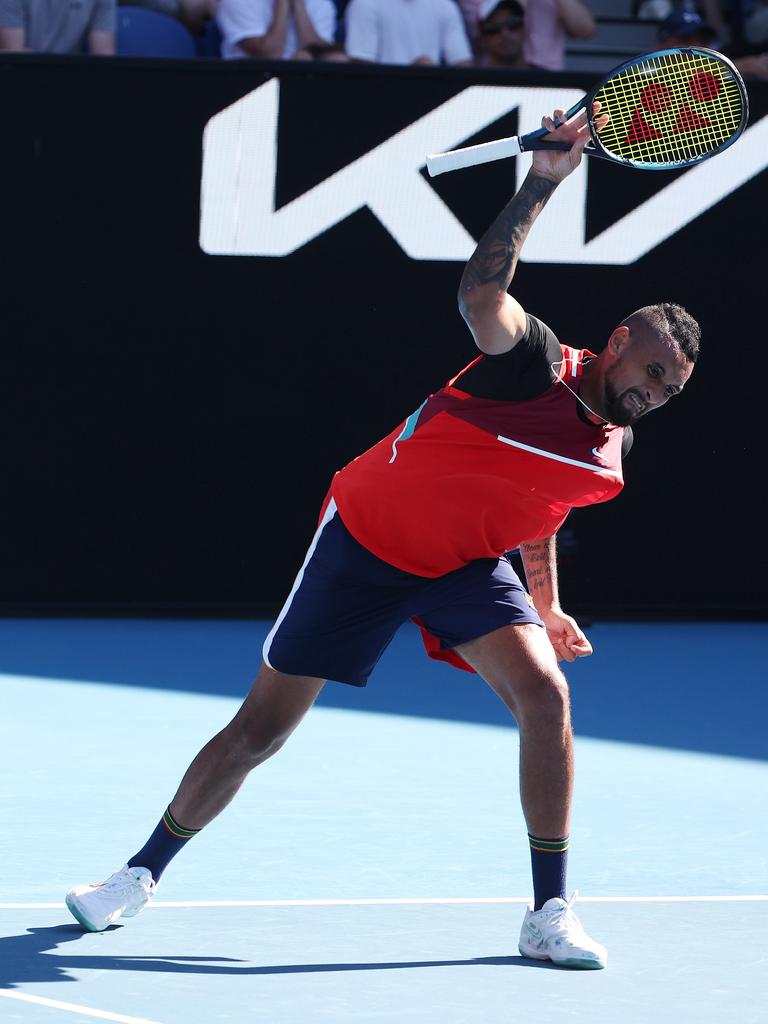 And smashed another. Picture: Michael Klein
"There'll always be his supporters, and they'll always spin it in a way that helps him. But at the end of the day, he's just an absolute knob.
"I think it just speaks for him. His maturity level, it's probably being generous to about a 10-year-old, to say that it's at about that level."
Venus said Kyrgios is "an unbelievable tennis player" but claimed he remained an unfulfilled prospect.
"What he can do out there, his tennis IQ on the court, it is amazing, and he's definitely on that side of things one of the best players in the world," he said.
"On the maturity side, you see why he's never fulfilled his potential and probably never will."
Venus, who had conferred with the chair umpire on numerous occasions throughout the match as the crowd ran riot, yelling out between serves and being reminded regularly to stay quiet during points, said the environment did not feel like a tennis match.
And he even suggested that Kyrgios' heartwarming gift after striking a young boy in the crowd with a wayward ball was a stunt.
"Between serves, (Kyrgios and Kokkinakis were) geeing the crowd up and getting them to cheer at times like that. I don't think that's really on," he said.
"You know if it's on the other foot, old mate (Kyrgios) would have flipped his lid.
"He already did get mad there by himself.
"It's amazing, he can smash a ball out that hits a kid and just 'cause he gives them a racquet afterwards people can say he's such a good guy."
6:15PM: TSITSIPAS TAKES SECOND SET 6-4
Stefanos Tsitsipas is one set away from booking a place in the Australian Open final four.
The Greek star is racing through his match with Jannik Sinner and now leads 6-3 6-4.
Tsitsipas even survived a mid-match rain delay which halted play for 16 minutes.
The indoor conditions were expected to suit Sinner however, the power hitting of
Tsitsipas has been too much for him to handle.
5:29pm RAIN STOPS MEN'S QUARTER-FINAL
The match between Stefanos Tsitsipas and Jannik Sinner has been stopped after showers hit Melbourne Park.
It is the first rain delay of the tournament.
Officials are currently on court and it looks like the roof is going to be closed. The delay isn't expected to be too long. Players are staying on court.
5:15pm TSITSIPAS ON TOP EARLY
Stefanos Tsitsipas has claimed the first set 6-3 over young sensation Jannick Sinner.
The Greek star looks in good touch, playing with the confidence he showed late in his epic five set win against Taylor Fritz.
4:35pm AUSSIE NEXT NETFIX STAR
4:17pm SWIATEK SEMI-FINAL BOUND
Iga Swiatek has braved a marathon match against Kaia Kanepi to make the final four with a come-from-behind win.
The Pole fought back strongly after losing the first set — despite saving an incredible nine set points — to take it out 4-6, 7-6, 6-3 in just over three hours, the second longest women's match of the tournament.
The No. 7 seed will face American Danielle Collins in the semi-final.
4:02pm AUSTRALIA'S 37-YEAR FIRST
While the spotlight has been on the Special K's, another Aussie doubles duo is quietly going about their business.
Matthew Ebden and Max Purcell have made their way through to the semi-finals in a comeback win.
The 3-6, 6-4, 7-6 (10-6) win came after a tense third set tiebreak where the Aussies held their nerve.
Remarkably, it's the first time since 1985 since two sets of Australian doubles players have made the semi-finals of the Australian Open. Wouldn't an all Aussie final be something!
And Ebden revealed that he is awaiting the birth of his child.
3:15pm DREAMS CAN COME TRUE
History-maker Meshkatolzahra Safi has been one of the stories of the Australian Open, and she was given the opportunity to meet her hero.
The determined youngster became the first Iranian girl to win a junior match at a grand slam, with Rafael Nadal, who inspired her to pursue her tennis dream, describing her story as "amazing".
Safi shared a photo of the two of them on her Instagram.
"I was in the corridor and somebody from the tournament just introduced me to her and explained to me a little bit the history. For me it was a pleasure to know more about her, I think it's amazing, her story; super special to see players from different parts of the world, especially parts of the world that historically we never had players on the tour," Nadal told The National.
Meshkatolzahra Safi with her hero Rafael Nadal. Picture: Instagram
"I think it's fantastic to see a player from Iran that now is in the juniors and she already won a match. It's a great story and it really was a pleasure to meet her."
Safi admitted after achieving the feat that she was doubted by people in her home country as she pushed on and strived for her goal in secret.
"When I started my journey, everybody in Iran was saying, 'this is impossible, playing Grand Slams is impossible, you cannot do that'; especially to my mom. "So I didn't say my dream to anyone anymore and I just kept pushing," Safi said.
2:16pm KANEPI'S CONVERTS... FINALLY
Kaia Kanepi took the set, but she didn't have it easy.
Iga Swiatek saved eight set points in the final two games of the set, with the Estonian eventually able to convert to take it out 6-4.
Another massive upset is brewing for the unseeded giant killer, who stunned world No. 2 Aryna Sabalenka in her previous match.
1:50pm SPECIAL Ks VENUE, TICKET SHAKE-UP
Nick Kyrgios and Thanasi Kokkinakis have transformed the Australian Open this year, bringing in huge crowds to the outer courts. Now, a massive change has been confirmed.
Kyrgios has long said he loves the rowdy crowds on the smaller courts. John Cain Arena affectionately referred to as Kyrgios Court during the Aussie's single's campaign.
And his doubles venture with best mate Kokkinakis has brought an entirely new audience to the game with young men filling the stands on Kia Arena all week as the pair continues their campaign to win the men's doubles title.
Now, it's all about to change — albeit with a level of confusion.
As we get to the business end of the tournament, Australian open director Craig Tiley has announced the Special Ks will be playing on Rod Laver Arena on Thursday.
So too will Australian of the Year Dylan Alcott as he looks to end his incredible career with another title in the quad men's singles final.
The best bit? A Rod Laver day ticket — the same price as a ground pass — will get you into the famous tennis court.
The Special Ks will be out on court at 2:30pm at the earliest on Thursday, while Alcott's game will follow the exciting duo.
"We actually are going to move the Special Ks from Kia arena on to Rod Laver Arena," Tiley said on Channel 9.
"Anyone coming on site tomorrow with a grand pass can get into Rod Laver Arena and watch them play and not before 2:30, followed by Dylan, so stay and watch Dylan. We want to make Dylan's match the most watched wheelchair tennis match in the history of the game tomorrow afternoon."
But conflicting information is being shared, with an Instagram post from Thanasi Kokkinakis sharing with fans that a ground pass will get them into their semi-final clash.
The story states that "anyone with a ground pass" can enter Rod Laver Laver.
However, the official Australian Open page indicates that a RLA day session ticket is required, saying in a tweet: "Thursday RLA day session tix are $29 (same price as an #AusOpen ground pass). Catch @TKokkinakis/@NickKyrgios from 2.30pm, followed by Australian of the Year @DylanAlcottin his last ever Grand Slam final."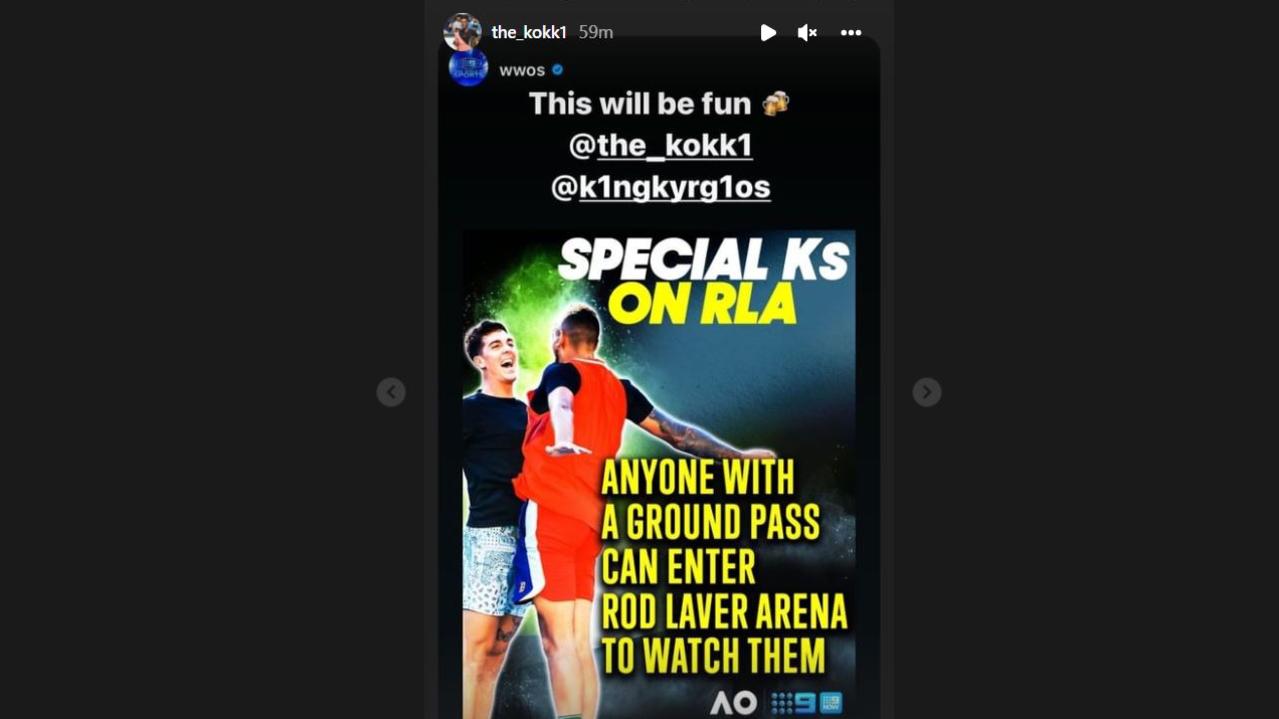 An Instagram story shared by Thanasi Kokkinakis says fans can enter with a ground pass. Picture: Instagram
12:40pm AMERICAN OVERCOMES ADVERSITY TO ADVANCE
American Danielle Collins' second Australian Open semi-final is even sweeter after a debilitating health issue caused "drastic" changes to her approach to tennis.
Collins dismissed Frenchwoman Alize Cornet 7-5 6-1 and now waits to learn who she will face in the semi-final.
The 28-year-old said it "feels incredible" in the wake of endometriosis surgery last year.
She had been reduced to serving underarm due to the condition that was "extremely painful and scary", and is now reaping the benefits of being able to train consistently.
"It feels incredible, especially after some of the health challenges I've had, to be able to get back to this level," Collins said.
"To be able to compete like the way I have been and being able as I've been as physical as I have been, it's so rewarding especially playing against the girls I have been playing against.
"To be able to compete with these women it's an honour."
She said "it means the world" to have returned in such fashion.
"I've been playing tennis since I was seven years old. I have worked at this every day," Collins said.
"I gave up so much as a kid to be able to get to where I am at now. The amount of hours I spend each day on the court, playing at the park with my dad,
him driving me around everywhere to get me the best resources to get me where I am today. With the health challenges, to overcome that, I know it means a lot to me, I know it means a lot to my family as well."
11:40am DJOKER CONFIRMS TOUR RETURN
Joe Barton
Novak Djokovic could lose the world No. 1 ranking on February 21 – but the Serbian star has confirmed his return to the court after this month's incredible visa saga.
Djokovic's 2022 has been an unmitigated disaster so far, with the 20-time slam champion unable to defend his Australian Open title after being deported from Australia over his unvaccinated status that led to legal dispute with Border Force and the Australian government.
As a result, he could slip from top spot in the ATP rankings as he's unable to defend the points earned with last year's title win. Should world No. 2 Daniil Medvedev, the heavy favourite in the men's draw, win this year's crown he would slot in at No. 1 on February 21 when the new rankings are released.
But Djokovic could reclaim the honour quickly, after being including on the entry list for the ATP 500 event in Dubai which runs from February 21 to 26.
Featuring alongside big names Andrey Rublev, Felix Auger-Alliasime, Jannik Sinner and Denis Shapovalov, as well as Australia's Alex de Minaur, Djokovic will return to a tournament where he's a five-time winner.
11:20am CROWD MEMBER ARRESTED
Victoria Police have confirmed a group of men were ejected from the Gael Monfils v Matteo Berrettini match on Tuesday night, with one man arrested for arrested for allegedly assaulting a staff.
"Police engaged with a small group of males in support of security, after complaints by patrons at Rod Laver Arena just after midnight," a Victoria Police spokeswoman said.
A 37-year-old man is alleged to have assaulted staff members at the venue before he was arrested around midnight.
10:22am CROWD BOOST
Victorian health authorities have given the green light to boosting tennis crowds for a blockbuster weekend at the Australian Open.
Martin Pakula, Minister for Tourism, Sport and Major Events, confirmed on Wednesday morning that chief health officer Brett Sutton has raised capacity to 65 per cent for the finals weekend.
"Breaking my self imposed Twitter hiatus (which I will return to – it's blissful) to advise that the Chief Health Officer has agreed to increase the ticketed capacity of the Australian Open to 65% for the remainder of the tournament," he wrote on Twitter.
7:45am NADAL STRUGGLING
An ailing Rafael Nadal said he was "destroyed physically" by his gritty five-set quarter-final win over Denis Shapovalov at the Australian Open on Tuesday.
But the Spanish great still managed to move to within two matches of a record 21st Grand Slam title with an incredible display of guts and resilience against the talented 22-year-old.
The sixth seed edged the Canadian 14th seed 6-3, 6-4, 4-6, 3-6, 6-3 in 4hr 8min of thrilling action on Rod Laver Arena.
"I was honestly destroyed physically. But my serve worked well, and for me, every game that I was winning with my serve was a victory," said Nadal, who will have two days to recuperate before Friday's semi-finals.
"Being in semi-finals means a lot to me and to have a victory against a great player after all the things that I went through, so it's an amazing news. I'm super happy." It will be Nadal's seventh semi-final in Melbourne where he will meet Italian seventh seed Matteo Berrettini
Originally published as Australian Open 2022: Daniil Medvedev wins epic match against Felix Auger-Aliassime