Australian Open 2022: Thanasi Kokkinakis' anxiety and injury battles make for a better man
Thanasi Kokkinakis has been hospitalised, stopped breathing in his sleep and wondered so often what might have been were it not for a laundry list of injuries and health issues. But none of that is stopping him yet, writes LINDA PEARCE.
Thanasi Kokkinakis has endured mor injury setbacks than most, but remains focused on the future.
Thanasi Kokkinakis can picture that kid from 2014. The dual junior grand slam finalist with spinal stress fractures already behind him and so much seemingly ahead. The world No.570 who high-fived the crowd after winning his Australian Open main draw debut on a sweltering Melbourne night.
Earlier that day on the same Show Court Three, his mate Nick Kyrgios, with whom Kokkinakis had shared the 2013 Wimbledon boys doubles title, had also toppled a more senior opponent, while an ageing Lleyton Hewitt was eliminated in the first round.
The future of Australian men's tennis. It was right there.
"I remember I was super young, super skinny, I was probably wearing a ridiculous outfit, and just kind of enjoying it,'' is how Kokkinakis recalls the sweaty four-setter against 73rd-ranked Igor Sijsling.
"Playing with no pressure. Fearless, a little bit. There's nerves 'cos it's your first time, but you're not really expected to do too much because you're 17, and it's your first grand slam, so that was an unbelievable feeling.
"The other thing was that it was as hot as anything, I think it was 45 degrees that day and then I just remember obviously winning and being an idiot and giving a lap of honour and then, yeah, got dusted by Rafa after that.''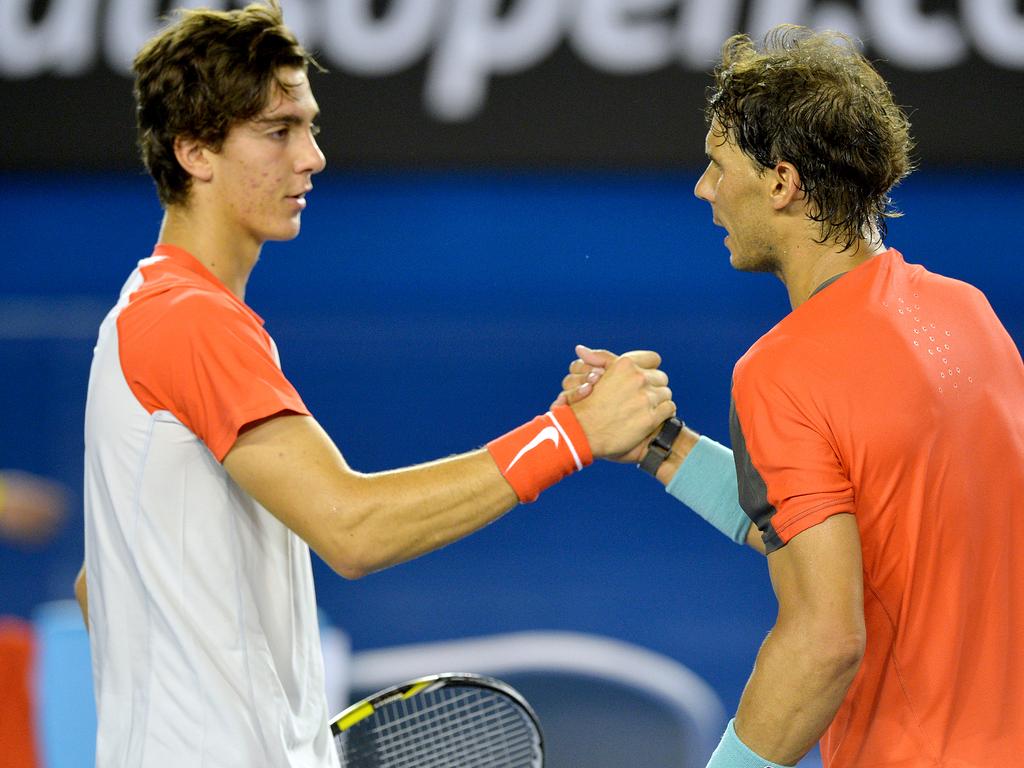 A "super young, super skinny" Thanasi Kokkinakis was "dusted by Rafa" in the second round of his debut Australian Open in 2014. Picture: Joe Castro/AAP Image
Kokkinakis would not, could not, have known about the shoulder, pectoral, groin, knee and elbow injuries among those still to come, the bout of glandular fever that stripped him of 14kg and stopped his breathing, forcing two hospital stays in early 2020. The mental health challenges and anxiety attacks prompted by just walking into a local cafe.
Eight years ago. Kokkinakis' star was luminous and rising. Anything seemed possible then.
"For sure. That year and the year after, you're kind rolling round like you're the man. But surgery and a few other things kinda brought me back down pretty quick,'' he says ahead of Tuesday's opening match against John Millman at the Adelaide International, as the world No.171 whose most complete season in years was nevertheless cut slightly short by groin soreness. Of course it was.
"But, yeah, that's life. That's how it goes. It's not always rosy. But definitely (back) then you're thinkin', 'I'm the next big thing, for sure'. But it is what it is. It's not always like that.''
Stuck at home in Adelaide, doing rehab after rehab, there was plenty of time to think about the fractured fairytale, too. Watching his pal Kyrgios reaching slam quarter-finals and the top 13, Bernard Tomic's decline due to attitude rather than injury, Millman toppling Roger Federer at the US Open, Alex de Minaur as the current Aussie No.1.
"Yeah, too much time. Sometimes that's the worst thing for you, mentally – too many times sitting on the sidelines waiting, thinking, 'Oh, what coulda been','' says Kokkinakis.
"But the reality is that life goes on. That's not the situation I'm in, and again I've gotta work my way up. I've done it a few times now. Kind of had my momentum stopped when I started to have some big wins or a little bit of traction, but I've still got a fair few years left in me.
"Gotta try and have a good back nine.''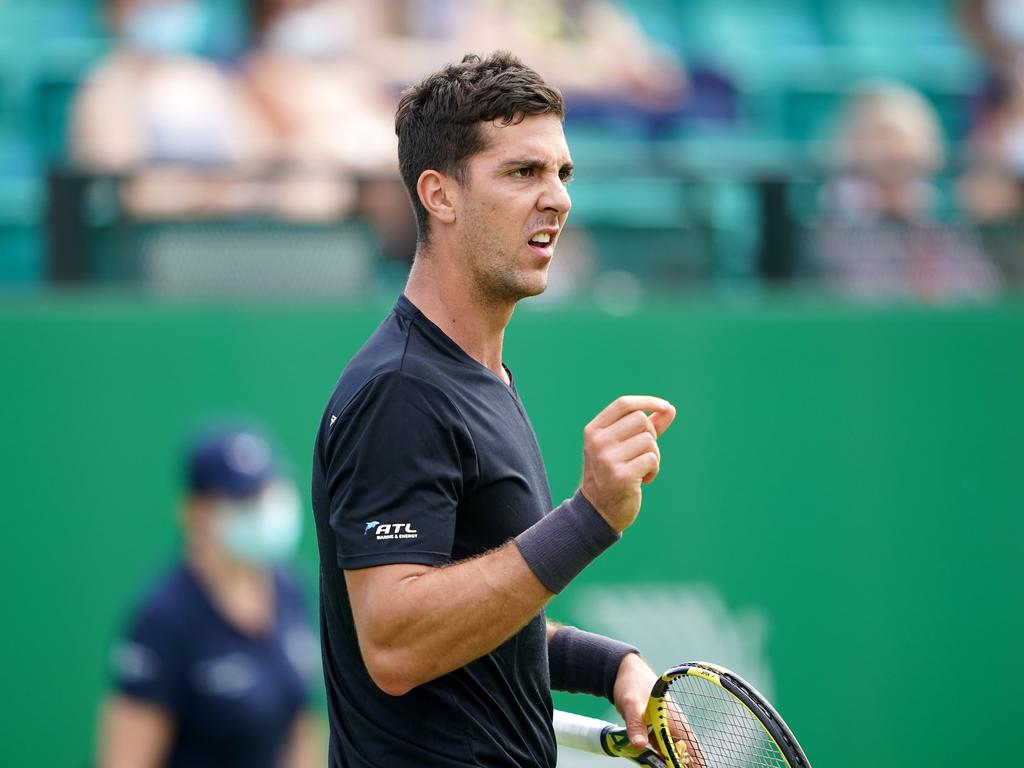 "It's not always rosy" - Thanasi Kokkinakis has a long history of injury, but is intent on coming back again. Picture: Zac Goodwin/PA Images/Getty Images
Up, down, up, etc.
Kokkinakis has beaten Federer, too. In 2018. At the Miami Masters. As a qualifier and world No.175.
It had been 15 years since a current No.1 (Hewitt) had been upset by a player ranked so low. In June the previous year, returning from shoulder surgery, the South Australian was not ranked at all.
Up. Down. Up. Etc. So it has gone. From a career-high of No.69 in mid-2015 after reaching the third round at Roland Garros, to that momentum-stalling shoulder operation at the end of that year. "That was the one that derailed me,'' he says, admitting that the only time he played in 2016, at the Rio Olympics, was "without a serve", and he would not have tried had it been a regular tournament.
That comeback period was also when he came closest to quitting, permanently, for his first few matches were dreadful. "I was like, 'Wow, I kinda suck, so I'm probably gonna take a bit of time off here and just see what happens','' he says.
"But then I'd have a good result against a good player, like a top 10 or top 20 player, and then I'm like, 'Hang on I've actually still got a bit left in me here, no point trying to stop now'.
"So it's been those kinda moments that have kept me going. When I have a bad result or things aren't going that fine, you kind of remember the potential and remember aspects of when I've played well and be like 'oh, well, I've still got that in me so we'll give that a crack'.''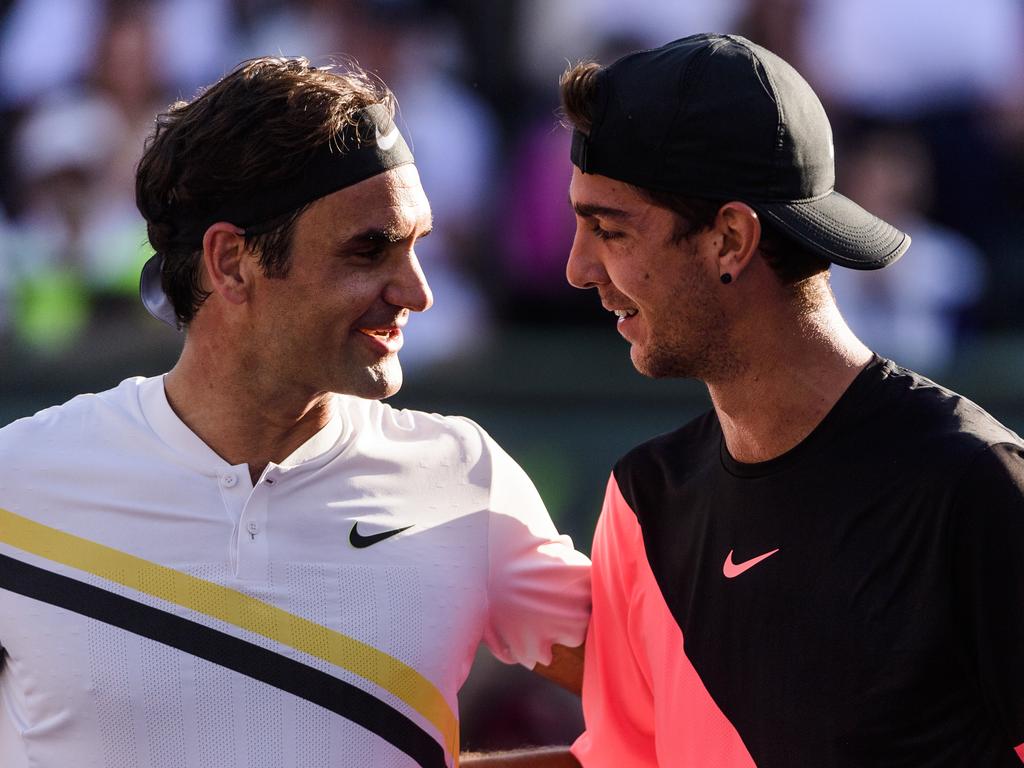 When Kokkinakis beat Roger Federer in 2018, it had been 15 years since a world number one was beaten by someone ranked so low. Picture: Mike Frey/Getty Images)
Having missed so much tennis, and endured such adversity, he is unsure of his exact age in tennis years.
"It's a good question. I feel pretty weathered, but in tennis years I kind of feel young as well. I feel like I'm kind of starting again, so I don't know if that makes me old or young or whatever. Probably in between. Maybe it's just where I am. Where I'm supposed to be.
"But I still feel like I've got a lot to play for, a lot to give, so young in that aspect, but old in the fact that I've experienced a whole lot now, so hopefully I don't get too rattled when – I don't know if I can say this – some shit comes up.''
As to how many more comebacks are left in him, he rationalises that, well, what's one more?
More self-deprecating than self-pitying, he says he has had the one-more-injury-and-I'm-done monologue a couple of times, "but then I get one more and then I'm like, 'Screw it, I'll try and come back from this and rehab'. You can't play professional tennis forever, so I've got time to go back to whatever it is I'm gonna do after. I'll figure something out.
"But for now I'm not too worried about that, I'm just gonna try and play. I love competing and I like playing and as much as it's a complete rollercoaster and the highs are very high and the lows are very low, it keeps you going and gives you something to live for and keep you entertained, really.''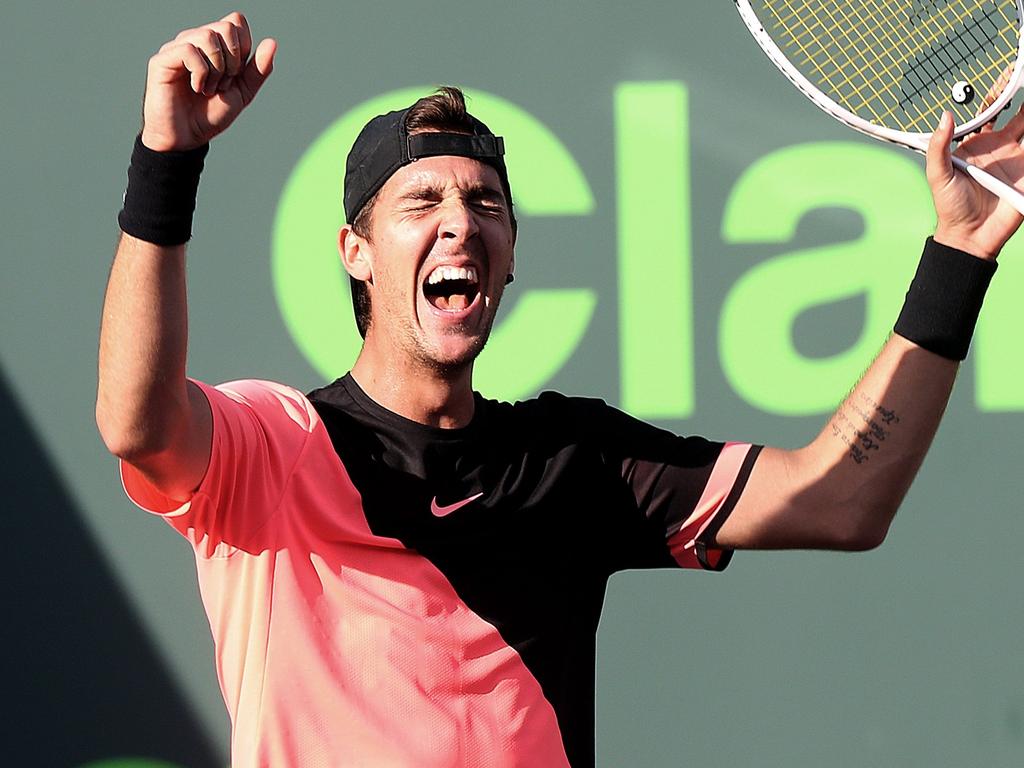 The highs are high, and Kokkinakis has had some incredible moments around the world. Picture: Pedro Portal/Tribune News Service/Getty Images
He's back, in black and a $6 Kmart t-shirt
When Kokkinakis arrived at last year's Australian Open after playing just eight tournaments since his successful effort to qualify in 2019, he had also been forced to rebuild his body following that dramatic weight loss to a mere 68 kilograms.
Ranked 267th, without a sponsor, and wearing $6 Kmart t-shirts, he was in tears before his first round defeat of Kwon Soon-Woo had even finished. It was his first singles win at Melbourne Park in six years.
Amid the goodwill and congratulations flowing from Joe Ingles to Kim Clijsters, was a private Instagram message from the absent Federer to the player who had been his occasional training partner during healthier times for both. "Nice one, Thanaser,'' it read, using his slightly odd nickname for the Aussie. "Happy for you.''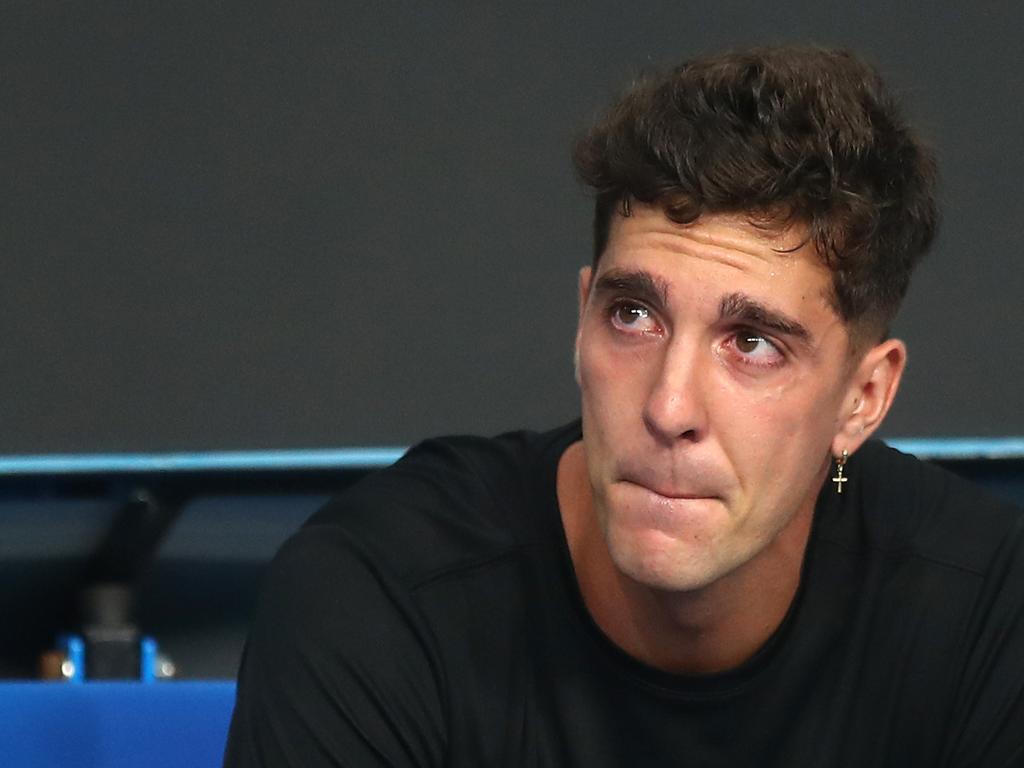 Tears and a $6 Kmart t-shirt after beating Kwon Soon-Woo at last year's Australian Open. Picture: Mike Owen/Getty Images
Kokkakis' next opponent was Stefanos Tsitsipas, the sixth seed, in another dramatic affair that went the full five sets. Wearing a new sponsor's patch – Queensland tech company SafetyCulture having jumped on board in the meantime – the disappointment of a tense loss mingled with the reassurance that came from being just a whisker away.
"As I said, usually there aren't many moral victories, but that one was definitely important for me – to kind of miss two years, come off that glandular fever and then play that tennis with a guy who was top three in the world and kinda playing the best tennis of his life, as well,'' Kokkinakis says.
"So it showed that I'm not far off and that it is still in me. Obviously maybe I'm not gonna play like that all the time but again it shows on the day how close you can get to a world class player.''
The subsequent return to life on Tour brought its challenges. For although Kokkinakis had not played such a full schedule since 2018, the pandemic rankings freeze made it easier to maintain positions already held than to make any substantial ground – especially for those who had recently played so little.
All but eight of his 21 tournaments in 2021 were at Challenger level, and four – including the three overseas slams – ended in qualifying. Kokkinakis knows where he would rather be, but also how good it felt just to get going again.
"Rough year, I'm sure, for a lot of Australians, especially travelling, but it's tough when you're winning matches but you don't see your ranking moving. It's pretty disheartening on the road, so at least things are starting to get back to normal, and hopefully I can have a big year (in 2022).''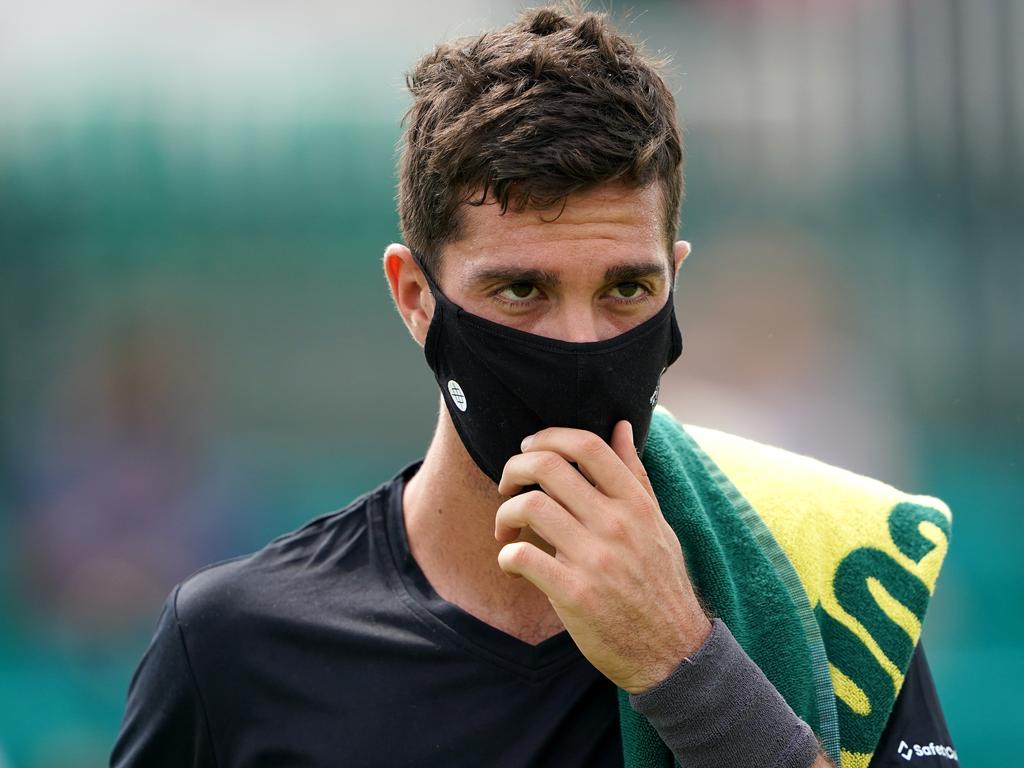 Last year delivered a unique set of challenges, and Kokkinakis says he struggled at times on Tour. Picture: Zac Goodwin/PA Images/Getty Images
It was easier, obviously, for the Europeans who could nip home for breaks with far fewer travel and quarantine complications, and the fully-vaxxed Kokkinakis struggled most during the mid-year grass court swing in the UK. On top of the off-court difficulties, he won just one match, and lost most of his sets in tiebreaks.
"I've never tested positive for Covid but, geez, did I feel like I had it a few times this year! I lost my taste and smell I reckon five times, where I was so congested, wasn't breathing well and just bit into food and couldn't taste a thing or smell a thing. I don't know how I didn't test positive. I'm sure it's gonna get me at some point.
"There were definitely times, especially through that period in London, that did knock me around a little bit… but eventually you've got to pick yourself up and toughen up a little bit and go on.''
Physically, he has returned to the 86-87kg weight bracket that works for his 193cm frame, joking that whether he has bulked up (as some say) or trimmed down (as others suggest), may depend on the tightness of his (unsponsored) t-shirt.
"I think I'm in the best shape I have been in for a long time. But obviously playing tournaments is a different thing. Tennis is tricky. You don't want to put on too much strength, 'cos then it's tough to move, and obviously there's no time limit on matches, but you also want to be quick and sharp and have that fast-twitch. So it's one of those sports where you kind of almost prepare for everything.''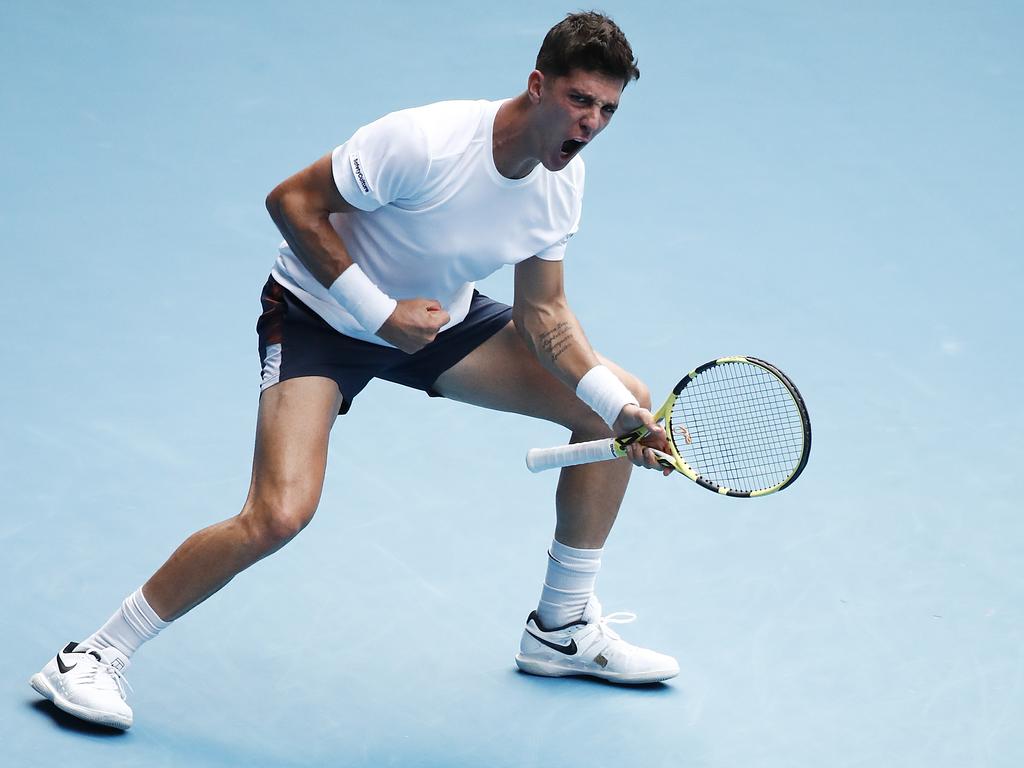 Ahead of his first tournament of the year, Kokkinakis says he's in the best shape he's been in for a number of years. Picture: Daniel Pockett/Getty Images
Mentally and emotionally, too, Kokkinakis feels in a good place. As much as 2021 tested him at times, it was nothing like the period where he was consumed by anxiety, negativity, and dark thoughts. Pain, of a different kind to what he had become so familiar with, was actually far worse.
The issue this time was more that living in tournament Covid bubbles denied players any non-tennis outlet, and the only escape from the hotel-courts-hotel routine was when moving to a new but still-dead city for the next event.
Kokkinakis has never taken antidepressants, preferring to "figure it out myself a little bit and my psychologists are pretty much my family and my coaches. They're the people that know me best, so I just talk to them when I need anything. But being a tennis player on the road last year was pretty grim, especially when you're playing mainly on the Challenger tour.''
Indeed, the standard on the tough second-tier circuit is higher than sometimes appreciated by casual tennis followers, while the recognition, conditions and remuneration lag considerably behind.
But Kokkinakis notes that Andre Agassi and, more recently, Kei Nishikori, are among the superstars to have made later-career cameos. "So if it's good enough for those guys it's definitely good enough for me. That's the challenging part of tennis, and hopefully makes it all that more rewarding when you get out of it.''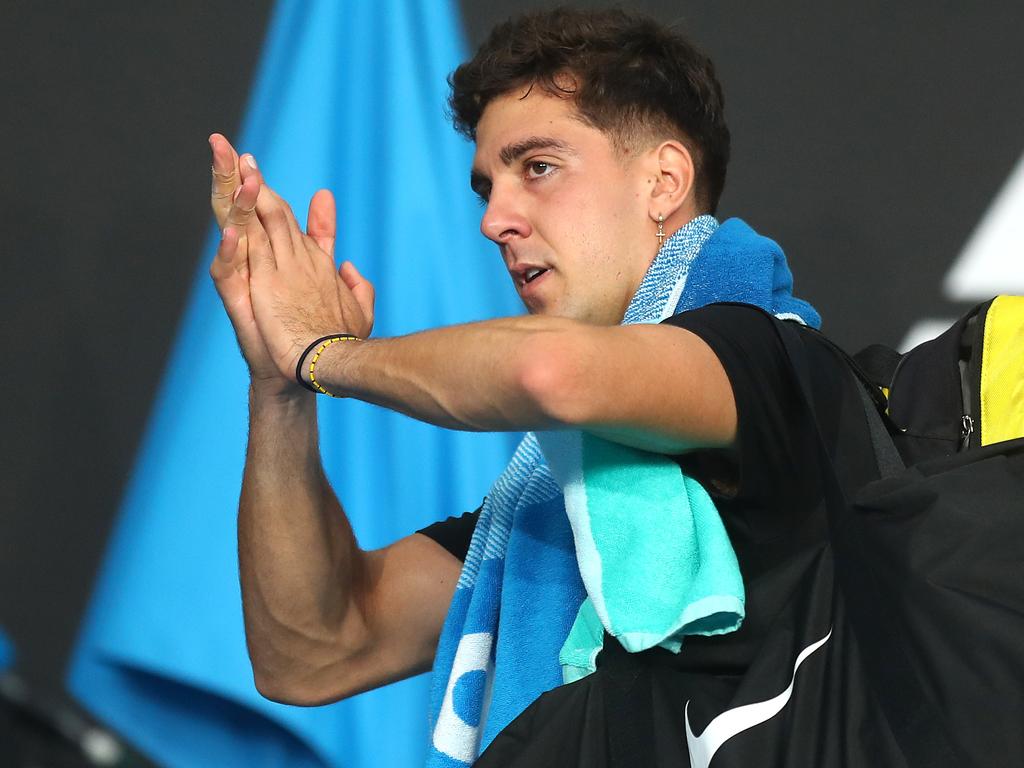 A late career revival? If it was good enough for Andre Agassi, it's good enough for Kokkinakis. Picture: Mike Owen/Getty Images
'A worse tennis player, but a better person'
As Kokkinakis awaits news of the final allocation of Australian Open wildcards, which would spare him attempting to qualify for a sixth main draw at Melbourne Park, he is playing his first senior tournament on his home court, Memorial Drive.
There are a couple of new tattoos on his quadriceps, for which he partly blames boredom, and which he quips he would love to say are profound or meaningful in some way. Except they're not. No point faking it. "I liked what I thought it looked like and I just pulled the trigger on it. Parents weren't too happy at the start but they get over it.''
A second patch sponsor is providing some financial support, and although he is slightly nervous about debuting a new racquet after just a few weeks of practice, the switch is not about money – "just yet", anyway – so much as attempting to add a touch more oomph to his game.
"Just a little bit more aggression, hopefully. Playing with a bit more freedom to swing out at the ball and feel confident to go for my shots a little bit more under pressure,'' he says. "But the hard thing is when you haven't used the racquet for very long; it was kind of a late decision, so we'll see how we go. A bit nervy with it, but I'm keen to get started.''
Kokkinakis is looking for more aggression and the freedom to swing under pressure. Picture: Jason Heidrich/Icon Sportswire/Getty Images
His week one goals do not extend much beyond the cliché of just playing well and freely, although the next is to stay healthy and return to the top 100 as quickly as possible – having last been in double-figures in early 2016.
Career goals have flip-flopped over time, as Kokkinakis reflects, for example, on playing that 2013 Australian Open junior final against Kyrgios with a stress fracture that then sidelined him for six months, after which he returned and enjoyed immediate success.
"So I kind of know what it takes to go and come back. Was I hoping for this many injuries in my pro career? Probably not, but, again, I got started and I was one of the top rising players and you think, 'Oh, yeah, I'll just go top 50 to top 20 to top 10 and contend for grand slams', but it doesn't always work like that. It's tricky. You've definitely had to modify your goals but I think the end goal still the same: to break the top 10 and go from there.''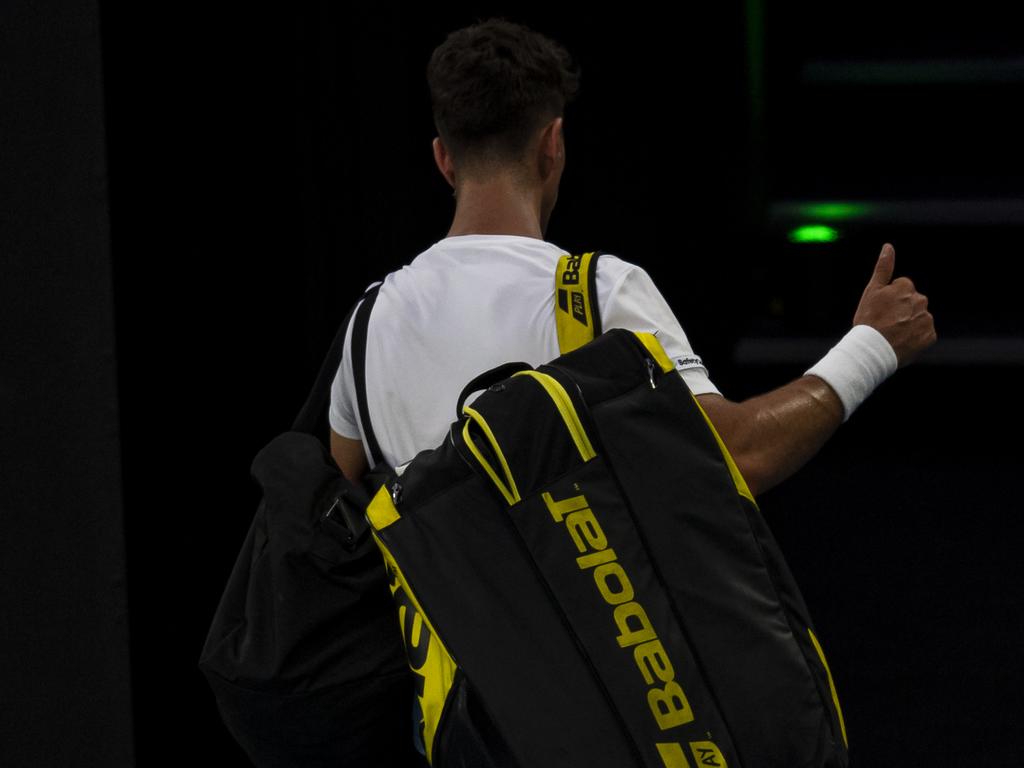 It's been a rollercoaster, but the end goal remains the same. Picture: TPN/Getty Images
So many setbacks have changed him, Kokkinakis admits, but also helped to crystallise what he wants most. And even been beneficial, in an unexpected way.
"It's probably made me a worse tennis player but a better person, if that makes sense!'' he says. "A worse tennis player, because obviously I've had to deal with a lot more injuries and had to make a few adjustments with my body but, as a person, I kind of just get it now a little bit. It kinda makes a bit more sense to me how everything's not smooth sailing.
"Obviously that can apply to a lot of things but, for tennis, it's taught me a lot more resilience. It's kinda taught me what's important a little bit more. Obviously playing tennis is great, but it's not the be-all and end-all for me.
"I want to give it a crack for as long as my body lets me, but as long as I'm happy outside the court, that's all that really matters to me, if I'm honest.''