Australian Open: Could Labor's election victory see Novak Djokovic play in 2023?
Despite being under a three-year immigration ban, World No. 1 Novak Djokovic could be back playing in Australia much sooner than expected - see what gave him hope.
A change in government has World No. 1 Novak Djokovic hopeful of making an Australian Open comeback.
The tennis star was sensationally banned from playing in the 2022 Australian Open and deported from the country due to being unvaccinated against Covid-19.
Under Australia's immigration laws Djokovic cannot be granted another visa for three years unless he can prove there are compelling grounds for him to be granted another chance.
Djokovic hopes the newly elected Prime Minister Anthony Albanese will boost his visa-related hopes of featuring in Melbourne in January 2023.
Novak Djokovic of Serbia celebrates after winning match point against Aljaz Bedene of Slovenia during the Men's Singles Third Round match on Day 6 of The 2022 French Open. Picture: Clive Brunskill/Getty Images
"In terms of the government, yes, I heard the news," he said.
"But I don't know anything about whether my visa is going to be reinstated or whether I'm going to be allowed to come back to Australia.
"I would like to go there and play the Australian Open. I don't hold any grudges. It was what it was.
"If I have an opportunity to go back to Australia and play in a place where I made the biggest success in my career in grand slams, I would love to come back."
It followed Djokovic booking a spot, alongside Rafael Nadal, in the top 16 at the French Open.
Reigning champion Djokovic and 13-time winner Nadal are on course to meet in the quarter-finals, with the Spaniard seeded outside the top four at Roland Garros for just the second time.
Djokovic claimed an easy to a 6-3, 6-3, 6-2 win over Slovenia's Aljaz Bedene and Nadal strolled past Dutch 26th seed Botic van de Zandschulp 6-3, 6-2, 6-4.
Novak Djokovic of Serbia plays a forehand against Aljaz Bedene of Slovenia during the Men's Singles Third Round. Picture: Clive Brunskill/Getty Images
"I'm always very motivated when I get on the court, with the desire to produce my best level each time. It's not always possible to do it, but today it was very good," said Djokovic.
The 35-year-old Serb is aiming to become the oldest men's singles champion in Paris in the Open era as he chases a record-equalling 21st Grand Slam title.
Djokovic will next face Argentina's Diego Schwartzman, the 15th seed.
DJOKER'S AUSSIE ORDEAL
The 35-year-old, who was detained at Melbourne Airport under armed guard for almost nine hours after arriving from Dubai in early January, was shaken by the saga.
Djokovic initially refused to reveal his vaccination status but received late clearance to travel to Melbourne after he told Tennis Australia officials he contracted COVID-19 in December.
Then Immigration Minister Alex Hawke intervened, stating that a recent COVID-19 infection was not a valid reason for an unvaccinated person to enter Australia.
Hawke said he had cancelled Djokovic's visa on "health and good order grounds, on the basis it was in the public interest to do so".
As Djokovic was held in the Carlton hotel alongside fellow refugees, some of whom had been detained for more than nine years, a blame game erupted between Tennis Australia, the Federal Government and the Victorian Government.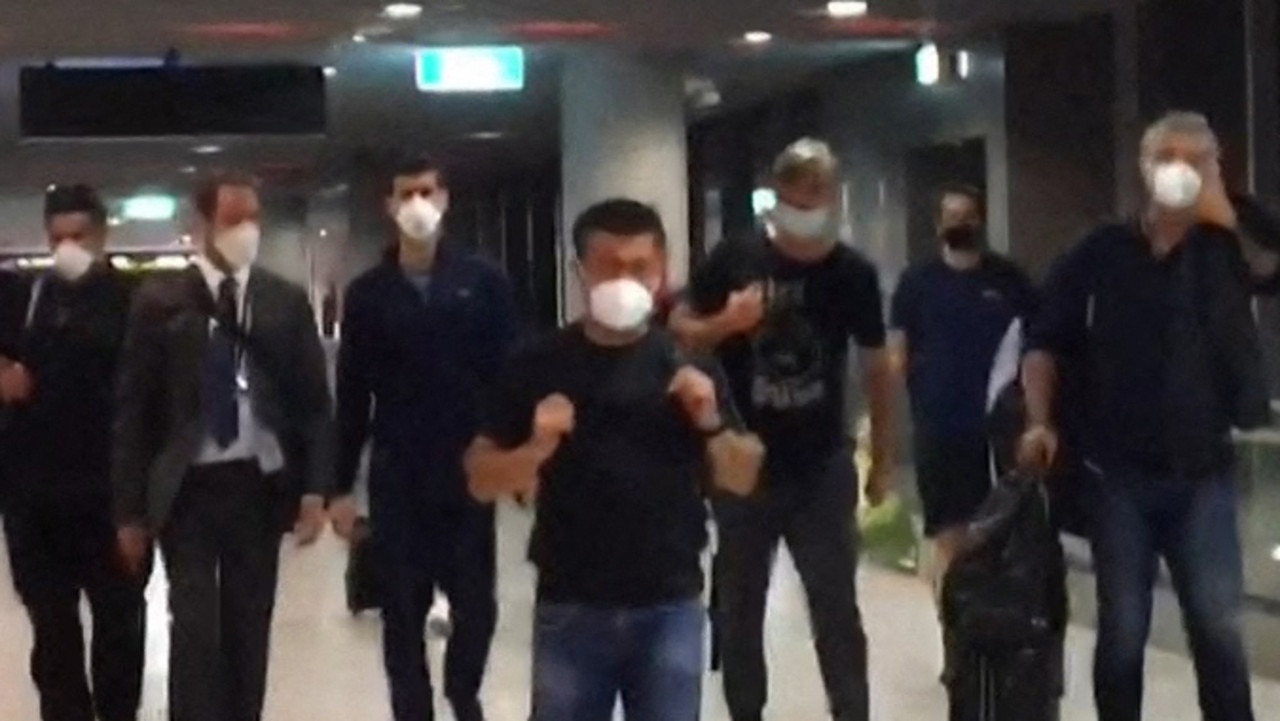 This screen grab taken from AFPTV shows Serbia's Novak Djokovic (3rd L) preparing to depart from Melbourne Airport in Melbourne on January 16, 2022, after losing his legal battle . Picture: Mell Chun/AFP
It also sparked a furore in Serbia, with government officials and the general public outraged with the way their champion was being treated in Australia.
In a dramatic week, the baseline supremo won his initial injunction due to the "procedural unfairness" he was subjected to and headed to Melbourne Park for a midnight practice session on Rod Laver Arena.
But the extraordinary discretionary power Immigration Minister Hawke used to have Djokovic booted out of Australia on the eve of the tournament was ultimately upheld in a hearing of the full federal appeals court.
Tennis Australia promised a review into the Djokovic scandal and the circumstances which led to the star believing he had permission to come to Melbourne to play the tournament.
Australian Open tournament director Craig Tiley, who is also the Tennis Australia chief executive, and the Board of the organisation headed by President Jayne Hrdlicka were heavily criticised as the champion lamented in hotel detention.
As a by-product of Djokovic's detention, the spotlight was thrust on the men who had been kept in confinement at the Park Hotel for several years.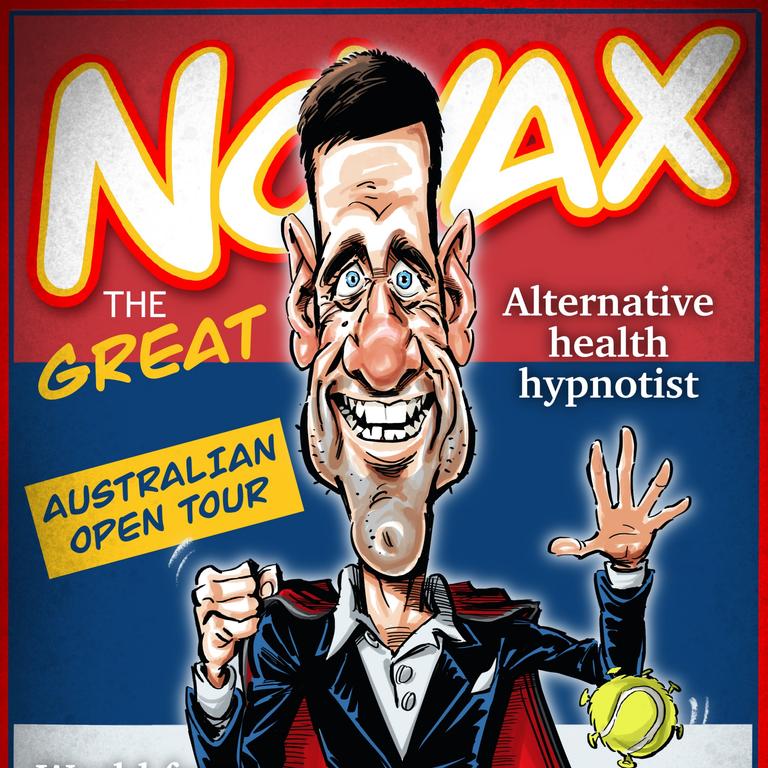 Tim Blair Art - Novak Djokovic
The last eight detainees were released from the hotel detention centre in April, with Djokovic delighted to hear that was the case given how difficult he found a week there. He had followed the story of Mehdi Ali, an Iranian refugee who spent nearly nine years in detention before being released in March and resettled in the United States.
"If that's correct, then I'm obviously very happy about it, because I know that it was very difficult for them, particularly for the ones that stayed there for nine years," he said.
"You know, I stayed there for a week, and I can't imagine how they felt for nine years. They haven't done anything wrong, and they are asylum seekers and stayed for nine years.
"That's something I obviously did not understand why, but if I brought some light to that situation, then … in a positive way for them, for this to happen, then of course I'm very happy, because they got another chance in a different country."
Djokovic, who lived through the Balkans War as a child as bombs fell on Belgrade, said his own saga rammed home to him the importance of freedom.
"We underestimate freedom," he said.
"Until you actually live something like that and see what the circumstances are, then you don't really have an idea of what it feels like when somebody strips away freedom from you."
Originally published as Australian Open: Could Labor's election victory see Novak Djokovic play in 2023?