Australian Open day 1: Recap all the action from a huge opening day at Melbourne Park
It was billed as a horror draw and for Aussie Ajla Tomljanovic, it proved to be exactly that with the local hope heading for the Australian Open exit doors.
It was billed as a horror draw and for Aussie Ajla Tomljanovic it unfortunately lived up to its name.
The match-up with Spain's No. 8 seed Paula Badosa was tough on paper and even tougher when you have a dodgy hamstring.
While Tomljanovic, the world No. 43, battled hard in the opening set it was all one-way traffic in the second with Badosa racing away to win 6-4 6-0.
Australia's No. 2 ranked player was forced to call a medical time-out late in the opening set for more attention on her right hamstring which she already had heavily taped.
Badosa had also taken a medical time-out and reappeared with tape on her own hamstring but rather than hinder it actually forced the Spaniard to go for her shots more which spelt bad news for Tomljanovic.
The 24-year-old was one of the breakout stars of 2021 reaching her first major quarter-final, qualifying for the WTA Finals and finishing the year ranked inside the top 10 for the first time.
Badosa showed she was a dark horse for the Australian Open by defeating French Open champion Barbora Krejcikova to win the Sydney Classic.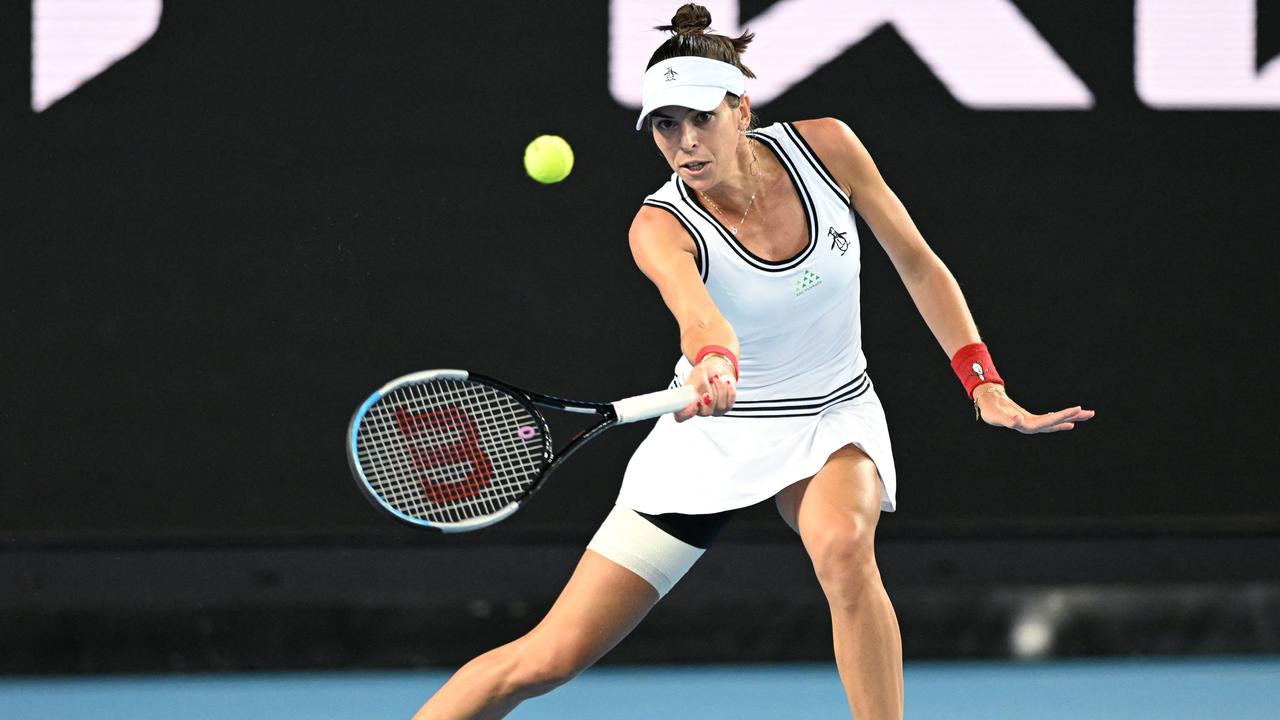 Ajla Tomljanovic's Australian Open is over. Picture: AFP Images
STAR'S SHOCK MELTDOWN AFTER OUTRAGEOUS ERRORS
Aslan Karatsev made headlines during last year's Australian Open for all the right reasons, winning through to a shock semi-final.
In 2022, he is still making headlines but this time, for all the wrong reasons.
Karatsev's opening round clash against Jaume Munar has been absolutely brutal viewing, with some of the stats needing to be seen to be believed.
At one stage in the third set, Karatsev had hit a staggering 54 unforced errors, 46 more than his Spanish opponent.
Those numbers may explain some of the Russian's wild behaviour.
The usually mild-mannered star launched a ball deep into the Melbourne Park stands after losing a point.
He then proceeded to obliterate a racquet.
SCROLL DOWN TO RECAP THE DAY ONE NEWS
11:26PM: TOMLJANOVIC DROPS OPENING SET 4-6
Paula Badosa Gibert has taken the first set against Aussie Ajla Tomljanovic.
But nothing came easy for the number eight seed, who was pushed all the way by the local.
The opening set, which Badosa Gibert won 6-4, lasted longer than Ash Barty's entire first round match.
Both players appeared to be struggling with leg injuries throughout but are continuing.
11:10PM: BADOSA GILBERT TAKES MEDICAL TIMEOUT
We've got some drama here for Ajla Tomljanovic.
Paula Badosa Gibert has taken a medical timeout and is getting work done to her leg.
Badosa Gibert had just served for the opening set at 5-3 but was broken by the Aussie.
Tomljanovic has also taken the chance to get some strapping on her leg.
The match will continue.
10:45PM AEDT: TOMLJANOVIC FIGHTING HARD AGAINST 8TH SEED
It may be a mismatch on paper but it is proving anything but for Aussie Ajla Tomljanovic as she takes on eighth seed Paula Badosa Gibert.
Tomljanovic drew first blood, breaking in the opening game of the match.
However, the set was quickly back on serve and it has stayed there throughout.
It's now 4-4 as we hit the business end of things. It is one of only three matches still going at Melbourne Park.
10:15PM: MILLMAN WINS THROUGH TO SECOND ROUND
The good news keeps coming for the Aussies at Melbourne Park, with John Millman winning through to the second round after a four-set victory over Feliciano Lopez.
Millman snatched the opening two sets against the Spanish veteran and looked on his way to a speedy win.
However, the 40-year-old Lopez wasn't going down without a fight, taking the third set and pushing the Aussie all the way in the fourth.
Millman eventually snatched the break at 6-5 to secure his place in the final 64.
The Aussie was thrilled to come away with the win after a challenging 2021, which included a number of injury issues.
"I think I started off really well and Feliciano, I do not think was serving too well and that is his strength," he said.
"I thought I might have blown it in the fourth set with a couple of little breakpoints but he had some great serves under pressure.
"I think probably the crowd got behind me."
Millman will now play the winner of Alexander Zverev and Daniel Altmaier.
At 6-1 6-3, Quad tennis champion Dylan Alcott wasn't giving Lopez much chance of a comeback.
"They look in a different stratosphere in terms of what is going on physically. John is up and about, really using his energy," he said on Channel 9.
"Lopez struggling, grimacing after each point.
"I've got a spare wheelchair in the locker room. I reckon he's about an hour away."
His fellow commentator Todd Woodbridge then said:
"Only you can get away with that," with a big laugh.
9:50PM AEDT: HARD TO BELIEVE CRAZY STATS ARE REAL
We've all seen some one-sided stats over the journey.
But this effort from Aslan Karatsev is about as good as it gets.
He may need a map and a compass to find the court with unforced error numbers like these.
Currently Karatsev has a staggering 54 unforced errors to Jaume Munar's eight!
That's right, a 46 unforced error advantage. And somehow the one set all and on serve.
9:30 PM AEDT: EPIC MELTDOWN FOR LAST YEAR'S HERO
Things certainly haven't been going to plan for last year's semi-finalist Aslan Karatsev.
The Russian 18th seed found himself down a set earlier this evening and with plenty of ranking points to defend, the pressure got the better of him.
The usually mild-mannered star launched a ball deep into the Melbourne Park stands after losing a point.
He then proceeded to obliterate a racquet.
Luckily for Karatsev he has steadied the ship and is now locked at one set all.
9PM AEDT: WILL DJOKER PLAY THE FRENCH OPEN?
Novak Djokovic is facing the prospect of being denied entry to the year's second grand slam at Roland Garros after French authorities on Monday confirmed that the country's vaccine mandate will extend to international athletes.
Questions have also turned to whether the Serbian could face any loss of earnings in the wake of the scandal, with personal apparel sponsor Lacoste releasing a statement on Monday night.
"As soon as possible, we will be in touch with Novak Djokovic to review the events that have accompanied his presence in Australia," it said.
8:00PM AEDT BARTY'S BRUTAL 54-MINUTE DEMOLITION JOB
The world's other No. 1, the one who was allowed to grace Rod Laver Arena, made sure the title was represented in style with Ash Barty almost pulling off a double bagel.
With the tournament desperate for some good mojo, the hometown favourite provided some welcome relief from the Novak Djokovic scandal which saw the men's No. 1 booted from the country.
In his absence the women's No. 1 showed she was ready to take up the slack, blowing away a shell-shocked Ukraine's Lesia Tsurenko 6-0 6-1.
The match-up had the potential to be a dangerous encounter given Tsurenko had previously defeated Barty and then pushed her in the corresponding round two years ago.
But this is a different Barty, now a two-time grand slam champion who has been at the top of the women's game for three years running.
Tsurenko found this out the hard way, not getting on the scoreboard in the opening set which Barty won in just 24 minutes.
The trend continued in the second set with the Ukrainian simply having no answers to the power and precision from the Queenslander who was loving being back at Melbourne Park.
– Scott Gullan
7:55PM AEDT KOKK'S SUMMER ENDS IN DISASTER
Thanasi Kokkinakis' dream summer has ended in disaster, with the popular comeback talent dumped from the Australian Open after a disappointing round one loss to German qualifier Yannick Hanfmann.
Kokkinakis entered the tournament with high expectations and the most wins on tour in 2022 – care of his success at the Adelaide International – but that counted for little against the towering German, who floored the Australian with a straight-sets clinical display.
Despite toppling fellow giants John Isner and Marin Cilic en route to the Adelaide International final, where he won his first Tour-level title last week, Kokkinakis has no answer to the German's powerful serve.
Hanfmann was near untouchable when landing his first serve, and came up clutch in the big moments, breaking Kokkinakis five times while having a perfect eight from eight record on break points saved.
Even the backing of a raucous Court 3 crowd wasn't enough to inspire Kokkinakis, who suffered regular body blows and looked a shadow of the player that roared last week to claim his maiden title in Adelaide.
– Joe Barton
Thanasi Kokkinakis is out of the Australian Open. Picture: Getty Images
7:45: AEDT BARTY TAKES OPENING SET
Ash Barty is making a statement at Melbourne Park.
The world number one has put on a clinic in the opening set of her first round match against Lesia Tsurenko of the Ukraine.
Barty took just 24 minutes to take the opening set 6-0.
Barty smashed eight winners, had two aces and won a whopping 15 more points than Tsurenko.
This could be an early night for the hot favourite.
7:20PM AEDT KOKK'S OPEN DREAM IN DANGER OF BLOWING UP
Thanasi Kokkinakis is in serious trouble at Melbourne Park, with his Australian Open dream in danger of blowing up at the hands of a German qualifier.
The towering Yannick Hanfmann has grabbed a two-sets-to-love lead, with Kokkinakis' stunning lead-in form nowhere to be seen.
Despite toppling fellow giants John Isner and Marin Cilic en route to the Adelaide International final, where he won his first Tour-level title, Kokkinakis has no answer to the German's powerful serve.
Hanfmann leads 6-2 6-3 in front of a raucous pro-Kokkinakis crowd on Court 3.
7:15PM BARTY OUT ON COURT FOR OPENER
The Aussie flavour to the night session is only just getting started, with Ash Barty out on court to take on Lesia Tsurenko of the Ukraine.
Has a world number one ever hit a home slam more under the radar than what Ash currently is?
I guess we can thank Novak Djokovic for that.
Barty already has one title this year. Can she make it two this fortnight?
6:55PM: STARS RUSH TO HELP AS BALLGIRL COLLAPSES
It is one thing to show sportsmanship on court, but it's another to display it when the match is on the line.
That's what Spaniard Pedro Martinez and Argentinian Federico Delbonis did during their marathon first-set tiebreak, rushing to the aid of a ballgirl who had collapsed due to the heat on the outdoor court.
The score was 8-9 in the tiebreak at that stage, with Martinez running to the other end to rush to her aid along with Delbonis.
Martinez went on to win the lengthy tiebreak 17-15 and the match in four sets, but this match will be best remembered for this act of kindness during a critical moment of their contest.
6:30PM GAUFF ELIMINATED IN BLAZE OF ERRORS
American 18th seed Coco Gauff has been dumped out of the Australian Open in a blaze of unforced errors, losing 6-4, 6-2 to China's Wang Qiang in a huge upset.
Gauff, the youngest player in the draw at 17, was dominated by the world number 110 in just 73 minutes of action on Margaret Court Arena.
Gauff's only bright spot in a one-sided second set came as she saved four match points from 5-0 down.
She was comprehensively beaten by Wang for the first time in three meetings between the pair, melting down to make 38 unforced errors.
"You know I lost two times against her last year so I just tried my best to focus on court," said Wang.
6:15PM KOKKINAKIS DROPS THE OPENING SET
It hasn't been a great start to the Australian Open for Thanasi Kokkinakis, who has dropped the opening set of his match with Yannick Hanfmann.
Kokkinakis was broken in his opening service game and was unable to recover, going down 6-2.
Unforced errors have been the big problem for the Aussie. He has 16 already, double what Hanfmann has.
The Melbourne Park crowd is doing its best to fire him up.
5:50PM: KOKKINAKIS HITS COURT FOR ROUND 1
Fresh off his Adelaide title, Thanasi Kokkinakis is out on court for his opening round clash against German Yannick Hanfmann.
It is a huge opportunity for Kokkinakis to continue his winning run of form, with Hanfmann ranked just inside the world's top 100.
The only question for Kokkinakis is how his body responds to the big week in Adelaide. Can he back up with a big five setter if required? Stay tuned for the updates.
5:30PM OSAKA'S BLUNT RESPONSE TO DJOKER QUESTION
He might not be at Melbourne Park but the shadow of Novak Djokovic is still hanging over the Australian Open.
Almost every player has been asked their opinion about what happened to the recently deported world No. 1 – with some giving long and insightful answers on the situation.
Naomi Osaka didn't exactly fall into the category when she was asked about Djokovic after her first Round win.
This is how the exchange played out.
Reporter: Do you believe Djokovic should be playing at the Australian Open this year?
Osaka: Is my opinion going to help anything?
Reporter: Asking what other players think of the situation.
Osaka: Yeah, I'll kind of pass on that. Thanks, though.
That wasn't just a pass. It was a hard pass.
5:15PM: 'IMODIUM, GRAZIE': STAR'S AWKWARD AUS OPEN ISSUE
Some players thank their coaches after a win. Others give a shout out to their sponsors.
Matteo Berrettini? To Imodium – the over-the-counter medicine to help stop the runs.
After securing a second round berth, the Italian 7th seed wrote: "Imodium, Grazie!" on the camera as he left the court.
We can only imagine what he has been going through the past few days.
Actually, we don't even want to try.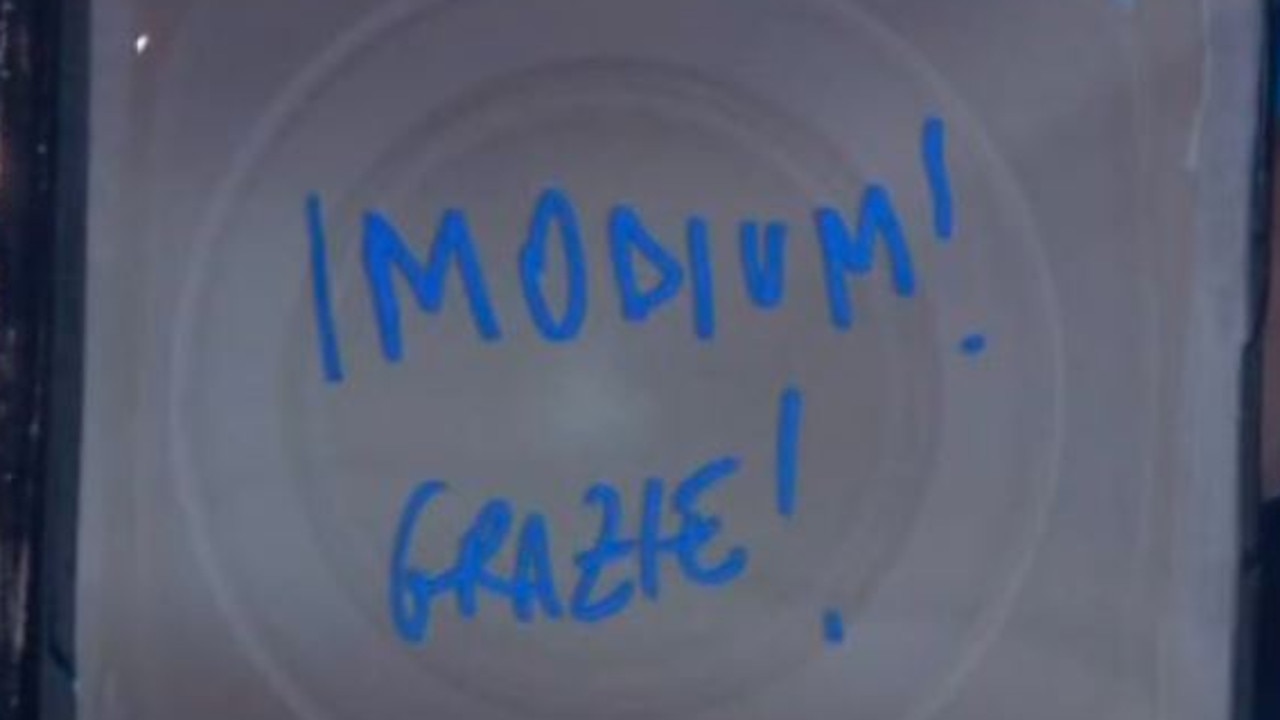 How Matteo Berrettini signed the TV camera.
5PM – NADAL MOVES TO ROUND 2
Joe Barton
Well, that was easy. Rafael Nadal is through to the second round at Melbourne Park.
You'd say he barely broke a sweat in the 6-1 6-4 6-2 thrashing, but we know the Spaniard is one of the most prolific sweaters on tour.
Even so, he couldn't have looked anymore impressive in the 6-1 6-4 6-2 domination of American Marcos Giron.
4:45PM FAVOURITE SHUTS DOWN DJOKER QUESTIONS
The Novak Djokovic sideshow isn't finished at the Australian Open, just yet.
Popular Frenchman Gael Monfils burst through to the second-round with a fantastic straight-sets win over Federico Coria.
Monfils stands to benefit from the Serbian star's exit, given he was slated to take on the 20-time grand slam winner in the fourth round, but when he fronted the press afterwards, he quickly shutdown any Djokovic-angled questions.
"To be honest, I just think about the tournament now," he said when asked for his thoughts on the saga.
Monfils was prompted to talk about the unfolding opportunity for the remainder of the men's tour, without the fearsome Djokovic locked in on grand slam title No. 21 to worry about.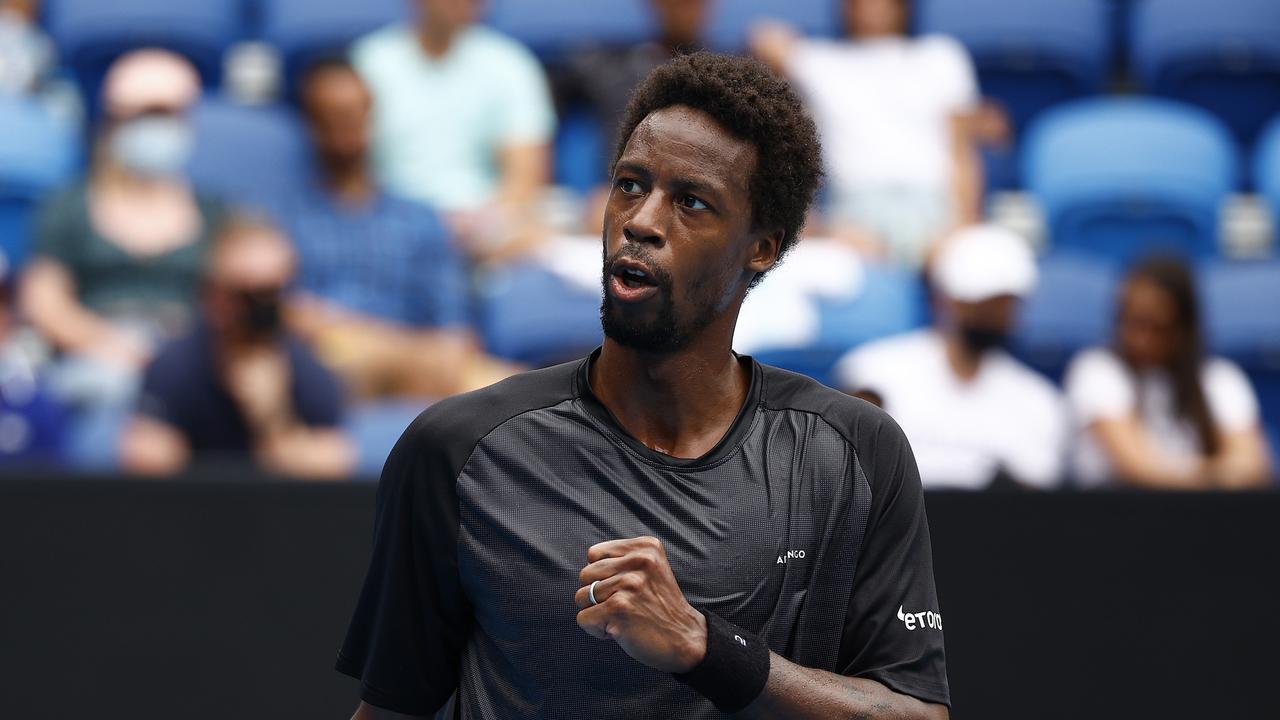 Gael Monfils shut down questions surrounding Novak Djokovic. Picture: Daniel Pockett/Getty Images
"I don't see any opportunity. You have opportunity to play a match after each win," he said.
"I don't know where he was in the draw, who got the opportunities or whatever.
"You know me, I'm just happy to have another opportunity to win another match, maybe go to another third one in the Australian Open."
Monfils beamed after the tremendous victory as the two embraced at the net, a far cry from the tears he shed just under 12 months ago following a shock first-round exit.
4:03pm DUCKWORTH INTO FIFTH SET
We're going the distance over at Court 7!
Aussie James Duckworth has just lost the fourth set 6-2 to Frenchman Adrian Mannarino, after he clinched both the second and third sets.
He is sure to have the crowd behind him, but Mannarino will go into the deciding set with all the momentum.
In other news, 10th ranked Tunisian star Ons Jabeur has withdrawn just minutes before her first-round match.
3:19pm NADAL FIRST SET DEMOLITION
Joe Barton
Rafael Nadal is rolling on Rod Laver Arena.
While all the attention was on Novak Djokovic in the past week, it was perhaps momentarily lost on the general public that another 20-time grand slam champion is going for history this fortnight.
And Nadal started in the right manner, with a bruising first set demolition of Marcos Giron – taking the American to pieces in a ruthless 24-minute set, taking it 6-1.
2:38pm OSAKA DISPATCHES OSORIO
Joe Barton
It was a bit of a bigger challenge than she might have expected, especially after ripping through the opening five games in just 20 minutes, but Naomi Osaka has cleared her first hurdle at her Australian Open defence.
The two-time champion dispatched 20-year-old Colombian Camila Osorio in little more than an hour as she continues her comeback from a lengthy break from tennis.
Osaka picked up where she left off on Rod Laver Arena on Monday, surging to a 5-0 lead in the blink of an eye before her young rival responded.
The former world No. 1 admitted she had trouble doing research on Osorio, who handled herself well to rebound from the early shellacking at the hands of Osaka.
"I played pretty well given the circumstances, I didn't have much information on my opponent," Osaka said.
"She was fighting for every point which is a good quality – we'll see more of her."
But after little more than an hour, it was all over with Osaka wining 6-3 6-3.
Osaka will next face the winner of Ukraine's Dayana Yastremska and American Madison Brengle – with a potential fourth-round against Ashleigh Barty awaiting.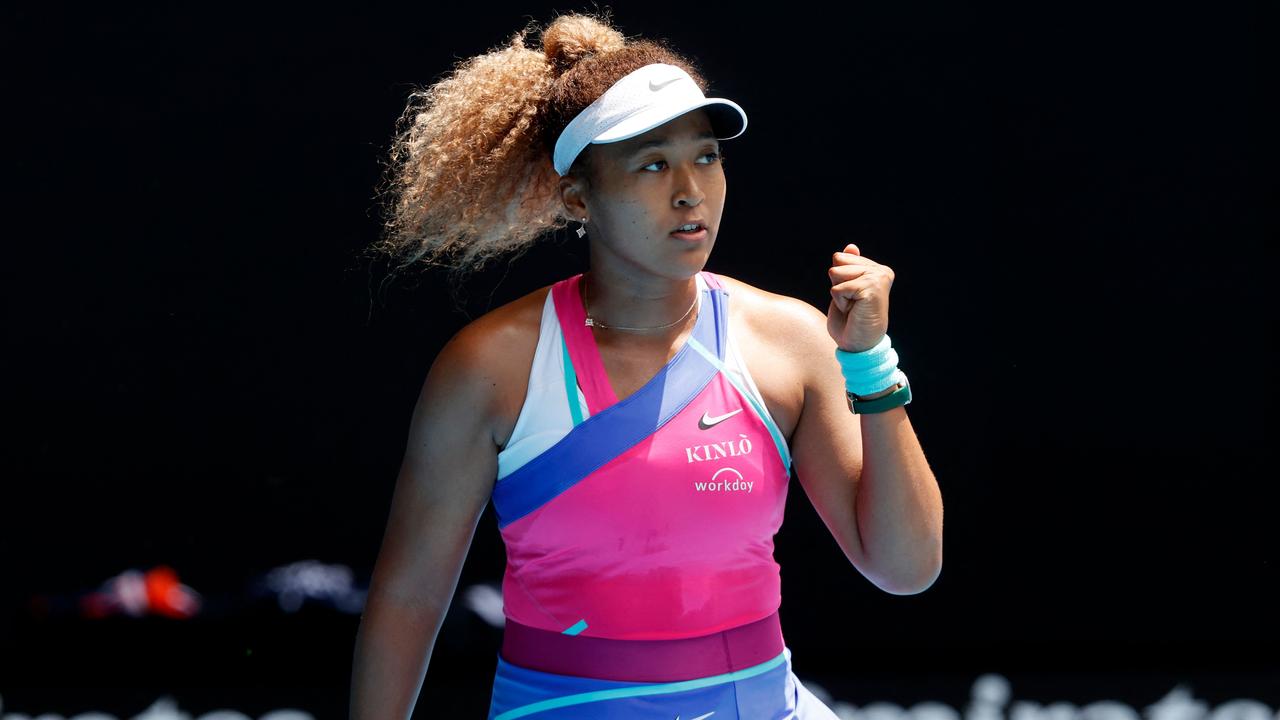 Naomi Osaka is through to the second round. Picture: AFP
1:56pm OSAKA WOBBLES
By Joe Barton
That was ominous.
If there were any concerns about Naomi Osaka's mindset, or conditioning, heading into her Australian Open defence, she blew them away in a stunning opening set of her tournament.
Within the blink of an eye, the former world No. 1 was 5-0 against a shellshocked Camila Osorio.
The 20-year-old Colombian rallied, and earned warm applause from the crowd after taking 20 minutes to get on the scoreboard, but the damage was done as she conceded the first 6-3 set in 31 minutes.
All things going well, Osaka will square off with Australia's Ashleigh Barty in the fourth round – and the early signs are the two-time champion is ready to reignite her love affair with Rod Laver Arena.
1:23pm VUKIC IS FLYING
Vukic is ahead! He's taken the third set and has a 2-1 lead against Lloyd. The noise coming from Court 3 is incredible. It's the storyline we love to follow at the Open, the unknown Aussie making waves.
"There's opportunities for Lloyd to build pressure," said Sam Groth. "Vukic is hanging tough and that's what got it done in the end. Harris is down two sets to one and he had all the opportunity in that third set."
Aleksandar Vukic of Australia
1:10pm AUSSIE IN FORM
Don't want to go too early here but there is a raucous noise coming from court 3 where Australia's Aleksander Vukic is pushing No. 30 seed Lloyd Harris hard in their clash.
Its'a set apiece and 5-5 in the third so stick with this one.
12:40pm WINNERS
Belinda Bencic and Camilla Giorgi are through to round two after effortless opening wins.
Keep your eye on Giorgi, she is en route for a third round clash with Ash.
Also through is Maria Sakkari who has claimed the first win on Rod Laver Arena for 2022 beating Tatjana Maria in straight sets.
12:32pm KYRGIOS ON HIS FAVOURITE COURT
12:10pm WHAT'S THE PAY DAY?
Tatjana Maria is a set down and looking at a $103k pay day if she doesn't figure something out against Maria Sakkari.
PRIZEMONEY
Singles champions: $2,875,000
Runners-up: $1,575,000
Semi-finalists: $895,000
Quarter-finalists: $538,500
Fourth-round losers: $328,000
Third-round losers: $221,000
Second-round losers: $154,000
First-round losers: $103,000
11:50am BLAME GAME BEGINS
Tennis Australia should bear a weight of responsibility for the Novak Djokovic saga, according to top Aussie coach and former player Darren Cahill.
Cahill, who mentored Simona Halep throughout her years as world No. 1, said the entire situation was "a complete and utter mess", but said Tennis Australia chief executive and tournament director Craig Tiley should not be the scapegoat.
"I hated the exemption he had … because I think that exemption was for people who wanted to get vaccinated and couldn't because they got COVID and you have to wait three, six months and then you get vaccinated," Cahill said on Nine.
"Novak never wanted to be vaccinated so I hated that exemption. If you have an acute medical illness or something holding you back from getting it, no problem, but I didn't like the whole thing at the start.
"It was a mess from the start and got worse and worse. I think a lot of responsibility sits with the Tennis Australia board.
"I would hate to see Craig Tiley have it all sitting on his shoulders."
Ok. I'm out. I can't listen to that court case anymore. All a bloody mess.

A reminder that the AO actually starts tomorrow morning at 11am.

Some great matches & players to kick off Day 1. Here's the schedule.

See ya tomorrow at the AOhttps://t.co/ffopwSE1ea

— Darren Cahill (@darren_cahill) January 16, 2022
11am KYRGIOS SPEAKS OUT
Play is underway at Melbourne Park but we're all talking about Novak.
As more and more players voice their opinions on the world No 1's deportation, Nick Kyrgios has engaged with Alize Cornet who suggested no one had come to Djokovic's defence.
"I know too little to judge the situation," the Frenchwomans tweeted.
"What I know is that Novak is always the first one to stand for the players. But none of us stood for him. Be strong."
Enter Nick, who, despite his "feud" with Djokovic has been vocal in his defence of the Serb.
I know too little to judge the situation.
What I know is that Novak is always the first one to stand for the players. But none of us stood for him.
Be strong @DjokerNole

— Alize Cornet (@alizecornet) January 16, 2022
RLA starts with Tatjana v Sakkari.
10:39am DJOKOVIC SAGA SLAMMED BY NBA STARS
Even NBA players are buying into the "unbelievable" Novak Djokovic saga.
Chicago Bull Nikola Vucevic has accused the Australian government of "using their power to show off and get extra followers".
And he also delivered a drive-by to Djokovic's fellow tennis stars on the way through.
"What happened to Djokovic is just politicians using their power to show off and get extra followers. It has nothing to do with Covid or visa issues, they used him to try to make themselves look better," the Montenegrin wrote on Twitter.
"Very sad how they treated a First Class Champion!
"Also to me the saddest thing in this whole Djokovic thing was that only two of his colleagues stood by his side, everyone else got scared … unbelievable."
Vucevic's opponent, New York Knick Evan Fournier disagreed in simple style.
"Na bro," he countered.
Vucevic has been overwhelmingly slammed by hundreds of his followers for his stance.
10:26am NO ASTERISK NEXT TO WINNER
Nick Kyrgios' first-round opponent has slammed the suggestion that the Australian Open winner would have an "asterisk" in the absence of Novak Djokovic.
Djokovic was sensationally deported on Sunday night, quashing his attempt at a record 21st grand slam.
But whoever wins the Open shouldn't be diminished, according to Liam Broady.
"I hate the argument that there should be an asterisk next to this year's winner of the Australian Open," he wrote.
"That would mean every tournament that the world number 1 doesn't play should have an asterisk next to it. For most of the 60's the best players didn't even play the slams."
"I hate the argument that there should be an asterisk next to this years winner of the Australian Open," he wrote. "That would mean every tournament that the world number 1 doesn't play should have an asterisk next to it. For most of the 60's the best players didn't even play the slams
🇦🇺 [WC] Aleksandar Vukic v [30] Lloyd Harris 🇿🇦
🇦🇺 James Duckworth v Adrian Mannarino 🇫🇷
🇦🇺 [WC] Thanasi Kokkinakis v [Q] Yannick Hanfmann 🇩🇪
🇦🇺 [1] Ash Barty v [Q] Lesia Tsurenko 🇺🇦
🇦🇺 John Millman v Feliciano Lopez 🇪🇸
🇦🇺 Ajla Tomljanovic v [8] Paula Badosa 🇪🇸

— TennisAustralia (@TennisAustralia) January 16, 2022
9AM HUNT SHUTS DOWN ACCUSATIONS
Federal health minister Greg Hunt has dismissed the notion that in deporting Djokovic, the government has made Djokovic the face of the anti-vaccination movement.
He maintained that Djokovic's attempt at a medical exemption to enter Australia was "not a valid one" – as he said he had communicated to tennis authorities.
"Our position had been very clear from the outset, as was put in writing by me on the 29th of November to Tennis Australia," he told ABC Radio National.
"(It was) not about any individual player … (I told them) that prior infection is not a valid medical exemption.
"That exemption was provided in the Victorian process. That wasn't accepted, it had never been the position and the Australian government has been very clear on the same rules for all.
"We're very clear on these rules. It applies to everybody without fear or favour."
He said that the rules had been "enforced even-handedly" and that the government had "set a very clear position".
But Hunt was adamant that despite the arguments of the Serbian star's lawyers, he was not something of a "pin-up" for the anti-vaccination movement.
"No, we've set a very clear position," he said.
"I guess the alternative position … (would have been) why would you have one rule for him and one rule for everybody else around the world and for Australians?
"We've got two things here – a consistent rule and a strong position which is pro-vaccination. The consistent rule is about entry into Australia and control of our borders … it's actually a very strong example of democracy being equal for all. I think that's an important Australian principle."
Originally published as Australian Open day 1: Recap all the action from a huge opening day at Melbourne Park