Australian Open 2021-22: Why Alex de Minaur spent Christmas Day with Tony Roche, sweating up a storm
While the rest of the nation was tucking into Christmas lunch, Alex de Minaur was trying not to lose his. Boxing Day leftovers went the same way, because he and tennis icon Tony Roche know simply no other way.
Alex de Minaur knows that the key to his success in tennis now is 'believing in himself.'
No days off. Sounds fanatical. Irrational even.
For Alex de Minaur, it is normal, so his Australian Open preparation will be no different.
In late November De Minaur led Australia's Davis Cup efforts against Hungary with typical vim and vigour, going down in a tight loss to former US Open champion Marin Cilic and prevailing in an equally narrow win over Marton Fucsovics, the Hungarian built like a block of flats.
The Fucsovics win came on a Saturday in Turin, Italy. The next day De Minaur flew back to his European base in Spain and trained every day in the soft winter sun until heading home on December 23.
The fog of jet lag wasn't given a chance to settle on arrival in Sydney. Luggage down, tennis bags up, he made a beeline for the most famed backyard in Australian tennis.
Tony Roche has welcomed plenty of greats to his home in Sydney's leafy northern suburbs and the court attached to it. Lendl, Rafter, Hewitt. They've all dropped serious sweat under Roche's watchful eye, his training methods taking them to the brink of their physical possibilities and back again.
And it was there, on Roche's time-honoured rebound ace court, that De Minaur treated himself to his perfect Christmas Day.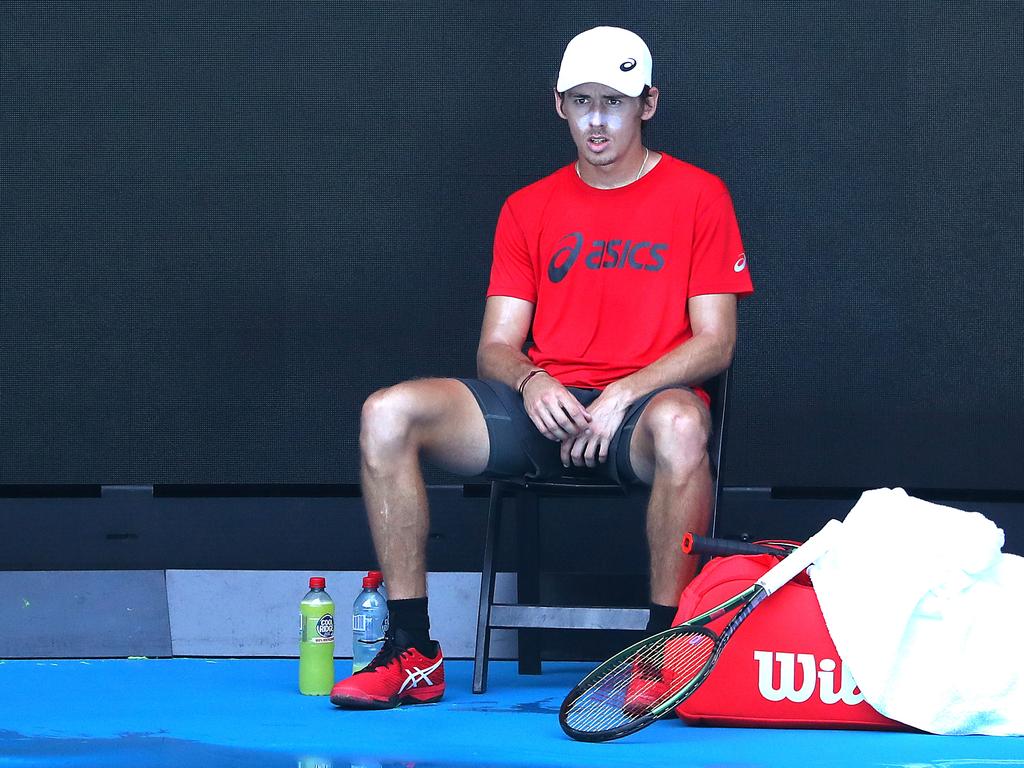 Alex de Minaur during a practise session ahead of the 2022 Australian Open. Picture: Kelly Defina/Getty Images
Three hours in sapping humidity, running like a rabbit as Roche watched on.
And as the rest of us let Christmas lunch settle, De Minaur threw himself into a gym session.
Then as the rest of us prised open a willing fridge for the joy of Boxing Day leftovers, De Minaur did exactly the same thing. Three hours. Sweat, venom, intent, then gym.
No days off.
Merry Christmas, Alex. You can open your presents in late January.
*****
De Minaur lives in the land of giants.
Just touching 182 centimetres, and barely sending the scale over 70 kilos, he's an outlier in men's tennis.
His nimble, slight frame needs to be in prime condition to combat the sheer power that, on the balance of the probabilities, he faces multiple times at every tournament: the average height in the top 20 is 190cm.
Novak Djokovic is a shade under that, but is also cast in the athletic mould of an Olympic gymnast. The three closest to him in the rankings aren't musclebound Nadal-types, but Daniil Medvedev, Alex Zverev (both 198cm) and Stefanos Tsitsipas (193cm) still all start a point on serve with an obvious advantage.
None of this is new for De Minaur, who has almost always been the smallest from the start of his junior career, including the first time he played at Wimbledon.
In 2015, with his frame resembling a coathanger inside his baggy white shirt, 16-year-old De Minaur scratched and fought his way through qualifying for the Boys Singles (an under 18s event).
Come the main draw, he walked out to oppose an American who could touch the clouds.
Reilly Opelka, all 211 cm of him, bombarded De Minaur. The Australian's shirt flapped as he somehow concocted ways of returning serves at a minimum of head height.
Yet on that outside court that afternoon, there was a window to the future. De Minaur was relentless in his endeavour to repel Opelka's bombs. Whenever a rally developed, he'd buzz with electricity around the court. In the end, the unfair combination of biology and physics won out. De Minaur fell in the decider 13-11 and he sloped off, despondent.
To the handful of onlookers courtside, he had no right to win. If it were boxing, the fight would never have been sanctioned. De Minaur was filthy he lost because of the belief he carries to this day; physical stature does not matter.
"If I complain about everyone being bigger and stronger that's not going to take me anywhere," De Minaur says.
"I learnt from a young age to find different ways to win. Attitude, mentality, develop my speed. If I was a bigger, stronger guy maybe I wouldn't have to work as hard off the court because I can get free points. That's why I've got to make sure my body is in the best possible shape to allow me to perform… and there's no secret to it."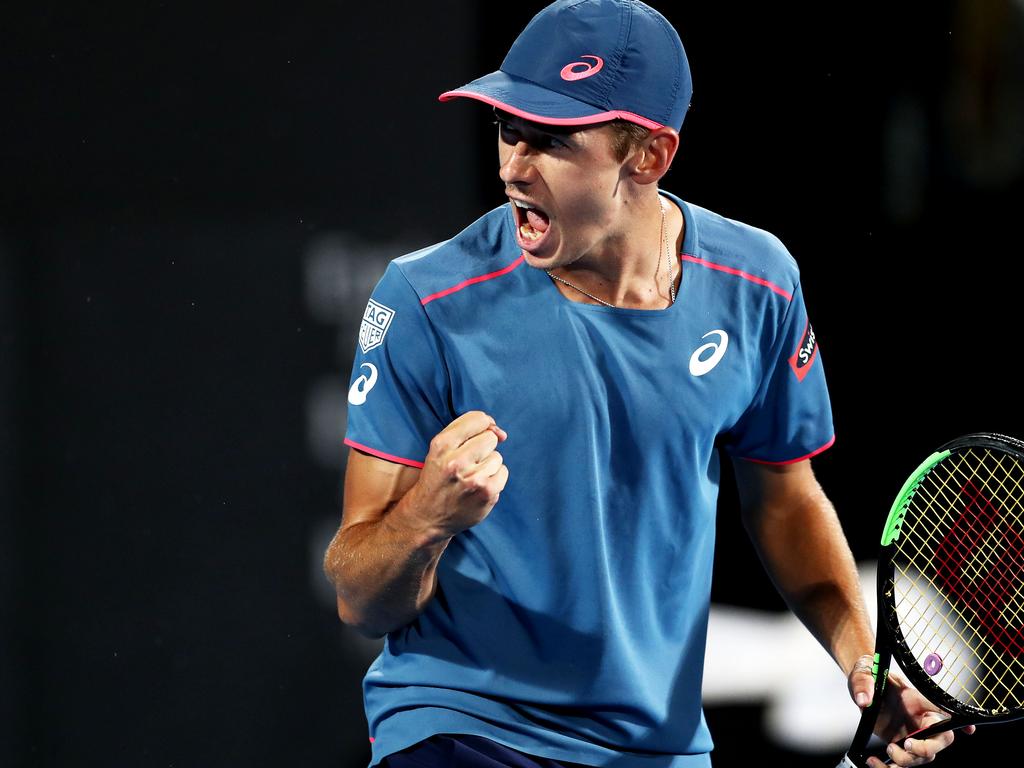 De Minaur against Reilly Opelka at the 2019 Sydney International. He emerged a winner this time. Picture: Matt King/Getty Images
De Minaur has been on this path since the end of primary school when his parents Anibal and Esther, realised their son had a future with racquet in hand and eschewed high school for homeschooling so he could structure his day around long, challenging hours on the concrete courts of Homebush in Sydney's west.
"You always think about how life would have been, especially social aspects of being a bit more chilled out but look at what I've been able to accomplish so far," De Minaur says, with over $8 million in prize money and five tour titles to his name.
"That's all down to the sacrifices I've made and the hard work. I'm sure when I'm done with tennis I'll have plenty of time to chill out and have a social life."
Or at least enjoy a normal Christmas Day.
*****
Tony Roche is royalty with a racquet in this country, the most experienced attachment to the golden era of Australian tennis.
Roche played in the same era as Laver and Rosewall, their methods shaped under the tutelage of Harry Hopman, captain of 16 Australian Davis Cup titles and creator of the mantra – You want to be good at tennis? You'd better be damn well prepared.
'Hopmanism', because it deserves a name, has passed on from generation to generation, and Roche still guides with the same philosophy. As with all good secrets, the principle got out, prompting Ivan Lendl and Roger Federer to employ Roche at the height of their respective careers, he in turn pushing them to another level.
There's no real secret to Hopmanism. Sure, there's subtle technique changes developed, and tactical instruction, but at the heart of every session is relentless work. Coach stands with a basket of balls. Player scampers to a forehand, then to a backhand. Repeat. Empty the basket of balls. Do it again and again and again until the player's every chance of emptying his stomach.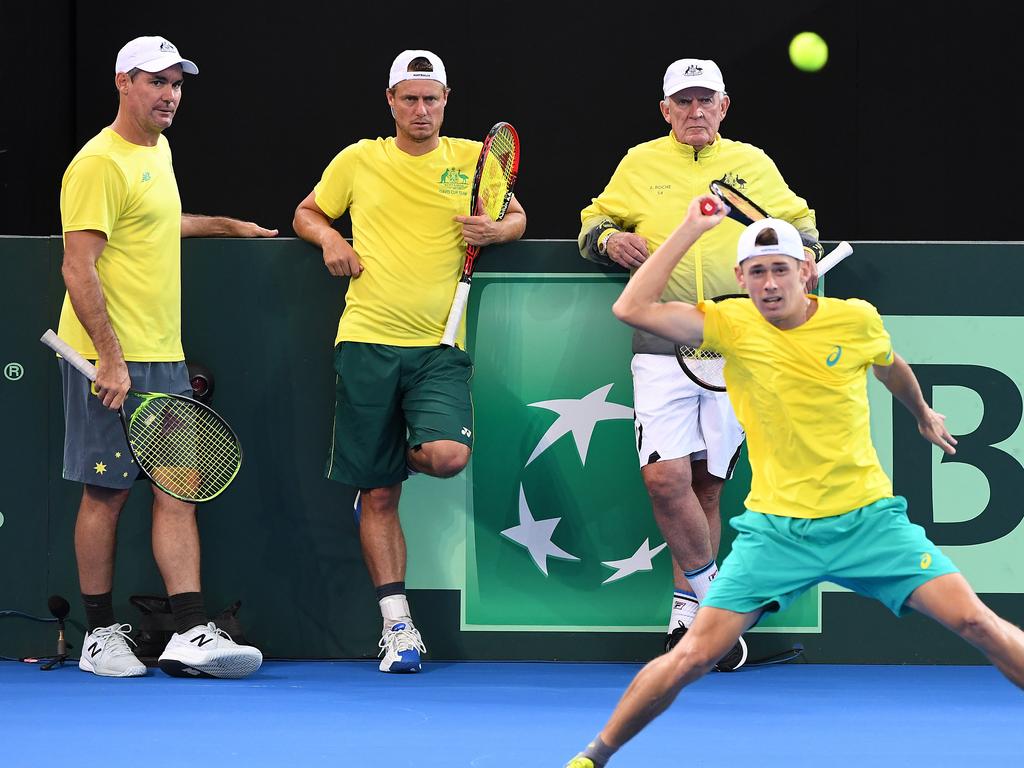 Jaymon Crabb, Lleyton Hewitt and coach Tony Roche watch de Minaur during training in 2018. Picture: AAP
The secret, if there is one, is being able to survive it, because if you do, prosperity will come of it.
De Minaur has a regular coach that travels with him, Spaniard Adolfo Gutierrez, but when the opportunity to spend Christmas at Rochey's popped up, he jumped at the chance.
"Tough as nails," is how De Minaur describes the two sessions. Fellow Australian top 75 player Jordan Thompson was there hitting with De Minaur and labelled them the two hardest days of the year.
"If you want to have the right prep for the summer," De Minaur says, "those days off were going to hurt me.
"And when Rochey says something, you bloody listen."
Roche, 76, spends limited time on the tour now. He is involved in the Davis Cup set-up, but given that competition has been bastardised to become the best of three sets and truncated into one finals week instead of ties through the year, he's mainly on a 'there-if-you-need-me' basis.
His methods are not for everyone. Nick Kyrgios does things his own way. Bernard Tomic certainly has his own, well, unique way as well. But for anyone else on the radar of national representation, something De Minaur cherishes to the extent that 109 – his Davis Cup number – is tattooed across his heart, Roche's backyard is the preference.
*****
De Minaur's home tournament has yet to live up to the "happy slam" moniker it is generally known as among his contemporaries.
His best result is the third round in 2019 and 2021. Well under expectation, though twice he's arrived in Melbourne injured after overdoing his preparation.
Not this time. De Minaur pulled out of this week's Sydney lead-in after getting what he needed out of the ATP Cup, which included a win over world number seven and 196cm tall timber Matteo Berrettini.
Russian heavyweight Medvedev also delivered a timely reality check with a clinical straight sets defeat.
In both the Berrettini victory and Medvedev loss, Roche's words from Christmas rang loud and true.
"He was telling me; keep backing myself, don't get pushed around," De Minaur says.
"When I'm playing well I'm taking it to these bigger guys and at times getting them off the court. I'm always going to win a lot of matches by being tough and solid, but when I'm hitting through people, that's when I'm playing my best tennis."
It is lovely when a plan comes off, and there'll be plenty of players in Melbourne who know they couldn't have done any more to prepare.
De Minaur sits near the top of that list.
Everything old about Australian tennis, could bring about something new for our number one male player.
"The best thing about where I'm at right now is I know I've put in all the hard yards. When I step on court I know I've got that foundation.
"Now, it's about believing in myself."