Australian Open 2022: Andy Murray triumphs in five-set battle to reach Australian Open second round
The 34-year-old effectively retired three years ago in Melbourne and made a winning return with his metal hip, writes STUART FRASER.
Andy Murray dug deep to see off No.21 Nikoloz Basilashvili 6-1, 3-6, 6-4, 6-7 (5-7), 6-4 in the first round of the Australian Open. Picture: William West/AFP
Three years after Andy Murray received farewell video messages from the likes of Roger Federer and Rafael Nadal on the large television screens at Melbourne Park, the three-times grand-slam champion returned with a metal hip and produced another remarkable moment in this extraordinary comeback story.
Not for the first time, Murray, 34, dug deep into his physical and mental reserves over the course of five sets in almost four hours, seeing off the No 21 seed, Nikoloz Basilashvili, 6-1, 3-6, 6-4, 6-7 (5-7), 6-4 in a captivating Australian Open first-round match. The victory is his best by ranking at a grand-slam tournament since defeating Kei Nishikori, then the world No 9, in the quarter-finals of the 2017 French Open, shortly before his right hip descended into a debilitating state.
Murray's implant was given a thorough test in the John Cain Arena, the same stadium in which he had seemingly retired back in 2019. Basilashvili is the most powerful ball-striker off both sides on the tour, ranking No 1 last year for an average shot speed of 82mph on his forehand and 79mph on his backhand. As a result, Murray was repeatedly forced to quickly dash from side to side behind the baseline to try to counter the ferocious groundstrokes coming his way.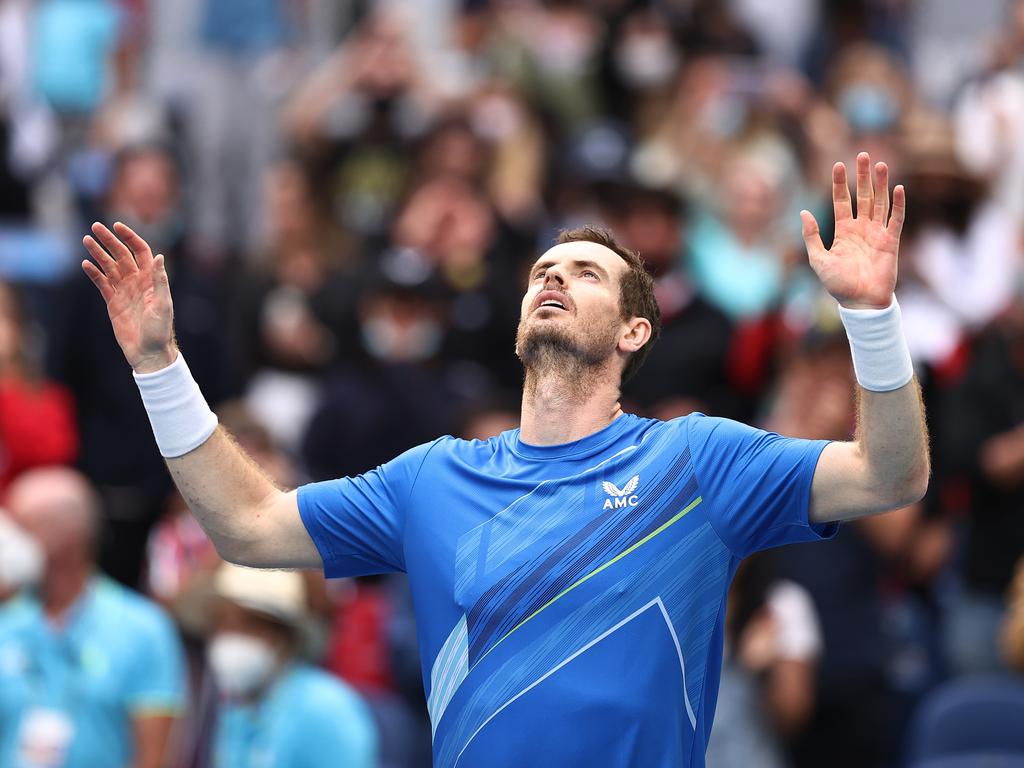 Murray holds his arms aloft in celebration after winning the match. Picture: Cameron Spencer/Getty Images
No wonder a mixture of exhaustion, emotion and relief overcame Murray afterwards as he buried his head into a towel on the courtside chair. The rehabilitation process after his resurfacing operation was painstaking and there were occasions in which even he, a renowned workhorse, doubted whether he could continue. But on the evidence of the past week, after finishing runner-up at the Sydney Classic and now knocking out a seed at the first hurdle in Melbourne, the world No 113 still has much to offer.
"It is amazing," Murray said. "It has been a tough three or four years. It is a lot of hard work to get back here. I have played on this court many times. The atmosphere is always incredible. This is where I thought I had potentially played my last match three years ago. It is great to be back. I couldn't ask for anything more."
This was the second time in seven days that Murray and Basilashvili had come up against each other. In a similarly tight second-round battle in Sydney, Murray had prevailed in a third-set tie-break before the randomised Australian Open draw computer produced a rematch the next day.
Basilashvili, 29, made a dreadful start here. Struggling in the swirling wind, he mis-hit one serve high into the stands off the top of his racket frame. He was not much better off the ground either, producing an untidy ratio of three winners and 18 unforced errors in a first set that only lasted 23 minutes.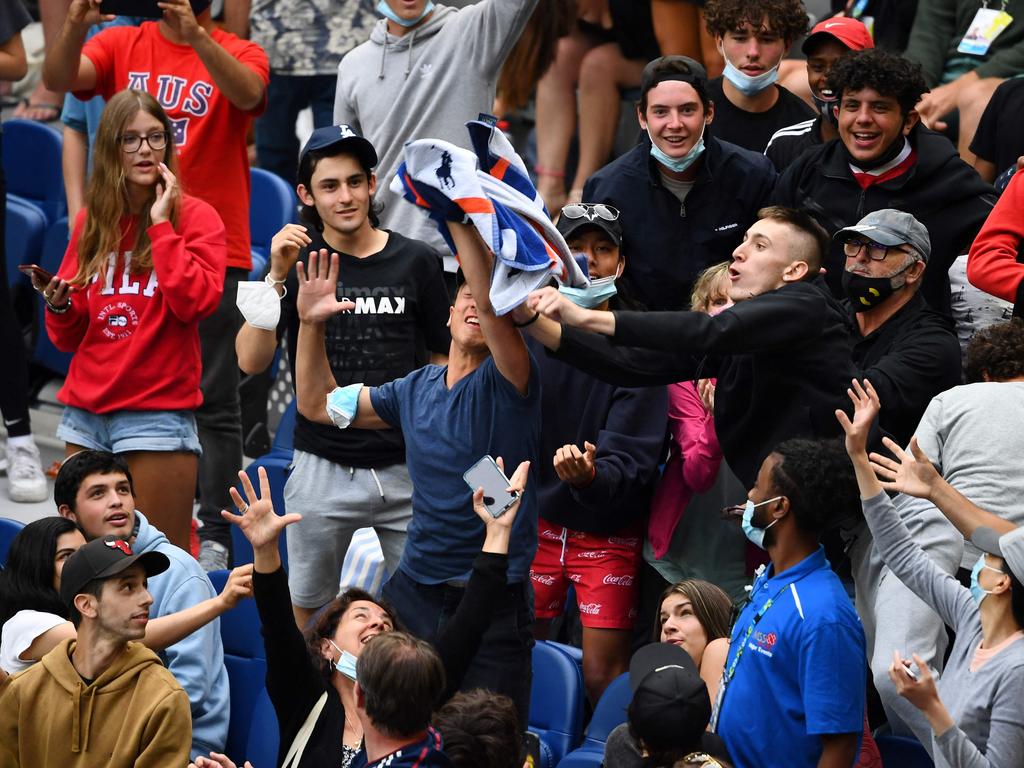 Fans in Melbourne scramble to catch Murray's towel after the match. Picture: William West/AFP
Murray eventually faced some resistance in the third game of the second set, dropping his serve to love as Basilashvili started to find his range at last. The Georgian then won four of the next six games to level the match at one set all.
The Briton edged back in front with a pivotal break for 4-3 in the third set after both players had dropped their serve in the previous two games. Soaking up the power of Basilashvili by defending for his life metres behind the baseline, he managed to serve out the set.
After more than two hours, it was somewhat inevitable that Murray started to physically fade in the fourth set. After one long point on serve at 4-5, he doubled over in exhaustion and was breathing heavily. He did well to force a tie-break, but Basilashvili quickly moved 5-1 ahead and converted a third set point at 6-5 to force a decider.
Murray did well to halt Basilashvili's momentum, winning the first eight points of the fifth set for a 2-0 lead. Although Basilashvili levelled at 4-4, Murray hit back when it mattered most, breaking serve at 5-4 for a memorable triumph. If there are no issues with his recovery, then he should be confident of getting past Taro Daniel, the world No 120 from Japan, in the second round on Thursday.
"Now I want to keep improving," Murray said. "I would love to have a deep run here if possible. It is not something I have done in grand slams since I have come back and it is motivating me."
Murray's efforts were greatly appreciated by the crowd of about 5,000 people, although some television viewers were left confused when it sounded as if some were booing him. It was, in fact, a group of young spectators mimicking the trademark "Siu" celebration of the Manchester United footballer, Cristiano Ronaldo.
Andy Murray takes on Nikoloz Basilashvili on Day 2 of the 2022 Australian Open. Picture: Michael Klein.
"It was incredibly irritating," Murray said, with a wry smile on his face.
Dan Evans continued his strong start to the season by joining Murray in the second round. The British No 2 picked up his sixth win in seven matches, defeating Belgium's David Goffin 6-4, 6-3, 6-0. as he reaps the rewards of a laid-back approach to the truncated off-season period of only four weeks.
"I wasn't too hard on myself in pre-season," Evans, the No 24 seed, said. "There is no point in going after it in the gym when I didn't have too long to go. I've just carried on doing what I was doing at the end of last year. It was a long year. Seems it's been the right decision. I have played some good tennis already."
Liam Broady could not get the better of the mercurial Australian Nick Kyrgios, who produced a high level of play in between his usual antics for a 6-4, 6-4, 6-3 win. The excitable home fans were treated to underarm serves, swearing and even beer-drinking when Kyrgios took a quick sip out of one fan's plastic cup as he left the court.
Kyrgios now faces a box-office encounter with Daniil Medvedev, the world No 2, who opened his campaign with a comfortable 6-1, 6-4, 7-6 (7-3) victory against Switzerland's Henri Laaksonen. The 25-year-old Russian, who won his first grand-slam title at the US Open last September, is considered by many as the favourite in the men's draw after the deportation of the nine-times champion Novak Djokovic.
In the first round of the women's singles, Heather Watson claimed only her second win on the tour since last summer's grass-court season. The British No 2, who is perilously close to dropping outside of the world's top 100 at No 94, prevailed 6-3, 5-7, 6-2 against Egypt's Mayar Sherif.
Harriet Dart raced out of the blocks on the main Rod Laver Arena by taking a 3-1 lead against the world No 9 Iga Swiatek, but this was as good as it got for the British qualifier. She lost the next 11 games to go down 6-3, 6-0 in 72 minutes.