Australian Open 2022: Ash Barty sends warning with brutal round 1 victory
Not even the WTA website knows much about Ash Barty's next opponent. And the numbers that separate the pair are staggering.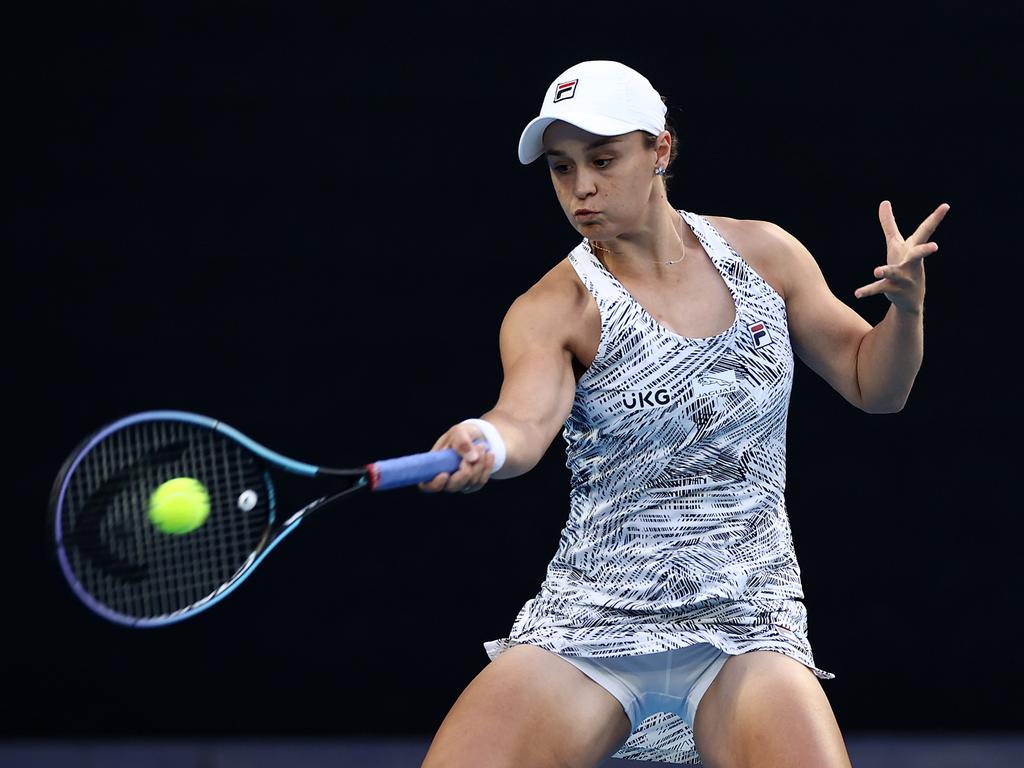 Ash Barty looked at home on Rod Laver Arena with a dominant first round victory. Picture: Cameron Spencer/Getty Images
Ash Barty's second-round opponent has already doubled her career earnings at the Australian Open.
Italian qualifier Lucia Bronzetti did it on Monday when she won her first grand slam match – it was the first time she'd made a main draw – which guaranteed her a payday of $154,000.
To give an insight into the David v Goliath scenario which confronts her, the WTA website doesn't even know that much about Bronzetti.
All her profile there tells us is that she's right-handed with no information for height, weight, age and birthplace.
For the record Bronzetti is aged 23 and has a current career high ranking of 142 but in this day and age the true reflection of status is your Instagram account.
The Italian has 5,726 followers compared to Barty's 381,000.
Lucia Bronzetti faces a daunting challenge against Ash Barty. Picture: AFP
While Barty had some knowledge about her opening round opponent, Lesia Tsurenko, it's likely she's never heard of Bronzetti let alone seen her play.
Tsurenko, a former US Open quarter-finalist, had beaten the world No. 1 previously but despite this history it didn't work out very well for the Ukrainian.
Barty was in demolition mode, only conceding one game for the match in a 6-0 6-1 blitz on Rod Laver Arena while earlier in the day on an outside court Bronzetti produced the biggest win of her career by defeating Russia's Varvara Gracheva 3-6, 6-2, 6-3.
The most glaring statistic to come out of Barty's ruthless start to the tournament centred around her new improved power serve.
She has now gone four consecutive matches without dropping serve which includes 41 consecutive service holds.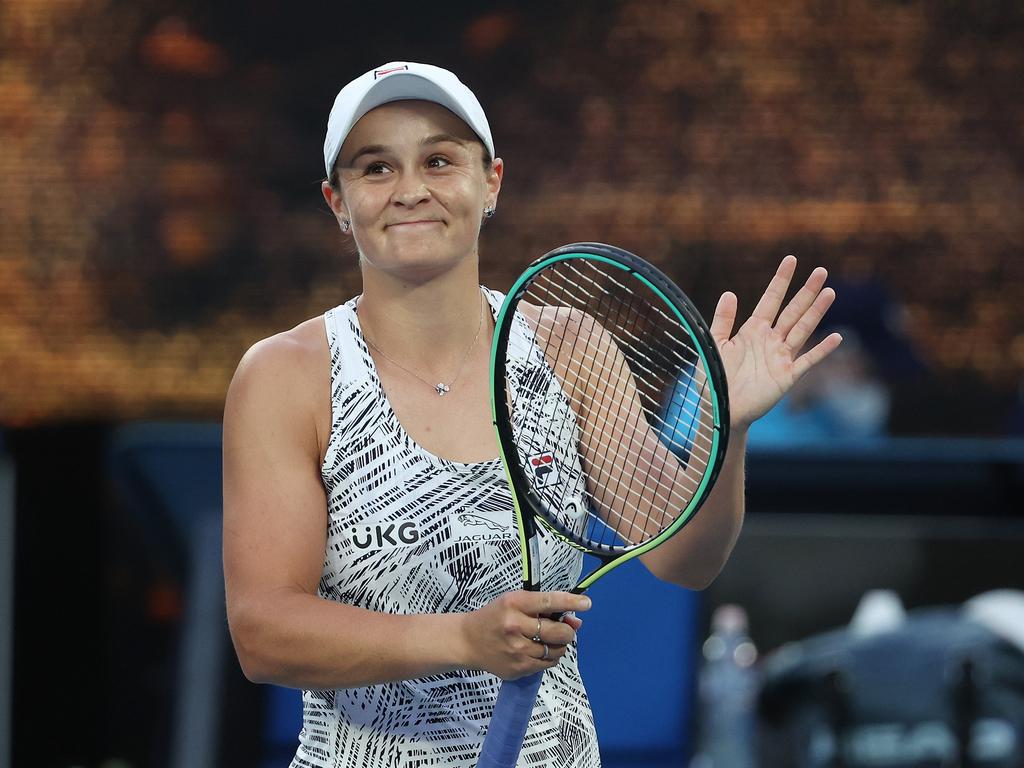 Ash Barty celebrates after her first round romp. Picture: AAP Image/Dave Hunt
"I'm not one for stats at the best of times," Barty said. "But I think obviously the last five or six matches I felt like I found a really good rhythm on my service games.
"I've been able to get out of some tricky ones and kind of serve my way out of some tricky spots.
"I think being able to manage service games has been really good, but also not trying to overemphasise the fact that if I do get behind in games it's a bad thing.
"You have to just try and do the best you can in that given point. That's worked pretty well so far this year."
Should Barty take down Bronzetti as expected, her likely third-round opponent is Italy's 30th seed Camila Gorgi before a possible showdown with defending champion Naomi Osaka in the fourth round.
Barty's brutal demolition job in Aus Open first round

The world's other No. 1, the one who was allowed to grace Rod Laver Arena, made sure the title was represented in style with Ash Barty almost pulling off a rare double bagel.
With the tournament desperate for some good mojo, the hometown favourite provided some welcome relief from the Novak Djokovic scandal which saw the men's No. 1 booted from the country.
In his absence the women's No. 1 showed she was ready to take up the slack, blowing away a shell-shocked Ukraine's Lesia Tsurenko 6-0 6-1.
"This is beautiful," Barty said about her return to Melbourne Park's centre court. "I have said a few times that it has felt like an eternity since I've been here.
"It's nice to be back on home soil now and it was a lot of fun out there.
"I felt like tonight it was nice and solid, I was able to find my forehands and controlled the match from there.
"It was good to get out and play a solid match. I felt like I enjoyed it, which was the most important thing."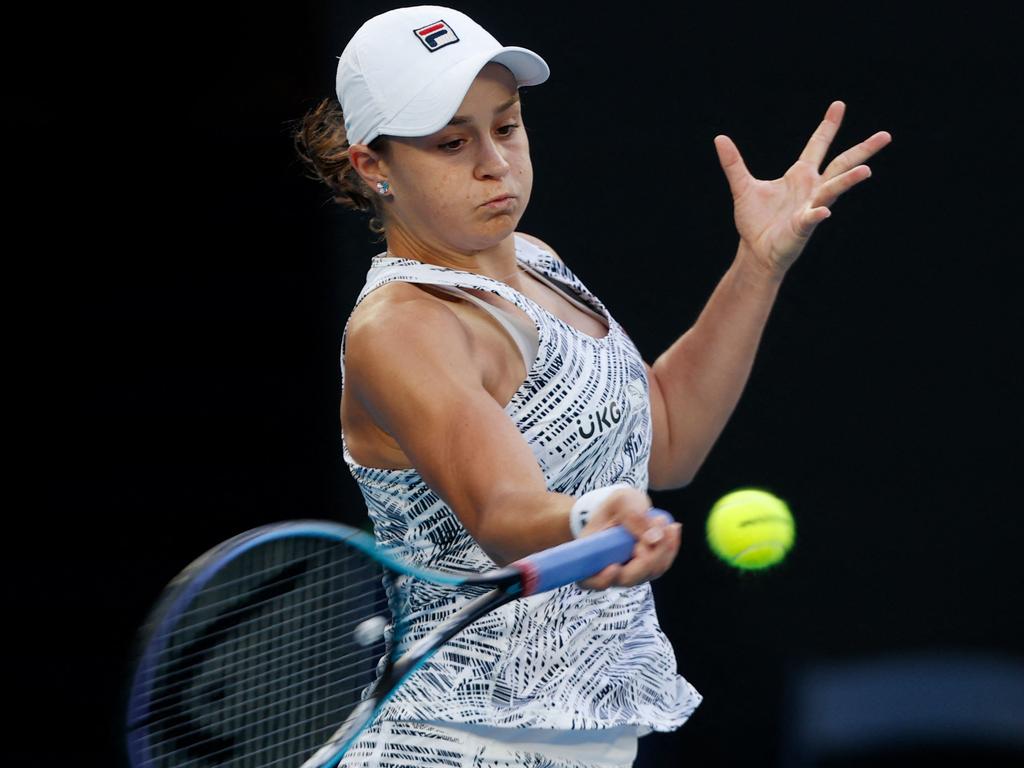 Barty was a point away from a historic double bagel but still made comfortable work of Ukraine's Lesia Tsurenko. Picture: Brandon Malone/AFP
The match-up had the potential to be a dangerous encounter given Tsurenko had previously defeated Barty and then pushed her in the corresponding round two years ago.
But this is a different Barty, now a two-time grand slam champion who has been at the top of the women's game for three years running.
Tsurenko found this out the hard way, not getting on the scoreboard in the opening set which Barty won in just 24 minutes.
The trend continued in the second set with the Ukrainian simply having no answers to the power and precision from the Queenslander who was loving being back on Rod Laver Arena.
She was on the cusp of producing a rare double bagel victory, even having two match points on Tsurenko's serve to claim the magical 6-0 6-0 scoreline but two unforced errors saved her opponent from the embarrassment.
It was only a brief blimp on the radar Barty wrapping up the win on her fifth match point with a booming serve in just 54 minutes.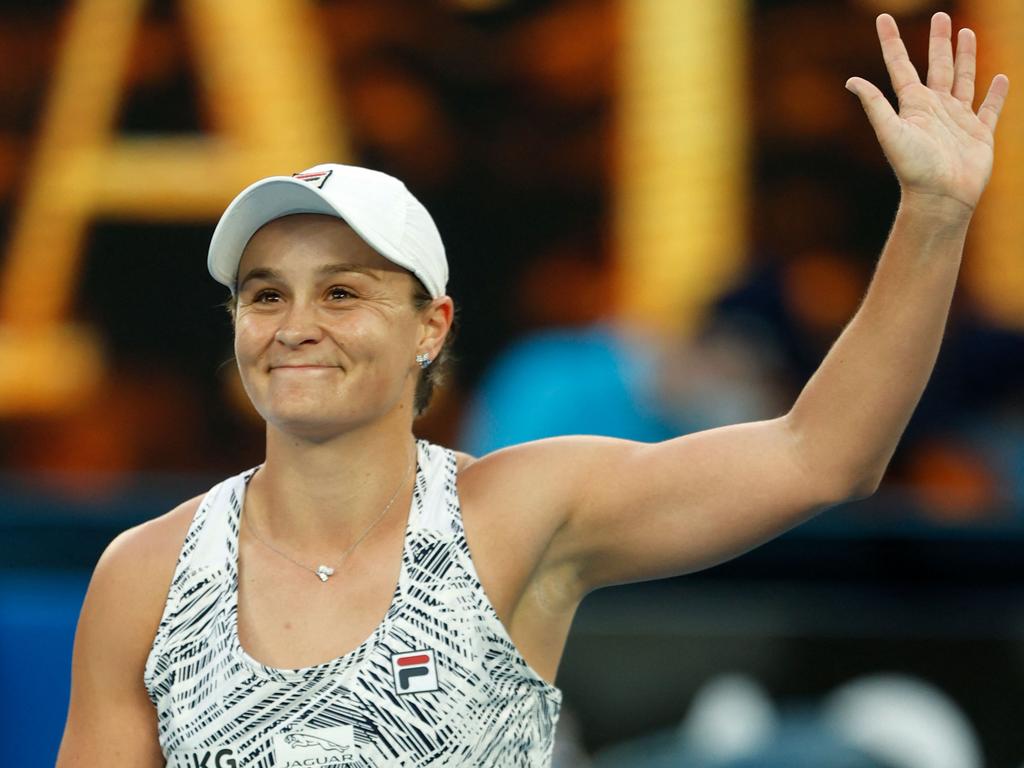 Barty eased through the first round with a dominant display. Picture: Brandon Malone/AFP
The ease of the win would have pleased the Barty camp given they knew Tsurenko was a much better player than a qualifier.
They saw that first hand back in 2018 when the Ukrainian took down Barty in front of her home crowd at the Brisbane International.
Two years later the pair again faced off in the opening round of the Australian Open where again the Ukrainian proved to be a handful.
Tsurenko claimed the first set 7-5 before Barty found her rhythm to close out the final two sets 6-1 6-1.
That's why there would have been some red flags about the match-up in the lead-up given Tsurenko has previously been a quarter-finalist at the 2018 US Open and reached a career-high ranking of No. 23 in 2019.
She has since slipped to 119th but the 32-year-old had been dominant through qualifying last week, not dropping a set on her way into the main draw.
But Tsurenko ran into the world's best player at the peak of her powers with Barty to face another qualifier in the second round, Italy's Lucia Bronzetti.
The pathway to the second week potentially gets a lot tougher after that with 30th seed Camila Giorgi a likely third-round opponent before a possible showdown with defending champion Naomi Osaka in the fourth round.