Australian Open 2022: Ash Barty's near perfect start sounded a warning to her rivals, and contrasted the fortunes of Thanasi Kokkinakis
Ash Barty could have led a marching band down Flinders St and it wouldn't have distracted from the Novak circus, writes ADAM PEACOCK.
The two Australian headliners of the summer so far, Ash Barty and Thanasi Kokkinakis, departed Adelaide for Melbourne feeling they were on the money.
Barty won the first week in Adelaide with trademark style and guile, Kokkinakis with power and panache. Barty was meant to follow Adelaide with a week in Sydney but cancelled that to hit Melbourne early. Kokkinakis had a week less to consider his options, but tried to make up for his late journey to Melbourne with a ride in a private jet.
And that's where their stories diverged.
While the other world No. 1 was the talk of the galaxy, Barty's lead-in week in Melbourne was so understated her fiance didn't even bother being a part of it, instead caddying for a mate in the Australia PGA golf tournament. Barty herself could have hired a marching band and led it down Flinders St last weekend and it still wouldn't have taken eyes off Novak.
But flying underneath the radar has become a trademark for Barty, and it clearly suits her. She was near perfect on Rod Laver Arena on Monday. Lesia Tsurenko was meant to be in-form after winning three rounds in qualifying. Round one can be dangerous for the main draw player because they are getting to the dancefloor late while those qualifiers are moonwalking with purpose.
All dancers are created equal, but some have more rhythm than others and Barty did not miss a step. Fifty four minutes. One game dropped. Not so much a statement of intent to the rest of the women's field as a clinical reminder of why she's ended the last three years as world No. 1.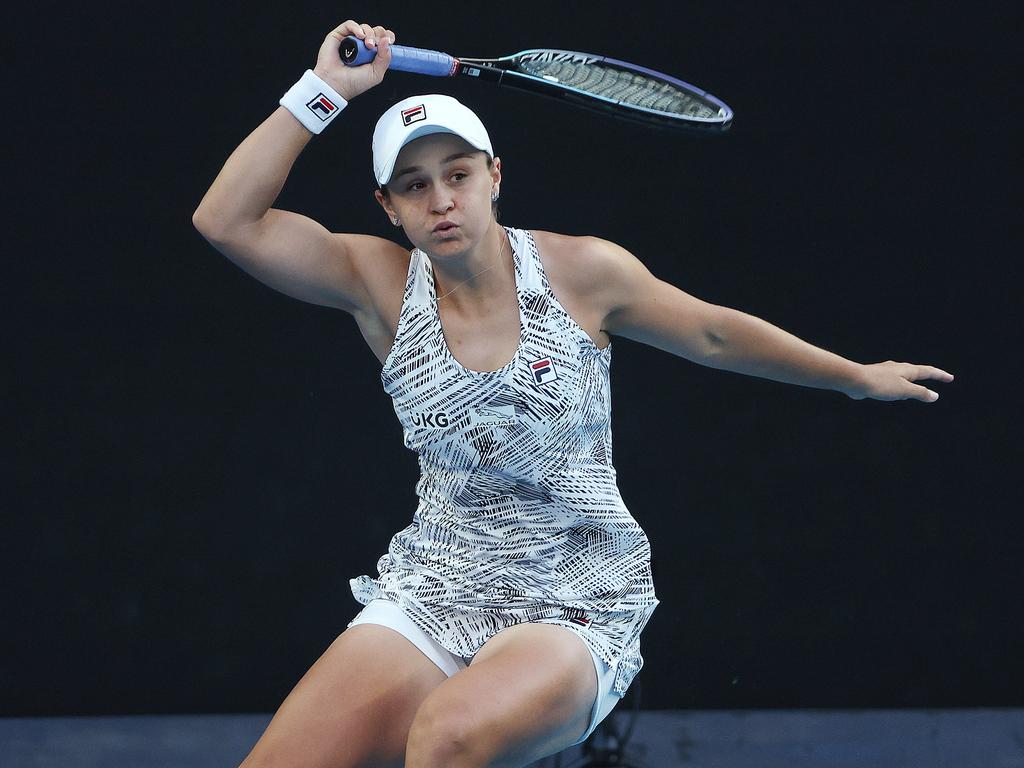 Barty found her groove early on Rod Laver Arena as she started her Australian Open campaign with a dominant victory. Picture: Michael Klein
Kokkinakis' outing at Melbourne Park, however, could not have been more contrasting.
He thought he did the right thing by leaving Adelaide on Saturday night straight away, hightailing to Melbourne on a private jet, with his head hitting the pillow around 4am on Sunday morning.
But the schedule of play wasn't kind, meaning he had just 36 hours on the ground before his first round match. He elected not to hit on Sunday – stay as fresh as possible physically, reset mentally.
As a grey Monday morning gave way to a blissfully clear afternoon, Showcourt 3 filled to capacity and beyond with 50-metre queues forming at each entrance. The masks were the only hint of a lurking pandemic.
Kokkinakis had requested the court, knowing they'd shower him with love. A wall of noise hit him as he entered the court at 5.30pm local time.
Beer o'clock, cheer o'clock.
Alas, the anticipated first round match turned into a learning experience for Kokkinakis, but the trouble with learning experiences are you don't know you're in one until it's over.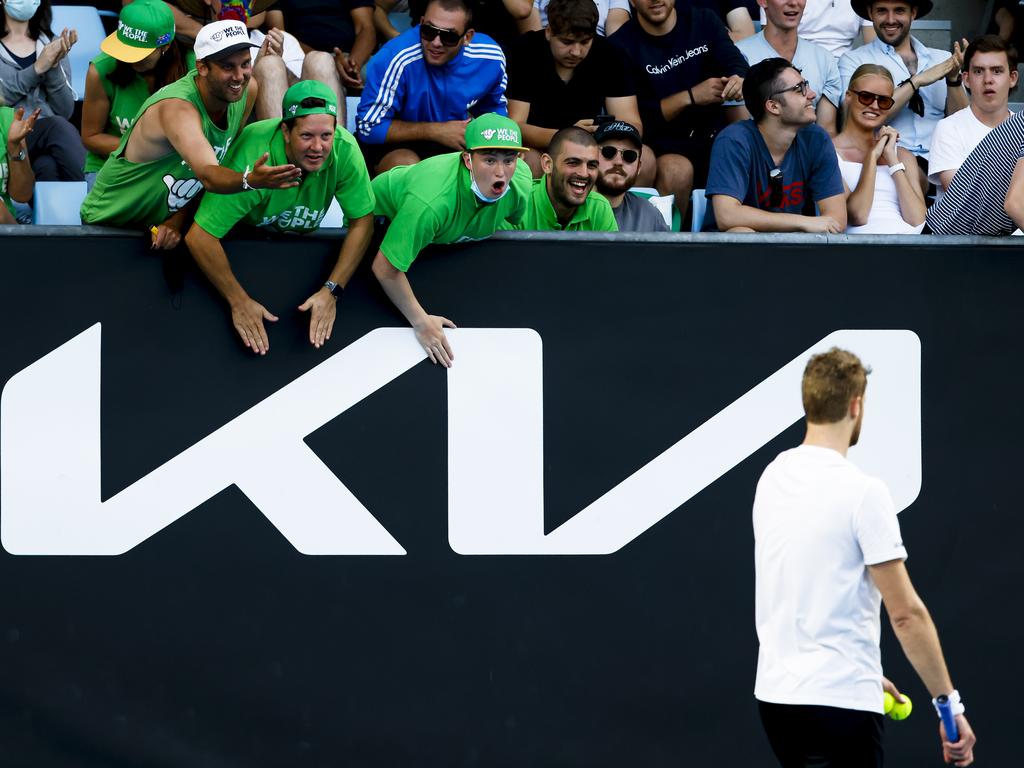 The crowd on Showcourt 3 did their best to get behind Kokkinakis but Germany's Yannick Hanfmann proved to be too good. Picture: Frank Molter/picture alliance via Getty Images
Adelaide was Kokkinakis' first ATP title, hence the explosion of emotion that we saw on Saturday night, tears and head-spinning jubilation that was seven torturous years in the making.
He'd never felt like that before. Never had his phone explode with messages of congratulations on that scale. Certainly never got a private jet to another city after it. And, critically, as it turned out, never avoided the practice courts the day before a major.
Not hitting delivered an unwelcome element of surprise once his match with German Yannick Hanfmann got under way.
Showcourt 3 was full of life, in both the stands and surface. Slower than Adelaide, the ball would hold up a shade more, enough to illicit mis-hit and mis-hit from Kokkinakis. His forehand, a weapon the federal government might consider adding to the tank and submarine order, started misfiring like a cheap firework. He just couldn't find range.
Hanfmann, a 30 year-old German searching for his first ever grand slam victory, left emotion in the locker room, instead unpacking intelligence and composure over what is now the most memorable two hours of his tennis life.
Hanfmann, like Barty's opponent Tsurenko, had qualified.
Unlike Tsurenko, Hanfmann had an opponent who quickly revealed themselves as unsure.
Kokkinakis remains a quality player. Last week in Adelaide wasn't a fluke. The last 36 hours had just taken its toll, and by the time he went to bed on Monday night, he was at the opposite end of the emotional spectrum, acutely aware he had missed a chance to play Rafael Nadal on Wednesday night on Rod Laver Arena.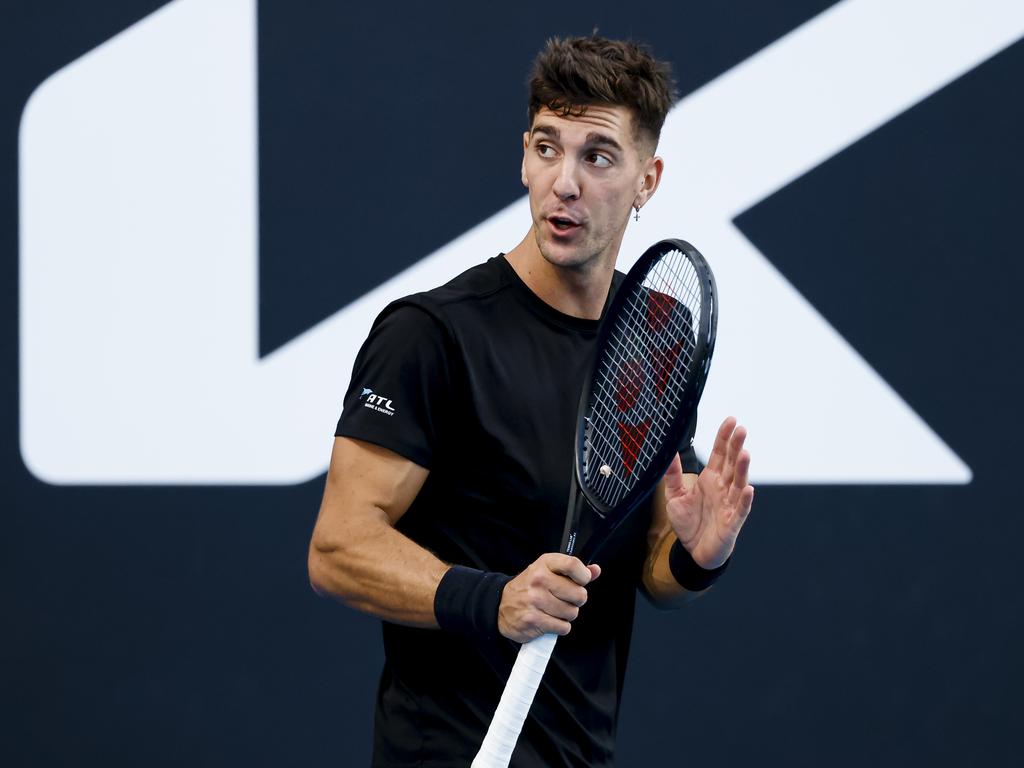 Kokkinakis couldn't find his rhythm in Melbourne this year, but last week's win in Adelaide is a brilliant sign of what is to come. Picture: Frank Molter/picture alliance via Getty Images
This Australian Open is just one stop on a long road ahead in the next 12 months for Kokkinakis to get where he wants to be, and where many think he can be. Top 50. Roger Federer and Novak Djokovic don't send DMs to any old player who happens to win a tournament.
They all know how good he can be.
Today wasn't his day, and on reflection, it was no shock.