Australian Open 2022: Coaches call for end of on-court tennis coaching ban
Coaches have been accused of using face masks to disguise on-court advice. Some are now calling on the ATP to legalise communication with players during matches.
"Cheating" coaches who have been accused of hiding banned words of advice behind masks have urged the ATP to legalise communication with players to finally bring the tactics out of the "dark underworld".
Quarter-finalist Stefanos Tsitsipas has been slapped with code violations for coaching in his past two victories at Melbourne Park, with Apostolos Tsitsipas a serial offender at making hand gestures and speaking to his son at critical moments.
But the man who plotted four of Novak Djokovic's Grand Slam victories said the threat of forfeiting a point for a second indiscretion was hardly a deterrent, because "careers can be changed with a comment here or there".
"Sometimes you're willing to take that (point penalty) as a coach – no problem," Craig O'Shannessy, who now coaches Aussie Alexei Popyrin, told News Corp.
"If the difference between winning and losing a match is $250,000 we'll take a point – absolutely.
"Everyone's doing it, so it's kind of like the coach has been pushed into this dark underworld where we're saying things under our breath and watching the umpire to see if they're looking at us and helping our player.
"It's not one person, it's literally everybody. It's impossible to have a coach sit there and have zero impact in the match. To show no emotion, to not open their mouth, to be a statue.
"It doesn't happen. We're not going to do it."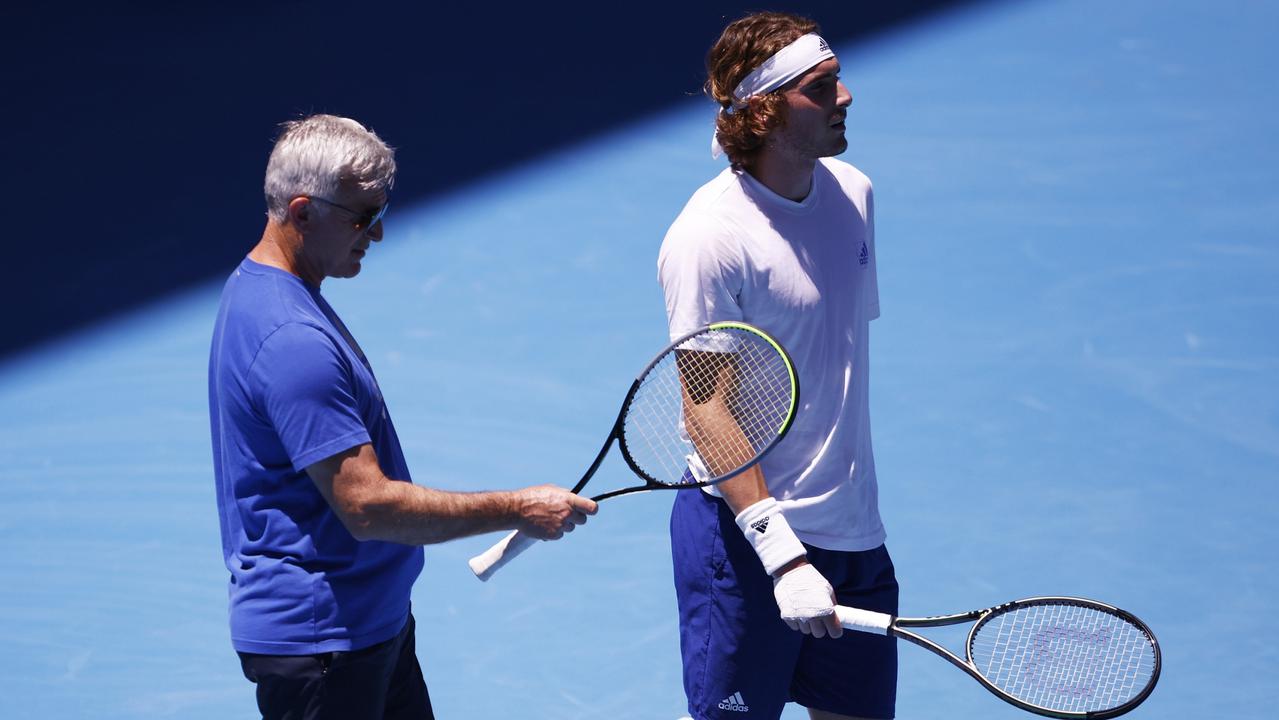 Apostolos Tsitsipas is a serial offender at making hand gestures and speaking to his son, Stefanos. Picture: Getty Images.
While talking tactics is banned, coaches are free to spur their players on – which O'Shannessy claimed was even more valuable.
"The very nature of a player is they get negative when they lose points, and a coaching box is there to keep the energy up and almost to regulate the energy," he said.
"At certain moments you want your player to be jazzed and so the box is going to deliver more of that energy.
"At other times you want the player to be calm. So from purely an energy standpoint you are actually coaching the player – you're having a huge impact.
"The umpire's going to say that's not coaching. Well, we are directly affecting the emotional state of the player, which is more important than anything.
"So from that perspective we're already doing it. If you say anything tactically – go to the net more or play more to the forehand or step up in the court – that would be considered coaching.
"But I think helping your player emotionally is more valuable than anything else, which is legal."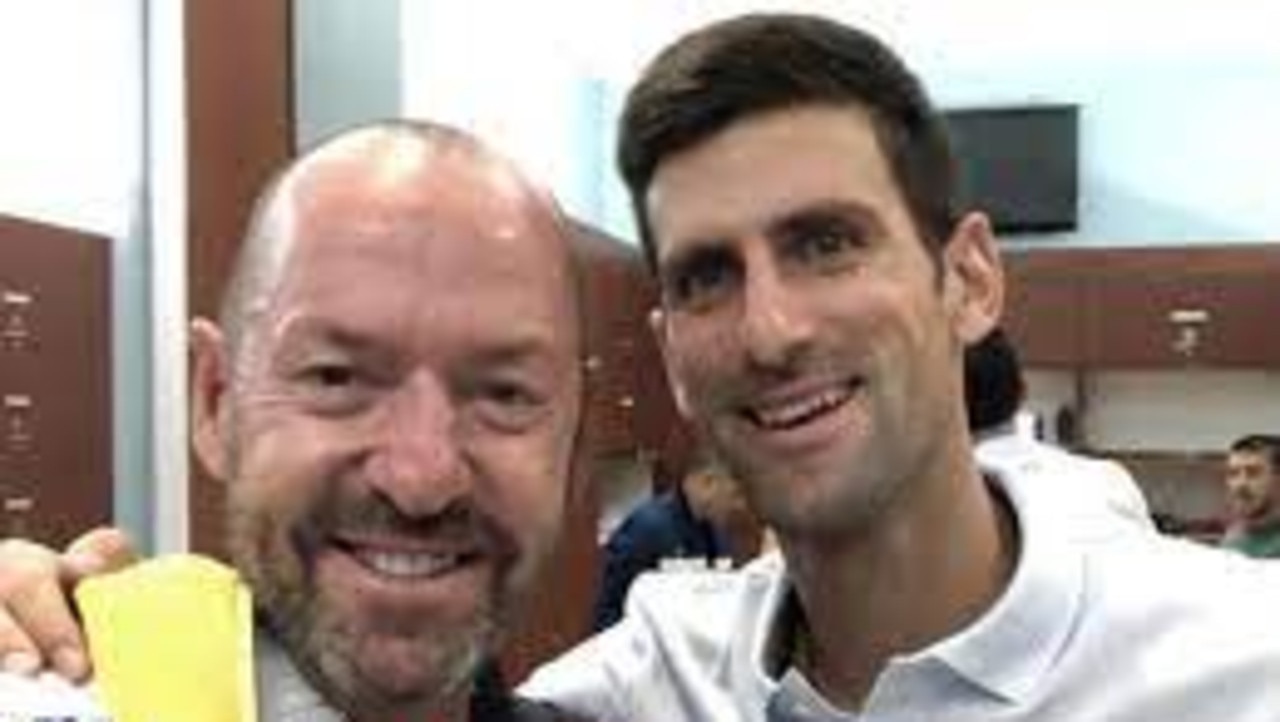 Craig O'Shannessy (left) helped take Djokovic to four grand slam wins and says the threat of forfeiting a point for a second indiscretion is not a deterrent. Picture: AAP
Super coach Darren Cahill pressured the ATP into either cracking down or making it a free for all.
"There needs to be more regulation in the coaching violations, where it becomes an accumulation," Cahill said.
"You get one warning in the course of a tournament, maybe two here at a major, and then you get your badge taken away.
"Something like that. Or make coaching legal — I'm fine with that, too."
O'Shannessy said the answer was to allow court-side coaching that was managed by the clock, pointing to the success of the trial at November's Next Gen ATP Titles in Milan.
"They put the towel box right in front of where the coaches are," he said.
"And if a player wants to go over there all the time and have a short conversation, the coach is allowed to say whatever they want.
"What was fascinating was that the players hardly ever took advantage of it – it was a non-issue.
"Sometimes Holger Rune (Denmark) went over a little bit more and was a little bit more animated, but it was OK.
"It didn't disrupt the flow, it didn't take away from the tournament, I thought it was done perfectly.
"Remember, the player still has to maintain the time frame. So it's not like you can go over there for a minute and chat to your coach.
"The clock's on all the time. So the clock is managing the coaching rather than anything else.
"What we're doing right now is broken and it really is unfair to the coaching community.
Coach Darren Cahill says the ATP needs to either crack down or make on-court coaching free for all. Picture: AAP
Doubles legend Todd Woodbridge wondered whether it was easier for coaches to talk to players with masks on.
But O'Shannessy said it was in fact the opposite because facial expressions could no longer be read.
"I've got to wear the mask at all times in the coaches' box and the biggest thing I can do is help him (Popyrin) emotionally – but he can't see my face," O'Shannessy said.
"He wants to read me. He's upset, he just lost a point and I'm going to exert a calming influence, and the mask completely takes that away.
"I was screaming at Alexei at times, but because I've got a mask he couldn't really tell it was my voice."
– News Corp Australia Sports Newsroom
Originally published as Australian Open 2022: Coaches call for end of on-court tennis coaching ban