Australian Open 2022: Daria and Luke Saville took to the mixed doubles court at Melbourne Park just six weeks after getting married
Daria and Luke Saville just discovered that emotions are quite different when your doubles partner is also your spouse, writes LINDA PEARCE.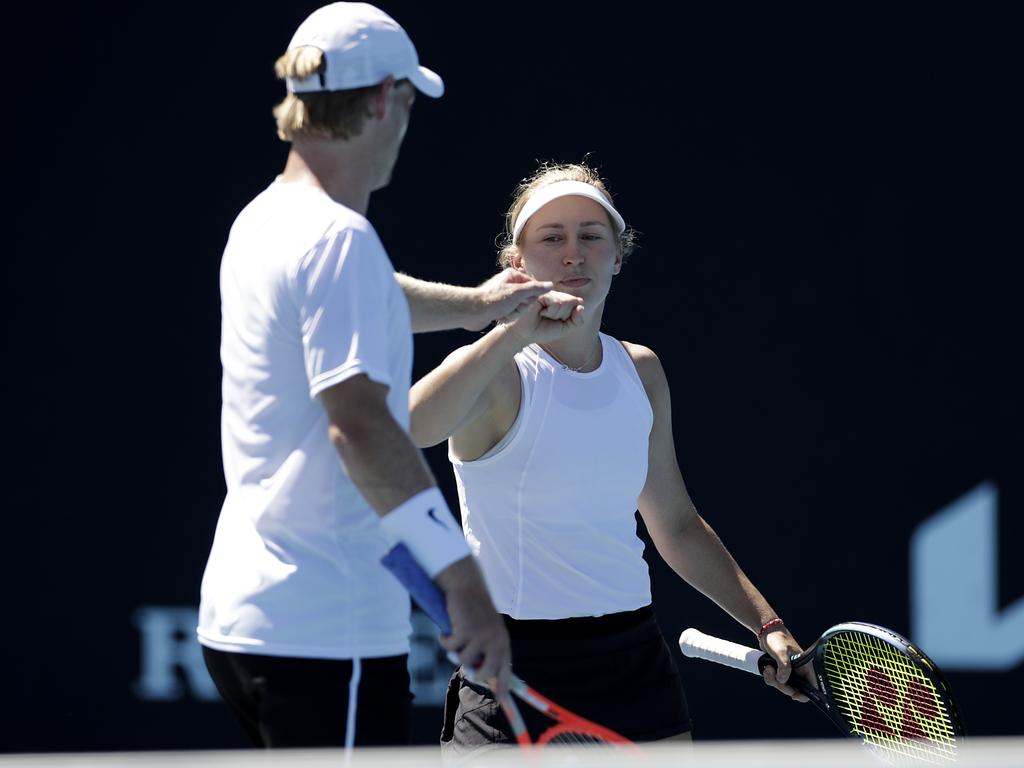 Luke and Daria Saville couldn't make it work on the court in their first doubles appearance as a married couple. Picture: Mackenzie Sweetnam/Getty Images
Love is a battlefield, to quote Pat Benatar. Mixed doubles is a potential minefield, to quote absolutely no-one except gut instinct when it involves couples who are romantically, as well as professionally, involved.
Over to you Daria and Luke Saville. Over six weeks now as Mr and Mrs.
Lovely ceremony only last month, from the looks of social media. Fabulously cheesy wedding dance, learnt off YouTube to the strains of Coldplay's My Universe, although the groom tends to move a little more smoothly on the tennis court.
On Thursday, Saville and Saville - which sounds like a law firm or a family of bespoke tailors - played mixed together for the first time since 2017. They are now 1-4 overall, after failing to convert a match point in the second set against fourth seeds Alexa Guarachi and Tim Puetz.
"I think I'm almost more upset about this result than singles, because we had chances, but it's a bit of fun and it was nice to just share the court together,'' says Dasha, who as Ms Gavrilova, reached a career best singles ranking of No. 20 but required Achilles surgery last year. "I probably wouldn't have cared as much if I was playing with another partner, but playing with Luke, someone you love, you're like, 'Oh, it sucks for both of us.'''
"All good out there,'' added Luke. "It's obviously tough when you care about each other so much and then you go out there and play, that dynamic can be tricky, but I think we found a better balance out there than past years, a bit more relaxed. But we had chances. Didn't finish it. But mixed is a bit of fun. Not too serious, and life goes on. Hopefully we can get another wildcard next year.''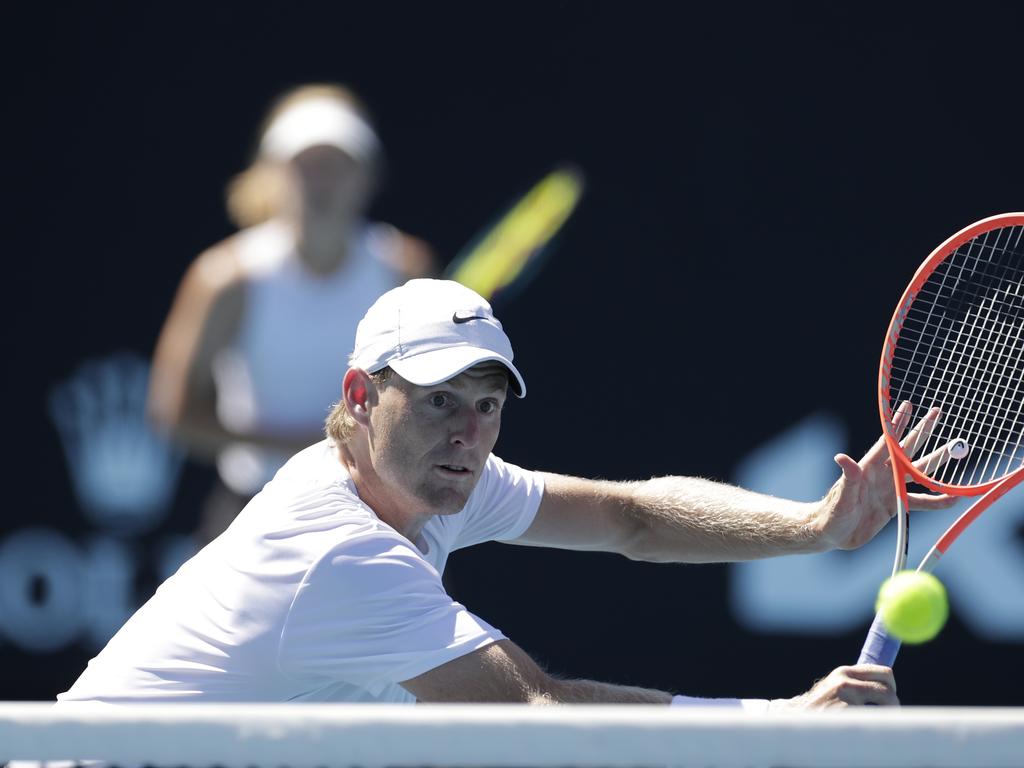 Luke Saville played the net while his new wife, and on court partner Daria looked after the baseline in the off-court partners first pairing in mixed doubles. Picture: Mackenzie Sweetnam/Getty Images
Sitting in the stand, friends of the Savilles noted the rather chilly half-embrace as the losing pair walked to the net, while two teenage girls leaving the Melbourne Park back blocks of court 15 were overheard joking that it was "marriage over". Already.
What didn't last was Dasha's slightly stony-faced mood, though, for she cracked a smile on the walk back to the locker room when a lad running past shouted that he followed the prolific social media star on TikTok. There was a quick family pose for a fan photo, and then it was back to normal life at home in bayside Melbourne with their celebrity pooch Tofu.
"We're still in that fresh phase, but once you step over the white line you kinda forget about that and want to win and do your best,'' said Luke, the former junior Wimbledon champion whose day had started with JP Smith in a straight sets loss in the men's event. "It's been just over a month since we got married, so it's still fresh and new, but we're enjoying every minute of it.''
Pillow talk: Luke and Daria Saville talk tactics in their first round mixed doubles match at the 2022 Australian Open. Picture: Mackenzie Sweetnam/Getty Images
The newlyweds were not the only loved-up Aussie wildcards sharing a mixed doubles court; Lizette Cabrera and Alex Bolt also failing to convert a match point before losing in a match tie-break to New Zealanders Erin Routliffe and Michael Venus. The other off-court duo in the mixed draw is Katerina Siniakova and Tomas Maohao, two Czechs. "I was just joking that to get a wildcard into Australian Open mixed doubles, you need to be a couple,'' Dasha says, adding, tongue-in-cheek: "But you need to prove that you've been together for six months, at least.''
Long after Chrissie and Jimmy, Steffi and Andre, the highest-profile active tennis pairs are top 20 duo Mr and Mrs Monfils, Gael and Elina (Svitolina), who wed in Switzerland in July, plus world No.7 Matteo Berrettini and adopted Australian Ajla Tomljanovic, together since 2019. Before that, Fabio Fognini and former US Open champion Flavia Pennetta. Martina Hingis and various.
Neither current "power couple", as they're rather excruciatingly called, has played mixed so far, which may have something to do with the fact that the event is only around at the slams (where singles is usually king or queen, and doubles the next priority for many) and the Olympics (complicated by the need for a common nationality, as well).
Lizette Cabrera and Alex Bolt have been paired up on and off the court for years, though they are yet to make it past the first round. Pictured at the 2018 Australian Open. Picture: Michael Dodge/Getty Images
Tomljanovic did team up with former beau Nick Kyrgios here in 2016, the pair beaten in straight sets, before their romance ended the next year. Berrettini and Tomljanovic flirted with the idea of an on-court collaboration at Wimbledon, where the former reached the singles final and the latter the last eight. So why has it not happened?
"Well, because we have been planning to play for the longest time and we always find the reason why not,'' Tomljanovic said at the All England Club. "But this time, the rain screwed us up because we have to play back-to-back. For me, it's not a big problem even though I have to play women's doubles and then for him, I mean, he is playing best-of-five.''
Whatever the scenario, there can be some awkward moments when the personal spills into the public sphere. Still vivid in the memory a decade later is the 2011 Brisbane International quarter-final in which Sam Groth stood in as coach for his then wife Jarmila (formerly Gajdosova) and was twice called on court to give some advice during a straight sets loss to Andrea Petkovic.
Jarmila Groth was forced to publicly apologise after a microphone picked up a heated on court exchange between herself and then husband/coach Sam Groth. Picture: Bradley Kanaris/Getty Images
The microphones relaying the exchanges around the stadium picked up a very unimpressed Jarka telling a well-meaning Sam that his tips from the end of the first set were not working. He bravely returned to try again in the second, pointing out to Slovakian-born Mrs G that the cool and damp conditions had made the balls heavy.
"Don't talk to me like a f---ing tourist," she thundered, only to laugh it off post-match. "I guess you have to get angry at someone and I couldn't break any racquets because I just got them," she said. "He knows I didn't mean it.''
A public apology followed after the tete-a-tete was broadcast, widely. "I've already apologised to my gorgeous husband Sam and I'm lucky because as a fellow player he understands how emotional it can be on court during a tough match,'' said Jarka. Having won a round at each of the three Australian Opens in which they combined, both are still married. To other people.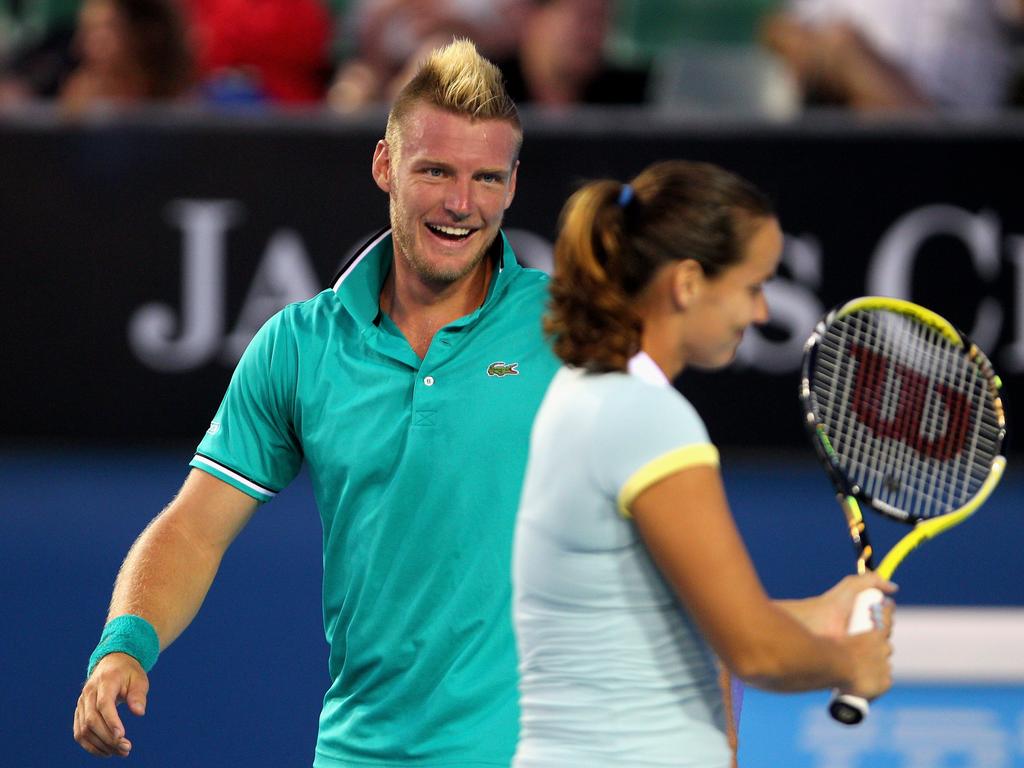 The pair managed to put it in the past, pairing up for the mixed doubles at the 2011 Australian Open. Picture: Mark Kolbe/Getty Images
Yet not all tennis lurve stories end badly. Think Roger and Mirka Federer (nee Vavrinec), who shared their first kiss while representing Switzerland at the Sydney Olympics and then teamed up at the 2002 Hopman Cup.
They went 1-2 in their three rubbers in Perth, including a first against an equally fresh-faced Aussie pair named Lleyton Hewitt and Alicia Molik. Four kids and 20 singles majors later, with the bejewelled Mirka clapping away in the player box at all of them, that particular match seems to have worked out pretty well.
The WTA Tour has seen several examples of life partners succeeding in a tennis sense, with Australian Rennae Stubbs and her now ex Lisa Raymond sharing 33 doubles titles including three slams. "Was it easy? No, but it was great. Very rewarding, obviously, to do it together,'' Stubbs says. "A little stressful at times … but overall it was fine.''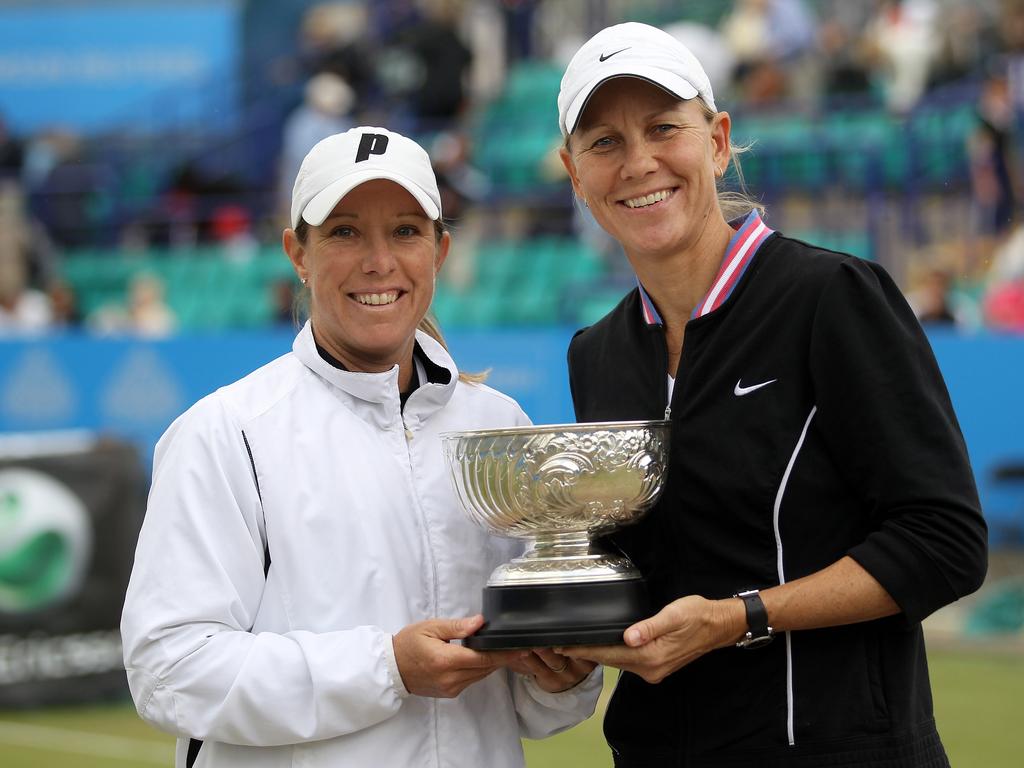 Lisa Raymond and Rennae Stubbs shared 33 doubles titles, as well as along-term relationship off the courts. Picture: Tom Shaw/Getty Images
At Wimbledon in 2019, Belgians Alison van Uytvanck and Greet Minnen were billed as "the first openly gay couple to play doubles at a major". They have also been singles opponents and, after their 2019 match in Karlsruhe, Germany, shared a warm embrace and smooch on the lips. Thirteen months ago they decided to wed.
Far less recently, Chris Evert had a couple of cracks at tennis relationships, having been engaged to Jimmy Connors (it was called off in 1974, the year that both were Wimbledon singles champions) before marrying John Lloyd, the former British No.1, in 1979. And getting divorced in 1987. To switch sports and marry a skier (Andy Mill). And then a golfer (Greg Norman). But we digress.
Proof of being able to move on professionally from a break-up came when Evert partnered Connors at the World Mixed Doubles Championships (yes, that was once a thing), nine years after their previous match together and at a time when she was still Mrs Evert-Lloyd.
One of tennis's most famous pairings Chris Evert and Jimmy Connors rekindled their connection on the court, several years after the couple took out the men's and women's Wimbledon titles in 1974. Picture: Getty Images
Personalities matter, says Stubbs, who says of the Savilles: "Luke's pretty laid back and Dasha's pretty funny, so overall I think they'll be fine.''
Indeed, the personal and professional have been entwined for so long, the pair having met at the junior Davis/Fed Cup tournament almost a decade ago, that neither knows any other way.
"We care about each other's careers, give each other advice, but we don't get too involved,'' says Dasha. "We still have the time off at home where we don't talk tennis and we've had our own hobbies. Most of the time Luke's playing golf and I'm making bracelets or something, so it's a completely different dynamic than being a couple as a coach and a player. Wouldn't want that.''
Nor would her husband. Who just needs to ask Sam Groth.