Australian Open 2022: Follow all the Aussies in action
Perth wildcard Maddison Inglis has joined the Australian avalanche early on a remarkable day two after Sam Stosur and Chris O'Connell set the ball rolling.
West Australian Maddison Inglis has enjoyed her finest on-court moment on the same day her childhood idol extended her singles career.
The 24-year-old wildcard produced a career-best performance to defeat 24th-ranked US Open runner-up Leylah Fernandez 6-4 6-2 in one of the biggest upsets so far this week.
Inglis squealed with delight as one last Fernandez forehand sailed beyond the baseline to deliver her maiden grand slam main draw win on her fifth attempt.
Her victory came hours after Australian great and 2011 US Open champion Sam Stosur postponed retirement with a remarkable three-set win against the odds.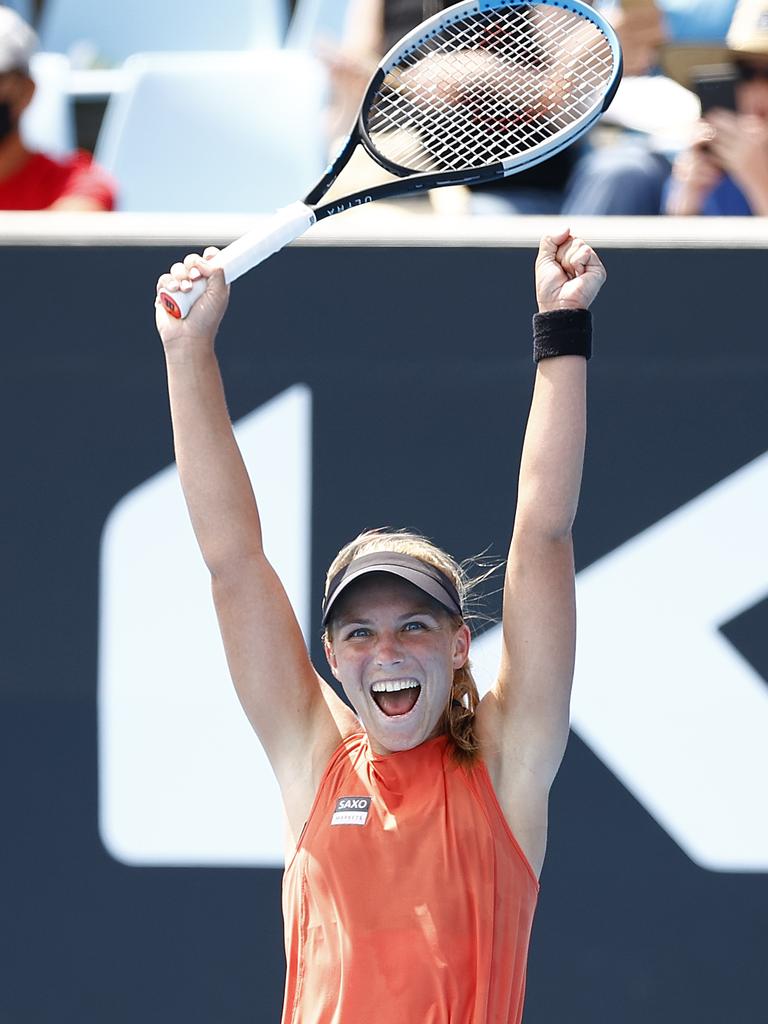 Maddison Inglis reacts after her upset first-round win. Picture: Daniel Pockett/Getty Images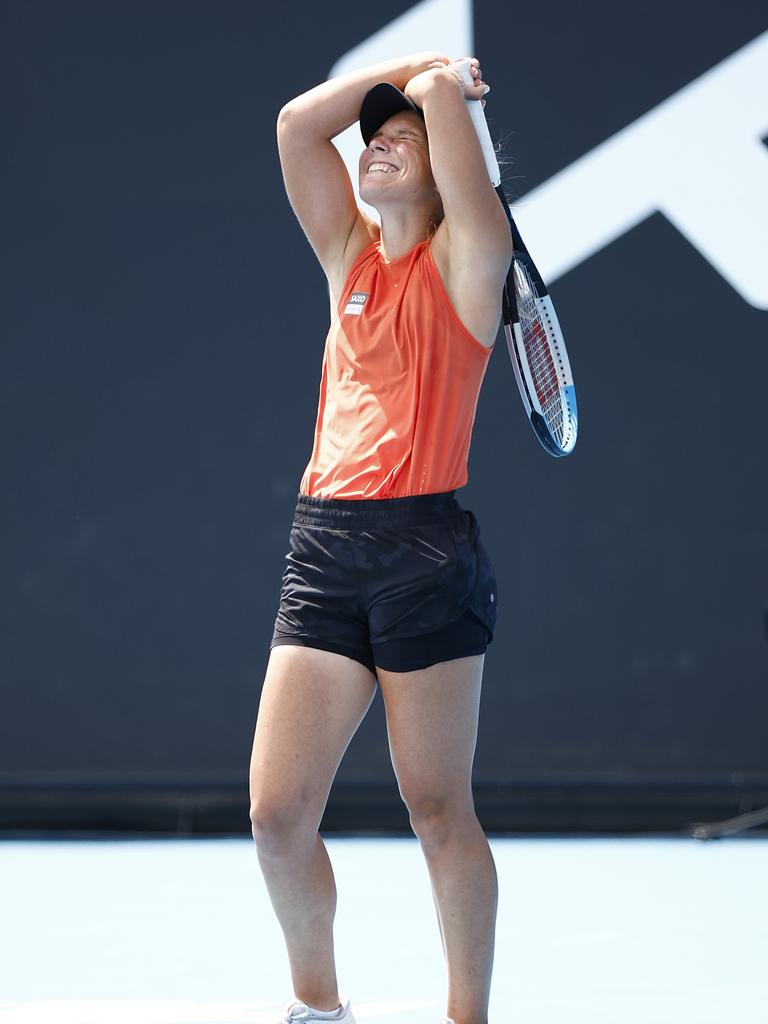 The wildcard defeated 24th-ranked US Open runner-up Leylah Fernandez. Picture: Daniel Pockett/Getty Images
"I seriously can't (believe it) – I'm shaking," Inglis told Channel Nine.
"I'm super stoked with how I played today.
"I thought I executed the game plan really well, I held my nerves really well and I'm so happy to win my first round of AO on this court with this crowd – it's amazing.
"I've had a few goes at it and I kind of joked around, saying 'Third time lucky', because this is my third main draw (at Melbourne Park), and it turns out it was.
"I'm really looking forward to keeping it going."
Fernandez's radar on her forehand, in particular, was off for much of the match, but Inglis deserves plenty of credit for her willingness to attack the lines and often change direction in rally exchanges.
That aggressive approach not only saw her hit more winners than Fernandez (14-8) but also forced numerous errors.
Inglis reeled off 14 of the first 15 points in the second set to break the match wide open.
She was soon 4-0 up, but had to survive break points in both of her final two service games before completing the job on her third match point.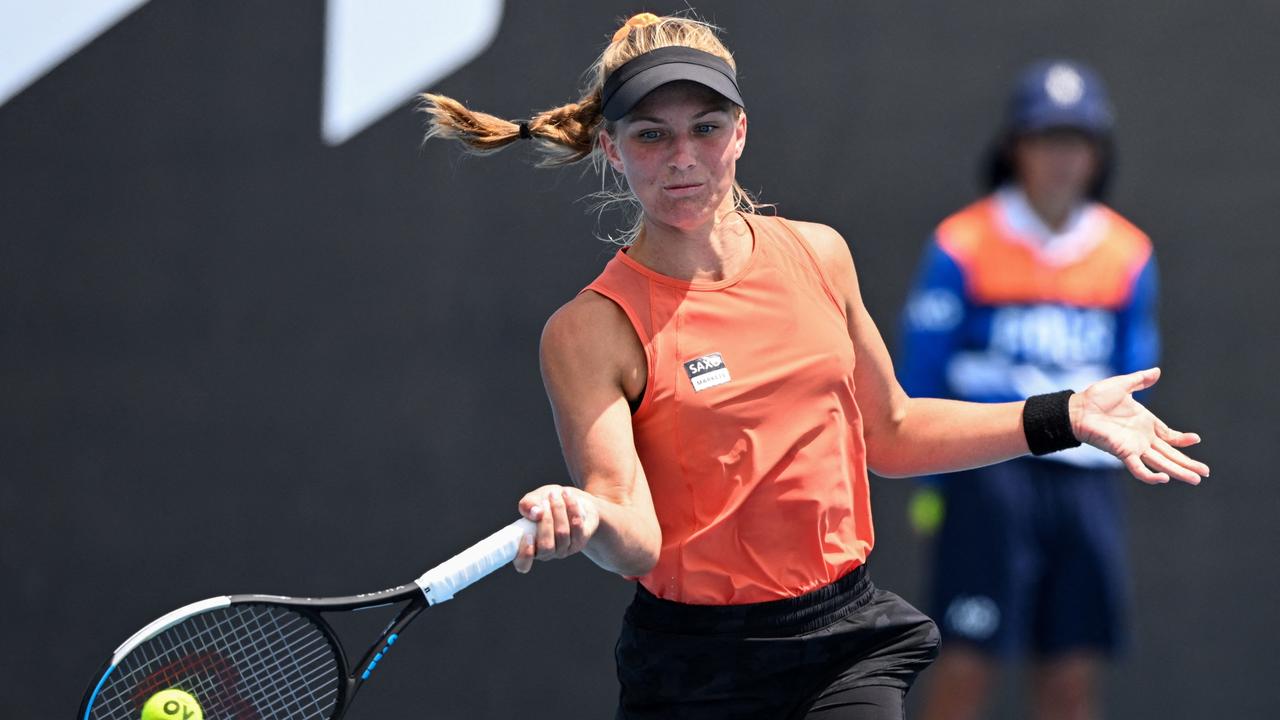 Inglis won 6-4 6-2 on Tuesday. Picture: MICHAEL ERREY/AFP
Inglis has sat on the fringes of the top 100 for the past couple of years – and is currently No.133 – without being able to make a significant breakthrough.
Her best scalp before Fernandez was Alison Uytvanck three years ago when the Belgian was the world No.63, while she also beat current top-10 star Paula Badosa when she was ranked 97th.
Inglis revealed afterwards she was unable to go home to Western Australia for Christmas.
"I'm going to cry. I had a couple of really close friends (in the crowd). My good friend, Kaylah, has been helping me out these least few weeks, which has been amazing.
"I wasn't able to get home in December, so I stayed with Emma Schumacher here in Melbourne, so it's been the most incredible time and I'm so grateful for having those two here."
STOSUR'S FAREWELL GOES ON
Don't count her out yet.
Australian tennis great Sam Stosur has extended her singles farewell by another couple of days with a fighting 6-7(5-7) 6-3 6-3 victory over American wildcard Robin Anderson on the new Kia Arena.
Stosur, who announced in December she would play her final singles match at this year's Australian Open, couldn't wipe the smile from her face as she briefly sat down after sealing the win.
The 37-year-old now awaits the winner of 10th seed Anastasia Pavlyuchenkova and Anna Bondar after reaching the second round in consecutive years.
Stosur lost her opening match at Melbourne Park the five years previous to that and her 2021 Australian Open win over Destanee Aiava was her only triumph from 11 singles appearances last year.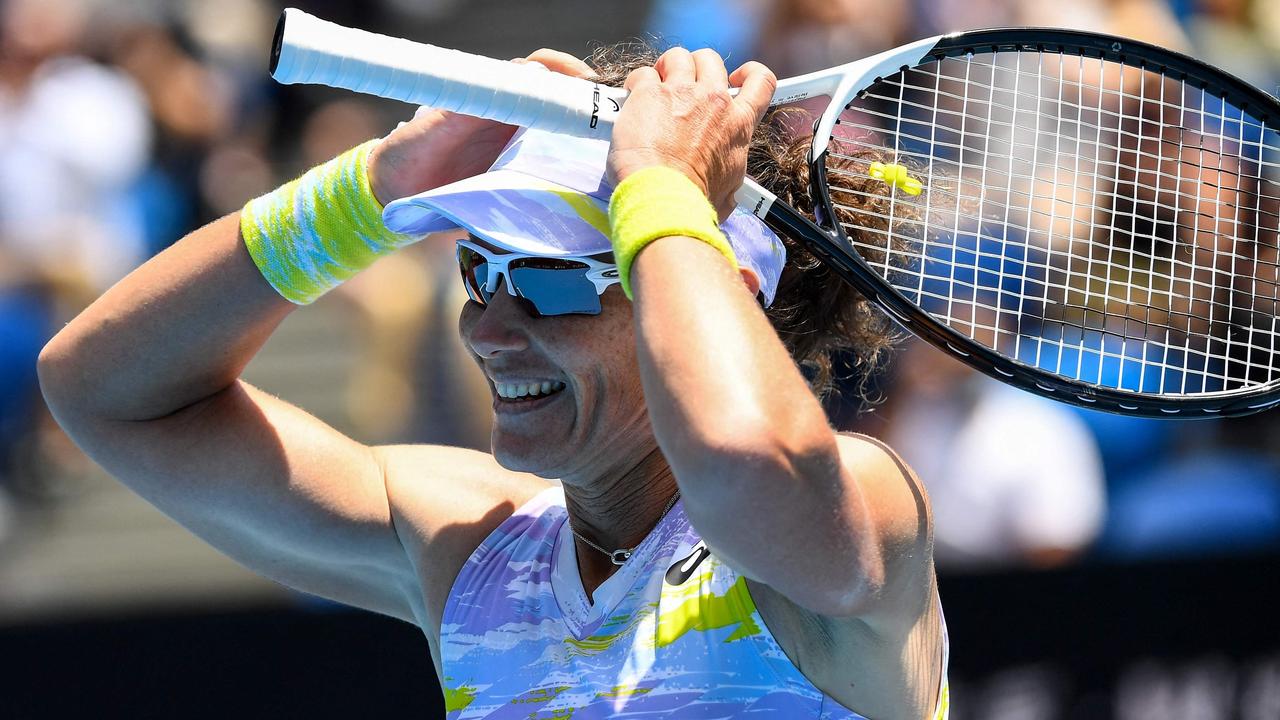 Australia's Samantha Stosur celebrates after victory against USA's Robin Anderson. Picture: AFP
"Oh, man, that was incredible – that's a match I'm going to remember forever," Stosur said afterwards.
"It's probably one of the best singles matches I've played in a very long time and to do it at home, today, I guess it wasn't going to be the last, so I'm happy to have another one."
Stosur was more outwardly emotional than usual throughout the match and her ability to serve out the second set on her fifth set point and having saved four break-back points was decisive.
She stumbled briefly in the fourth game of the final set in handing back the break she had just secured but she ploughed on and wouldn't be denied in a popular result.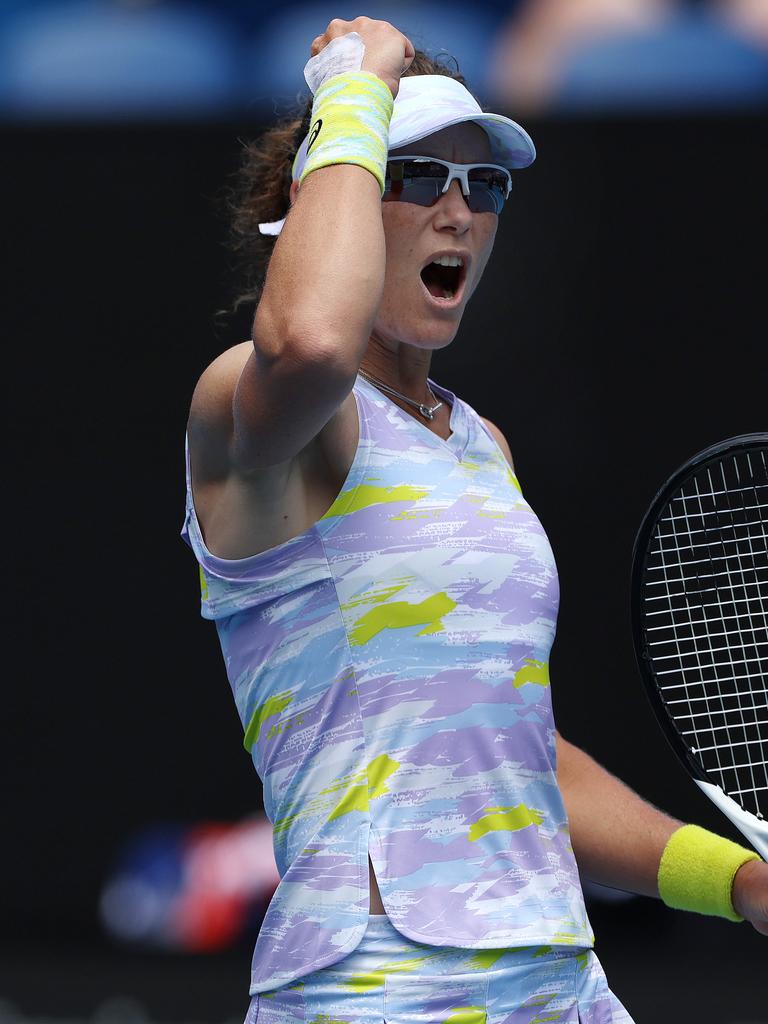 Stosur came from a set down to secure the victory. Picture: Michael Klein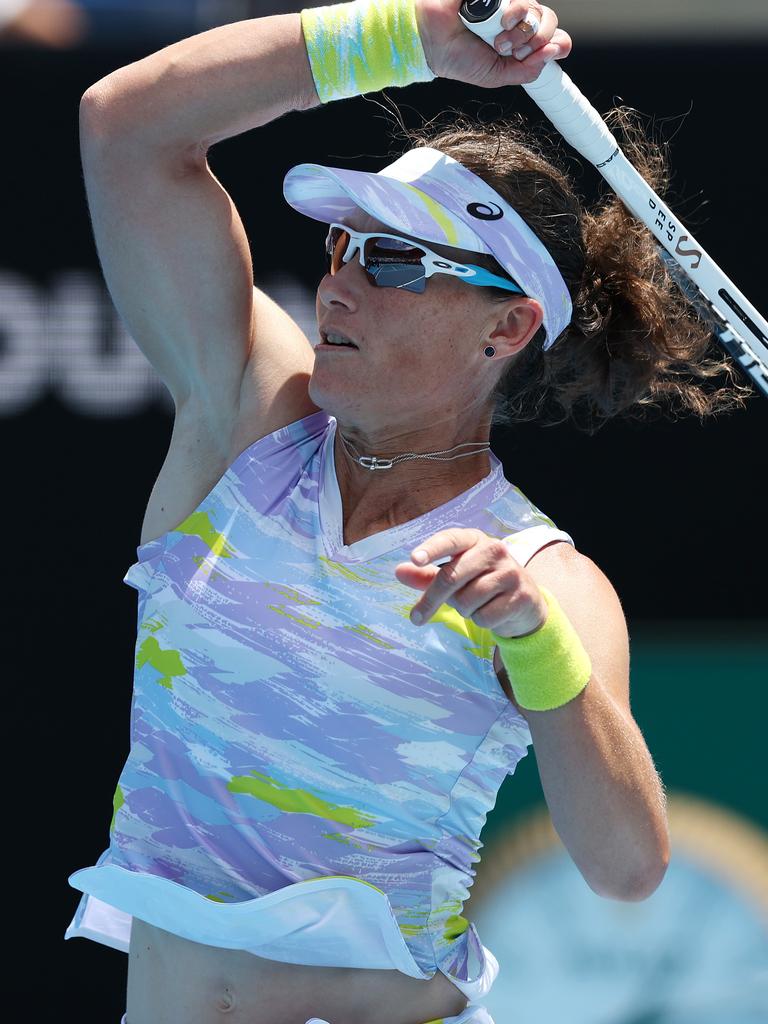 The Queenslander gets into the groove on Kia Arena. Picture: Michael Klein
"The goal coming into this last month, playing singles, (was to) really enjoy myself and try and play the best I can," Stosur said.
"I think every time I've been able to do that in my career; I've enjoyed it and played well and, win or lose, that's all you can ask for."
Stosur's coach, Rennae Stubbs, parents and brother were all in the stands for what could have been her final singles match but she said she was more nervous before announcing her retirement.
"There are always a few nerves but I think I was more nervous through December, deciding 'What am I going to do? I want to play but I'm nervous'," she said.
"More so than anything today, I was just excited to get out there and play and whatever happened, happened.
"This was an incredible court to play on – it was so much fun."
O'CONNELL HEROICS BOW OPPONENT AWAY
Another Sydney wildcard is moving into the second round at this year's Australian Open.
One day after Aleks Vukic stunned 30th seed Lloyd Harris, countryman Chris O'Connell eliminated French left-hander Hugo Gaston 7-6(7-4) 6-0 4-6 6-1 in an impressive display.
It's the second-straight year that O'Connell's won a match at his home grand slam, after upsetting top-40 German Jan-Lennard Struff in 2021.
This time the 27-year-old, who followed Vukic, Ash Barty, John Millman and Sam Stosur into round two, overcame the disappointment of losing the third set after being a break up.
Gaston contributed to his own demise, plonking a straightforward volley into the net – after pushing O'Connell out wide – to concede the all-important break in the fourth game of the fourth set.
Christopher O'Connell takes down France's Hugo Gaston in the first round. Picture: Mark Stewart
There was no repeat of the third set, with O'Connell avoiding trouble as he set up a second-round clash with 13th-seeded Argentine Diego Schwartzman, who beat Serb Filip Krajinovic in straight sets.
His forehand did most of his damage but he also landed north of 70 per cent of his first serves to help keep his 67th-ranked opponent at bay.
O'Connell reached his career-high singles ranking of 111 in September 2020 and is currently at No.175.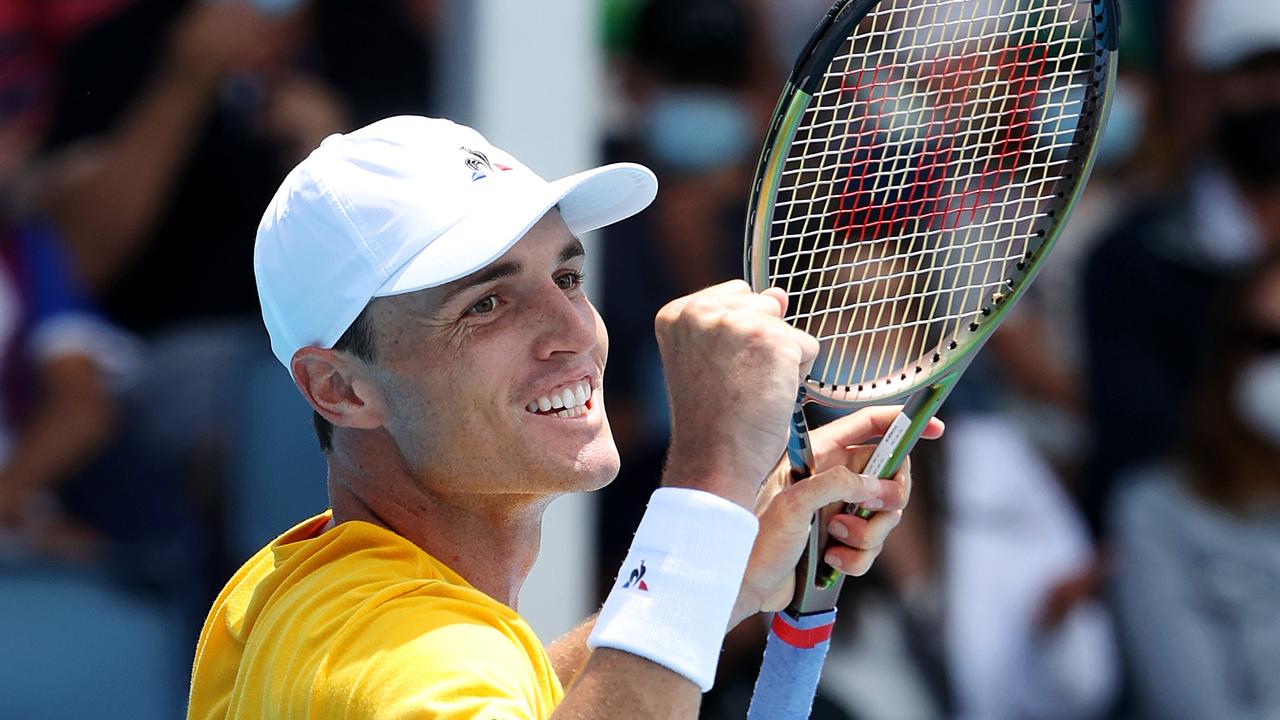 The Sydney wildcard celebrates his first-round success. Picture: Mark Stewart
TOUGH RUN FOR DARIA SAVILLE
Following Achilles surgery, former top-20 star Daria Saville made her Grand Slam return on Tuesday - but it didn't last long. Follow all the Aussies in action on Day 2.
Daria Saville's comeback tour will need to take off overseas after she exited the Australian Open in straight sets in the first round on Tuesday.
The former top-20 star, now ranked No.426, is mere matches into her return from Achilles surgery after last year's Open and found Swede Rebecca Peterson too great of a hurdle to overcome.
Saville (nee Gavrilova) was her typical energetic self from the outset and her effort was never lacking, but her frustration began to show towards the end of her 6-2 6-3 defeat to the world No.82.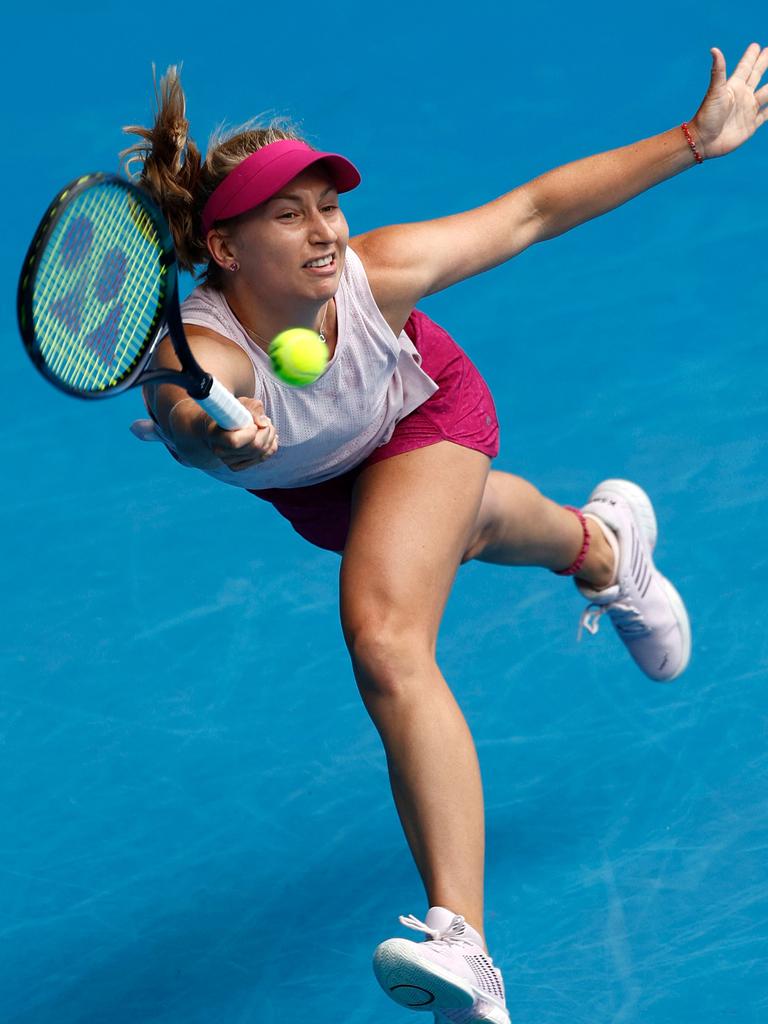 Australia's Daria Saville lost in straight sets in the first round. Picture: Brandon MALONE/AFP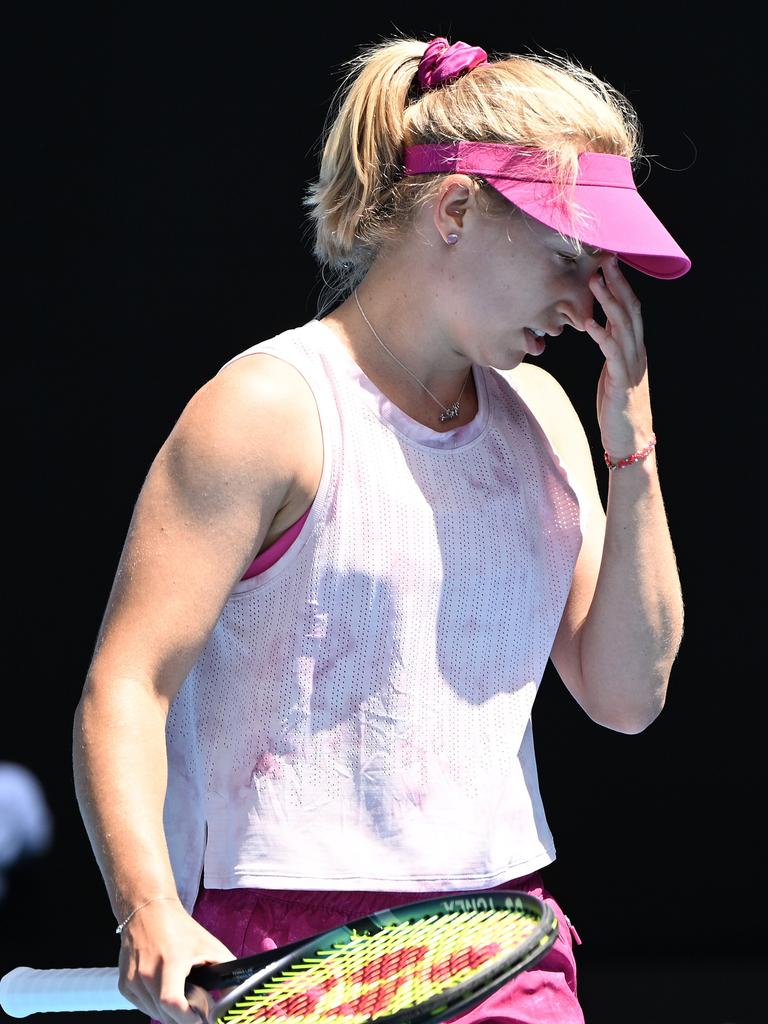 Saville was beaten 6-2 6-3 by Sweeden's Rebecca Peterson. Picture: Quinn Rooney/Getty Images
She was always playing catch up after dropping the opening four games of the match.
Things might have been different if she converted one of her two break points on Peterson's serve in the first game of the second set.
The Swede hung on then broke for a 3-1 lead and cruised to the finish line after hitting 20 winners to Saville's 17.
She extended her unblemished record against Australians to eight matches.
Saville's summer ends without a main draw win from three tries but she did qualify in Adelaide and will be better for the match practice after playing just once last year after the Australian Open.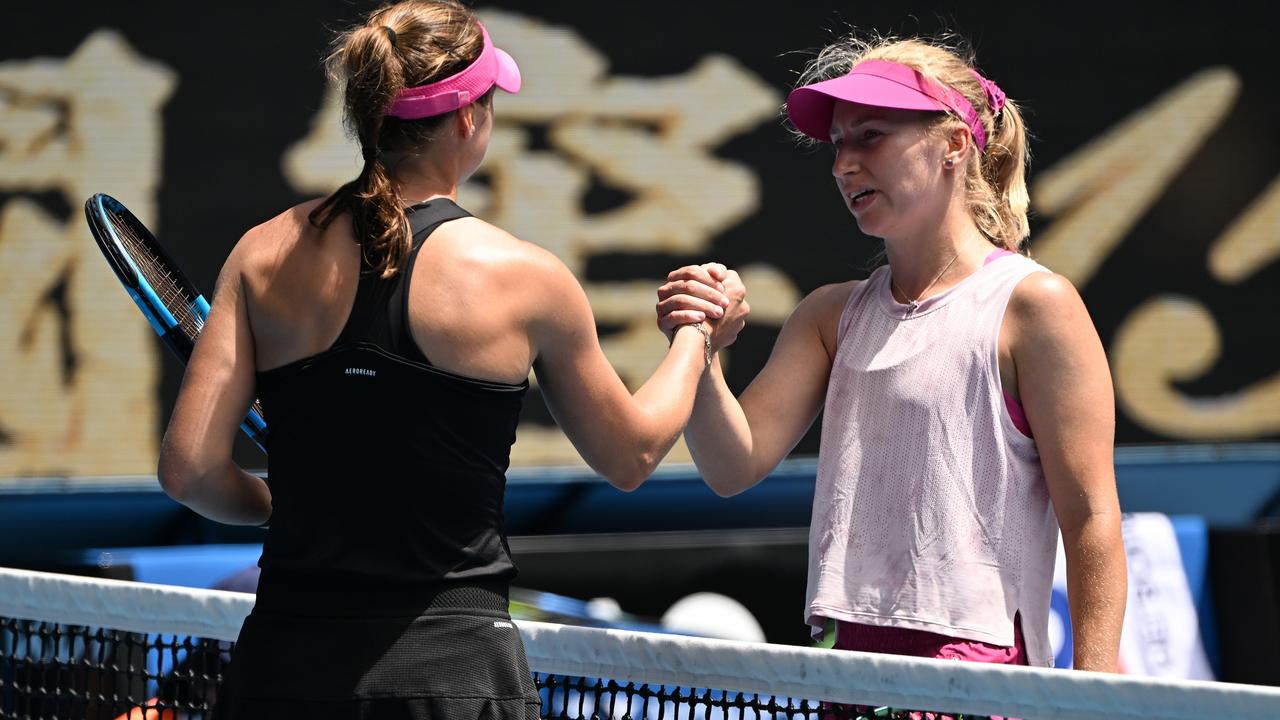 But Saville will be better for the match practice after playing just once last year after the Australian Open. Picture: Quinn Rooney/Getty Images
Scans after competing at Melbourne Park last year revealed a Haglund's bump, which forms on the back of the heel bone, had swollen considerably and was rubbing on and causing severe pain in her right Achilles tendon.
Saville was also still dealing with Enthesopathy, which, in simple terms, is damage to the connective tissues between the bone and tendons.
Surgery was necessary after several years of Achilles pain and setbacks.
After months of rehabilitation, Saville made a winning return in November at the Billie Jean King Cup.
She also married fellow player Luke Saville in December.
HON CANNOT REPEAT RECENT HEROICS
Queenslander Priscilla Hon was unable to repeat her Adelaide heroics, going down 6-2 6-3 to Czech 31st seed Marketa Vondrousova.
Hon upset Vondrousova's countrywoman and dual Wimbledon champion Petra Kvitova two weeks ago in Adelaide, in a performance that earned her a wildcard.
Originally published as Australian Open 2022: Follow all the Aussies in action