Australian Open 2022: From the idyllic Italian Alps comes Jannik Sinner, a new force in tennis
Jannik Sinner hails from one of the calmer, more picturesque places on earth. But as Melbourne melts in typical 35 degree days, a new force is fast scaling the heights of world tennis, writes ADAM PEACOCK.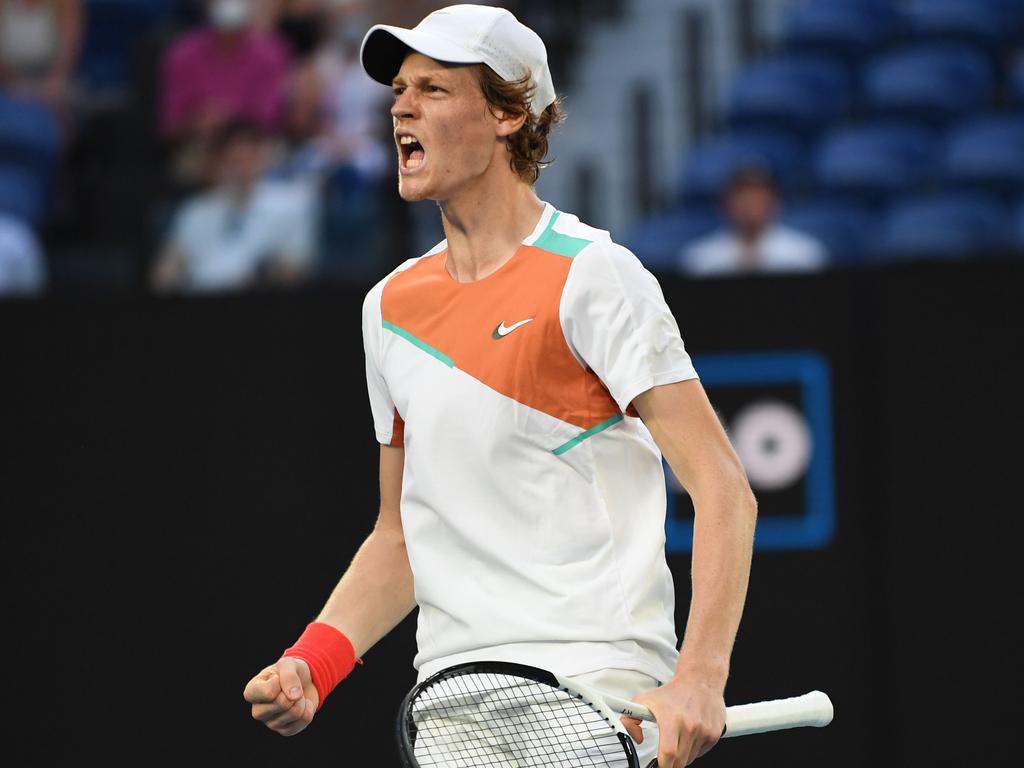 Rumblings about Sinner's potential have gained momentum in the last 12 months. On Wednesday, the young Italian will play in his first ever grand slam quarterfinal. Picture: Recep Sakar/Anadolu Agency via Getty Images
You can't help but look up.
South Tyrol, a region squashed at the very top of Italy up against the Austrian border, takes the breath away, is easy on the eye and pure on the soul.
The Alps touch the sky, hills roll majestic white in winter, all open green fields and rapidly moving streams when it warms up, and the locals live in the lap of nature in tiny villages that dot the idyllic landscape.
From one of the calmer places on earth, a tiny village of just 2000 people called Sexton, emerges a new force in the world of men's tennis.
Jannik Sinner, with sensibility beyond his 20 years, has fallen from the hills of South Tyrol straight to the top of the game, and looks all sorts of comfortable in the spotlight.
Jannik Sinner grew up skiing and playing tennis across the picturesque the Italian province of South Tyrol. Picture: Getty
*****
Sinner's innate calmness is striking when you have a conversation with him.
An hour earlier, he had just shaken hands with Alex de Minaur after crushing the Australian's hopes of a deep run in Melbourne with the cleanest hitting and sharpest movement seen on Rod Laver Arena all tournament.
De Minaur, essentially, was beaten by what he is trying to be. Not far off, but on Monday, second best in relation to the quiet kid from the mountains of Northern Italy, a place Sinner holds obvious attachment to.
"It's a very simple life, nobody is making problems at all," he says.
"We can have bad days, but usually when I go home, we relax, go to eat, then see what is going to happen the next day.
"This is the mentality, quiet life, very simple, and I think it's the best."
Sinner's father, a chef at a local ski chalet, and mother, a waitress, were open to young Jannick getting into whatever made him happy. Tennis did, but by no means was it the only obsession.
Football and skiing featured prominently throughout his youth, and from an early age he was adept at charging down the slopes with friends. The Winter Olympics, though, were never a realistic goal.
"Skiing is a very tough sport," Sinner says when asked if he could have made it on skis.
"You have to wake up early in the morning when it's cold, go on the slopes when it's cold, and you have to be lucky.
"If you play tennis, and make one mistake, nothing happens, but with skiing one mistake means for sure you are not going to win."
Skiing has provided a great base, for the quick transfer of weight is exactly what has driven Sinner's meteoric rise from 553 at the start of 2019 to be ranked 10th in the world right now.
Not without irony, he admits "I think I've got it right by choosing tennis."
*****
Plenty of talented kids are willing to live an unusual teenage existence away from home in an academy set-up, at least to begin with.
Sinner is one of the minority that get through to the other side. At just 13 he coolly decided with his non-interfering parents that his view from the villages of South Tyrol wasn't going to get him anywhere near the summit of tennis.
He ventured to the other side of Italy, as far from the mountains as possible and to Bordighera on the Mediterranean. Settling in near the French border, Sinner linked with veteran coach Riccardo Piatti, whose CV features names like Djokovic, Gasquet, Raonic and Ljubicic.
"He was working a lot and not dreaming," Piatti recently told the ATP website, reflecting on his early impressions of Sinner.
"He went to some tournaments, losing 6-1, 6-0, but came back a day later to the Academy and trained the next day with the same attitude. He wanted to become good and kept going."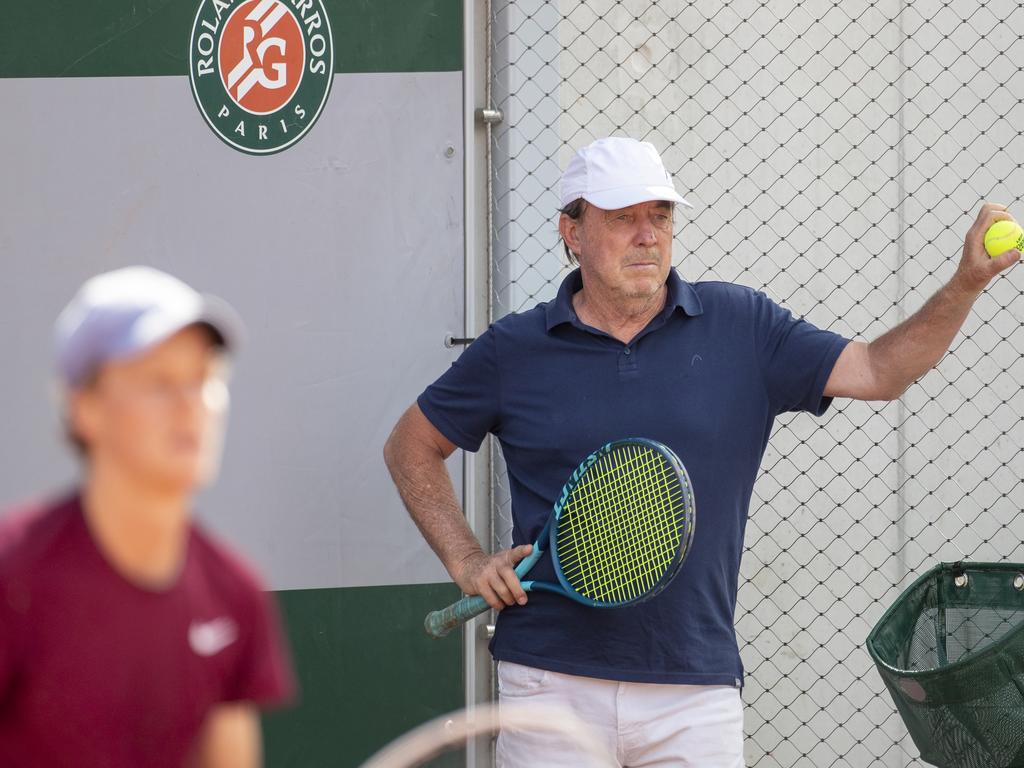 Veteran coach Riccardo Piatti was impressed with Jannik Sinner's work ethic. Picture: Tim Clayton/Corbis via Getty Images
For Sinner, the methodology is simple.
"Hard work, day after day, with a lot of passion," he says.
"I don't do things because I have to. It's because I love to do them.
"Of course the toughest part is suffering on practice sessions where you are dead, but you wake up in the morning and you're tired from the day before. These things make the difference in important matches. You are used it.
"To be honest I enjoy suffering, because this makes me feel [like] I'm working hard and that makes me happy."
*****
The top players all love the sport, to varying degrees.
Andy Murray is probably ranked number one in the world for tennis nerd behaviour, because his idea of a fun night is to sit down and watch six hours' worth of his day job.
He could have a rival in Sinner.
"I'm completely in love with tennis," he says.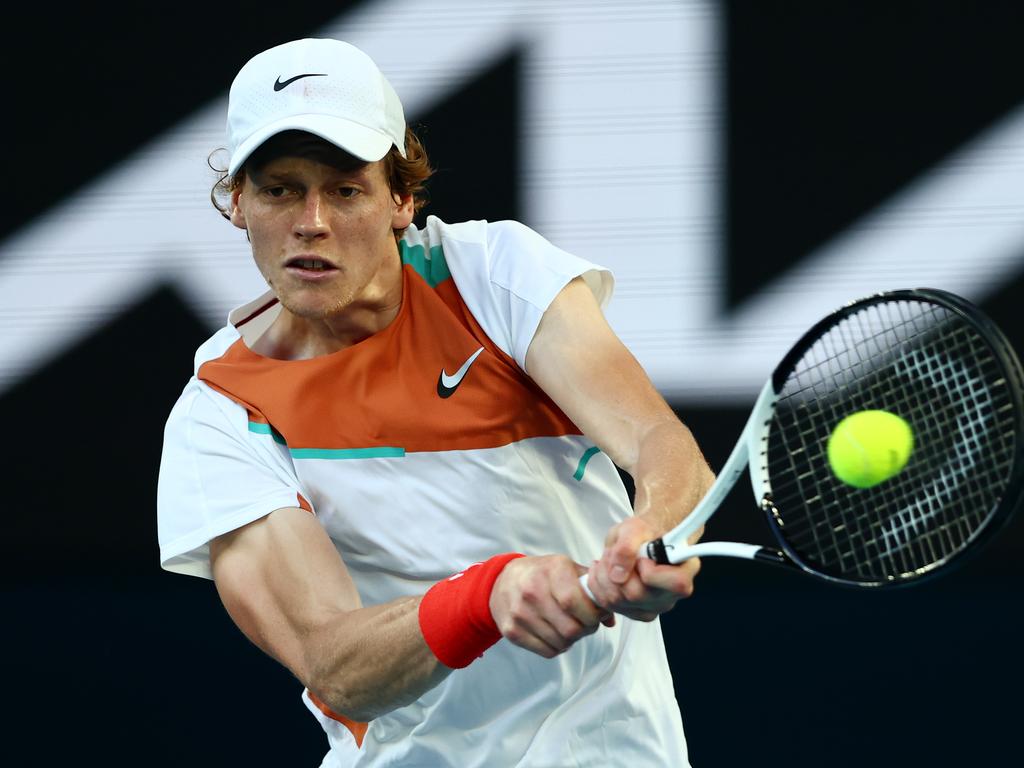 Jannik Sinner defeated Alex de Minaur in straight sets to progress t0 his first ever grand slam quarterfinal. Picture: Clive Brunskill/Getty Images
The day before his win over de Minaur, Sinner was spotted on an outside court watching some Italians play in the junior event. He didn't personally know them, he just felt like going out to visit some fellow Italians in 35 degree heat.
The same went for the day after. As Melbourne's heatwave continued, there he was, courtside, watching more tennis. This is simply Sinner's perfect preparation for his first ever grand slam quarter-final, a Wednesday afternoon showdown with Stefanos Tsitsipas.
"I think it's very important to grow," he says matter-of-factly.
"Also I got to know new people, new personalities, everywhere you play is different. You get a sense of that from the crowd."
The rumblings about Sinner's potential have gained momentum in the last 12 months, though all the talk has been taken in his stride. The pandemic and all its disruptions have been dealt with the same way. Sinner's first reaction to the initial lockdown was to launch an Instagram series talking about how the pandemic has affected others, encouraging anyone who wanted to listen that they should speak up about their true feelings in the depths of a surreal situation.
His head is firmly planted on those 20 year-old shoulders.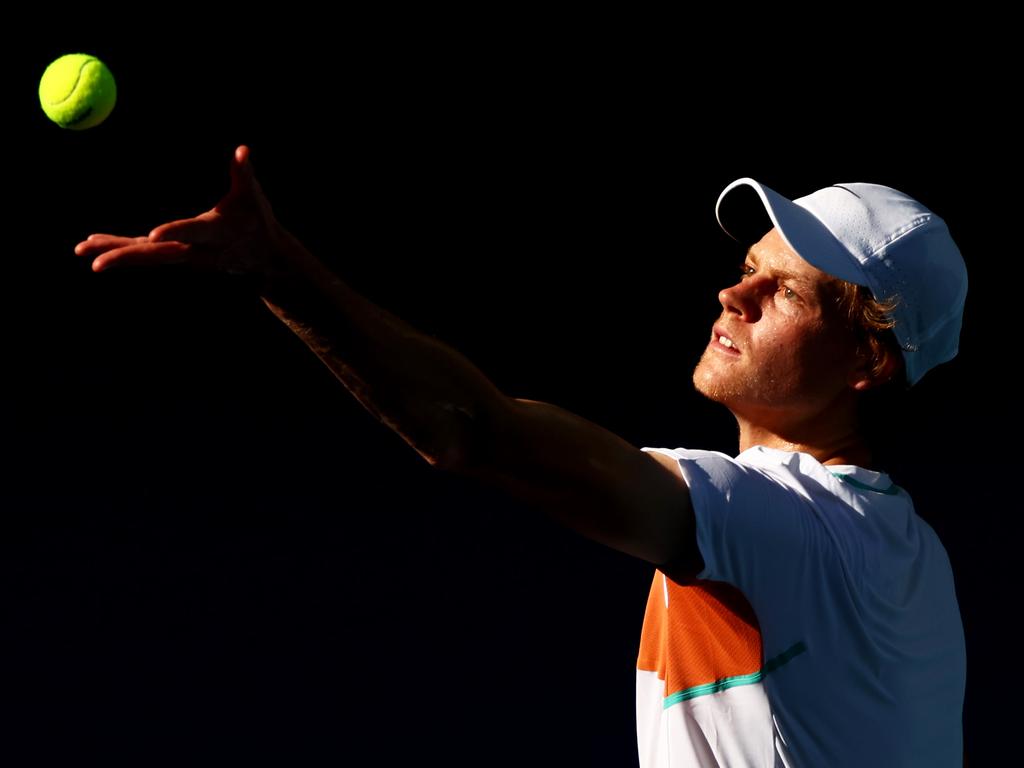 Jannik Sinner will face world No.4 Stefanos Tsitsipas in his first grand slam quarter-final on Wednesday afternoon. Picture: Clive Brunskill/Getty Images
Such a mentality will serve him well this week, when he could be excused for getting completely ahead of himself.
"I stay in the present," Sinner says.
"Of course I would love to win, especially when I'm just 20, you want (everything) tomorrow.
"But it takes time. Every practice session you need to be focused. The results takes time. At the moment I think I am doing the right things."
Sinner's world is changing by the day. He knows that. It could well turn a shade of silly should he break through for a grand slam title soon, setting in motion those predictions that his will be one of bigger names of the next decade.
But as much as everything changes, he knows too the mountains and clear air – a millions miles from the mayhem of a major – will always be waiting for him.
"If I'm ever confused," he says, "I go back home."
"To be calm and reset."