Australian Open 2022: Mixed results for Millman, Kokkinakis
His opponent saw red over the antics of some inebriated Aussie fans but it's far from the wildest scenes John Millman's ever witnessed on court. FULL AUSSIE WRAP
John Millman's impressive first-up Australian Open win threatened to descend into farce as drunken fans embarrassed themselves on Margaret Court Arena — but it doesn't come close to the wildest scene he's seen in his career.
Millman delivered a four-set win over Feliciano Lopez, with the Spanish veteran crying foul over poor crowd behaviour — complaining to the chair umpire about the amount of noise coming from the pro-Millman fans while he was preparing to serve.
Lopez's errors were also roundly cheered as the crowd embraced the local favourite Millman.
Reports of a fight breaking out in the stands, after Millman closed out the win and set up a second-round showdown with third seed Alexander Zverev, surprised the Australian veteran after his match.
He urged people to keep their "hands and feet" to themselves, but encouraged punters to enjoy themselves at the 'Happy Slam' after what has been a difficult 12 months enduring the Covid pandemic.
"The crowd was a bit rowdy. I think everyone's had a couple of drinks and enjoyed themselves," Millman said.
"I tell you what … obviously you don't want people throwing punches, because we are the happy slam and meant to have a bit of fun, and, yeah, that's obviously the most important thing.
"It's so nice, after being away for such a long year, 11 months, and to have some home crowd support, I'll take it any day of the week.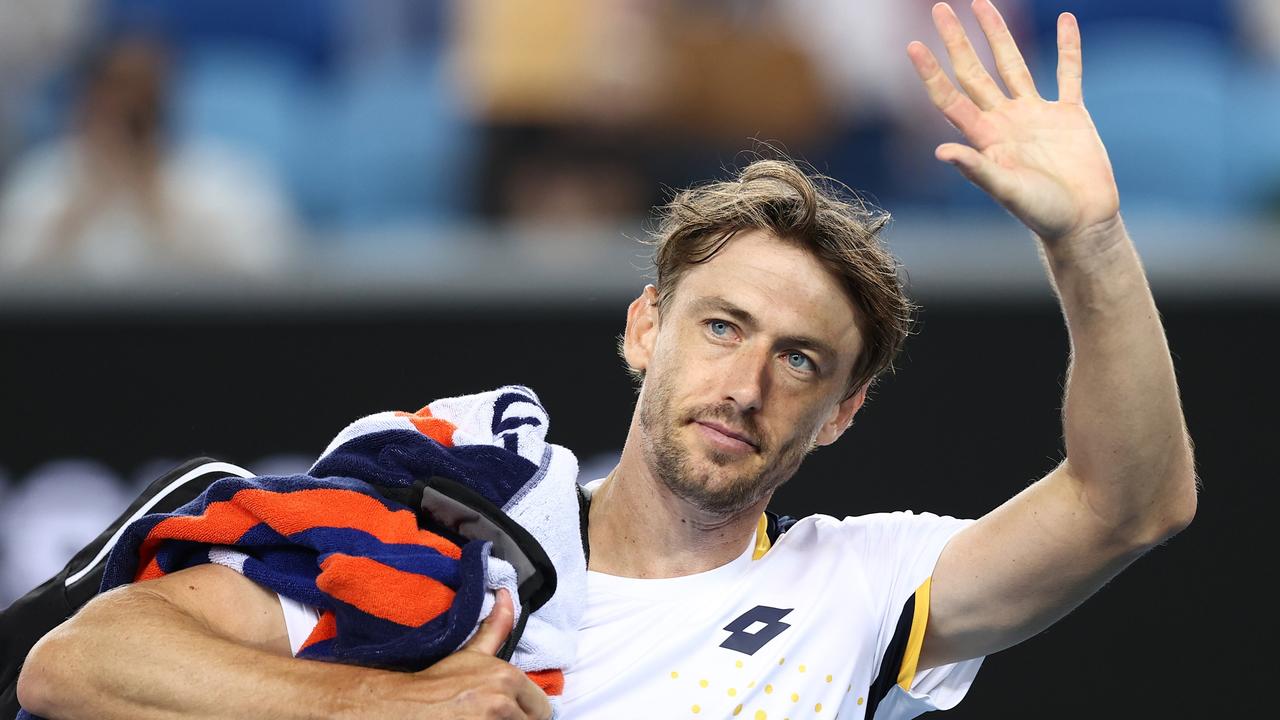 John Millman waves to fans after his win, where a fight is believed to have broken out in the stands. Picture: Mark Metcalfe/Getty Images
"I know it was rowdy, but the last 11 months, normally when you're playing away, you don't really have that support at all.
"So I'll take the support. Obviously I encourage everyone to keep their hands and feet to themselves, but hopefully I can get a bit of a rowdy crowd and a crowd that gets behind me in my next one."
Millman has some incredible stories from his time on the Futures tour, and there's more bad than good in those tales — including getting spat on by fans while playing in Slovenia.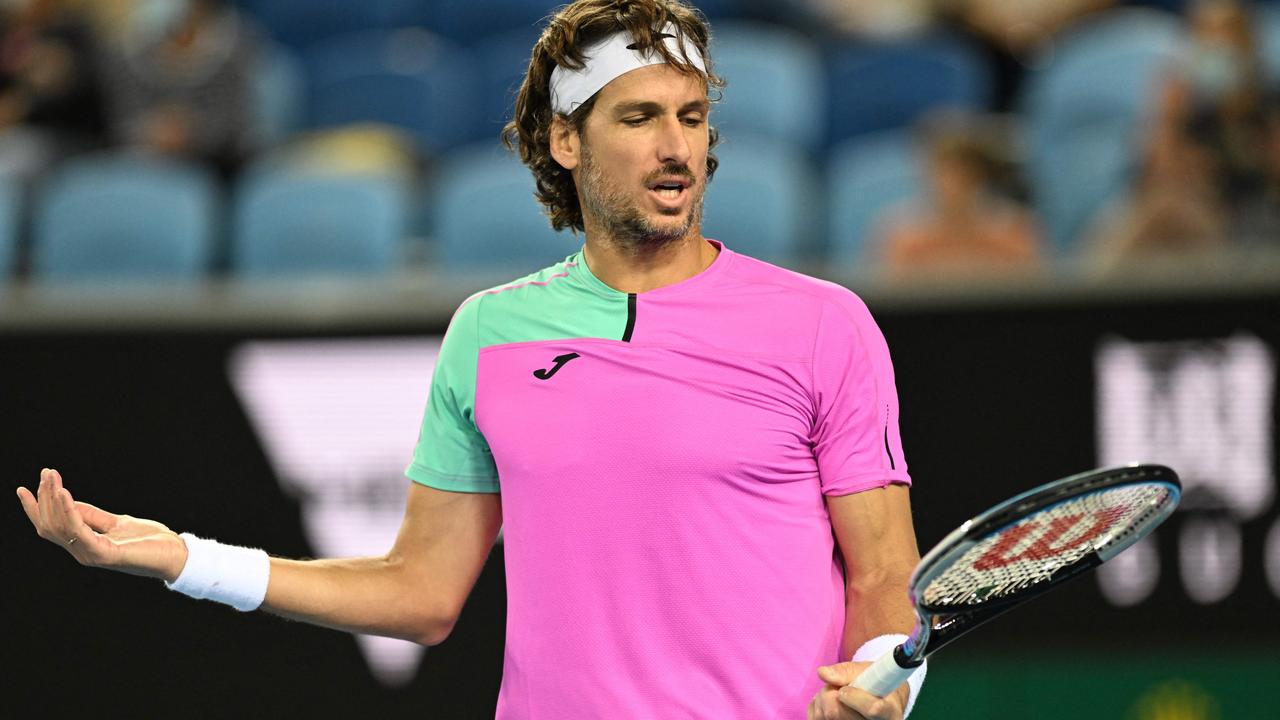 Spain's Feliciano Lopez battled the crowd and Millman. Picture: Michael Errey/AFP
But it's hard to top one incident at a tournament in Monaco when Millman was witness to a full-blown organised street fight that erupted on the court while a match was ongoing.
"I wasn't playing (this match but) I was playing in the tournament," he explains.
"(It was) rival clubs or something, there was players were playing (but) there was actually a fight on the court.
"Singles sticks, not with the players but with fans that came on the court and started hacking at each other, and they all got in cars to do a rendezvous at a fight."
Millman was forced to dig deep to win through to the second round with a four-set victory over Lopez.
Millman snatched the opening two sets against the Spanish veteran and looked on his way to a speedy win.
However, the 40-year-old Lopez wasn't going down without a fight, taking the third set and pushing the Aussie all the way in the fourth.
Millman eventually snatched the break at 6-5 to secure his place in the second round.
The Aussie was thrilled to come away with the win after a challenging 2021, which included a number of injury issues.
Millman is pumped up after strong start against his Spanish opponent. Picture: Mark Metcalfe/Getty Images
"I think I started off really well and Feliciano, I do not think was serving too well and that is his strength," he said.
"I thought I might have blown it in the fourth set with a couple of little breakpoints but he had some great serves under pressure.
"I think probably the crowd got behind me."
Millman will now play the winner of Alexander Zverev and Daniel Altmaier.
At 6-1 6-3, quad tennis champion Dylan Alcott wasn't giving Lopez much chance of a comeback.
"They look in a different stratosphere in terms of what is going on physically. John is up and about, really using his energy," Alcott said on Channel 9.
"Lopez struggling, grimacing after each point.
"I've got a spare wheelchair in the locker room. I reckon he's about an hour away."
His fellow commentator Todd Woodbridge then said: "Only you can get away with that," with a big laugh
The Spaniard was upset with parts of the crowd. Picture: Mark Metcalfe/Getty Images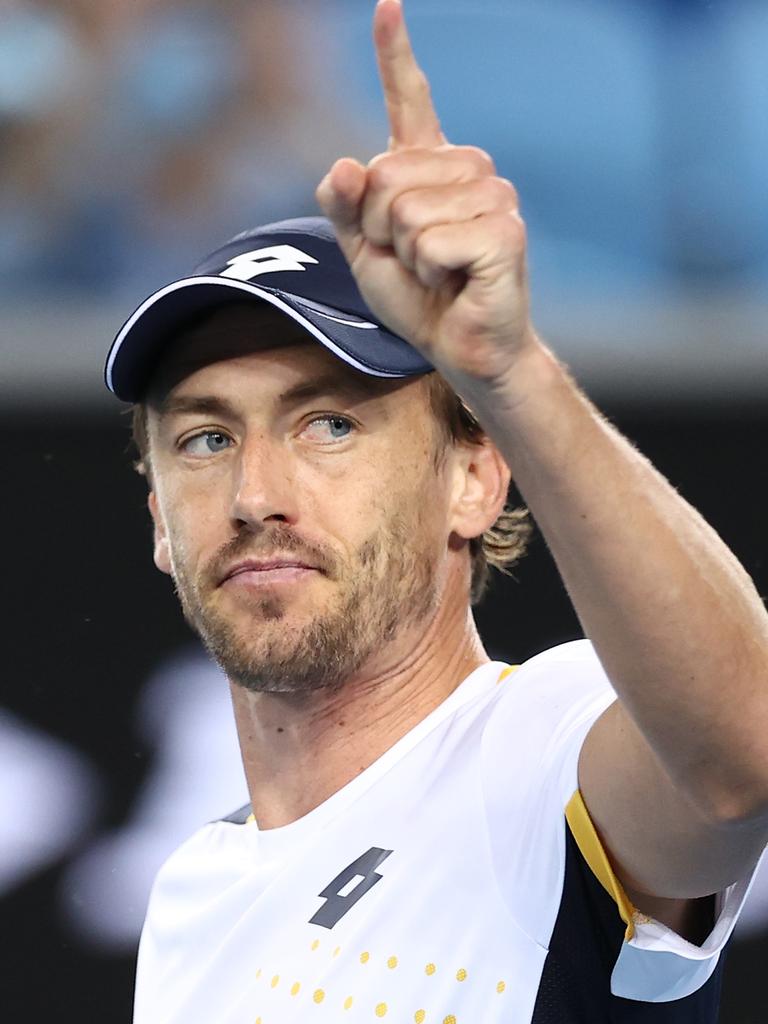 The Australian celebrates after his tough battle. Picture: Mark Metcalfe/Getty Images
Earlier, Thanasi Kokkinakis' dream summer has ended in disaster with the popular comeback talent out after a stunning round one loss to German qualifier Yannick Hanfmann.
Kokkinakis entered the tournament with high expectations and the most wins on tour in 2022 – care of his success at the Adelaide International — but that counted for little against the towering German, who floored the Australian with a straight-sets clinical display.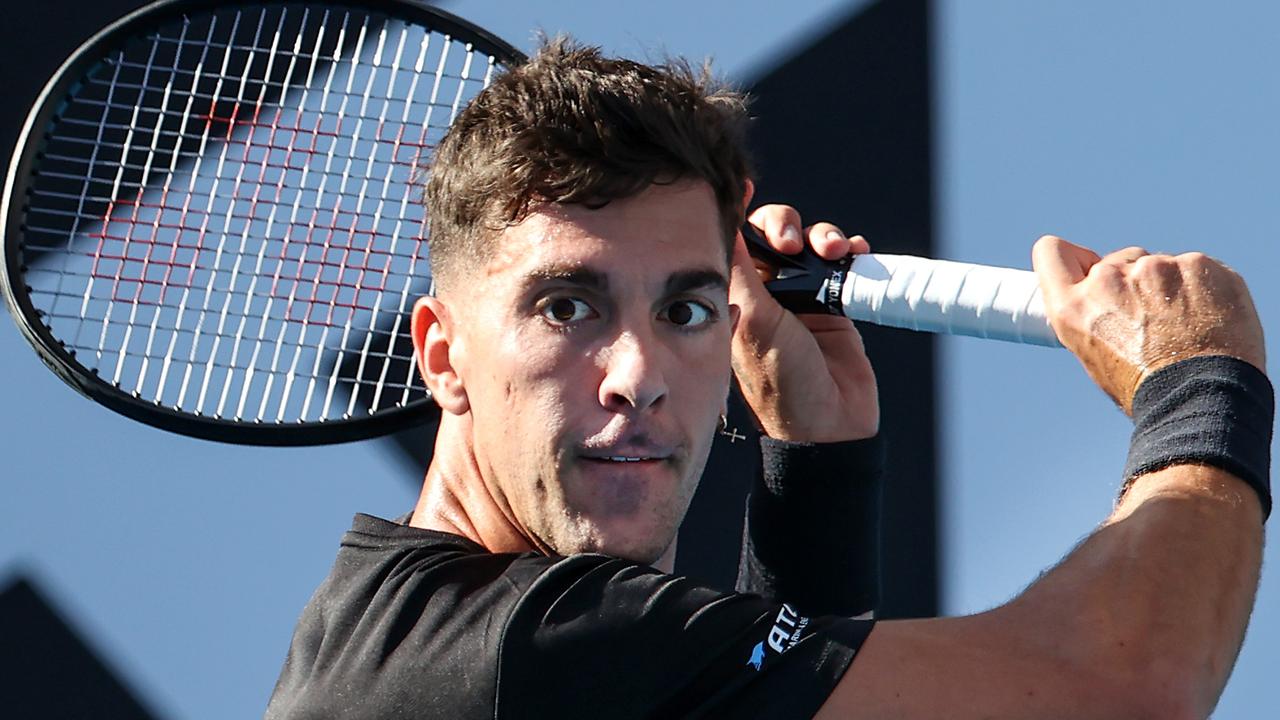 Thanasi Kokkinakis in action against Yannick Hanfmann. Picture: David Caird/NCA
Despite toppling fellow giants John Isner and Marin Cilic en route to the Adelaide International final, where he won his first Tour-level title last week, Kokkinakis has no answer to the German's powerful serve.
The 25-year-old Kokkinakis broke back into the world's top 100 on the back of his stunning run in Adelaide, and had designs on setting up a blockbuster second-round showdown with all-time great Rafael Nadal, only to come unstuck against the world No. 126.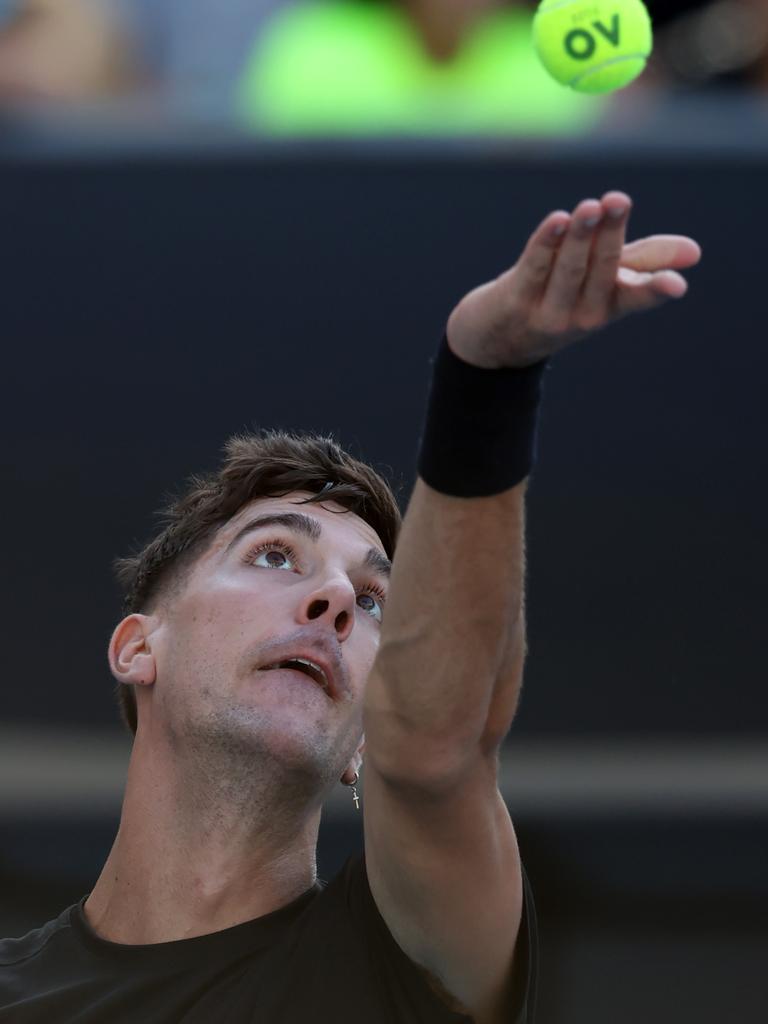 Kokkinakis serves during his straight sets exit. Picture: David Caird/NCA
A stunned Kokkinakis on Showcourt three. Picture: David Caird/NCA
Despite toppling fellow giants John Isner and Marin Cilic en route to the Adelaide International final, where he won his first Tour-level title last week, Kokkinakis had no answer to the German's powerful serve as he went down 6-2 6-3 6-2.
Hanfmann was near untouchable when landing his first serve, and came up clutch in the big moments, breaking Kokkinakis five times while having a perfect eight from eight record on break points saved.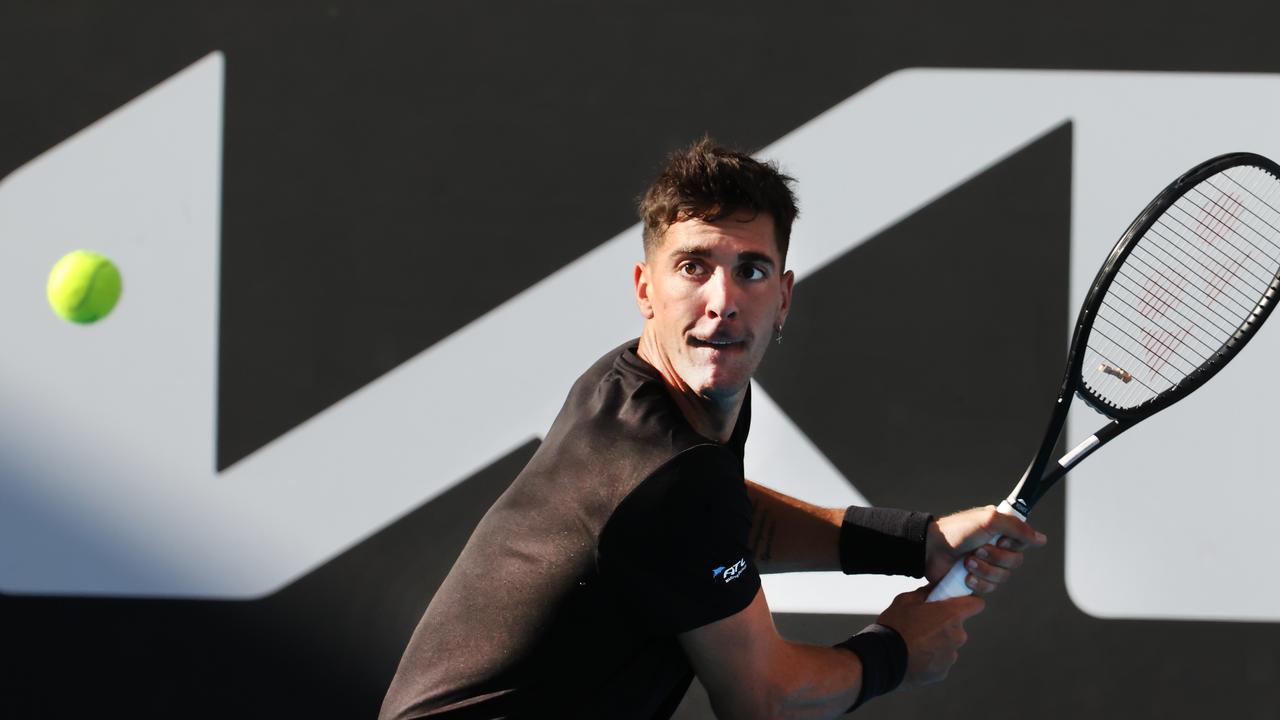 Kokkinakis was never his usual self as he slumped to an opening round departure. Picture: David Caird/NCA
Even the backing of a raucous Court 3 crowd wasn't enough to inspire Kokkinakis.
He suffered regular body blows throughout the match and looked a shadow of the player that roared last week to claim his maiden title in Adelaide – with the toll taken on the injury-prone star's body a potential factor behind his Monday-night no-show.
"If it was a boxing match, the referee would almost be stepping in for a TKO right now," said Sam Groth in commentary for Channel 9, with Kokkinakis down a break in the third set.
The big-hitting Kokkinakis couldn't find his range or rhythm, with his booming forehand failing to deliver enough winners as the errors mounted.
With his campaign slipping through his fingers, Kokkinakis went down a double break in the third set – and threw caution to the wind, saving two match points, before being shut out by the 30-year-old who sealed his first grand slam win.
'A dream': Unknown Aussie ousts tennis powerhouse
The Australian Open might have crowds capped, but Court 3 was bursting at the seams as Aussie wildcard Alexsandar Vukic claimed a massive scalp in his first grand slam victory.
Vukic, 25, ranked 144th in the world playing in the AO on a wildcard, beat 30th seed Lloyd Harris.
So who is Vukic?
He's from Sydney, and says he feels "lucky" to live in Australia after his parents Rad and Ljiljana left war-torn Montenegro in the early 1990s.
Aleksandar Vukic claimed a huge upset triumph. Picture: David Caird/NCA
"This is totally a dream, especially on this court, with all these guys," Vukic said.
"I came here as a kid and was watching the Aussies play here, so to play myself and actually get the win – I can't put it into words, man.
"They were with me every point and I knew I wasn't alone and I couldn't have done it without them. This is a dream.
"I'm hoping (this is the start of great things for me). I'm taking it day in, day out, but I'm going to treasure this moment for the rest of my life."
Vukic, who honed his craft in American college tennis, had the worst possible start when he erroneously left a ball he thought was going out to concede a break in the opening game.
That was all Harris, who outlasted another Australian, Alexei Popyrin, in a tense five-setter in the second round of last year's Australian Open, needed to cruise to a one-set lead.
The match began to turn in the 144th-ranked Vukic's favour in the second set, but it wasn't until his fifth break point – after failing to capitalise on four in the second game – that he was rewarded.
The Aussie went on the attack, then rifled a forehand that Harris couldn't retrieve, sparking a vigorous reaction from him.
A game later, Vukic had locked the match at a set-all.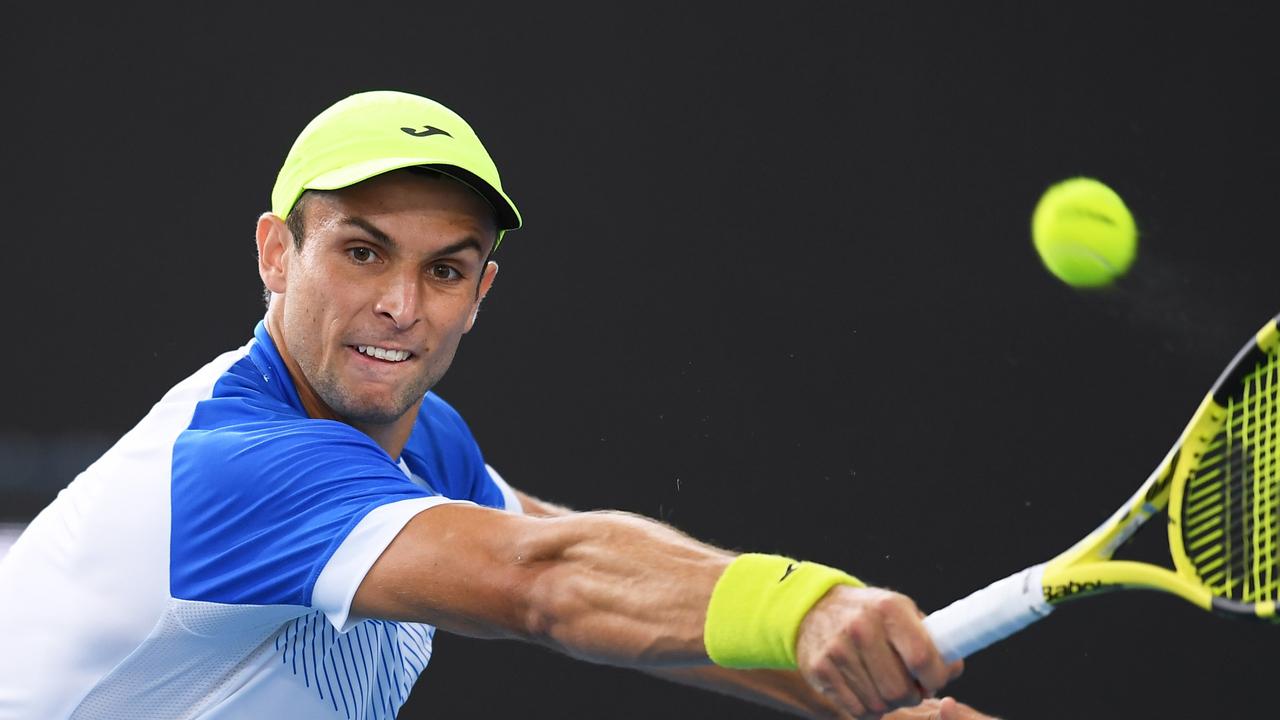 Aleksandar Vukic set Court 3 abuzz with a rousing upset. Picture: Mark Brake/Getty Images
The second game of the third set would prove crucial, with Vukic escaping after saving a pair of break points then later saved a set point with a brilliant crosscourt backhand with Harris at the net.
As became the norm, Vukic was better at converting his opportunities and snatched the break in the 11th game when Harris misfired on his forehand.
He rates Novak Djokovic and Rafael Nadal as his tennis idols, and ranks the Open as his favourite tournament.
It's showing at the moment, with the home crowd well and truly behind him here at Melbourne Park.
The 25-year-old from Sydney is playing only his second home slam.
He lost in the first round to Karen Khachanov in 2021.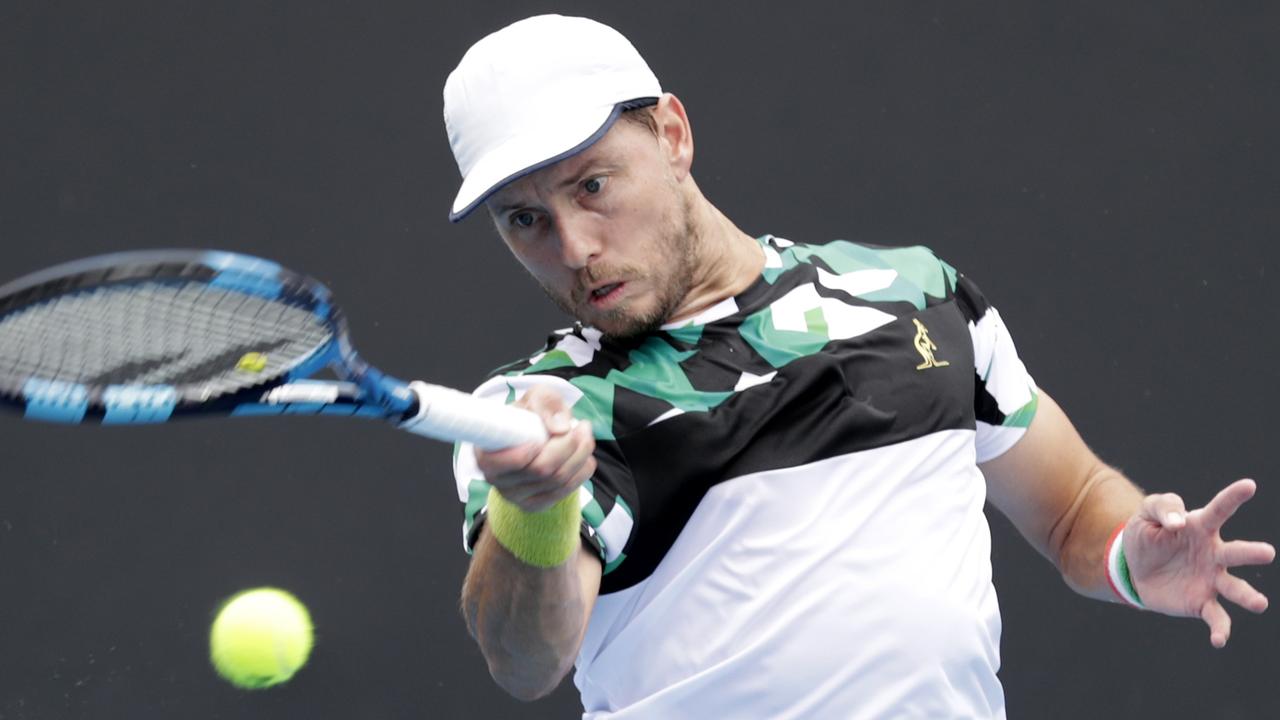 James Duckworth plays a forehand on his way to losing to France's Adrian Mannarino in five sets. Picture: Mackenzie Sweetnam/Getty Images
Not this time for marathon man, Duckworth
Five sets, the Australian Open, James Duckworth. Rinse, repeat.
The problem this time was it didn't go in Duckworth's favour, with veteran Frenchman Adrian Mannarino rallying from two-sets-to-one down to win 6-4 2-6 3-6 6-2 6-1.
Mannarino struck early in the deciding set, reducing the Australian to 15-40 in the second game before a superb, blocked backhand return beat Duckworth for a winner.
It was a blow the 29-year-old never recovered from despite creating a slight opening in the following game.
Duckworth's five-set record at his home grand slam slips to 2-3 — including back-to-back matches in 2013 — and he ends a hopeful Australian summer without a win from three matches.
He lost his two matches at the ATP Cup to Adelaide finalist Arthur Rinderknech and Russia's Roman Safiullin, who went down in final-round Australian Open qualifying.
Duckworth made his top-50 debut late last year on the back of an extended purple patch post the US Open that made him Australia's second-ranked man.