Australian Open 2022: Naomi Osaka sends scary reminder of power in first round masterclass
Naomi Osaka has announced her return with 20 minutes of awesome power before sidestepping Novak Djokovic landmines to send firm warning that she is back and feeling sharp. Women's wrap.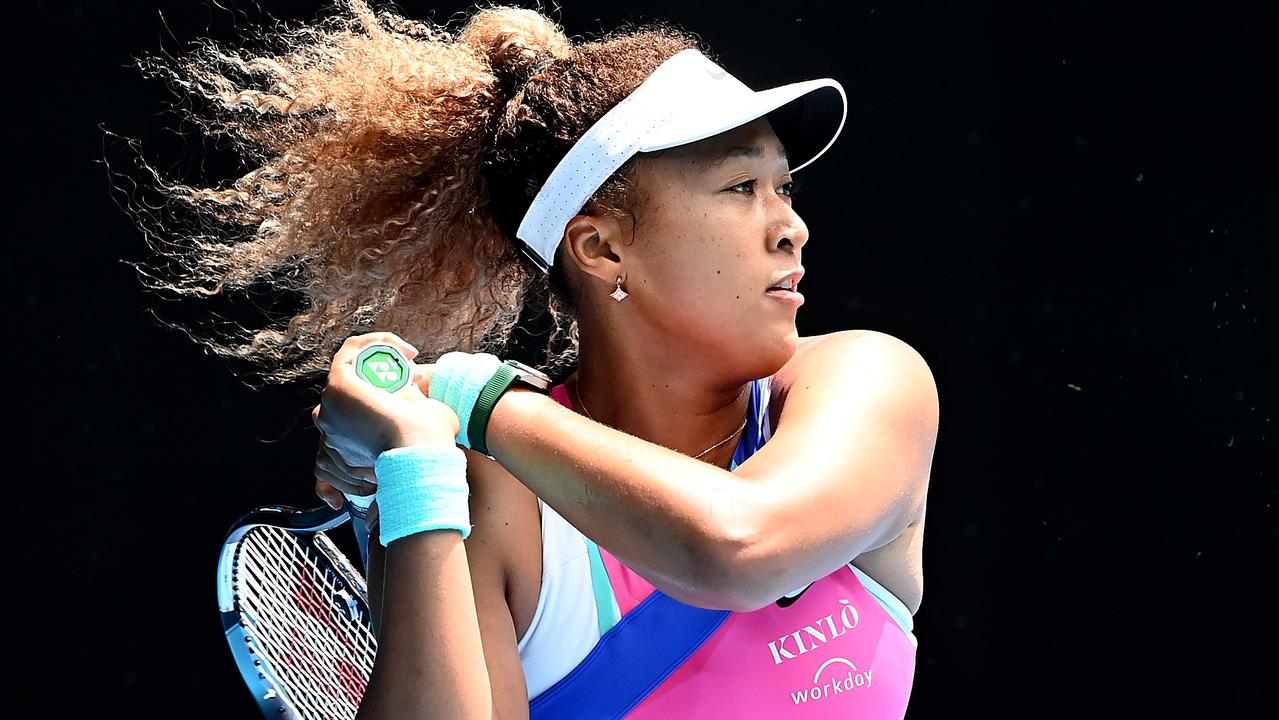 Naomi Osaka had a dominant win in her first appearance of the 2022 Australian Open. Picture: Quinn Rooney/Getty Images
In just 20 minutes, Naomi Osaka sent a shocking reminder of her championship qualities to any rival – including Australia's Ashleigh Barty — looking to take her Australian Open crown.
And then she stared down an even bigger challenge — in the form of a lengthy press conference in which she gracefully sidestepped Novak Djokovic landmines, with similar class to her on-court mastery.
Fresh from a significant break to manage her mental health, following an early US Open exit last September, Osaka tore 20-year-old opponent Camila Osorio to pieces in an early blitz on Rod Laver Arena.
In the blink of an eye, the young Colombian trailed 5-0 in the first set and Osaka was kicking off her title defence in stunning fashion.
Showing there's still some cobwebs to be removed, the two-time champion at Melbourne Park had 15 unforced errors as she let Osorio back into the contest — but rarely looked too troubled as she wrapped things up in just 68 minutes.
She put in an equally seamless performance 90 minutes later when she fronted the world's press, a stage which she's struggled on in the past.
But facing a barrage of questions ranging from the Novak Djokovic debacle, to the disappearance of Chinese tennis player Peng Shuai, and finally her own happiness after recent struggles.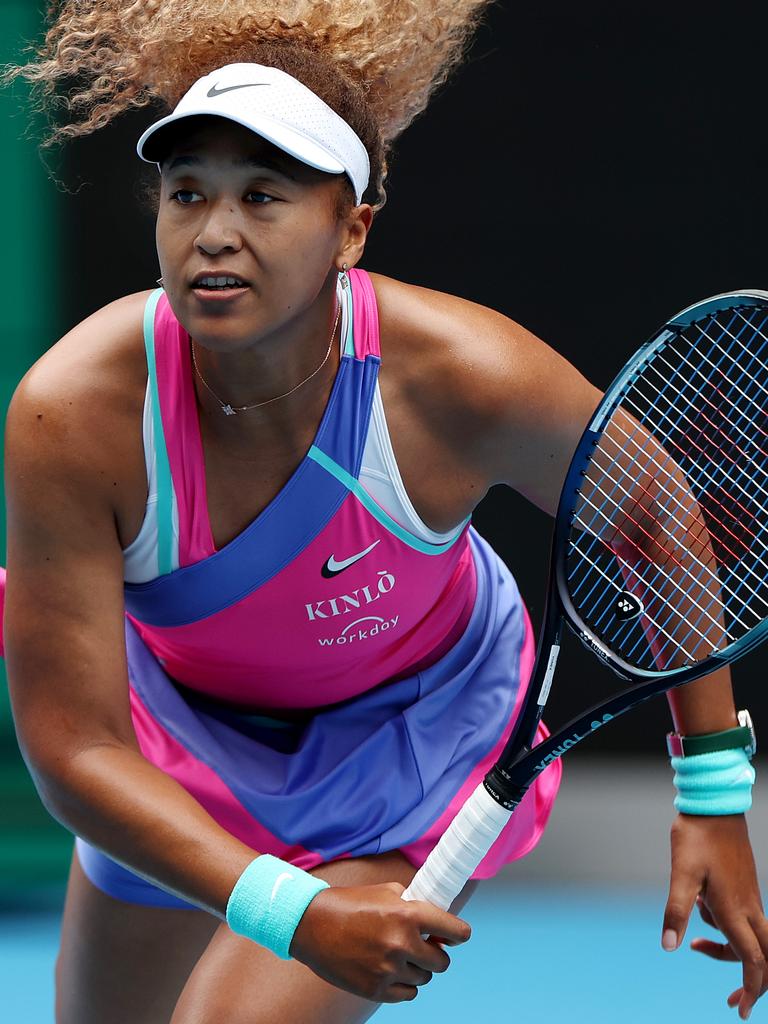 Osaka on her way to a 6-3 6-3 win over Colombian Camilia Osorio. Picture: Michael Klein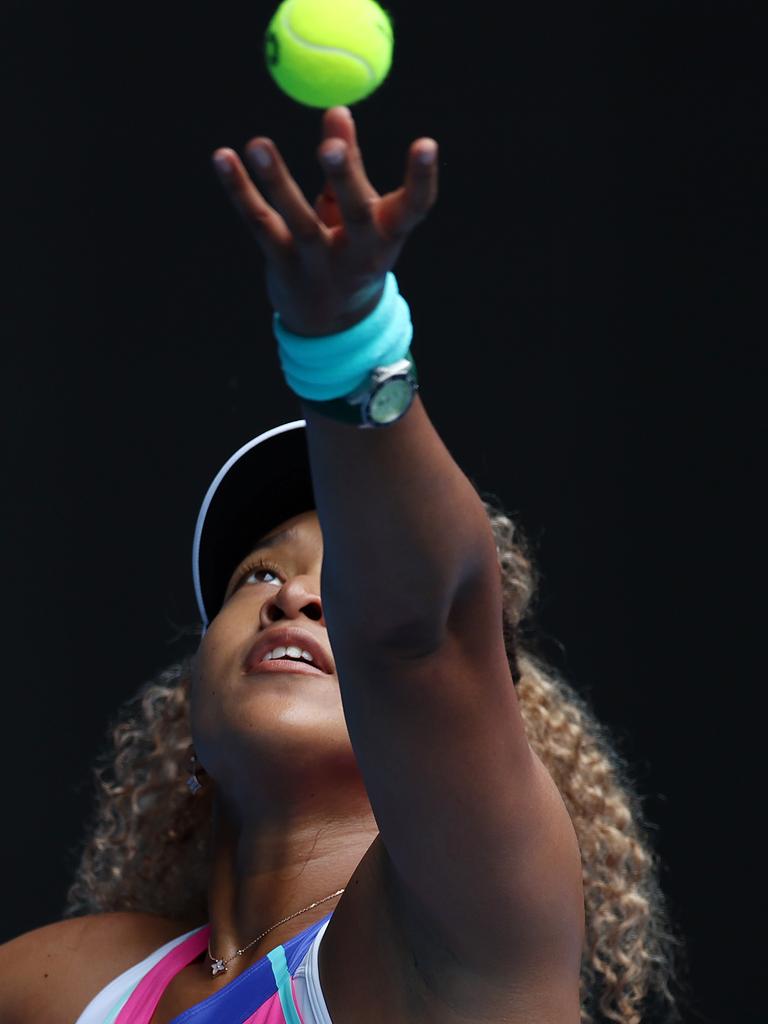 Osaka serves during her sometimes testing opening round win. Picture: Michael Klein
"I would say the turning point was after the US Open last year," Osaka said.
"I was just sitting in my house wondering what do I want to do in the future.
"I felt like there's still so many things that I want to do in tennis. I haven't played Wimbledon in two-to-three years.
"I want to go back and experience that whole thing. It's a little bit of unfinished business, but also knowing that everything can't be perfect all the time. I accept the fact that I'll have dips, and I need to figure out a way to overcome it."
The former world No.1 admitted she had trouble doing research on Osorio, who handled herself well to rebound from the early shellacking.
But after little more than an hour, it was all over with Osaka winning 6-3 6-3.
Osaka will next face American Madison Brengle — with a potential fourth-round against Barty awaiting.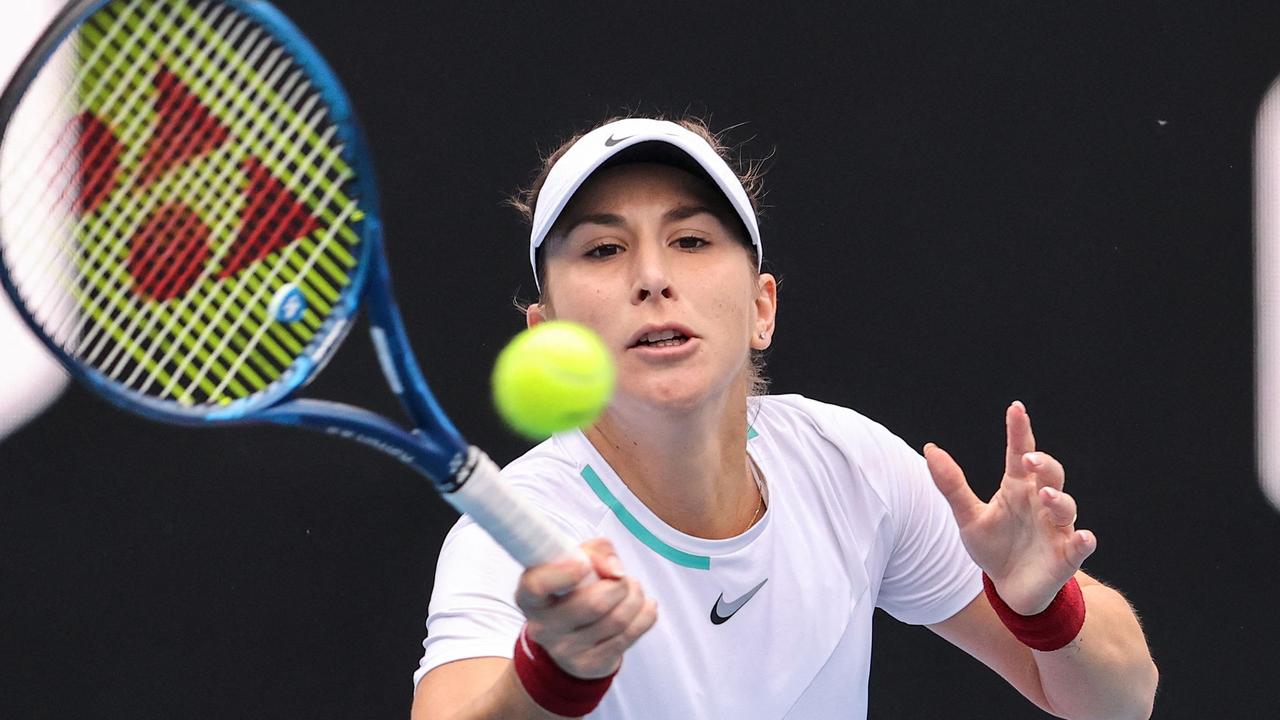 Switzerland's Belinda Bencic hits a return against France's Kristina Mladenovic. Picture: Martin Keep/AFP
Gold medallist still feeling effects of Covid
Tokyo Olympics gold medallist Belinda Bencic said she was still feeling the effects of Covid, a month after falling ill, as she moved into round two of the Australian Open despite not being at her best.
The Swiss, seeded 22, caught coronavirus in mid-December after competing at an Abu Dhabi exhibition, and even last week at the Sydney Classic she was feeling "very, very tired".
"I mean, my pulse was getting very up in the practices and even after Sydney, after the (Paula) Badosa match, I was very, very tired, and the breathing and everything," she said after overcoming Kristina Mladenovic 6-4, 6-3.
"I think it's getting better day by day." Bencic, who will next meet this month's Melbourne Summer Set champion Amanda Anisimova, admitted the recovery had been slow and had impacted her build-up to the opening Grand Slam of the year.
"Definitely for my tennis, it's more the thing that I didn't practise for 14 days in the middle of the pre-season," she said.
"But for my fitness, it's actually worse because I don't want to say I had it very bad. Obviously not compared to people getting hospitalised and having worse symptoms, but it wasn't easy.
"My fitness definitely was very off and I had to take it very slow getting back because obviously you have to do all the tests on the heart, lungs, everything, and you cannot start too quickly to just avoid any risks."
The 24-year-old added that Covid had also dented her confidence and she was below her best against Mladenovic.
"I'm not quite there yet, but I'm very happy with how I managed to kind of stay in the match in the important moments,"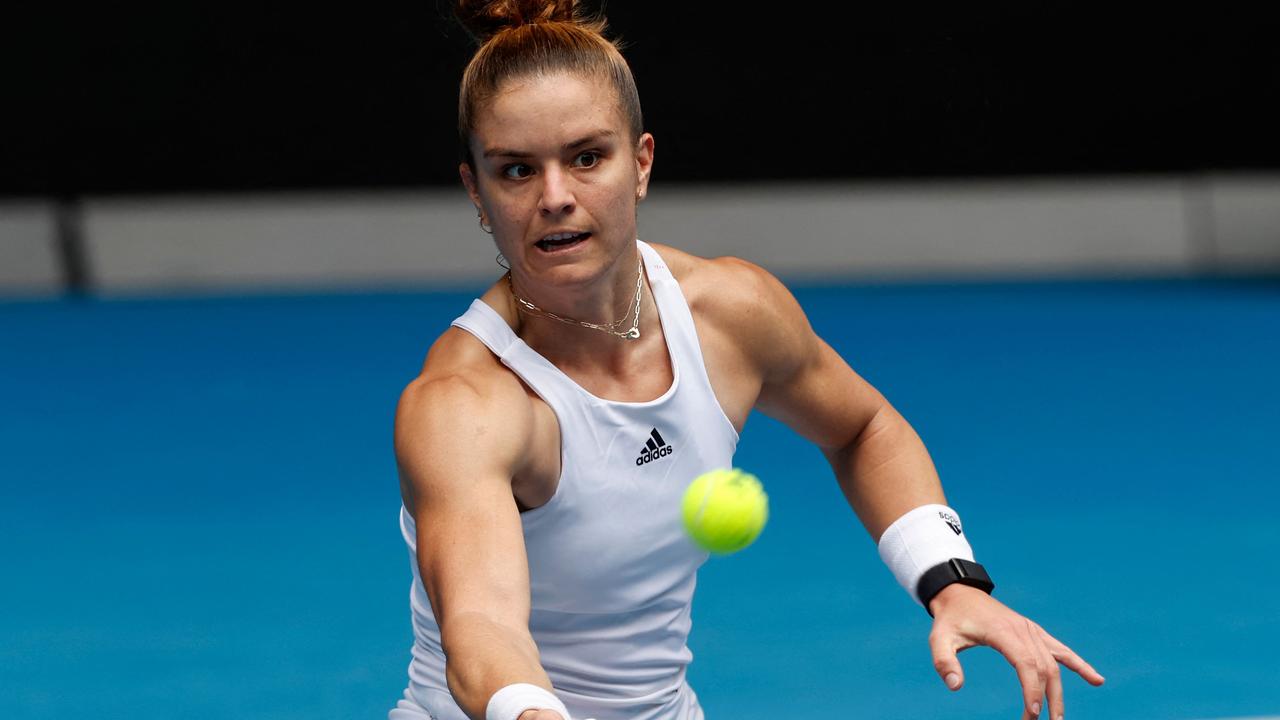 Greece's Maria Sakkari during her match with Germany's Tatjana Maria. Picture: Brandon Malone/AFP
Sakkari hopes 'strong mind' will take her far
Maria Sakkari said Monday dispelling "negative thoughts" helped propel her to two Grand Slam semi-finals last year — and she hopes to go even farther at the Australian Open.
The Greek fifth seed battled past Germany's Tatjana Maria 6-4, 7-6 (7/2) to kickstart her campaign as she looks to build on a breakout 2021.
The 26-year-old made the semis at both the US Open and French Open to telegraph her intent and is seeded in the top 10 of a Slam for the first time at Melbourne Park.
She said she felt she belonged at the top, which she put down to a new-found belief.
"I think that's why I got to play two semi-finals in Slams last year," said Sakkari, who played the first match on the main Rod Laver Arena to launch the season's opening Grand Slam.
"I started working a lot in my mind on how I can get all these negative thoughts and all this pressure away from me.
"Of course, you can never do like a hundred per cent what you're trying to do, trying to achieve, but you can improve. I proved myself that I have a strong mind. I proved it on court actually."
She took time to settle against Maria but soon found her groove to break for a 5-4 lead and serve out the opening set in 44 minutes.
But the 287th-ranked German refused to give up and made Sakkari work hard, taking the match to a tie-breaker before her resistance was broken.
"We all know how hard first rounds can be and that wasn't easy," said the athletic Sakkari, who also made the semi-finals of the season-ending WTA Finals last year.
"Tatjana played a really great match and I found it tough. It was my first match and I needed time to find my rhythm.
"I was also a little bit stressed to open the tournament in this wonderful stadium." Sakkari will next play Chinese qualifier Zheng Qinwen, who upset Aliaksandra Sasnovich of Belarus in three sets.mp/pst