Australian Open 2022: Nick Kyrgios called out by doubles opponent ahead of semi-final
Nick Kyrgios has been slammed by a disgruntled rival who accused the Aussie star of gifting his racquet to an injured child as a PR stunt.
Nick Kyrgios has been sensationally branded "an absolute knob" who has the maturity of "about a 10-year-old".
Michael Venus, who lost to Kyrgios and Thanasi Kokkinakis in the men's doubles on Tuesday, described the raucous Kia Arena crowd as "like a circus" and that he had been targeted with comments about his family between points. In a blistering review of the firebrand Australian, Venus declared the tennis star to be a waste of valuable talent.
"You look on my social media and some of the pictures, some of the comments (after the match) ... the amount of messages I got from people - an extreme amount. Way, way more than I've ever had but then a lot of messages from people saying how embarrassed they were with the crowd's behaviour and they're sorry, and it shouldn't have been like that," Venus said on New Zealand's 1News.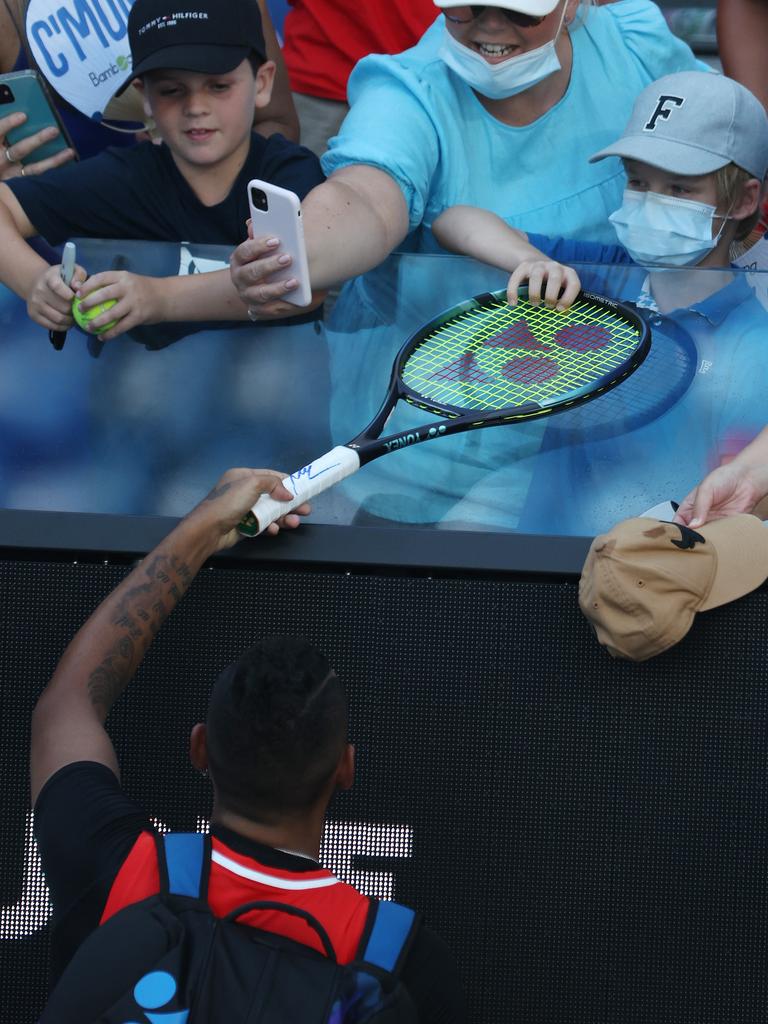 Nick Kyrgios gave away a racquet to a child he accidentally struck with a ball. Picture: Michael Klein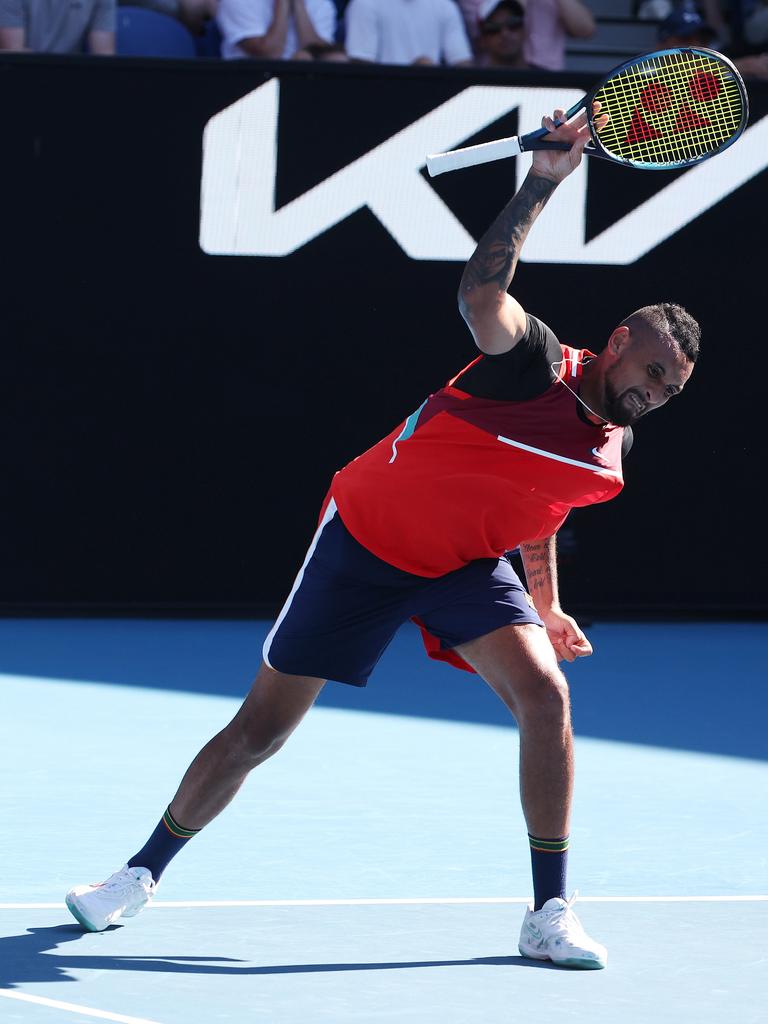 And smashed another. Picture: Michael Klein
"There'll always be his supporters, and they'll always spin it in a way that helps him. But at the end of the day, he's just an absolute knob.
"I think it just speaks for him. His maturity level, it's probably being generous to about a 10-year-old, to say that it's at about that level."
Venus said Kyrgios is "an unbelievable tennis player" but claimed he remained an unfulfilled prospect.
"What he can do out there, his tennis IQ on the court, it is amazing, and he's definitely on that side of things one of the best players in the world," he said.
"On the maturity side, you see why he's never fulfilled his potential and probably never will."
Venus, who had conferred with the chair umpire on numerous occasions throughout the match as the crowd ran riot, yelling out between serves and being reminded regularly to stay quiet during points, said the environment did not feel like a tennis match.
And he even suggested that Kyrgios' heartwarming gift after striking a young boy in the crowd with a wayward ball was a stunt.
"Between serves, (Kyrgios and Kokkinakis were) geeing the crowd up and getting them to cheer at times like that. I don't think that's really on," he said.
"You know if it's on the other foot, old mate (Kyrgios) would have flipped his lid.
"He already did get mad there by himself.
"It's amazing, he can smash a ball out that hits a kid and just 'cause he gives them a racquet afterwards people can say he's such a good guy."
'SINK P*** AND COME HERE': SPECIAL K'S EPIC INTERVIEW
Sam Landsberger
Cheeky chums Nick Kyrgios and Thanasi Kokkinakis thrilled and filled Kia Arena for more than two hours on Tuesday.
It then took each of them just 10 words to sum up why they are the hottest ticket in Australia right now.
"I'm not finished – I want to win this f****** thing," Kyrgios grinned during another entertaining on-court chat.
Kokkinakis added: "The rowdier the better, honestly. Sink piss and come here."
Win it they might. These brash brothers are through to the last four pairs, putting the 'wild' in wild cards.
The giant killers had already put the No.1 and No.15 seeds on planes home and on Tuesday it was the No.6 seeds uprooted from Melbourne Park in a 7-5 3-6 6-3 cracker.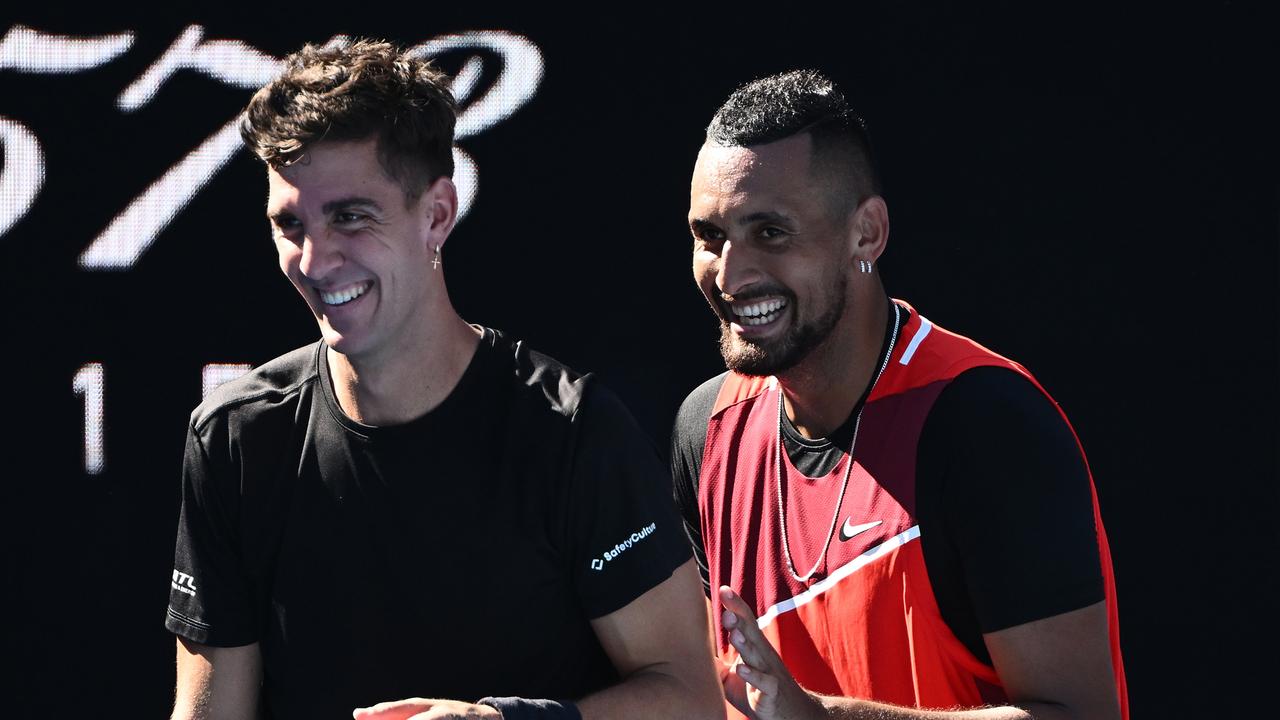 Thanasi Kokkinakis and Nick Kyrgios gave a very colourful post match interview. Picture: Getty Images.
They aren't doing it for the cash.
Doubles semi-finalists pocket just $205,000, which is about a two-bedroom inner-city apartment shy of the $895,000 semi-final pay cheque in singles.
They are doing it for fun. Kyrgios declared on Sunday that TV ratings were up "45 per cent" on the back of showmanship like the 'Special Ks'.
But when the lovable larrikins started their quarter-final against Tim Putz and Michael Venus, they had been bizarrely bumped off free-to-air TV by a sitcom about a sports writer and a funny film from 66 years ago.
Rafael Nadal's battle with young gun Denis Shapovalov earned top billing on Channel Nine's primary channel and Everybody Loves Raymond and British movie from 1956 called The Baby and the Battleship occupied the secondary slots.
Nine bosses quickly read the room as the world's most watchable doubles partners took over the main channel and Nadal and his 20 Grand Slams were demoted.
Sorry, Rafa.
"Nadal is hell of a player, that's unexpected," Kyrgios said of the popular TV switch.
"But, I mean, the level of entertainment I think is different I think."
Kokkinakis has lauded Kyrgios for his newfound professionalism.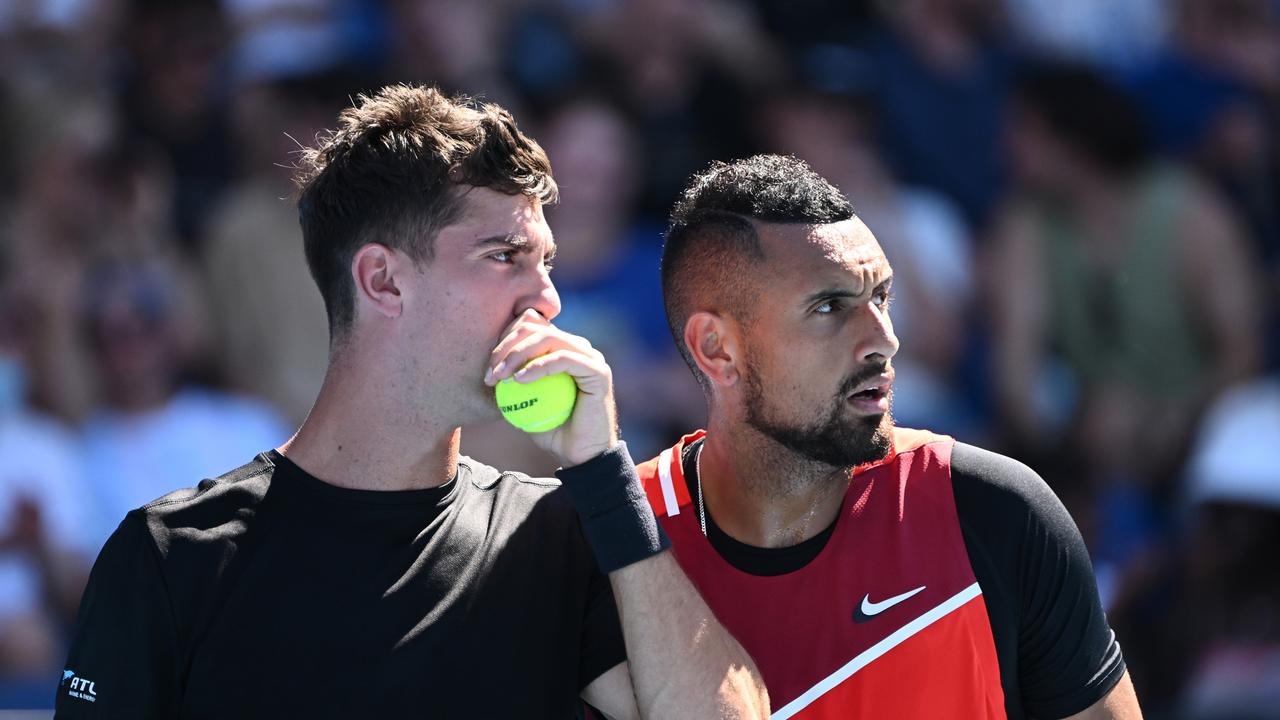 The Special K dynamic duo were on fire agains Tim Puetz and Michael Venus, and had the crowd on their side from the get go. Picture: Getty Images.
The boys almost came to blows with the No.1 seed's fitness trainer last Friday after they ousted a pair of fancied Croats … and that was because they made a rare post-match trip to the gym.
"I'm being more professional for this doubles than I think I have ever done in my life," Kyrgios said.
"I'm putting all my focus into this."
But apparently that focus doesn't extend to opposition analysis.
"I didn't even know who we played two days ago, I didn't even know but when I walked out there," Kyrgios said of the No.15 seeds in the world.
Their captivating controversies and AFL-style crowds won't make it to Europe.
Why? Well, Roland Garros has clay courts and Wimbledon has best-of-five sets – too much work for these boys.
"I reckon we'd maybe play US Open, that's the other Grand Slam I can see," Kyrgios said.
The breakdown of Kyrgios' GPS – although, let's be honest, he probably doesn't have one – would make for interesting reading.
A fired up Kyrgios did come under fire for accidentally smacking a young boy in the crowd but ended the match as a hero. Picture: Getty Images.
Does the polarising playmaker do more running when he is winning points or celebrating them?
That's not to question his work ethic. Before the tournament Kyrgios was sleeping 17 hours per day as he fought off coronavirus.
Since it started his two singles and four doubles matches have totalled a gruelling 11 hours and 47 minutes on court.
When Kyrgios smashed a ball away in frustration it smacked a young boy in the crowd.
Novak Djokovic's similar act at the 2020 US Open left him disqualified because the ball hit a linesperson.
But Kyrgios finished up a hero after handing the young fella a new racquet as an apology.
When you're hot you're hot, and Nick and Thanasi are burning it up … and Novak's not.
Originally published as Australian Open 2022: Nick Kyrgios called out by doubles opponent ahead of semi-final