Australian Open 2022: Nick Kyrgios loses to Daniil Medvedev, but not for lack of commitment and discipline from his players' box
Check the 'gram you're out of the fam. That is one of the rules Nick Kyrgios' entourage live by during matches, writes ADAM PEACOCK.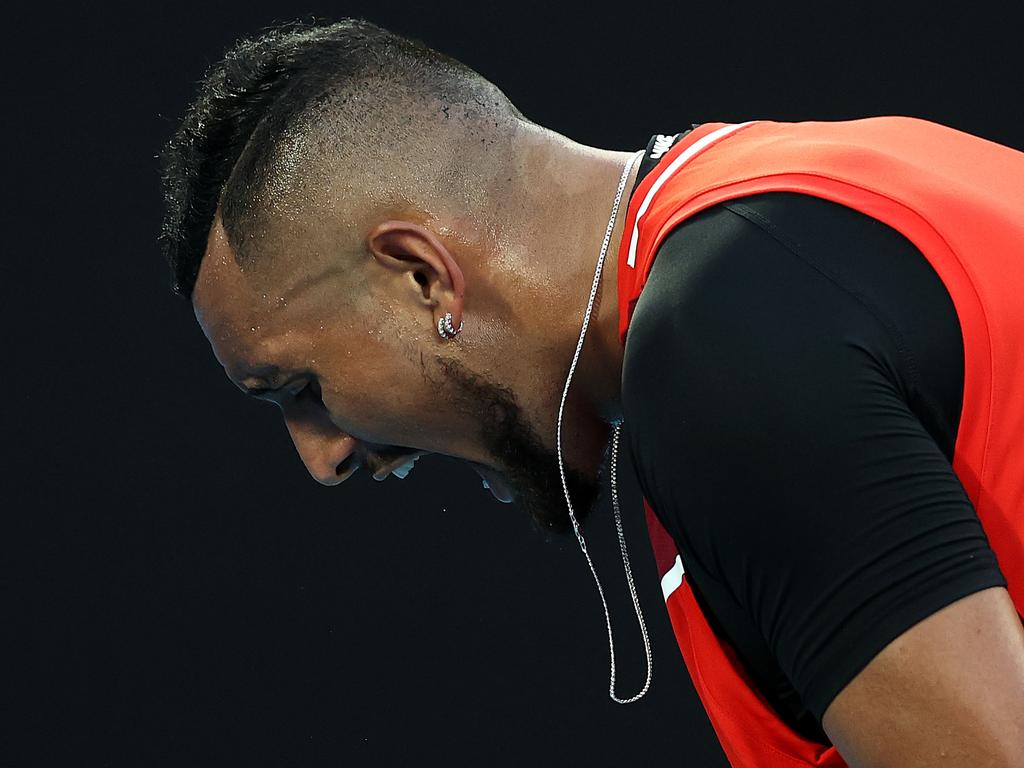 Nick Kyrgios toughed out a high quality, and loud, match against world No.2 Daniil Medvedev on Rod Laver Arena in the second round of the 2022 Australian Open. Picture: Cameron Spencer/Getty Images
Up, down, every point. Try to repel Daniil Medvedev, the real life Russian bot.
Medvedev doesn't flinch. He doesn't talk. Just hits and rarely misses.
So Nick Kyrgios needed all the help he could get last night.
Between every point they stood. Family, girlfriend, best mates, fitness trainer, agents, mates of mates. Kyrgios' nearest and dearest, about 20 of them, had received their instructions pre-match.
Stand and deliver enthusiasm when Nick looks over.
Don't dare be on your phone. That's the cardinal sin. Check the 'gram you're out of the fam.
Send only positive vibes back, no matter what you're getting from Nick.
They all played the match of their lives.
And it still wasn't good enough.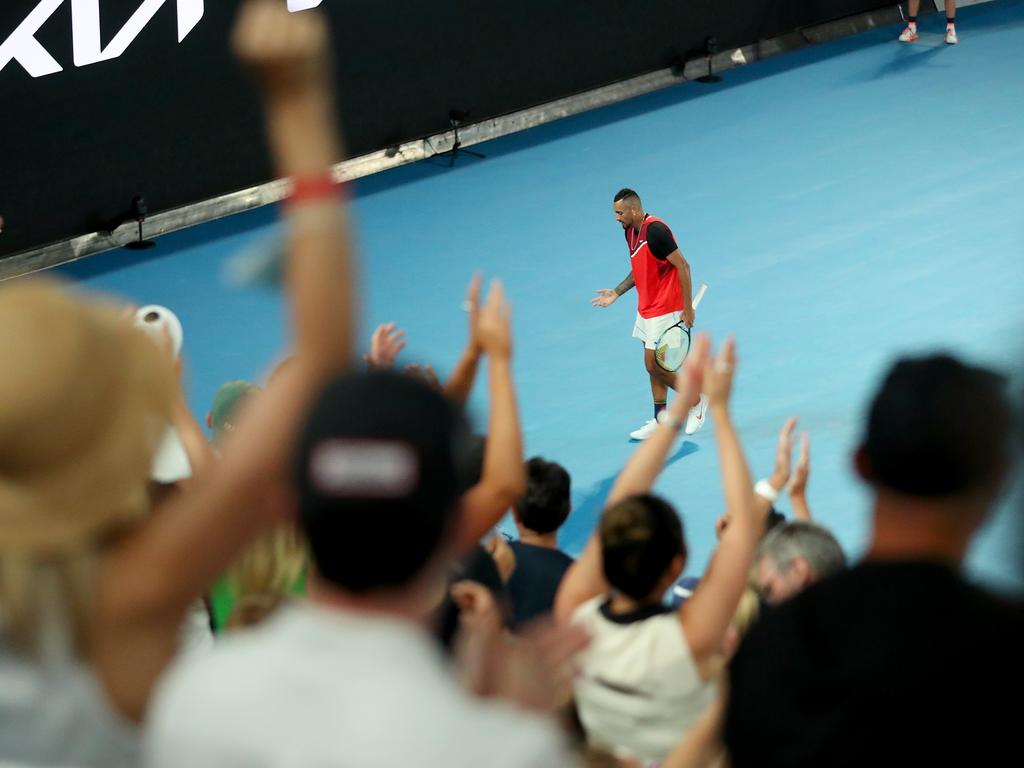 Nick Kyrgios had moments of both positive and infuriated interaction with the crowd at Rod Laver Arena. Picture: Kelly Defina/Getty Images
In his younger years, Kyrgios would wage war on his entourage. Whether it be insecurity or immaturity, he would berate those closest to him. Swear and threaten.
It's a big responsibility up there.
It's not unusual for a player to use their box as a physiological punching bag. Andy Murray will whinge and moan for the length of a Scottish winter to his crew about everything and anything. Novak Djokovic will burn the ears of Serbian grandmothers watching on TV such is the colourful nature of on-court conversations with his people, who only yell "C'mon King!" back adoringly no matter what they have stood accused of.
Lleyton Hewitt's version of box etiquette demanded full investment from his entourage in best-of-five-matches. Those who sat in his box still grimace at the physical toll matching his '"C'mooooons!" and "F— yeahs!" took.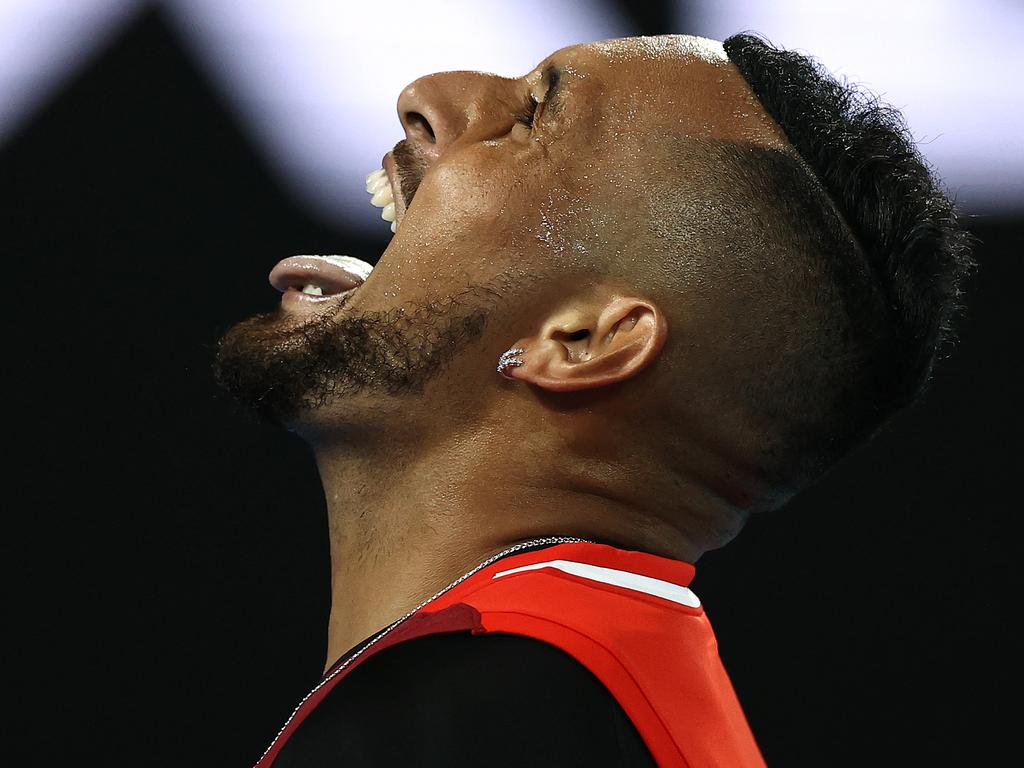 Kyrgios was vocal through his second round match against Daniil Medvedev, earning two conduct violations through the match, which lasted close to three hours. Picture: Cameron Spencer/Getty Images
It was a high pressure situation. Medvedev has less weaknesses than any other player on the planet (well, in Melbourne, at least). Kyrgios spoke before of having fun which, in an odd way, is perhaps a sign of maturity. Maybe it's a matter of having the right people in his life around him at the right time, but Kyrgios had nothing but love for his close circle on Thursday night, which allowed him to radiate that feeling to the rest of the crowd.
Rod Laver Arena might not have the cheap seats of John Cain Arena and its regular array of riff raff, but this was not your usual centre court crowd. Kyrgios knew this and played the role of conductor from the very first game, asking for more and more noise. He'd do it regularly during the match.
They amped up when he broke back in the first set for four-all. "Undefeated. UNDEFEATED!!!!" came a bellow from one fan ten rows back. Kyrgios smiled admiringly back, appreciative of the sentiment.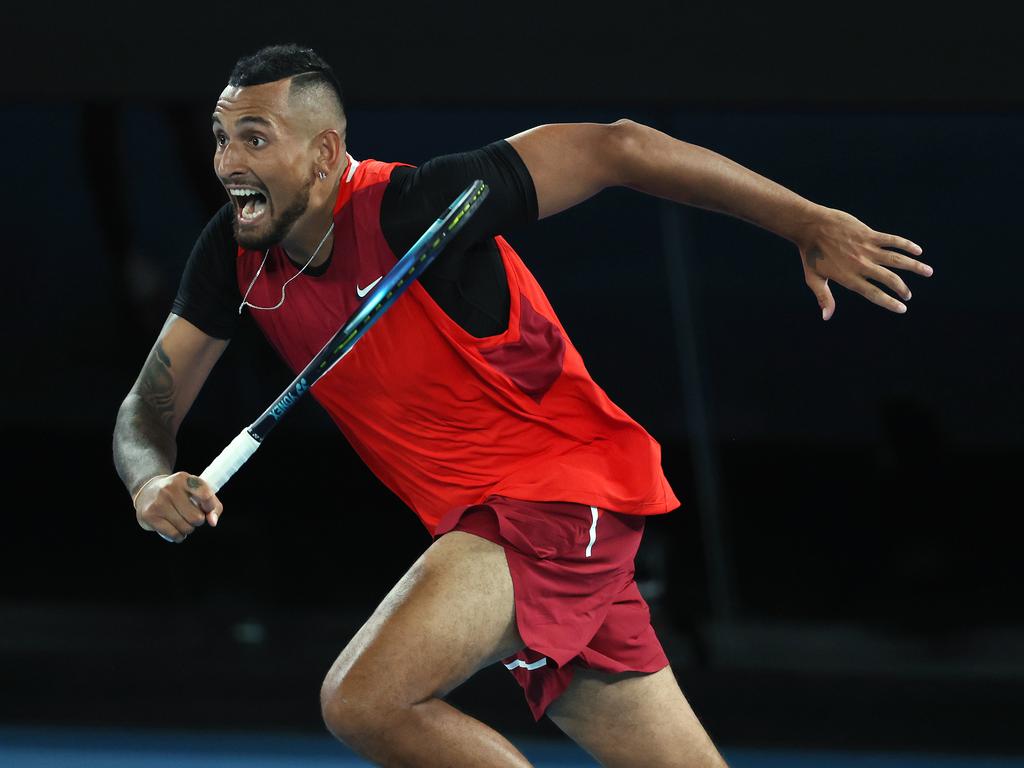 Kyrgios completed an ecstatic lap of honour after taking a break point off Daniil Medvedev. Picture: Michael Klein/NCA
That's the thing about Kyrgios. He has receptors pointing in every direction. He'll giggle at stupidity, but get annoyed when it affects him, like when he shot back with a, "Shut the f— up" to someone who dared encourage between first and second serve.
He didn't hold a grudge. Carlos Bernandes fired in a code violation. Later Kyrgios, and Bernardes would engage in heated conversation when the Australian copped a time violation due to dawdling with his towel.
"Listen to me, I don't want to hear from you, listen to me!" Kyrgios screamed at the chair umpire, who patiently did. The good chair umpires are to be admired as much as parents who calmly deal with children chucking enormous tantrums in the middle of a shopping centre, knowing that strangers are watching waiting to judge.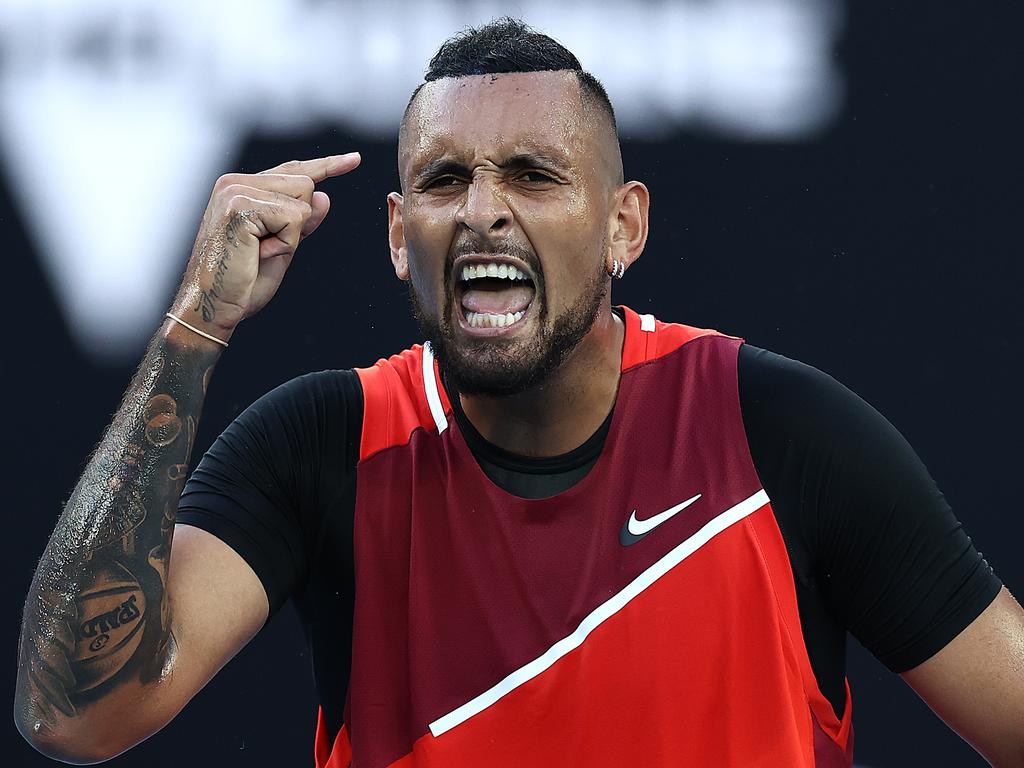 Kyrgios was frustrated with the crowd through the match, who he condemned for their volume between serves. Picture: Cameron Spencer/Getty Images
Kyrgios got on with it, because he had to. It didn't derail him and his relationship with his entourage remained loving throughout. They dutifully gave a "standing o" after every point won, and played along with the stream of consciousness that came their way as Medvedev raised his level.
"I'm smackin' it 215 [km/h] and he's just standing back and getting it down," Kyrgios said at one sit-down, confused but not surprised his best was being dealt with by the Russian.
They yelled back encouragement. Applauded until their hands were numb. Laughed along when Kyrgios came out at the start of the 4th, when he skolled a Pepsi and feigned a jump shot action.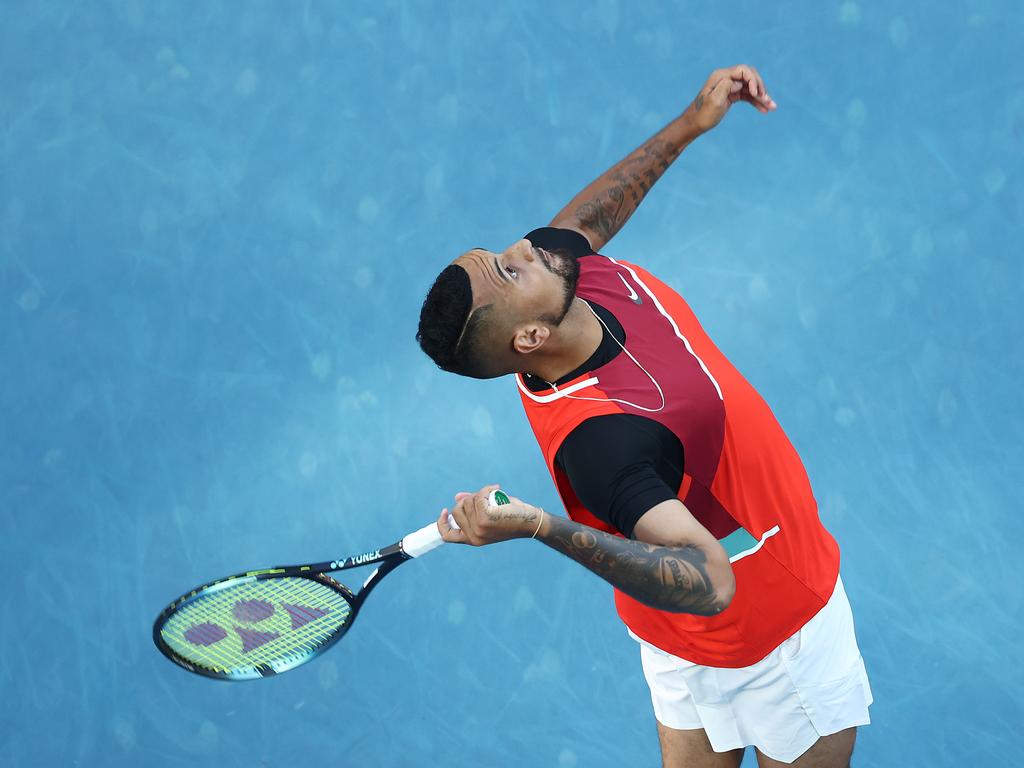 Kyrgios was frequently serving above 215 km/h, but barely managed to raise a sweat in his opponent. Picture: Mark Metcalfe/Getty Images
Medvedev had anticipated all of it. He knew he was playing a man who was part tennis player, part stage show performer. "Nick is a good guy in life," the Russian said of Kyrgios a few years ago. "But on the court, he sometimes cuts the limit and that's not good."
Medvedev speaks from experience, having lost his mind more than once on court: flipping the bird to the crowd at the US Open, tossing coins at a chair umpire who gave him a few dodgy calls at Wimbledon.
That was then.
He is a different man now.
All night Medvedev carried the demeanour of a lieutenant standing guard over Lenin's mausoleum in Red Square while Kyrgios hit tweeners, tried underarm serves and, at one point, nailed a reflex volley winner which sent the Australian on a sprint around the back of the court, like David Letterman before every opening monologue.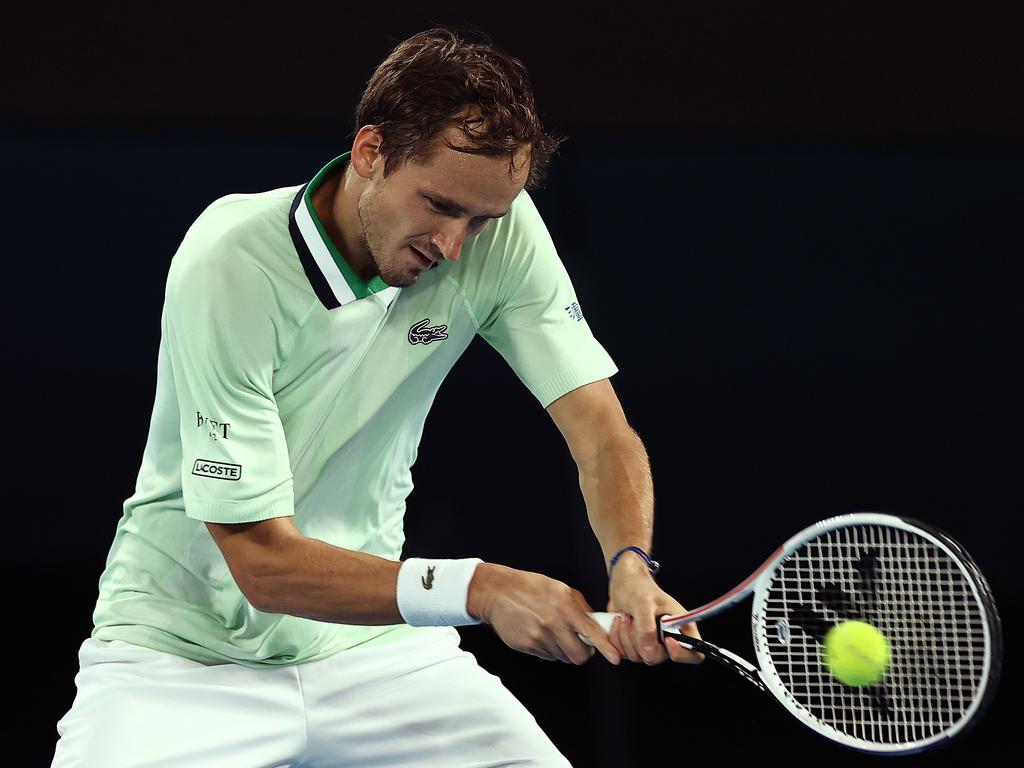 Daniil Medvedev was cool and collected through his second round match with Kyrgios, despite the heat of the crowd behind the Australian. Picture: Cameron Spencer/Getty Images
Medvedev did not laugh, or grin, or grimace, or engage his entourage. The Russian pretty much mimicked the way Roger Federer interacts with his crew, which is to say, he didn't.
In the end, the match was decided by the little things. Little opportunities missed for Kyrgios, big opportunities seized by Medvedev. Maybe those fell the way they did because Medvedev played 76 matches in 2021 and Kyrgios just 15. Maybe it was down to the inner beast that was raging inside the Russian, which managed to peek out for a look in the on-court interview as Jim Courier valiantly tried to differentiate i from boooooo.
Whatever the case, the predicted result occurred.
The favourite for the men's crowd survived and plays on.
Kyrgios goes home after fulfilling a promise.
Before the tournament he said he wanted to entertain a crowd in a town that needed entertaining.
He certainly did that, and exhausted a few along the way, too.