Australian Open 2022: Nick Kyrgios' victory over Liam Broady was a welcome throwback to a carefree, pre-Covid time
Tuesday night was less a tennis match and more a show written, produced and directed by Nick Kyrgios, writes ADAM PEACOCK.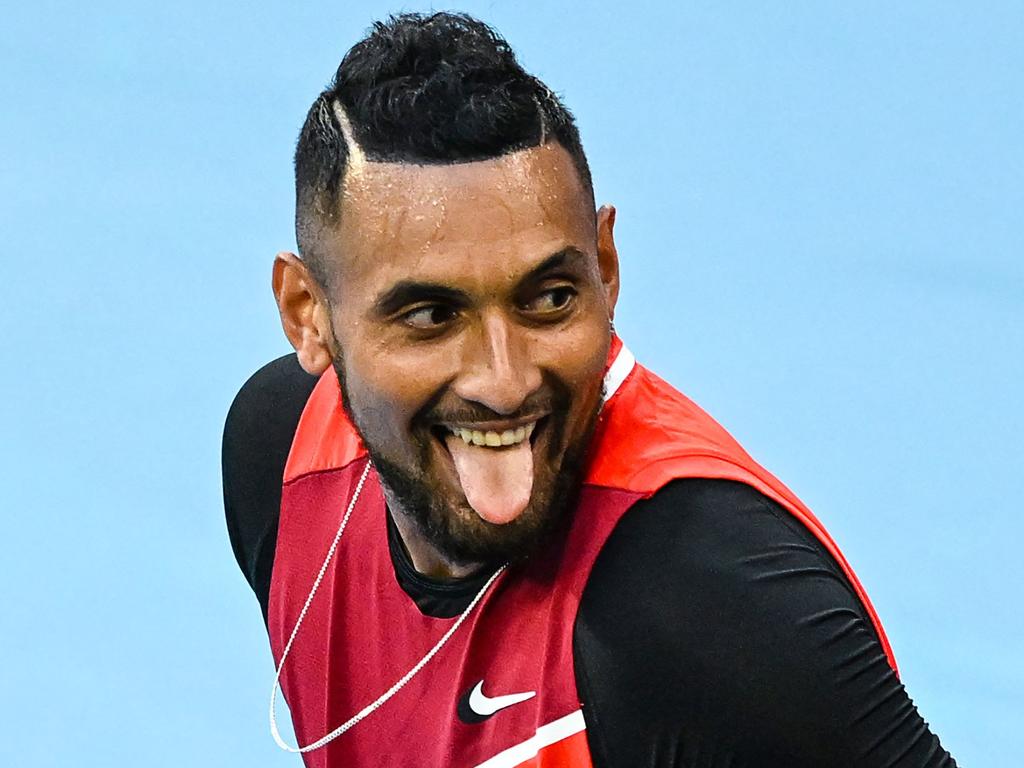 Nick Kyrgios reacts as he plays Britain's Liam Broady during a typically rowdy Australian Open match on John Cain Arena. Picture: MICHAEL ERREY / AFP
Organising done. Venue set. Invites handed out, save for one notable late retraction.
The Australian Open needed someone to actually start the party.
And of course it had to be him.
Nick Kyrgios, the misunderstood. Or totally understood. It's hard to know which one. Some get him, some hate him. Regardless, it was always going to be him to break the courteous tension.
The Kyrgios swagger onto court was the signal for the music to be turned up, the spicy dip to be passed round and the door to the fully-stocked fridge to swing open.
Nick-a-palooza was on again, the yearly entertainment extravaganza which sweeps across Melbourne Park, bringing in a different crowd to the usual tennis lot.
Back in November, CODE visited Kyrgios in his hometown of Canberra, where he was in the midst of preparing for this night. "I just wanna go out there, give them a show," Kyrgios said in between games of basketball. "Results don't really mean anything to me. When I get old I'm not gonna be like, 'Remember that time I made the quarter-finals of the Australian Open?' I don't really give a f--k to be honest."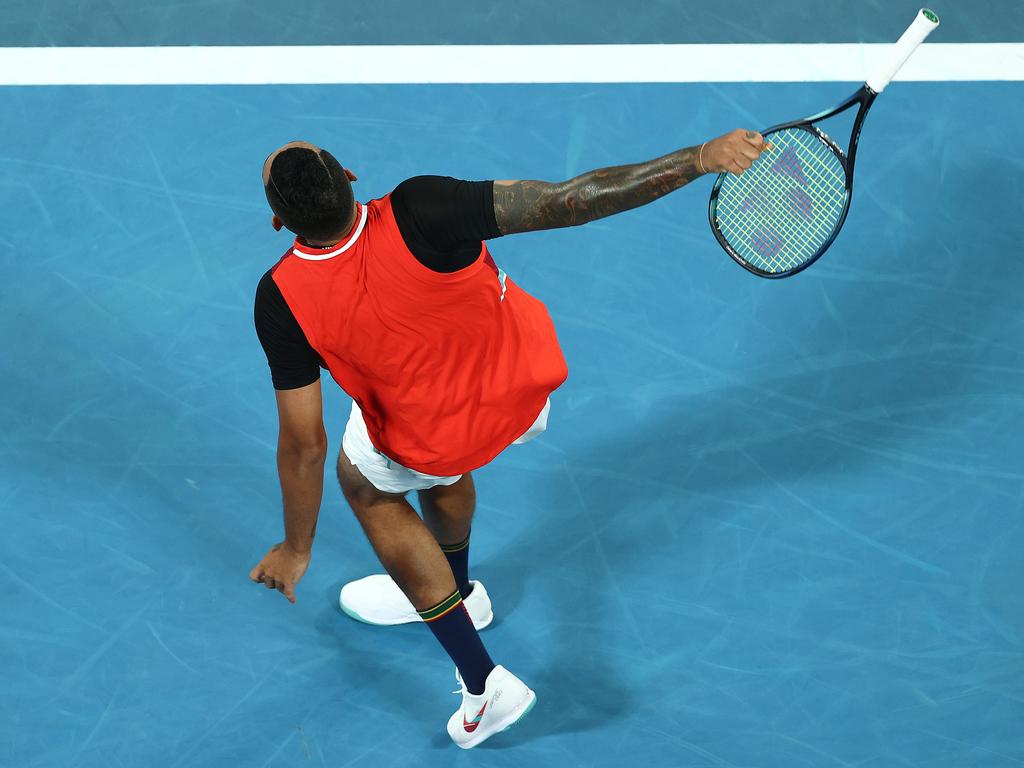 Nick Kyrgios smashes a ball into the crowd with his racquet handle after it ballooned back off the net cord from a serve attempt. Picture: Cameron Spencer/Getty Images
And for a tick under two hours on night two of the Australian Open, he did all of the above.
Gave them a show.
Result an afterthought.
And, pardon the French, no f--ks given (at least until the post-match interview).
Underarm serves, underarm tweener serves, tweener lobs, bullet train forehands, sonic boom serves. The crowd ate out of his palm, especially in the moshpit, a gaggle of mayhem situated behind the chair umpire.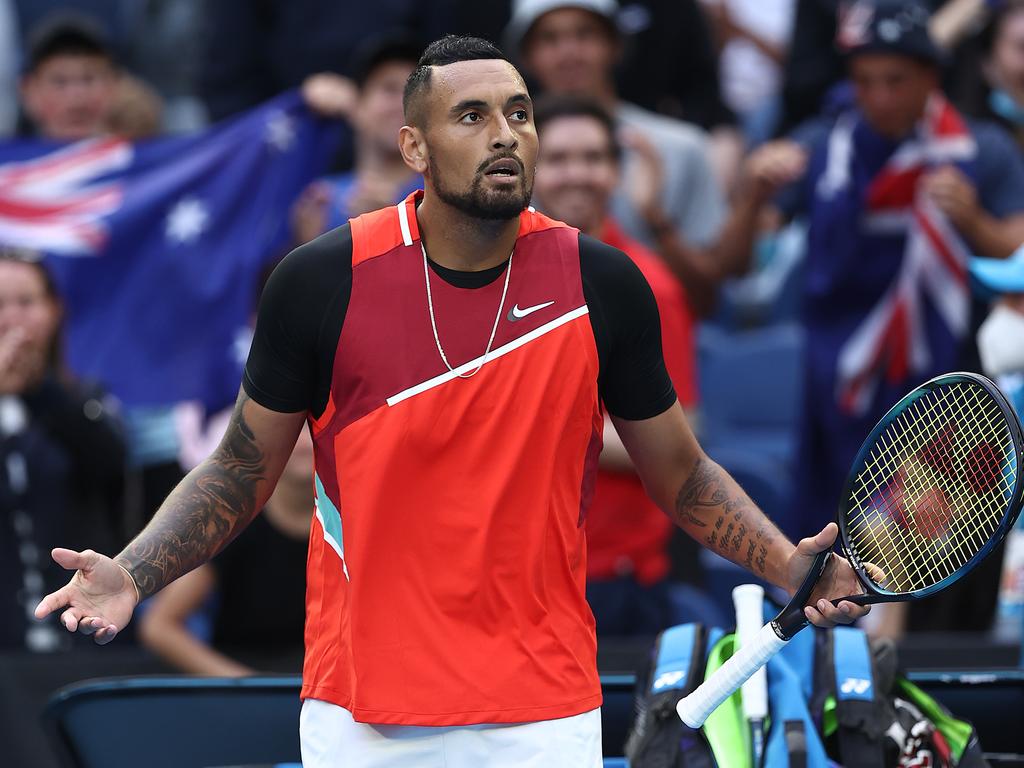 Nick Kyrgios reacts as the crowd goes wild at John Cain Arena during his first round singles match against Liam Broady at the Australian Open. Picture: Cameron Spencer/Getty Images
Poor Liam Broady. It mightn't have been obvious to those watching on given that 100 per cent of the crowd's attention seemed fixated on one end of the court, but he was actually taking part in the match, too.
Broady looked like he'd been pulled from the moshpit after the match.
His mood reflected the occasion.
"I mean, everyone is telling me [before the match] I'll really enjoy it, it's going to be amazing," Broady demurred in his post-match press conference. "But I thought it was absolutely awful."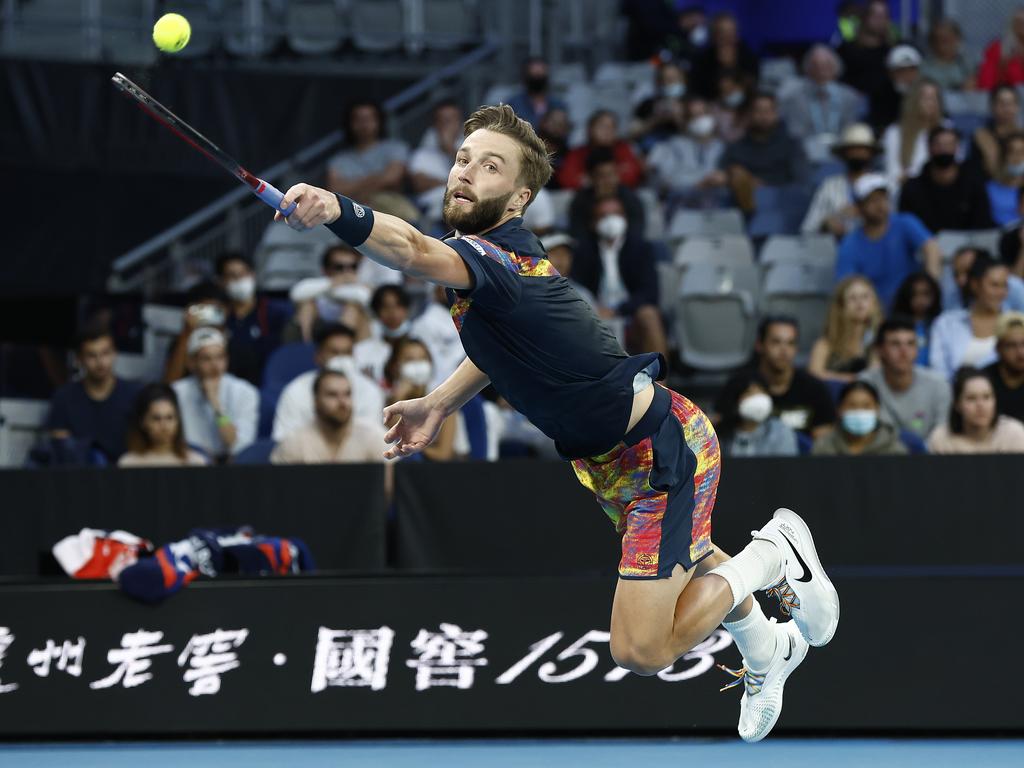 'Absolutely awful': Nick Kyrgios' John Cain Arena was too rowdy for Liam Broady's taste. Picture: Darrian Traynor/Getty Images)
The traditionalists will have debated on their couches again on Tuesday night whether or not Kyrgios is good for tennis, whether he'll be satisfied with what he leaves on the table when he's done in terms of results which, in relation to his talent, will be a fair bit.
His idea of freedom is often far removed from the mindset of others coexisting within his environment. It can annoy. More than one story exists of a vanquished opponent wanting to put one on Kyrgios' chin after being unwittingly swept up in a show – written, produced and directed by the man himself – they never asked to be part of.
Broady wasn't in a punchy mood on Tuesday.
Rather, he was an extra to Kyrgios's starring role. Everyone watching knew it.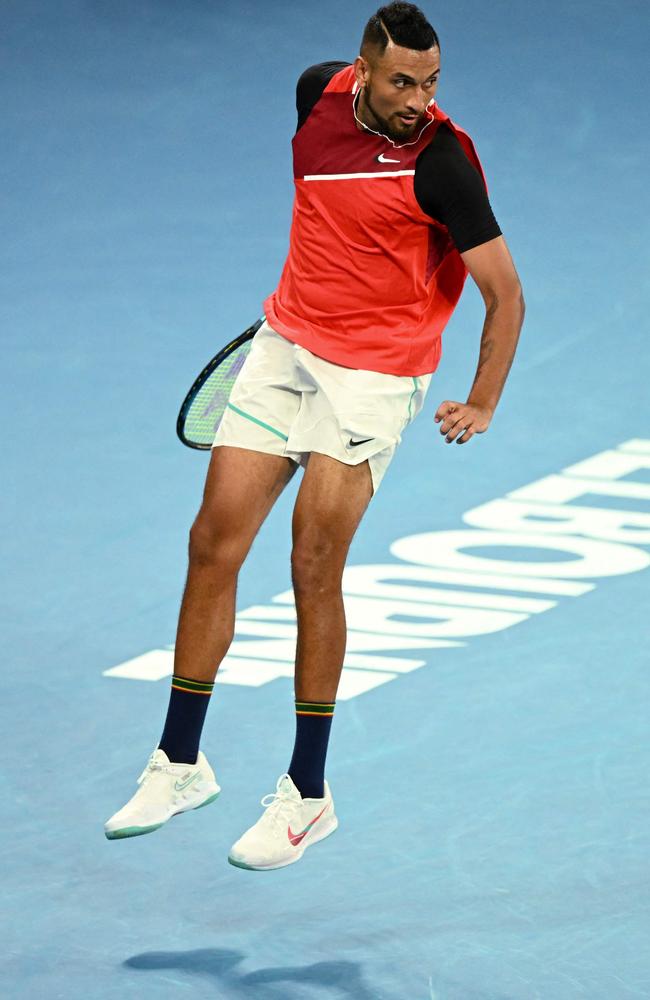 Nick Kyrgios is momentarily airborne after hitting another audacious shot against Liam Broady during their Australian Open match. Picture: Michael Errey/AFP
And, no, the crowd didn't boo the local. They Siuuu-ed him. As the middle-aged pontificated about the negative feels from the crowd, the younger generation chuckled. Indeed, Kyrgios encountered the cross-generational confusion post-match, with the following exchange in his press conference sounding more like a street-smart teenager teaching his square, tragically unhip parents about the big, wide world.
Reporter: There seemed to be a fair bit of booing going on out there.
Kyrgios: No, I wasn't getting booed. That's not getting booed.
Reporter: No, I didn't think they were booing you.
Kyrgios: No, they weren't actually saying boo, though.
Reporter: That's what I was going to ask.
Kyrgios: They were doing some [Cristiano] Ronaldo thing.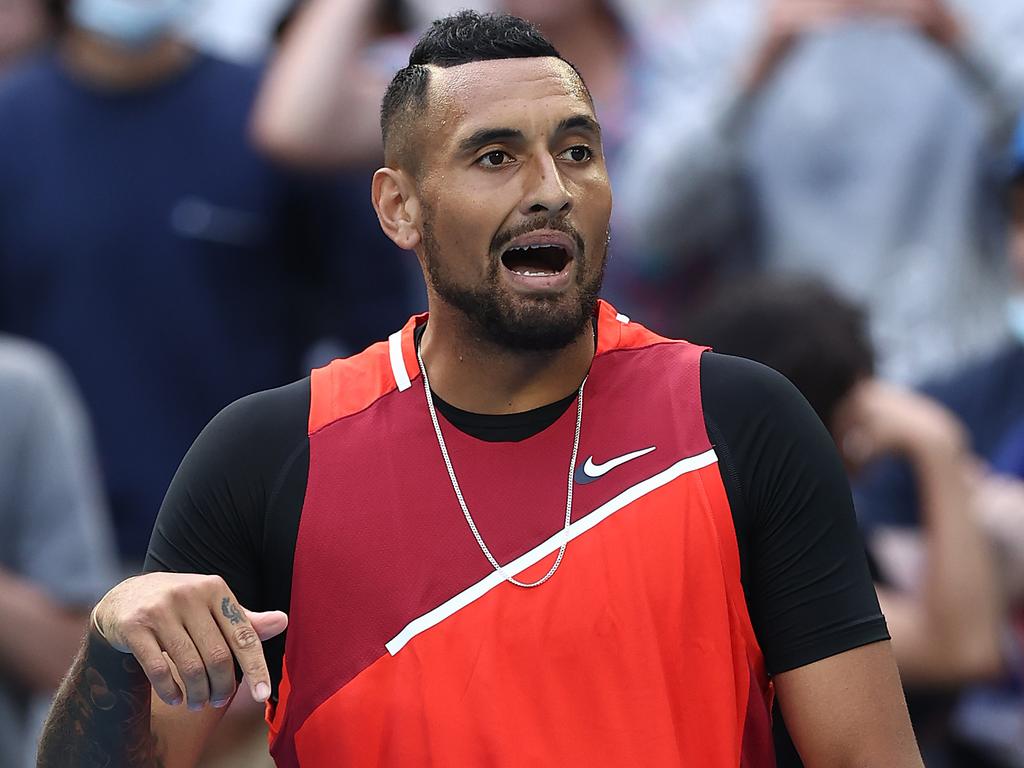 My court: Nick Kyrgios was is in his element on John Cain Arena during his round one Australian Open match. Picture: Cameron Spencer/Getty Images
Still, to be confused by this was a welcome deviation from the confusions of the past fortnight: of visa entry requirements and vaccine statuses, of blame-dodging politicians and migraine-inducing legalese. It was a reminder of innocent, pre-Covid times when Kyrgios' antics were deemed worthy of the kind of front page treatment that, these days, seems reserved almost exclusively for infection rates and death counts.
It is all part of the show Kyrgios promises, his encore on Tuesday a swig of beer from a punter in the crowd. Probably not Covid-safe but, having just wrestled with the virus himself, it might actually have been the safest time to accept a random sip from a random frothie.
The show goes on.
Next, Kyrgios and his long-time mate Thanasi Kokkinakis, in need of a boost after Monday's defeat, will turn Show Court 3 bonkers.
Then on Thursday, Kyrgios will play Daniil Medvedev, whom he has beaten twice in two meetings, both in 2019. But Medvedev then and Medvedev now is like comparing Alex Murphy to Robocop. The reigning US Open champion finished 2021 as the world No. 2 which, according to the ATP website, made him the first top two player "not named Djokovic, Nadal, Federer or Murray since No.2 [Lleyton] Hewitt in 2005."
Nick Kyrgios kicks a ball during his round one match at the Australian Open. Picture: Darrian Traynor/Getty Images
And Nick won't have Nick-a-palooza. Rod Laver Arena will be the venue this time, not his preferred John Cain Arena. Again, isn't it nice to be discussing courts that don't require barristers?
How long this act can go on, and how many times it will return to Melbourne Park, is questionable. He continues to drop hints that the end of his tennis career may be nigh. Kyrgios actually doesn't like travelling, which, for a bloke in his current line of work, is not a good match.
So, for now, let's live in the moment and enjoy the party.
As the Aussie and English cricketers just found out in Hobart, you never quite know when the tap is going to be shut off.