Australian Open 2022: Novak Djokovic's potential deportation creates a wide-open men's field, writes Mark Philippoussis
Rafa? Medvedev? MARK PHILIPPOUSSIS assesses how a Novak Djokovic-less men's draw at the Australian Open would play out.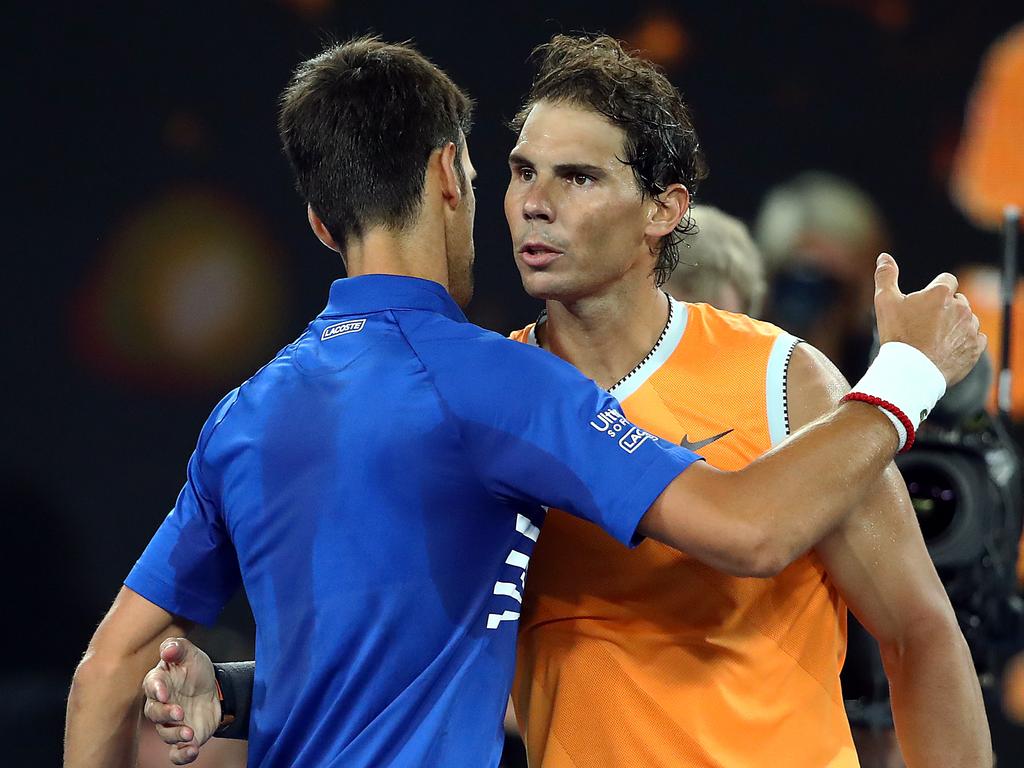 Mark Philippoussis breaks down the big winners of a Novack Djokovic-less draw. Picture: Julian Finney/Getty Images.
The government's decision to again cancel Novak Djokovic's visa certainly got all the attention expected and, inside the locker room, there will be a number of relieved players who now know they likely won't have to deal with the biggest problem in tennis.
If Djokovic's last-ditch attempt to play in the Australian Open fails, the draw will have opened up: only twice in the last 11 years has the guy missed the second week of the tournament! The top players, in particular, will be licking their lips about the prospect of a major without Novak in the draw.
Power remains the number one commodity in the men's game, and players with the ability to absorb pressure and turn a point around with a big shot are primed to prosper at Melbourne Park.
Here's my guide on the main hopes for the Open men's crown, as well as thoughts on the main Australian chances.
DANIIL MEDVEDEV
Without Novak, Medvedev is the favourite. I wouldn't say clearly, but he's emerged as the best from his specific generation given what he achieved at the back of 2021 by winning the US Open and Davis Cup.
Commentating the ATP Cup and seeing how he counterpunches – only Djokovic does it as well. With Medvedev, I've never seen someone sit as far out of the court, sometimes five metres back and three metres outside the tramline, and have a massive swipe at it. And most of the time it comes off!
Medvedev hits the ball so flat and clean, and deep, it allows him time to recover and he loves being on the move. He's unorthodox, big long limbs, but it's all in-sync.
The serve has really improved, with a beautiful racquet head speed, taking advantage of his 198 centimetre frame. Because his groundstrokes and movement are so good, the focus isn't on his serve, but it's a weapon.
What he did in the US Open final against Djokovic widened my eyes.
He out-Novak-ed Novak, running around getting everything, hitting back with venom.
Can a player have a lull after breaking through for a major win? Yes. Is there any sign of that with Medvedev? No way. He wants to add to it, and without Djokovic he deserves to be the man to beat.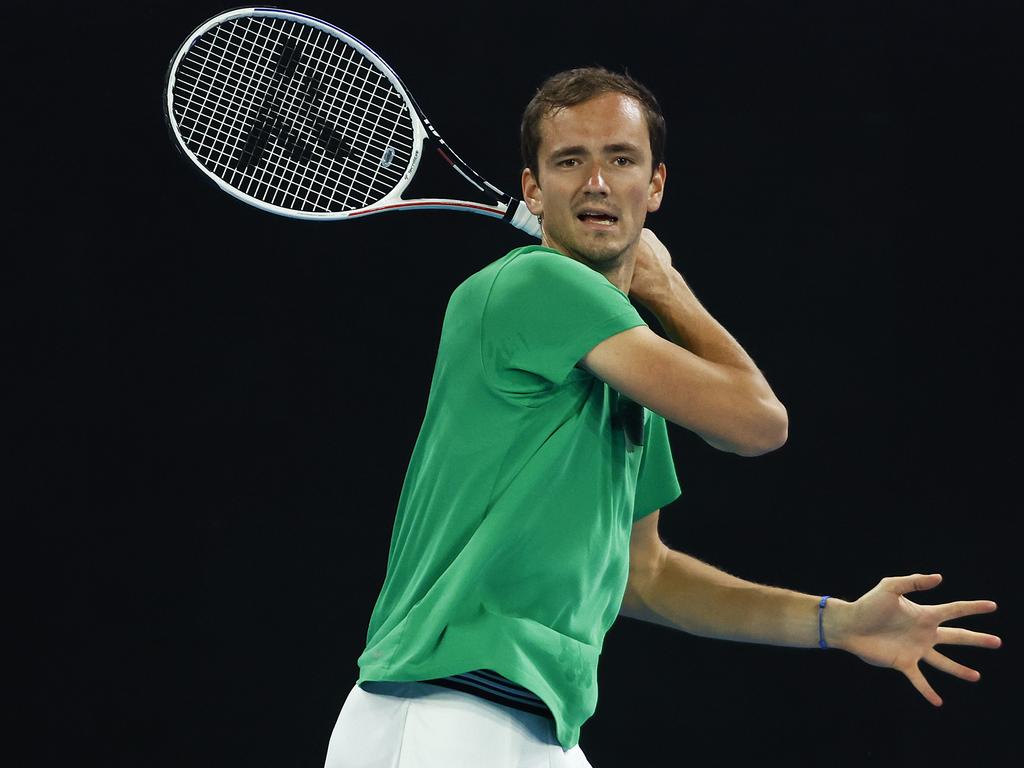 Without Novak Djokovic at the Australian Open, Daniil Medvedev is the favourite. Picture: Daniel Pockett/Getty Images.
ALEX ZVEREV
Winner of the year-end championships, so Zverev has got the self-belief, and I can see him getting closer across the best-of-five sets.
There is a stat going around that he's never beaten a top 10 player in a best-of-five match but I think those stats can be overvalued. From personal experience, I don't think it has any effect on a player. It's more about how you are in the present.
One thing he needs to get on top of is staying totally switched on throughout. At stages he tends to go walkabout mentally, unlike a Medvedev. With Zverev, all of a sudden there's a game with two unforced errors which make no sense and he loses serve.
Apart from that his game is trending in the right direction: he has gotten over the yips on his second serve – accelerating again – he moves so well, and importantly he doesn't overplay. He's a big chance.
STEFANOS TSITSIPAS
Tsitsipas is the player I would say to people, "Go and watch this guy."
Stefanos' all-round, free flowing game is along the lines of Federer, and sure, the consistency isn't near what Federer has achieved, but the potential is there. I'm not going to lie: I have a soft spot because of the Greek connection and I've know the family for a long time, but the all-court game, getting to the net, ripping single-handed backhands, is so easy to fall in love with.
He is capable of winning a grand slam. He just has to improve in a few areas.
He has a little hook on the ball toss and he falls to the left on his serve instead of jumping in. And he's similar to Zverev in that he'll give away two or three shots all of a sudden and make life difficult for himself. When that happens he needs to slow down. Take all the time you can between points. Sometimes he just grabs the ball and rushes to the line for the next point. They are little things, but those matter in the pressure moments.
I love the fact he enjoys coming to the net. Beautiful technique on his volleys, occasionally comes in on the wrong shot, but the intent is right. The guys above him in the rankings – they can be four metres behind the baseline, but if you come in they are just going to work it at your feet.
Against those guys, it can't just be good, it needs to be great, and I have no doubt he can get there.
He's got the added bonus of tremendous support with the Greek community, who got right behind him when he burst onto the scene in 2019 with that big win on Rod Laver Arena over Federer. I know what that lift feels like. It's awesome, and can really help Stefanos push further this year.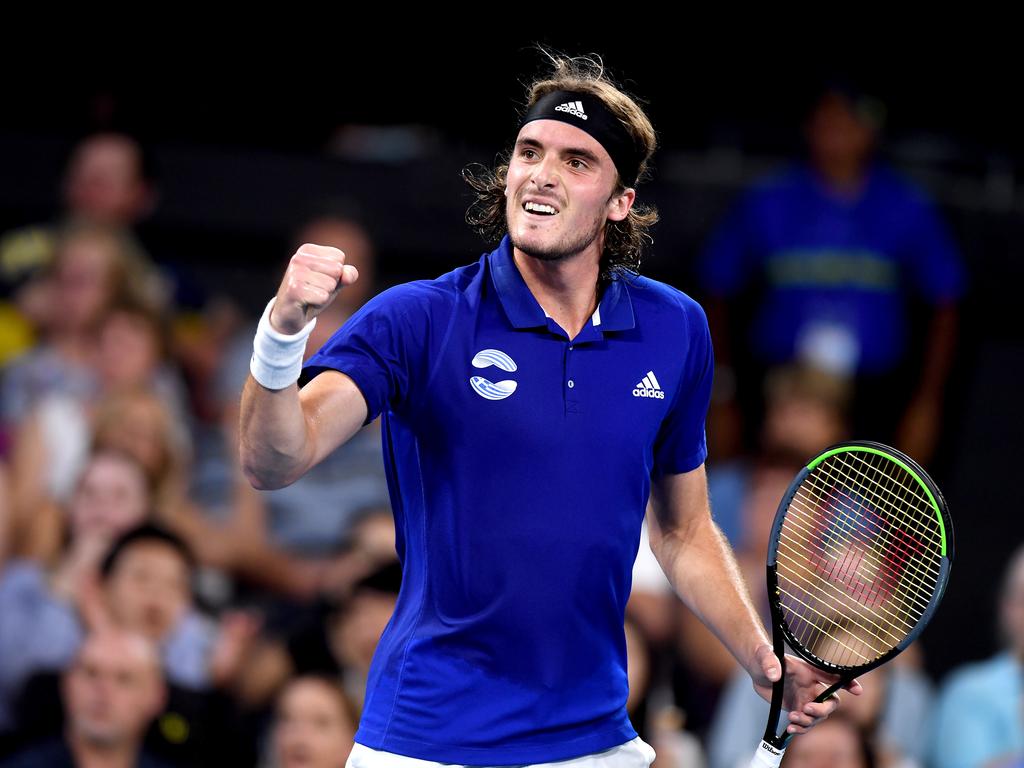 Philippoussis: With Stefanos Tsitsipas the consistency isn't near what Federer has achieved, but the potential is there. Picture: Bradley Kanaris/Getty Images.
RAFAEL NADAL
I am not surprised Rafa is still doing what he's doing and his mere presence tells me everything I needed to know about his chances.
He's not here for points or prizemoney.
He's here for a trophy.
Rafa has earned the luxury of not having to overload his schedule. Other players will say, "Ah I played too much." There's one reason they are contesting those 250 events, the lower end of the scale on tour: a six-figure guarantee to play it. They could take the week off, but of course they can't say no, because it's a lot of money. Rafa is someone who, for years, like Federer, hasn't cared about that and prioritises getting mind and body right for the grand slams.
Even though the courts are quick at Melbourne Park, they are lively, and that helps Rafa.
Of course he's great on the slower clay but he can really get help from the revs he puts on the ball, which can grip and pop on the hard blue surface.
One thing I admire so much about Rafa is he is never satisfied. Always tweaking things, like Tiger Woods with his swing. Rafa has done that on his serve. It's improved so much and the wide slider is a big strong point for him. He's a genuine hope, particularly if the top guys are just a tiny bit off.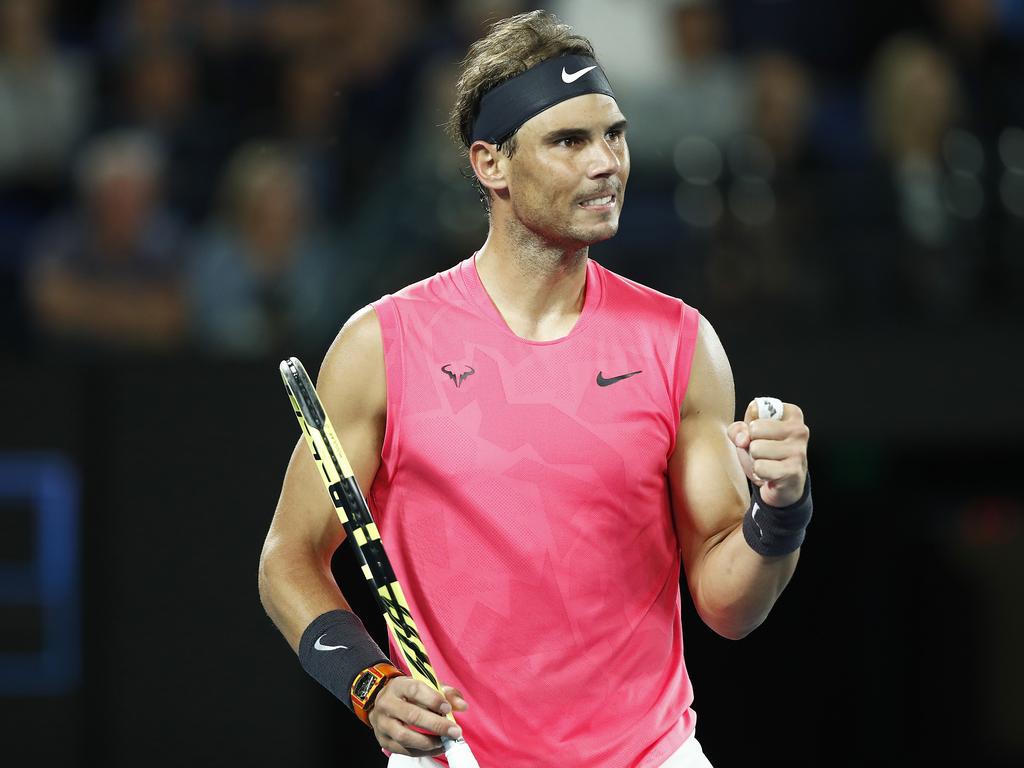 Rafael Nadal is not here for prizemoney. Picture: Daniel Pockett/Getty Images.
MATTEO BERRETINI
Berretini had a great Wimbledon in making the final, but tailed off a little towards the end of 2021 with an abdominal injury which ruled him out of the World Tour Finals and Davis Cup.
He plays "big guy" tennis. His serve and forehand are massive, he comes to the net and moves pretty well for someone nearly two metres tall. And he's got one of the nicest backhand slices in the game, a beautiful shot which mixes the point up so nicely, then rips one off the back of that.
He needs some matches to get going again, which is a little harder for the big guys after an injury setback. A few surprises in the first week would need to happen for the draw to open up for him to be able to go really deep.
That said, for any of the top four guys, it would not be an enjoyable prospect facing him in a quarter-final.
ALEX DE MINAUR
Heart the size of a lion and incredible movement, but the thing that worries me about de Minaur over five sets is the weapons. Winning best-of-three is one thing, but in the longer format you need more. He needs to develop a way of getting easy points. Sure, he has the ability to run all day, but a serve and big forehand to finish off the point is much better than having to grind on a big point.
We know he can run everything down, but those top guys are not going to be in any rush from the back of the court. They are OK hitting 10-15 shots in a rally for five hours yet, when it comes to pulling the trigger, they have that shot to end any point.
Take Berretini, for example. He doesn't have the wheels Alex has, but he can scare guys with his big shots, and that's a major difference when you're talking about the very top end.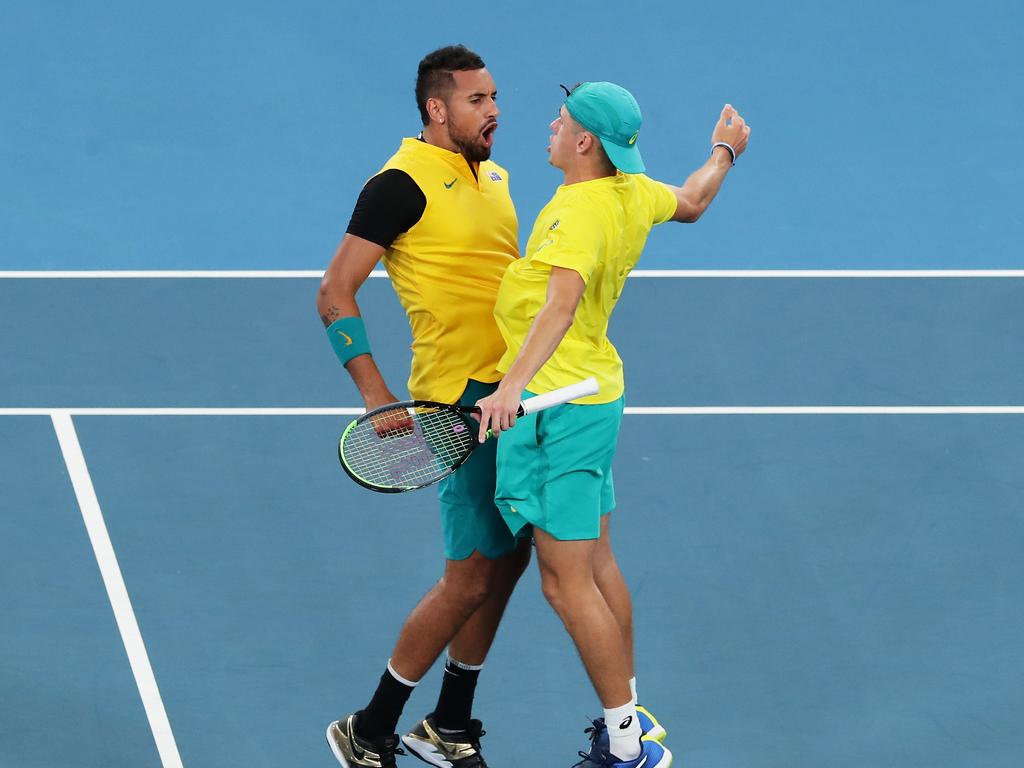 Alex de Minaur and Nick Kyrgios will be up against it this year. Picture: Matt King/Getty Images.
NICK KYRGIOS
What can you say: we haven't seen him hit one ball this summer.
Guys traditionally don't want to play against him. He gets to a tiebreak, hits one massive shot, and all of a sudden he's up a mini-break and that's the end of it. He has been so dangerous and that's why he's done well against the top guys.
But now that confidence is gone because he hasn't played enough. His game has doubts now. I don't care how talented you are, even a player like Nick needs matches to get it back. Hopefully he gets a few here but there's more doubt than certainty.
THANASI KOKKINAKIS
I've been a close friend of Thanasi, always checking in with him during his bad injury situations.
I kept telling him, "Your focus is to get yourself healthy, because you have the game."
Thanasi owns some of the most dangerous shots on the tour. Huge serve, which he has great control over, with beautiful rhythm, despite slapping the crap out of it.
He needs to improve his backhand, especially the chip which floats too much, but that forehand of his is the envy of a lot of players. He can beat anyone in the world and he's certainly not a player Rafa wants to see as his potential second round match.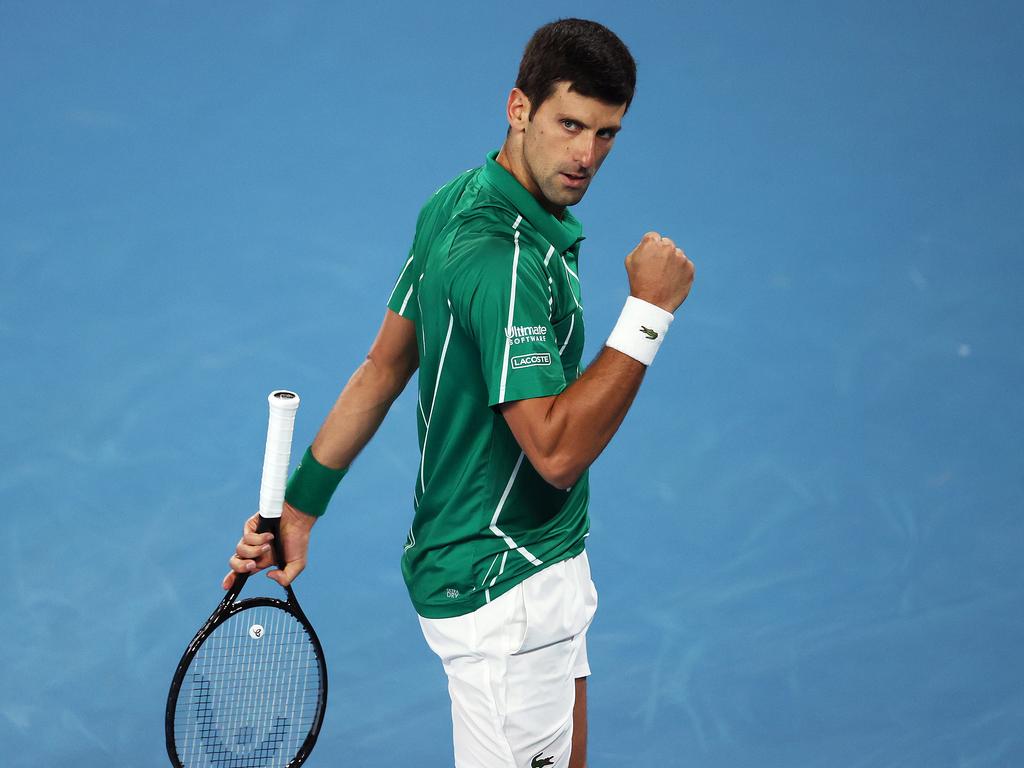 If Novak Djokovic plays, he will be hard to go past. Picture: Graham Denholm/Getty Images.
NOVAK DJOKOVIC (if he plays)
Should Djokovic find a way to remain in Australia for the duration of the tournament, I have no doubt he will be able to handle this whole saga from a mental standpoint. Everyone knows he's one of the toughest guys on the court. We've seen his track record in the best-of-five. That's just a different animal. To take three-out-of-five sets from him, you've got to be popping, your game has to be on, taking risks, and that risk has to be paying off consistently. And the biggest points you need to be at your absolute best.
When Djokovic was going through those years of dominating, then stepped back a little, you wondered, "He can come back and win grand slams and be number one again, but will he dominate?"
Not only did he come back and dominate, he took it to another level, when Federer and Nadal were still healthy! It's incredible what he's done.
If there's anyone who can shut the last week out, and use that to advantage, it's him. He's that strong mentally. Nothing fazes him. Even with crowds against him, if anything, he loves it.