Australian Open 2022: Novak Djokovic's visa farce will have far-reaching consequences for the player and the tournament
The nasty smell around Novak Djokovic's visa controversy will linger long after the Australian Open, writes LINDA PEARCE.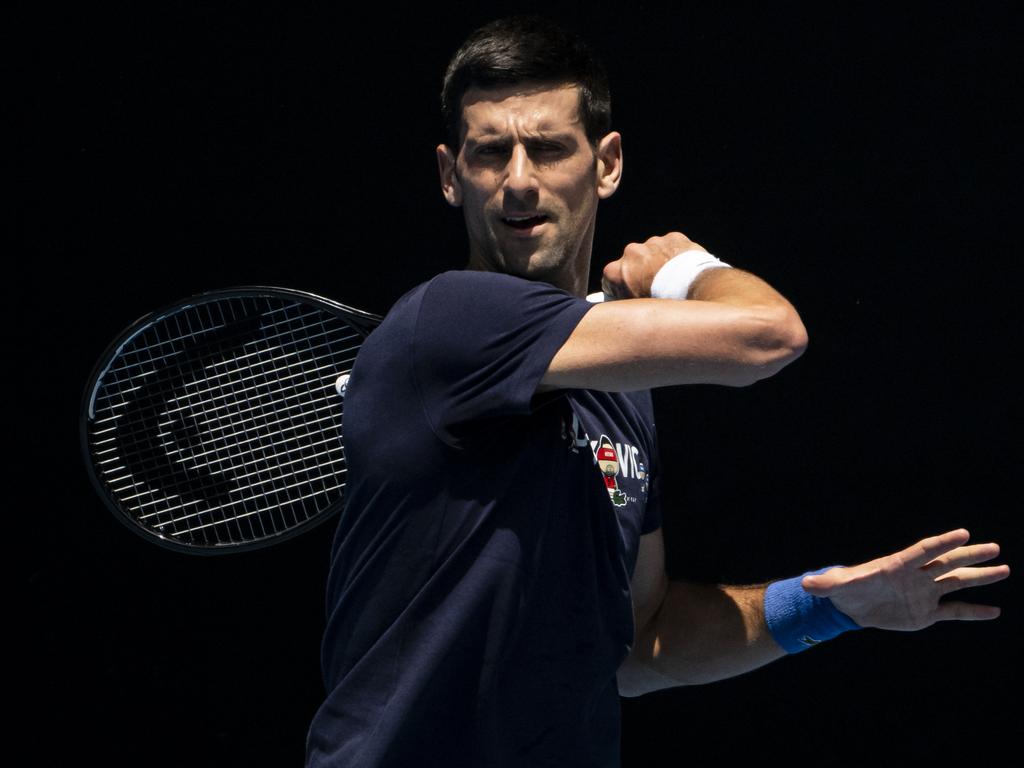 Novak Djokovic's 2021 Australian Open title defence is under serious threat, following the cancellation of his visa by the Immigration Minister. Picture: TPN/Getty Images
The Federal Government has played its last card, but will it ultimately trump the Djoker?
Far later on Friday than expected, but as had been anticipated for much of a tumultuous week, Immigration Minister Alex Hawke exercised his power to re-cancel Novak Djokovic's visa on "health and good order grounds, on the basis that it was in the public interest to do so''; the world No. 1's legal team having flagged in advance that it would seek a temporary injunction to block any second deportation attempt.
While the blame game continued around who was responsible for the delay, the two most likely possibilities from the Commonwealth's side were that it was either unwilling to risk another courtroom humiliation with a less than airtight case, or that the longer it stalled the harder it would be for Djokovic to get a hearing ahead of the tournament's first serve on Monday.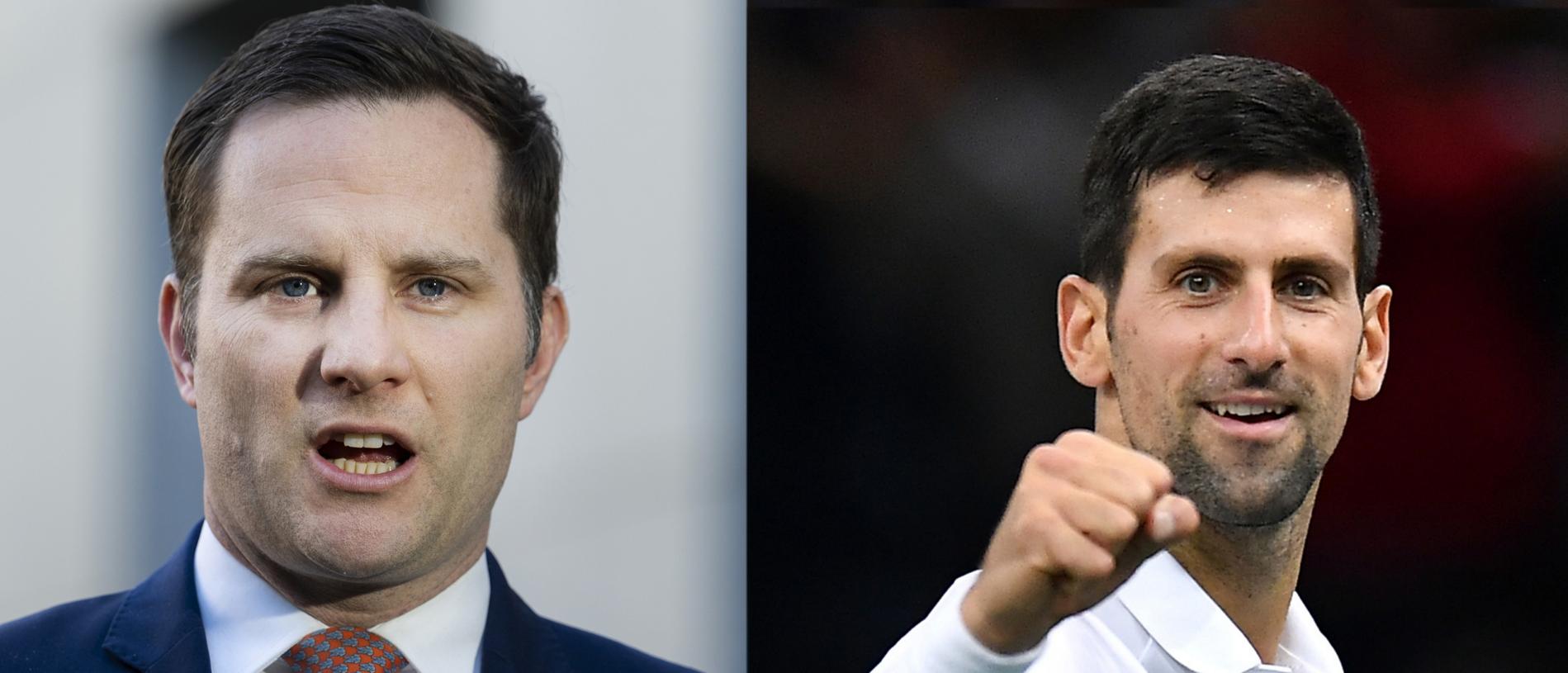 Australia's Immigration Minister Alex Hawke made the call to cancel Novak Djokovic's visa late Friday, just three days before the Australian Open is set to begin. Picture: NCA
The fall out will be fascinating. From the boardroom, where the role of tournament director and Tennis Australia boss Craig Tiley in all this has to be intensely scrutinised, to the locker room, given Stefanos Tsitsipas' bold statements that his French Open finals conqueror was "playing by his own rules", while others who adhered to the mandate and followed the protocols were left to look like "fools".
Tiley has promised all the information around the Djokovic situation will be shared once the legal process is complete. While there will need to be something quite compelling to quell the many calls for his head, it remains the case that judgment should wait until then.
As each day passed following Monday's momentous decision by Judge Anthony Kelly that Djokovic's treatment by Border Force officials had been "unreasonable" in ordering he leave the country, it was becoming increasingly clear that the government had no intention of meekly allowing him to stay.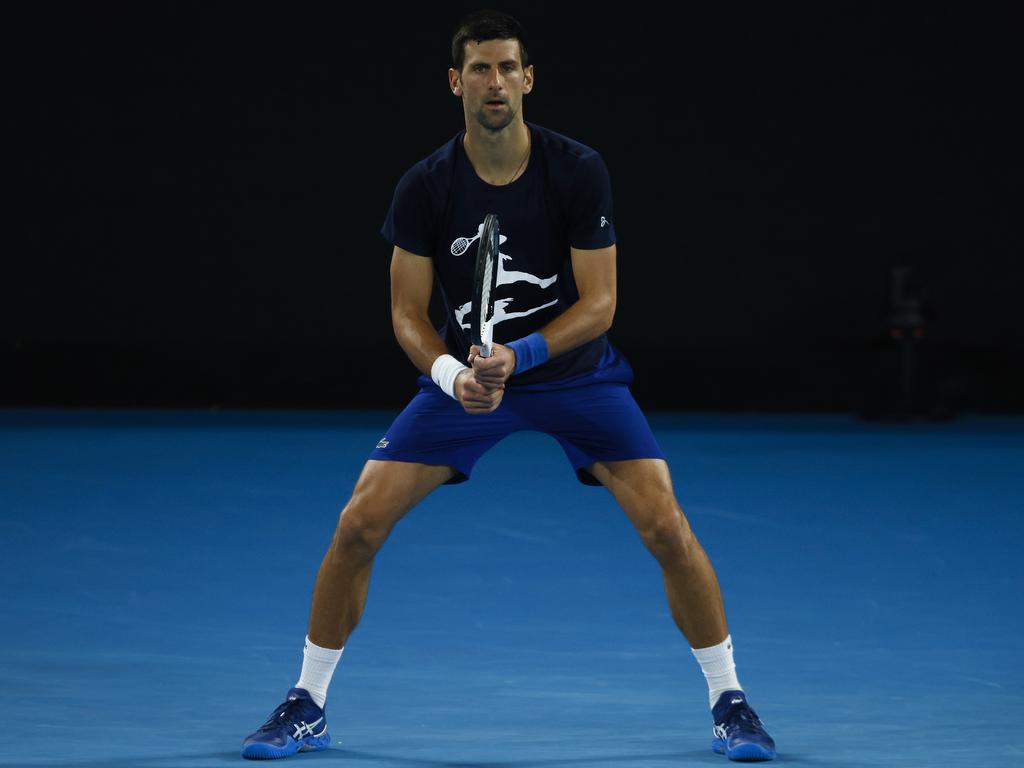 Novak Djokovic's is scheduled to begin his title defence from his 2021 Australian Open win next week. Picture: Daniel Pockett/Getty Images
A Commonwealth apparently looking to enforce via any means available its original decision to cancel Djokovic's visa, having been denied the first time on procedural grounds, was handed the PR ammunition it needed by the world No. 1 himself.
Admitting, eventually, his "error of judgment" in failing to isolate while completing a media interview and photo shoot in Belgrade on December 18 while aware he was infected with Covid-19 — whatever the still-unconvincing circumstances of his decision to mingle, unmasked, with children, at an awards ceremony the previous day, or even the legitimacy of the test result itself — was damning indeed.
The incorrect information on his travel entry form regarding his movements in the 14 days prior to landing in Australia that he described as an "administrative error" made by his manager, which has also been less charitably called a lie, further eroded any case he had made to stay, regardless of the judicial ruling.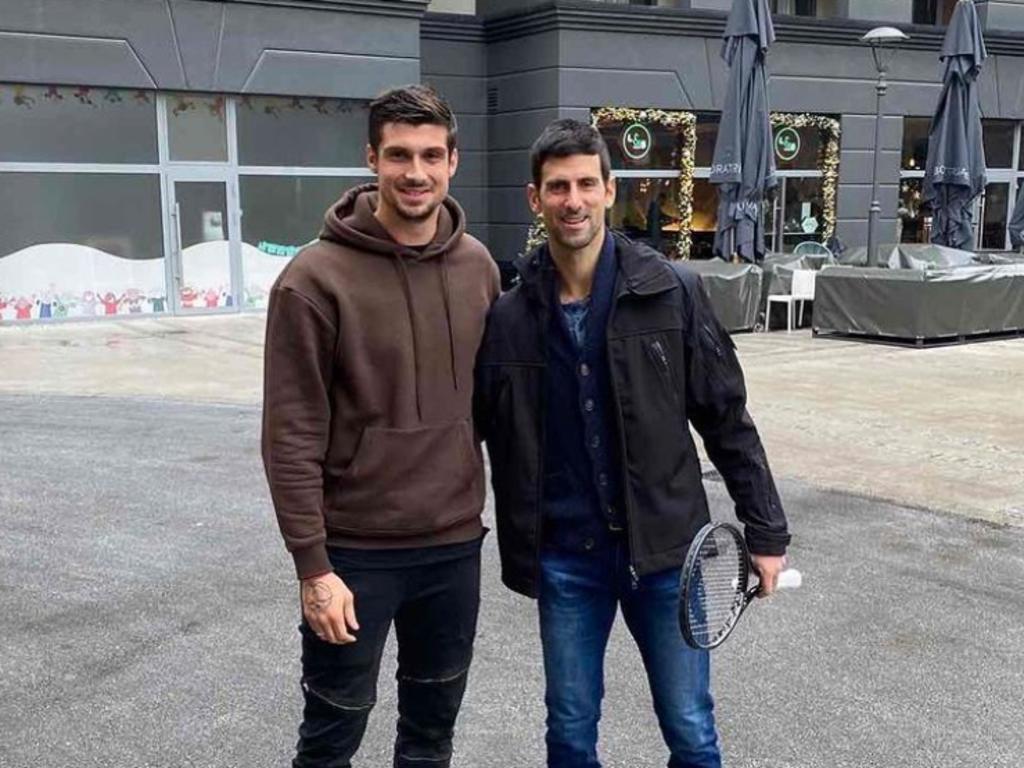 Novak Djokovic is now facing inquiries by both the Serbian and Spanish government, after images surfaced of him in both countries across the 14 day travel free period that enabled him entry to Australia. Picture: Petar Djordjic/Instagram
Talk about unforced errors. Attempts to rebadge them as "misinformation'' failed miserably. Hawke was looking for a reason to exercise his discretionary powers, Here, potentially, were two.
Which does not alter the fact that this should have all been sorted well before Djokovic got to know the Border Force troops after landing in the country, and a visa denied when he applied for it.
High-profile lawyer Justin Quill said before the midweek revelations that, such was Justice Kelly's displeasure with the Commonwealth's handling of the matter, any attempt to re-cancel Djokovic's visa would likely have achieved nothing more than to immediately reacquaint the legal teams.
Judge Kelly, he predicted, would rule on a temporary injunction preventing deportation. And that is exactly how it appears this will play out given Immigration's determination to make him the poster boy for the integrity of border policy.
Yet, regardless of the eventual outcome, Minister Hawke should waive the three-year re-entry ban, and allow Djokovic to return in 2023 if he is able to fulfil Australia's visa entry requirements by then. To do otherwise would be an excessive, heavy-handed punishment. And Djokovic must be aware that NoVax is not a sustainable policy to be clinging to should he wish to continue plying his trade.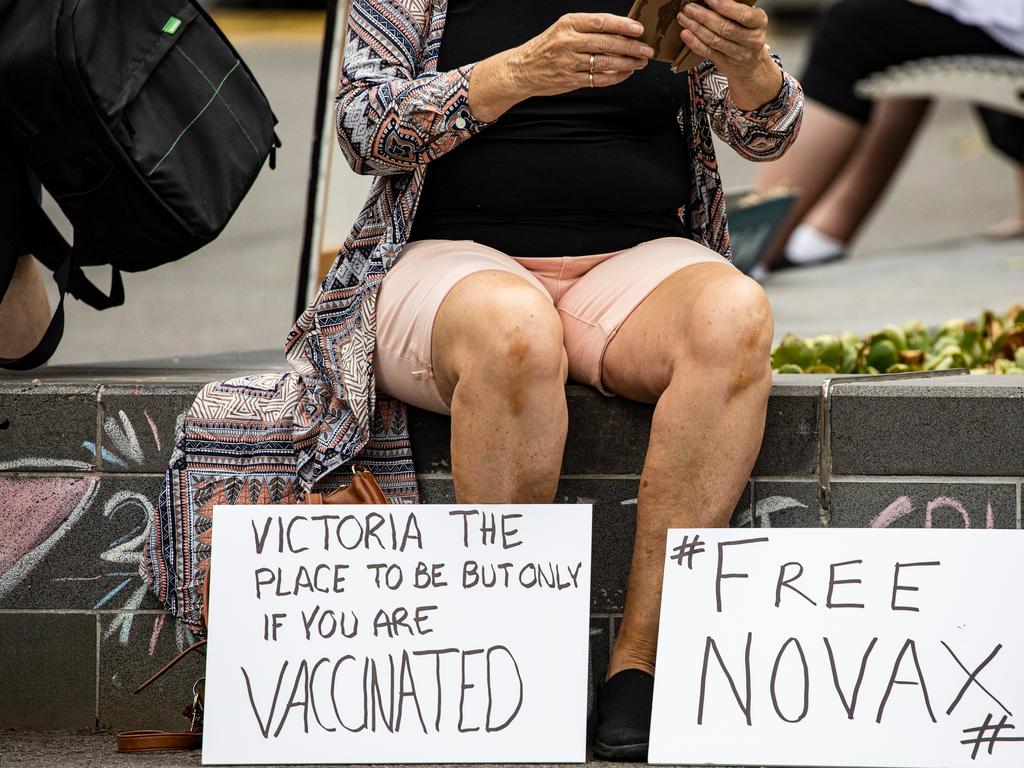 Protesters are likely to resurface in Melbourne, after hundreds of anti-vaccination demonstrators and Serbian fans took to Melbourne's streets following his first detention. Picture: Diego Fedele/Getty Images
The probable impact on the nine-time champion should he make it to the start line against world No. 72 Miomir Kecmanovic is the subject of much discussion, too. Will the energy-sapping chaos and uncertainty sap him, or will the world-is-against-poor-me narrative provide extra fuel, as it has done before. Hard to say, for this situation is so unprecedented as to have been unimaginable just over a week ago, so the only precedents are of the judicial kind. Regardless, what an outrageous and hugely damaging sequence of events. The film that will inevitably be made should be a cracker.
On Monday, this writer was inclined to the view that the Feds should have known when they were beaten. That bludgeoning your way to a so-called "win" really isn't anything of the kind. That it should respect the judicial system and its decisions, following a shambolic process that was botched from the start. "Justice has spoken,'' said the great Rafael Nadal, who rarely speaks in a language other than good sense.
Once Judge Kelly had revoked the original visa cancellation processed by ABF officials early – too early, as it crucially transpired – last Thursday morning, it seemed counterproductive to go down the discretionary kick-the-bastard-out-because-we-still-can route, and particularly given that the Djoker-as-martyr narrative had already started to become troubling enough.
Novak Djokovic was allowed to return to training this week after Judge Kelly overturned his initial visa cancellation. Picture: Daniel Pockett/Getty Images
Rules are rules, as the PM said. Yep, roger that, for Djokovic and his team had played them beautifully. Or so we thought. Except for all those he broke. Before that became apparent, though, it had seemed prudent for our marketing expert and his obedient team in Canberra to leave embarrassing enough completely alone.
The government chose a different route, and it can only be hoped that a final resolution arrives over the weekend, so as not to further disrupt an event already hijacked before it has even begun.

What a farce. And utterly avoidable if visa application procedures and governments that veered between uncoordinated and inept, paranoid and point-scoring had done their collective job in the first place.
Or if Djokovic had been convinced to either get vaccinated — like at least 97 per cent of his ATP Tour peers and more than 93 per cent of Victorians who will need to be double-jabbed just to walk through the Australian Open gates on Monday — or stay away. Rafa again: "If you get vaccinated you can play.''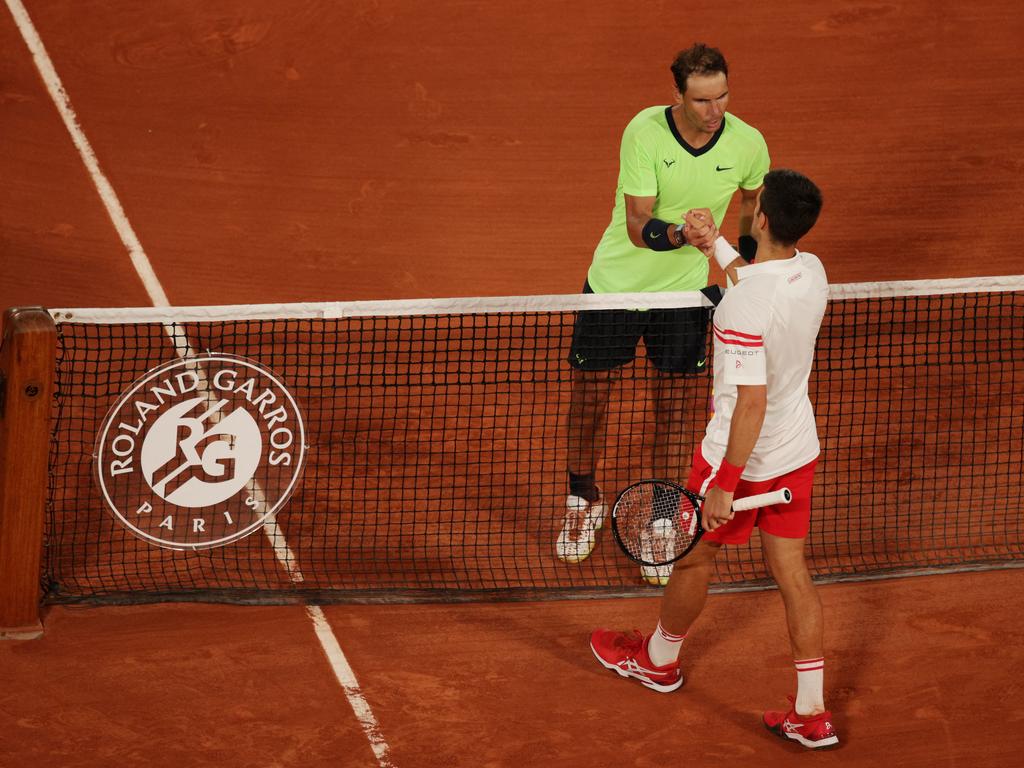 Rafael Nadal was vocal in his thoughts on Novak Djokovic's vaccination status throughout the saga. Nadal has the opportunity to become the outright greatest by winning the year's first grand slam. Picture: Adam Pretty/Getty Images
Unanswered questions include whether it is worse to knowingly expose others to the virus or to have — potentially — organised a diagnosis of convenience? For, without it, there was no way into Australia for the player who has enjoyed more success here than anywhere else. What would have happened had he stayed Covid-free and not suddenly become eligible for a handy exemption request?
The nasty smell around all this will linger long after the tennis caravan moves on in February. By which time, the Park Hotel's regular clientele will still be holding protest signs at sealed windows and picking the mould and maggots from their food.
The best that can be said amid the wretchedness is that at least Djokovic's much-publicised stopover in Carlton has directed some deserved attention towards the plight of the refugees who have not spent the past four nights in luxury accommodation where the personal chef had the fridge stocked in anticipation for their far more delayed arrival.
There's an idea: perhaps any leftovers could be dropped off on Team Djoker's way back to Tullamarine, whenever that is, for the return leg of a trip that should never have been made, whatever cards his legal team may yet attempt to play.